This post may contain affiliate links. Read my disclosure policy.
Flourless desserts are an easy way to make irresistible over 65 gluten-free recipes for cakes, cookies, brownies, and bars. No need to worry about mixing different types of flour and starch in the right combination. Just skip it altogether to get incredibly delicious results that everyone with a sweet tooth will love!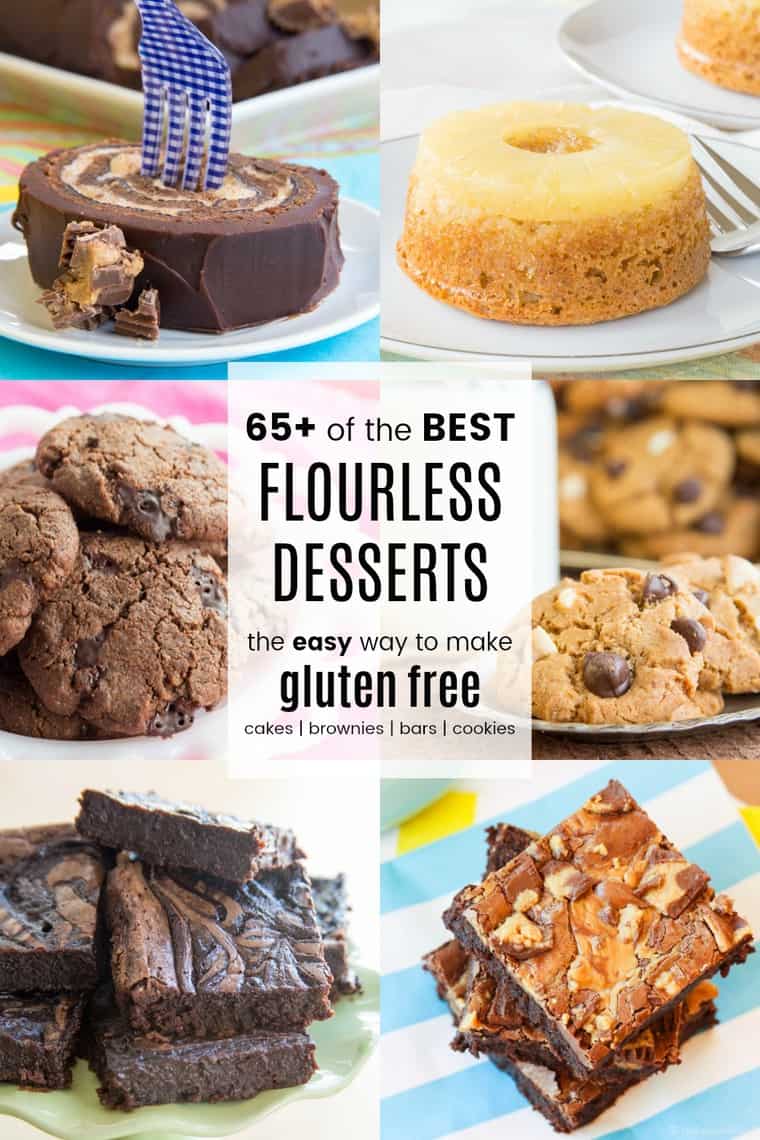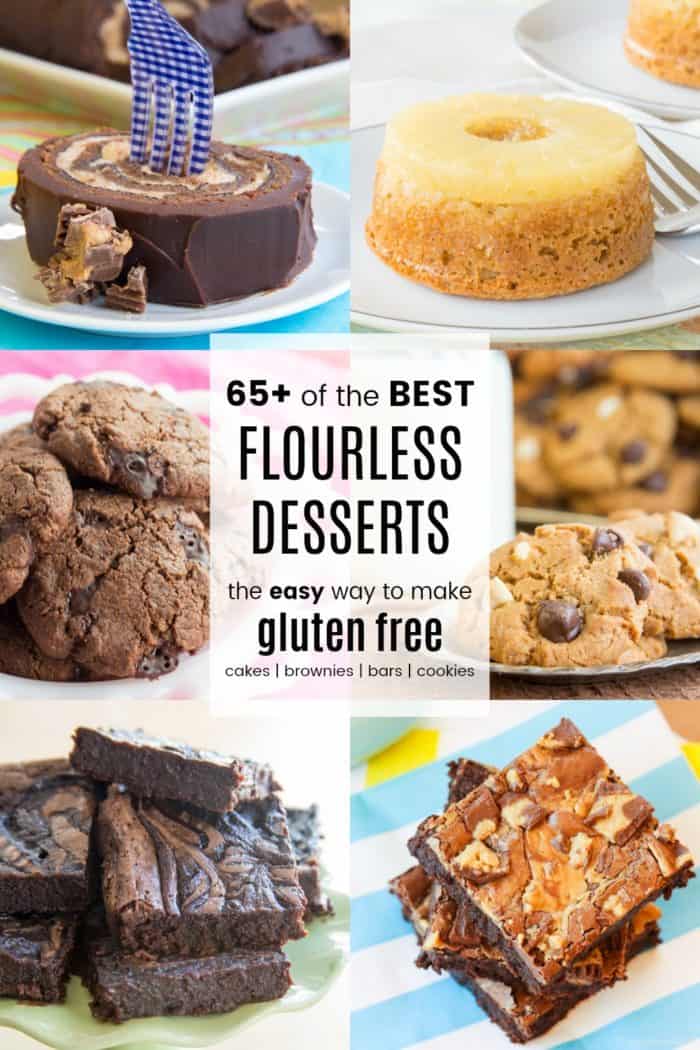 What desserts are gluten free?
When I first found out I had to give up gluten, I immediately filled my pantry with every kind of flour and starch and gum, ready to bake gluten free desserts. Yes, it is possible to make cookies and cakes that are gluten free and still taste delicious. But when you are first adopting a this lifestyle, just learning to read labels and navigate restaurants is enough of a challenge. Trying to understand the characteristics of different gluten free flours and blending them in the appropriate ratio with starches and gums is just another challenge you might not need.
You can definitely buy gluten free treats. And many "regular" desserts are naturally free of wheat on gluten-containing grains, including some brands of pudding, ice cream, and candy (always read labels and double-check manufacturers' websites).
But sometimes bakers gotta bake. The solution? Flourless dessert recipes!
What are flourless desserts?
By the strictest definition, flourless desserts do not contain any kind of grain or flour made from grains. Some people may think this only means traditional wheat flours such as whole wheat or all-purpose. But it also means many of the gluten free flours, such as rice flour or even cornstarch.
I make two exceptions when it comes to my flourless recipes:
Oats and oat flour – since oats are a common ingredient and a great way to bind recipes and incorporate whole grains, I will include recipes that contain oat flour in my collection of flourless desserts. And while you can buy oat flour, it also can easily be made in your own kitchen by pulsing oats in a food processor or blender.
WARNING ABOUT OATS: If you have celiac disease or are highly sensitive, be aware that regular oats are often cross-contaminated. Therefore, you will want to be sure to purchase certified gluten free oats for your baking.
Almond meal – technically since almond flour or meal is made from nuts and not grains, it is not technically a flour anyway. Again, almond meal is so versatile that I consider it an essential in every gluten free kitchen (as long as you don't also have a nut allergy). Besides brownies and cookies, it can also be used to make a crust for things like S'Mores Pudding Pie, or to bind turkey meatballs, and so much more. It helps to add texture and flavor to gluten free baked goods.
Does flourless mean gluten free?
Yes, typically these flourless recipes are gluten free desserts. However, always be sure all of your other ingredients are gluten free. Things like spices, some brands of white chocolate chips (including Ghirardelli), vanilla extract and other flavorings are not gluten free.
So then you may be wondering…
What are flourless cakes made of? Do cookies need flour?
Nut butters – miraculously the combination of peanut butter or almond butter or another nut or seed butter plus eggs and sugar come together to form an amazing cookie or blonde dough. The possibilities for flavoring these gluten free dessert recipes are endless.
Oat and oat flour – as mentioned, this common ingredient is a great substitute for wheat flour in many types of recipes.
Almond meal – classic desserts like macarons, some flourless chocolate cakes, and even brownies achieve a perfect texture with just almond flour.
Beans – yes, you read that right, black beans and chickpeas can be blended into batters for everything from cupcakes to blondies to other types of bars.
Eggs – meringue cookies are nothing more than egg whites and sugar with whatever flavoring you choose to add.
And there are tons more ways to make flourless dessert recipes, like these…
65+ of the Best Flourless Dessert Recipes
In this collection of gluten free desserts, you'll find:
- Flourless Cookies
- Flourless Brownies, Blondies, and Bars
- Flourless Cakes
Enjoy!
And if you are ready to tackle some more adventurous gluten free baking, try these:
Or you could just always make no-churn ice cream and ice cream cakes!