Gluten Free Apple Cider Donut Cake
Disclosure: This post may contain affiliate links. Cupcakes & Kale Chips is a participant in the Amazon Services LLC Associates Program, an affiliate advertising program designed to provide a means for us to earn fees by linking to Amazon.com and affiliated sites.
Gluten Free Apple Cider Donut Cake is flavored with apple cider and coated in cinnamon sugar. So not only does it taste like an apple cider doughnut, this bundt cake looks like one too. With all of your favorite autumn flavors, this is the perfect gluten free cake recipe for fall.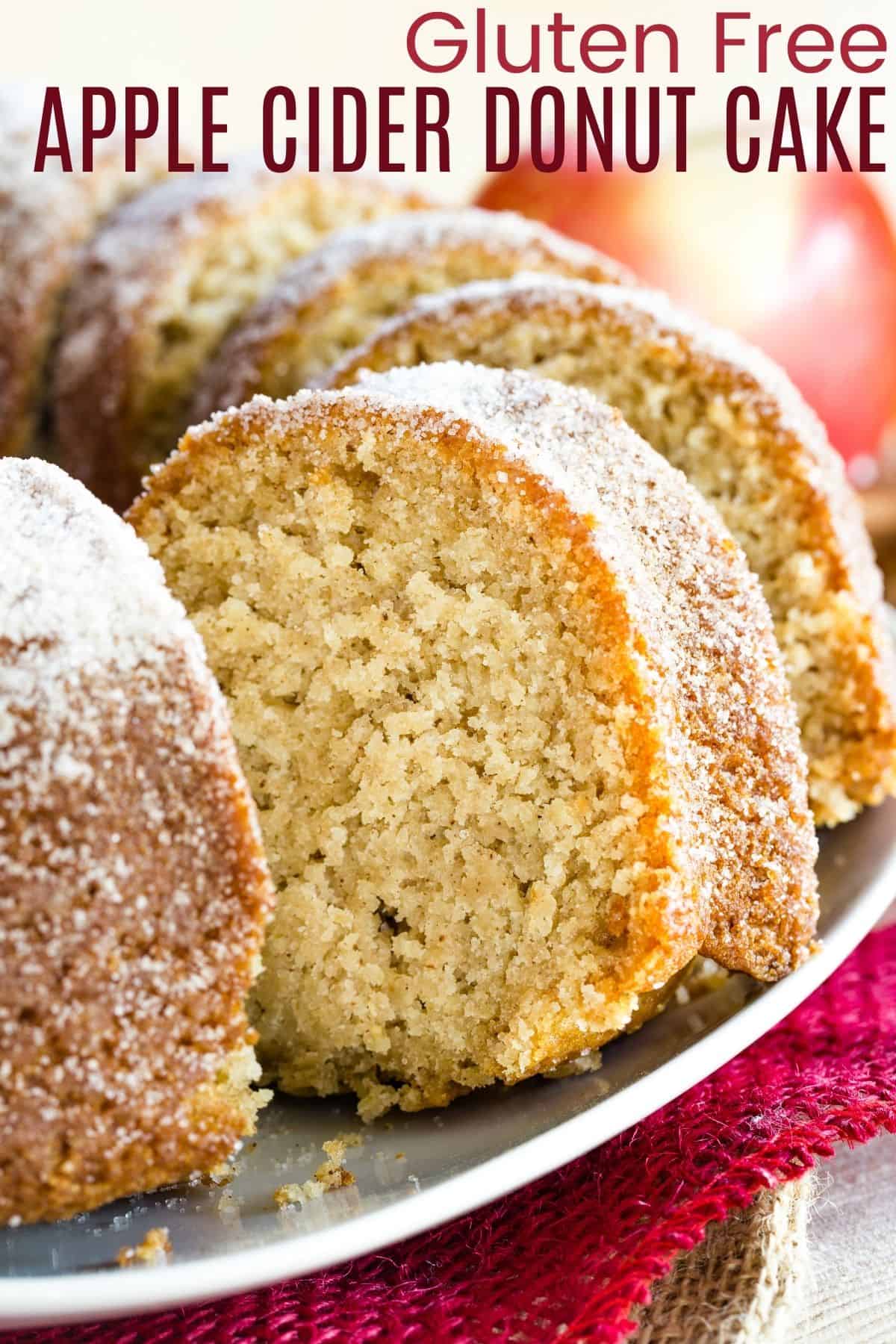 I've always loved apple cider, even more so than apple juice. It has the pure taste of biting into a fresh apple, only it's extra apple-y. I don't recall when I had my first apple cider donut. It was probably at one of the local orchards where we would go pumpkin picking in the fall.
There really is nothing like an apple cider donut. That same extra apple-y flavor in the cider bursts through in the donut. And then it's coated in cinnamon sugar that gives it a sweet crunch on the outside of the soft cakey donut. Heaven. But here's the thing. Apple cider donuts need to be fresh. After a couple of days, if they start to get the least bit dry or stale, the experience just isn't the same.
Soooo, taking the story in a different direction, my dad used to be a UPS delivery guy. What does this have to do with apple cider donuts?
Plenty!
You see because he was a UPS guy for the same distribution center that delivered at my college. Meaning he knew the delivery guy that delivered packages to my campus. While most parents would send care packages of some sort of non-perishable, non-crushable food, do you know what my dad would send me?
You guessed it – apple cider donuts. Of course the weird girl who made Homemade Vodka Sauce for her roommates on pasta night would have fresh donuts delivered to college.
On a Sunday in the fall he would stop at his local apple orchard. While there, he would pick up a gallon of apple cider and a half dozen apple cider donuts. Then he would call me and tell me that I absolutely had to stop by the mail center on Monday afternoon. He'd package everything up to keep it all safe and sound. And on Monday morning he would give it to the UPS guy that came to my college.
By Monday afternoon I was sinking my teeth into fresh apple cider donuts. Let's just say my roommates kinda loved me on those days. You see, as much as I would have liked to, I could not polish off a half dozen donuts while they were still at peak freshness.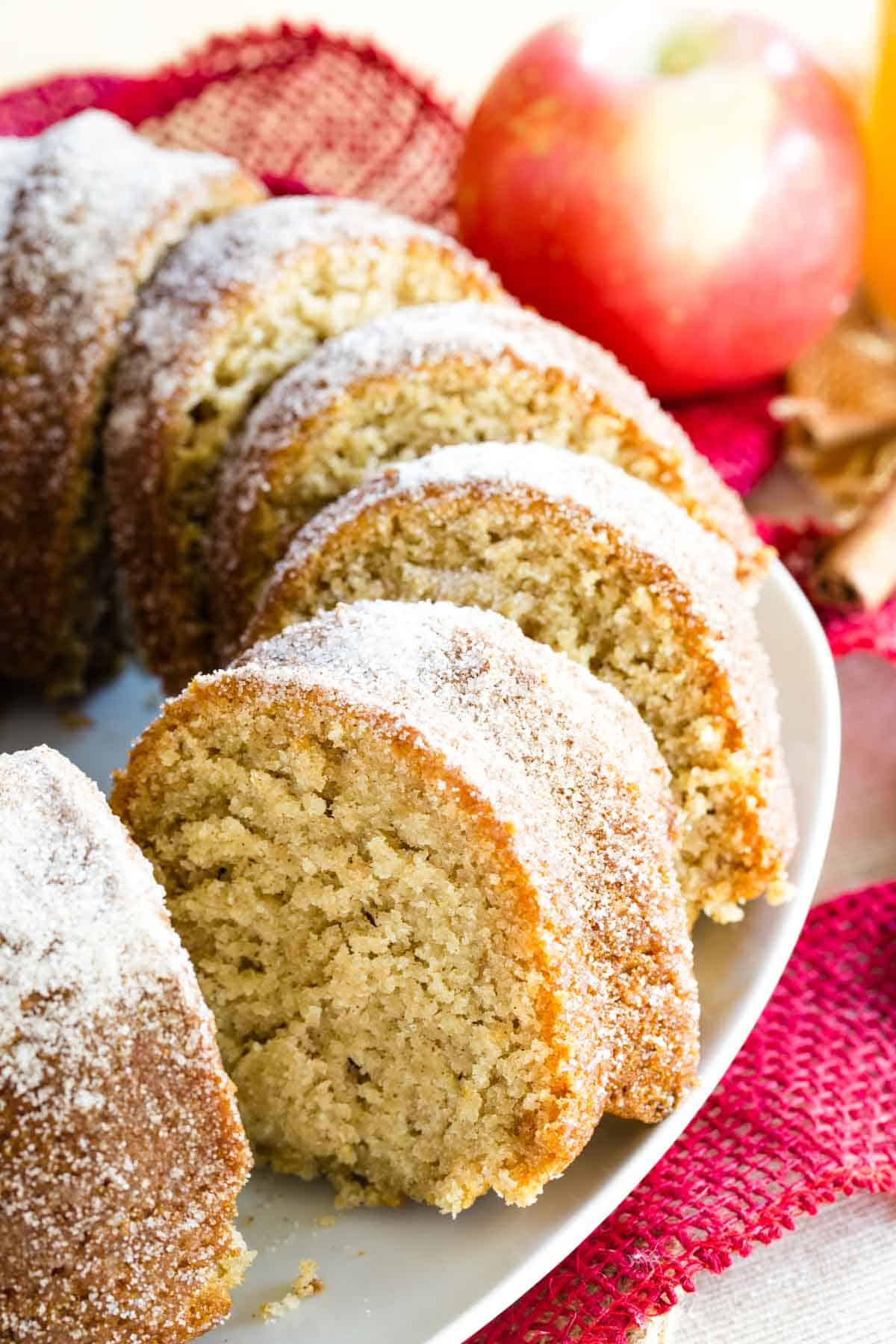 Gluten Free Apple Bundt Cake
Alas, I now have a gluten allergy, so no more apple cider donuts from the farm for me. But then when I saw this Apple Cider Doughnut Cake from Susan's blog The View From Great Island, I had a plan. I had some cider from when I made this recipe for a Spiced Apple Cider Moscow Mules. I had a surefire flour substitution for a gluten free bundt cake from when I made another cake. Besides that, I also had a bag of Bob's Red Mill Gluten Free 1-to-1 Baking Flour to test it out with that too.
This Gluten Free Apple Cider Donut Cake literally tastes just like an apple cider donut. It's moist and tender with tons of apple flavor from the apple cider and applesauce. Then the cinnamon sugar gives it a sweet, crisp coating. It absolutely is perfect for dessert, maybe with a scoop of Vanilla Bean Cheesecake No-Churn Ice Cream. Rest assured, I'm not going to tell anybody if you decide to have it for breakfast. I mean, it's just like having a donut, right?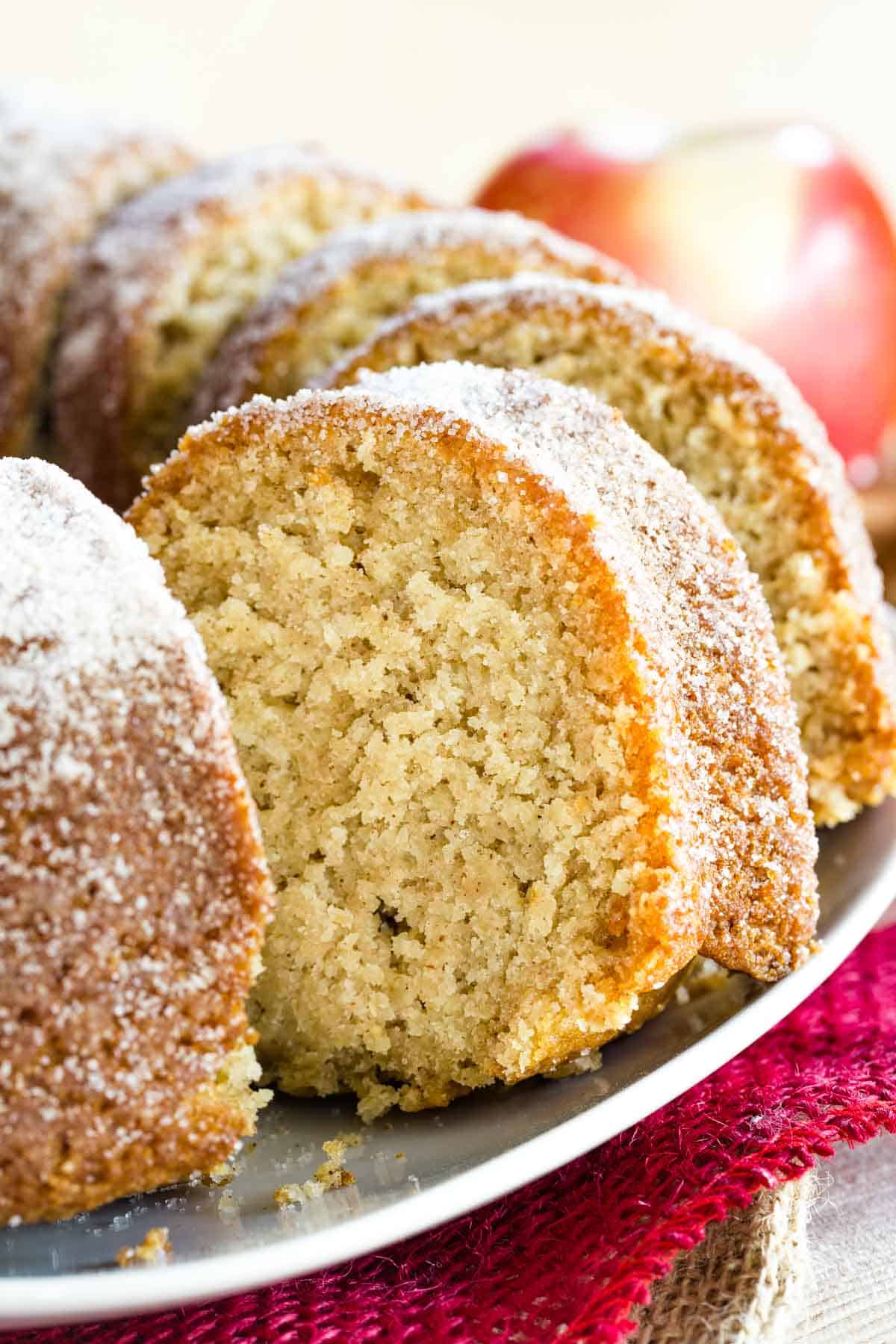 Gluten Free Apple Cider Donut Cake Recipe Tips
Be sure to really grease that bundt cake pan. I talk more about that below.
You can whisk together the dry ingredients. To ensure they are mixed well and lightened up, I actually prefer to sift them through a mesh sieve into a large bowl.
This recipe uses a fairly basic gluten free flour blend of brown rice flour, tapioca starch, and potato starch, plus xanthan gum. It has also been tested using Bob's Red Mill Gluten Free 1-to-1 Baking Flour, omitting the xanthan gum.
The oat flour is not actually part of the gluten free flour mixture. It is in the original non-gluten free recipe. You can buy certified gluten free oat flour. Or you can make your own by placing your oats in a blender (regular or high powered like a Blendtec) and whizz it up into a powder. I do like to sift this prior to adding it to a recipe to get rid of any hard bits that may be left or whole oats that didn't get broken down.
Definitely use apple cider, not apple juice. And try to use fresh apple cider from a local orchard or one that is in the refrigerated section of the grocery store. This is not meant for one of those processed, clear ciders or a sparkling cider as you will not get that same fresh apple taste.
You will want to brush the cake with melted butter and sprinkle on the cinnamon sugar while it is warm or at least at room temperature. If the cake is cold, the butter will harden and not as much cinnamon sugar will stick. You really want it to stick so you get the same effect as rolling a freshly fried donut in cinnamon sugar.
How do you store Gluten Free Apple Cider Donut Cake?
Finally, this cake keeps for a few days at room temperature. To extend the life a couple of extra days, you can put it in the fridge. This may cause it to dry out just a bit. It's nothing a dollop of whipped cream can't fix.
This gluten free apple bundt cake also freezes well. I'd just recommend freezing before you add the topping and letting it thaw slowly. First, start thawing it in the fridge till it is no longer frozen solid. Then bring it to room temperature before putting on the melted butter and cinnamon sugar.

What do you use to keep a gluten bundt cake from sticking?
For a regular bundt cake, the recommendation is always to spray the pan with one of the special non-stick sprays meant for baking that have flour in them. Or the recommendation is to butter and flour the pan. I have not found gluten free flours to work as well for this as standard all-purpose flour. And obviously, if you are gluten free you can't do that.
For my Gluten Free Chocolate Pumpkin Spice Cake, mixing shortening and cocoa powder worked well. However, you don't want to use cocoa powder unless you are making a chocolate cake.
And unlike making a layer cake like Gluten Free Strawberries and Cream Cake or a sponge cake for Flourless Chocolate Peanut Butter Cake Roll, parchment isn't really an option in a bundt pan.
I actually find that good old Crisco shortening tends to be the most effective choice for greasing a bundt pan when making a gluten free bundt cake. Yes, shortening. I don't love to use a lot of it either, but I swear it's the thing that works.
How do you keep a gluten bundt cake from sticking?
Your best bet is to use your fingers or a paper towel and really work the shortening into the crevices. One option is to try coating it in sugar, but I did not try that here so I can't confirm it will work for this cake.
Then after the Gluten Free Apple Cider Donut Cake comes out of the oven, let it cool in the pan on the rack for 15 to 20 minutes before turning it out. While you don't want it to be so hot that it crumbles, but you also want to let it cool completely so that the shortening firms up and makes it stick. If you turn the pan over and find that is doesn't slide out easily, give it a few more minutes. You can also help it along by using a small offset spatula to loosen up if you have a couple of spots that seem to be sticking just a bit. But don't go too crazy or you'll just make the cake crumbly and messy.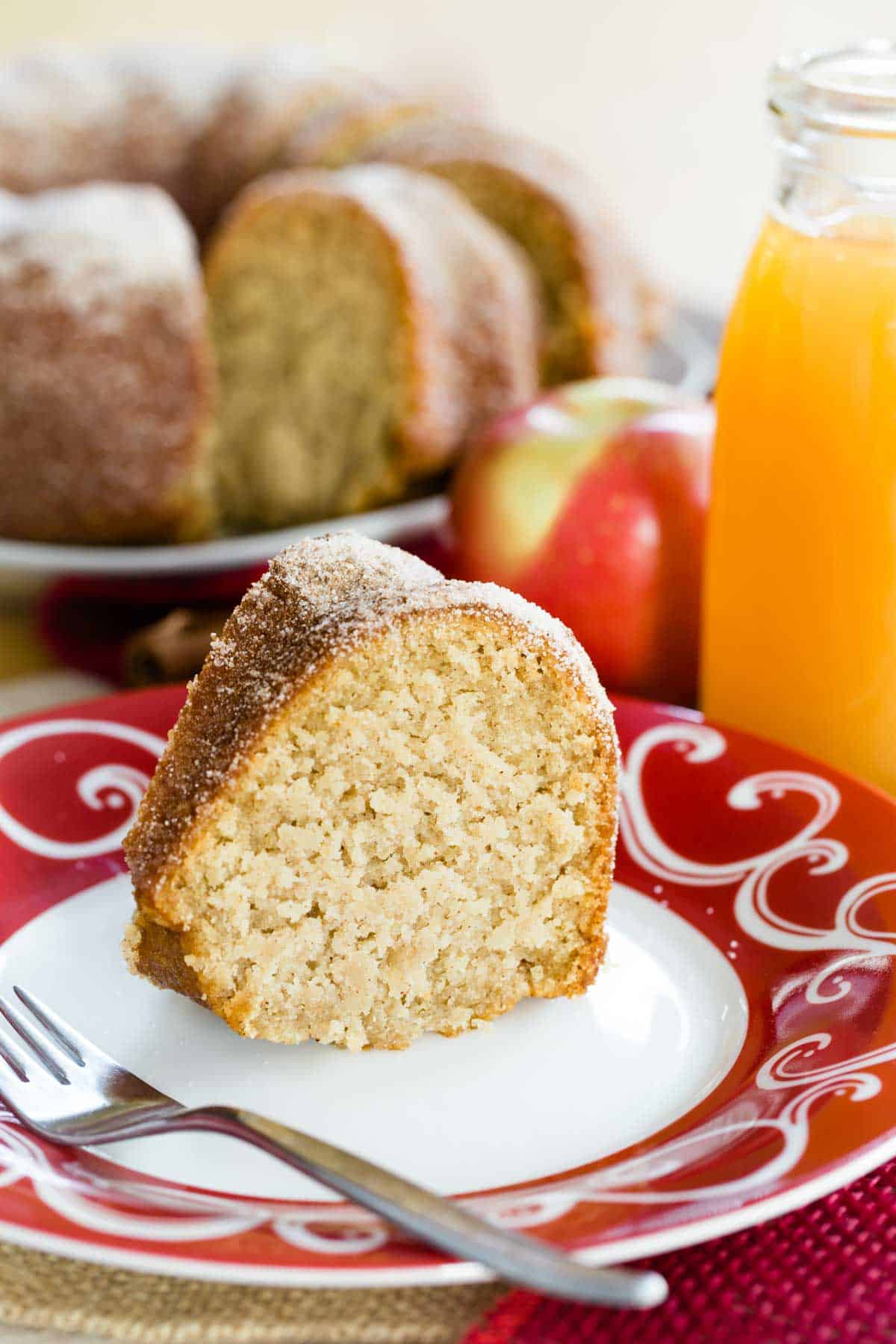 Can you use apple juice instead of apple cider?
Apple juice and apple cider are technically two different things. Both are the juice of pressed fresh apple. But apple cider is brown and almost opaque, with a deep tangy apple flavor. Apple juice has is basically apple cider that has been filtered to remove the pulp, leaving it with a paler color that is nearly transparent, as well as a lighter, more crisp flavor.
For this recipe, I used apple cider. You can use apple juice as the liquid in this recipe. However, if you are truly craving the flavor of a real gluten free apple cider doughnut, then apple cider is the way to go. And I don't mean sparkling cider or hard cider. You'll want to use the real stuff from a local apple orchard or the refrigerated section of your local grocery store.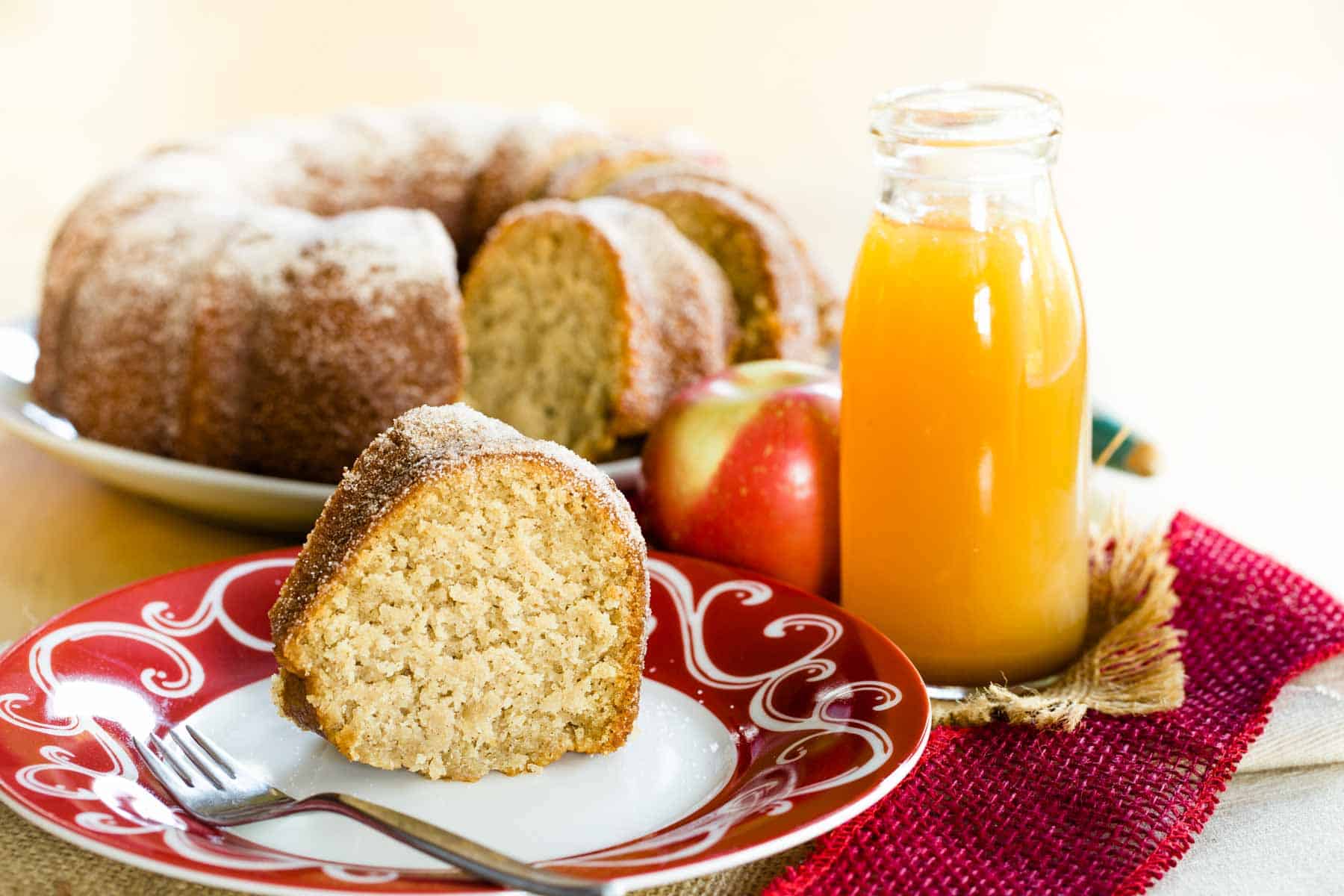 Here are more gluten free apple desserts:
And more gluten free fall desserts:
Gluten Free Apple Cider Donut Cake Recipe
With all the best flavors of fall, you are sure to love this gluten free apple bundt cake. It is flavored with apple cider and coated in cinnamon sugar. This makes it taste just like fresh cider donuts from the orchard. Have a slice with a mug of hot apple cider or a pumpkin spice latte. You'll definitely enjoy it after a day or pumpkin picking or other fun fall activities. It is the perfect way to end a crisp autumn day.
I hope you'll leave a comment and give it a FIVE STAR rating or share a photo on this pin on Pinterest!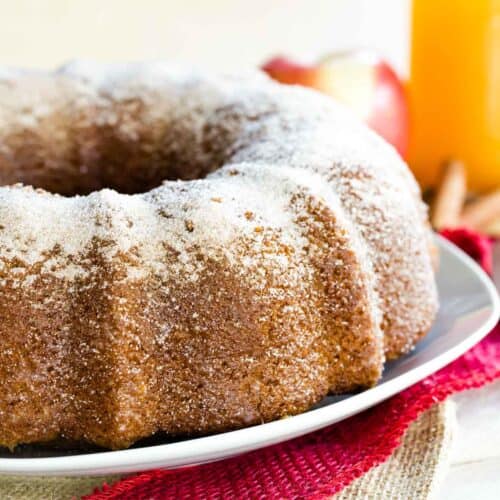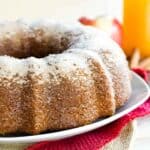 Print Recipe
Gluten Free Apple Cider Donut Cake
A delicious apple-flavored bundt cake coated in cinnamon sugar, just like apple cider donuts from the farm. Perfect for fall.
Ingredients
For the topping:
2

Tablespoons

unsalted butter

, melted

1/4

cup

sugar

1/2

teaspoon

cinnamon
Instructions
Preheat your oven to 350°F

Coat your bundt pan very well with shortening being sure to get into every crevice.

Into a large mixing bowl, sif together the brown rice flour, tapioca starch, potato starch, oat flour, xanthan gum, sugar, cinnamon, baking powder, baking soda, and salt.

In another bowl, combine the apple cider, applesauce, oil, eggs, and vanilla extract. Whisk together until combined.

Add the wet ingredients to the dry and whisk until just combined. Be careful not to overmix.

Pour the batter into the greased bundt pan and bake for 45-50 minutes, until a toothpick inserted near the center comes out nearly clean (perhaps with just a few small crumbs).

Cool in the pan on a cooling rack for 15 minutes.

While it cools, mix the sugar and cinnamon together for the topping.

Turn the cake out onto a plate and brush with melted butter, then sprinkle generously with cinnamon sugar, coating all sides as best as possible.

Serve warm or at room temperature.
Notes
You can replace the brown rice flour, tapioca starch, and potato starch with 2 cups of a gluten free flour blend. If the flour you use contains xantham gum, you can omit the 1 teaspoon of xanthan gum. This recipe has been tested with Bob's Red Mill Gluten Free 1-to-1 Baking Flour.
You can purchase oat flour or make your own by placing oats in a blender and blending to a fine powder, then sifting to remove any remaining large or hard bits.
Nutrition
Serving:
0.0625
of the cake
|
Calories:
317
kcal
|
Carbohydrates:
46
g
|
Protein:
3
g
|
Fat:
13
g
|
Saturated Fat:
9
g
|
Cholesterol:
34
mg
|
Sodium:
130
mg
|
Potassium:
176
mg
|
Fiber:
1
g
|
Sugar:
24
g
|
Vitamin A:
90
IU
|
Vitamin C:
0.4
mg
|
Calcium:
33
mg
|
Iron:
1
mg
Enjoy!
For more yumminess from me and my foodie friends, keep up with me on…
Or sign up to have Cupcakes & Kale Chips delivered straight to your Inbox!