This post may contain affiliate links. Read my disclosure policy.
This moist and fluffy Gluten Free Carrot Cake is an easy dessert filled with fresh carrots and warm spices and covered in rich homemade cream cheese frosting. It's a classic recipe that's gluten-free, dairy-free, and perfect for Easter (or, any other time of the year!).
Fluffy Gluten-Free Carrot Cake with Cream Cheese Frosting
My mouth is watering all over again just thinking about this gluten-free carrot cake. Reminiscing over the photos, I can still taste the soft, tender crumb filled with sweet and spiced carrot flavor. The tangy layers of sweet cream cheese frosting. It's totally irresistible. I can't wait to bake it again!
Right in time for Easter, I'm sharing this recipe for the best carrot cake ever. If you've been craving carrot cake since going gluten-free, but the store-bought options leave something to be desired, this is the layer cake for you!
This fluffy and moist homemade carrot cake is the ultimate spring dessert, and it's so easy to make. After one bite, you'll want to bake this gluten-free recipe year-round. A slice goes perfectly anytime with a warm cup of coffee or tea.
Why You'll Love This Recipe
What's not to love about a thick slice of fluffy and tender gluten-free carrot cake loaded with pecans and spice? Here's why this recipe works: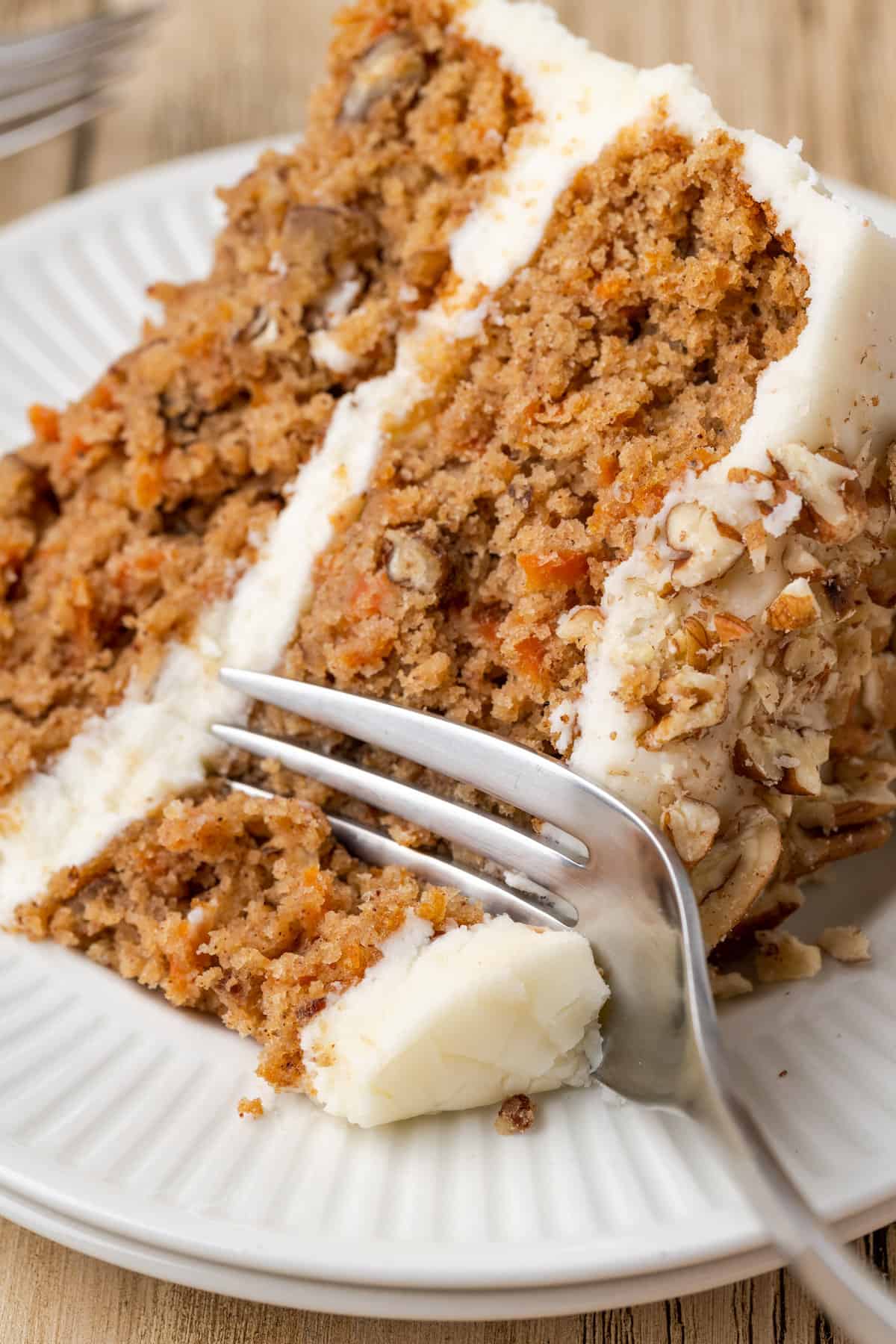 What You'll Need
Below we'll have a quick look at the ingredients you'll need to make the best homemade carrot cake. The full recipe details are available further on in the recipe card.
Gluten-Free Flour: Use your preferred high-quality gluten-free flour blend, like King Arthur's Measure-for-Measure.
Baking Powder and Baking Soda: Necessary leavening. I use both to give this carrot cake some extra lift.
Spices: Cinnamon, nutmeg, ginger, allspice, and a pinch of salt to balance and enhance the flavors.
Oil: Using oil in place of butter is the key to a soft, airy, and moist cake crumb. A neutral-flavored oil is best, like canola or vegetable oil.
Sugar: The combination of brown sugar and white sugar brings extra moisture to the cake layers.
Eggs and Vanilla: Eggs for richness, and vanilla for a hint of warm sweetness.
Applesauce: Substituting a portion of the oil in this recipe with unsweetened applesauce helps to lighten the cake, among other benefits (see below).
Carrots: Our star ingredient. You can't have a carrot cake without 'em.
Pecans: Chopped pecans, for crunch and garnish. Feel free to leave these out if you're making a nut-free carrot cake.
Cream Cheese Frosting: I include my favorite fluffy cream cheese frosting recipe that I always use to frost this cake. It's a simple combo of cream cheese (the block kind), butter, powdered sugar, and vanilla. You can use dairy-free cream cheese and butter for a fully dairy-free cake.
What Does Applesauce Do in Baking?
Applesauce is a great natural substitute for oil, butter, and eggs in baking. It's a healthier way to retain moisture and sweetness with fewer added calories and cholesterol.
I use applesauce to cut the amount of oil in the recipe, so you still get that perfectly moist and delicate cake crumb, minus the extra fats. Unsweetened applesauce also helps to enhance the flavor, while its natural sugars help to sweeten the cake.
How to Make the Best Gluten Free Carrot Cake
Ready to bake some gluten-free cake? I seriously can't wait for you to try this moist and delicious carrot cake, so here's how to make it:
Mix the Dry Ingredients: Start by whisking together the dry ingredients in a bowl, including the spices.
Beat the Wet Ingredients: In a separate bowl, beat the oil and both sugars together for a couple of minutes to get the mixture light and fluffy. Next, add the vanilla and eggs, mixing in between.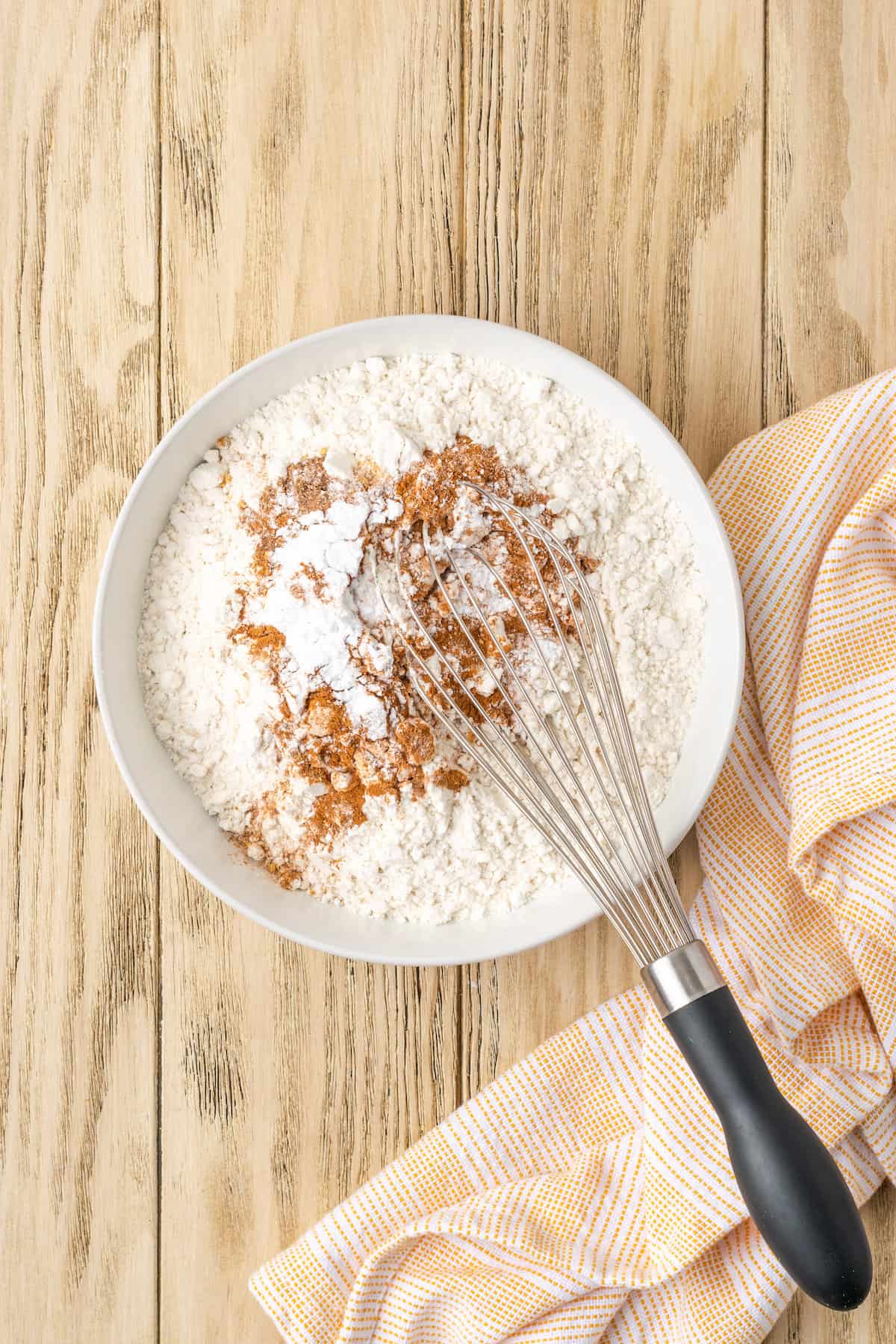 Combine: Gradually add the dry ingredients to the wet ingredients, alternating with the applesauce.
Add Carrots: Lastly, fold in the carrots and pecans by hand, just enough so that they're evenly distributed. Be careful to not overwork the cake batter.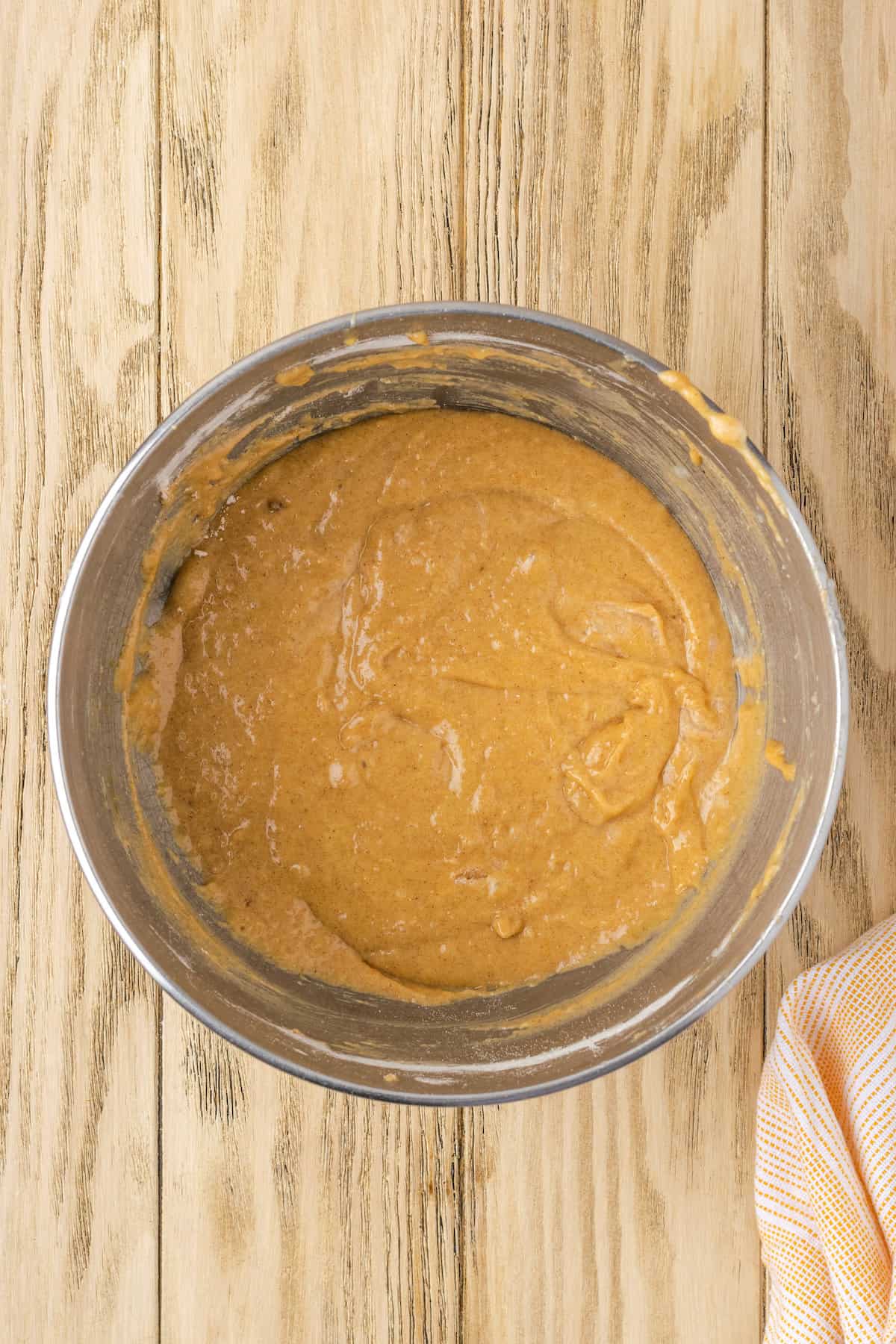 Bake: Divide the batter evenly between two greased and lined 9-inch cake pans. Bake the cakes at 350ºF for 25 minutes. Use your finger to gently press down on the top of the cake. If it springs back right away, your cake is done! Leave the cakes to cool in the pans for a bit, and then move them to a rack to fully cool before you frost them.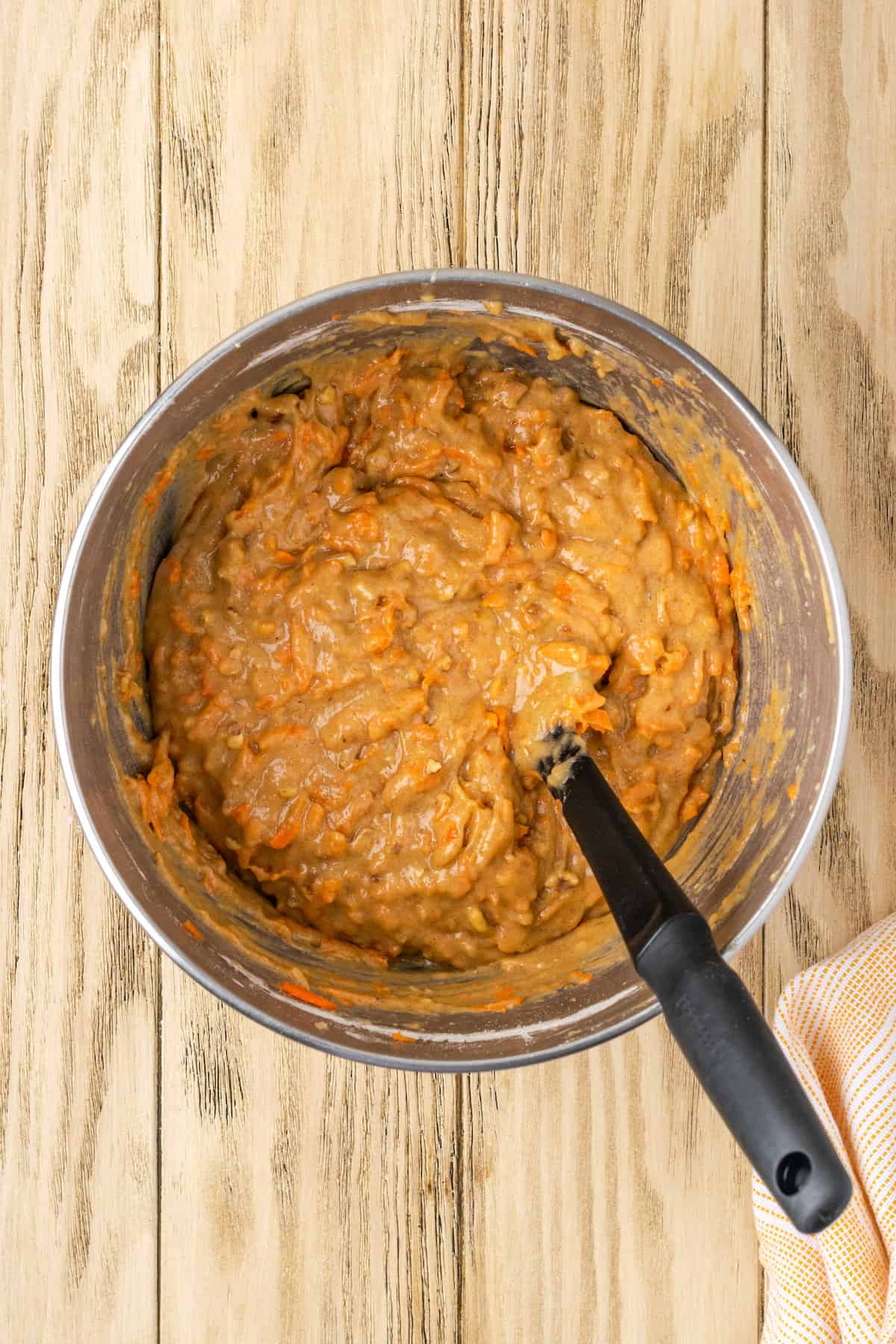 Making the Frosting
When your cakes are cooled, it's time to whip up a quick batch of cream cheese frosting:
Combine: First, beat the butter and cream cheese together until smooth. Next, mix in the vanilla extract and powdered sugar, until the texture becomes thick and paste-like.
Whip: Continue to beat the frosting for 5 minutes or so, to get it light and fluffy.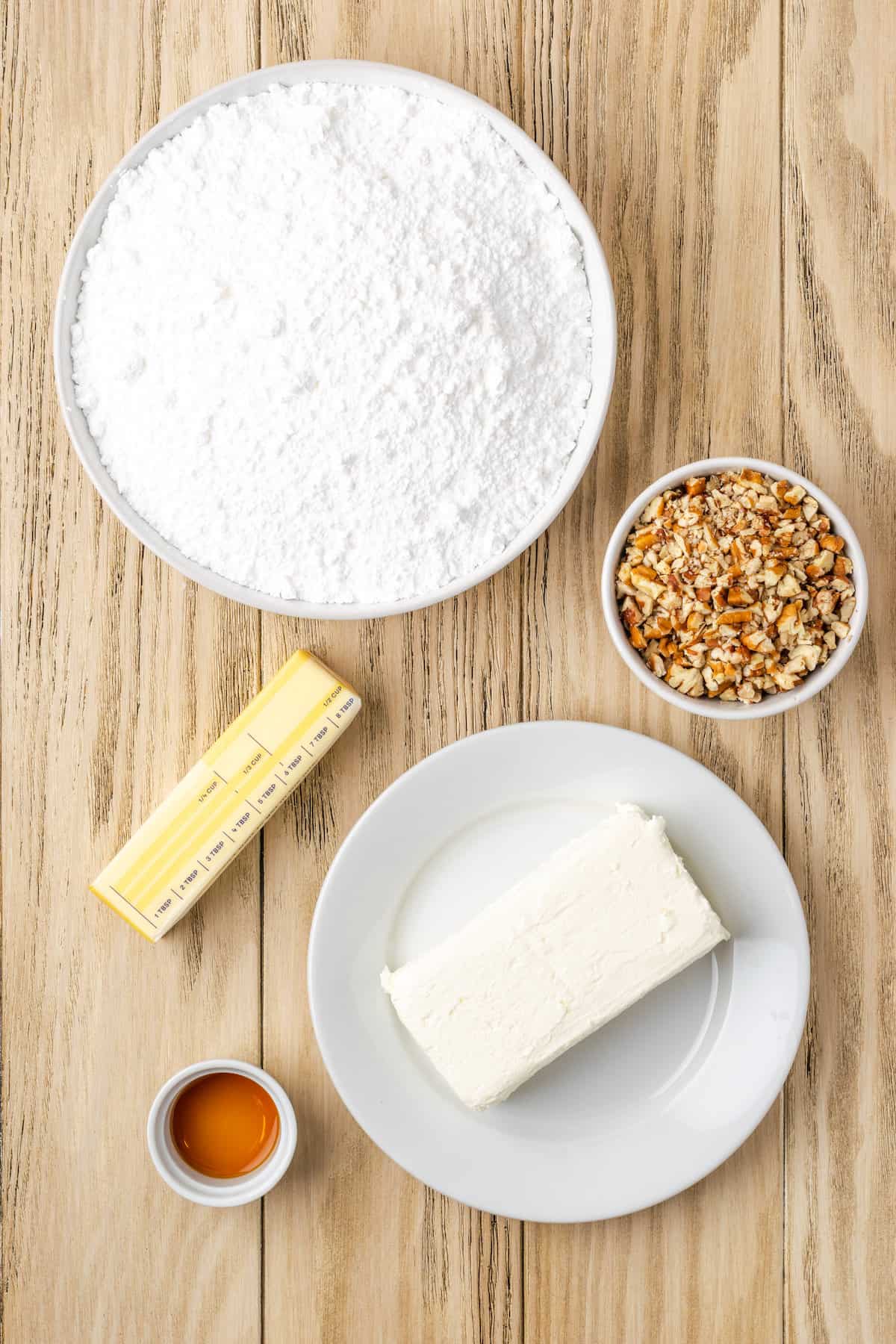 Assembling and Frosting the Cake
All that's left to do now is assemble your gluten-free carrot cake! You may notice that your cakes have risen up higher in the middle than at the edges. If needed, use a bread knife to trim the "domes" so that the tops of the cakes are level and ready for stacking. Then, get started on assembling your layers:
First Layer: Place the first of the two cakes onto a plate, and spread about a third of the frosting evenly over the top.
Second Layer: Gently place the second cake over the first. Use about half of the frosting that's left to cover the top and sides of the two cake layers. Afterward, pop the frosted carrot cake into the fridge to chill.
Decorate: After a half hour or so, take the cake out and use the remaining frosting to decorate however you'd like. See below for easy cake-decorating ideas! I also top my carrot cake with additional chopped pecans for extra crunch.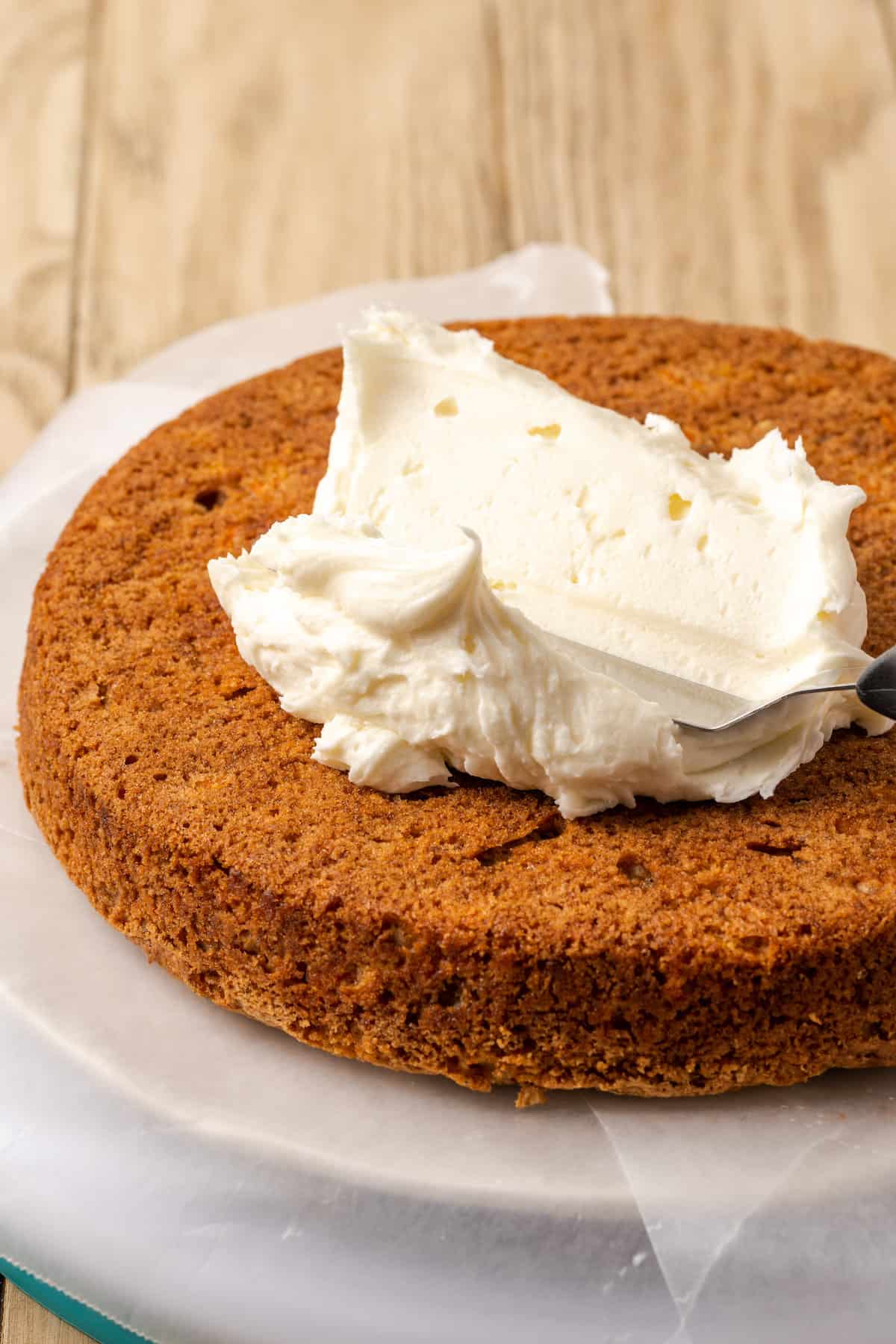 Can I Make Carrot Cake Cupcakes Instead?
Yes, you can make this recipe as carrot cake cupcakes instead! Use the batter to fill a lined 12-well muffin tin, about ⅔ of the way full. Bake at 350ºF for about 20 minutes, or until the tops spring back when gently pressed.
Note that the exact baking times may vary, so keep a close eye and check your cupcakes once they near the 20-minute mark.
Mix-Ins and Variations
Carrot cake fans can tell you: the possibilities for mix-ins are endless! Here are some easy add-ins and variations to try:
Fresh diced pineapple is a cult favorite carrot cake add-in, but with it comes a ton of excess moisture. For this reason, pineapple isn't a suitable add-in for this particular carrot cake recipe. For an equally delicious alternative that includes pineapple, however, try my Gluten-Free Hummingbird Cake!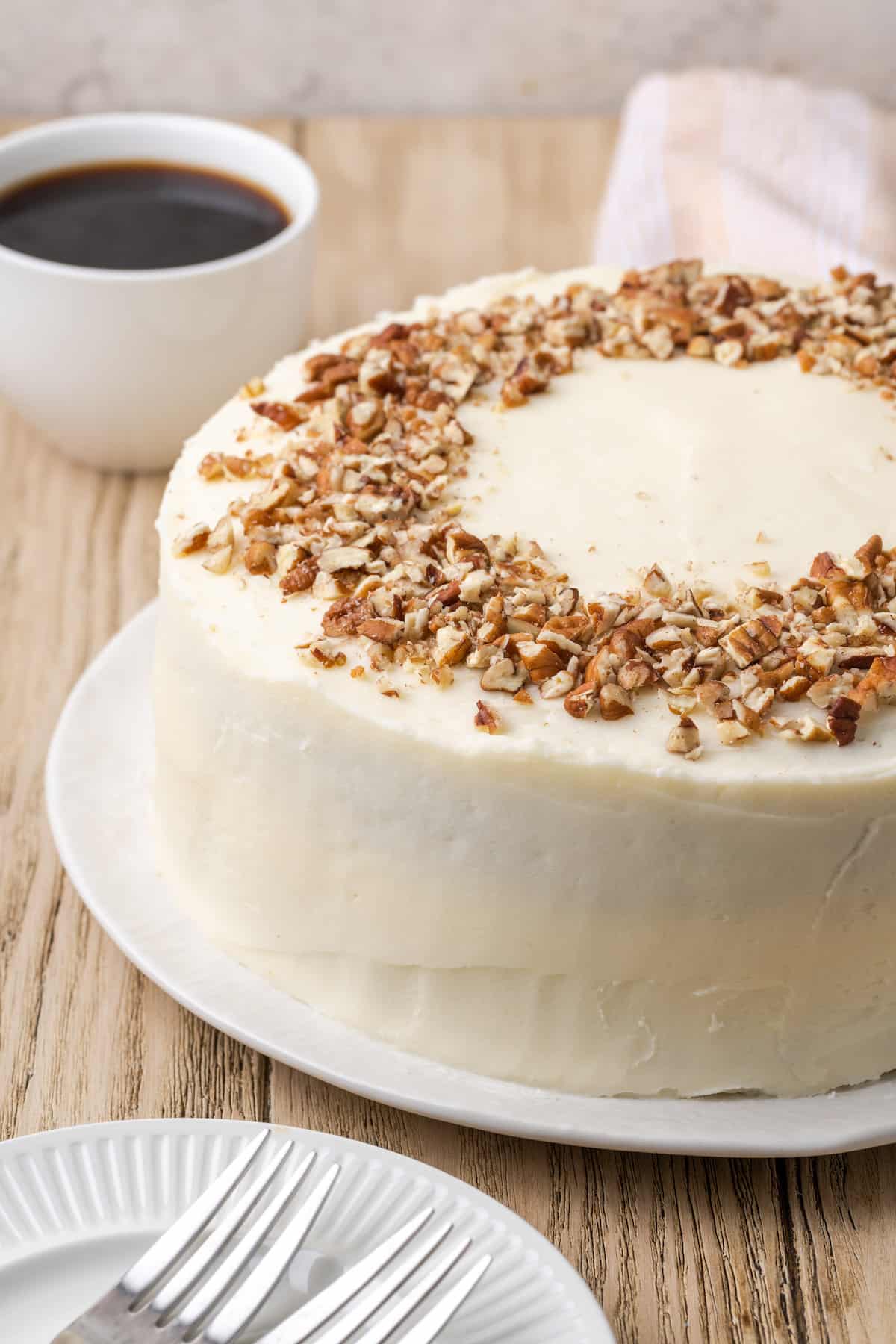 Tips for Success
I'm certain your homemade carrot cake will turn out sensational! Here are some additional tips for carrot cake success:
Grate the carrots with a food processor. This is a simple hack that makes quick work of grating fresh carrots for carrot cake. Use the grater plate or blade on your food processor to grate those carrots in seconds!
Measure the flour correctly. The best way to measure ingredients is with a kitchen scale. If you don't have one, when it comes to measuring your flour, use the spoon-and-sweep method instead. Spoon the flour from the bag into your measuring cup, and then use the back of a knife to level it off. Avoid scooping directly from the bag, as too much flour can lead to a dense, tough cake.
Don't forget to line the pans. Make sure to grease your pans with non-stick spray, and line the bottoms with parchment paper to prevent the gluten-free cakes from sticking.
Storing Homemade Carrot Cake
Leftover gluten-free carrot cake can be stored covered in the fridge for 4-5 days.
Can I Freeze Carrot Cake?
Yes, but if you're making this cake ahead it's best to freeze the gluten-free carrot cake layers before they're frosted. Once the cakes have been baked and cooled, wrap them tightly in plastic wrap with an extra layer of foil over top. When you're ready to assemble the carrot cake, defrost the layers at room temperature before frosting.
Leftover frosted carrot cake can also be frozen, though I recommend flash-freezing it in slices first. Once solid, wrap the cake slices and return them to the freezer. Thaw at room temperature before serving.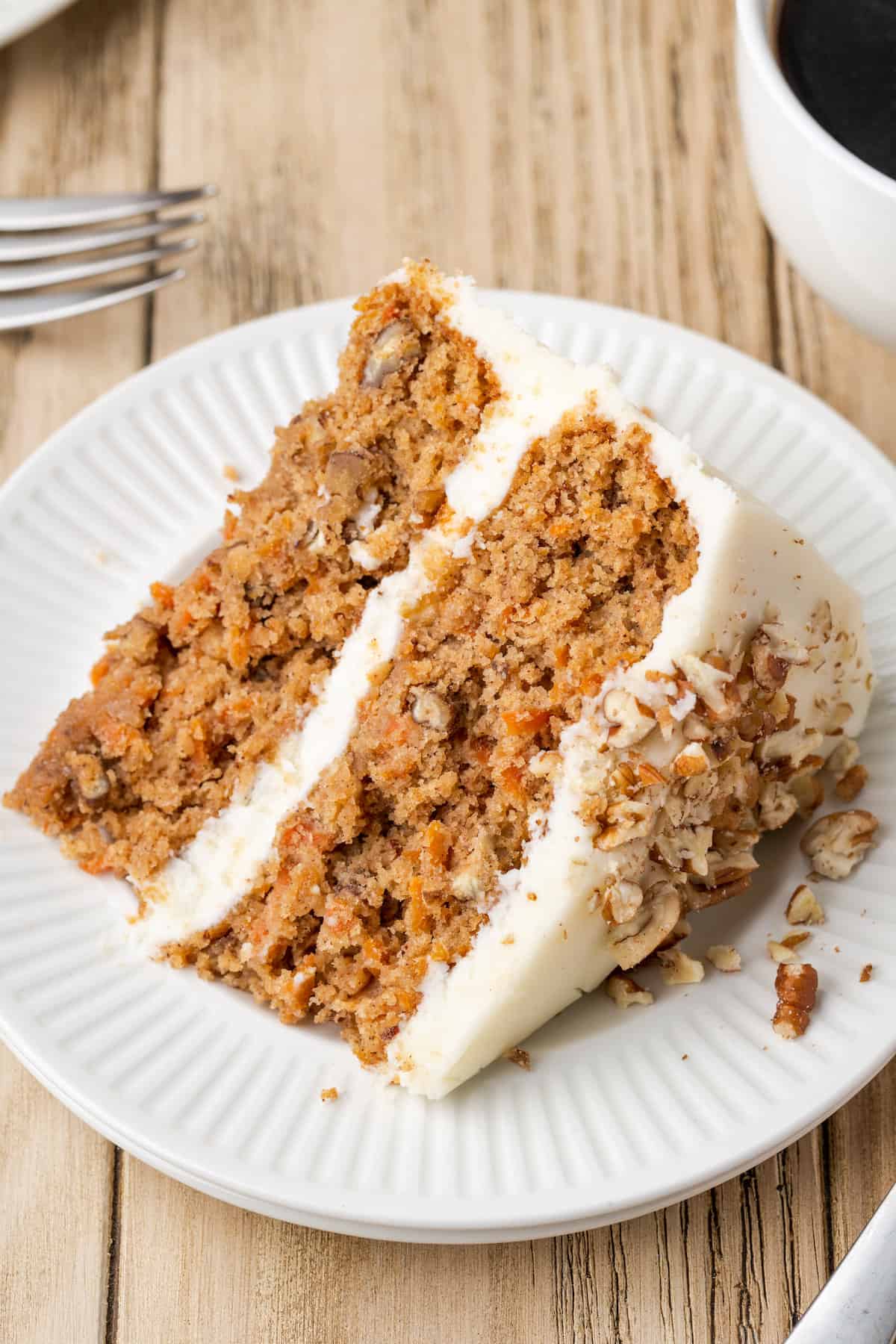 Common Questions
Is carrot cake gluten-free?
No, most conventional carrot cakes are not gluten-free as they're made with regular all-purpose flour. Unless a recipe specifies that it's made gluten-free, it's safer to assume that it isn't.
Why did my cake turn out dry and crumbly?
This could be because you used too much flour, or it could be the gluten-free flour blend that you're using. I've always had great results with King Arthur Flour when making this gluten-free carrot cake. Do your best to measure correctly!
Can I make this recipe with regular flour instead?
Yes. The gluten-free flour can be replaced with all-purpose flour if you're not making a gluten-free carrot cake.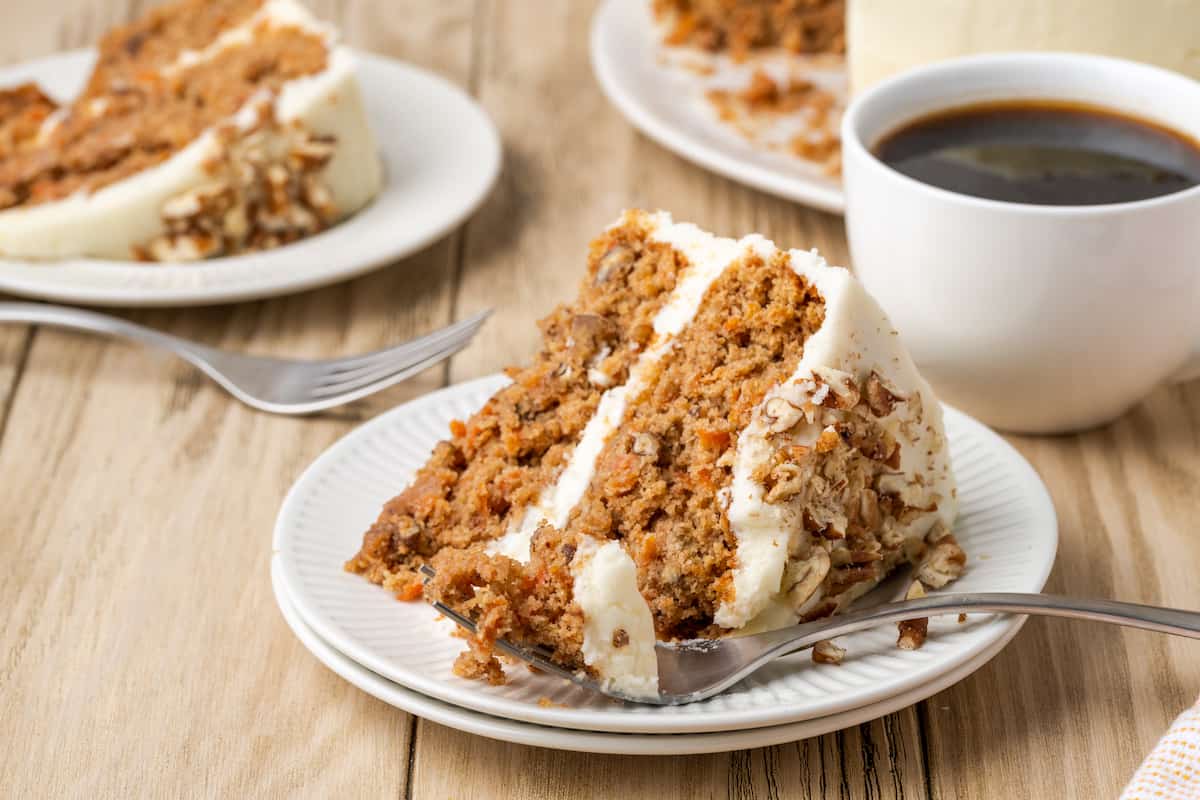 Things You'll Need
Last updated on Dec 1, 2023 2:50 pm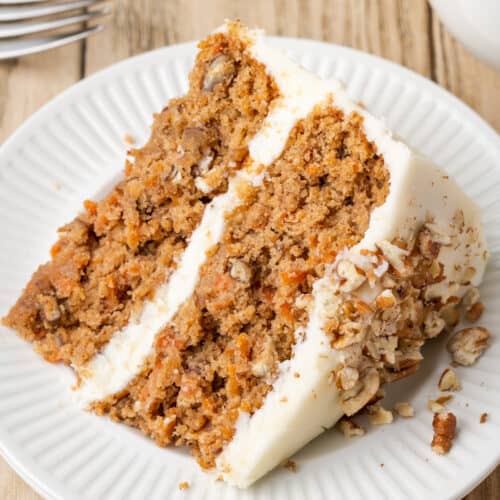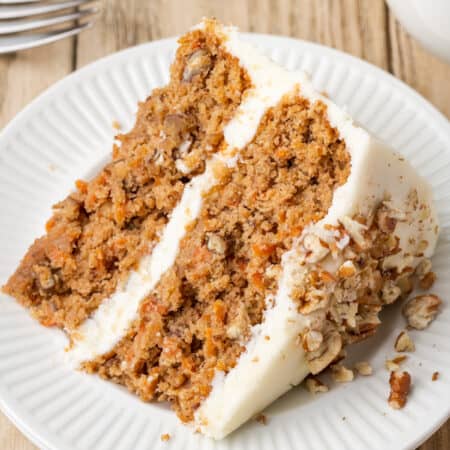 Gluten Free Carrot Cake
Fluffy Gluten Free Carrot Cake is an easy dessert brimming with fresh carrots and warm spices, smothered in rich homemade cream cheese frosting.
Ingredients
2 1/2

Cups

1-to-1 gluten free flour

(recommended: King Arthur Flour Measure for Measure)

2 1/2

teaspoon

baking powder

1/2

teaspoon

baking soda

2

teaspoons

cinnamon

1/4

teaspoon

nutmeg

1/2

teaspoon

ginger

1/2

teaspoon

allspice

1/2

teaspoon

salt

1/2

cup

vegetable oil

1

cup

granulated sugar

2/3

cup

light brown sugar,

lightly packed

3

large eggs

1

teaspoon

vanilla extract

1/2

cup

applesauce

2 1/2

cups

shredded carrots

3/4

Cup

pecans,

chopped (toasted, if desired)
For the Cream Cheese Frosting
8

oz

cream cheese,

at room temperature (non-dairy, if needed)

1/2

Cup

unsalted butter,

at room temperature (vegan butter, if needed)

5

Cups

powdered sugar,

sifted

1

teaspoon

vanilla extract

1/2

Cup

pecans.

finely chopped for decoration (toasted, if desired)
Instructions
Preheat the oven to 350°F. Grease and line two 9-inch cake pans.

Combine flour, baking powder, baking soda, cinnamon, nutmeg, ginger, allspice and salt in a large bowl. Whisk together to mix well.

Add the oil, sugar and brown sugar to the bowl of an electric mixer. Beat on medium speed for 2-3 minutes. Scrape down the bowl.

Add the vanilla then the eggs, one at a time, mixing for 60 seconds between each addition.

Turn the mixer to low speed and add half of the flour mixture followed by half of the applesauce. Repeat with the remaining flour and applesauce.

Remove the bowl from the mixer. Add the carrots and pecans and fold together by hand until they are evenly distributed.

Divide evenly among the cake pans and bake for 25-28 minutes or until the top springs back when gently pressed.

Remove from the oven and cool in the pan for 10 minutes, then remove from the pan and transfer to a wire rack. Cool completely before frosting.
To Make the Frosting:
Combine cream cheese and butter in the bowl of an electric mixer. Beat on medium speed for 2-3 minutes until smooth and creamy. Scrape down the bowl.

Add the vanilla and powdered sugar. Start the mixer on low speed. Stir until the sugar is all incorporated. The mixture will resemble a thick paste.

Turn the mixer to high speed and beat for 5 minutes, until the frosting is fluffy and lighter in color.
To Assemble the Cake:
If necessary, level the cake rounds before frosting.

Place the first cake round on a plate. Top with about 1⁄3 of the frosting. Spread over the cake round to the edges.

Top with the second cake round. Spread about 1⁄2 of the remaining frosting on the top and sides of the cake, making a thin even layer.

Chill the cake for 30 minutes.

Remove the cake from the refrigerator and apply the remaining frosting into a decorative layer.

Top with chopped pecans.
Notes
Store leftover cake in the refrigerator for 4-5 days.
Nutrition Facts
Gluten Free Carrot Cake
Amount Per Serving (1 slice)
Calories 709
Calories from Fat 297
% Daily Value*
Fat 33g51%
Cholesterol 80mg27%
Sodium 243mg10%
Potassium 283mg8%
Carbohydrates 104g35%
Protein 6g12%
Vitamin A 5015IU100%
Vitamin C 2mg2%
Calcium 111mg11%
Iron 2mg11%
* Percent Daily Values are based on a 2000 calorie diet.
Categories:
More Easy Gluten Free Cake Recipes