This post may contain affiliate links. Read my disclosure policy.
A Southern classic, Gluten Free Hummingbird Cake is a moist and tender, sweet and spiced cake filled with bananas, juicy pineapple, and crunchy pecans. Topped off with a velvety cream cheese frosting, this dessert is perfect for spring and summer!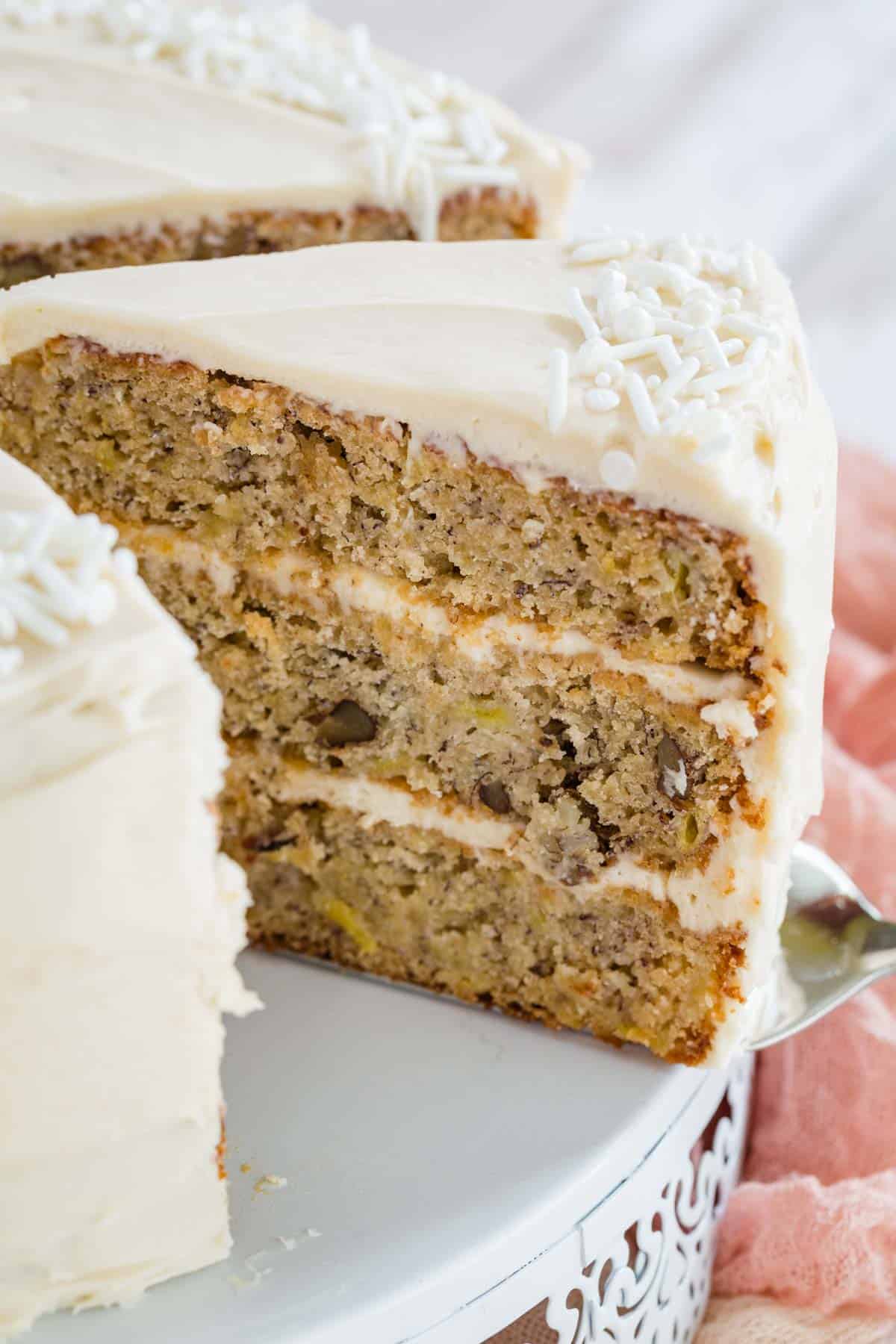 Tender Hummingbird Cake With Cream Cheese Frosting
I first shared a version of this cake for my little guy's 2nd birthday. How time flies! At the time, he loved fruit (especially bananas and pineapple) and insisted that cinnamon be sprinkled on everything. So I made it just for him. To this day, we still love this hummingbird cake!
I make it gluten free so that I can enjoy it too. This layer cake is dense and moist, with tons of banana flavor, a hint of cinnamon, and bursts of pineapple and pecans, all smothered in silky cream cheese frosting.
The flavors of this hummingbird cake give off major banana bread-meets-carrot cake vibes. You can try the recipe as is, play around with it a bit, but whatever you do, make it with love!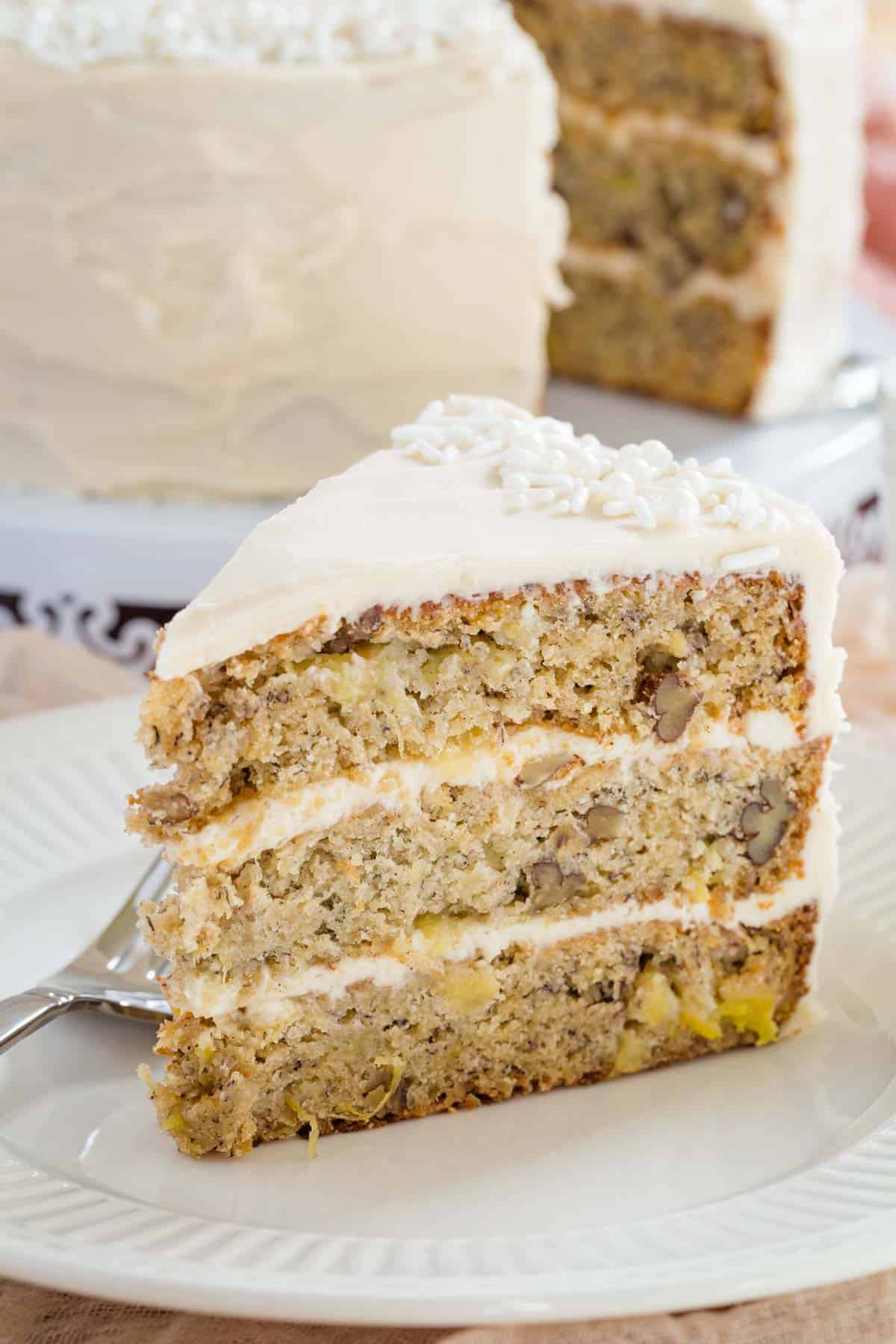 What is Hummingbird Cake?
Hummingbird cake is a traditional Southern recipe with roots in Jamaica. It's usually made as a layer cake and flavored with the tropical flavors of bananas, pineapple, crushed pecans and sometimes coconut, and frosted with a rich cream cheese frosting.
Hummingbird cake gets its name from the original Jamaican recipe for a cake so sweet that it attracts the native hummingbirds! The recipe found its way to the states in the 70s, and grew in popularity until it was eventually published in a 1978 issue of Southern Living.
Recipe Ingredients
Making a gluten-free version of a hummingbird cake is super simple. The key is in the ingredients that contribute all that lovely sweetness and moisture! Here's what you'll need for both the cake and the frosting. Be sure to check the recipe card later on for the exact amounts:
For the Cake
Gluten Free Flour: I've always had great results with Bob's Red Mill 1-to-1 Baking Blend when baking.
Leavening: You'll need both baking soda and baking powder.
Salt
Cinnamon: Cinnamon brings a hint of warm spice that's phenomenal with the fruit and pecans in this cake!
Sugar: I use granulated sugar for a lighter cake, though you could use light brown sugar if you prefer the more caramelized flavor.
Eggs: At room temperature.
Coconut Oil: Melted and cooled. Alternatively, you can use vegetable oil or canola oil, too.
Vanilla Extract: As always, it's worth getting your hands on pure, natural vanilla extract (and not imitation) for the best flavor.
Bananas: You'll need some mashable bananas, not quite as brown as those you'd use for banana bread, but just over-ripe with some brown speckling.
Pineapple: Get a can of crushed pineapple that's still in its juice. Don't drain!
Pecans: Chopped and lightly toasted. Walnuts are another good option.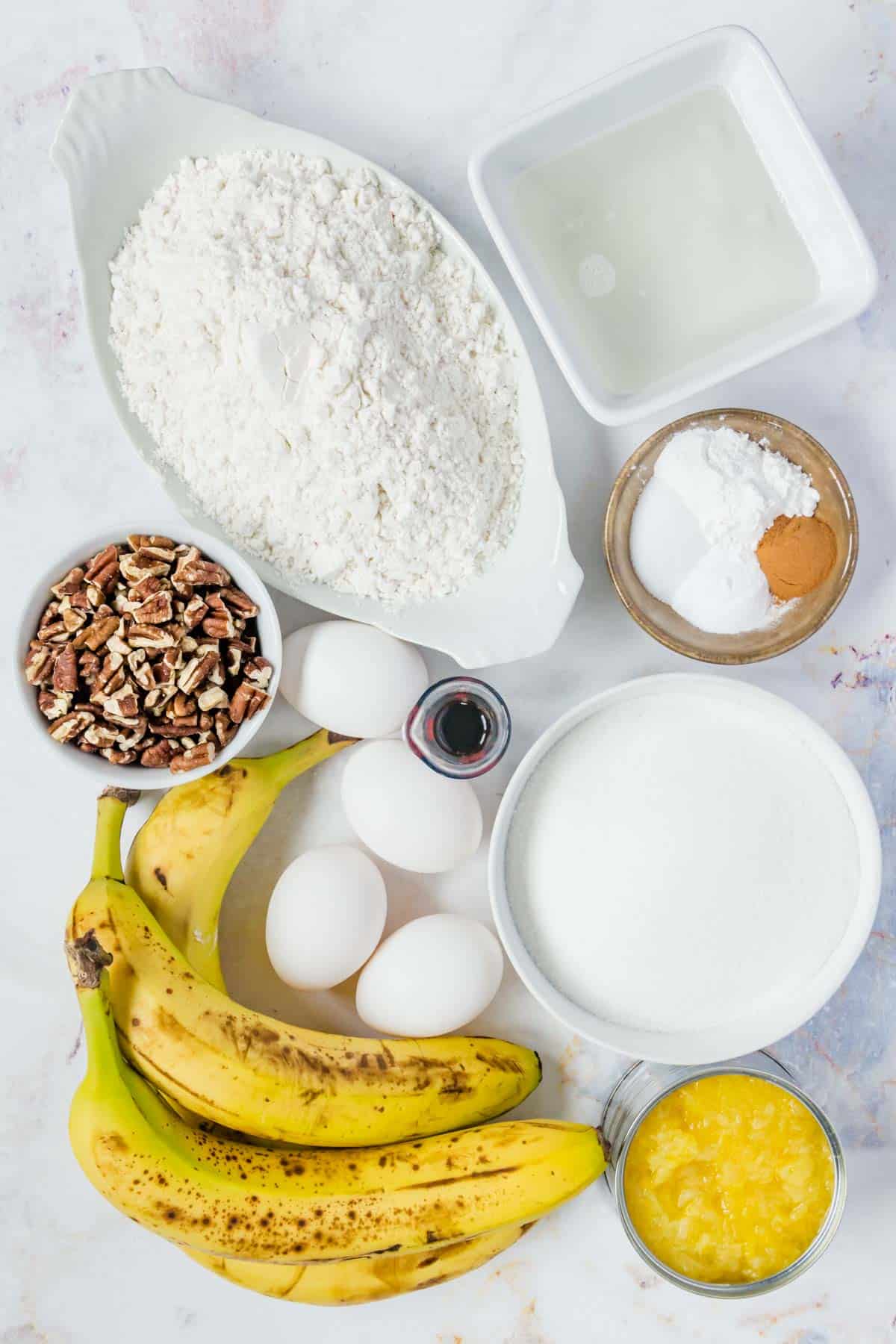 For the Cream Cheese Frosting
Butter: You'll need one stick of unsalted butter, softened to room temperature.
Cream Cheese: This frosting recipe can be made using either regular or light cream cheese. Like the butter, allow the cream cheese to soften to room temperature for easier mixing.
Lemon Juice: Adding lemon juice is optional but really brightens the flavors of the frosting!
Vanilla Extract
Powdered Sugar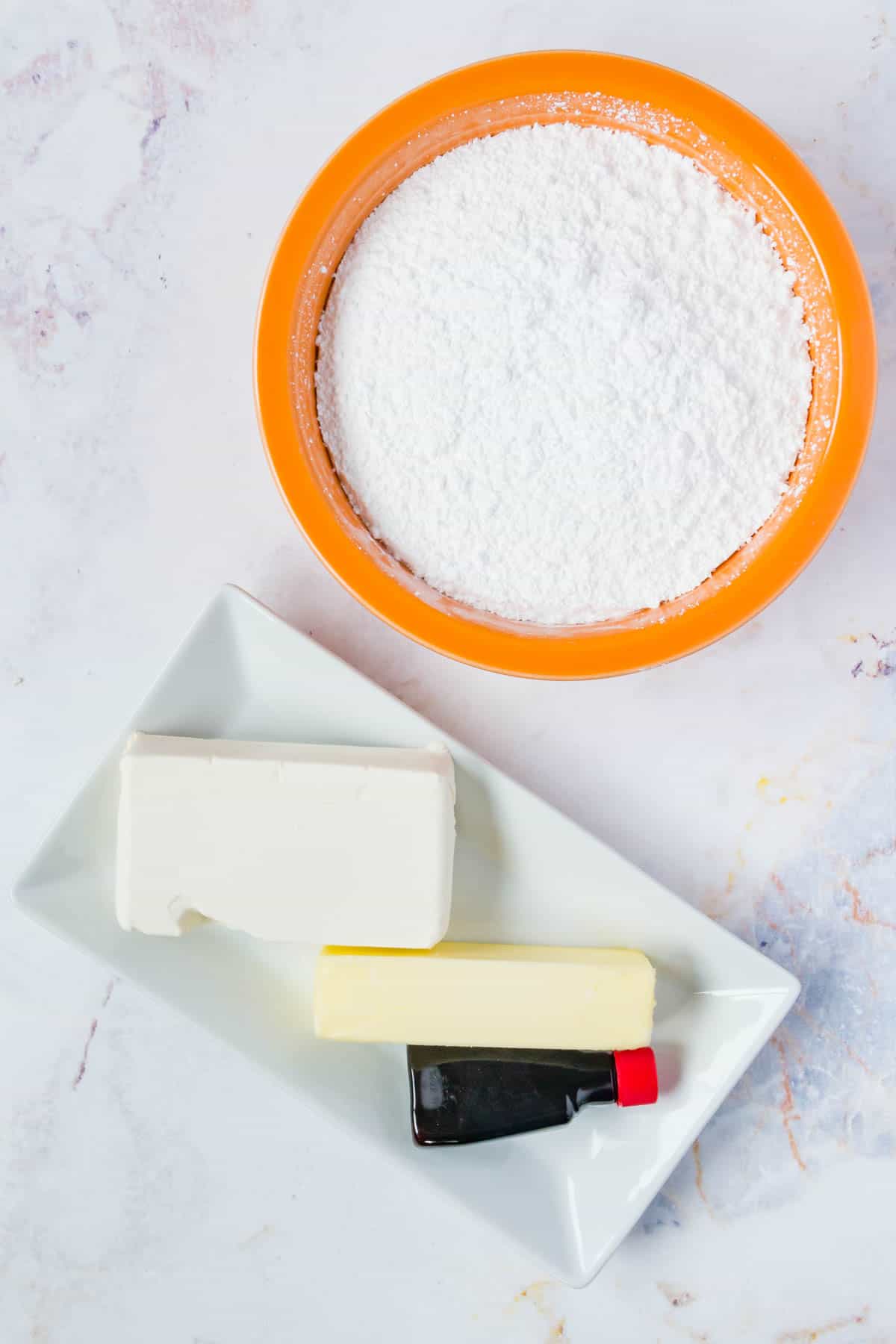 Can I Use Fresh Pineapple Instead of Canned?
When it comes to hummingbird cake, it seems the jury is out when it comes to fresh or canned pineapple.
Some bakers swear that fresh is best for flavor. Meanwhile, others insist that canned crushed pineapple, with its added juice and sweetness, gives the cake more moisture and flavor than fresh pineapple alone.
Personally, I make my hummingbird cake with canned crushed pineapple, and don't even drain it! Ultimately, the choice is yours and your cake will be delicious, any way you slice it.
How to Make Gluten-Free Hummingbird Cake
Now that you've rounded up all your ingredients, it's time to bake some cake!
Make the Batter: Whisk together the dry ingredients and wet ingredients separately, then combine them. Add in the pineapple and pecans, stirring until the cake batter is just combined.
Bake: Divide the batter between three greased 9-inch cake pans. Bake the cakes in a 350ºF oven until the cake is cooked through (a toothpick stuck in the center will come out clean).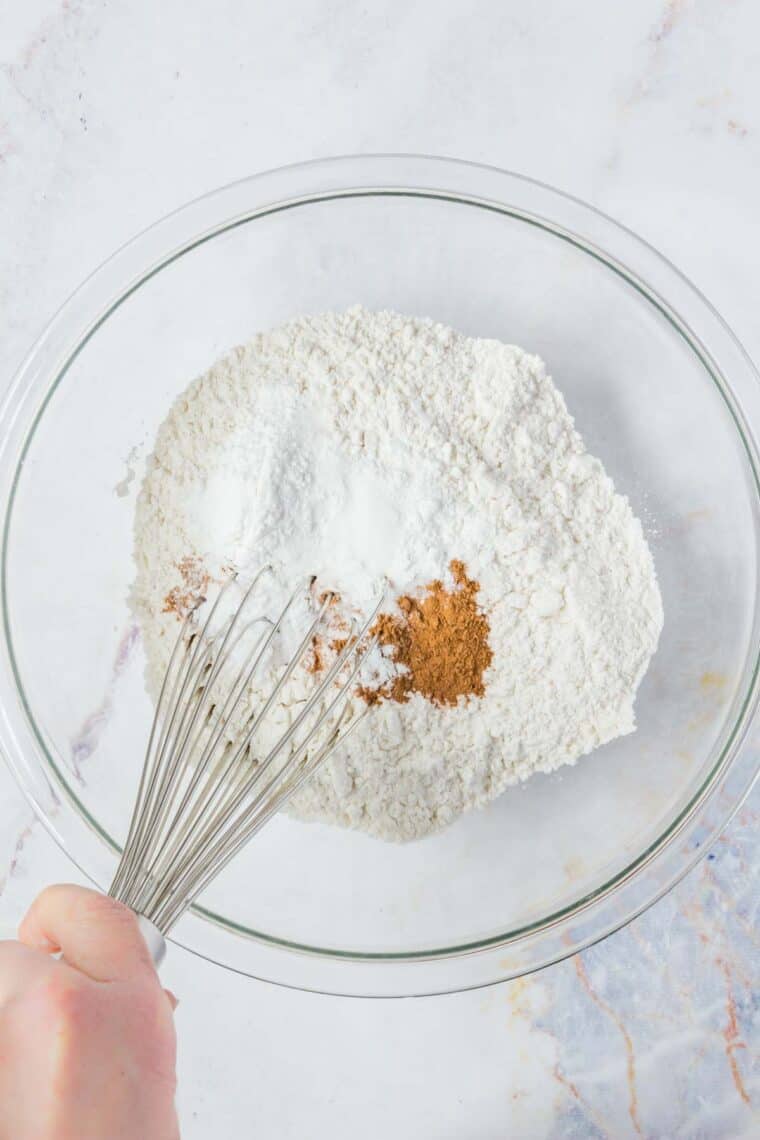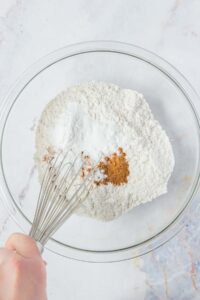 Make the Frosting: Move your cakes to a wire rack to cool completely. Once the cakes are ready, combine the frosting ingredients and gradually beat in the powdered sugar until smooth.
Assemble: Beginning with the first layer, spread about a half cup of frosting over the cake, then top with the second cake layer. Repeat and place the third and final layer onto the cake, then frost it all over with what's left of your cream cheese frosting. Sometimes I like to top my hummingbird cake with pecans, other times I use fancy sprinkles, but you can decorate it however you wish!
Add-Ins & Variations
This hummingbird cake is blissful as it is, or you can dress it up with more add-in ideas:
Shredded carrots
Shredded coconut
Chocolate chips (or white chocolate chips)
Nuts like walnuts, hazelnuts, or macadamia nuts
Dried fruit like raisins or craisins
You can also try these easy cake variations:
Make a Sheet Cake: Instead of layers, make a hummingbird sheet cake by baking the cake in a 9×13 baking pan. Spread the batter evenly in the pan and then bake it in a 350ºF oven for approximately 40 minutes, or until a toothpick stuck into the cake comes out clean. Once the cake has cooled completely, you can frost as usual (note that you may end up with extra frosting, since you no longer need to frost between layers. Why not use what's left as a filling for cookie cups!).
Make Hummingbird Cupcakes: Divide the batter between the wells of a lined muffin tin (about ⅔ full) for easy hummingbird cupcakes. Bake at 350ºF for about 20 minutes, then cool and top with the frosting.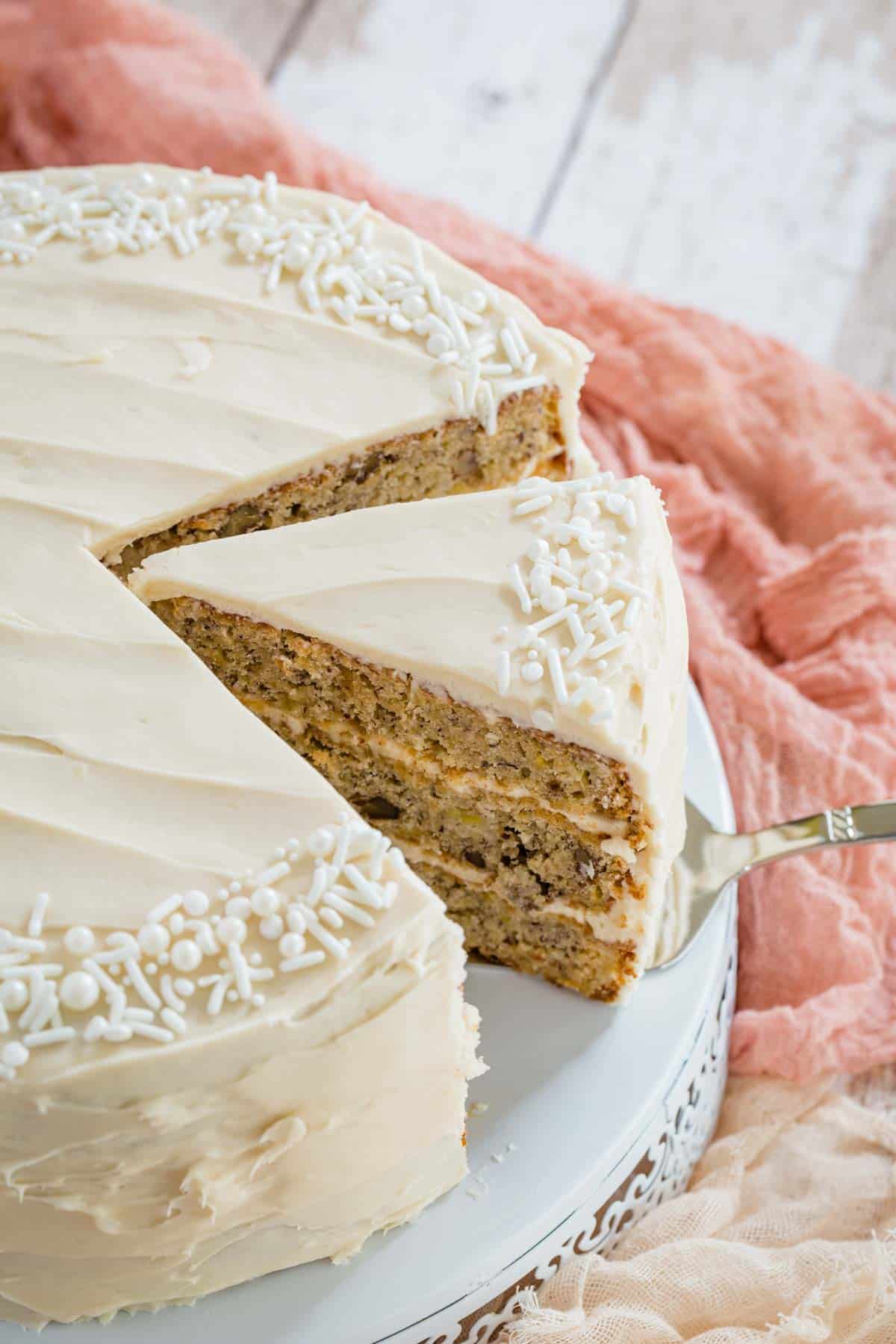 Tips for Success
There are some tips you can keep in mind when making this gluten-free hummingbird cake:
Get Those Bananas Ripe: If you'd like to ripen your green bananas faster, pop them into a paper bag and leave them on the counter for a couple of days, to help speed up the process. Also, this is a great cake to make if you've frozen bananas that are getting overripe.
Don't Over-Mix: Overly mixed batter can cause any cake to come out more dense than expected, but especially cakes with added fruit! Mix the batter until it's just combined for a cake that's moist, but not dense.
Let the Cakes Cool: The cake layers must be completely cool before you assemble the cake. Warm cake will lead to a slip-n-slide situation with the layers and melted frosting! 
Level the Layers: Whenever assembling a layer cake, it's a good idea to trim the "domes" off of the individual cake layers. This way they'll lay flat against the layers above.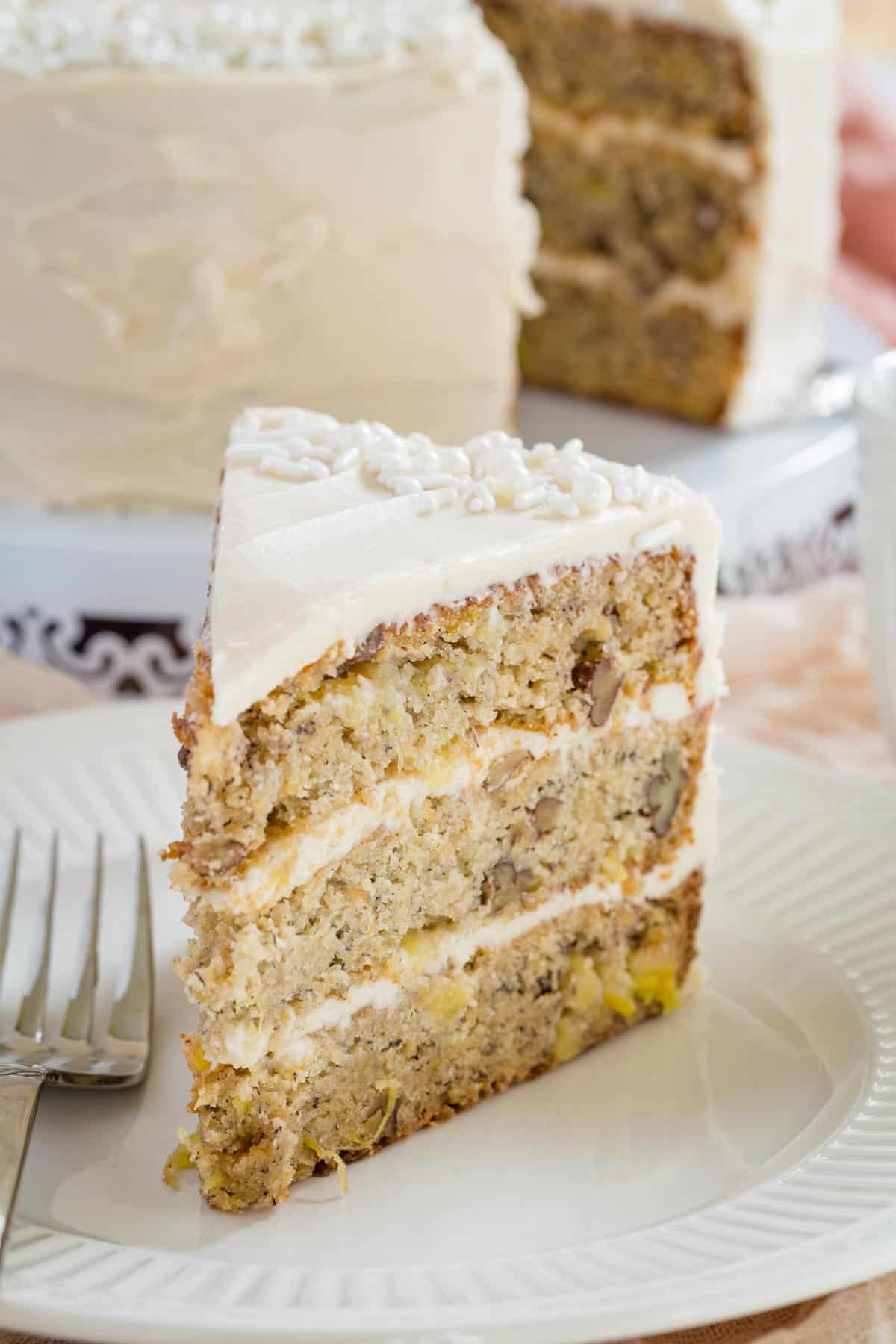 How to Store Extras
Hummingbird cake is best kept in the fridge. It will keep for up to a week when chilled airtight! You can serve it straight from the fridge, but I suggest taking it out and letting it come back to room temperature before serving.
Can I Freeze This?
Once your cake layers are baked and fully cool, you can wrap them tightly in plastic wrap to store in the freezer (add an extra layer of foil to help protect against freezer burn). I wouldn't recommend freezing a frosted hummingbird cake due to the cream cheese.
Simply thaw your cake layers at room temperature, whip up a batch of frosting, and then finish off your cake!
More Gluten-Free Cakes to Try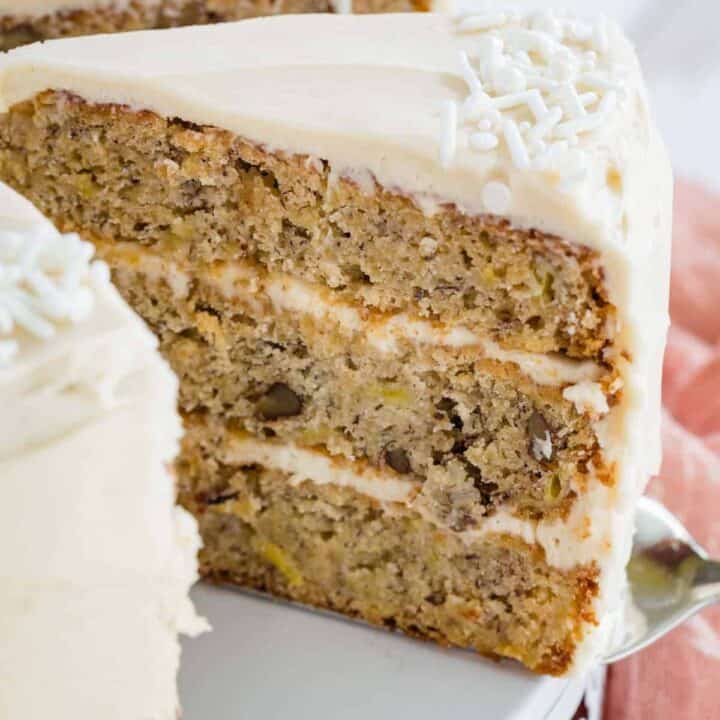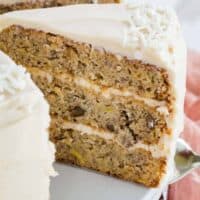 Gluten Free Hummingbird Cake
Gluten Free Hummingbird Cake is a moist and tender, sweet and spiced cake filled with bananas, juicy pineapple, and crunchy pecans, all topped off with a velvety cream cheese frosting.
Ingredients
For the cake:
2 1/2

cups

1:1 gluten free flour

(recommended: Bob's Red Mill 1-to-1 Baking Blend)

3

teaspoons

baking powder

1

teaspoon

baking soda

1

teaspoon

salt

1

teaspoon

cinnamon

1 1/2

cups

granulated sugar

4

large

eggs

at room temperature

1

cup

coconut oil

melted and cooled (or vegetable/canola oil)

2

teaspoons

vanilla extract

2

cups

mashed very ripe bananas

(about 4-5 bananas)

8

oz.

can crushed pineapple in juice,

NOT drained

1

cup

chopped pecans,

lightly toasted
For the cream cheese frosting:
½

cup

unsalted butter (one stick),

softened to room temperature

8

oz.

cream cheese

(regular or light), softened to room temperature

2

teaspoons

vanilla extract

1

Tablespoon

vanilla extract

1/2

teaspoon

lemon juice,

optional

3-4

cups

powdered sugar
Instructions
For the cake:
Preheat oven to 350°F. Spray three 9-inch cake pans with cooking spray or mist with oil, and line the bottom with parchment paper.

In a large bowl, whisk together the flour, baking powder, baking soda, salt, and cinnamon until thoroughly combined. Set aside.

In a medium bowl, whisk together the sugar, eggs, oil, and banana.

Add the wet ingredients to the dry ingredients and fold gently to combine. Stir in the pineapple and pecans.

Divide the batter evenly between the prepared pans and bake for 30-35 minutes, or until slightly browned and firm to the touch, and a toothpick inserted in the center comes out clean.

Let the cakes cool for 10-15 minutes in the pan on a rack, then remove from the pan and cool to room temperature directly on the rack.

Place the first cake on a serving platter, top with about 1/2 cup of the cream cheese frosting, and spread evenly to the edges. Repeat with the second layer. Top with the final cake layer and cover the top and sides with the remaining frosting. Decorate with sprinkles or more toasted pecans, if desired.
For the cream cheese frosting:
Combine all of the ingredients in a medium bowl and beat with an electric mixer until thoroughly combined and smooth.

Mix in cream cheese, vanilla extract, and if you wish lemon juice.

With the mixer working at slow speed, slowly start adding 3 cups of the powdered sugar and beat until smooth. Add additional powdered sugar until you reach your desired consistency.
Nutrition Facts
Gluten Free Hummingbird Cake
Amount Per Serving (1 slice)
Calories 541
Calories from Fat 279
% Daily Value*
Fat 31g48%
Cholesterol 76mg25%
Sodium 279mg12%
Potassium 264mg8%
Carbohydrates 66g22%
Protein 5g10%
Vitamin A 464IU9%
Vitamin C 4mg5%
Calcium 78mg8%
Iron 1mg6%
* Percent Daily Values are based on a 2000 calorie diet.
Categories: