This post may contain affiliate links. Read my disclosure policy.
Gluten Free Hummingbird Cake with Greek Yogurt Cinnamon Cream Cheese Frosting is a moist fruit and nut filled cake that is sweetened only with bananas and honey, and filled with all kinds of goodness.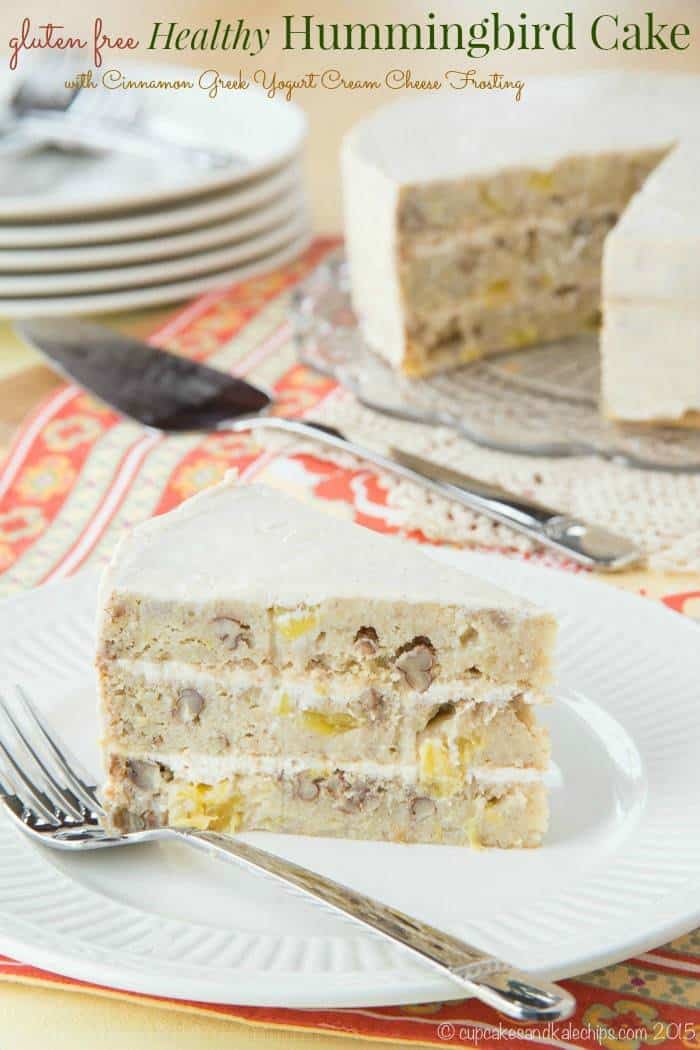 Gluten Free Healthy Hummingbird Cake with Greek Yogurt Cinnamon Cream Cheese Frosting
Reflections for my Two-Year-Old on his Birthday
Little dude, as a perfectioninst-in-recovery, there's a phrase I'm working towards accepting – Perfectly Imperfect. In fact, I got it from my friend Kristen and her name for a project where I was pretty darn perfect for about a week, and then, because I could not maintain perfection, I fell off the bandwagon completely so that I could still be perfect – perfect in not doing it at all.
The first few years of your brother's life were the gold standard of stability – a stability that your daddy and I never knew. Two happily married parents settled into a cozy home. Enough space for everyone indoors and out. After a brief attempt at being full time working mom, it was decided that for our family, SAHM life was the way to go. He had my full attention all the time, and daddy's whenever he was home from work. Chores and hobbies were generally done while he was sleeping, and he was our world. All he knew was all he knew, and in his world, all he knew was pretty darn good. So let's just say his capacity for change was pretty much nonexistent because, really, he never had to. Life was about as close to perfect as you could get.
Then one day we reached the point where we knew it was time to bring along a little companion for him. That proved to be rather difficult, both before your were even in existence and leading up to the moment you came into this world, and honestly, even for a few months afterwards. Mommy had a tough time physically and mentally, so was not always the awesome Mommy I wanted to be, Then one night he went to bed, the next morning Mommy and Daddy weren't home (though he was happy to see Grandma), and all of a sudden there was a new human being in his life! Let's talk about change for your big brother and all of us! While it hasn't been easy, there is nothing more I could want. Your brother is the one who challenges me – both by pushing my buttons and to make me become a better person as I continue on my journey of understanding his highly intelligent and complicated soul. You are my little miracle who just takes me as I am, good days and bad.
Maybe it's because in your two short years, life hasn't been the smooth ride it was for your brother. You hear more yelling than your brother did, courtesy of your brother being, well, a three and four year old boy who has been trying to adapt to more change than he ever had to experience in his life. You don't get the same one-on-one attention as your brother did, because now you both need our attention. Mommy is growing a business, Daddy dealt with turmoil at work that ultimately led to him having to leave the only company he ever worked for out of college and sent us to a new home in a new state through a several month long process that involved home improvement projects, shuttling you off to grandma's house, three hour drives back and forth, and a stress that Mommy has never experienced before because New Jersey was the only place I ever called home.
But through all of this perfectly imperfect craziness, you help me embrace the crazy because you just go with the flow. Oh sure, you are going through the terrible two tantrum stage, throwing yourself on the floor, slamming cabinets and drawers, that sort of thing. But those episodes are short-lived and in general, you are happy and flexible and social. As a wee one, you were Baby Smiles since all you did was smile, then you became King Stuff because you just thought you were the biggest, most awesome thing on two legs. And now, you are just my little dude, because that is you – one chill little dude.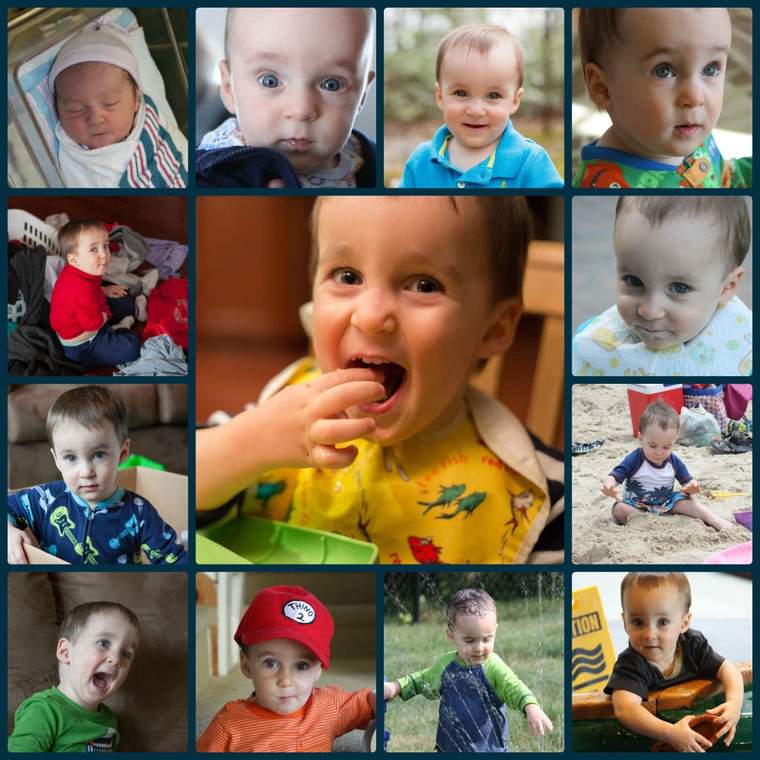 You make us smile everyday, you are just super cool, slightly devilish in the most endearing way, and I couldn't love you more.
So yes, life is imperfect, but that's what makes our life experiences special. And perfectly imperfect… like this cake, which yes, I did slice and photograph two days before your birthday and then hide the evidence. I'm sorry, little dude, but that's what you get when mom is a food blogger…
I try to share recipes that are slam dunks the first time out, or that I've perfected. My Gluten Free Healthy Hummingbird Cake, well, I'll be honest, to be completely perfect, it could probably use a little less banana, maybe a bit of coconut flour to absorb some of the moisture, and a little more time in the oven. However, is it good as is? Will I happily devour a slice or three? You betcha! Dense and moist, with tons of banana flavor, a hint of cinnamon, and bursts of pineapple. In the interest of today's theme of full disclosure, how do I know this, since we won't be enjoying it as a family until late in the day this post goes live? I sliced it to photograph and sampled a minute sliver before I frosting-glued it back together.
Yeah, awesome mom I am. No, I'm perfectly imperfect.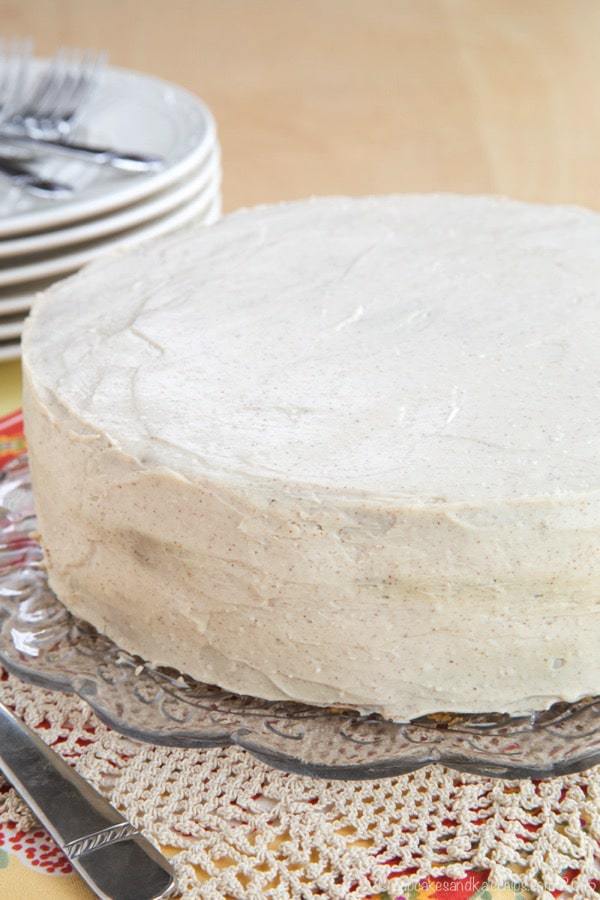 But you guys, why in the world would I risk my reputation on sharing an imperfect, albeit yummy cake? Well, I made it, sliced into it, saw that it could have used another trial or two, but just didn't have the time. Like all of you, I don't live in a perfect world, and I had committed to Sunday Supper this week, and I really wanted to share this cake for my little dude's birthday and ON my little dude's birthday. You see, I made it just for him. What does he love? "Fooooooot" and "tin-min", also known as fruit (especially bananas and pineapple) and cinnamon (which he wants sprinkled on everything). So as I thought about what he loves, I couldn't get Hummingbird Cake out of my head. I think he is going to love it!
Plus, I also made it a but healthier. Yes, it's gluten free so that I can enjoy cake with my little dude, but it's also sweetened only with fruit and honey, even the tangy cream cheese frosting that is lightened up with Greek yogurt and had just a hint of warm cinnamon flavor to complement the cake. And unlike traditional Hummingbird Cake, I used fresh pineapple instead of canned. Normally I like a little cake with my frosting, but with all of the flavor in the cake, I think going light on the frosting really helps the flavor of the cake to shine through.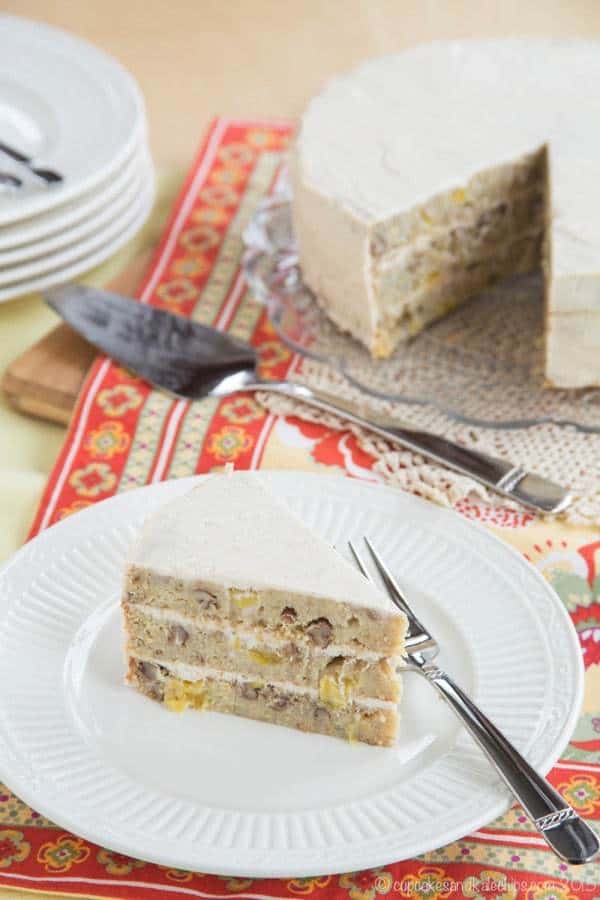 So try the recipe as is, play around with it a bit, but whatever you do, make it with love and embrace the imperfect. That's what I did, because that's what brings joy to life!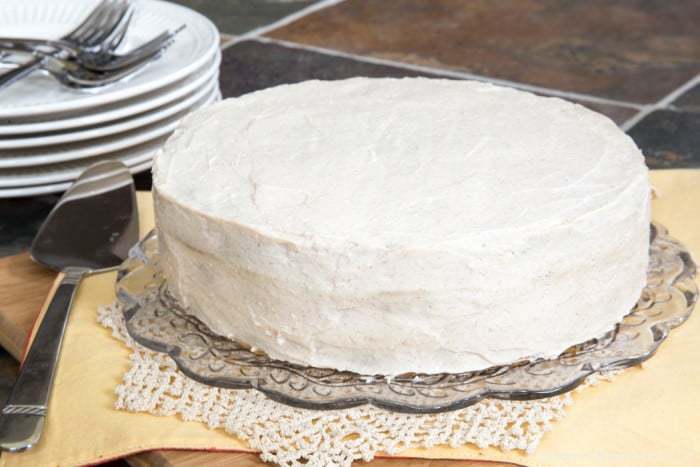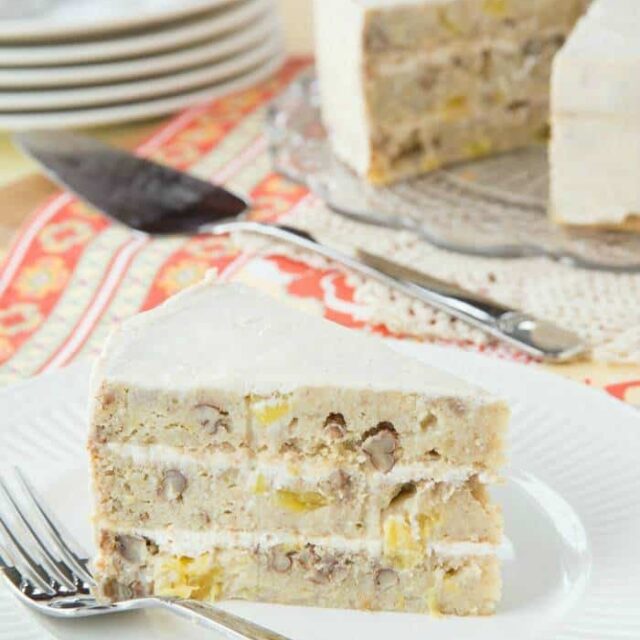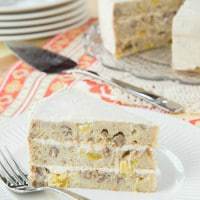 Gluten Free Hummingbird Cake
Ingredients
For the cake:
2 1/2

cups

1:1 gluten free flour

(recommended: Bob's Red Mill 1-to-1 Baking Blend)

3

teaspoons

baking powder

1

teaspoon

baking soda

1

teaspoon

salt

1

teaspoon

cinnamon

1 1/2

cups

granulated sugar

4

large

eggs

at room temperature

1

cup

coconut oil

melted and cooled (or vegetable/canola oil)

2

teaspoons

vanilla extract

2

cups

mashed very ripe bananas

(about 4-5 bananas)

8

oz.

can crushed pineapple in juice,

NOT drained

1

cup

chopped pecans,

lightly toasted
For the cream cheese frosting:
½

cup

unsalted butter (one stick),

softened to room temperature

8

oz.

cream cheese

(regular or light), softened to room temperature

2

teaspoons

vanilla extract

1

Tablespoon

vanilla extract

1/2

teaspoon

lemon juice,

optional

3-4

cups

powdered sugar
Instructions
For the cake:
Preheat oven to 350°F. Spray three 9-inch cake pans with cooking spray or mist with oil, and line the bottom with parchment paper.

In a large bowl, whisk together the flour, baking powder, baking soda, salt, and cinnamon until thoroughly combined. Set aside.

In a medium bowl, whisk together the sugar, eggs, oil, and banana.

Add the wet ingredients to the dry ingredients and fold gently to combine. Stir in the pineapple and pecans.

Divide the batter evenly between the prepared pans and bake for 30-35 minutes, or until slightly browned and firm to the touch, and a toothpick inserted in the center comes out clean.

Let the cakes cool for 10-15 minutes in the pan on a rack, then remove from the pan and cool to room temperature directly on the rack.

Place the first cake on a serving platter, top with about 1/2 cup of the cream cheese frosting, and spread evenly to the edges. Repeat with the second layer. Top with the final cake layer and cover the top and sides with the remaining frosting. Decorate with sprinkles or more toasted pecans, if desired.
For the cream cheese frosting:
Combine all of the ingredients in a medium bowl and beat with an electric mixer until thoroughly combined and smooth.

Mix in cream cheese, vanilla extract, and if you wish lemon juice.

With the mixer working at slow speed, slowly start adding 3 cups of the powdered sugar and beat until smooth. Add additional powdered sugar until you reach your desired consistency.
Nutrition Facts
Gluten Free Hummingbird Cake
Amount Per Serving (1 slice)
Calories 541
Calories from Fat 279
% Daily Value*
Fat 31g48%
Cholesterol 76mg25%
Sodium 279mg12%
Potassium 264mg8%
Carbohydrates 66g22%
Protein 5g10%
Vitamin A 464IU9%
Vitamin C 4mg5%
Calcium 78mg8%
Iron 1mg6%
* Percent Daily Values are based on a 2000 calorie diet.
Want some more springtime sweets?
Strawberry Shortcake Trifle
Gluten Free Deep Dish Carrot Cakes for Two
Almond Joy Ice Cream Sandwiches
Plus here is the entire #SundaySupper menu!
Beverages
Appetizers
Sides
Entreés
Desserts