This post may contain affiliate links. Read my disclosure policy.
You don't need a ton of sugar or even any wheat flour to make a super moist and sweet after-school snack or healthier treat. Every little monkey will love this Gluten Free Banana Snack Cake with Greek Yogurt Cream Cheese Frosting.
Gluten Free Banana Snack Cake with Greek Yogurt Cream Cheese Frosting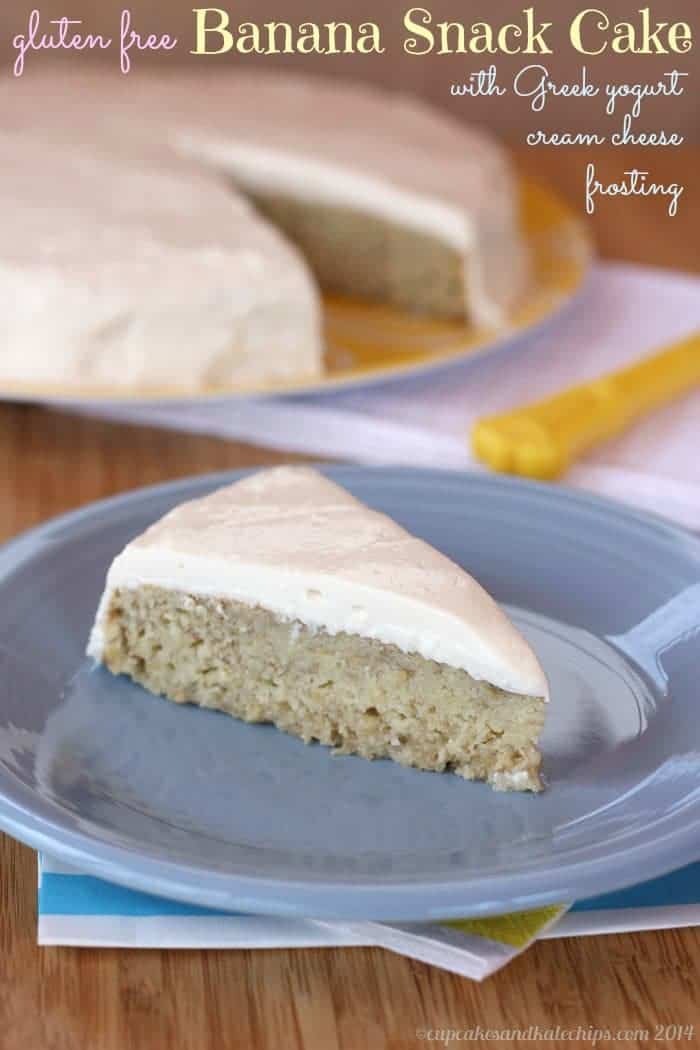 I have a tendency to obsess about and overthink things and am forever feeling guilty about something. So here's what I'm overthinking and feeling guilty about right now. On Sunday, I shared the recipe for these White Chocolate Chip Sugar Cookie Bars with the most insane Browned Butter Pumpkin Spice Frosting. All kinds of white flour and sugar going on there.
But if you've been reading my blog for any amount of time, you probably know I have a wheat allergy. So most of my recipes on my blog are wheat- or gluten-free. And because of that, I think many people come here looking for gluten-free recipes. Well now I feel guilty because while the gluten-eating folks can enjoy my gluten free recipes, the gluten-free crowd is left going, "Wow, that looks awesome, but waaahhhh, I can't eat it!" I know I feel that way. Man, did I want to dig into some of those sugar cookie bars. I settled for licking the frosting spatula.
Then although I go on about trying to make healthy meals and lots of yummy veggies for my family, sometimes I just like to have fun playing with Milky Ways and Snickers and Reese's. And I always loves me some ice cream! Does this make me a hypocrite? Does this make all the healthy food folks not want to read my blog, even though there are certainly plenty of recipes they can get behind?
I keep thinking I should just focus on being a gluten-free, healthy food blogger, but nobody else in my family has an issue with gluten and I just enjoy making sweet treats for my friends. Did I mention I live ice cream? I guess it goes back to my original premise of Cupcakes & Kale Chips – balance!
So to balance out Sunday's gluten-y, sugar-y cookie bars, today I'm giving you cake. But it's gluten free cake. Made with oats. And it has fruit in it. And Greek yogurt frosting. Geez, that totally qualifies as breakfast, right?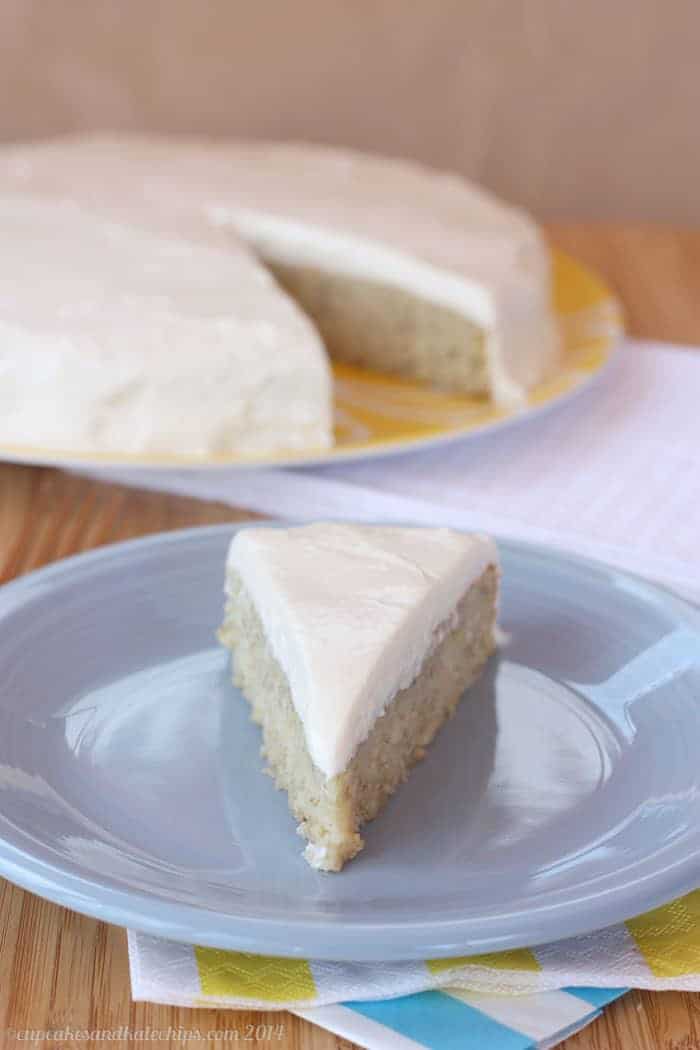 Gluten Free Banana Snack Cake with Greek Yogurt Cream Cheese Frosting is a total treat for everyone. I call it a "snack cake" because it's a single layer, so it's easy for serving some small snack-size pieces. Also, because it is made from oat flour and almond meal, the flavor and texture is not exactly that of traditional cake. It's heartier and not quite as delicate. The bananas give it a lot of natural sweetness and moisture, almost making it more like a banana bread, but not quite. It's super delicious to just eat it plain, but frosting makes everything better, so I'd totally recommend you top it with my not-overly-sweet, no butter, protein-packed Greek yogurt cream cheese frosting. Plus, since it's low in added sugar, filled with whole grains from the oat flour, and protein and healthy fats from the almond flour, it's totally a cake that is worthy of snack status. I'm balancing out those cookies, right?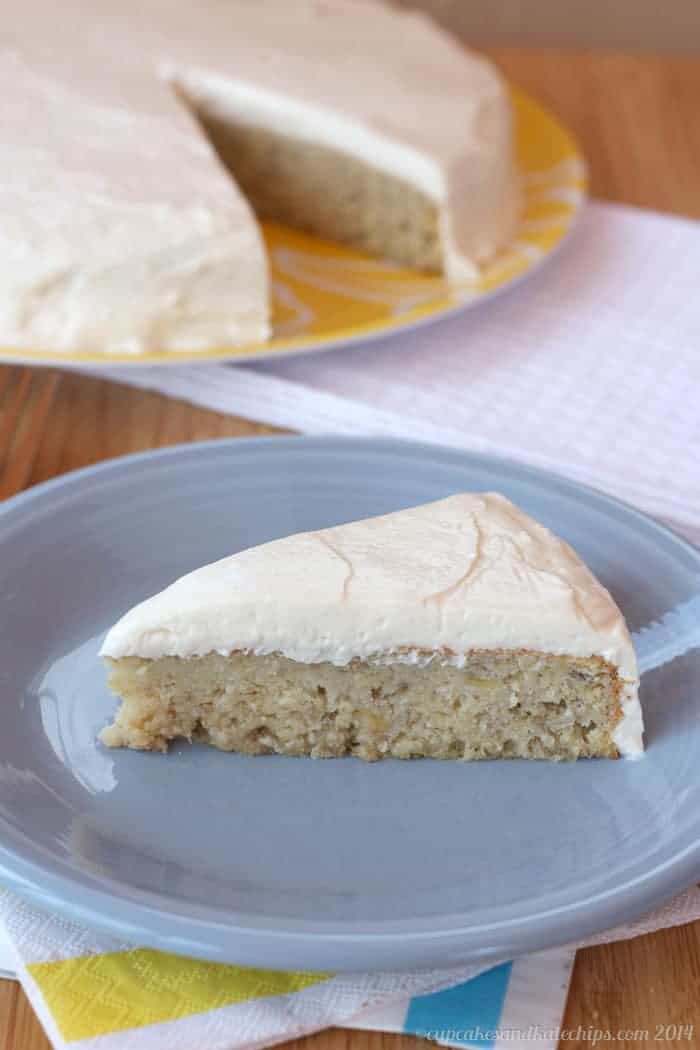 Even if you don't have much experience with gluten-free baking, you can totally make this. When I do gluten free baking, I try to stay away from packaged gluten-free flour blends because they aren't all created equal, and I want my recipes to be universal. You can buy oat flour, but I just take my regular old oatmeal and grind it into a powder in my blender or food processor – just make sure they are certified gluten-free if you are baking for someone with celiac disease or a serious sensitivity (same thing with the baking powder). Almond meal is readily available in most grocery stores these days, as is tapioca starch, though I have heard from others that you can usually get equivalent results in more recipes by using potato starch or sometimes even corn starch.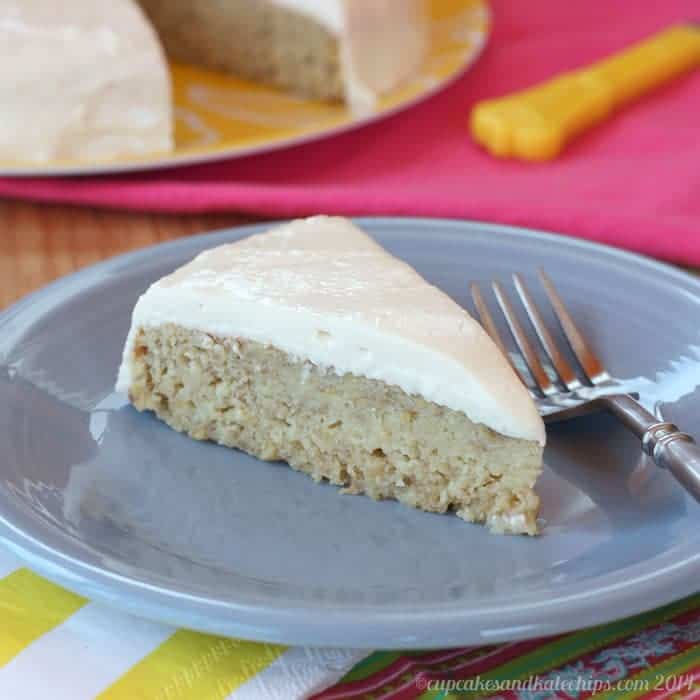 Do you prefer blogs that are more focused on one topic or those that give you a little of everything?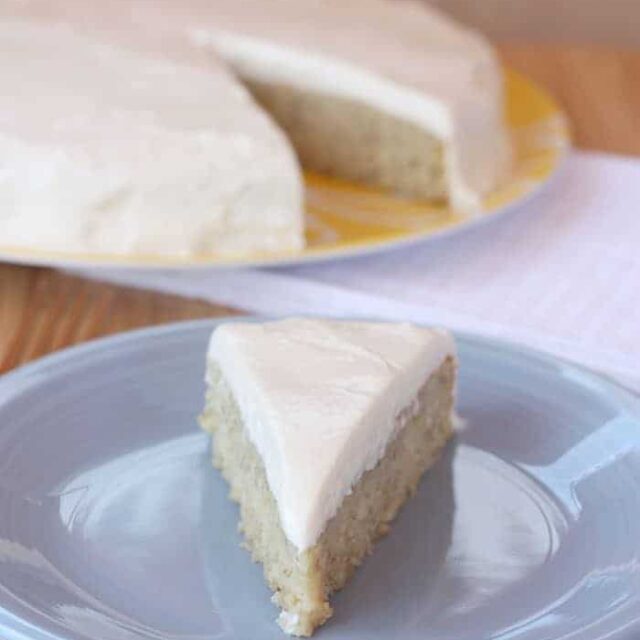 Gluten Free Banana Snack Cake with Greek Yogurt Cream Cheese Frosting
A moist, sweet snack or healthier dessert every little monkey will love.
Ingredients
For the cake:
¾

cup

almond meal

½

cup

oat flour

see Note, certified gluten-free, if necessary

¼

cup

tapioca starch

¼

cup

sugar

1½

teaspoons

baking powder

certified gluten-free, if necessary

¾

teaspoon

kosher salt

3

eggs

at room temperature

¼

cup

vegetable or canola oil

½

cup

milk

at room temperature

3

very ripe bananas

mashed
For the frosting:
4

oz.

cream cheese

at room temperature (I used light)

1/2

cup

plain Greek yogurt

I used nonfat

2

teaspoons

vanilla extract

2

Tablespoons

powdered sugar
Instructions
For the cake:
Preheat oven to 350°F. Spray a 9-inch cake pan with cooking spray or mist with oil, and line the bottom with parchment paper.

In a large bowl, whisk together the almond meal, oat flour, tapioca starch, sugar, baking powder, and salt until thoroughly combined.

In a medium bowl, whisk together the eggs, oil, and milk.

Add the wet ingredients to the dry ingredients and fold gently to combine.

Stir in the mashed bananas.

Pour the batter into the prepared pan and bake for 30-35 minutes, or until slightly browned and firm to the touch.

Let cool for 10-15 minutes in the pan on a rack, then remove from the pan and cool to room temperature directly on the rack.

Frost with Greek yogurt cream cheese frosting.
For the frosting:
Combine all of the ingredients in a medium bowl and beat with an electric mixer until thoroughly combined and smooth.
Notes
Barely adapted from Simply Gourmet
Oat flour was made by grinding oats in a food processor or blender until a powder. If any large pieces remain, they can be sifted out.
Enjoy!
If you like this recipe, here are some more gluten-free treats…
And here are some from my friends…