This post may contain affiliate links. Read my disclosure policy.
An impressive dessert made with layers of moist banana cake studded with chocolate chips, separated by schmears of Nutella and cream cheese whipped cream. With options to make this cake gluten free, and to use roasted bananas if yours aren't ripe, you'll go bananas for this Banana Chocolate Chip and Nutella Cake recipe.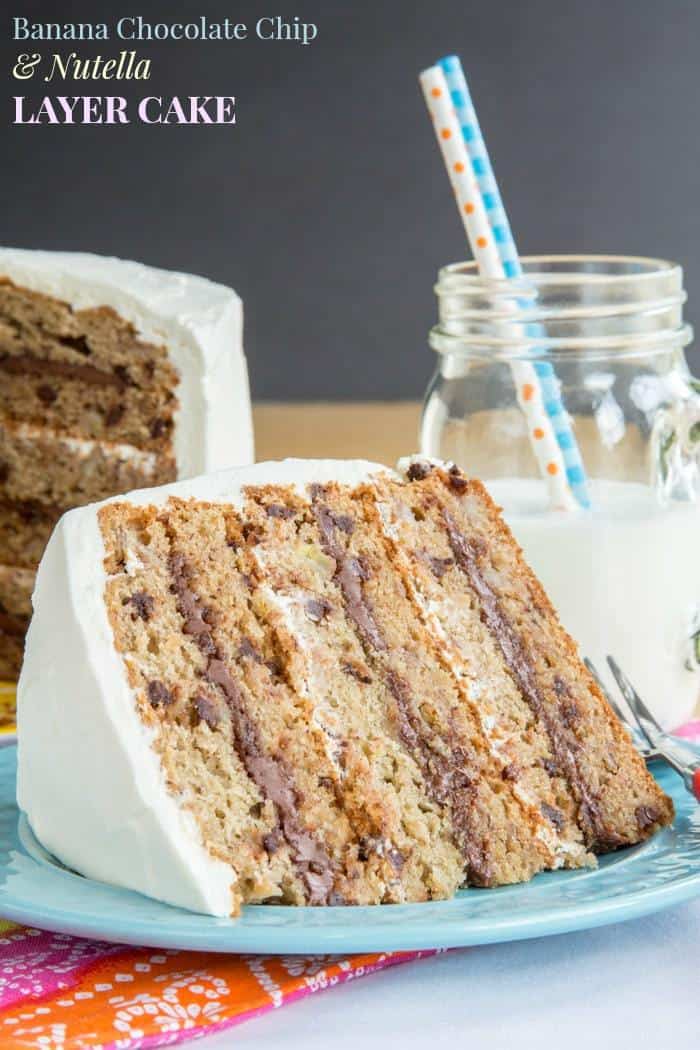 You guys, it's a miracle! I'm posting a recipe for a food that is being celebrated in one of those whack-a-doodle food holidays the day before the actual holiday. I'm not going to mention that I actually made this cake nearly a year ago. Well, the first time I made it was several years ago, and then last year I made it gluten free. So it was last March, for Little Dude's second birthday, to be exact, that I made and photographed this cake. And then proceeded to since to him and serve the poor kid's cake with a slice removed and then smooshed back in place.
Oh, cut me some slack. The kid got two cakes. On the weekend before and the weekend after his birthday.
Both with slices take out and put back in. The kid that doesn't like cake.
OK, OK, I'm a terrible mother.
And a terrible food blogger, because if I were a good food blogger, I'd have posted this recipe (yes the one that has been residing inside my computer for the past, oh, ten months or so) several weeks ago so that it could have made the rounds on Facebook and Pinterest prior to World Nutella Day, which falls on February 5th. That way I'd have had the time to convince the entire world that they absolutely have to make it to celebrate such a noteworthy day on the calendar. And again, if I were a good food blogger, when I decided to post a recipe the day before said food holiday that features said food being celebrated on said food holiday, I might have chose something a bit less involved.
Involved? Yes.
Difficult? No.
Totally worth it? OMG, yesssss…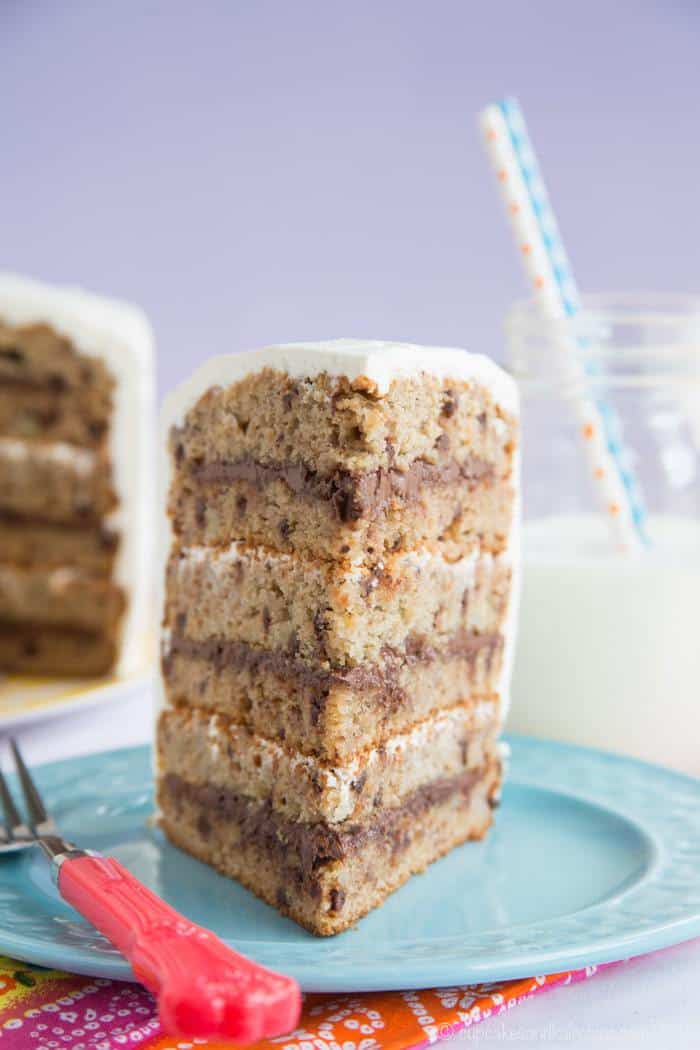 This Banana Chocolate Chip and Nutella Cake is just layers and layers of happiness. Moist banana cake filled with chocolate chips, slathered with Nutella, then more cake, then, get this, cream cheese whipped cream, then cake, then Nutella, then cake, the cream cheese whipped cream, then cake, then Nutella, then cake. Then the whole thing is covered in that luscious cream cheese whipped cream that is tangy and not too sweet so it balances the sweetness of the cake and it's so good I could just eat from the bowl instead of bothering putting it on the cake except the cake is so banana-liciously amazing, and you know, chocolate chips make banana cake taste even better, and then the whipped cream just makes the cake even more moist and then the Nutella for a bit of nutty chocolaty goodness, and oh my gosh, so freaking good.
OK, I'll calm down now.
[Tweet "Banana Chocolate Chip and Nutella Cake (with #glutenfree option) – layers of happiness!"]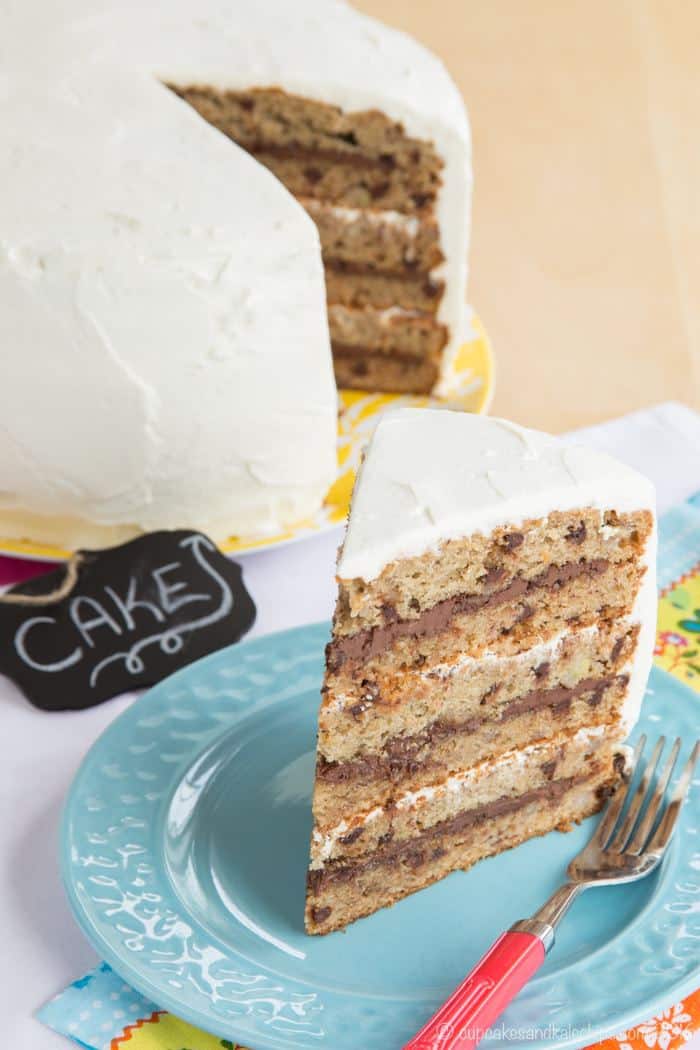 Now that I've gone on and one about it, let me tell you a few things. This recipe is slightly adapted from one I found on the Cooking Channel website. Originally I made it as-is. Absolutely incredible and impressive and I might have eaten about half the cake. When I made a gluten free version, I simply subbed in my favorite gluten free blend, Bob's Red Mill 1-to-1 and it worked like a charm. My bananas also weren't ripe enough, and I had just seen this milkshake from One Sweet Mess, so I decided to roast my bananas. Perfection. And because I like a good ratio of frosting to cake, I decided to slice each of my layers in half, and alternate the Nutella and Cream Cheese Whipped Cream between the cake layers. It's a simple step that makes the cake even more monstrously tall and impressive.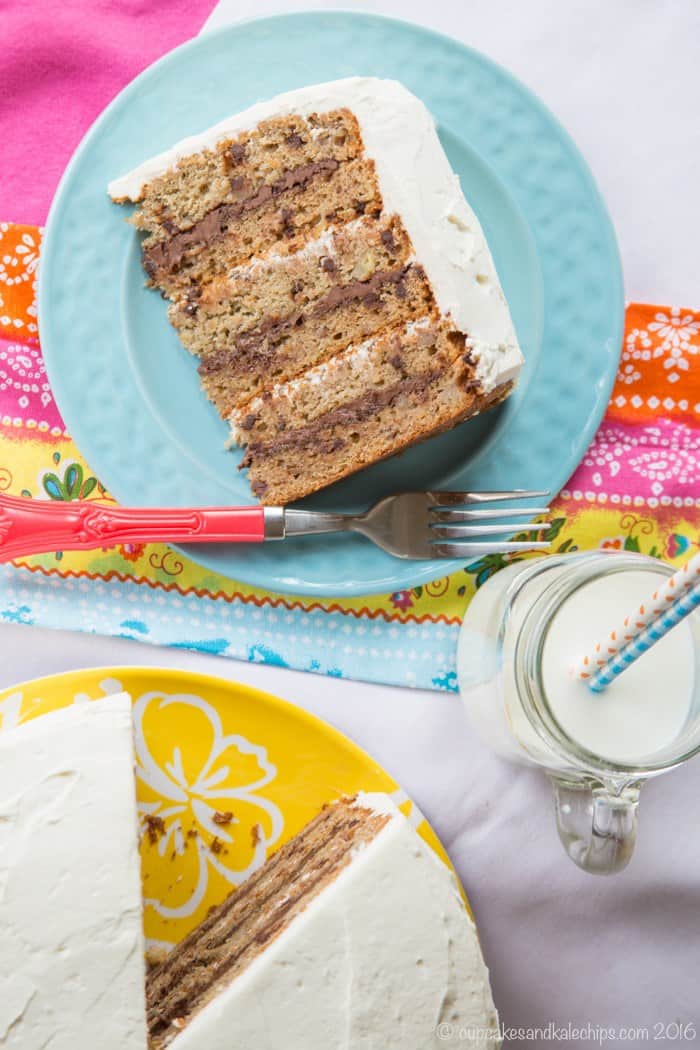 So even if you don't have time to make this cake for World Nutella Day, someone special deserves this towering cake of awesomeness, even if that someone special is you. Go for it people!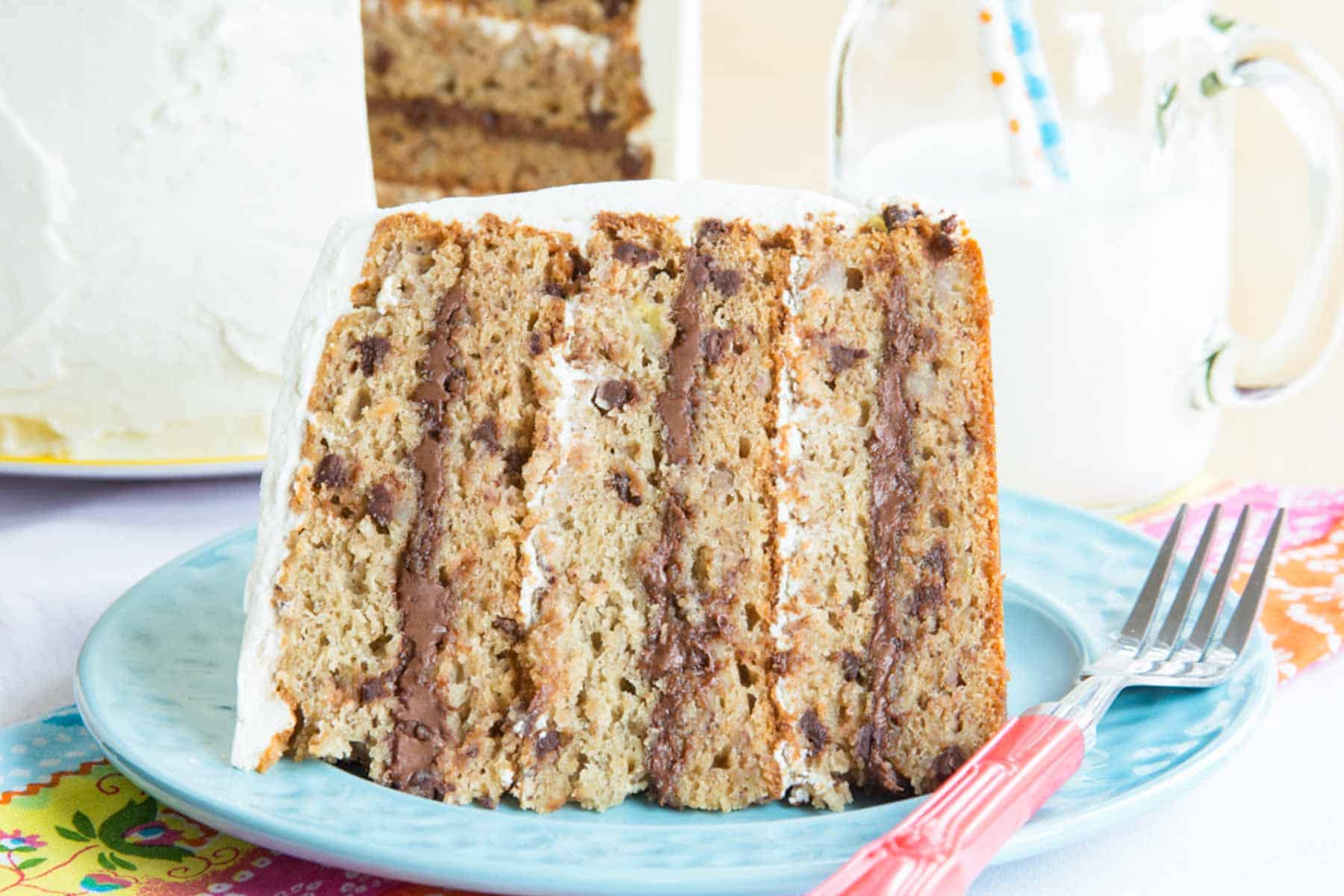 Who in your life deserves a special cake?
For more yumminess from me and my foodie friends, keep up with me on…
Or sign up to have Cupcakes & Kale Chips delivered straight to your Inbox!
A few things you need for this cake: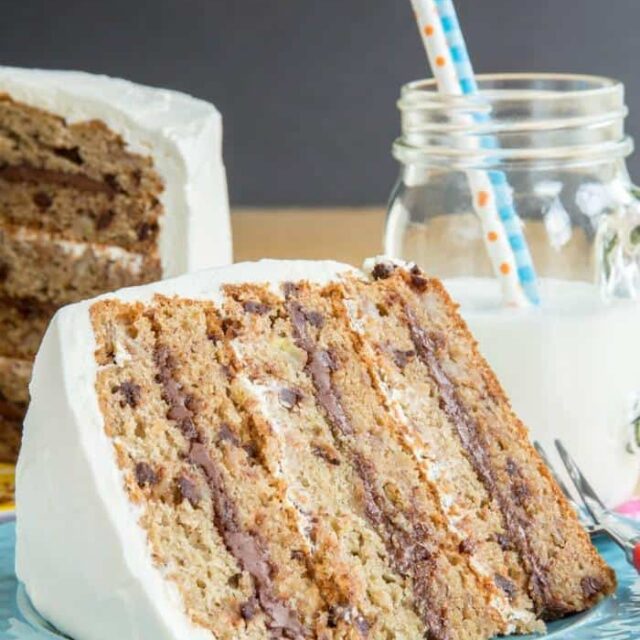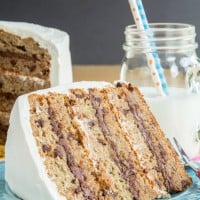 Nutella Banana Chocolate Chip Cake
Nutella Chocolate Chip Banana Cake is a decadent dessert made with layers of moist banana cake separated by Nutella and cream cheese frosting. With the option to make this cake gluten-free, dietary restrictions won't stop anyone from sitting down to enjoy a slice.
Ingredients
For the Nutella Banana Chocolate Chip Cake
3/4

cup

unsalted butter

at room temperature

1 1/2

cups

sugar

1 1/2

cups

packed light brown sugar

3

large eggs

6

medium-size ripe bananas

mashed (see notes if your bananas are not ripe)

2

cups

plain Greek yogurt

or sour cream

2

teaspoons

vanilla extract

4 1/2

cups

gluten free flour

or all-purpose flour. For gluten free, I used Bob's Red Mill 1-to-1 blend

1

Tablespoon

baking soda

1/2

teaspoon

salt

1

cup

mini chocolate chips

13

ounces

Nutella

or other chocolate hazelnut spread
For the Whipped Cream Cheese Frosting
8

ounces

cream cheese

softened

1/2

cup

powdered sugar

1

teaspoon

pure vanilla extract

2

cups

heavy cream
Instructions
Make the Cake
Preheat the oven to 350°F. Coat three 9-inch round cake pans with cooking spray.

In a medium bowl sift together the flour, baking soda, and salt. Set aside.

In the bowl of your stand mixer or another large bowl, with a stand mixer or hand mixer, cream the butter, sugar, and light brown sugar until light and fluffy.

Add the eggs, mashed bananas, Greek yogurt (or sour cream), and vanilla, and blend until smooth.

Gradually add the dry ingredients to the wet ingredients, mixing until just combined. Stir in chocolate chips.

Divide the batter evenly between the prepared pans. Bake for 45 minutes to 1 hour or until a toothpick inserted in the center comes out clean.

Cool the cakes in the pans for 10-15 minutes and then transfer to wire racks to cool completely.

Prepare the cream cheese whipped cream.
Make the Frosting
Using a hand mixer or the whisk attachment of a stand mixer, whip the cream cheese, powdered sugar, and vanilla together until creamy.

While mixing on high speed, slowly pour in the heavy cream and beat until the frosting is the consistency of whipped cream. Do not overbeat.

Store in the refrigerator until you are ready to use.
Assemble
Using a serrated knife or cake cutter, level the top of each cake and slice each cake in half horizontally.

Place one layer on a cake plate and spread with about one-third of the Nutella.

Top with another layer and spread with about half a cup of the cream cheese whipped cream.

Alternate layers, placing the final cake layer on top, then cover the entire cake with the remaining cream cheese whipped cream frosting.
Notes
To Store: Keep covered in the fridge for 2-3 days.
To Freeze: Freeze before assembling for up to 2 months – wrap uncut cake layers tightly in both plastic wrap and foil. Freeze the frosting in a separate airtight and freezer-safe container. Let thaw overnight before assembling.
Nutrition Facts
Nutella Banana Chocolate Chip Cake
Amount Per Serving (1 slice)
Calories 727
Calories from Fat 279
% Daily Value*
Fat 31g48%
Cholesterol 99mg33%
Sodium 436mg18%
Potassium 355mg10%
Carbohydrates 102g34%
Protein 12g24%
Vitamin A 825IU17%
Vitamin C 4.1mg5%
Calcium 189mg19%
Iron 2.8mg16%
* Percent Daily Values are based on a 2000 calorie diet.
Categories:
Enjoy!
Here are some more of my favorite Nutella recipes…
Plus my Nutella Recipes Pinterest Board…
Follow Brianne @ Cupcakes & Kale Chips's board Nutella Recipes on Pinterest.
And a few from my friends…