This post may contain affiliate links. Read my disclosure policy.
This Banana Nutella Chocolate Chip Ice Cream is my absolute favorite thing ever!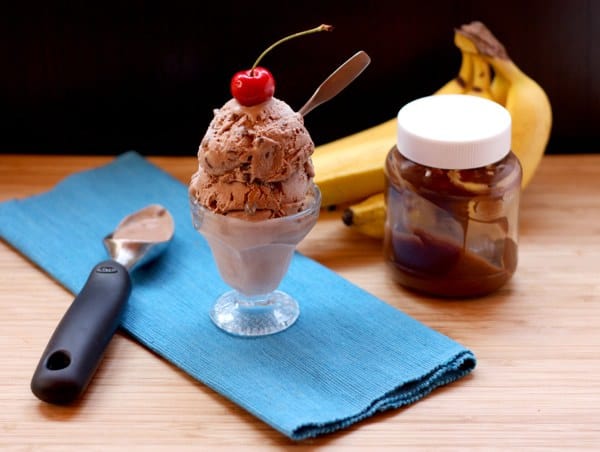 If you follow me on Instagram, this is abundantly clear. I went through a short phase a few months back of experimenting with some homemade ice creams, but trying to lower the fat and sugar. I was never overly thrilled with the texture and taste. Now, I am totally cool with the slow-churned stuff at the grocery store, but I just don't think light ice cream translates as well in a home ice cream maker. And then there was the issue of needing egg yolks, but not whites. Grr, I hate that. But recently, I have seen several no-cook ice cream recipes, the first one being "Muck Ice Cream" from Ann at Sumptuous Spoonfuls. Ann is a constant source of inspiration for me, and it is only recently that I discovered that not only do we share a love of salads, especially ones with fruit and cheese, but we are also both passionate about ice cream.
Then I saw that Jen from Juanita's Cocina, Jennie from The Messy Baker, and Carla from Chocolate Moosey were hosting #icecreamweek this week.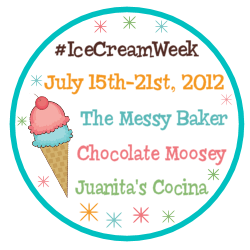 Three bloggers. Seven days. I know I quit work over a year ago, now, but if my math is correct, that means twenty-one recipes for ice cream, toppings, and other frozen goodies. Be still my heart! And tomorrow they will be hosting a link party for anyone and everyone to share their ice cream creations. Since I am going to be stealing borrowing adapting shamelessly, I figure I should have something of my own to contribute.
So, anyway, "Muck Ice Cream". Don't let the name fool you, it sounds amazing! I mean banana, chocolate, peanut butter. Duh, it is like heaven in a bowl to me! I don't usually have chocolate sauce around, but I did have a jar of Nutella that I have been trying to forget that I actually had in the pantry (totally a gateway food for me). So duh, again – use Nutella in place of the peanut butter and chocolate sauce.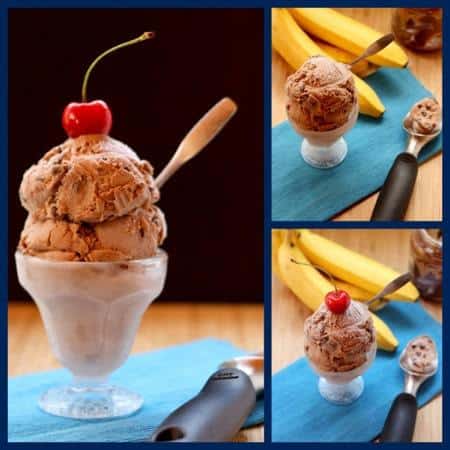 OH.EM.GEEEEE! The Hubby and I were dying! Luckily knowing that I had had had to take photos to share the recipe kept us from eating the entire batch in one night. But once I took the photos in the light the next day, well, yeah, that was pretty much the end of the ice cream.
I used Fat Free Half & Half to keep it a little lighter, but I have no doubt regular would work, too, and I want to try it with almond milk. Also, the chips really could be optional, but I like chunks in my ice cream, unless I am eating a soft serve cone.
On a side note, you have to work fast when you decide to photograph ice cream in your breakfast nook/office/photo studio that has huge windows on all sides on the hottest day of the year. Notice the onset of meltage in some of the photos.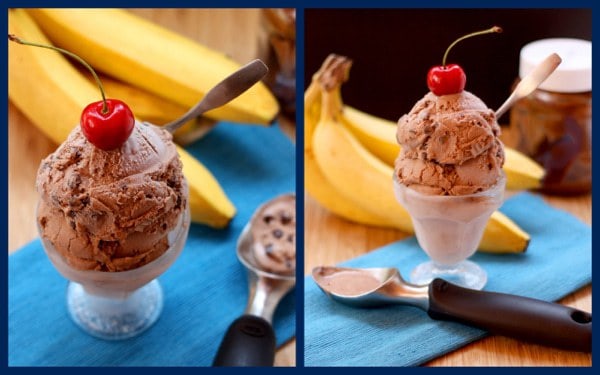 Oh, and let me tell you, the Solid Stainless Steel Ice Cream Scoop I received from the fine folks at OXO – AWESOME! You must get one. After a few days in my super-cold chest freezer, the ice cream was pretty hard. That baby scooped through it so easily. And I'll put my disclaimer here – OXO provided the scoop to me at no cost, and all opinions are my own. And my opinion is that my old scoop is going in the trash.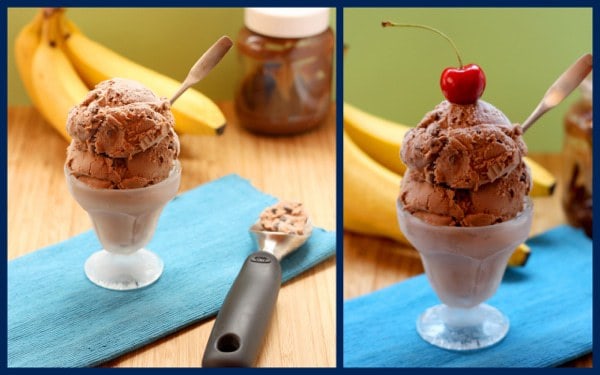 Do you make ice cream? What is your favorite flavor?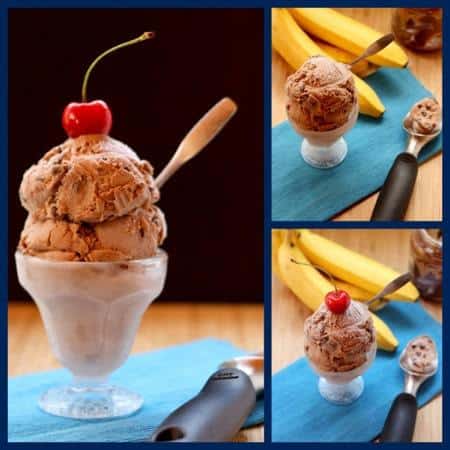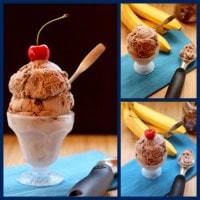 Banana Nutella Chocolate Chip Ice Cream
This homemade Nutella ice cream recipe that I adapted for Ice Cream Week is filled with chocolate hazelnut Nutella and fresh bananas!
Ingredients
2

ripe bananas

2

c

Fat Free Half & Half

I am sure regular will work fine, and I want to try this with almond milk, but haven't yet

1

t

vanilla

2/3

c

Nutella or other chocolate-hazelnut spread

1/2

c

mini chocolate chips
Instructions
Place all of the ingredients in a blender, and blend until thoroughly combined and smooth.

Pour into your ice cream maker and churn according to manufacturer's instructions.

During the last few minutes of churning, add the chips.

Transfer to a container and store in the freezer (or eat it right away as soft serve).
Categories:
Enjoy!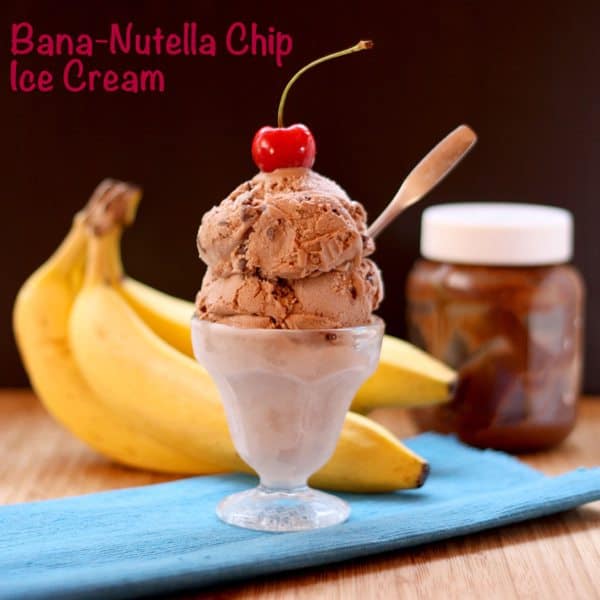 This recipe was shared with: