This post may contain affiliate links. Read my disclosure policy.
Triple Berry Cheesecake Chocolate Chip Cookie Cups are a fun, easy, and seriously cute sweet treat! This dessert recipe starts with your favorite chocolate chip cookies (even gluten-free ones) and tops them with Greek yogurt cheesecake frosting hiding a bright red, juicy raspberry. Add a strawberry and blueberry to dress them up and wow your family and friends.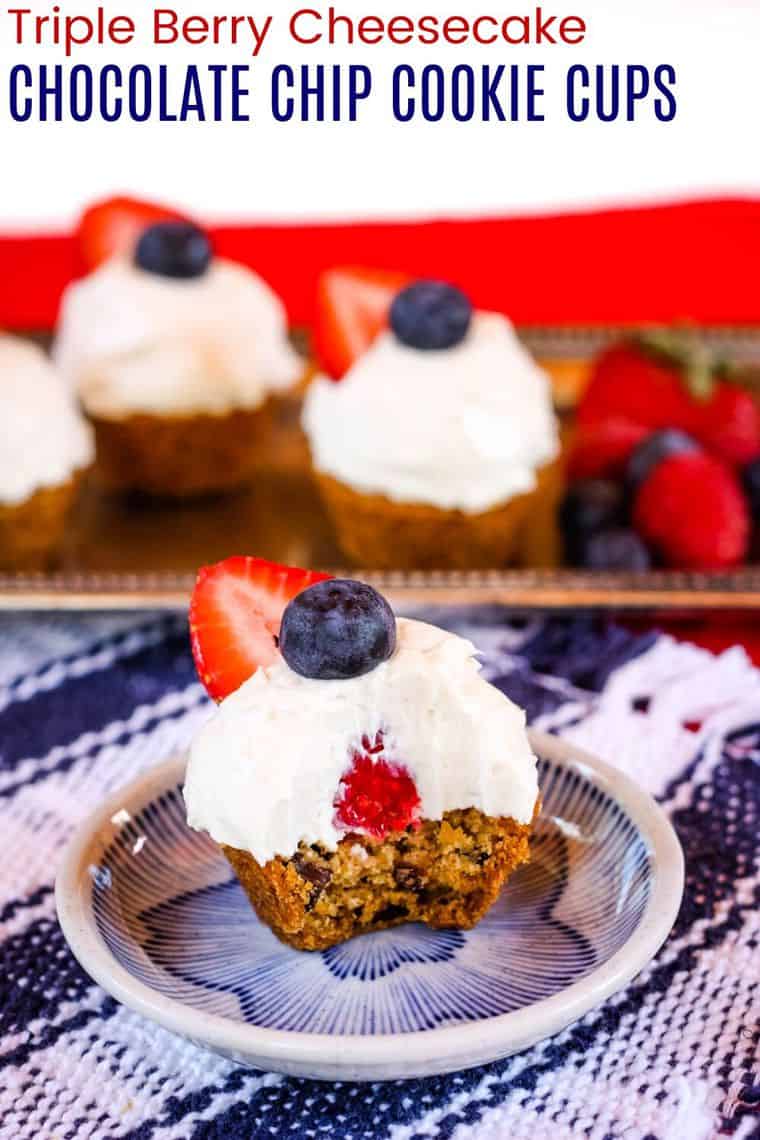 Originally published June 29, 2014.
The first time made this recipe, it was for a family party. My big guy had one of those nonstop eating days. Eggs and tacos and pepperoni dip and veggies with dip. Of course, when dinnertime came at the party, I fixed him a plate of food, which he barely touched.
Naturally, when we started putting out desserts, he found his appetite and proceeded to polish off a small piece of Strawberries and Cream Cake, fruit salad, and one of the S'Mores Cookie Cups.
When he asked for one of these chocolate chip cookie cups, I had to put my foot down. But I did tell him that if there were any left, I would bring one home for him to have another night. At that time there were still several.
Naturally, I forgot. That happens when you are trying to wrangle two little boys amidst a house full of people.
And naturally, he remembered… when we were in the car on the way home. By that time (yes, I did call my mom to check), well, NOT. ONE. LEFT.
Luckily they are so easy that I was able to whip up another batch!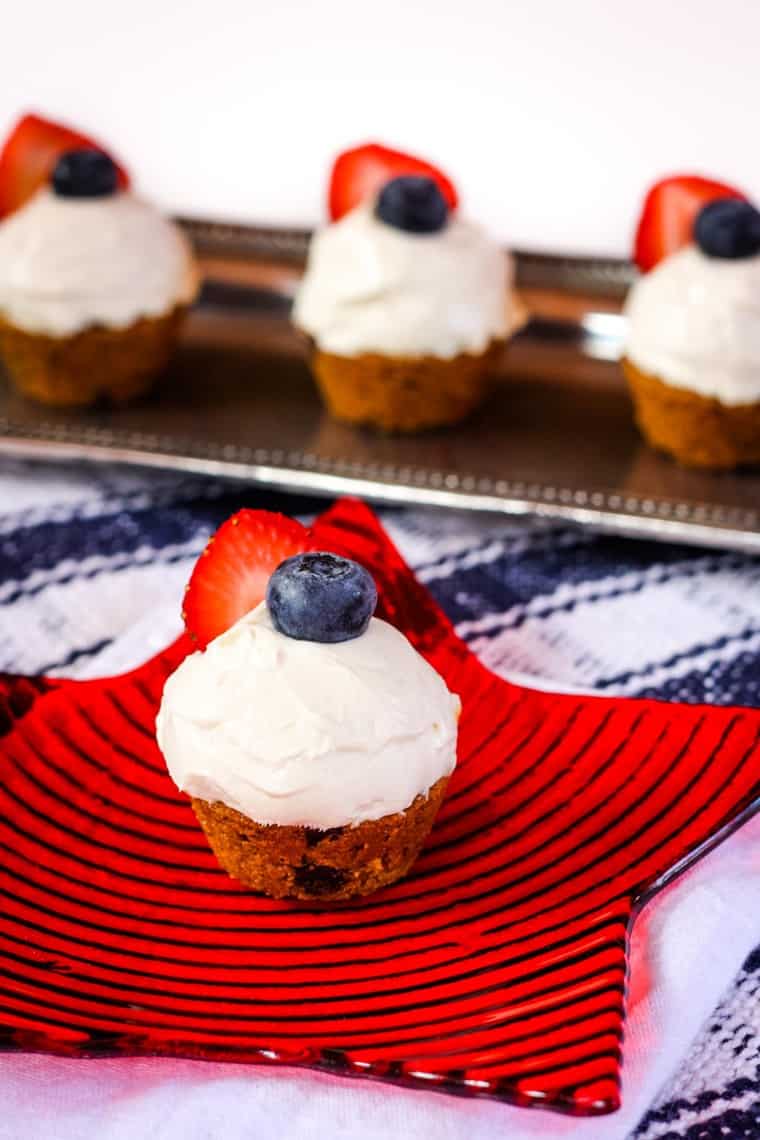 Berry Cheesecake Chocolate Chip Cookie Cups
These mini desserts are perfect for a party. They are quick and easy, make a bunch, and perfectly portioned so that you can sample several treats from the dessert table (you know, if you are anything like my kiddo).
Your favorite store-bought or homemade cookie dough is baked in a mini muffin tin to create a nice, thick, chewy chocolate chip cookie cup. Then whip a quick batch of my favorite Greek yogurt cheesecake frosting to put on top.
And don't forget that hidden raspberry for a sweet, happy surprise, and a couple of extra berries on top to make them look a little extra fancy without a lot of effort.
Here is a brief overview so you can see just how easy it is to make. Scroll down to the printable recipe card for the full quantities and details.
But don't skip my PRO TIPS below!
What You'll Need
Chocolate chip cookie dough – store-bought, from a mix, or homemade, and regular or make Gluten Free Chocolate Chip Cookie Cups
Cream cheese – regular or light
Plain Greek yogurt
Powdered sugar
Vanilla extract
Raspberries, blueberries, strawberries – you can decorate with your favorite berries or other small pieces of fruit
Directions
Press the cookie dough into the mini muffin tin and bake until golden brown and baked through, about 10 to 12 minutes, depending on your dough. Cool completely.
Beat together the cream cheese, Greek yogurt, powdered sugar, and vanilla until smooth and creamy.
Use a small amount of the frosting to stick a raspberry to the top of the cookie cup.
Pipe or spread more frosting on top of the cookie cup around the raspberry.
Decorate with a blueberry and strawberry slice.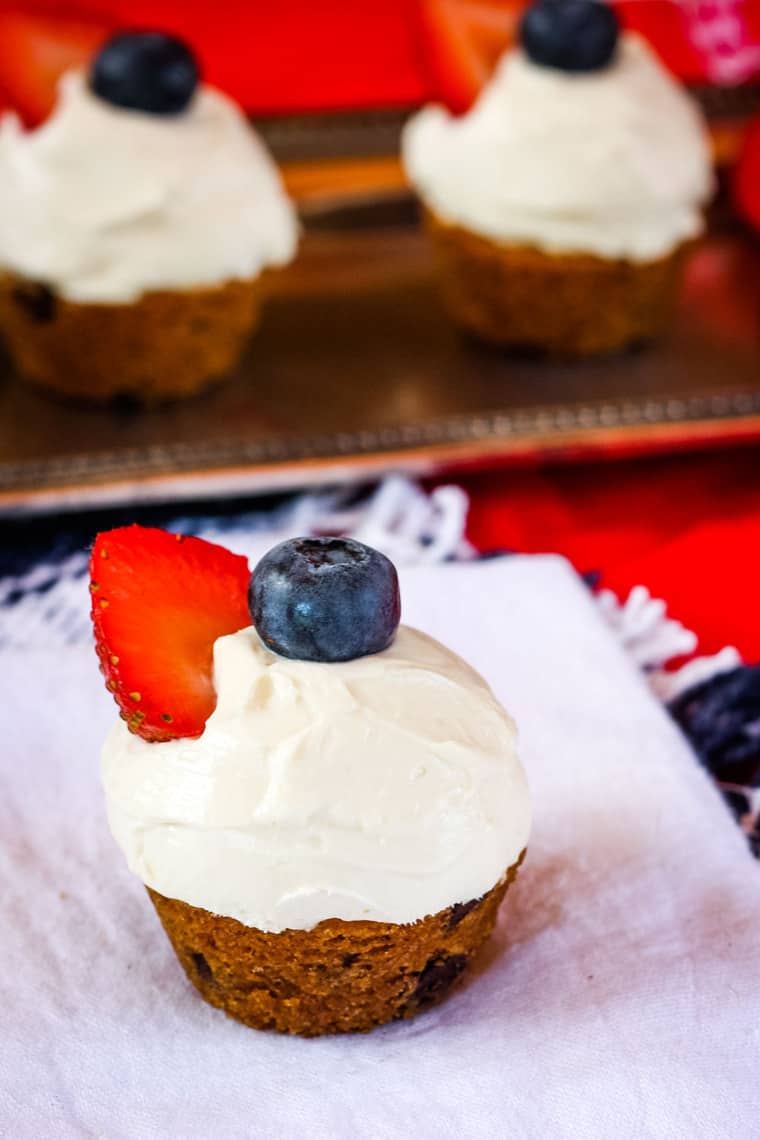 Tips for making the chocolate chip cookie cups
As I mentioned, you have the option to use your favorite homemade or store-bought, regular or gluten-free cookie dough. Just keep an eye on the baking time, as it may vary from what is suggested in the recipe.
Using store-bought cookie dough
While you can use the logs of cookie dough and place about a tablespoon of it in each well of the muffin pan, it's actually easiest to use the break-and-bake type or one that is already rolled into balls. In this case, all you have to do is drop in the ball or chunk of dough and bake.
The brand of gluten free chocolate chip cookie dough I used is no longer on the market, but Immaculate Baking Company has several varieties of pre-made gluten free cookie dough, and they show you on their website how to make the cookie cups. These take a bit longer to bake, around 17 minutes.
Using homemade chocolate chip cookie dough or a mix
There are tons of chocolate chip cookie recipes out there, and everyone has their favorite. Really, most of them should work to make cookie cups. However, with mini cookie cups, it helps to use mini chocolate chips, like these Muffin Tin Chocolate Chip Cookie Cups.
You can go with Gluten Free and Vegan Chocolate Chip Cookie Cups. or another favorite Gluten Free Chocolate Chip Cookie recipe.
And if you want to go semi-homemade, there are mixes available, including many brands of gluten free cookie mix.
In the case of using a cookie dough, you'll want to scoop about a tablespoon into each well of the mini muffin tin. You'll only need about a tablespoon of dough for each. So you can either make more frosting if you make more than 24 cookie cups, or just make the rest off as cookies and grab a glass of milk!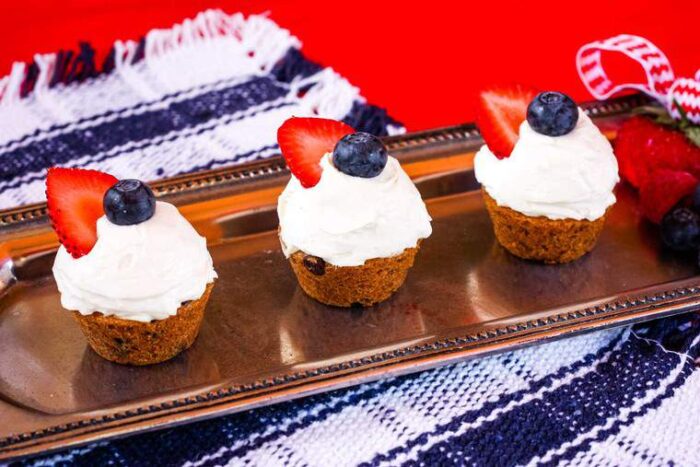 More cheesecake desserts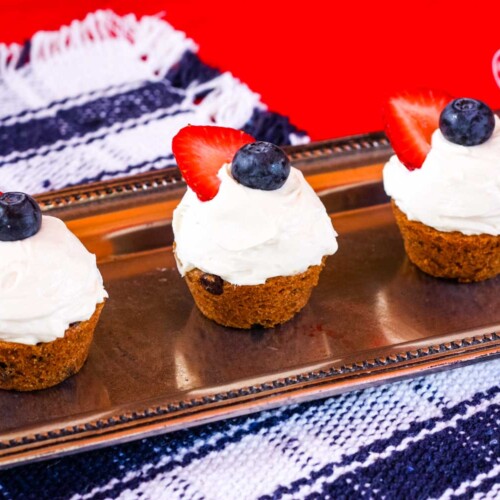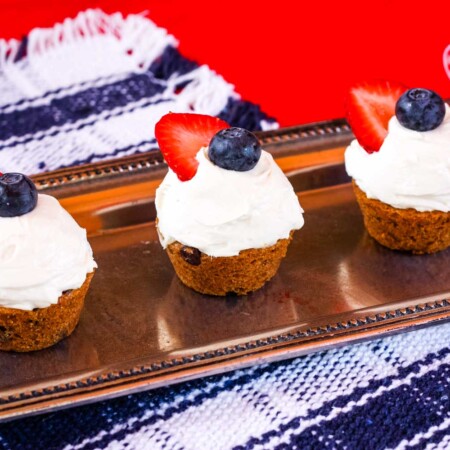 Berry Cheesecake Chocolate Chip Cookie Cups
Chocolate chip cookies baked in cups with a Greek yogurt cheesecake frosting hiding a juicy raspberry. A strawberry and blueberry garnish make 'em cute!
Ingredients
One package of regular or gluten-free chocolate chip cookie dough

or homemade cookie dough. You will need about 1 1/2 cups or enough for about 24 cookies (see Note*)

Two

8 oz. packages cream cheese,

softened to room temperature (I used light cream cheese)

½

cup

plain Greek yogurt

½

cup

powdered sugar

2

teaspoons

vanilla

24

raspberries

24

blueberries

24

strawberry slices
Instructions
Preheat oven to 350°F and spray a mini muffin tin (with 24 cups) with nonstick cooking spray.

Divide cookie dough between the 24 cups, about 1 Tablespoon in each.

Bake for 12-14 minutes, or according to package directions, until golden brown and crisp.

Cool in pan for several minutes before removing to cooling rack to cool completely.

Prepare the cheesecake topping by combining the cream cheese, Greek yogurt, powdered sugar and vanilla in a large bowl or the bowl of your stand mixer and beat with a hand mixer or stand mixer until smooth.

Use a small amount of the cheesecake topping to attach one raspberry to the top of each cookie cup.

Use a piping bag, plastic bag with a hole cut in the cornier to pipe the topping carefully around the raspberry on top of the cookie cup, or spread around it carefully with a knife or spatula. Smooth out the topping with a knife or spatula.

Garnish each cookie cup with one strawberry slice and one blueberry.
Notes
If you use another cookie dough, you may have to adjust quantity and/or baking time and temperature.
Nutrition Facts
Berry Cheesecake Chocolate Chip Cookie Cups
Amount Per Serving
Calories 146
Calories from Fat 81
% Daily Value*
Fat 9g14%
Cholesterol 23mg8%
Sodium 106mg4%
Potassium 55mg2%
Carbohydrates 13g4%
Protein 2g4%
Vitamin A 262IU5%
Vitamin C 2mg2%
Calcium 26mg3%
Iron 1mg6%
* Percent Daily Values are based on a 2000 calorie diet.
Categories:
Enjoy!