Strawberries & Cream Cake for 4th of July #SundaySupper
After sadly missing #SundaySupper the past two weeks, I am so happy to be joining the fun again.  Especially because we are celebrating the 4th of July.  You know, hot dogs, burgers, pickles, chips – standard picnic fare.  Umm, nope, not with this crowd.  Wait till you see what we have lined up for your 4th of July barbecue!
Now, I am going to be honest with you.  I found out the theme just a couple of days before I left for vacation.  I had already posted my Red, White & Blue Potato Salad, since that had to be done and submitted for a recipe contest.  I have another patriotic dish in the works, but it is breakfast, not really for #SundaySupper.  And in my photo and recipe archives, I didn't really have anything else that worked for the theme.  So I decided to go with the birthday cake I made for my grandpa.  I wanted to post this on his actual birthday, but it was during the time that I was locked out of my blog.
And really, honoring my grandpa while sharing #SundaySupper and celebrating our wonderful country is totally appropriate.  I mean, growing up, #SundaySupper meant the whole family gathering at my grandparents' house.  And he just turned 85!!!  And he truly loves this country.  One of my favorite memories of him is when he said the blessing at my wedding reception.  He gave the usual, "May God bring much joy and happiness to the bride and groom and may they have a long, wonderful life together, and bless the food we are about to eat, blah blah blah."  It was nice and all, but the best part was at the end, he didn't know how to wrap it up, so he just blurts out, "And God Bless America!"  Now anytime we say grace together as a family, that is usually how we end our prayer.
This was both his and my grandma's favorite cake, and I have often made it for his birthday, since it falls in June, right during strawberry season.  I made it for grandma sometimes, too, but her birthday was in January – not prime time for berries.  I used to just make a cake using good ol' Pillsbury or Duncan Hines, but the whipped cream and strawberries were always fresh.  But since my baking skills have improved, I went with this delicious White on White Buttermilk Cake that I had also used for The Bug's Pinstripe Cake.  But really, you could use any two or three layer white or yellow or vanilla cake, from a box, or from scratch.  The real key with Strawberries & Cream Cake is to use the fresh berries and cream, and make it a bit in advance so that the cake gets super moist from absorbing some of the moisture from the whipped cream.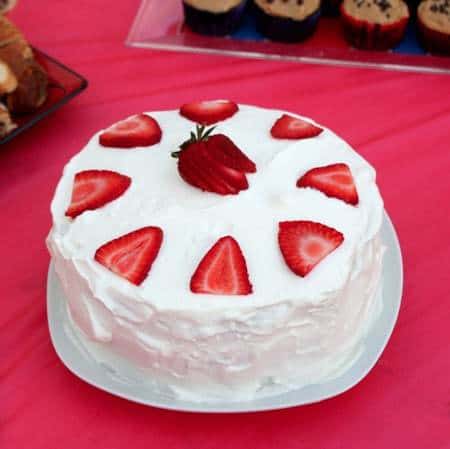 Can I just tell you, I made two cakes, and at the end of the party, this is all that was left…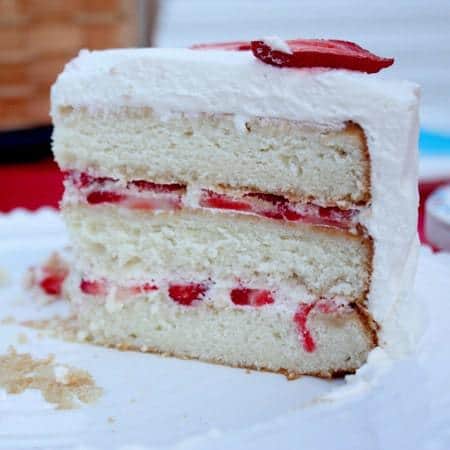 Clearly everyone hated it 🙂
So Happy Belated Birthday Grandpa…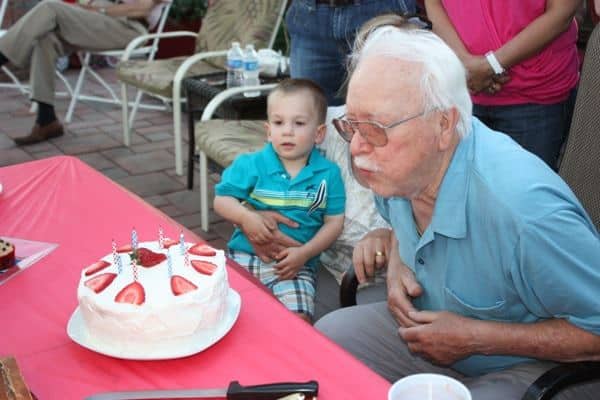 and GOD BLESS AMERICA!!
If you are still looking for a great dish to bring to your 4th of July celebration, or any other barbecues this summer, check out the links at the bottom of this post to see what all of the #SundaySupper participants have to share with you.  There are some great ones!!
What are you doing to celebrate 4th of July this year?  Are you cooking anything good?
Strawberries & Cream Cake
Ingredients
For the cake
For the strawberry filling
1 1/2 - 2 c sliced fresh strawberries
1-2 t sugar (or more, depending on how sweet your strawberries are)
For the whipped cream
1 pint heavy cream, well chilled
1/4 c powdered sugar
1 t vanilla
To assemble the cake
Whole or sliced strawberries, as desired
Directions
For the cake:
Prepare as per the instructions and set aside to cool.
For the strawberry filling:
Combine the strawberries and sugar in a small bowl, and set aside to allow the juices to release.
For the whipped cream:
Place the bowl and whisk attachment for your stand mixer or a metal or glass bowl and beaters for your hand mixer in the fridge or freezer until they are cold.
Add the cream, powdered sugar, and vanilla to the chilled bowl, and beat on medium-high to high speed until soft peaks form. Do not overbeat, or you will get butter.
To assemble the cake:
Place 1 layer of the cake on a plate, and spread with about a half cup of the whipped cream. Layer on the sliced strawberries (about half, if you are doing a 3 layer cake, all if you are doing 2 layers.
Spread about another half cup of whipped cream on top of the strawberries.
Top with the second cake layer, and, if you are doing 3 layers, repeat with the berries and whipped cream.
Top with the final cake layer, and spread the remaining whipped cream over the top and sides of the cake to cover completely.
Garnish with the whole and/or sliced strawberries, as desired.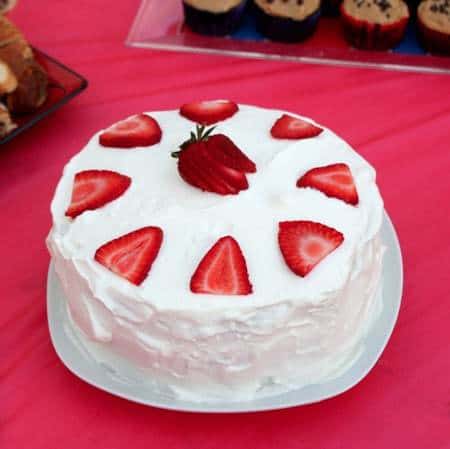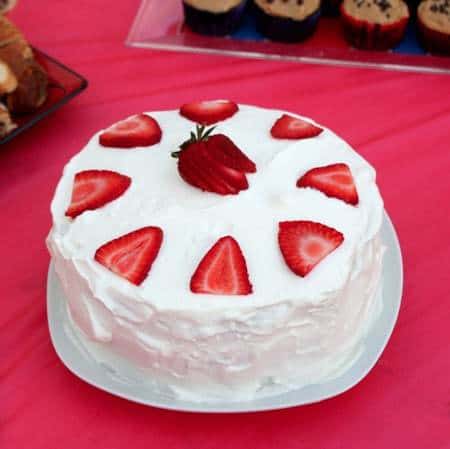 Loading nutrition data...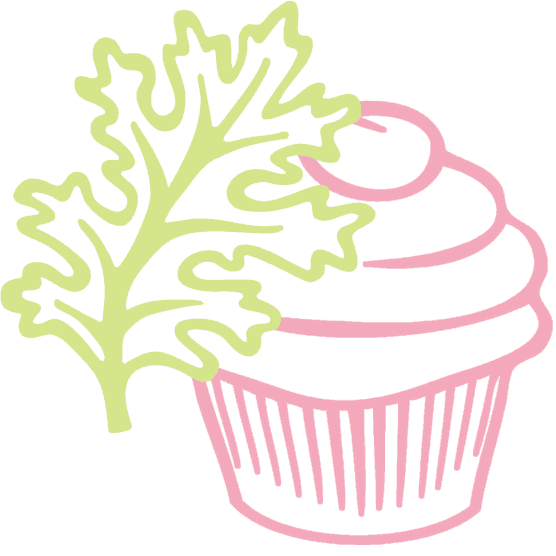 LOVE THIS RECIPE?
Give it a 5 STAR rating and share your photos on Instagram with the hashtag #CKCrecipes!
Enjoy!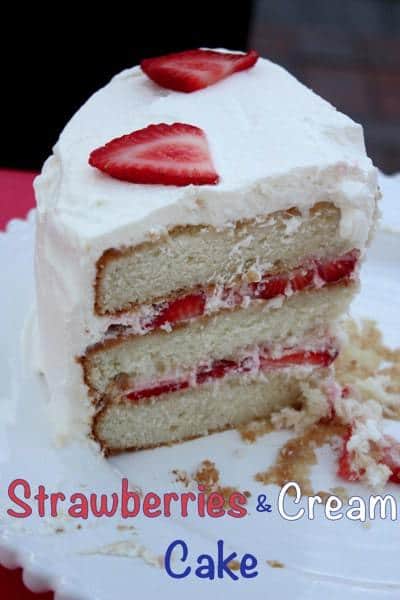 Make sure you check out the other recipes and join the live chat at 5:30 EST on Twitter. Use the hashtag #SundaySupper and come have some fun.  We look forward to answering questions, giving tips and inspiring you to spend more time Around the Family Table with those you love!
Let the Fireworks Begin!
Main Dishes:
Salads and Sides:
Desserts:
Fabulous Pairings by Martin from 
ENOFYLZ