Strawberries and Cream Cake
Disclosure: This post may contain affiliate links. Cupcakes & Kale Chips is a participant in the Amazon Services LLC Associates Program, an affiliate advertising program designed to provide a means for us to earn fees by linking to Amazon.com and affiliated sites.
Strawberries and Cream Cake has layers of white cake with strawberry filling and whipped cream for a totally heavenly spring and summer dessert recipe. It doesn't get any more simple and perfect than this! Serve it for Memorial Day, 4th of July, or any summertime celebration.
A simple whipped cream and strawberry cake is truly one of the best picnic desserts. And if you are making this cake for someone with celiac disease or a gluten allergy, check out this Gluten Free Strawberries and Cream Cake recipe.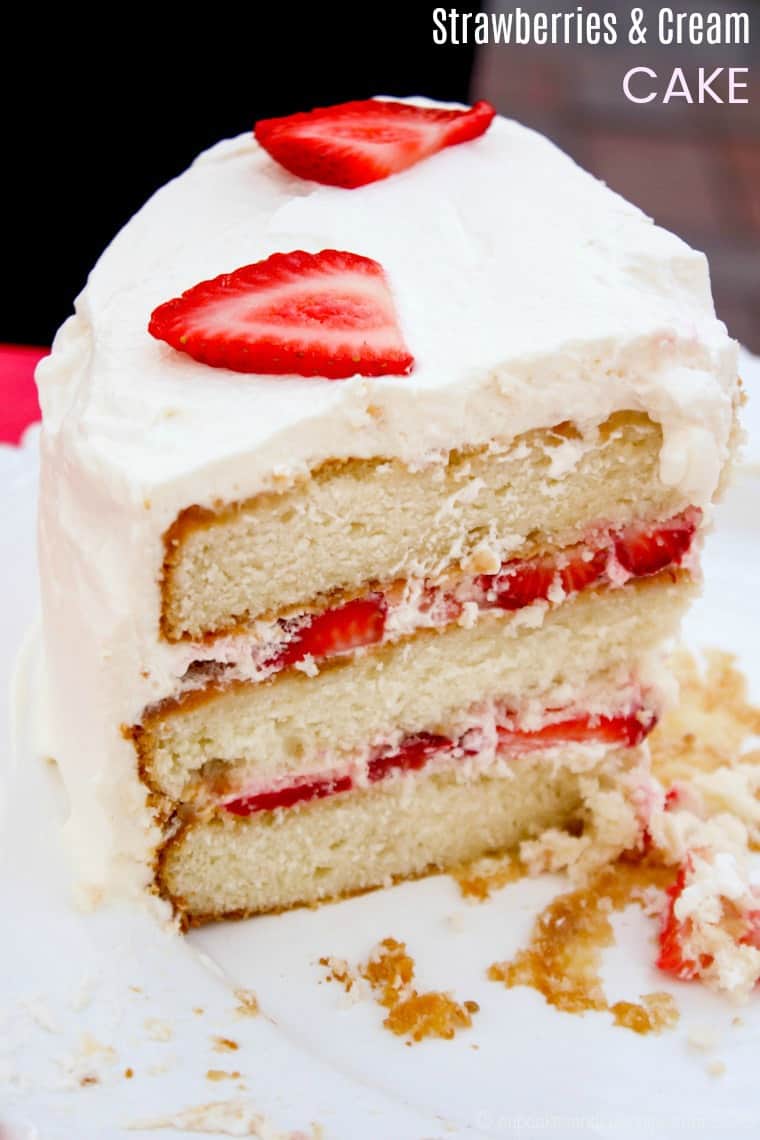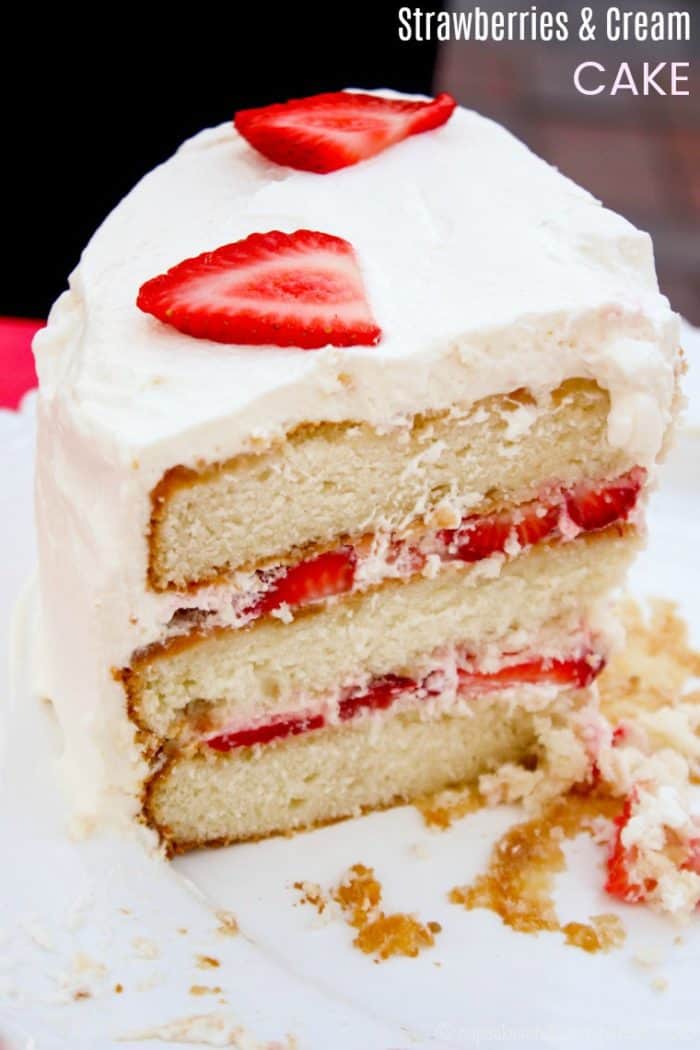 Strawberries and Cream Cake has always been a special cake recipe in my family, and the actual one you see in these photos is extra-special. My grandpa had just turned 85. This man truly loves this country. One of my favorite memories of him is when he said the blessing at my wedding reception.
He gave the usual, "May God bring much joy and happiness to the bride and groom and may they have a long, wonderful life together, and bless the food we are about to eat, blah blah blah." It was nice and all, but the best part was at the end, he didn't know how to wrap it up, so he just blurts out, "And God Bless America!" Now anytime we say grace together as a family, that is usually how we end our prayer.
This was both his and my grandma's favorite cake, and I have often made it for his birthday, since it falls in June, right during strawberry season. I made it for grandma sometimes, too, but her birthday was in January – which is not prime time for berries everywhere, but I know on the East Coast we can usually find some Florida strawberries in January, which is the prime of their season.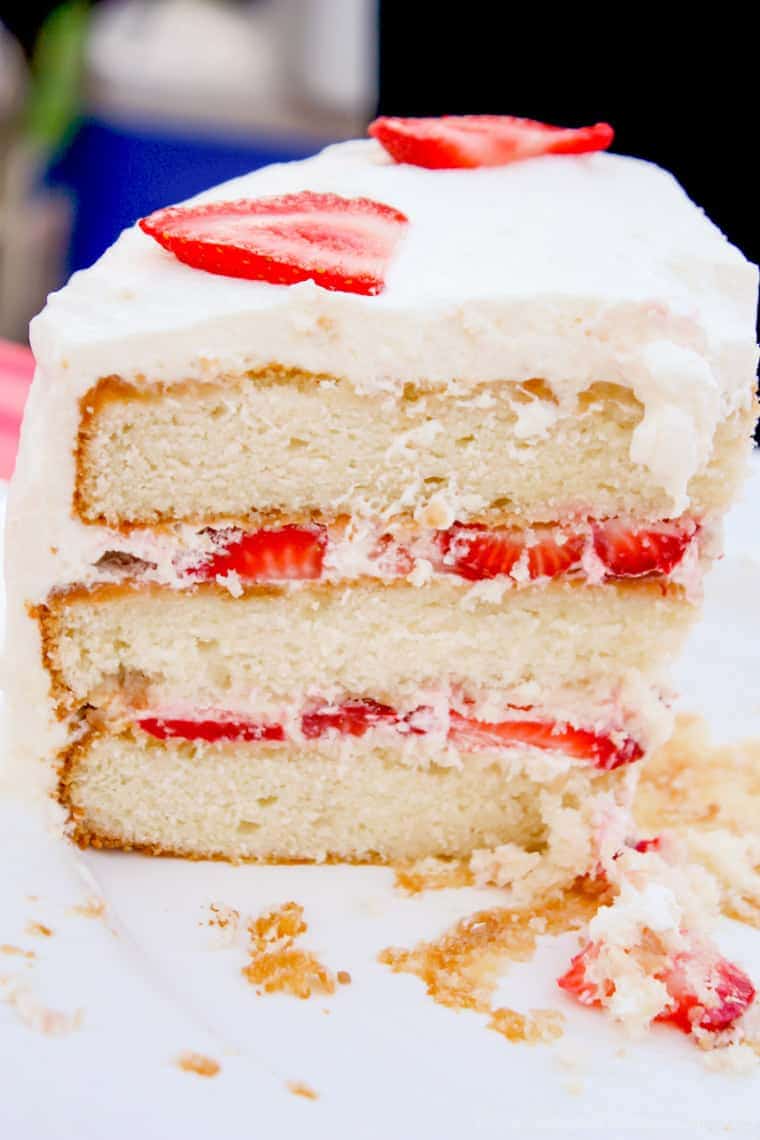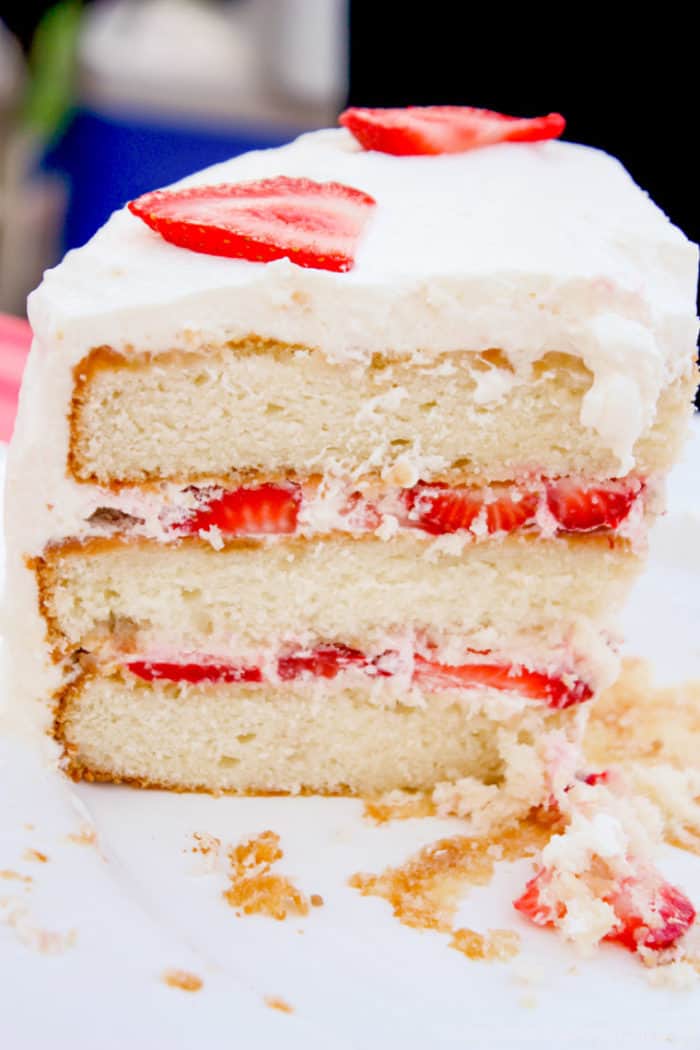 How to Make Strawberry and Cream Cake
With layers of white cake, fresh strawberries, and homemade whipped cream, the deliciousness of this cake is truly in its simplicity.
How Do You Make Strawberries and Cream Cake?
In the recipe below, you'll see that I provide an easy from-scratch cake recipe, which is this delicious White on White Buttermilk Cake from Bakespace that I had also used for this Yankees Pinstripe Cake. It's the basic creaming of butter and sugar, then alternately adding dry ingredients before pouring into pans and baking. But this one uses buttermilk which makes it tender and with a flavor that pairs perfectly with the richness of the whipped cream.
If you don't have buttermilk, you can use 1 1/2 tablespoons of vinegar plus enough milk to equal one cup, or a cup of milk with half a cup of Greek yogurt.
As a kid, I used just a white cake mix, which is totally fine too.
But always use fresh strawberries and whipped cream.
Toss the strawberries in a teaspoon or two of sugar and let them sit so the juices release.
Put the bowl that you'll use for whipping the cream in the freezer for a few minutes and use very cold heavy cream to help it whip better. Try to whip it just before you are going to assemble the cake.
You can serve the cake right away, but I recommend making it a few hours in advance or the night before so that the cake gets super moist from absorbing some of the moisture from the whipped cream.
However, I wouldn't recommend storing leftovers for more than a day or so. It tastes best when fairly fresh.
Not that you'll have too many leftovers. I'll tell you, I made two cakes, and at the end of the party, this is all that was left.
So Happy Forever Birthdays Grandpa and GOD BLESS AMERICA!!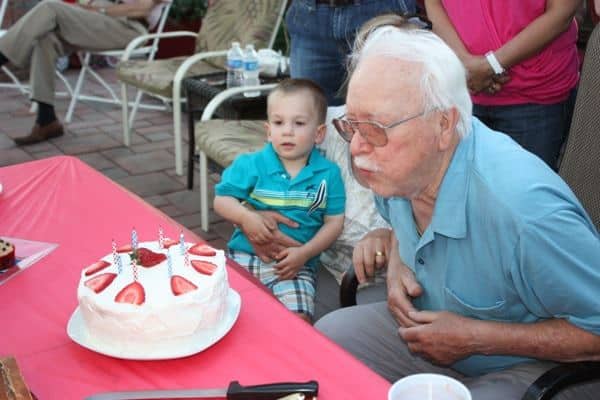 For more yumminess from me and my foodie friends, keep up with me on…
Or sign up to have Cupcakes & Kale Chips delivered straight to your Inbox!
What do you need to make Strawberries and Cream Cake?
The OXO Strawberry Huller. This is a favorite tool in our kitchen because it makes quick work of getting the bitter, bland hull out of your strawberries. I find the easiest thing to do is to pull off the leaves before you try to remove the hull so that you don't end up with bits of leaves in your cake.
What can I make with strawberries?
Strawberries and Cream Cake Recipe
Classic white cake, homemade whipped cream, and fresh strawberries come together in one of the most classic dessert combinations of all time. While you can use any cake recipe you like, or even a box cake mix, the white buttermilk cake in this recipe is the perfect color flavor, and texture for the strawberry and cream combinations. But I will say that making freshly whipped cream is a must.
I hope you'll leave a comment and give it a FIVE STAR rating or share a photo on this pin on Pinterest!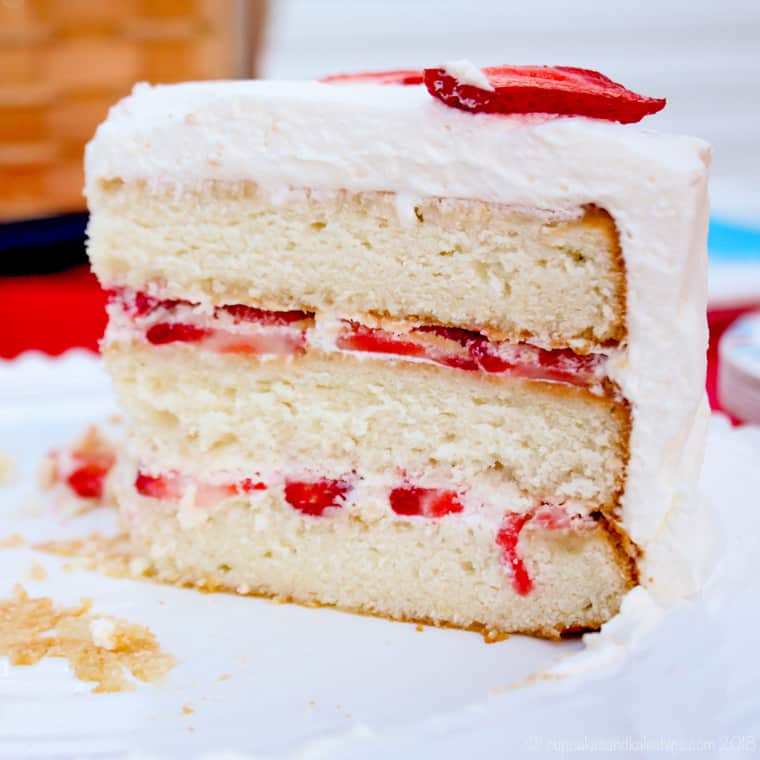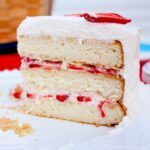 Print Recipe
Strawberries and Cream Cake
Strawberries and Cream Cake has layers of white cake filled with strawberries and covered in fresh whipped cream for a heavenly, classic dessert.
Ingredients
For the cake (you can also use your favorite 2- or 3-layer cake recipe or box cake mix):
3

cups

cake flour

3/4

teaspoon

baking soda

1 1/2

teaspoon

baking powder

3/4

teaspoon

salt

1 1/2

cups

unsalted butter

at room tempaerature

2 1/3

cups

sugar

3

large

egg whites

2

teaspoons

vanilla extract

1 1/2

cups

buttermilk
For the strawberry filling:
2

cups

sliced fresh strawberries

1

teaspoon

sugar

(or more, depending on how sweet your strawberries are)
For the whipped cream:
1

pint

heavy cream,

well chilled

1/4

cup

powdered sugar

1

teaspoon

vanilla extract
To assemble the cake:
Optional

whole or sliced strawberries

for decorating the cake
Instructions
For the cake (you can also use your favorite 2- or 3-layer cake recipe or box cake mix):
Preheat oven to 350°F. Line three 9-inch round cake pans with parchment on the bottom and spray with nonstick cooking spray.

In a medium bowl, sift together the flour, baking soda, baking powder, and salt. Set bowl aside.

In a stand mixer with a paddle attachment, cream the butter and sugar on medium speed until light and fluffy.

Add the egg whites and vanilla extract and beat on medium for about a minutes, scraping down the sides of the bowl.

Keep the mixer running on medium speed and add about a third of the flour mixture, beating until incorporated. Do the same with about half the buttermilk. Scrape down the sides of the bowl, and repeat, ending with with the flour mixture.

Divide the mixture evenly between the cake pans. Bake for 25 to 35 minutes, or lightly browned, and a toothpick inserted in the middle comes out clean.

Cool in the pans on racks for about 10 minutes before removing the cakes from the pans to cool completely on the racks.
For the strawberry filling:
Combine the strawberries and sugar in a small bowl, and set aside to allow the juices to release.
For the whipped cream:
Place the bowl and whisk attachment for your stand mixer or a metal or glass bowl and beaters for your hand mixer in the fridge or freezer until they are cold.

Add the cream, powdered sugar, and vanilla to the chilled bowl, and beat on medium-high to high speed until soft peaks form. Do not overbeat, or you will get butter.
To assemble the cake:
Place 1 layer of the cake on a plate, and spread with about a half cup of the whipped cream. Layer on the sliced strawberries (about half, if you are doing a 3 layer cake, all if you are doing 2 layers.

Spread about another half cup of whipped cream on top of the strawberries.

Top with the second cake layer, and, if you are doing 3 layers, repeat with the berries and whipped cream.

Top with the final cake layer, and spread the remaining whipped cream over the top and sides of the cake to cover completely.

Garnish with the whole and/or sliced strawberries, as desired.
Nutrition
Serving:
1
/16th of the cake
|
Calories:
485
kcal
|
Carbohydrates:
51
g
|
Protein:
5
g
|
Fat:
29
g
|
Saturated Fat:
18
g
|
Cholesterol:
88
mg
|
Sodium:
209
mg
|
Potassium:
156
mg
|
Sugar:
33
g
|
Vitamin A:
1005
IU
|
Vitamin C:
10.7
mg
|
Calcium:
73
mg
|
Iron:
0.3
mg
Enjoy!