Strawberry Cheesecake Frozen Yogurt Popsicles
Disclosure: This post may contain affiliate links. Cupcakes & Kale Chips is a participant in the Amazon Services LLC Associates Program, an affiliate advertising program designed to provide a means for us to earn fees by linking to Amazon.com and affiliated sites.
Strawberry Cheesecake Frozen Yogurt Popsicles have the sweet, delicious flavor of a favorite indulgent dessert recipe in a healthier frozen treat. These are a healthy snack recipe since they are made with Greek yogurt, plus they are protein-packed, filled with fresh summer fruit, and naturally gluten free. Kids and adults will love these fro yo pops all summer long.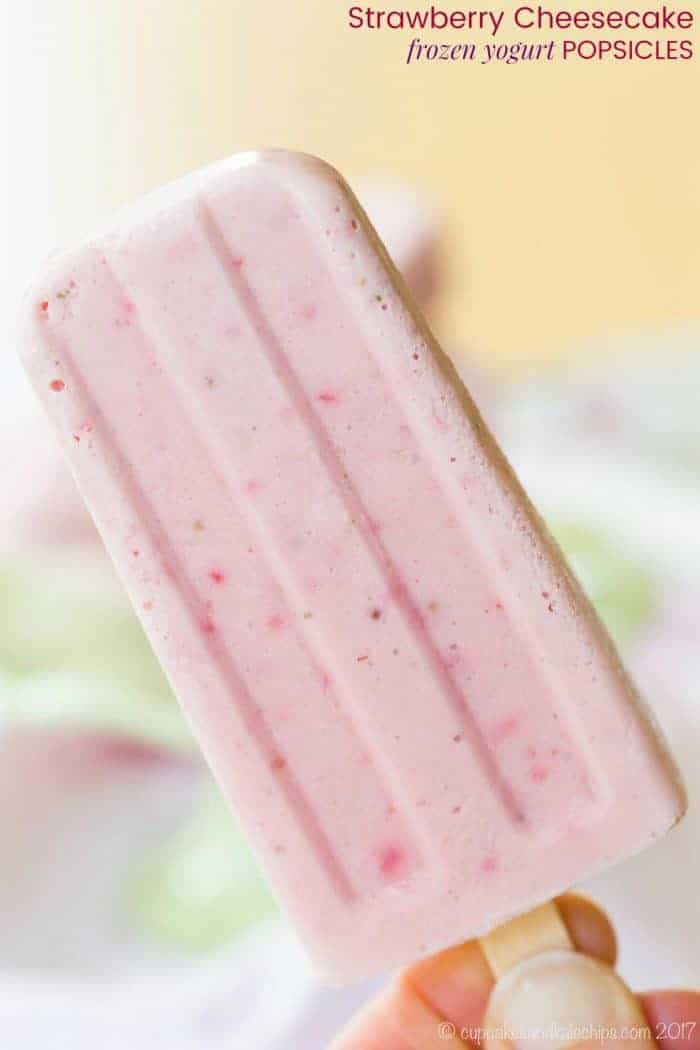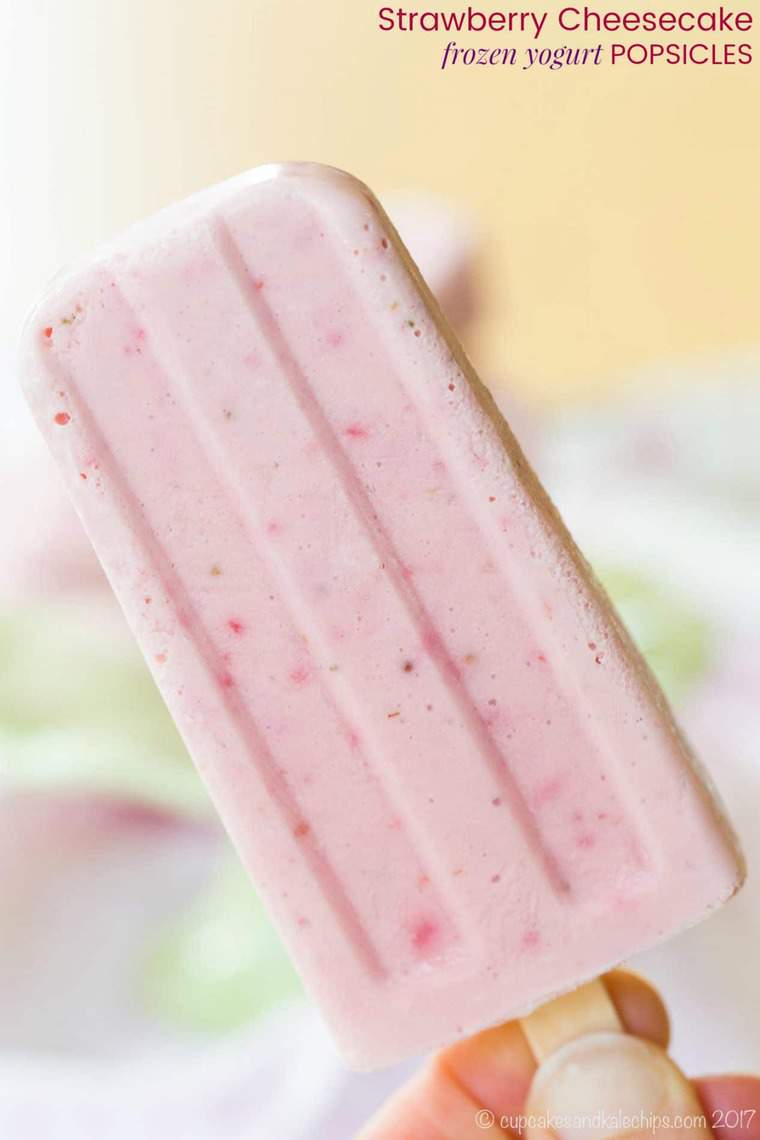 MY LATEST VIDEOS
Originally published on June 19, 2014. Updated on August 16, 2017.
Strawberry Cheesecake Frozen Yogurt Pops
#foodbloggerproblems are totally a thing. Just search the hashtag on Twitter or Instagram and you'll see what I mean. When I first made these Strawberry Cheesecake Frozen Yogurt Popsicles, they were full of #foodbloggerproblems. I've updated the photos, but scroll al the way down to the bottom and you can see the hot mess these popsicles were on my first go-around three years ago.
The first problem was my sticks. Or, well, straws. Paper straws, mind you. Paper straws aren't even really useful for Matcha Swirl Strawberry Banana Smoothies, so what possessed me to use them as popsicle sticks? Well, I didn't want to use the plastic sticks that came with my popsicle molds because, I mean, they don't they look super gorgeous in the photos of these Mango Strawberry Lime Popsicles. I couldn't find my sticks (a hideously messy studio/office is probably my true first problem), so I grabbed these paper straws. Sure they look adorable, but when the time came to unfold the pops, they were not sturdy enough to get a good grip to pull out the pops, and they got all bent and were rendered completely ineffective for actually holding a popsicle.
The second issue is photographing frozen things. I find it helpful to freeze whatever container or surface you are going to photograph frozen things in or on, so they don't melt instantly, like I did in this Vanilla Bean Cheesecake No-Churn Ice Cream. So I whipped up these pops one afternoon, froze some platters and cookie sheets, and thought I would have time to take my pictures. Well, by the time I wrestled them out of the molds due to the stick/straw issue, the kids were in need of something, you know, like water, food, attention. So since food photography was not happening, especially with something that melts, I threw the popsicles, unmolded and uncovered, back in the freezer, thinking I'd have time later in the day or the next day.
Two weeks later, after collecting frost and maybe even a teensy weensy case of freezer burn, they totally didn't look super-duper appetizing. Three years later, after getting some pop practice with these Banana Peanut Butter Chocolate Chip Cheesecake Frozen Yogurt Pops, I finally decided to make the strawberry cheesecake pops look appetizing…
Strawberry Cheesecake Frozen Yogurt Popsicles are definitely a treat that only tastes indulgent.
These pops are frosty and creamy, and filled with fruit and protein. They are sweet, but not too sweet, though you can adjust that to your preference, and based on the sweetness of your berries. And they literally take just a few second to whiz up in the blender. The hardest part will be waiting for them to freeze.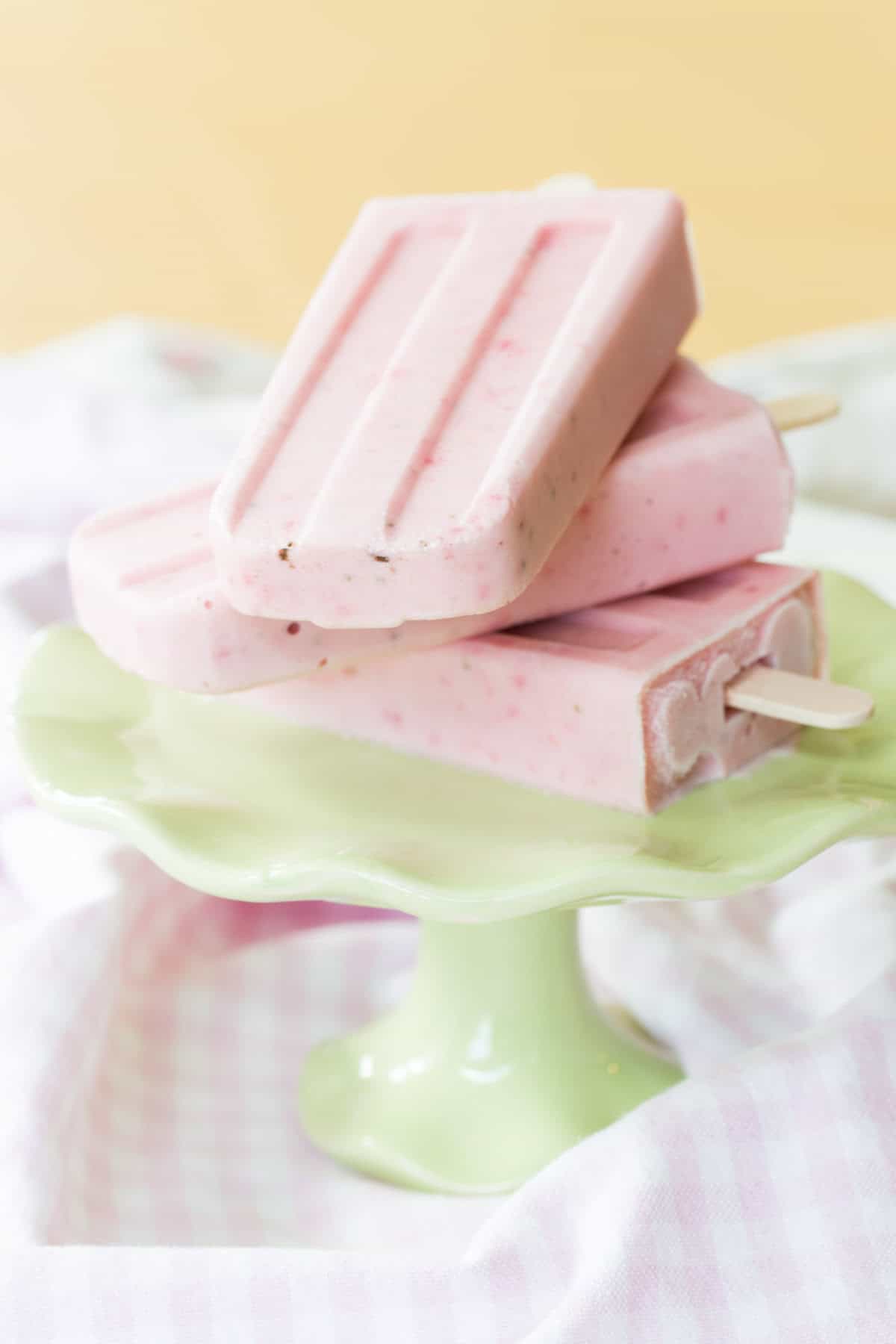 If you like these Strawberry Cheesecake Frozen Yogurt Popsicles, you'll love all of my strawberry cheesecake-inspired recipes…
My friends also have some fabulous recipes. No-Bake Strawberry Daiquiri Cheesecake from Inside Bru Crew Life is a total party in a slice. Eat your cheesecake by the scoop with Strawberry Cheesecake Ice Cream from Grandbaby Cakes. And these Strawberry White Chocolate Cheesecake Bars from Texanerin Baking look dreamy.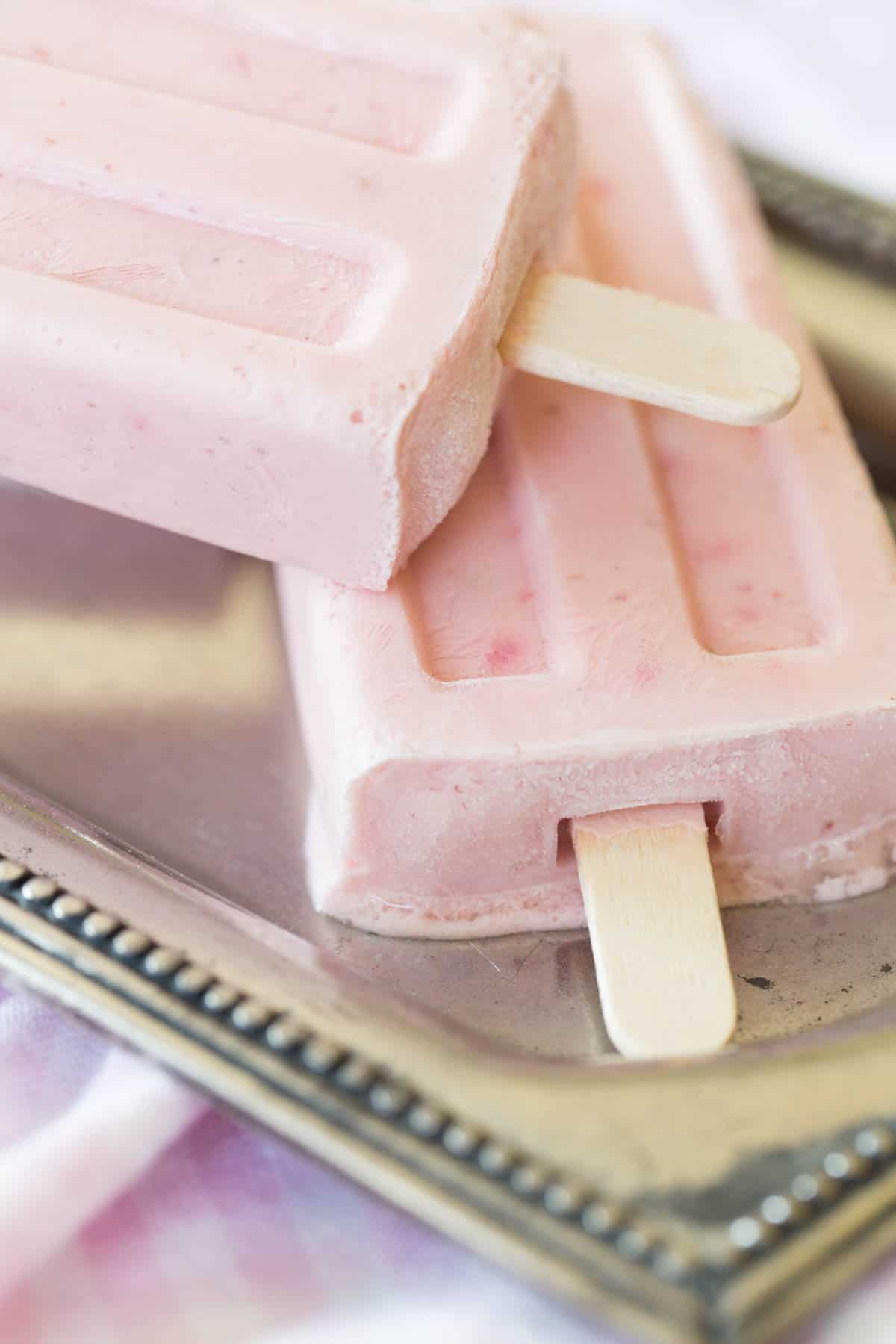 For more yumminess from me and my foodie friends, keep up with me on…
Or sign up to have Cupcakes & Kale Chips delivered straight to your Inbox!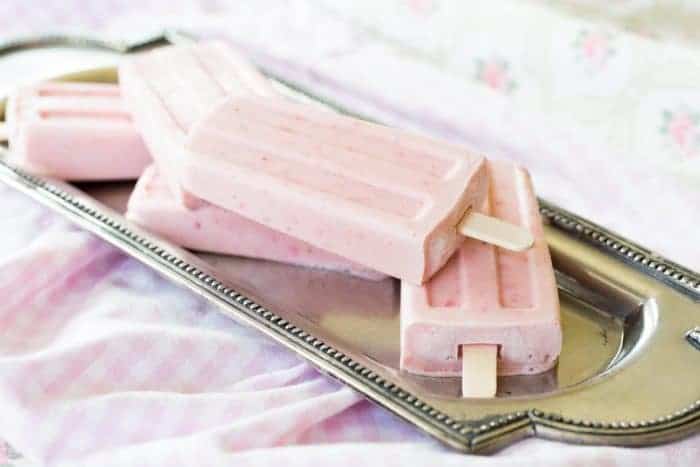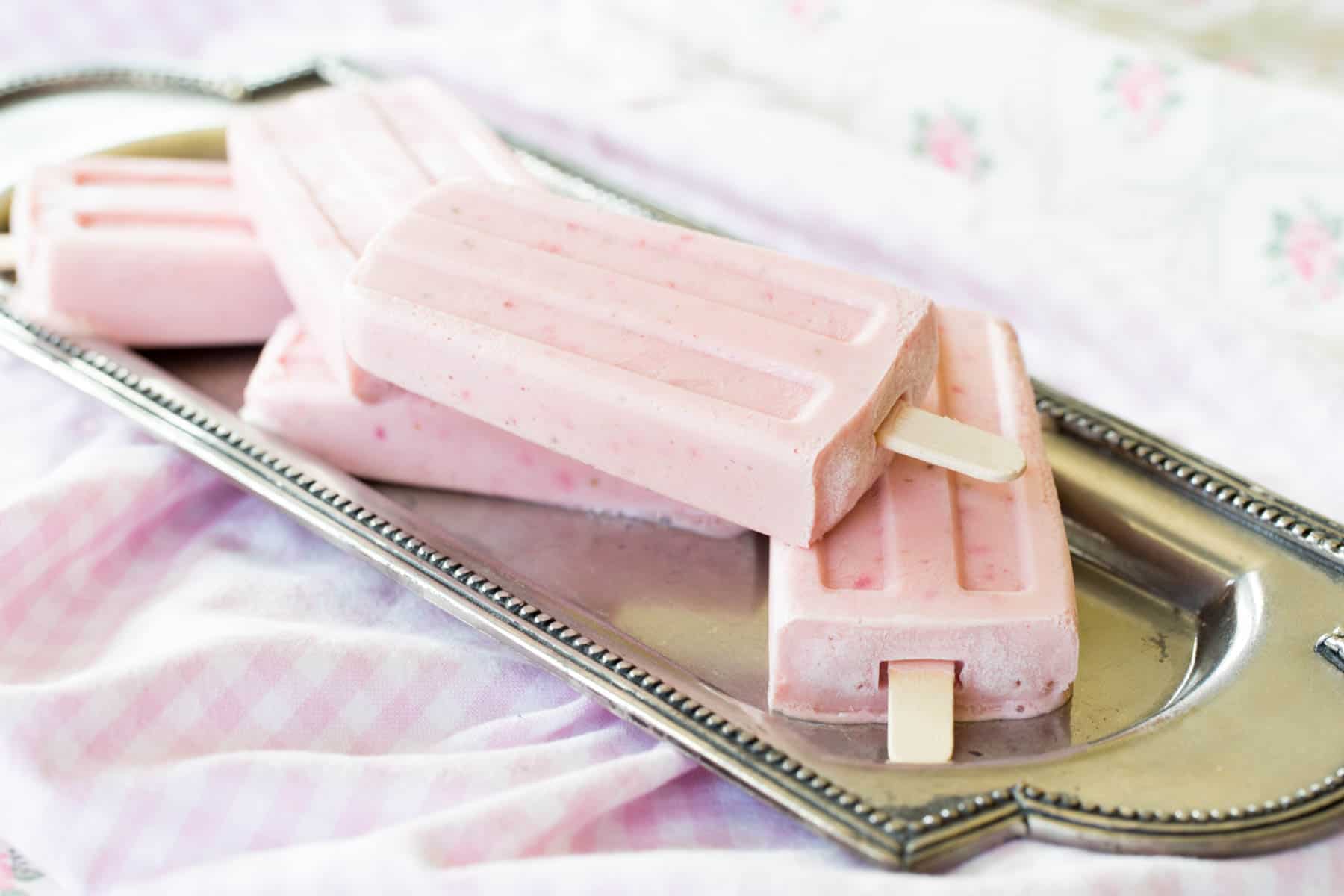 By the way, here's what I used to make these popsicles…
You are going to love this Strawberry Cheesecake Frozen Yogurt Popsicles recipe…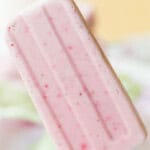 Strawberry Cheesecake Frozen Yogurt Popsicles
A favorite indulgent dessert in a healthier, protein-packed and fruit-filled frozen treat for summer.
Keyword:
cheesecake, frozen desserts, frozen yogurt, gluten free desserts, popsicles, vegetarian
Ingredients
1

cup

strawberries

1/2

cup

plain or vanilla Greek yogurt

2

oz.

light cream cheese

(or full fat)

1/2

cup

milk

can use regular or nut milk

1

tbsp

honey

optional, more or less to taste, depending on the sweetness of your strawberries and whether you used plain or vanilla Greek yogurt

1

teaspoon

vanilla extract

if you used plain Greek yogurt
Instructions
Combine all ingredients in a blender and puree until smooth.

Pour into popsicle molds or four to six paper or plastic cups.

Insert sticks and transfer to the freezer.

Freeze for 4-6 hours, or until firm.
Nutrition Facts
Strawberry Cheesecake Frozen Yogurt Popsicles
Amount Per Serving (1 g)
Calories 51
Calories from Fat 9
% Daily Value*
Total Fat 1g 2%
Cholesterol 5mg 2%
Sodium 77mg 3%
Potassium 83mg 2%
Total Carbohydrates 6g 2%
Protein 2g 4%
* Percent Daily Values are based on a 2000 calorie diet.

Photos from June 19, 2014: