Chocolate-Covered Cheesecake Strawberries – June #RecipeRedux
Disclosure: This post may contain affiliate links. Cupcakes & Kale Chips is a participant in the Amazon Services LLC Associates Program, an affiliate advertising program designed to provide a means for us to earn fees by linking to Amazon.com and affiliated sites.
This is only my third month participating, but the Recipe ReDux is turning 1! To celebrate, this month we are all posting "Small Bites to Celebrate a Big Event", following on the latest restaurant dessert trend – mini sweet treats. So that means that you can sample one from each of the ReDux participants and not feel guilty, right?! 🙂
Just as a reminder, the Recipe Redux is a recipe challenge and blog hop started by registered dietitians, with a focus on DELICIOUS and nutritional foods. Yes, eating healthy can be tasty! And that is what all of the participants are here to show you. Each month there is a theme, and we all post our takes on the theme on the 21st of each month.
I was going to post these awhile ago, but when I saw the the theme for this month's ReDux, I held this recipe in my back pocket, because I knew it would be a perfect way to say HAPPY BIRTHDAY REDUX!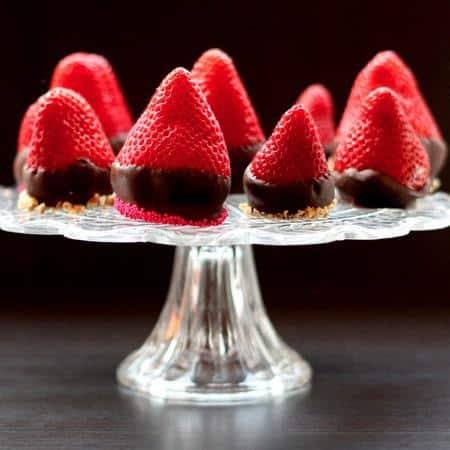 And cheers to another great year!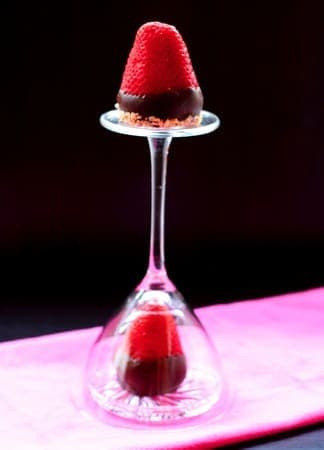 So did I just bring plain old chocolate-covered strawberries to the party? Umm, no! Take a look inside…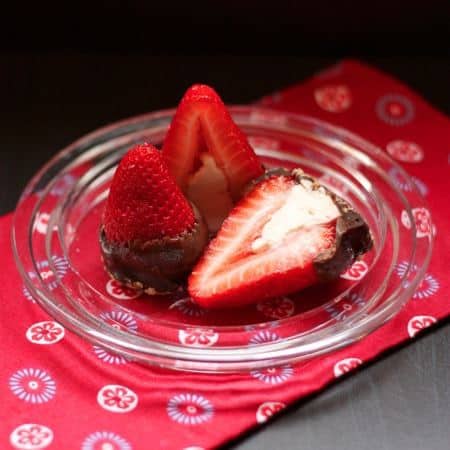 Yes! Cheesecake! Inside the strawberry!! It's like two of the best desserts all in one. And decadent and healthy all at the same time.
Go ahead, eat five one!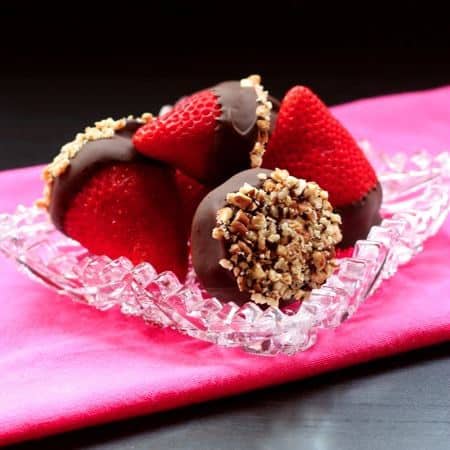 And don't forget to check out all of the little sweet treats from the other ReDuxers using the links at the bottom of this post.
What is your favorite healthy and/or little dessert?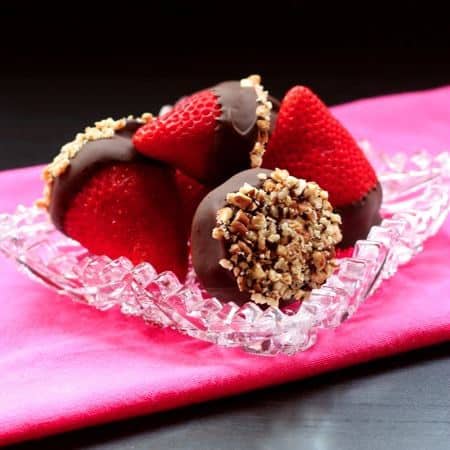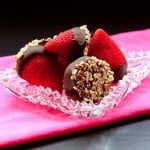 Print Recipe
Chocolate-Covered Cheesecake Strawberries
Ingredients
1-1 1/2

lb

strawberries

4

oz.

light cream cheese

at room temperature

1

T

powdered sugar

1

t

vanilla

1

c

dark or semi-sweet chocolate chips

chopped chocolate, or candy melts

Optional crushed graham crackers

chopped nuts, and/or sprinkles
Instructions
Remove the hull from the strawberries, and, using a paring knife, cut a slightly larger cavirty into the strawberry.

In a small bowl, combine the light cream cheese, powdered sugar, and vanilla, and stir until smooth.

Place the strawberries in the refrigerator for at least half an hour to chill and firm the filling.

Melt the chocolate in the microwave, or over a pot of simmering water.

Dip the cheesecake end into the chocolate, then into the graham crackers, nuts, or sprinkles, if desired.

Stand up on the chocolate-dipped end.

Store in the refrigerator until serving.
Enjoy!