This post may contain affiliate links. Read my disclosure policy.
Enjoy this healthy 3-ingredient Creamy Cheesecake Yogurt Fruit Dip dressed up with your favorite fruit and lightened up with Greek yogurt! You and the kids will love this "snack hack" as an easy after school snack or gluten-free party appetizer.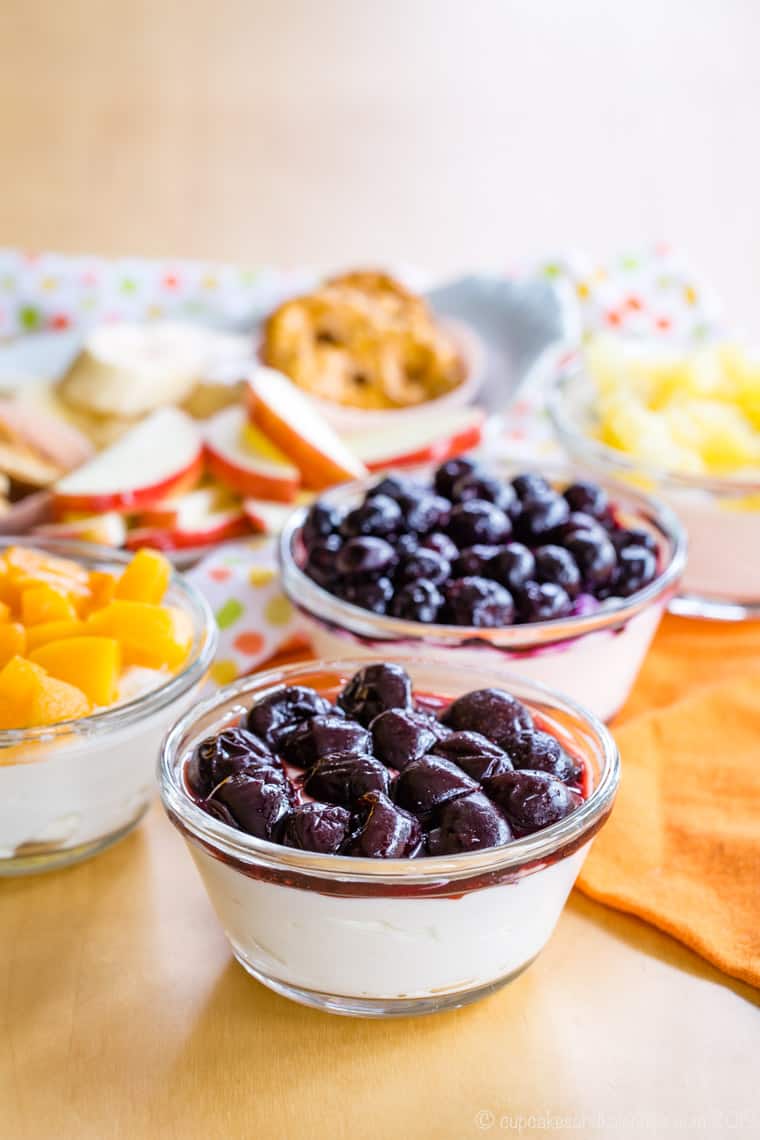 Disclaimer: This recipe was developed through a sponsored partnership with Dole Packaged Foods. As always, all opinions are my own.
An Easy Cream Cheese Fruit Dip with Yogurt
As a snack hack master, this three-ingredient fruit dip is a lifesaver whenever my day calls for a fast and healthy snack! Inspired by gluten-free cheesecake, this easy dip recipe is made with Greek yogurt and Dole canned or frozen fruit. Like my Strawberry Cheesecake Smoothie and Cheesecake Frozen Yogurt Pops, it's a super tasty and healthier way to enjoy all the delicious flavors of cheesecake!
[adthrive-in-post-video-player video-id="LcLKtfDM" upload-date="Wed Mar 20 2019 00:00:00 GMT+0000 (Coordinated Universal Time)" name="Greek Yogurt Cheesecake Fruit Dip" description="Greek Yogurt Cheesecake Fruit Dip is an easy and healthy snack hack with only three ingredients you can make individual snack-size or party-size."]
I make this fruit dip in small batches when it's just me and the family, or I whip up a crowd-sized version as a no-fuss party dip. I love that you can customize this yogurt fruit dip with your favorite fruit toppings and dippers, for a snack hack everyone will devour.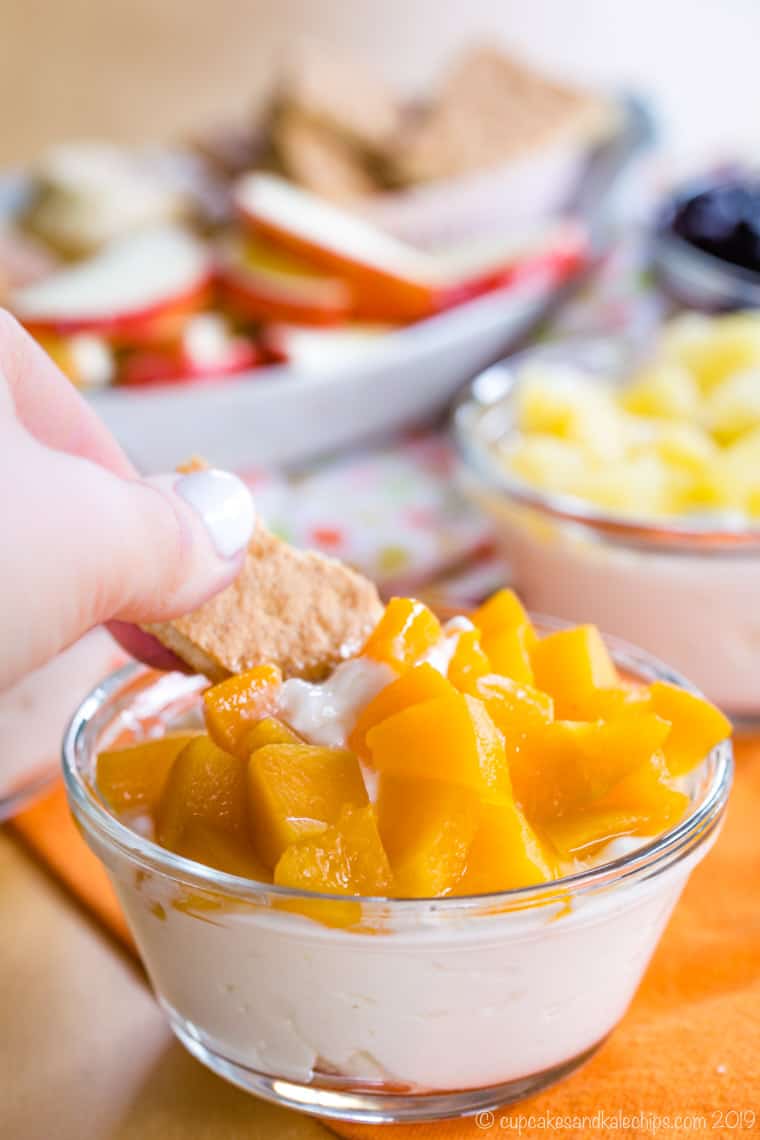 What is Fruit Dip? Is it Healthy?
Traditionally, a fruit dip is made with a combination of whipped marshmallow, cream cheese, and orange juice concentrate, for a taste similar to a cheesecake. Basically, a lot of processed ingredients that I'll admit sound delicious, but don't exactly make for a healthy, nutritious snack.
We love dipping fruit in yogurt, though. And we love cheesecake. So naturally, I turned to cheesecake as inspiration for a yummy, gluten-free, and healthy kid's yogurt dip! This version is made with quality fruit, light cream cheese and fresh Greek Yogurt, and tastes just as amazing.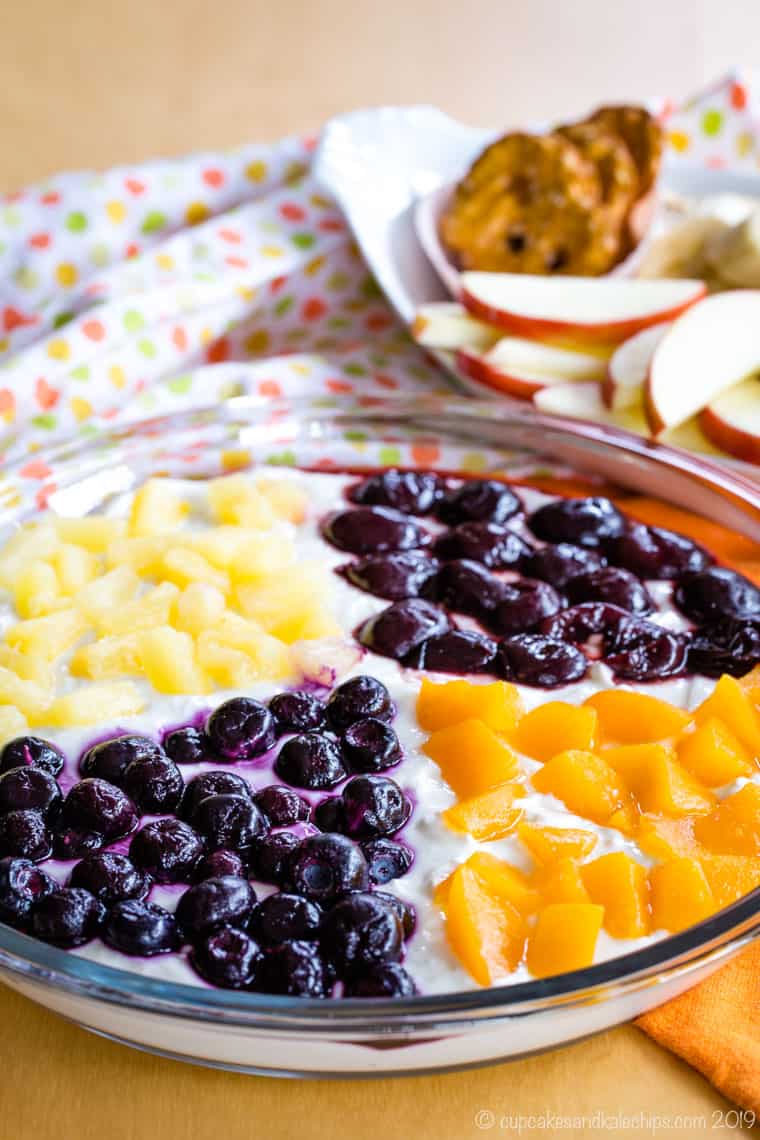 Recipe Ingredients
This three-ingredient dip is full of juicy fruit and fresh, tangy yogurt flavor. Here's everything you'll need:
Light Cream Cheese: Brought to room temperature.
Greek Yogurt: I use nonfat vanilla Greek yogurt for this recipe, as it really brings to mind that cheesecake flavor!
Dole Fruit: Your favorite Dole canned, jarred or frozen fruit. Mine are blueberries, sliced strawberries, peaches, and pineapple, but anything goes!
You'll also need to gather together your choice of dippers. Apple slices, strawberries, graham crackers, and pretzels are all awesome to pair with this fruit dip!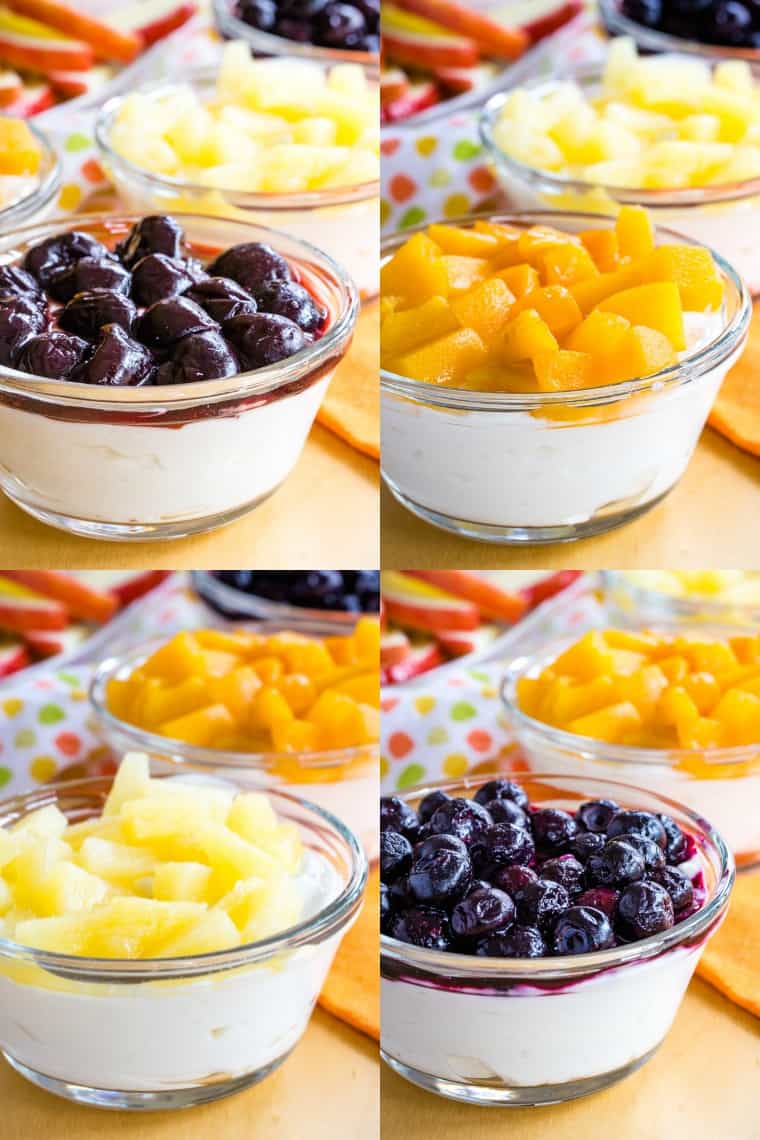 How to Make Cream Cheese Fruit Dip
You can make enough of this dip for one or two, as a quick snack for yourself or the kids. Or, make a larger batch to set out at a party. I've included both methods in the recipe card!
Before beginning, get your cream cheese softened to room temperature. While not essential, having your yogurt at room temperature will ensure your dip has the smoothest, creamiest texture. Next, follow these steps for this super simple fruit dip:
Mix the Creamy Ingredients: Stir together cream cheese and vanilla Greek yogurt.
Top with Fruit: Add your favorite fruit topping. I like to use my favorite Dole thawed frozen fruit or drained canned or jarred fruit. Use one topping for the entire thing, or use a few different fruits so everyone can dip into their favorite section!
Chill: Pop your dip into the refrigerator until ready to serve.
How to Get Lumps Out of Fruit Dip
One of the reasons why it's recommended to let your cream cheese reach room temperature is due to the clumping factor! While little lumps won't impact the taste at all, the dip also won't have that super creamy and smooth texture of a cheesecake. To fix lumps in the dip, try letting it sit out at room temperature for about 20 minutes before beating it through again with your mixer or whisk.
Variation Ideas
Between the batch size and low maintenance ingredients, this fruit dip is really easy to customize! Here are some of the ways you can change up this yogurt dip:
Substitute the cream cheese 1:1 with mascarpone.
Sweeten the dip a bit with maple syrup or honey.
Spice things up with nutmeg, mixed spice, or cinnamon.
Add in a couple spoonfuls of orange juice (freshly squeezed!) for a burst of citrus.
Stir in two spoonfuls of pumpkin puree and pumpkin spice for a healthy pumpkin cheesecake-inspired variation!
​​And while this cheesecake dip is certainly delicious on its own, the fruit on top is really what takes it up a level. I always have some variation of Dole fruit on hand in my freezer or pantry, which makes preparing this dip a breeze.
Here are some fruit variations for topping your homemade cheesecake dip:
Frozen Fruit – thaw your favorite frozen fruit, like dark sweet cherries, sliced strawberries, blueberries, or mixed berries to put on your dip.
Canned Fruit or Jarred Fruit – drain pineapple tidbits, drain and chop sliced peaches, or even try some mango.
Fruit Bowls – it doesn't get easier than opening one of these pantry staples, like diced peaches, tropical fruit, or even diced apples or pears (pro tip: add a pinch of cinnamon into your cheesecake dip with these!).
Serving Suggestions
What can you dip into cheesecake dip? Here are some of our family favorites:
To keep this in healthy snack territory, I like to serve this as a dip with fresh cut fruit. Sliced apples or pears, strawberries, even banana slices are a perfect choice. (Bonus tip: Save any drained pineapple juice to coat your apple slices and bananas, which will keep them from browning!)
This dip is tasty with dried fruit, like Whole Pitted Dates.
Pretzels are perfect if you love the sweet and salty combination. You can even try Gluten Free Pretzel Bites.
To really get the full cheesecake effect, serve this dip with Gluten Free Graham Crackers to mimic the flavors of a Graham cracker crust!
How to Store Extras
Leftover yogurt dip will keep in the fridge for up to a week. Just store it airtight to enjoy whenever hunger strikes!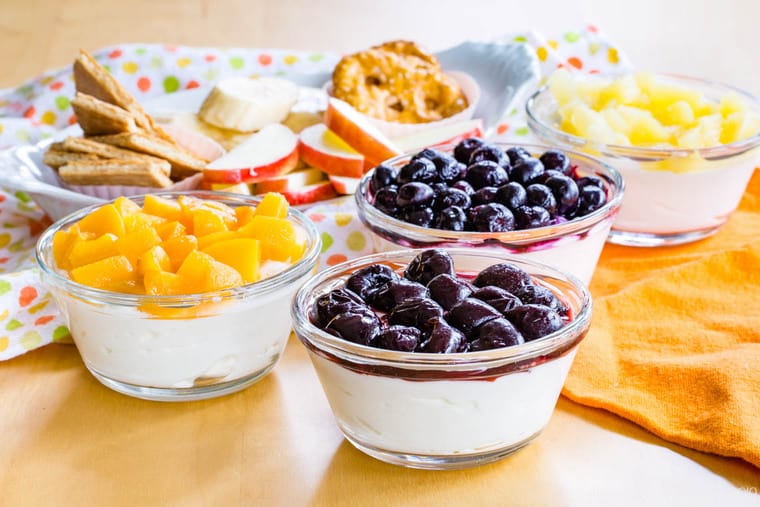 More Healthy Gluten Free Snack Ideas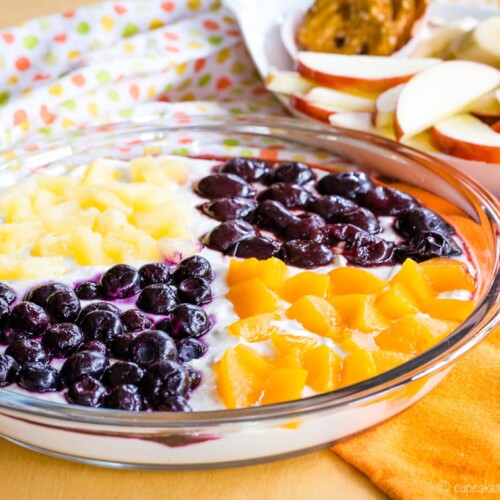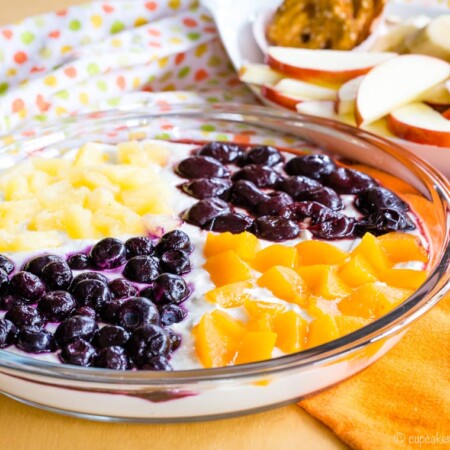 Creamy Cheesecake Yogurt Fruit Dip
An easy snack hack for homemade fruit dip with only three ingredients! Make this delicious cheesecake dip snack-sized to serve one or two, or party-sized to feed a crowd.
Servings:
2
servings in the snack-size, 8 servings in the party-size
Ingredients
For the snack-size
1

oz.

light cream cheese

(2 Tablespoons) at room temperature

1/2

cup

nonfat vanilla Greek yogurt

1/4

cup

of your favorite Dole canned or jarred fruit, drained, or thawed Dole frozen fruit

(blueberries, sliced strawberries, peaches, pineapple tidbits, or your preference)

apple slices, strawberries, graham crackers, pretzels, etc. for dipping
For the party size:
4

oz.

light cream cheese

(8 Tablespoons) at room temperature

2

cups

nonvat vanilla Greek yogurt

1

cup

of your favorite Dole canned or jarred fruit, drained, or thawed Dole frozen fruit

(blueberries, sliced strawberries, peaches, pineapple tidbits, or your preference)

apple slices, strawberries, graham crackers, pretzels, etc. for dipping
Instructions
In a bowl, whisk together the cream cheese and Greek yogurt until smooth.

Transfer to a desired bowl, custard cup, or pie plate for serving, and spread evenly.

Top with jarred, canned, or thawed frozen fruit. If making the party-size, you can use multiple types of fruit and top each section with a different type.

Refrigerate until ready to serve. Then serve with apple slices, strawberries, graham crackers, pretzels, etc. for dipping.
Nutrition Facts
Creamy Cheesecake Yogurt Fruit Dip
Amount Per Serving
Calories 116
Calories from Fat 18
% Daily Value*
Fat 2g3%
Cholesterol 9mg3%
Sodium 84mg4%
Potassium 173mg5%
Carbohydrates 19g6%
Protein 6g12%
Vitamin A 115IU2%
Vitamin C 6.7mg8%
Calcium 32mg3%
Iron 0.2mg1%
* Percent Daily Values are based on a 2000 calorie diet.
Categories: