Pistachio Cream Cheese Stuffed Dates
Cream cheese stuffed dates studded with roasted pistachios are a salty sweet snack that's easy and versatile. With only three ingredients, these little protein-packed bites can be packed in a lunchbox or placed on a fancy charcuterie platter for a party appetizer. For a little snack recipe that's satisfying and naturally gluten-free, make Pistachio Cream Cheese Stuffed Dates.

Dates Stuffed with Cream Cheese and Pistachios
Last year for our tenth anniversary, my hubby and I went on our first cruise (read all about my Gluten Free Travel on a Royal Caribbean Cruise), and left our boys with my mom for a week. This year, we are driving over to her house on our anniversary to spend several days, and the hubby and I are going to go out on Saturday and stay overnight in the local beach town while the boys stay with grandma. I told them this the other night. The big guy's response?
"Can't you go away for a week?"
So, you know, clearly my parenting skills are on point. I shared this little tidbit with my mom, and she was all aglow because of how much they love their grandma.
I said, "Don't flatter yourself, mom. They just know that you give them more screen time and sweets."
Because grandma is buying them cookies and muffins and candy, while at home they are "forced" to snack on Cheesy Veggie Quinoa Bites, Peanut Butter and Jelly Green Smoothies, secretly healthy "cookie dough", and these…
As crazy as it sounds, though, my boys love snacking on Pistachio Cream Cheese Stuffed Dates!
It's literally as easy as it sounds. Buy pitted dates or remove the pits yourself, slice them open, stuff in some cream cheese, and press in a few pistachios. While they are great for packing in a lunchbox or whipping up when the kids get off the bus after school, you can also make up a bunch for a fruit and cheese platter at your next party. They'd be totally tasty alongside a pile of prosciutto, some grapes and strawberries, and a selection of cheeses and crackers.
And obviously I love easy snacks, because I also make them these snack recipes with five-ingredients or fewer…
I also found some other great ideas from my food blogger friends for snacks with five ingredients or less. Game day is tasty and easy with Jalapeno Popper Potato Skins from Wine and Glue. The kids will love digging their spoons into Tropical Fruit Colada Snacks from Noble Pig. And you can't forget 5-Ingredient Granola Bars from The BakerMama.
For more yumminess from me and my foodie friends, keep up with me on…
Or sign up to have Cupcakes & Kale Chips delivered straight to your Inbox!
Here's how to make Pistachio Cream Cheese Stuffed Dates…
Pistachio Cream Cheese Stuffed Dates
12
adjust servings
An easy three-ingredient, sweet salty snack for lunchboxes or party appetizers.
Instructions
If they aren't already, run a small paring knife down the side of each of the dates in order to open them up.
Stuff about a half tablespoon of cream cheese inside each date and press three pistachios into the cream cheese.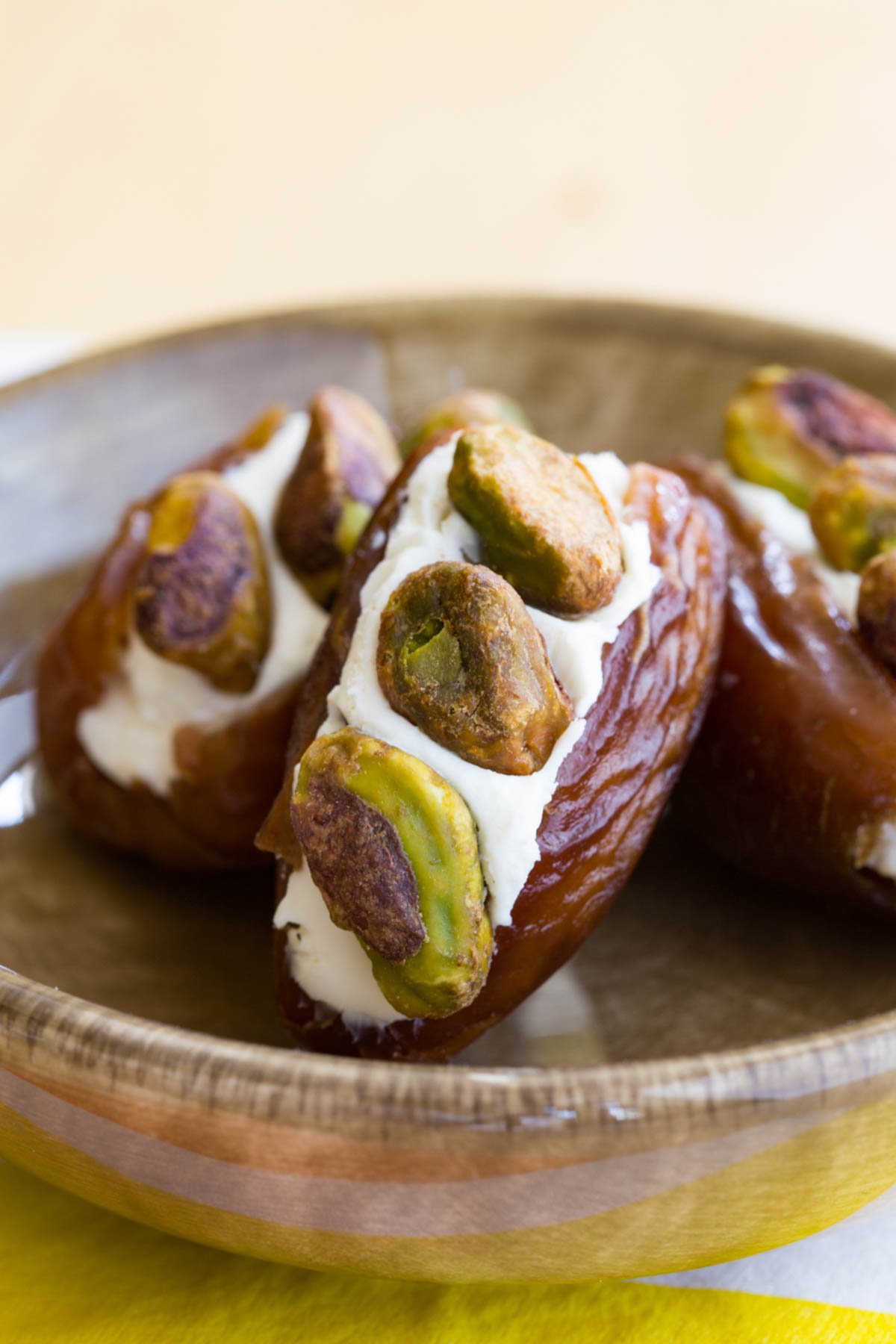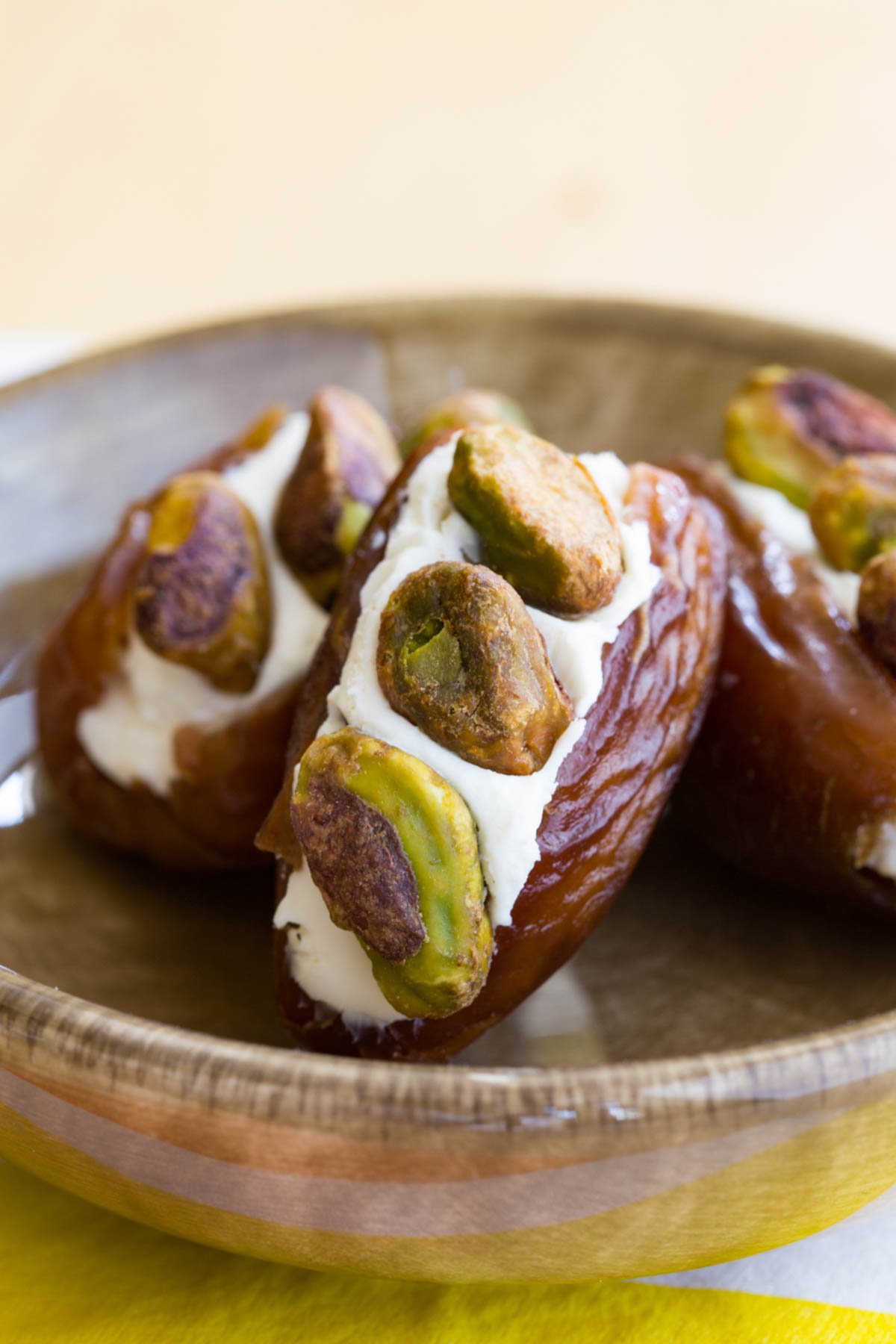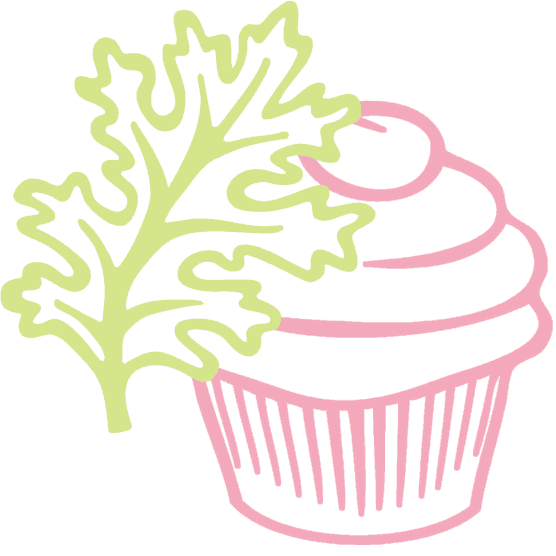 LOVE THIS RECIPE?
Give it a 5 STAR rating and share your photos on Instagram with the hashtag #CKCrecipes!
Enjoy!