This post may contain affiliate links. Read my disclosure policy.
Tangy with a light crust, these Buffalo Chicken Bites are the perfect appetizer or party dish to make for your family game night or neighborhood barbecue. Serve them with ranch, carrots, and celery and you've got yourself a winner!
If you love buffalo chicken as a main dish, try my recipe for Smoky Glazed Buffalo Chicken Tenders!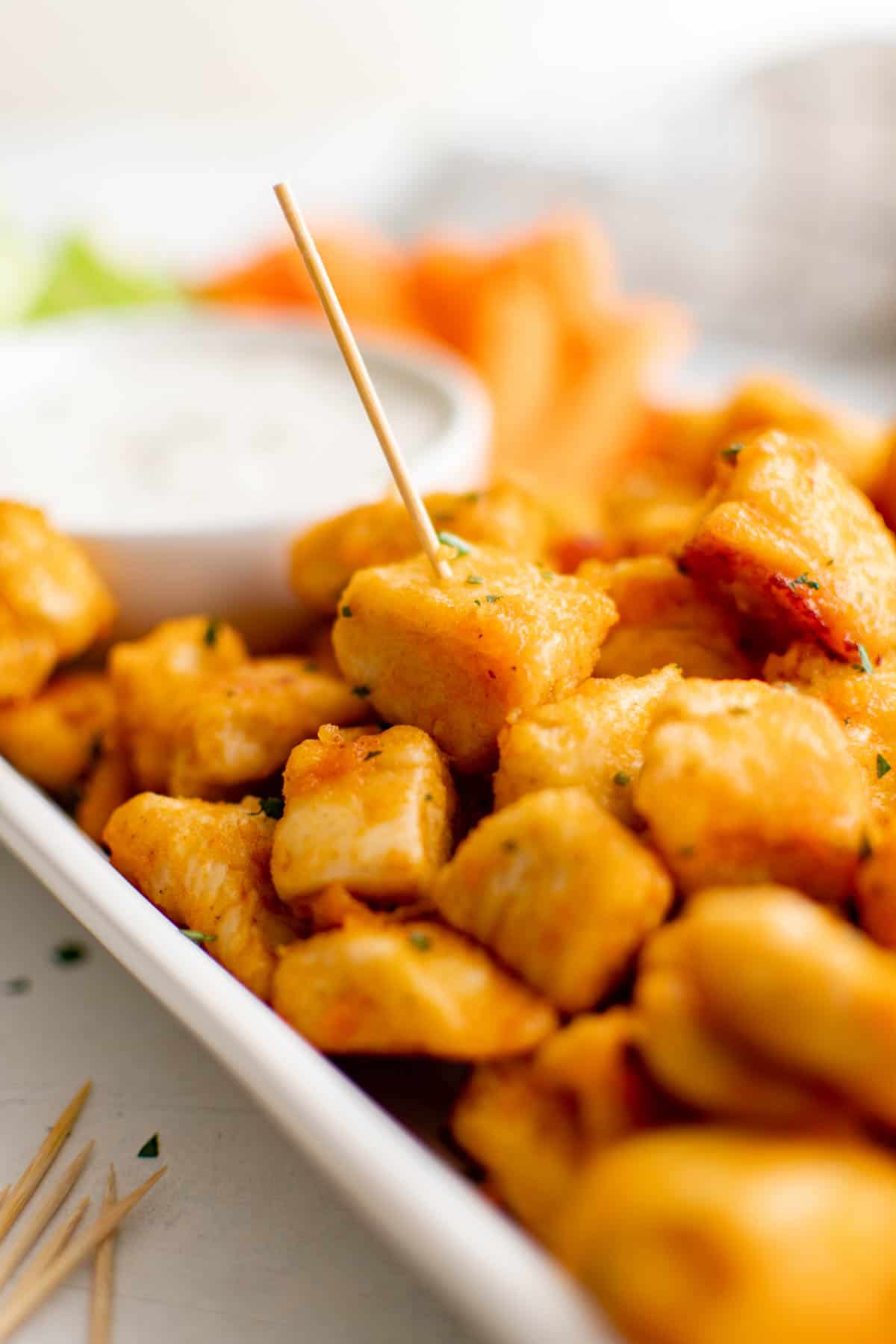 Juicy Buffalo Chicken Bites
It's no secret on this blog that I have a family of buffalo sauce lovers. We'll use it in everything from casseroles to hot dogs, and of course, we love a basket of buffalo wings whenever we eat out. These bite-sized chunks of buffalo chicken have all the flavor I love about buffalo chicken wings, without the fuss. There's hardly any prep involved to get them coated in a simple homemade buffalo sauce, and the juicy chicken pieces bake up easily in the oven.
Serve these up with your favorite dipping sauce for an easy weeknight appetizer, or with a side of toothpicks as a fun party snack the next time you entertain. I make them a little milder for the kids, and they can never get enough.
Whether I bring these out on gameday or take them along to my neighborhood barbecues in the summer, these hot and buttery buffalo chicken bites rarely last long!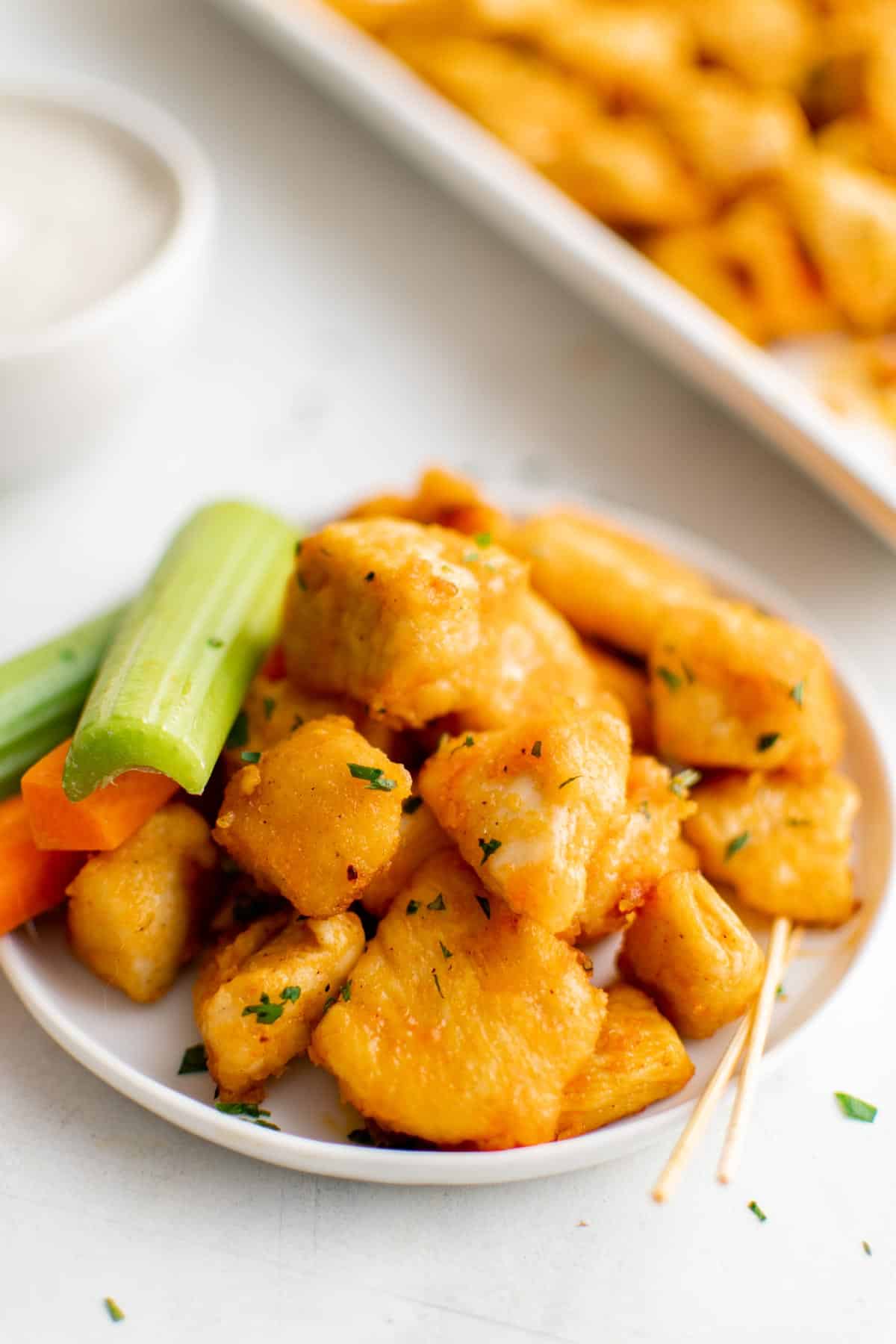 Why Is It Called Buffalo Chicken?
No, buffalo chicken isn't named after the animal! A bit of Googling revealed that Buffalo chicken is actually named after the place where the recipe originated: Buffalo, New York. There, a family-owned restaurant called Ancor Bar created the original buffalo wings using their "secret sauce." This turned out to be a house-made buffalo sauce.
You'll now find variations of these spicy hot wings on the menu in just about every pub across the US. And as a buffalo chicken fan, I, for one, am eternally grateful.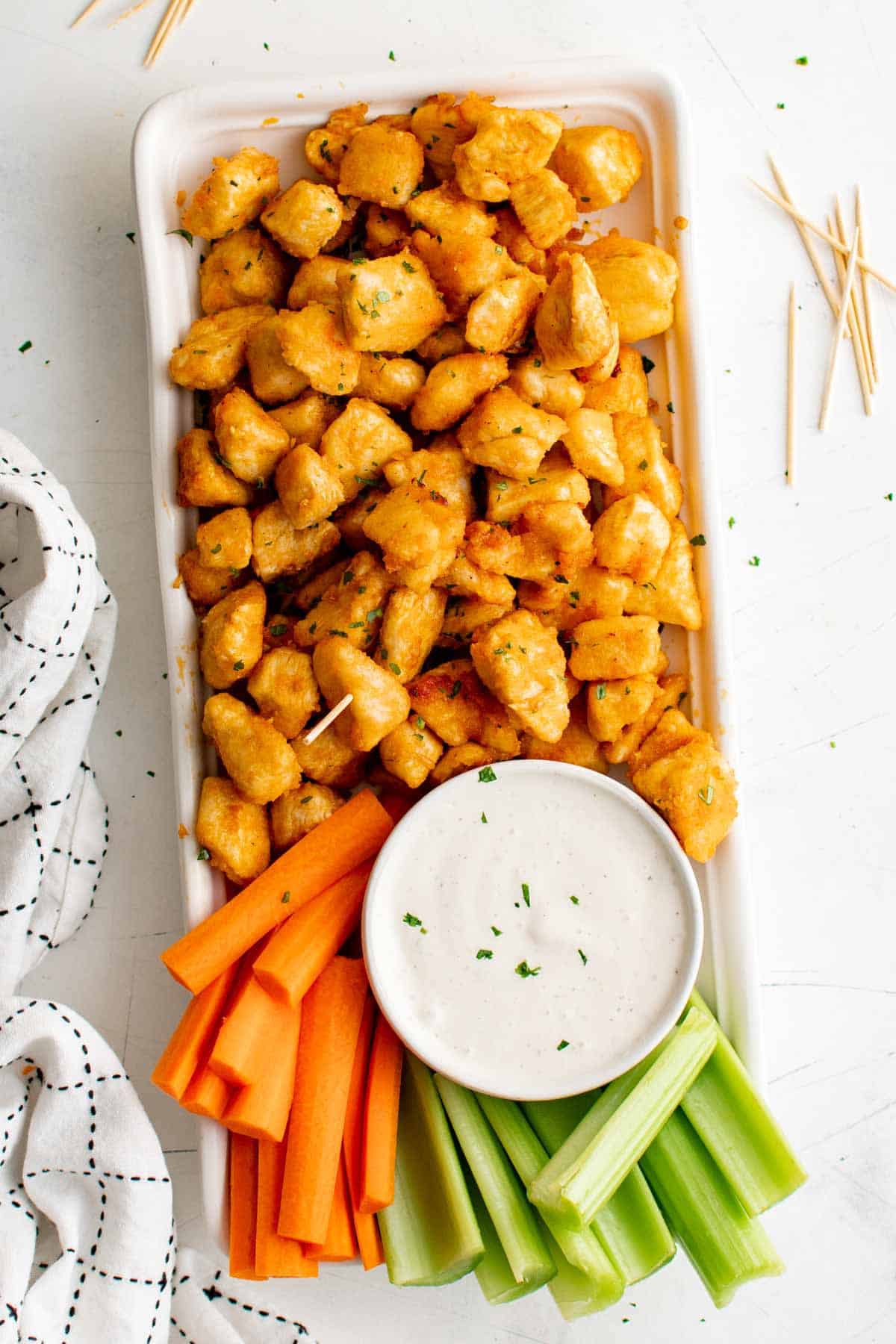 Recipe Ingredients
I've rounded up a short summary of the ingredients you'll need below. Be sure to check out the recipe card further down for full amounts:
Cornstarch: I use cornstarch mixed with spices to give the chicken a slightly crisp and flavorful, gluten-free coating. It's lighter than flour (while also being gluten-free) and doesn't require an egg wash or breadcrumbs to stick.
Seasoning: For this recipe, I combine garlic powder with onion powder, salt, and ground black pepper to season the chicken.
Chicken: Boneless, skinless chicken breasts are best, as you'll need to cut them into bite-sized pieces.
Vegetable Oil: Alternatively, canola oil or extra virgin olive oil will also work for sautéing the chicken bites.
Butter: I prefer to use unsalted butter when making my buffalo sauce, to avoid the flavor coming out overly salty.
Garlic: Fresh cloves, finely minced. I like to chop mine up fresh but you can also use pre-minced garlic from the jar if that's what you have handy.
Buffalo Hot Sauce: Use your favorite brand of hot sauce (I like Frank's). You can make your sauce as spicy or as mild as you like!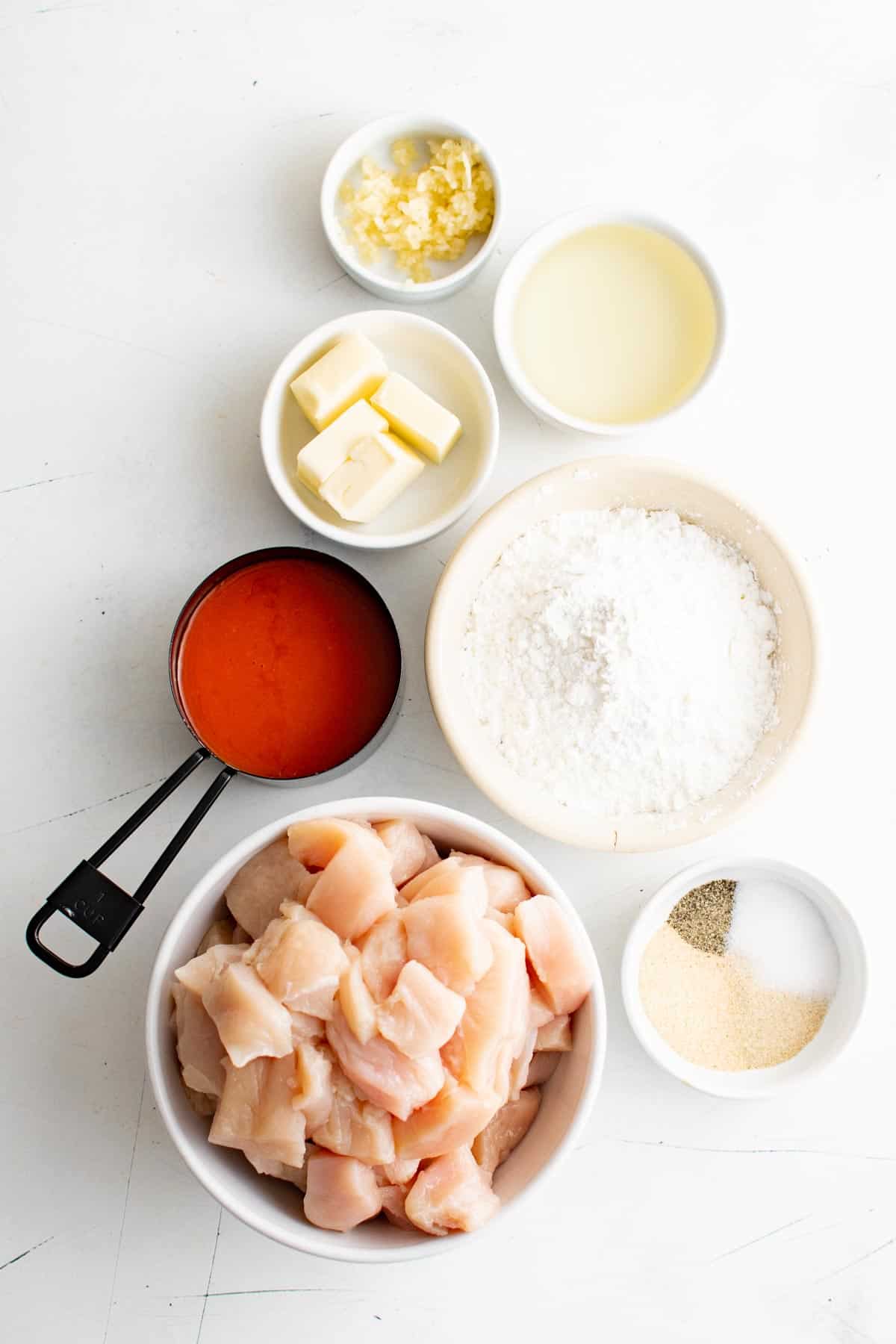 How to Make Buffalo Chicken Bites
Since we'll be baking these buffalo chicken bites to get them nice and sticky, first you'll preheat the oven and line a large baking sheet with parchment paper. Then, it's time to get started on the bites:
Coat and Brown the Chicken: In a large Ziploc bag, combine the cornstarch and seasonings. Next, add the chicken to the mix, seal the bag, and then toss to coat. Lightly brown the coated chicken in a skillet with a bit of oil for a few minutes, until it's evenly golden on all sides.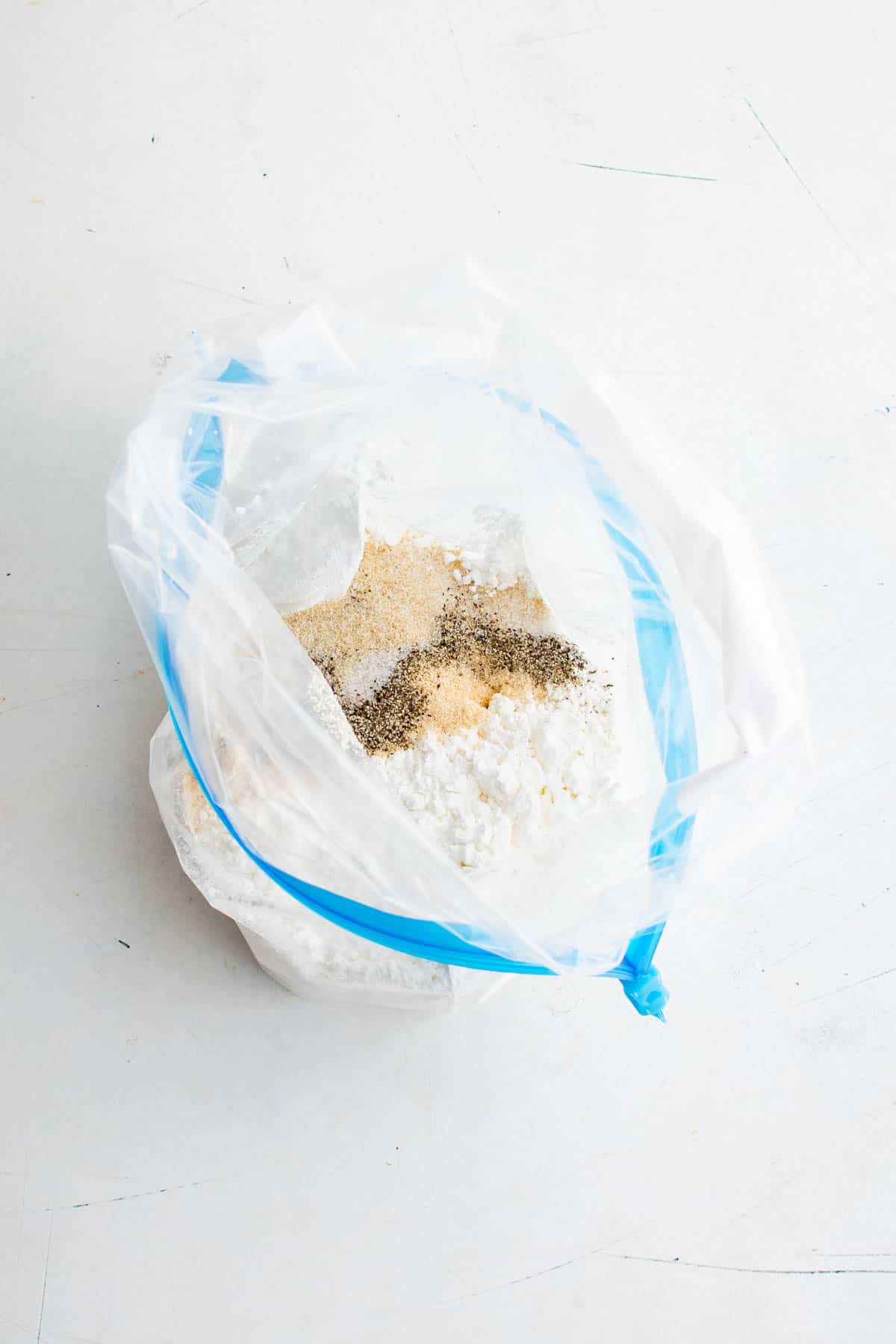 Make the Sauce: While your chicken is browning, you'll take out a separate saucepan and melt down the butter for the buffalo sauce. Add in the garlic and sauté for about 30 seconds, just enough so that it's fragrant. Lastly, add the hot sauce and simmer.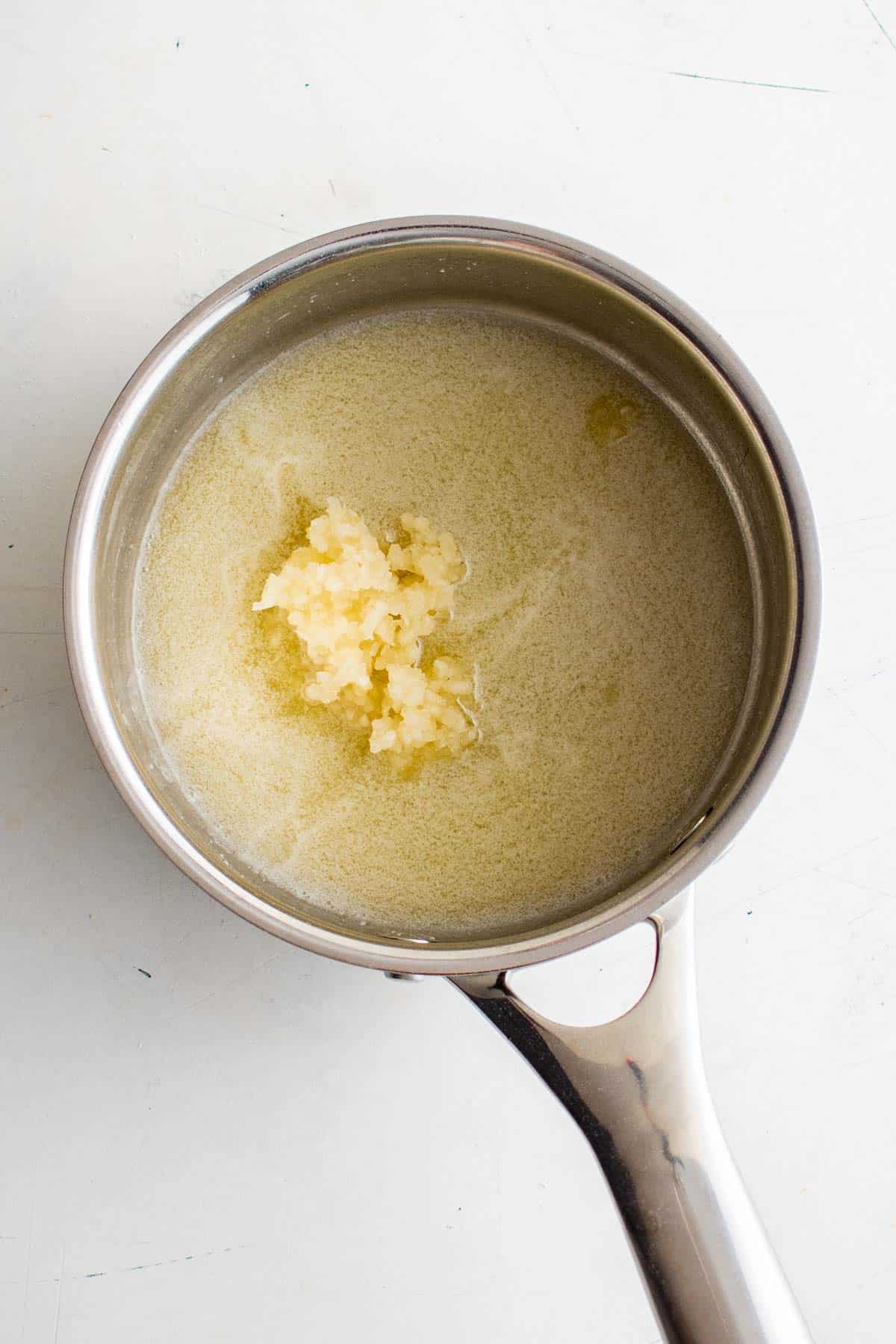 Once your buffalo chicken bites are ready, serve them at your next gathering with a side of ranch for dipping, along with your favorite crudités. See the section later on for more dipping sauce ideas and serving suggestions!
Combine and Bake: Stir the sauce into the browned chicken. Give the skillet a gentle shake or toss to get the bites evenly coated. Finally, transfer the saucy chicken bites from the skillet to the prepared baking sheet from earlier, making sure to spread the pieces out in an even layer. Pop the chicken bites into the oven at 375ºF until the sauce starts to darken a bit. This usually takes about 10 to 15 minutes depending on your oven and the size of your chicken bites.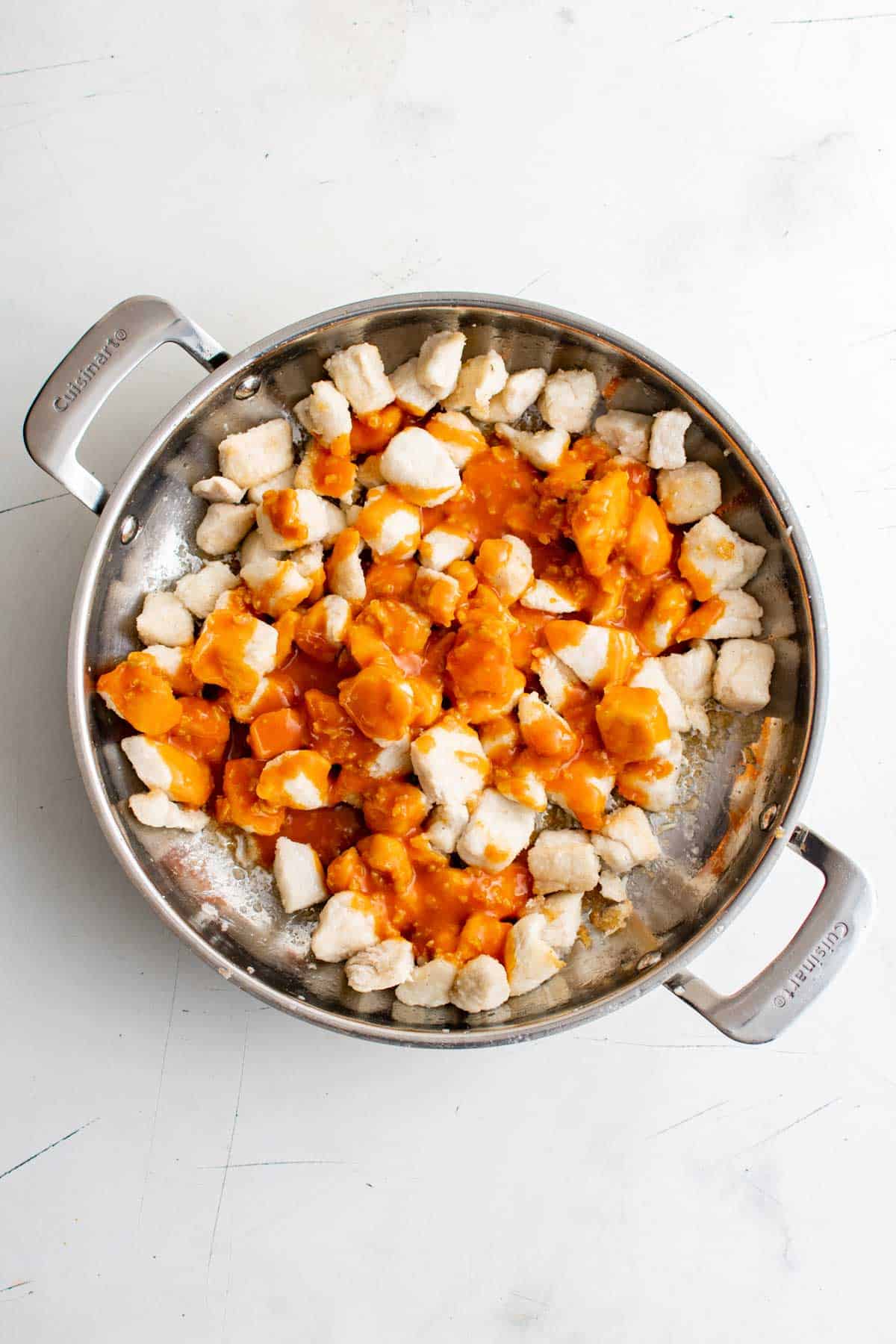 Tips for Success
These bites are so easy to make, I'm sure you'll have them baked up in no time. Here are some tips to ensure the best flavor in your buffalo chicken bites:
How Do I Adapt the Heat Levels?: Even though this recipe calls for hot sauce, you can make your buffalo chicken as hot or as mild as you prefer. Opt for mild buffalo sauce, or add additional butter to help mellow out the favors for milder palates. You can also really amp up the heat by adding spices like cayenne pepper or red pepper flakes to the coating and sauce.
Don't Skip the Butter: Seriously! Butter gives the buffalo sauce a deliciously smooth, silky texture. The bites will still have flavor without it, but the sauce won't be nearly as rich and tasty.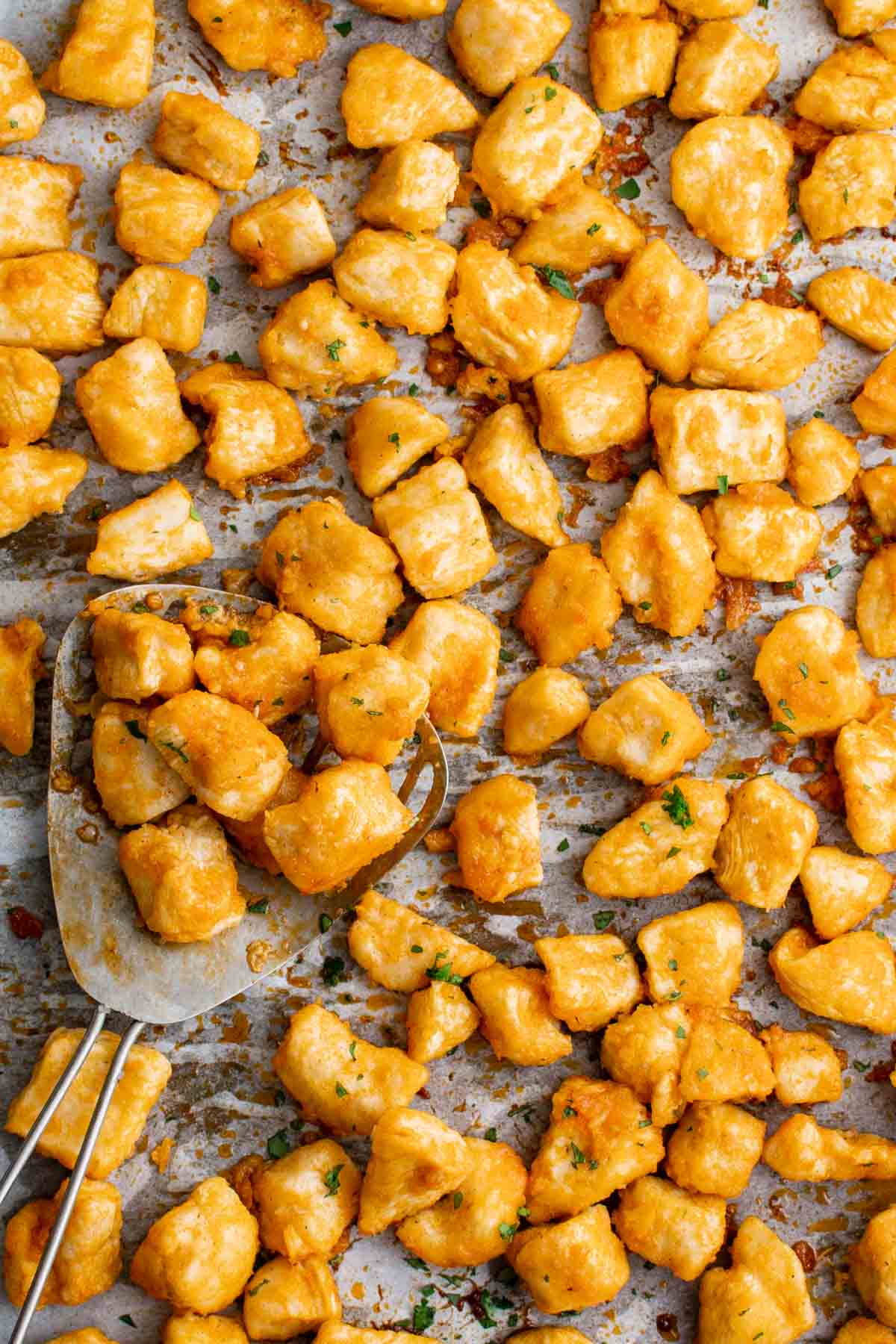 Make It A Meal
I love serving these spicy buffalo chicken bites pub-style with a platter of carrot and celery sticks. Round out a party snack table with other favorite appetizers like Kentucky Hot Brown Dip, Easy Gluten Free Pretzel Bites (dipped in Cheese Sauce, of course), Cheesy Barbecue Meatball Sweet Potato Bites, and Crispy Air Fryer Onion Rings.
The next time you have a barbecue, serve a batch of tender homemade buffalo chicken bites alongside easy sides like No Mayo Deviled Eggs and Quick and Easy Coleslaw. The buffalo flavor also pairs wonderfully with my Healthy Blue Cheese Bacon Potato Salad!
For a quick weeknight dinner, buffalo chicken bites are a fun finger food to pair with Homemade Air Fryer French Fries or Gluten Free Zucchini Fritters. For something lighter, try these with a veggie side like Roasted Broccoli or Cauliflower Tots, or use them on top of a salad.
These spicy little bites taste delicious dunked in Homemade Ranch or Blue Cheese Dressing. Or, try them with more easy homemade dipping sauce ideas: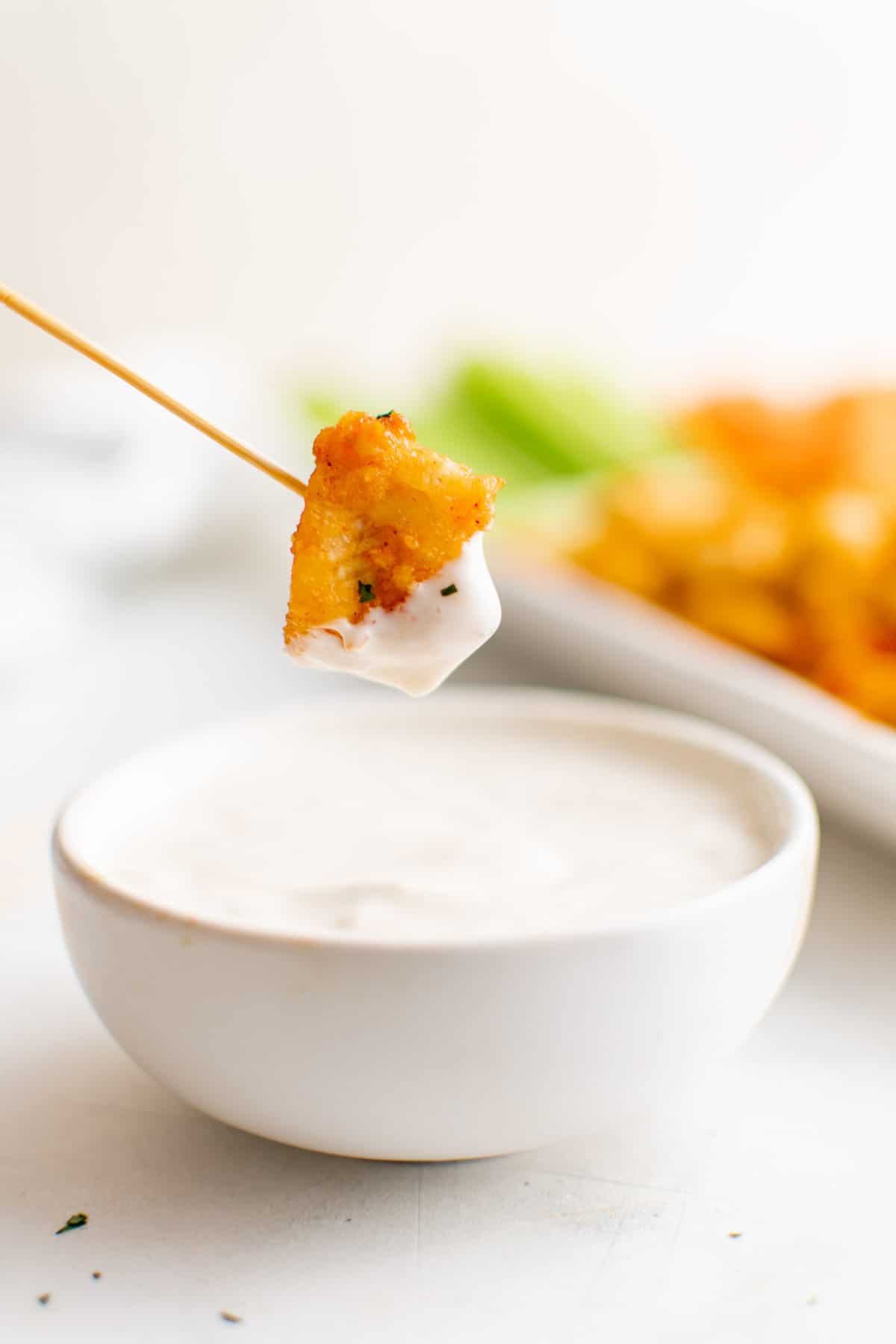 How to Store and Reheat Leftovers
It's rare that we have leftover buffalo chicken bites in this house! But whenever we do, I'll store them airtight in the fridge for up to 2 days. They're easy to spread out on a baking sheet again and reheat in the oven. Just warm the chicken bites through at 350ºF for 10 minutes or so.
You can also reheat them in the microwave for a few seconds, or in a skillet on the stovetop until warmed through. I like to add a little extra butter or sauce to the bites to help keep them moist while reheating.
Leftover cold chicken bites are great to toss into a Buffalo chicken salad, roll up into buffalo chicken wraps, or stuff into gluten free tortillas for spicy tacos. I love to use leftovers as a topping on Homemade Pizzas, or as a filling in Spicy Buffalo Chicken Grilled Cheese and Buffalo Chicken Spring Rolls!
Can I Freeze Extras?
Yes! You can freeze any leftover buffalo chicken bites once they're completely cool. Simply transfer the bites to a freezer-safe bag or container, chill them in the fridge and then pop them into the freezer. Cooked chicken bites can be thawed and served cold, or reheated as usual in the oven, on the stove, or in the microwave (see above).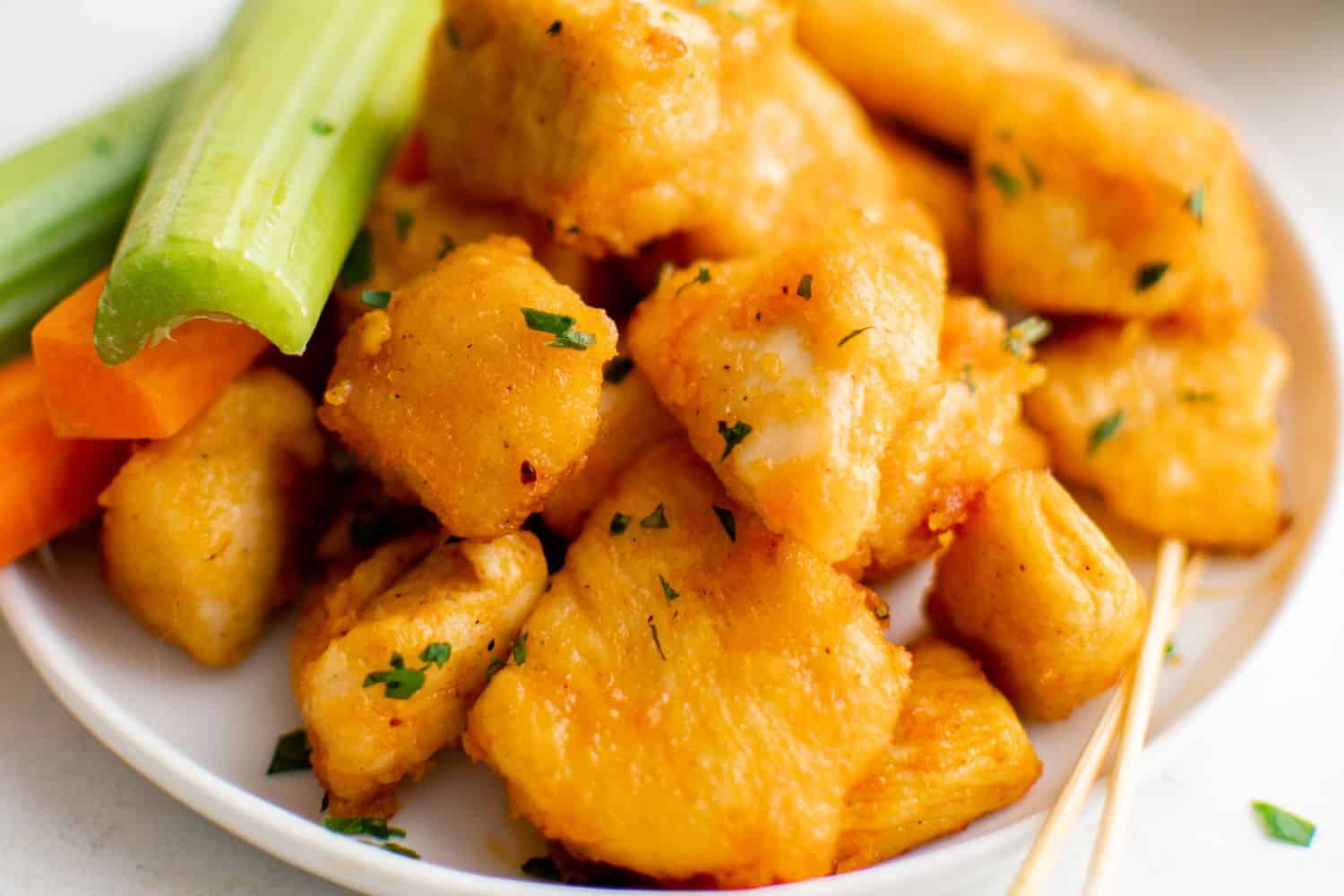 More Easy Chicken Dinner Ideas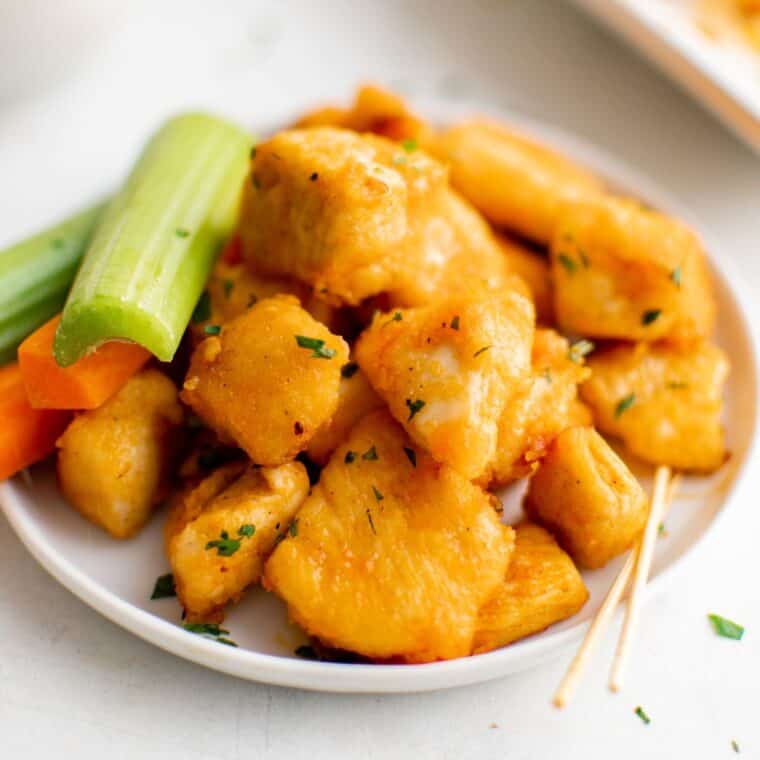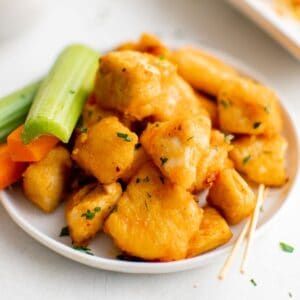 Buffalo Chicken Bites
Tangy with a light crust, these Buffalo Chicken Bites are the perfect appetizer or party dish to make for your family game night or neighborhood barbecue. Serve them with ranch, carrots and celery and you've got yourself a winner!
Ingredients
1

cup

cornstarch

1

tsp

garlic powder

1

tsp

onion powder

1

tsp

salt

½

tsp

ground black pepper

2 – 2 ½

lbs

boneless, skinless chicken breasts

cut into 1-inch pieces

4

tbsp

vegetable oil
For the Sauce:
4

tbsp

unsalted butter

3

cloves

garlic

finely minced

½

cup

buffalo hot sauce

(like Frank's)
Instructions
Preheat the oven to 375 degrees Fahrenheit and line a 12×16-inch baking pan with parchment paper.

Add the cornstarch, garlic powder, onion powder, salt, and pepper to a large Ziploc bag then seal and shake until combined.

Add the chicken to the bag then zip the bag shut again and toss to combine.

Heat the oil in a large skillet over medium heat then add the chicken and cook for 10-12 minutes or until golden brown, gently stirring every 3-4 minutes to ensure even cooking.

Melt the butter in a small saucepan over medium heat then add the garlic and cook until it starts to become fragrant, about 30 seconds.

Stir in the hot sauce, and let it simmer for 5-6 minutes, stirring constantly.

Once the chicken is cooked through, pour the sauce over the chicken then gently toss to combine.

Pour the chicken out onto the prepared baking pan then arrange in an even layer.

Bake for 10-15 minutes or until the sauce starts to darken.

Serve with ranch, celery, and carrots, and garnish with freshly minced parsley if desired.
Notes
Storage: These buffalo chicken bites can be stored in an airtight container in the fridge for up to 2 days.
Nutrition Facts
Buffalo Chicken Bites
Amount Per Serving
Calories 468
Calories from Fat 171
% Daily Value*
Fat 19g29%
Cholesterol 178mg59%
Sodium 986mg41%
Potassium 981mg28%
Carbohydrates 16g5%
Protein 55g110%
Vitamin A 277IU6%
Vitamin C 15mg18%
Calcium 20mg2%
Iron 1mg6%
* Percent Daily Values are based on a 2000 calorie diet.