This post may contain affiliate links. Read my disclosure policy.
Cheesy Barbecue Meatball Sweet Potato Bites are one of the easiest gluten free appetizers you can make! Prepared gluten free meatballs nest inside cheese loaded, baked sweet potato cups. Easy, cheesy, and delicious!
When you are having friends over to watch your favorite team, you need fun and tasty gluten free appetizers and snacks. For an appetizer kids and adults will love, check out the video below to see how easy it is to use Farm Rich Original Meatballs to make a batch of these Cheesy Barbecue Meatball Sweet Potato Bites.
Barbecue Meatball Cheesy Sweet Potato Bites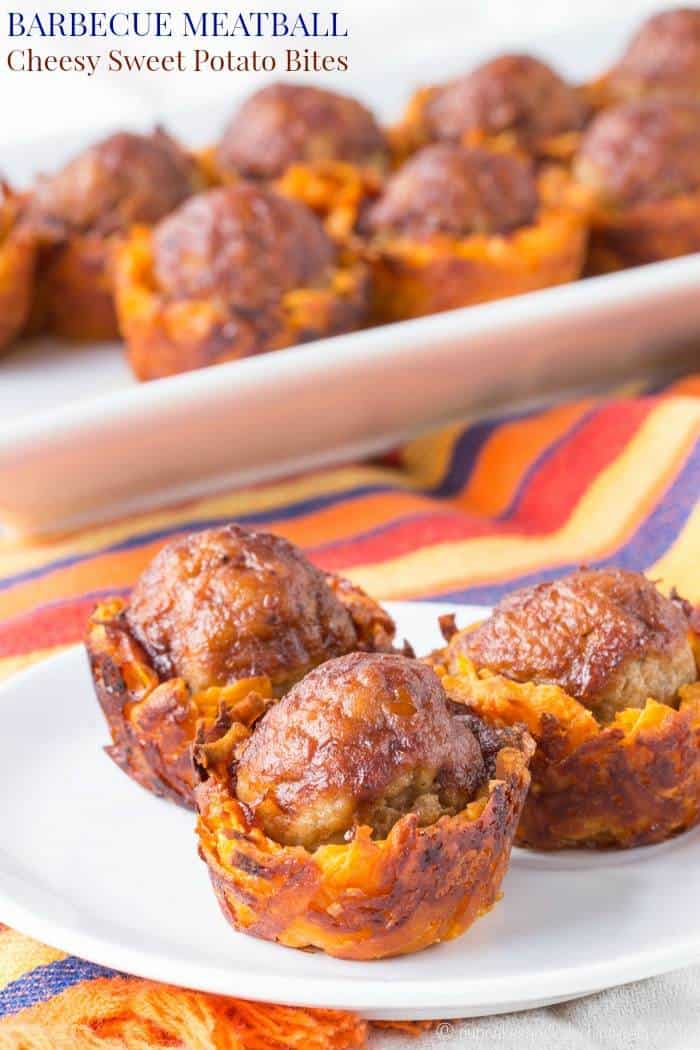 Disclosures: This recipe was developed via a sponsored collaboration with Farm Rich. As always, all opinions are my own. There are affiliate links in this post, meaning that if you click and make a purchase, the cost to you is the same, but I will receive a few pennies. I use the money to help maintain this website and to bring you new recipes!
While I love working for myself and working from home, there are a few things I miss about being in an office – adult conversation via words that actually come out of my mouth instead of my keyboard, no piles of dishes and laundry beckoning me all day, the ability to close an office door or hide in a conference room, and college basketball brackets.
I'm not even a huge basketball fan, but there's an excitement about it when the big tournament arrives in March. I'll find myself watching teams I have never heard of in a sport I rarely enjoy. This was even more true back in my Chemical Engineering days when someone would inevitably arrange a big office tournament pool. Being the engineers we were, since this was before there were a million websites that set these up for you, the coordinators would create a spreadsheet where you would input your selections from a dropdown menu and it would populate the next round for you to make those selections. Everyone's spreadsheets were compiled, the actual winners were input into the master spreadsheet, and it would calculate all of the scores.
I pretty much knew to look for my name at the bottom of the list since my method for selecting teams amounted to not much more than, "My cousins live in Kentucky." Or "Would a Bear beat a Lion or a Lion beat a Bear?" Or "Their uniforms are pretty cool." But it was an absolute blast to see the know-it-alls have their bubbles burst by an unexpected upset, to see someone who knew pretty much as little as I did skyrocket to the top because of a Cinderella story, and in general just to talk about something other than chemical reactions and distillations and emulsions.
And no, I didn't just watch the ticker on the bottom of the TV or keep refreshing the sports website (this was pre-smartphone with score alerts). I actually watched many of the games. I cheered for people I didn't even know. I used terminology I barely understood. But boy, was it fun!
Well, I may not have water cooler banter about "Cinderellas" and "Bracket Busters" anymore, but I have some pretty fabulous game time snacks with these barbecue meatball sweet potato bites!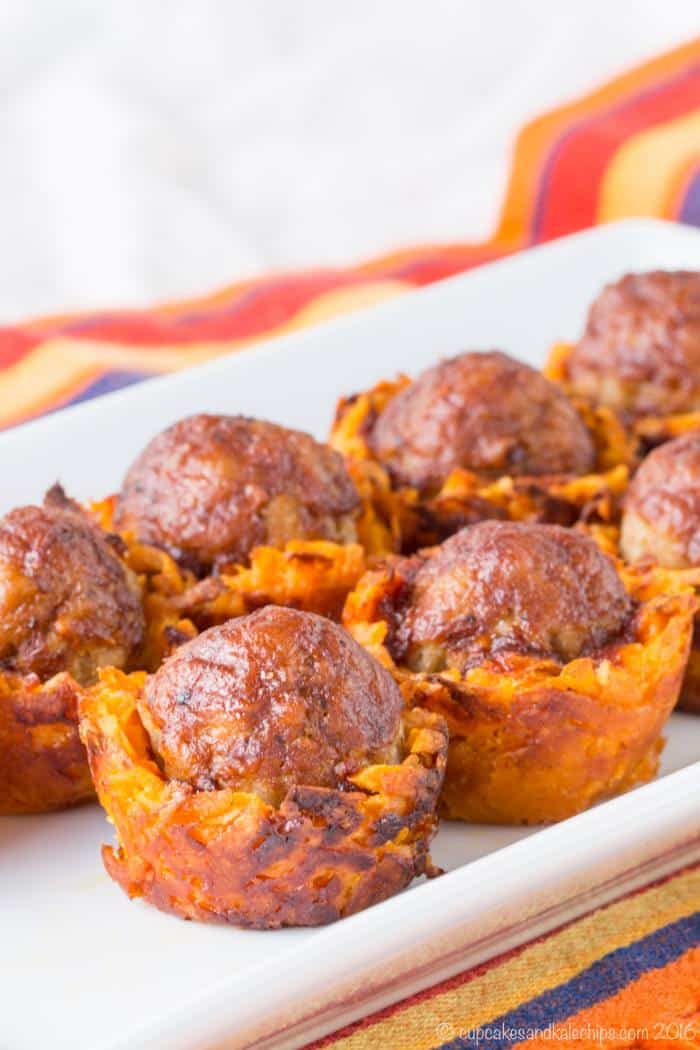 As I was working on this recipe, I was worried my boys wouldn't want to eat Barbecue Meatball Cheesy Sweet Potato Bites three times in a week. Guess what? They didn't mind one bit. In fact, on the night I made a half size test batch thinking The Hubby wouldn't be home for dinner, they devoured these tasty little nibbles so fast that when he ended up coming home earlier than expected, there was only one left.
I had to hide it from the kids for him to try. He officially declared these barbecue meatball appetizers a winner, with their combination of savory and tangy with the hint of sweetness. And if you know anything about The Hubby, while he likes my cooking, he tends to be fairly reserved in his reactions and even his raves. So when I had him excited after one bite, and my boys begging for more after many, many bites, I knew this was a gluten free appetizer recipe that you would all love as well. I have to say, I popped quite a few myself as I was tweaking the recipe.
Part of the reason the cheesy barbecue meatball sweet potato bites are so yummy and easy is because I used prepared Farm Rich Original Meatballs…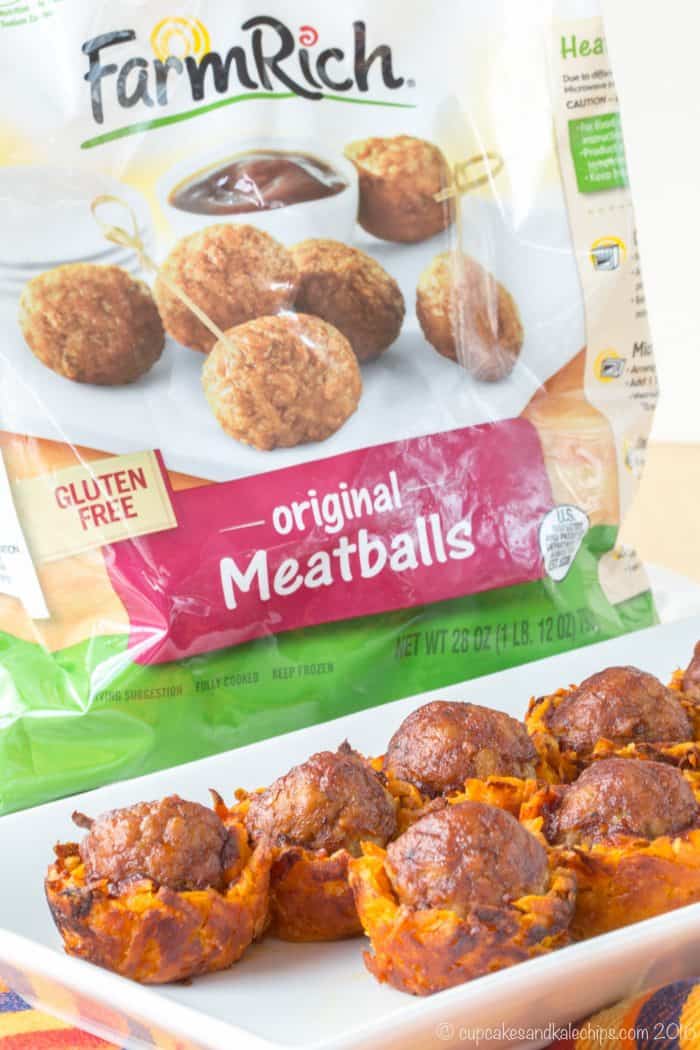 You may know Farm Rich for their Mozzarella Sticks, Onion Rings, and Chicken Bites, but if you are like me and have to avoid gluten, these snacks may not be part of your appetizer game plan anymore. Let me tell you how excited I was when I discovered that the meatballs from Farm Rich are gluten free! While I do make many things from scratch, making meatballs drives me batty, so I don't do it often.
But many of the meatballs you find in the store are made with breadcrumbs and are not gluten free, so they are not an option for me, even though the rest of my family can eat them. It's such a huge help that I can now keep Farm Rich Original Meatballs or Farm Rich Italian Style Meatballs on hand to enjoy with my guys when I need a quick and easy meal and don't have time to mix and roll and bake them myself. This is why I love that Farm Rich believes in Real-Life Good – making it easier for you to tackle mealtime when life gets crazy. You can sign up for the Farm Rich newsletter for more special offers and promotions.
They also have their Farm Rich Smokehouse BBQ line of pulled pork, beef, and chicken with all of your favorite barbecue-inspired flavors, which are gluten free as well!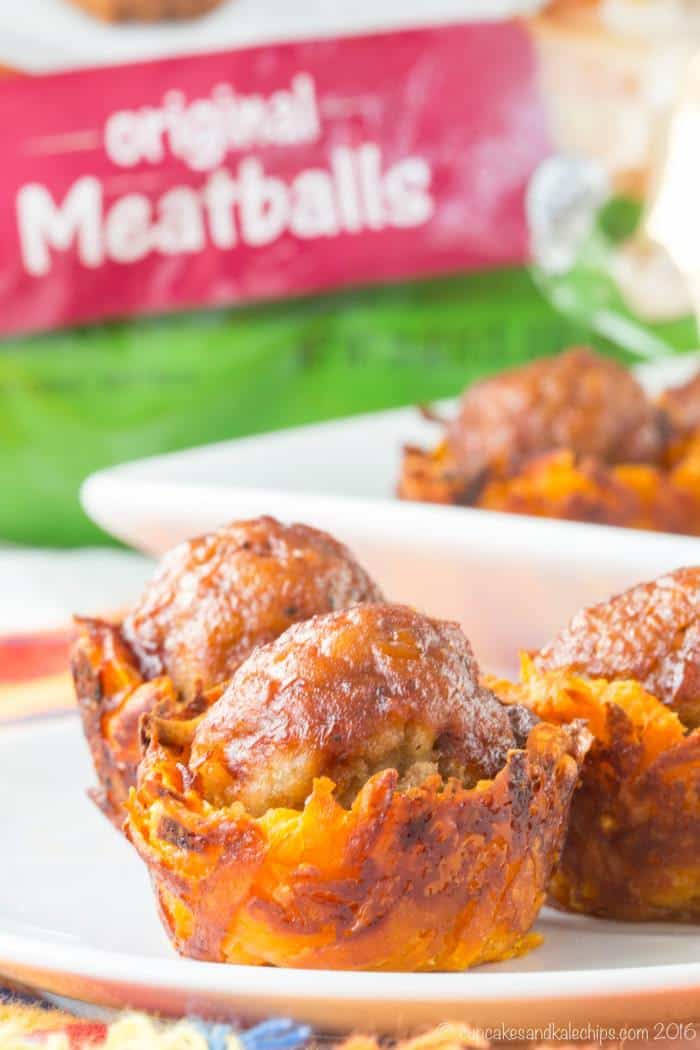 Plus these sweet potato bites crowned with a glazy meatball are totally perfect for the big college basketball tourney. Don't they look like little basketballs in nets? Or maybe you are thinking more about Easter. Eggs in a nest, am I right?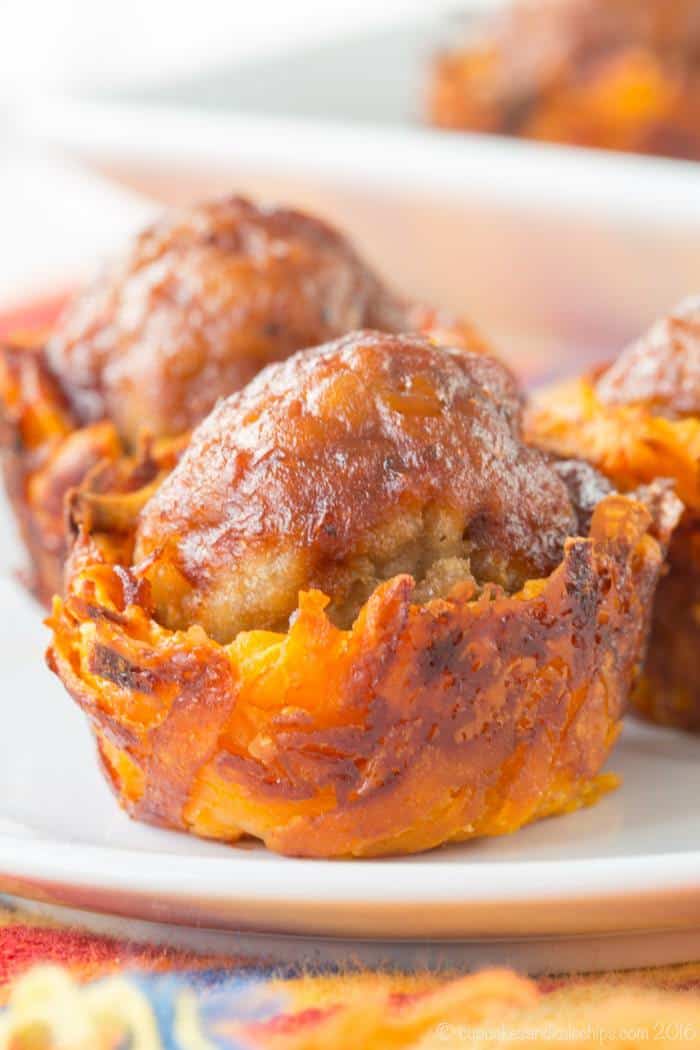 Check out how fun and simple the barbecue meatball sweet potato bites are to make:
See! Easy peasy and super cheesy! It's a slam dunk!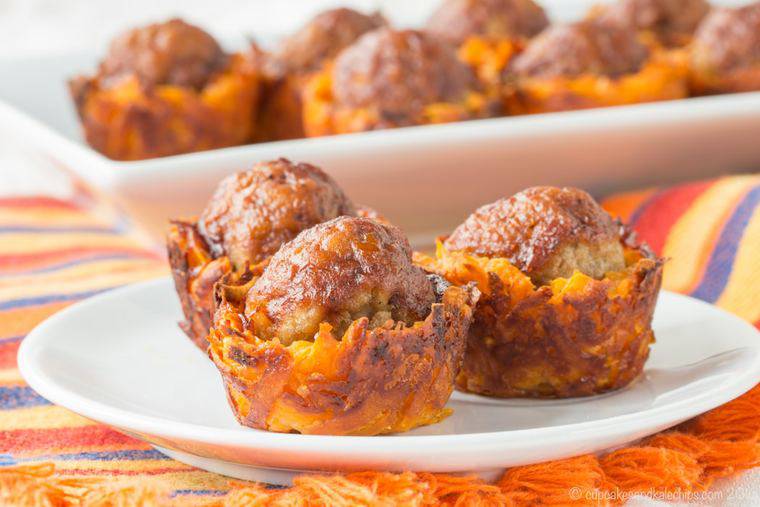 Do you join any college basketball tournament pools?
For more yumminess from me and my foodie friends, keep up with me on…
Or sign up to have Cupcakes & Kale Chips delivered straight to your Inbox!
A couple of things you may need to make the barbecue meatball cheesy sweet potato bites recipe:
[amazon_link asins='B001IAUG4Q,B010UKIRYU' template='ProductCarousel' store='cupkalchi-20′ marketplace='US' link_id='cc01aebb-e423-11e7-a3b4-dfd45b7e2736′]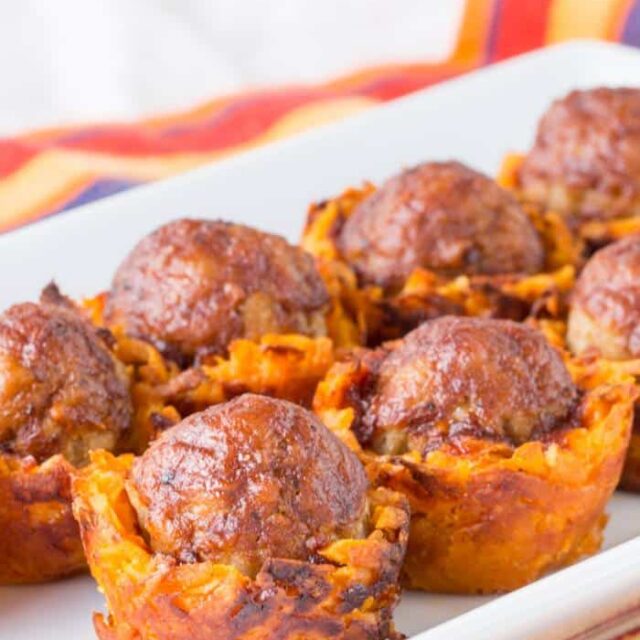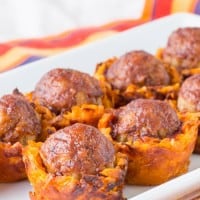 Cheesy Barbecue Meatball Sweet Potato Bites
A fun and easy, gluten-free appetizer or game day snack recipe that will have the crowd cheering!
Ingredients
1

pound

sweet potatoes

1

cup

shredded cheddar cheese

about 4 oz.

2

egg whites

1/4

teaspoon

salt

24

Farm Rich Meatballs

1/4

cup

your favorite barbecue sauce
Instructions
Preheat your oven to 375°F and coat a mini muffin tin (with 24 cups) really well with nonstick cooking spray.

Shred your sweet potatoes using a box grater or food processor with shredding blade attachment.

In two to four portions, using a kitchen towel, squeeze all excess liquid out of the sweet potatoes. Take your time and really squeeze out as much as you can to ensure the cups hold together.

In a bowl, combine the squeezed sweet potatoes, cheddar cheese, egg whites, and salt.

Mix together well with a fork.

Divide the mixture between the muffin cups and press down firmly, really packing it in tightly.

Bake for 15 minutes.

Remove from the oven and press one meatball down firmly into each cup. Brush each meatball with barbecue sauce.

Return to the oven and bake for 25-30 minutes, until the cups are browned and crispy on the bottom.

Remove from the oven and allow to col in the pan for several minutes before carefully loosening with a butter knife and popping the bites out of the muffin tin. If a couple break a little, just put it back in the tin to cool for a couple more minutes, or press it together on the plate and it'll stay together as it cools slightly.
Nutrition Facts
Cheesy Barbecue Meatball Sweet Potato Bites
Amount Per Serving (2 meatballs)
Calories 156
Calories from Fat 81
% Daily Value*
Fat 9g14%
Cholesterol 30mg10%
Sodium 212mg9%
Potassium 238mg7%
Carbohydrates 10g3%
Protein 8g16%
Vitamin A 5470IU109%
Vitamin C 1.1mg1%
Calcium 85mg9%
Iron 0.6mg3%
* Percent Daily Values are based on a 2000 calorie diet.
Categories:
Enjoy!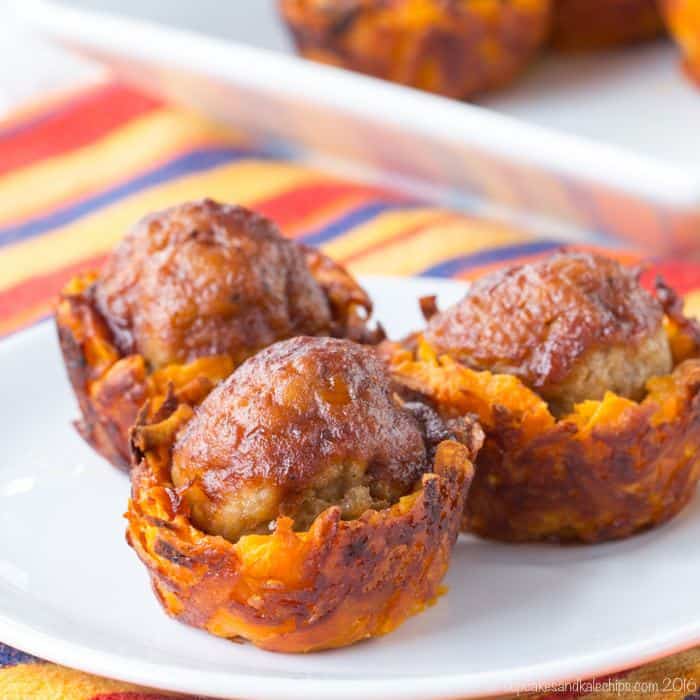 Maybe you need some dips for some of the other Farm Rich Snacks…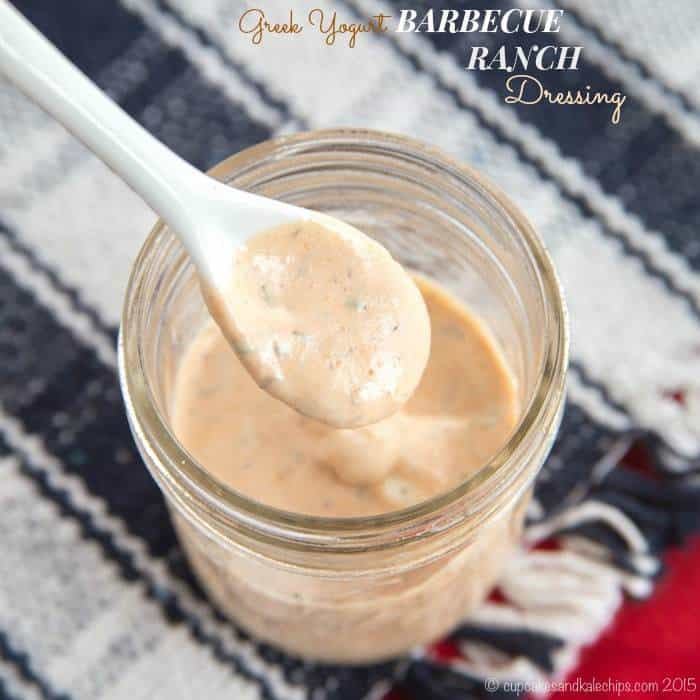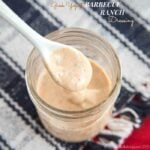 Plus some other recipes from my friends featuring Farm Rich Snacks…