This post may contain affiliate links. Read my disclosure policy.
Juicy Baked Blackened Chicken is an easy chicken recipe loaded with bold, New Orleans-inspired flavor! Homemade blackening seasoning transforms these chicken breasts into something truly amazing, with a delicious blend of Cajun-style herbs and spices. It's a perfectly seasoned, easy dinner!
Juicy Oven-Baked Blackened Chicken Breasts
This recipe for spicy, juicy blackened chicken is right up my alley. It has tons of flavor, it's easy to make, and it brings a fun Cajun flair to weeknight dinners! Plus, this blackened chicken is naturally gluten-free.
Blackened chicken just has everything going for it, really. The seasonings for this chicken recipe are spot-on, made from a homemade blackened seasoning that crisps up in the oven into a delicious blackened crust. The entire meal takes about 40 minutes to prep and cook, and the end result is baked chicken breasts that are juicy, versatile, and so delicious.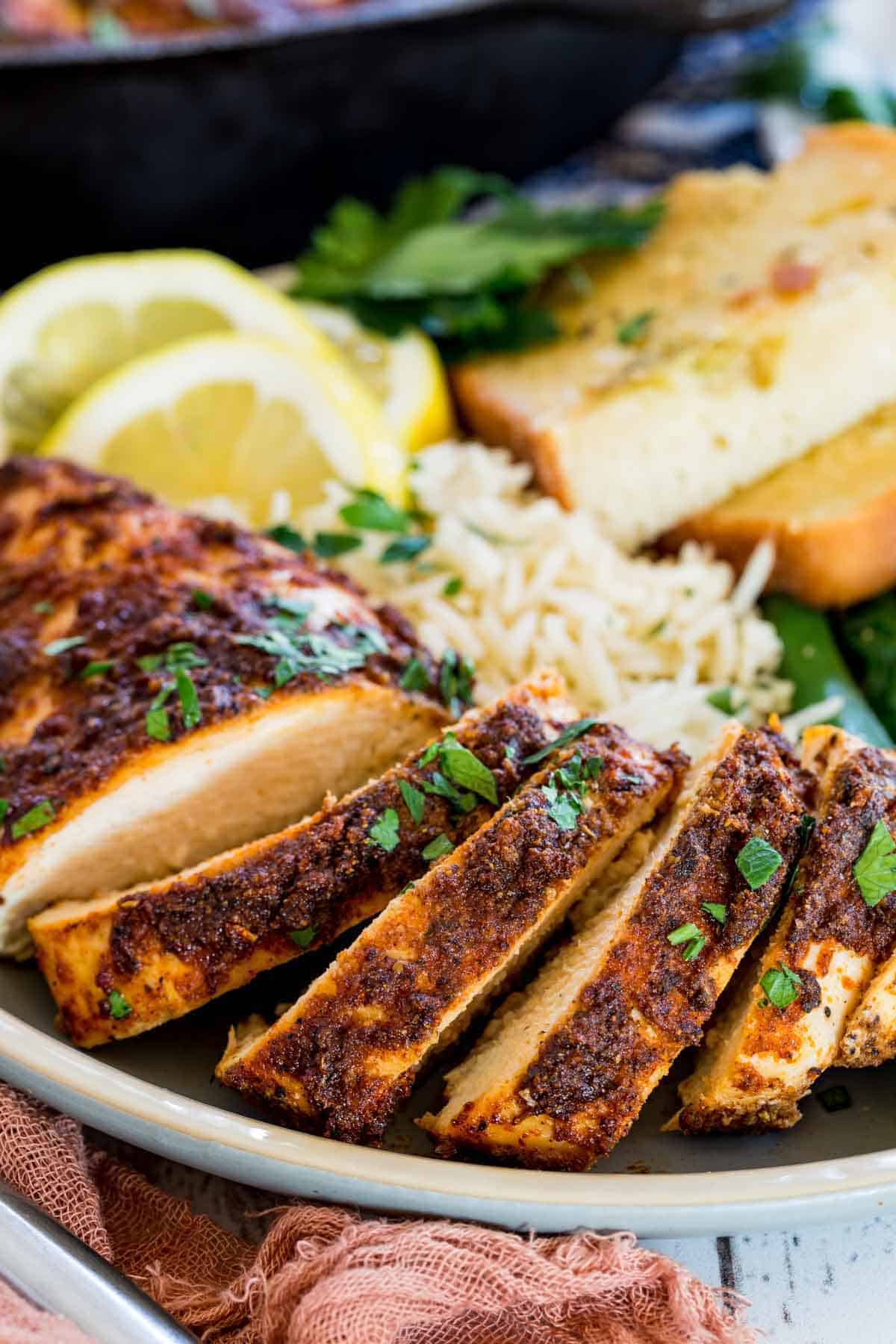 What is Blackened Chicken?
While blackened chicken may look a lot like chicken that was neglected in the oven for too long, it's far from it! Thankfully, blackened does not equal burnt in this scenario.
What blackened chicken actually means is chicken that's been coated in butter (or oil) and a dry rub of spices, and then cooked with high heat until the coating becomes a crispy, "blackened" crust. The color comes from the technique, and not the chicken burning!
While traditional blackening happens in a skillet, this recipe makes blackened chicken in the oven, which is just as super flavorful.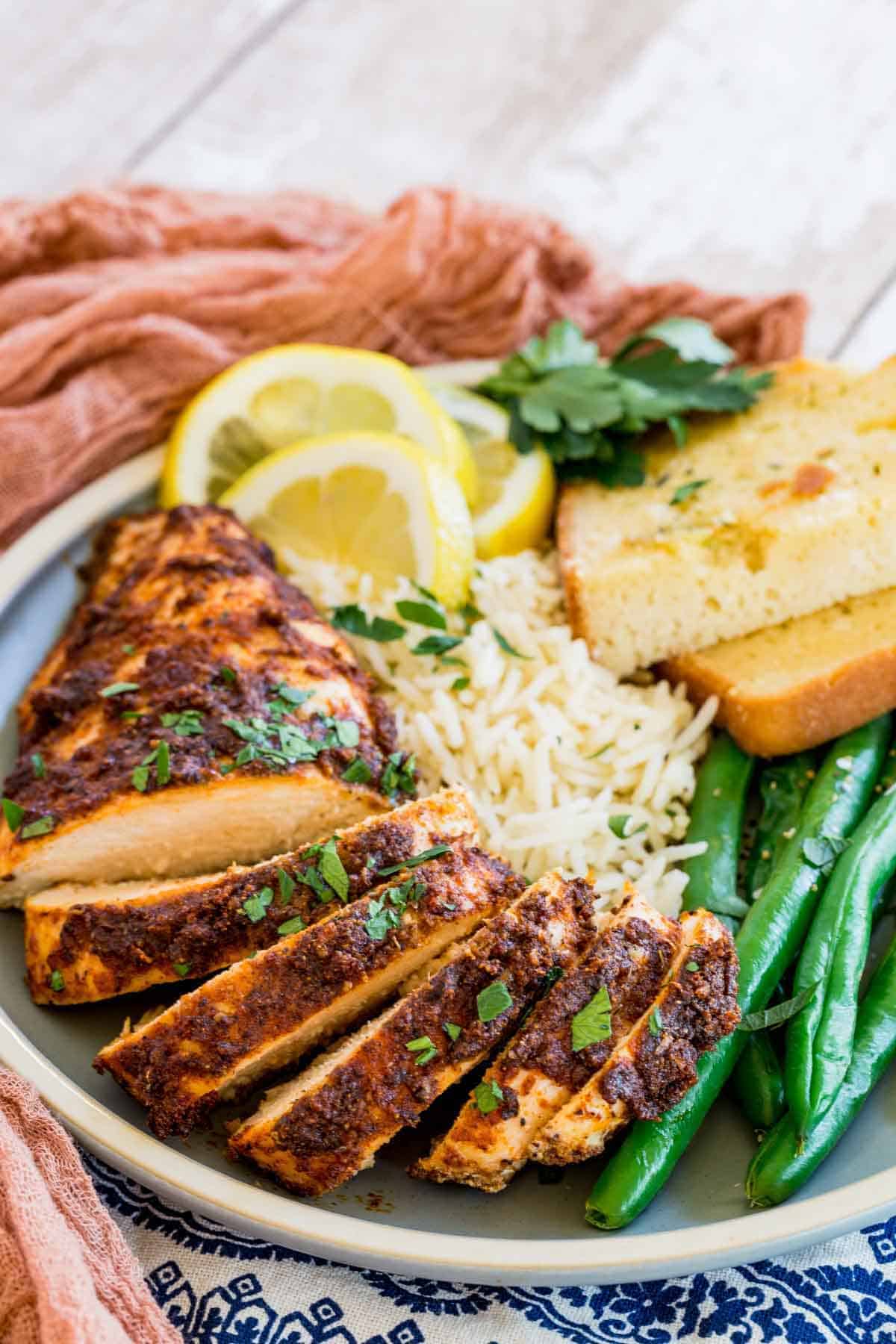 Recipe Ingredients
Who knew so much bold, Louisiana flavor only required a handful of common ingredients? You likely have most of these in your pantry already, and the rest are easy to come by! Here's what you'll need:
Chicken: I use three large boneless skinless chicken breasts for this recipe. You can use more or less depending on the size!
Olive Oil: Or another neutral oil, like vegetable or canola oil.
Butter: Unsalted and melted.
Spices: This blackened recipe calls for a mix of Cajun-style spices, including paprika, cayenne pepper, garlic powder, onion powder, dried oregano, and dried basil. You can also make your own Homemade Blackening Seasoning to use for this chicken and tons of other recipes!
Salt & Pepper
Optional Garnish: Lemon and fresh parsley.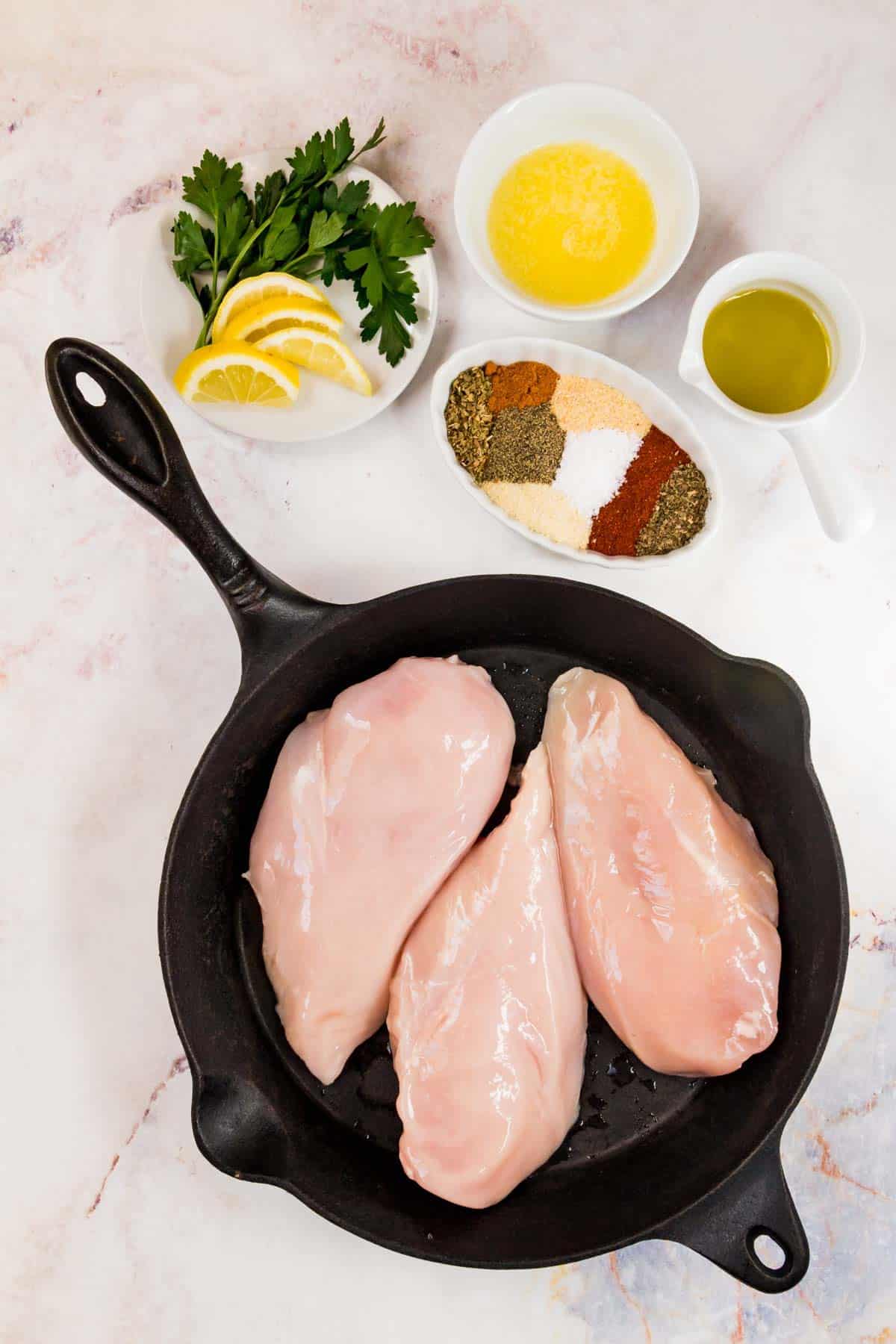 Can I Use Chicken Thighs Instead?
You can opt for boneless skinless chicken thighs instead of chicken breasts for this recipe. This cut of chicken may even come out even more juicy and tender!
Note that you may need to adjust the cooking time depending on the size of the thighs. Whether you're using breasts or thighs, I'd suggest using a meat thermometer to check that the meat is done!
Brianne Recommends
While you can use any baking dish, I like to bake my chicken breasts in a cast iron skillet. It's oven-safe, easy to clean, and distributed the heat well so it cooks evenly. I think it also adds a little something to the flavor too!
How to Make Blackened Chicken in the Oven
Start with your chicken breasts ready and waiting in an oven-safe baking dish. Next, follow these easy steps for the most flavorful chicken you'll ever taste (I said what I said!):
Combine: Mix together the Blackening seasoning with the olive oil and melted butter.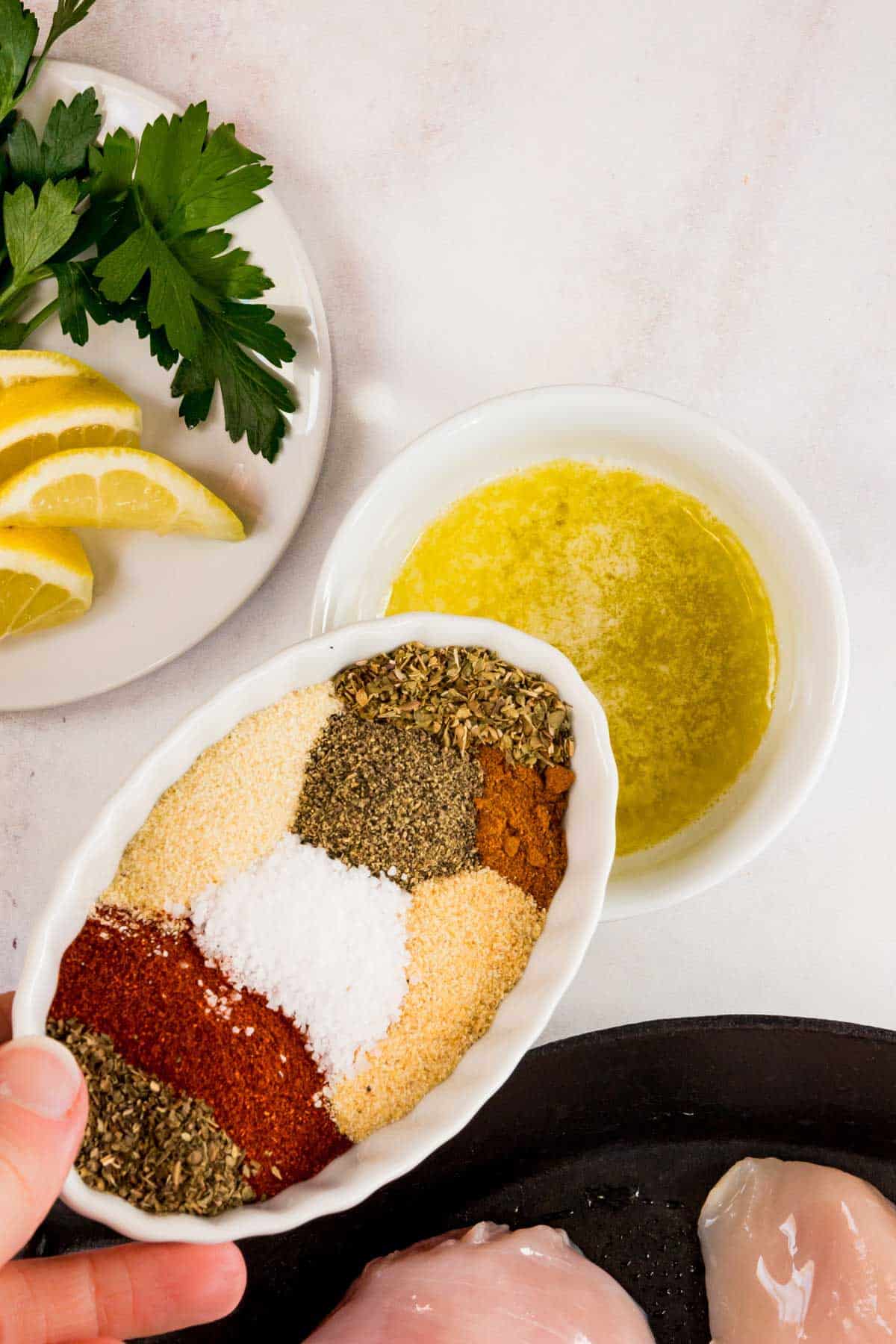 Coat: Pour the olive oil and seasoning mixture over the chicken and give it a good rub.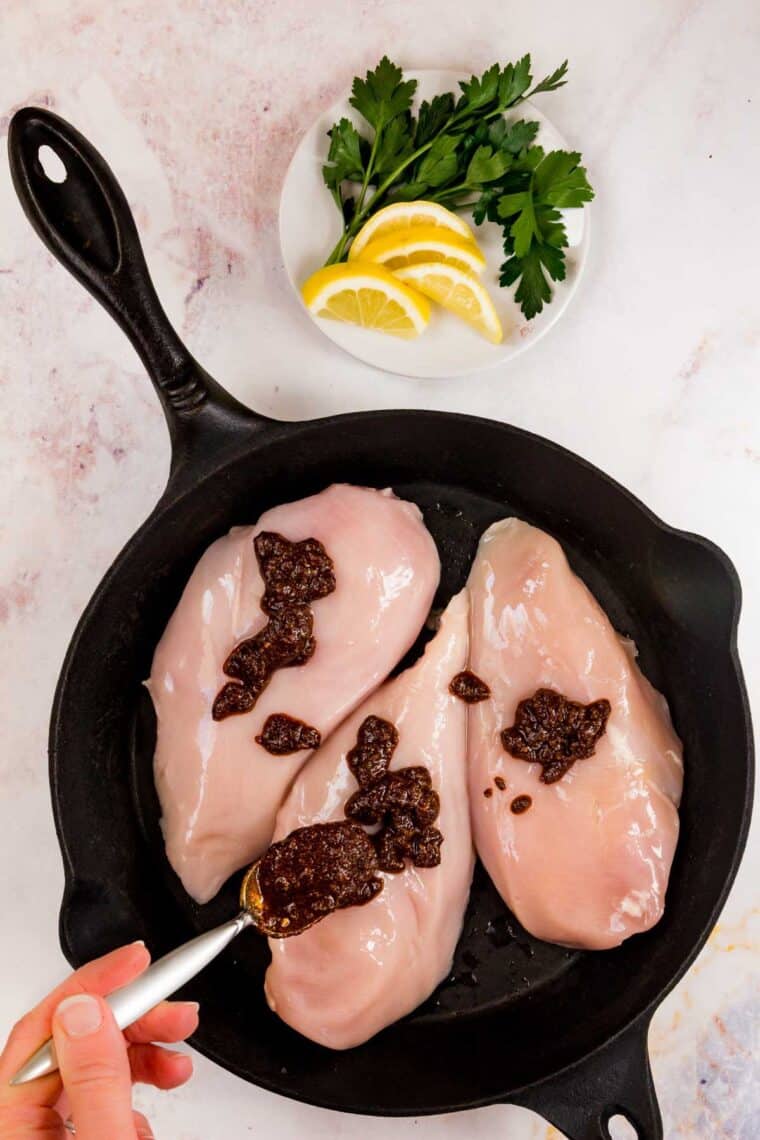 Bake: Bake the chicken in the preheated oven until the internal temperature reaches 165°F. Leave the chicken to rest for a few minutes once it's done cooking, this will help redistribute the juices! Slice and serve your blackened chicken with a garnish of parsley and a squeeze of lemon.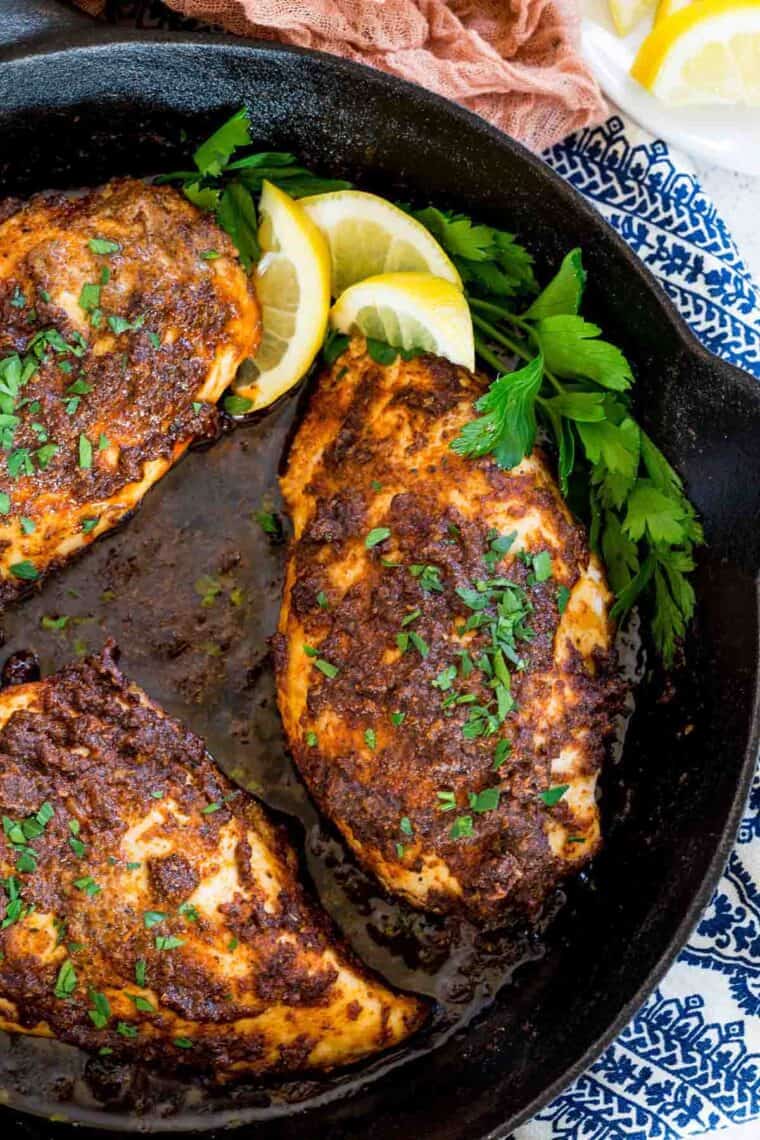 Tips for Success
Let the Raw Chicken Come to Room Temperature: As a general rule of thumb with most meats, allowing the raw chicken to come to room temperature will help it to cook more evenly. Leave the breasts on the counter for a half hour or so before you plan on cooking them!
Adjust the Cooking Time: Depending on the size/weight/type of chicken that you use, cooking times may vary. If you do need to leave your chicken breasts in the oven for longer, drape foil over the casserole dish to keep the tops from burning.
Adjust the Heat: If you're opposed to spicy foods, you can tone down the amount of cayenne (or leave it out altogether – I won't judge). On the other hand, if you're a fan of the flame, add in more cayenne or even an extra sprinkle of red pepper flakes to the mix!
Don't Skip the Resting: Letting the chicken rest after baking results in the most perfect, juicy, and tender chicken breasts possible. Don't skip this step!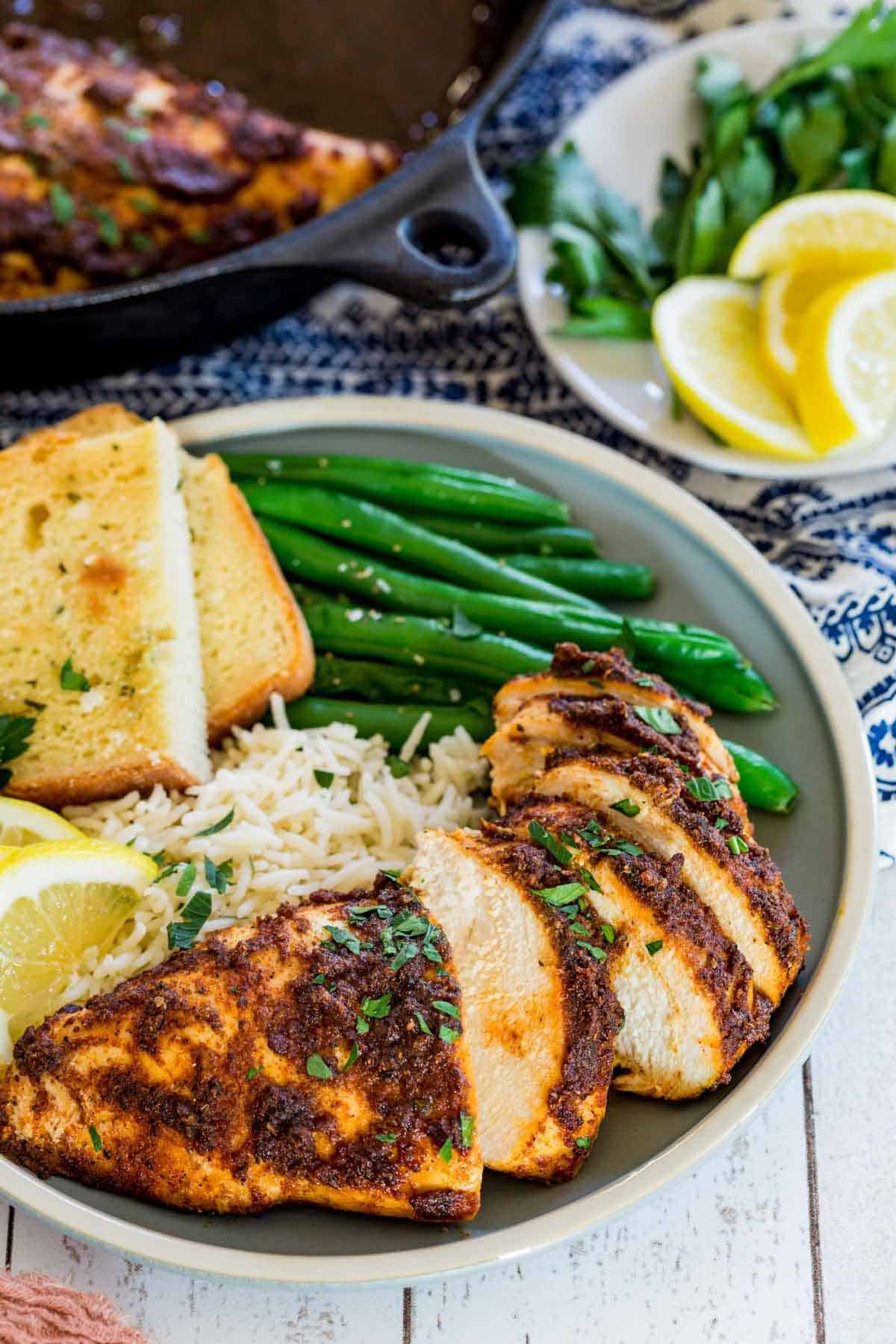 Make it a Meal
You can make it a Southern feast and serve this blackened chicken with a side of Jambalaya Stuffed Sweet Potatoes and a starter of Jambalaya Dip. I love serving mine over rice with a side of Green Beans and gluten-free Texas Toast!
There are loads of other sides that can make this delicious chicken into a meal: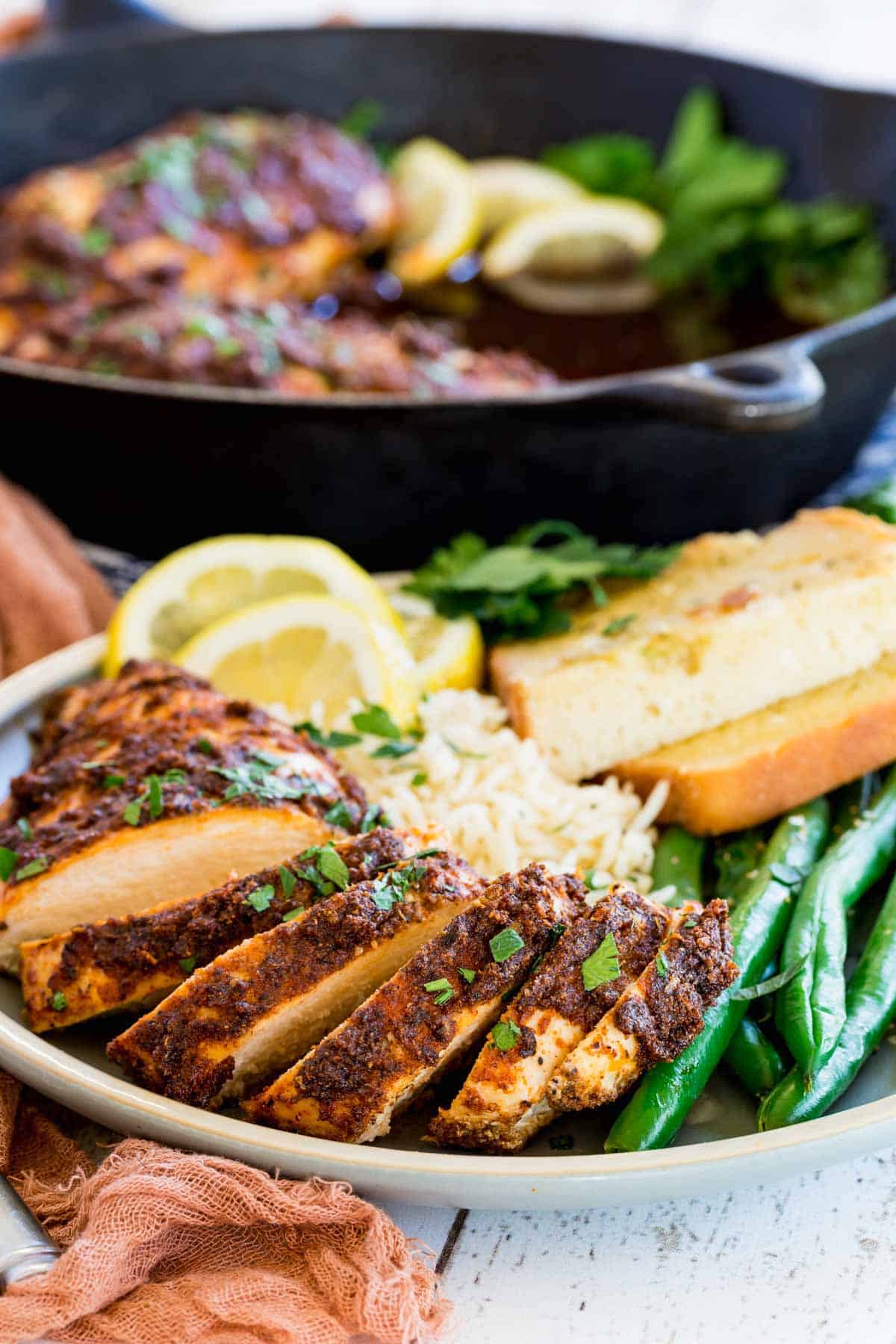 Storage and Reheating
Store leftover blackened chicken airtight in the fridge for up to 3-4 days. Reheat the chicken covered in the microwave at half power to keep the meat from drying out.
You can also enjoy the leftovers cold for easy lunches. Slice and serve your blackened chicken over salads, in chicken wraps or chicken sandwiches.
Does This Freeze Well?
Yes! To freeze cooked blackened chicken, let it cool completely and then wrap it in plastic wrap, followed by a layer of foil (this helps with freezer burn). It can keep frozen for up to 3-4 months.
Thaw the chicken in the fridge and then serve or reheat as usual.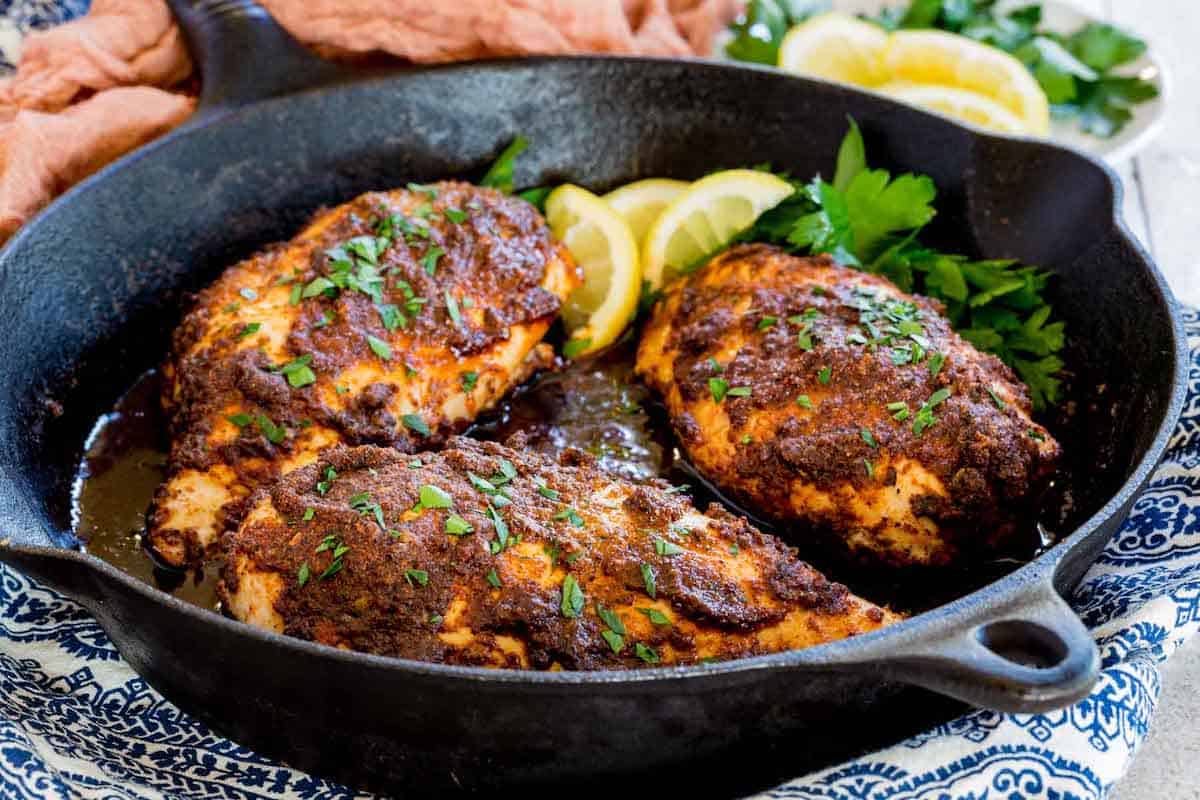 More Flavorful Chicken Recipes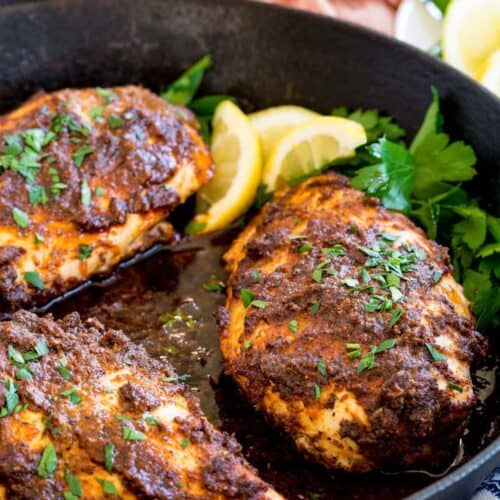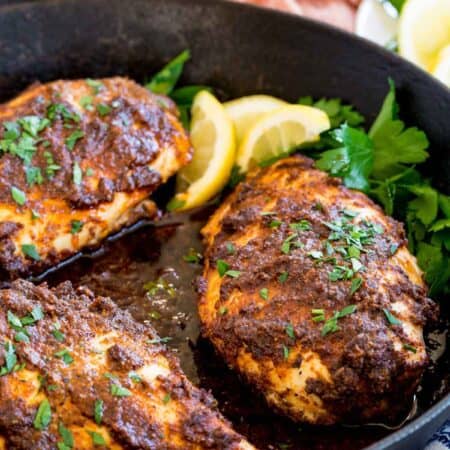 Baked Blackened Chicken
Juicy, baked blackened chicken is bold and flavorful, just like the classic Cajun-style recipe! Made with homemade blackening spice and so delicious!
Ingredients
1-1 1/2

lbs

boneless skinless chicken breasts

(about 3 large breasts)

2

tbsp

olive oil

2

tbsp

unsalted butter

melted

1

tbsp

paprika

1/2

tbsp

cayenne pepper

1/2

tbsp

garlic powder

1/2

tbsp

onion powder

1

tsp

Kosher salt

1

tsp

black pepper

1/2

tsp

dried oregano

1/2

tsp

dried basil

Or use 3 Tablespoons blackening spice

Garnish with lemon and parsley
Instructions
Preheat the oven to 375°F. Place the chicken breasts in a casserole dish or oven-safe skillet.

In a small bowl, combine the olive oil, melted butter, paprika, cayenne pepper, garlic powder, onion powder, salt, pepper, oregano, and basil, and mix together.

Pour the olive oil mix over the breasts and rub it into the surface of the chicken.

Bake at 375°F for 25-35 minutes, or until their internal temperature reaches 165°F.

Let the chicken rest for 5-10 minutes before slicing and serving with fresh parsley and a squeeze of lemon juice.
Nutrition Facts
Baked Blackened Chicken
Amount Per Serving
Calories 321
Calories from Fat 153
% Daily Value*
Fat 17g26%
Cholesterol 124mg41%
Sodium 782mg33%
Potassium 717mg20%
Carbohydrates 3g1%
Protein 37g74%
Vitamin A 1356IU27%
Vitamin C 3mg4%
Calcium 29mg3%
Iron 1mg6%
* Percent Daily Values are based on a 2000 calorie diet.
Categories: