This post may contain affiliate links. Read my disclosure policy.
Slow cooker pulled chicken simmers in your crockpot all day with apple cider, apple slices, and onions. Or make this family-friendly dinner in a flash in your Instant Pot. Then pile the shredded chicken on bread or rolls and top with cheddar cheese for yummy sandwiches. The perfect quick and easy autumn meal on a busy night.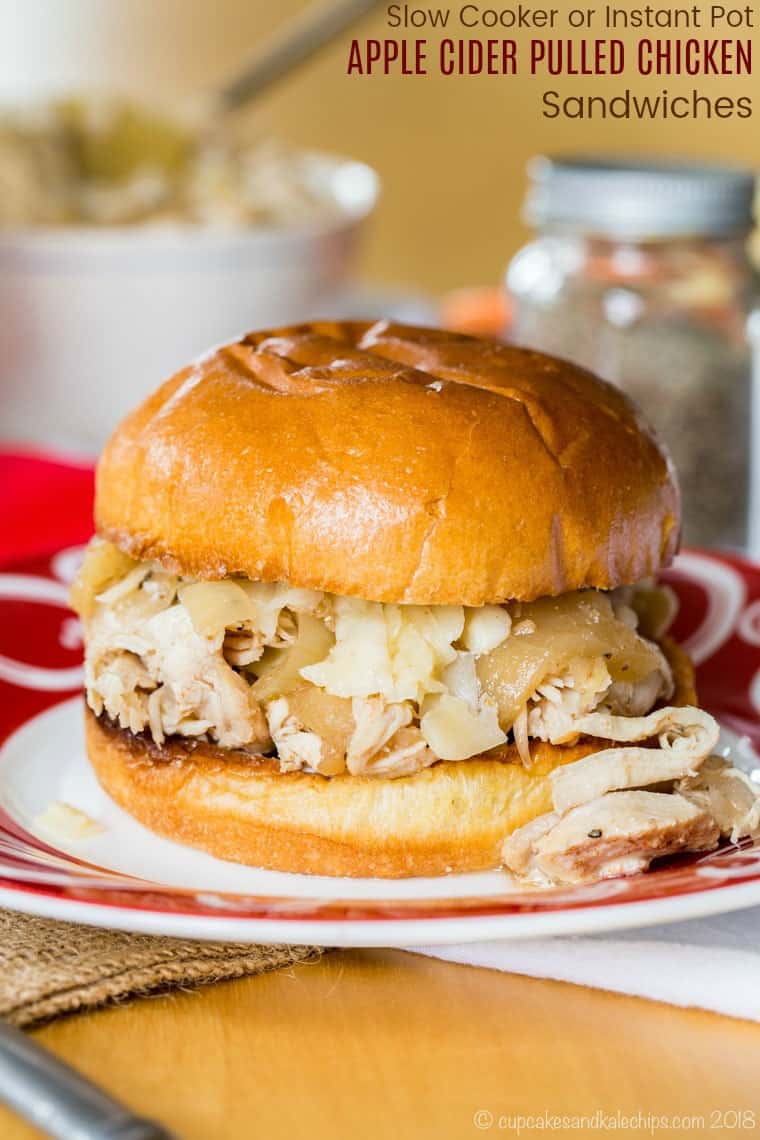 Did you ever flip through a cookbook or magazine or browse the web and find a recipe you really wanted to try, then you want to change one ingredient, don't like another, ran out of something else, and by the time you are eating it, it is absolutely nothing like the recipe you just HAD to have? Yeah, that happened here.
I was checking out How Sweet It Is, one of my favorite blogs, and saw Jessica's Crockpot Cheesesteak Pulled Chicken, and it sounded awesome. Only it had beer, and, you know, wheat allergy here. So I figured I'd use hard cider.
I don't really like green peppers, and I didn't think red ones would taste really good with the cider. So instead I went with sliced apples.
Then once I put in apples, I thought garlic would not be a good addition, so I left it out.
And I didn't really want to melt the cheese into the chicken, so I just shredded it and put it on top. And there you go, this is NOT the Crockpot Cheesesteak Pulled Chicken from How Sweet It Is.
But it's still really, really good…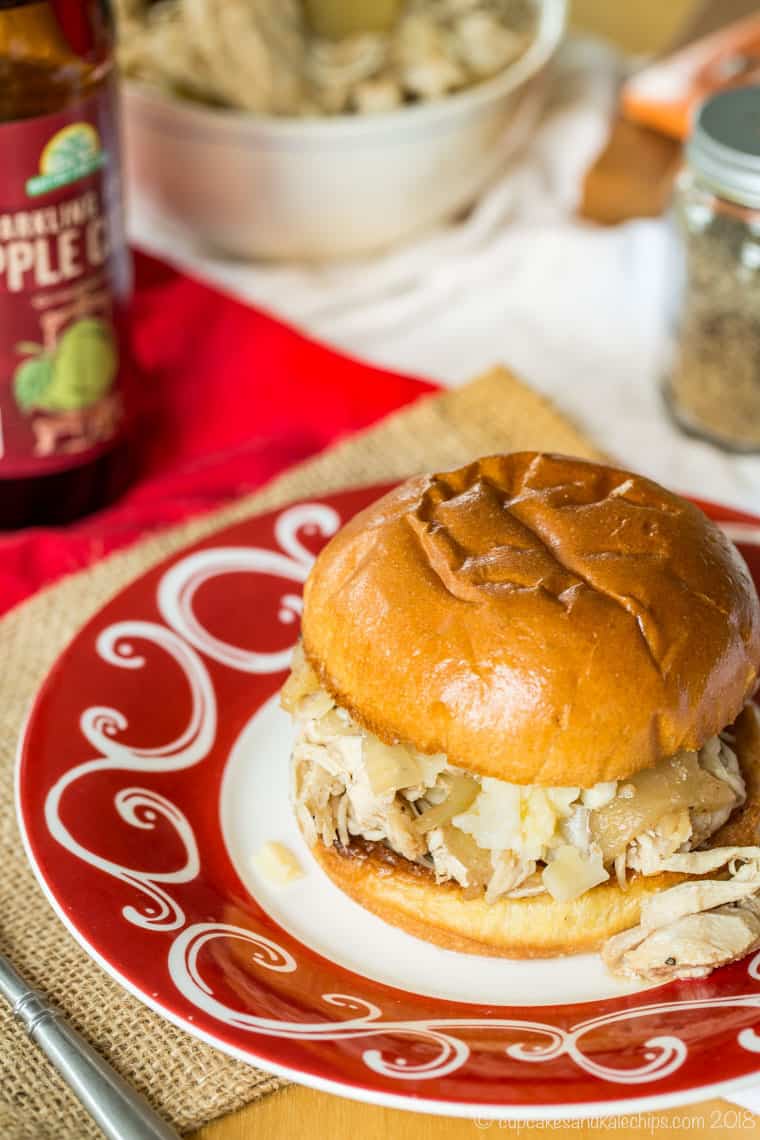 Crockpot Apple Cider Pulled Chicken Sandwiches
When you walk in the door after a long day of work or errands or running around with the kids, Apple Cider Pulled Chicken Sandwiches are a perfect dinner because they are easy, comforting, and not too heavy.
The fall flavors of sweet apple and hard cider as the cooking liquid along with sweet onion give it so much flavor
That is why they are a delicious meal to warm you up and calm you down. Whether you let it cook all day in your slow cooker or make it fast in your Instant Pot, this is sure to be a dinner the family will love.
Here is a brief overview so you can see just how easy it is to make. Scroll down to the printable recipe card for the full quantities and details.
But don't skip my PRO TIPS below!
Ingredients
For serving
To make the pulled chicken sandwiches, you'll want rolls and sharp cheddar cheese. See below for more serving ideas.
Do you have to use hard cider?
If you choose not to cook with alcohol you CAN use sparkling cider. If you cannot find 12 oz. bottles of sparkling cider, just use 1 1/2 cups from a full-size bottle of Martinelli's Sparkling Cider, or your favorite brand.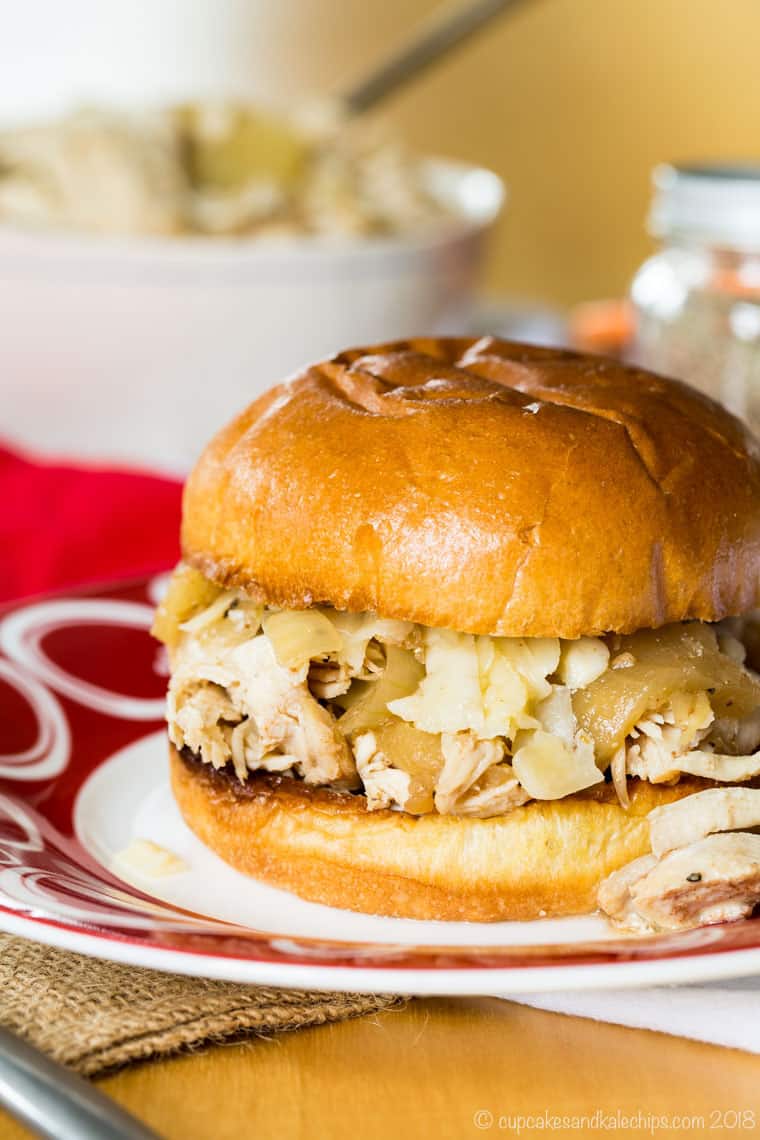 Directions
Directions overview – scroll to the recipe card for the full set of instructions
Peel and slice your apples, then slice your onions. Lay them in the bottom of your slow cooker.
Place chicken breasts on top.
Sprinkle salt, pepper, dry mustard, and paprika over the chicken, then pour hard cider or sparkling cider over the top.
Cover and cook until the chicken is tender.
Grab some tongs and forks, shred the chicken, and return to the slow cooker with the apples, onions, and juices.
Make your sandwiches and enjoy!
How to serve Apple Cider Slow Cooker Pulled Chicken
To make pulled chicken sandwiches, after the apple cider chicken has cooked, shred up the tender chicken, mix it back in with the onions and apples. Then pile it all onto some toasted rolls, as shown in most of the photos, or on crusty bread as you'll see below. Finally, top it with sharp cheddar cheese and enjoy.
Alternatively, you could enjoy it over rice or Browned Butter Cauliflower Rice, or stuffed into baked sweet potatoes. Also, this chicken is delicious on top of a salad, especially when you drizzle it with Creamy Greek Yogurt Maple Dijon Salad Dressing.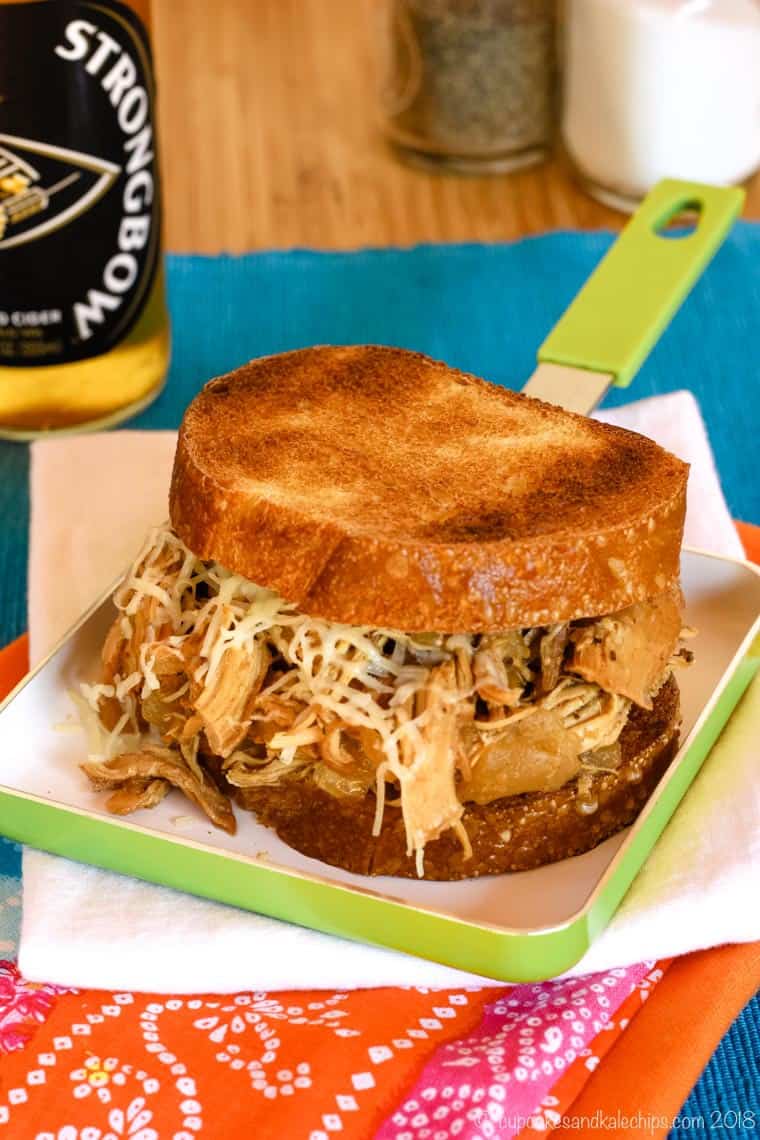 Brianne's pro recipe tips
Can you make Apple Cider Pulled Chicken in an Instant Pot?
Yes, yes you can make Instant Pot Pulled Chicken. While this was originally developed as a crockpot pulled chicken recipe, I have tested it in my Instant Pot and it works great. The apples and onions do get a bit softer, but they still hold up and it's still delicious.

You'll just use the Manual setting for 15 minutes. It only takes about 10 minutes to cook the chicken through, but those extra few minutes will ensure it is super tender and shreds easily. However, feel free to adjust as you try this recipe based on the size of your chicken breasts.

Additionally, I would NOT recommend using frozen chicken for both food safety reasons and because it will take longer to cook, so the apple slices likely will not hold up.
Is Apple Cider Slow Cooker Pulled Chicken gluten free?
Yes, the pulled chicken itself is gluten free. As always, be sure to read labels on your spices, and make sure to get hard apple cider or sparkling cider, not an Apple Ale. I've used Strongbow and Angry Orchard to make this shredded chicken.

If you are making the Apple Cider Pulled Chicken Sandwiches, just be sure to use gluten free bread or rolls.
Gluten Free Disclaimer: I am not a medical professional. This information is solely based on my research and personal experience, and I provide it as a courtesy to my readers. Please consult your doctor or medical professional for any questions as it relates to your needs, particularly if you have celiac disease or a severe gluten allergy or intolerance. Products, manufacturing facilities, and ingredients change frequently, so you should always contact the manufacturer for the latest information.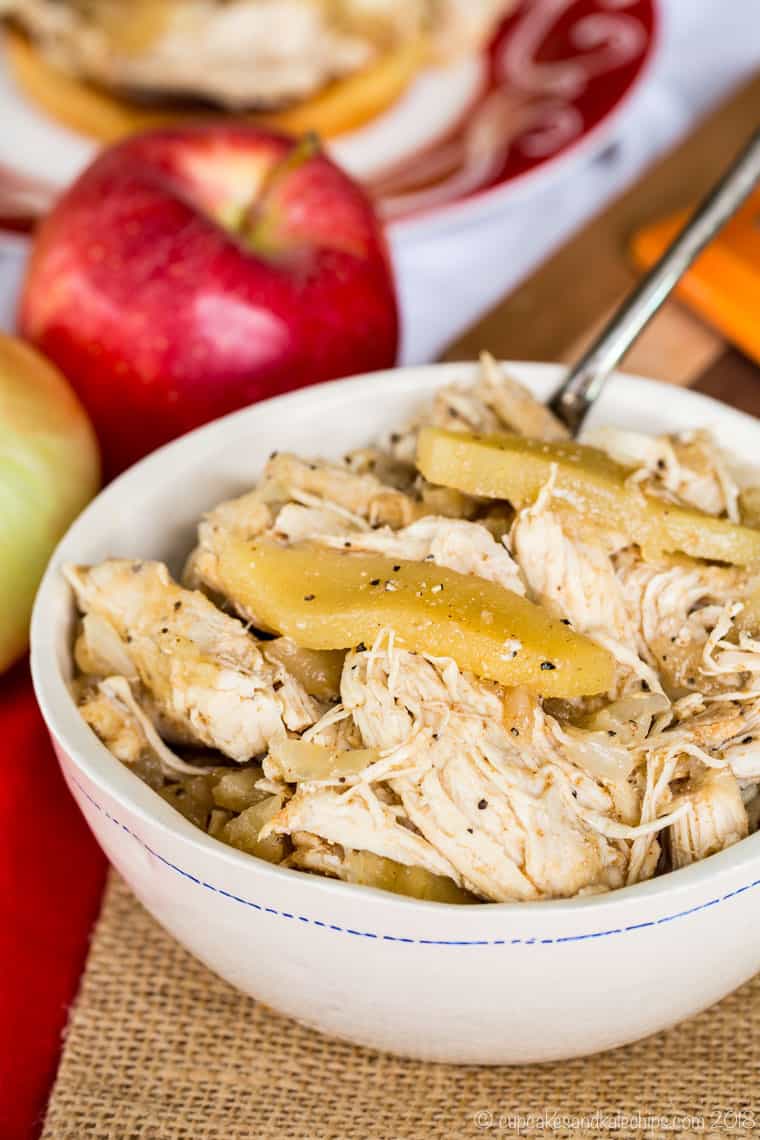 Make it a meal
Turn your chicken with apples into a full meal with some of these side dishes…
Fries and tots
Veggie side dishes
Soup and salad
Soup and sandwich meal
More recipes can you make with hard cider or sparkling cider
Apple Cider Slow Cooker Pulled Chicken
Simmer chicken in the slow cooker with apple cider, then pile on sandwiches and top with cheddar cheese for an easy, flavorful fall meal.
Ingredients
1

apple,

peeled and sliced

1

large sweet onion,

sliced

2

lbs

boneless, skinless chicken breasts

1

teaspoon

salt

1

teaspoon

pepper

1

teaspoon

paprika

2

teaspoons

dry mustard

12

oz.

bottle of hard apple cider

or 12 oz. (1 1/2 cups) non-alcoholic sparkling cider

12-16

slices

of sourdough or your favorite bread, or 6-8 rolls

toasted

8

oz.

shredded sharp white cheddar cheese

(about 2 cups)
Instructions
Place the onion and apple slices on the bottom of your slow cooker or Instant Pot.

Lay the chicken breasts on top of the apples and onions, and sprinkle on the salt, pepper, paprika, and mustard. Pour the hard cider over the top.

Cook on in the slow cooker low for 6-8 hours, or until chicken is cooked through and shreds easily. Or set the Instant Pot to Manual for 15 minutes and, after the cooking time is completed, use the Quick Release to release the pressure.

Remove the chicken from the slow cooker or Instant Pot, shred with two forks, and return to the slow cooker or Instant Pot.

Using tongs, toss together the chicken, apples, onions and cooking liquid until evenly distributed.

Top one slice of bread or bottom of a roll with the shredded chicken mixture, sprinkle with about 1 oz. (1/4 cups) shredded cheddar cheese, and top with the other slice of bread or top of the roll.
Enjoy!