Slow-Cooker Apple Cider Pulled Chicken Sandwiches for #WeekdaySupper
I'm back for another #WeekdaySupper and this time around I've got a perfect autumn meal that is nearly ready to greet you when you walk through the door after a busy day – Slow-Cooker Apple Cider Pulled Chicken Sandwiches.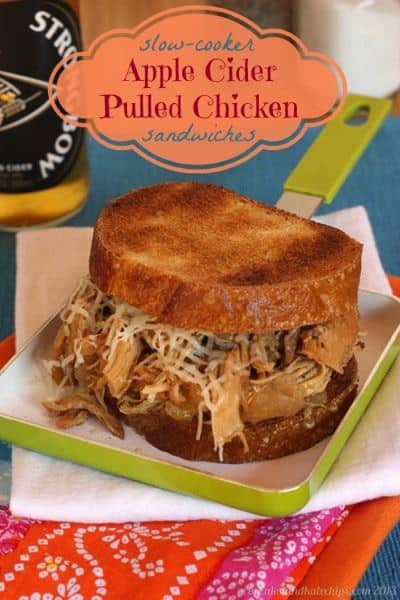 It starts off as one day a week and soon becomes a way of life.
As you know, #SundaySupper has expanded to #WeekdaySupper, where every Monday through Friday we bring you meals that are simple enough to make any night of the week, and are suited to busy families. You can see what's cooking up this week at the bottom of this post. And don't forget about the #SundaySupper and #WeekdaySupper Pinterest boards!

Did you ever flip through a cookbook or magazine or browse the web and find a recipe you really wanted to try, then you want to change one ingredient, don't like another, ran out of something else, and by the time you are eating it, it is absolutely nothing like the recipe you just HAD to have?  Yeah, that happened here.  I was checking out How Sweet It Is, one of my favorite blogs, and saw Jessica's Crockpot Cheesesteak Pulled Chicken, and it sounded awesome.  Only it had beer, and, you know, wheat allergy here, so I figured I'd use hard cider (I know, it's a sandwich – I actually had mine on gluten free bread).  I don't really like green peppers, and I didn't think red ones would taste really good with the cider, so instead I went with sliced apples.  Then once I put in apples, I thought garlic would taste pretty nasty, so I left it out.  And I didn't really want to melt the cheese into the chicken, so I just shredded it and put it on top.  And there you go, this is NOT the Crockpot Cheesesteak Pulled Chicken from How Sweet It Is.
But that's OK because it is really, really good.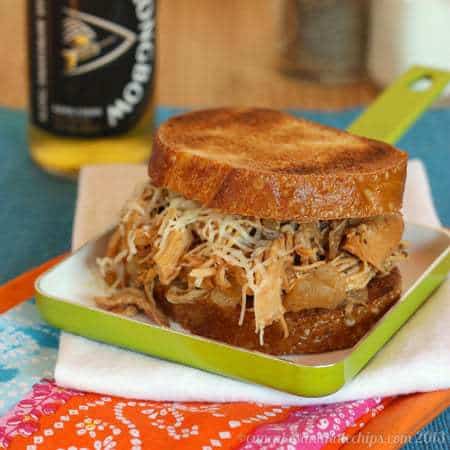 I loved the fall flavors in my version, and it was super easy and super delicious.  The sweet apple and sweet onion played so nicely together, and the hard cider as a cooking liquid imparted so much flavor.  I am sure that you could use regular cider as well, it may just be a bit sweeter, with a little less of the bite from the hard cider.
Walk in the door after a long day of work or errands or running around with the kids or, heck, even Christmas shopping for those of you that are more on-the-ball than I am, shred up the tender chicken, mix it back in with the onions and apples, pile all onto some toasted crusty bread and add sharp cheddar cheese.   Slow-Cooker Apple Cider Pulled Chicken Sandwiches are a perfect easy, comforting, but not too heavy dinner to warm you up and calm you down during the cool and crazy holiday season.
Or you could also make Jessica's Crockpot Cheesesteak Pulled Chicken.  It's OK, I'm cool with that because I want to make it, too!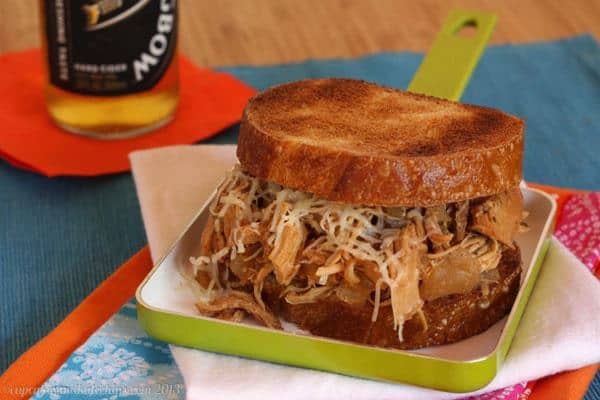 Do you tend to follow recipes as written, or are they merely a guideline?
Slow-Cooker Apple Cider Pulled Chicken Sandwiches for #WeekdaySupper
Simmer chicken in the slow cooker with apple cider, then pile on sandwiches and top with cheddar cheese for an easy, flavorful fall meal.
Ingredients
1 apple, peeled and sliced
1 large sweet onion, sliced
2 lbs boneless, skinless chicken breasts
1 t salt
1 t pepper
1 t paprika
2 t dry mustard
one 12 oz bottle hard cider
12-16 slices of sourdough or your favorite bread, toasted
About 8 oz. shredded sharp white cheddar cheese
Directions
Place the onion and apple slices on the bottom of your slow cooker.
Lay the chicken breasts on top of the apples and onions, and sprinkle on the salt, pepper, paprika, and mustard. Pour the hard cider over the top.
Cook on low for 6-8 hours, or until chicken is cooked through and shreds easily.
Remove the chicken from the slow cooker, shred with two forks, and return to the slow cooker.
Using tongs, toss together the chicken, apples, onions and cooking liquid until evenly distributed.
Top one slice of bread with the shredded chicken mixture, sprinkle with shredded cheddar, and top with the other slice of bread.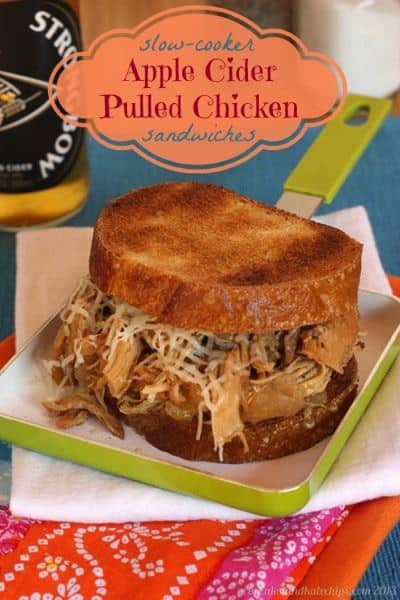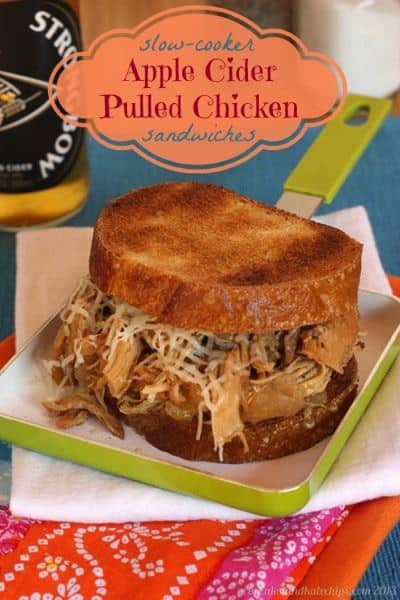 Loading nutrition data...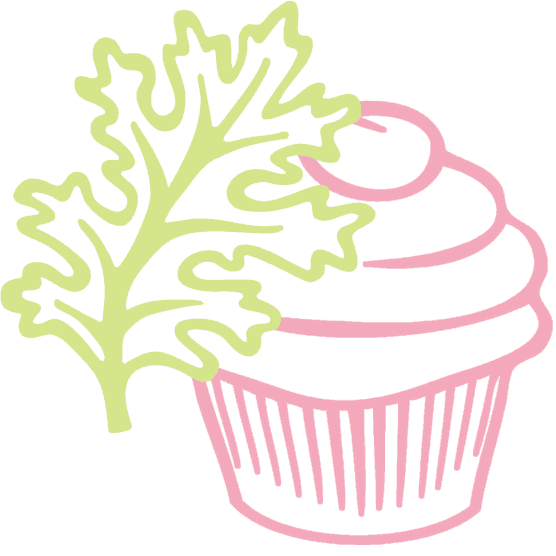 LOVE THIS RECIPE?
Give it a 5 STAR rating and share your photos on Instagram with the hashtag #CKCrecipes!
Enjoy!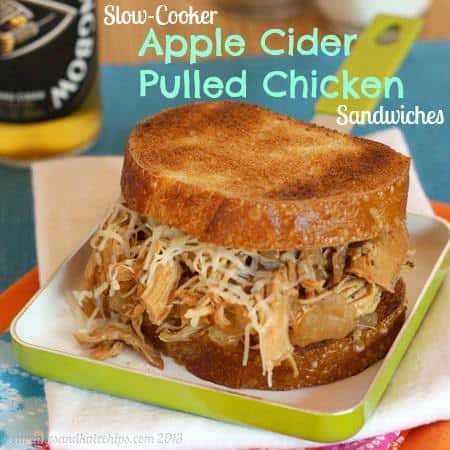 You can never have too many chicken recipes for busy weeknights, right?
Plus check out all of the other fast and tasty #WeekdaySupper recipes for this week: