This post may contain affiliate links. Read my disclosure policy.
This apple chutney recipe is a sweet and savory mixture of apples, cranberries, and thyme, with the tang of vinegar, and a splash of Martinelli's Sparkling Cider. Use it to top chicken or pork chops, or put together a gluten free appetizers platter! I'll show you four ways to serve this Sparkling Cider Apple Chutney.
Disclaimer: This recipe was developed through a sponsored partnership with Martinelli's. As always, all opinions are my own. There are affiliate links in this post, meaning that if you click and make a purchase, the cost to you is the same, but I will receive a few pennies. I use the money to help maintain this website and to bring you new recipes!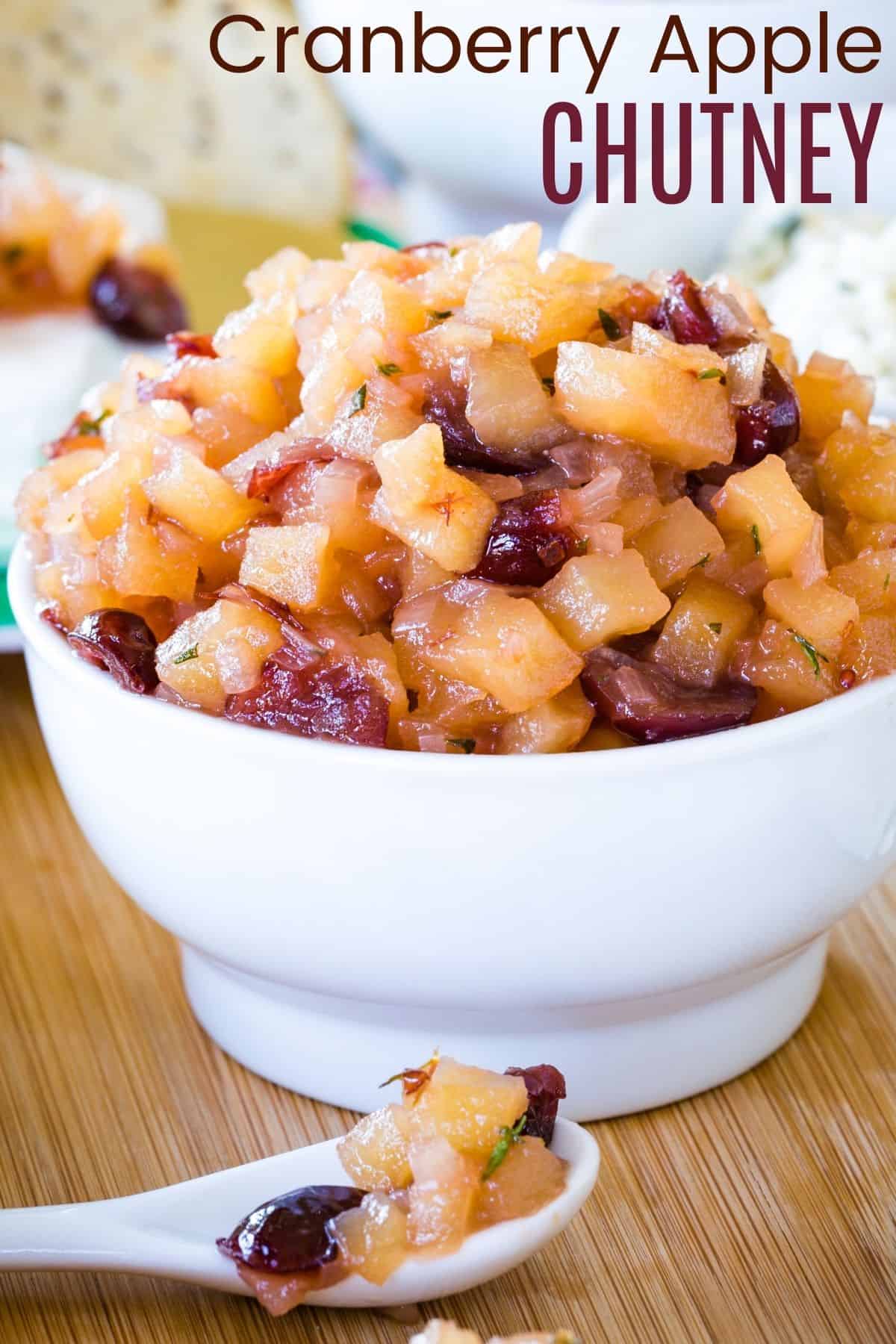 It's funny how New Year's Eve is kind of a microcosm of your stage in life. As a kid, you are supposed to do what your parents tell you to do, even when sometimes, since again, you are just a kid, you don't want to or it makes no sense to you. So when mom tells you to go outside with a wooden spoon and a pot, and bang them together, you do it. You are thoroughly confused because you are usually being told to quiet down, and yet tonight you are allowed to stay up past your bedtime, go out into the cold night in your pajamas, and make as much noise as possible. But, you know, mom said so. What mom did not tell you is that it's only 9:30 and all the real celebrating will happen at midnight when you are in bed, but whatever.
As you get to be a preteen and teenager, you then think you are so cool because you are actually allowed to hang out with your friends and stay up until midnight, so you all sleep over at one person's house and stay up till, like 3am, just because you can. Then of course you still haven't recovered from the exhaustion by the time you go back to school on January 2nd, and you go through the day looking and feeling like a total zombie. But you got to stay up late with your friends, so there's that.
In college you have to go home for winter break, but you don't actually want to be home. So you plan vacations with your friends. And by "vacation" I mean a cheap hotel in a central location that minimizes everyone's driving. Your house is probably cleaner and warmer and has better food, but you are back with your besties and there's not a book or homework assignment or term paper in sight.
Then you have kids, and you're trying to change the time on all the clocks so that they think it's time to ring in the new year, but you can actually get them off to bed because there's no way you can keep yourself awake till midnight. Or if you do stay up, you are in your flannel pajamas in bed watching the ball drop, you give your significant other a quick kiss, and then fall asleep because regardless of what time the kids went to bed, there will be the pitter patter of little feet and wide awake eyes staring you in the face at the crack of dawn on New Year's Day demanding breakfast and cartoons.
Holiday celebrations may change with the times, but something that has always been a constant for me is snacks and Martinelli's Sparkling Juices…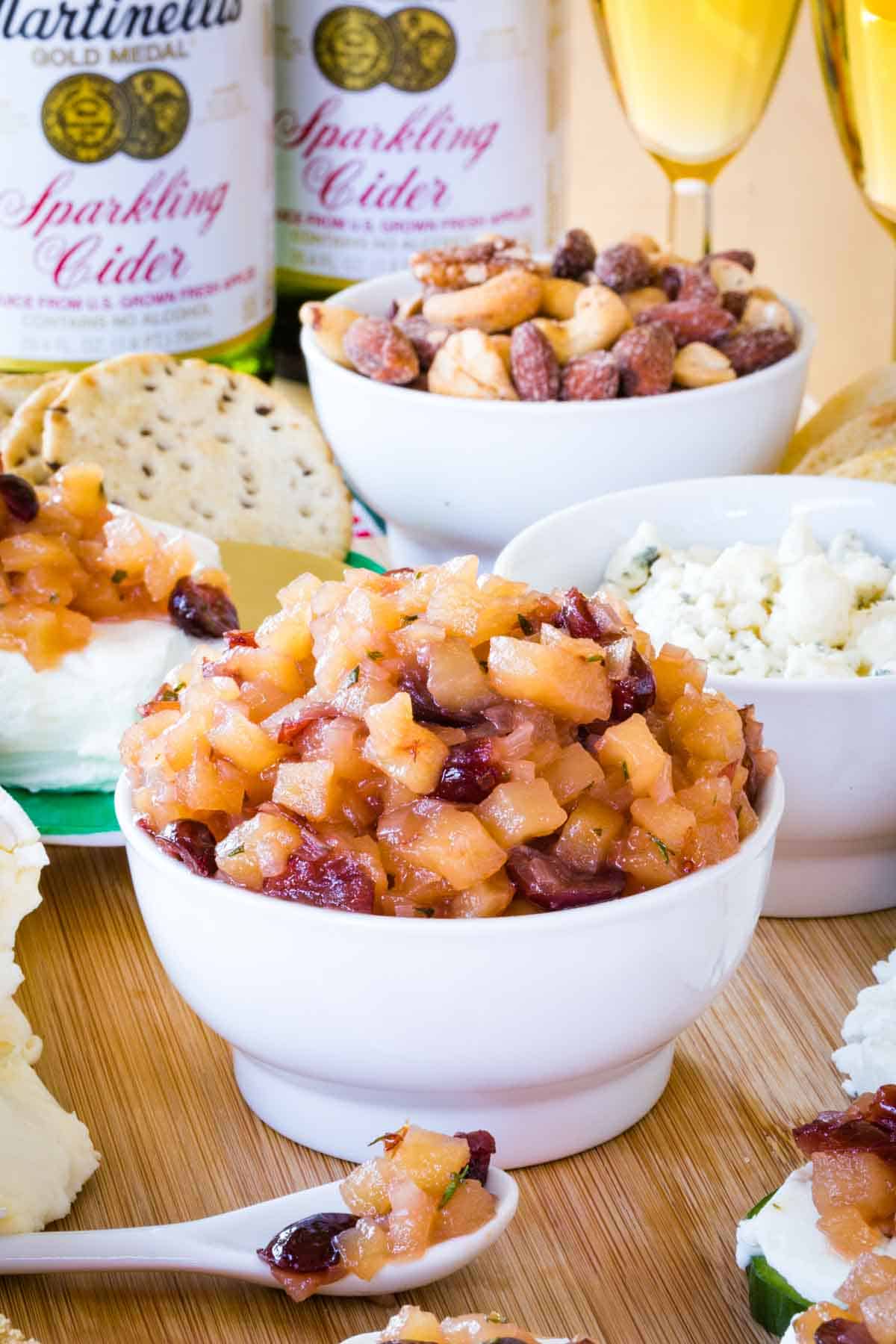 As a kid, one of the most exciting things to me about the holiday season was when my mom would buy a bottle of Martinelli's Sparkling Cider. My cousins and I always felt so grown up when we would toast with our cups of this bubbly beverage. When I was pregnant, I discovered the Sparkling Apple-Pomegranate, and remember ringing in the new year with a flute in lieu of champagne. And now I am always sure to have a bottle on hand for my kids to celebrate special occasions.
And this year, Martinelli's Sparking Cider even made its way into our party snacks…
Sparkling Cider Apple Chutney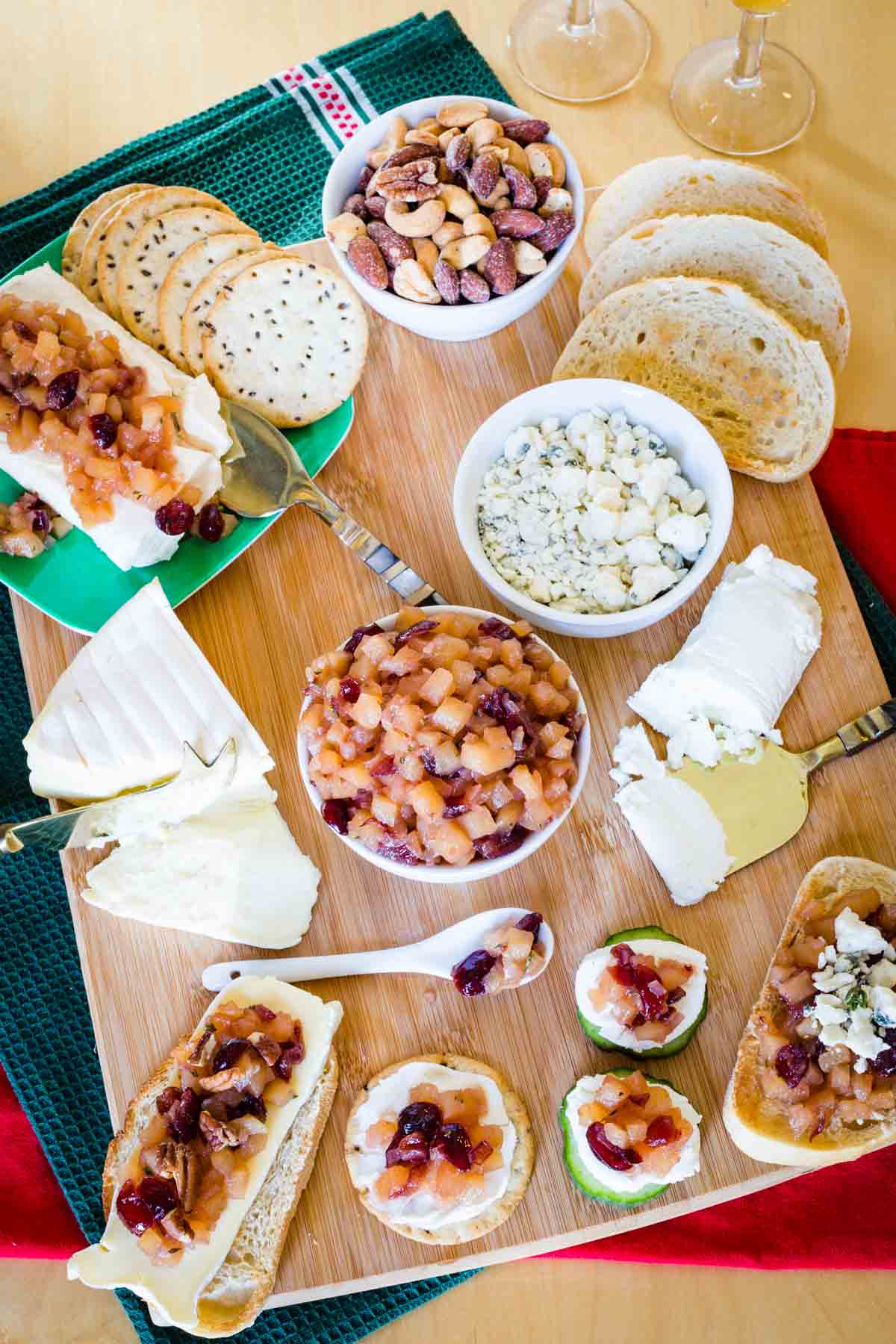 Sparkling Cider Apple Chutney is a simple and festive recipe that has a million uses.
A few minutes of chopping, a little bit of simmering, and then some chilling, and you have a sweet and savory blend of flavors with just a bit of tang. While it is cooking, it gives off a warm, seasonal aroma, and then when it is done, you can store it in the fridge for several days. Use in different dishes during the week – spoon some over leftover Christmas ham or Thanksgiving turkey, use it to top grilled chicken or pork chops or even a roasted pork tenderloin, add a unique twist to a salad, or even stuff it into wraps for lunch.
Or make it ahead of time so that you can put out an amazing spread like this at your next party…

I set out a big platter with all of the fixing to enjoy this Sparkling Cider Apple Chutney four different ways…
Spooned onto toasted baguette slices with crumbled blue cheese
As a topping for cucumber slices with a round of goat cheese (this also tastes delicious with a few crumbles of crispy bacon)
Poured over a block of cream cheese and set out with crackers
On top of warm crostini with a slice of Brie cheese and a sprinkle of chopped pecans
All enjoyed with a glass of Martinelli's Sparkling Juices, of course!
How would you serve this Sparkling Cider Apple Chutney? I'm sure you can come up with even more tasty combinations!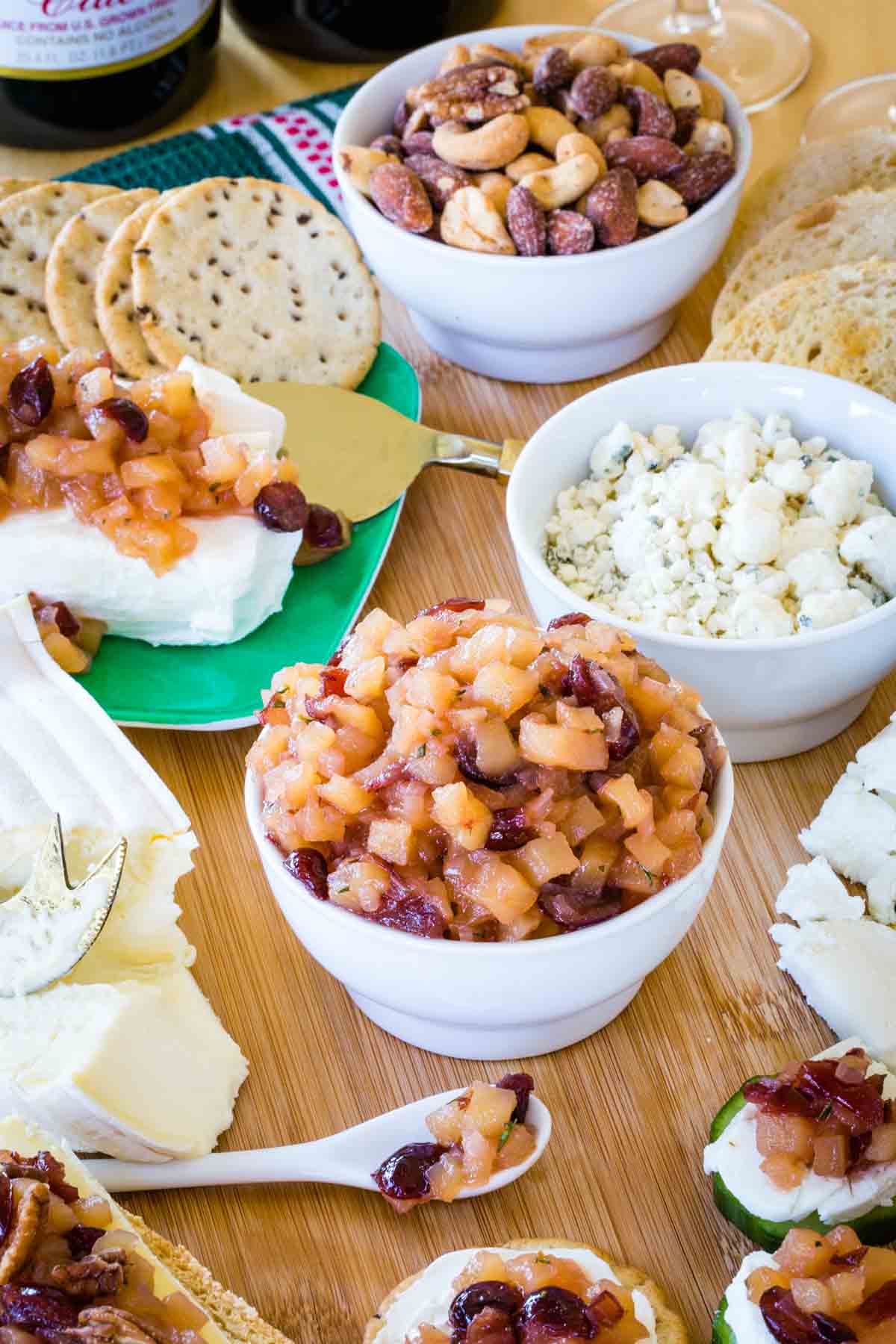 Here's some more party appetizers to serve with your Martinelli's Sparkling Juices..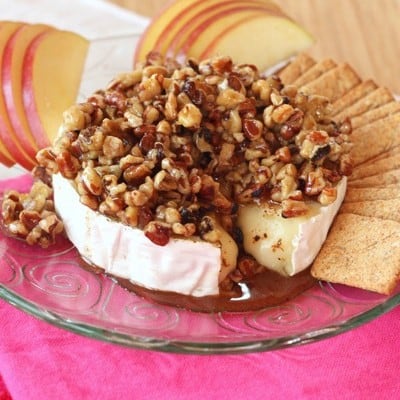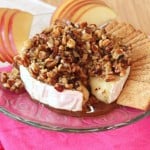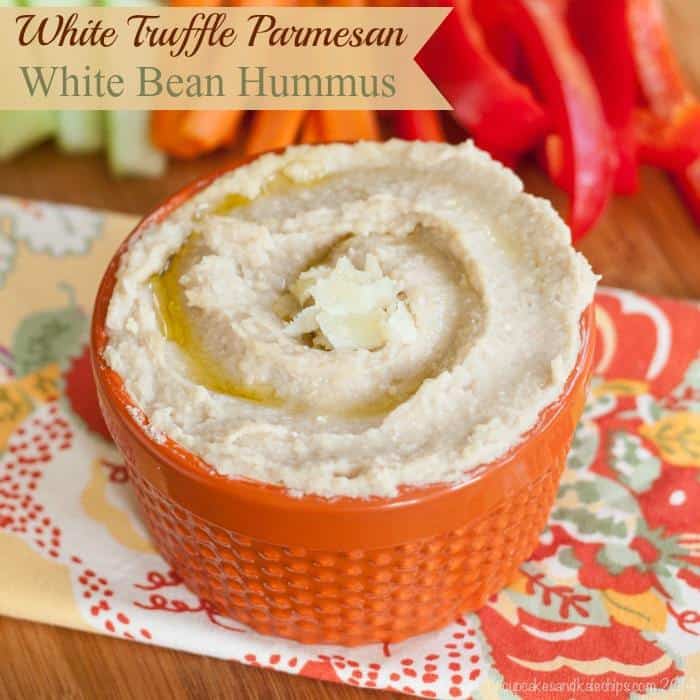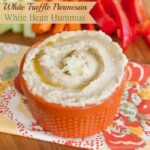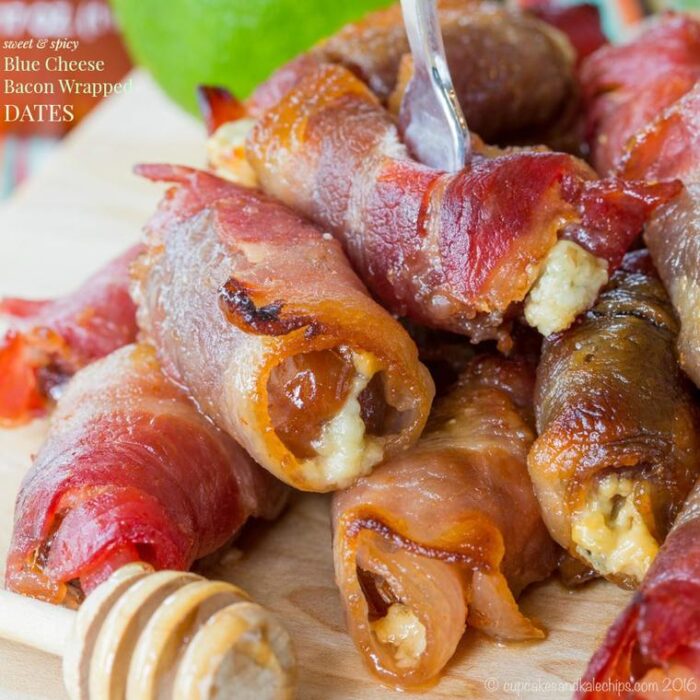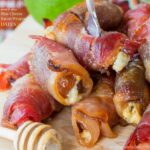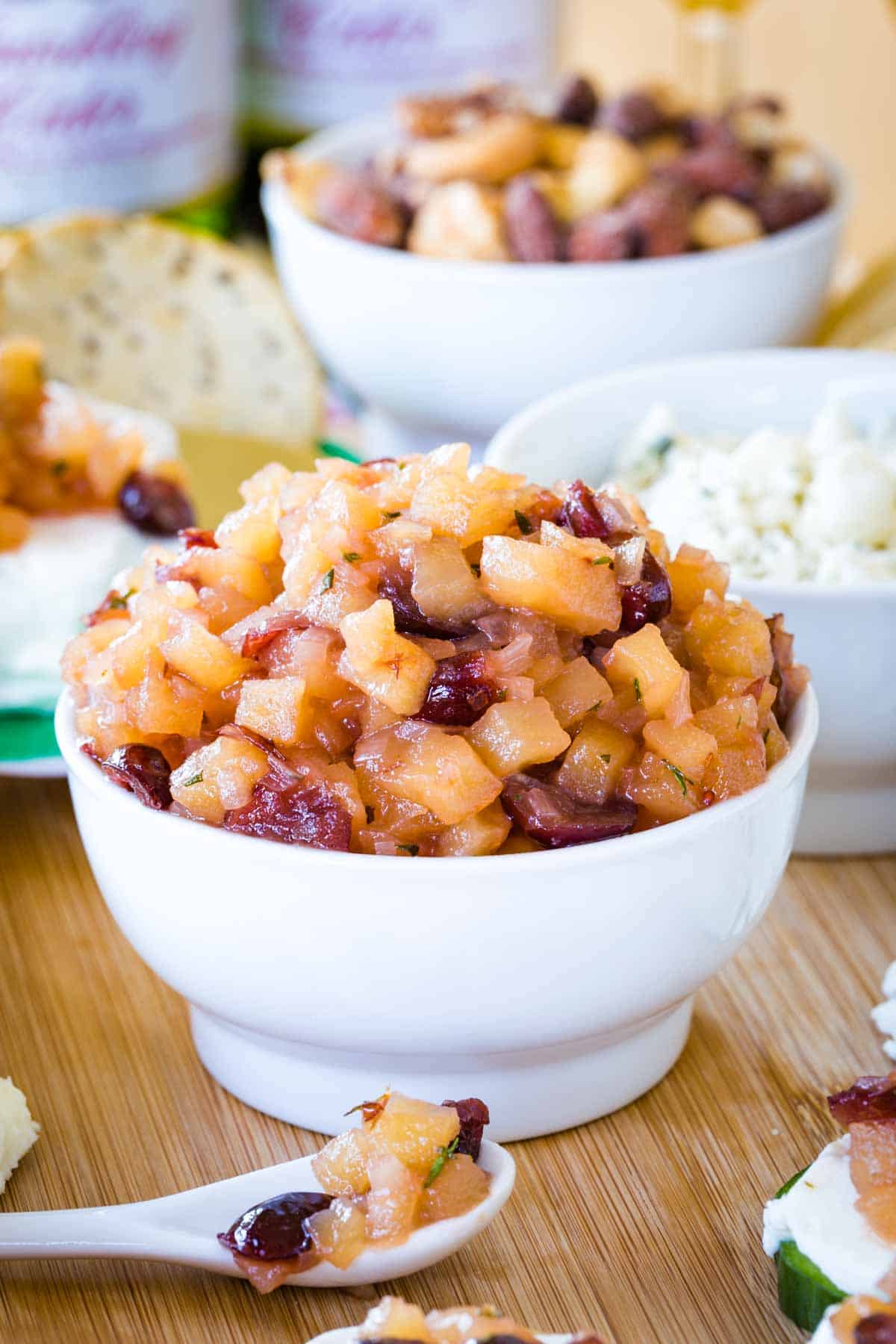 Want to chat with fellow foodies? Join my No-Fuss Food and Fun group on Facebook. Everyday we have fun topics, share recipes and ideas, ask and answer questions, and see all of my new Cupcakes & Kale Chips creations! If you'd like to check it out, you can request to join

HERE.
For more yumminess from me and my foodie friends, keep up with me on…
Or sign up to have Cupcakes & Kale Chips delivered straight to your Inbox!
A couple of things to help you make the Sparkling Cider Apple Chutney recipe:
[amazon_link asins='B000IBSNM8,B009P483I8′ template='ProductCarousel' store='cupkalchi-20′ marketplace='US' link_id='e48c6bda-e696-11e7-abac-03f1c65772ea']
Sparkling Cider Apple Chutney
An easy sweet and savory fruity topping with four serving ideas for appetizers, or to top chicken, pork, or salads.
Ingredients
For the chutney:
2

teaspoons

olive oil

1/4

cup

minced shallot

3

medium

apples,

peeled and chopped into about 1/4 inch cubes - I used Fuji)

1

cup

Martinelli's Sparkling Cider

or Sparkling Apple-Pear Juice

1

Tablespoon

honey

1

Tablespoon

apple cider vinegar

1/4

cup

dried cranberries

1

teaspoon

chopped fresh thyme

pinch

kosher salt
Serving Suggestions:
Brie Crostini

- toasted baguette slices with chutney, a slice of Brie cheese and chopped pecans

Appetizer

- Cucumber slices with goat cheese, chutney, and optional crumbled bacon, if desired

Blue Cheese Crostini

toasted baguette slices with chutney and crumbled blue cheese

Cheese Board

- Place chutney on top of a block of cream cheese and serve with crackers
Instructions
Add oil to a small saucepan and heat over medium-high heat.

Add the shallot and saute for a minute or two until translucent.

Stir in the chopped apple, Martinelli's Sparkling Cider or Juice, honey, apple cider vinegar, and dried cranberries, and bring to a boil.

Reduce heat to low and simmer, uncovered, for about 20-25 minutes or until the apples are soft and most of the liquid has evaporated.

Remove mixture from the heat, and stir in thyme and salt to taste.

Transfer to a bowl and chill in the refrigerator until ready to serve.

Serve according to the serving options above, create your own, or use to top chicken, pork, etc.
Nutrition Facts
Sparkling Cider Apple Chutney
Amount Per Serving (0.25 cup)
Calories 78
Calories from Fat 9
% Daily Value*
Fat 1g2%
Sodium 2mg0%
Potassium 102mg3%
Carbohydrates 18g6%
Vitamin A 50IU1%
Vitamin C 3.8mg5%
Calcium 6mg1%
Iron 0.2mg1%
* Percent Daily Values are based on a 2000 calorie diet.
Enjoy!