This post may contain affiliate links. Read my disclosure policy.
Candied Spiced Nuts make a deliciously sweet and savory holiday appetizer or snack with your favorite mixed nuts, a dash of cayenne, and warming cinnamon. Also a great edible gift idea!
Homemade Candied Nuts
A dish of spiced candied nuts feels like a ubiquitous holiday dish. And it's not hard to see why. These flavorful nuts make a great appetizer to tide guests over before dinner. Or to sprinkle over a Winter Salad loaded with pomegranate seeds and oranges. But the mixed nuts are also a great snack and a thoughtful homemade gift idea.
I love to make a big batch of these slightly spicy, sweet, and caramelized mixed nuts in mid-December. Then I'll divide them up in neat little gifting packages and hand them out to everyone. I also highly recommend keeping some spiced nuts in the freezer. They defrost quickly, so you can always reach for your stash to keep guests entertained before a meal.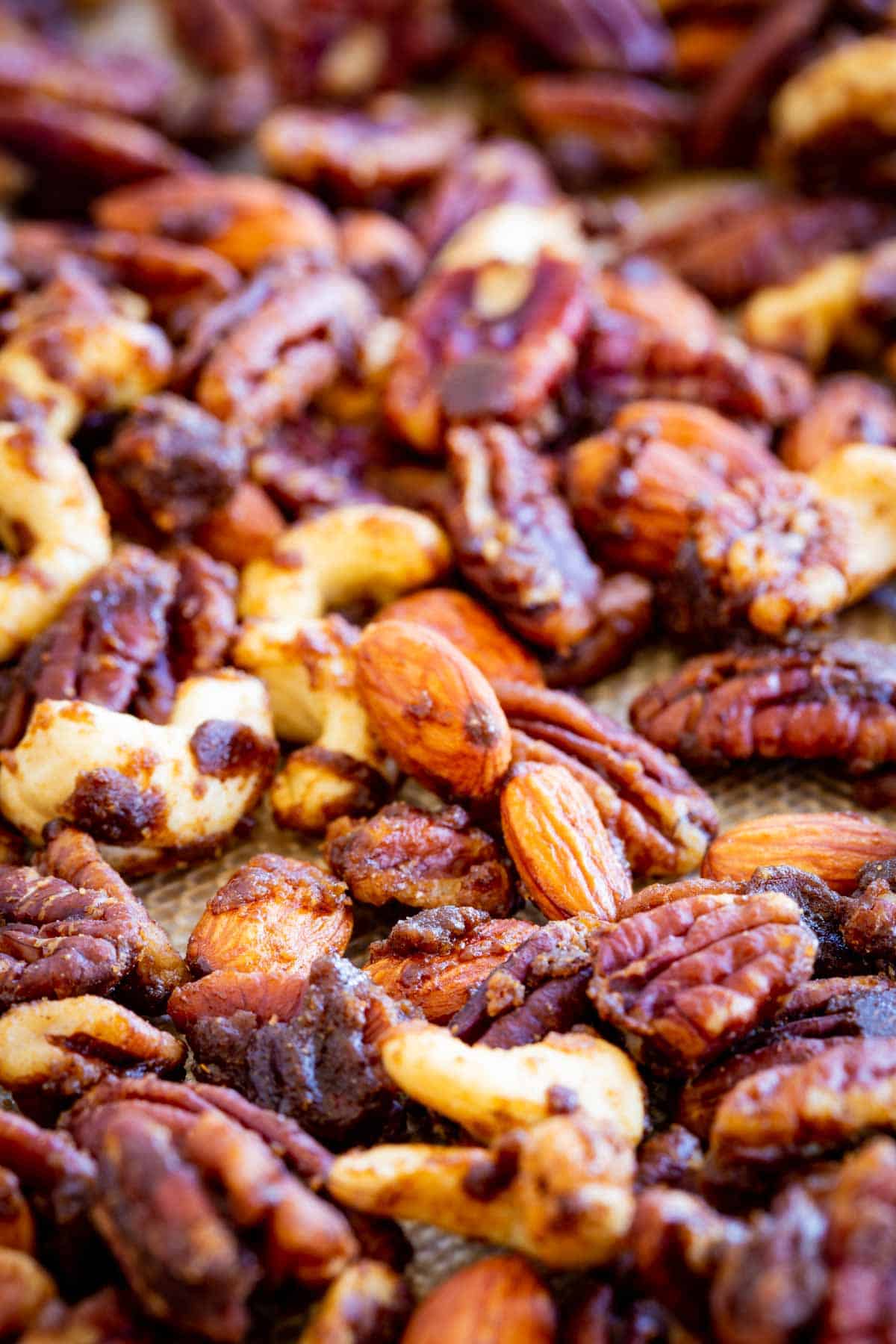 What You'll Need
The most important ingredients for this candied nuts recipe are the spices and butter to coat the nuts in a rich, flavorful glaze. When it comes to the nuts themselves, you can use any you like!
Here are the ingredients for holiday spiced nuts:
Cumin
Cayenne pepper. Feel free to use more cayenne for a spicier flavor.
Cinnamon
Mixed nuts. Make sure they're raw and unsalted. You can use a mixture of walnuts, pecans, hazelnuts, and almonds. Brazil nuts or cashews will also work!
Butter. Use unsalted butter.
Brown sugar. This adds a delicious caramelized flavor to the nuts.
Water
Salt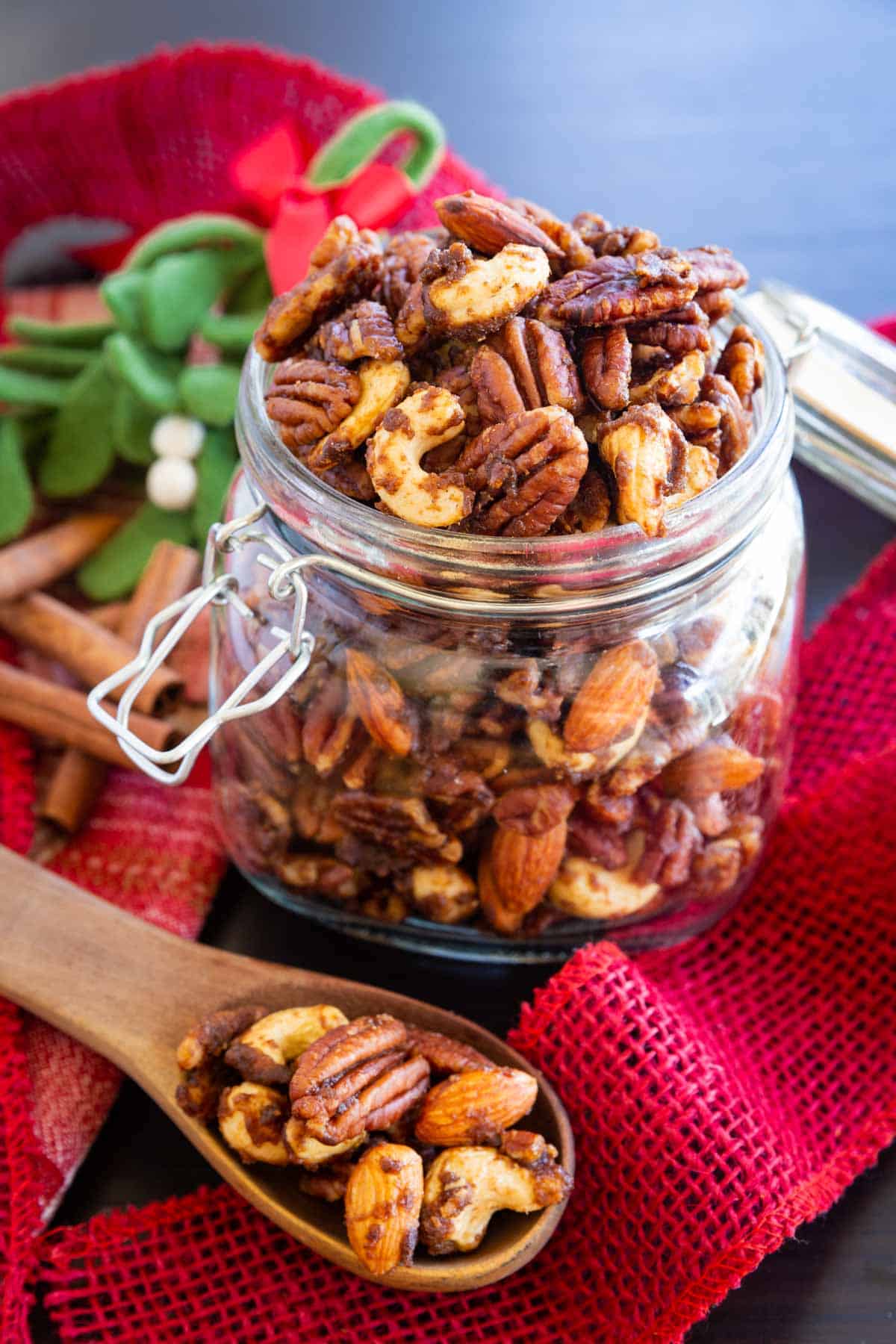 How to Make Spiced Candied Nuts
This toasted nuts recipe comes together in a skillet on the stove. Though you will need a parchment-lined baking sheet to dry the nuts and let them cool. This allows the sugar to harden so your nuts are dry and crisp. Here's how to make the best candied spiced nuts:
Prepare for cooking: Line a baking sheet with wax or parchment paper. Or use a silicone baking mat.
Make the spice blend: Combine the cumin, cayenne and cinnamon in a small bowl.
Toast the nuts: Heat a large skillet over medium-low heat. Add the nuts and stir them until they start to turn golden and you can smell their nutty fragrance, about 4 minutes.
Season the nuts: Add the butter to the skillet and cook for 1 minute, until the nuts start to darken in color. Then add the spice mixture, brown sugar, water and salt. Continue to cook and stir constantly, until the sauce thickens and coats the nuts. This takes about 5 minutes.
Cool the nuts: Remove the skillet from the heat and transfer the nuts to the prepared baking sheet. Use a fork to separate the nuts so they don't stick together. Let them cool for about 10 minutes until the sugar is hardened. Enjoy or store for later!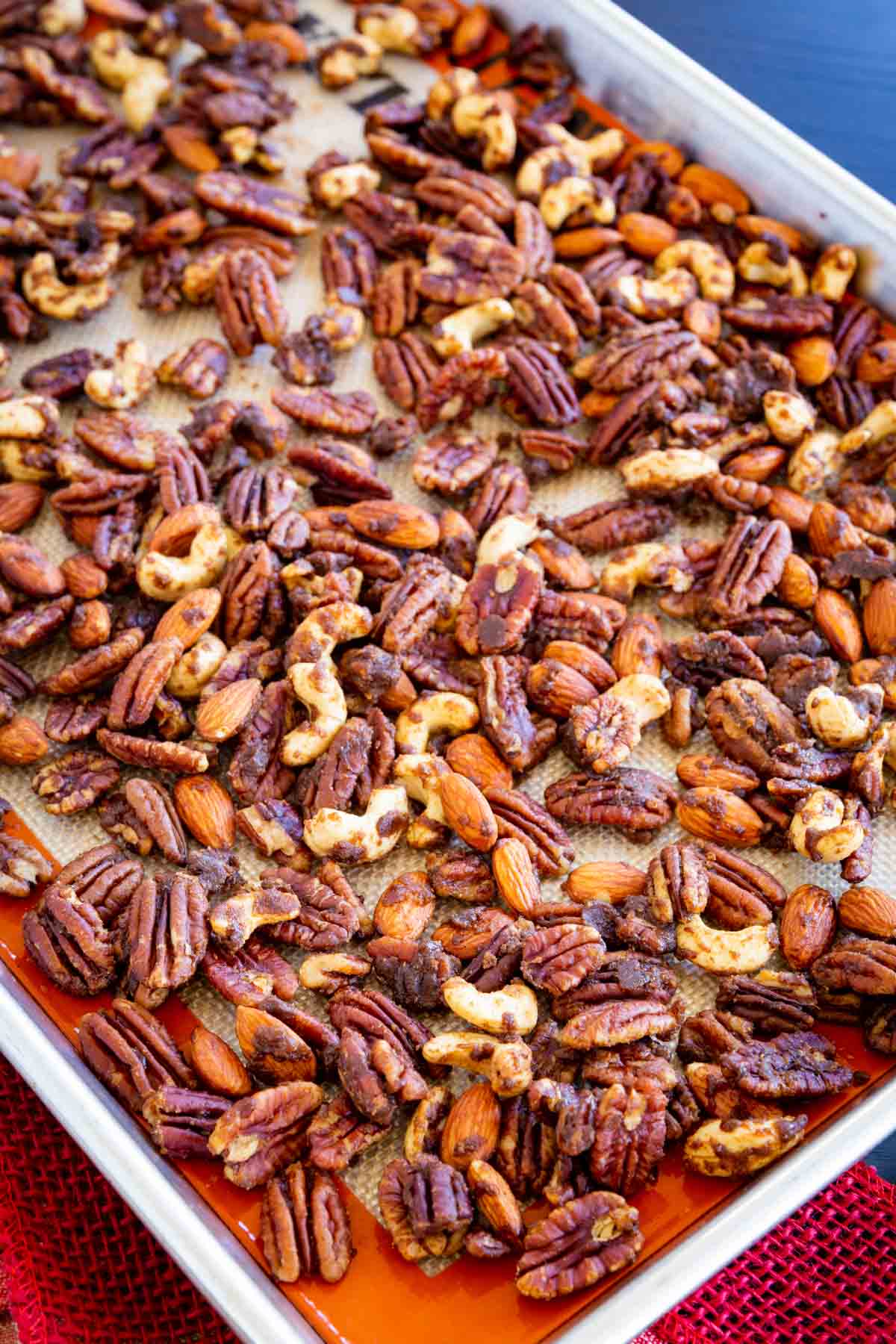 Tips for Success
This is a straightforward recipe that requires attention at the stove so you don't burn the nuts by accident. here are a few key tips for success when making this recipe:
Be sure to keep the heat no higher than medium-low. The nuts will start to color very quickly once they heat up, and that can turn to burning fast.
Use room-temperature butter so it melts quickly and evenly in the skillet to coat the nuts and start to brown.
If you notice things browning too fast, remove the skillet from the heat for a moment and reduce the heat on the stove.
Make sure the nuts are fully cool and dry before storing them. Otherwise, the sugar may never dry and you'll have wet, sticky candied nuts.
You can mix up the seasonings by addding more cinnamon if you like a warmer flavor, or more or less cayenne depending on your preference for spice.
How to Store
Store the fully cooled nuts in an airtight container at room temperature for up to one month.
Can I Freeze Candied Nuts?
Yes, in fact, freezing nuts will prolong their shelf life quite a bit. Because nuts have volatile oils in them, they can turn rancid fast. to prevent this, if you plan to keep your nuts for longer than a month, keep them in an airtight container or bag in the freezer for up to six months. That way, you'll always have a handy and gourmet appetizer to serve guests without any prep work.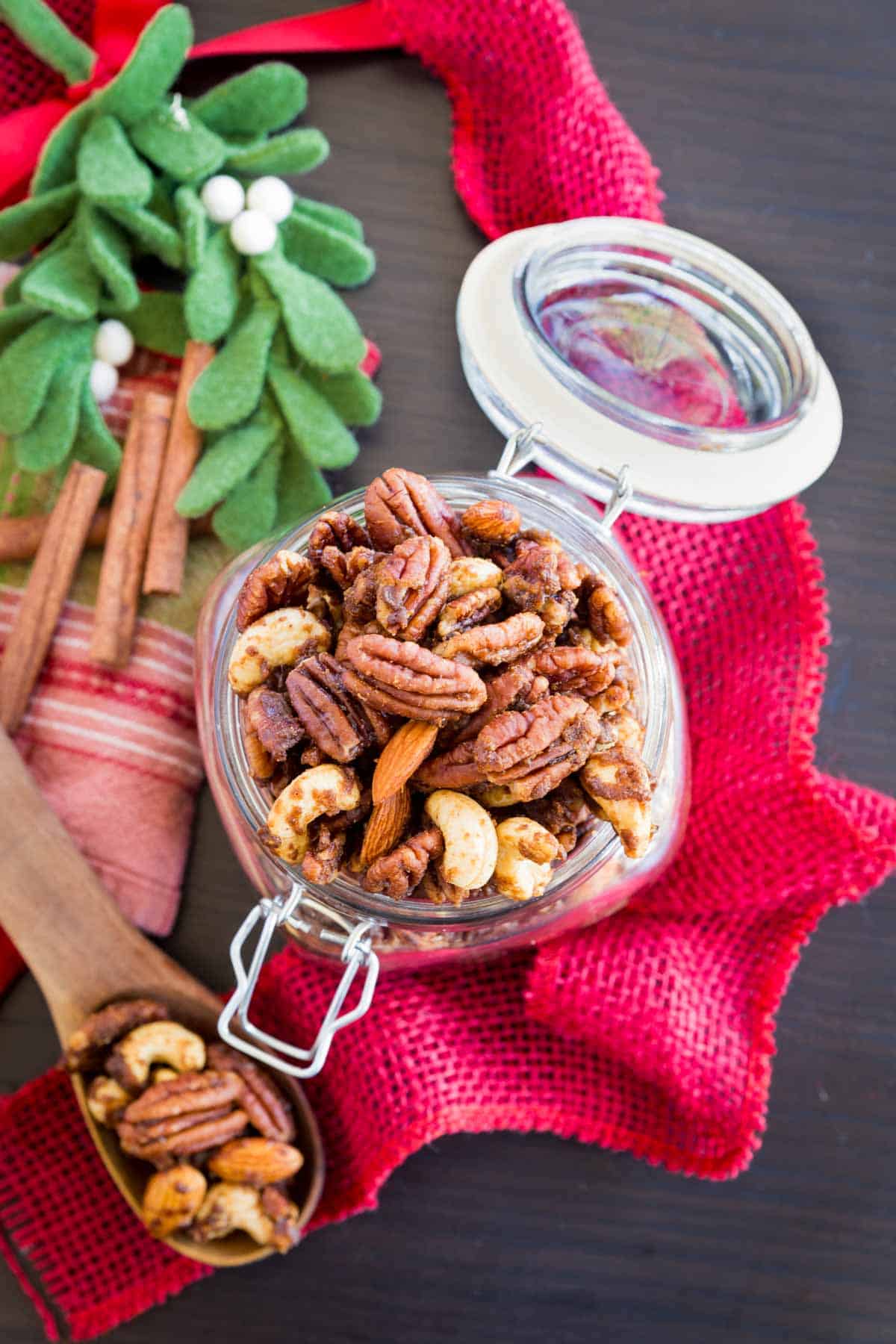 Holiday Gifting Idea
This spiced nut mixture makes a fantastic homemade holiday gift. I like to package the nuts into glass mason jars and add a red bow. You have an all-purpose gift that will be appreciated by everyone from your in-laws to your kid's teacher.
They are also great to package up with one of these holiday treats:
Shop the Recipe
Brianne Recommends
BAKING SHEETS – I love the ones from Nordicware and use them many times each week for everythign from roasted veggies and sheet pan meals to cookies and cakes.
SILICONE BAKING MATS – Great to have on hand for preventing cookies or candies nuts from sticking, or as a place to cool chocolate-dipped treats.
GLASS JARS – these jars with hinges are pratical and pretty for food gifts.
BURLAP RIBBON – a simple red bow with burlap ribbon gives it a rustic but elegant look that's so festive.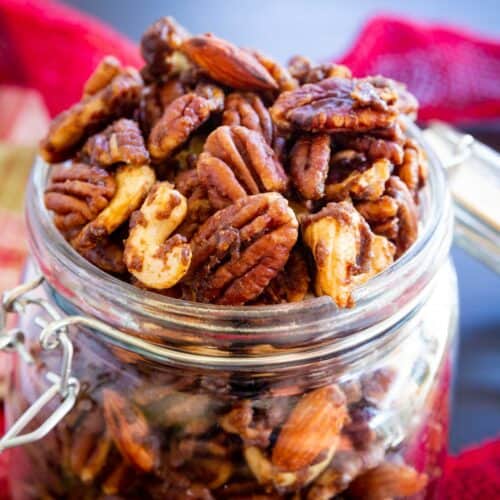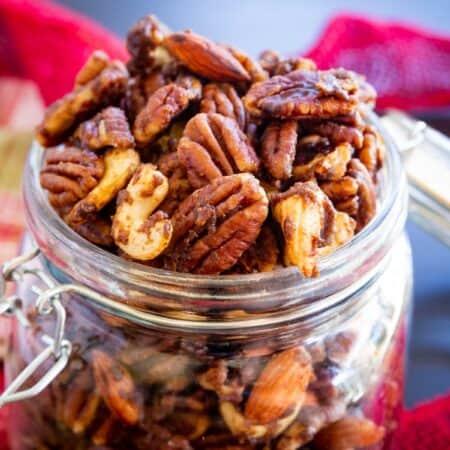 Candied Spiced Nuts
Candied Spiced Nuts are a favorite holiday appetizer or edible gift made with cayenne pepper and cinnamon.
Ingredients
1/2

teaspoon

ground cumin

1/2

teaspoon

cayenne pepper

1/2

teaspoon

ground cinnamon

4

cups

unsalted mixed nuts

(such as walnuts, pecans, hazelnuts, and almonds)

4

Tablespoons

unsalted butter

6

Tablespoons

brown sugar

1

Tablespoon

water

1

teaspoon

salt
Instructions
Line a baking sheet with wax paper or a silicone baking sheet.

In a small bowl, stir together the cumin, cayenne pepper, and cinnamon. Set aside.

Preheat a skillet over medium-low heat. Add the nuts and toast, stirring frequently, until they begin to turn golden and smell nutty and fragrant, about 4 minutes.

Add the butter and cook while stirring, until the nuts begin to darken, about 1 minute.

Stir in the spices, brown sugar sugar, water, and salt. Cook while stirring continuously, until the sauce thickens and the nuts are glazed, about 5 minutes.

Remove the nuts from the heat and transfer to the prepare baking sheet, separating them with a fork.

Let the nuts stand until cooled and the sugar has hardened, about 10 minutes. Store in an airtight container.
Notes
Recipe courtesy Emeril Lagasse, Emeril's Potluck, William Morrow Publishers, New York, 2004
Nutrition Facts
Candied Spiced Nuts
Amount Per Serving
Calories 257
Calories from Fat 189
% Daily Value*
Fat 21g32%
Cholesterol 8mg3%
Sodium 151mg6%
Potassium 224mg6%
Carbohydrates 14g5%
Protein 6g12%
Vitamin A 120IU2%
Vitamin C 1mg1%
Calcium 31mg3%
Iron 1mg6%
* Percent Daily Values are based on a 2000 calorie diet.
Categories:
More Nuts and Snack Mixes