This post may contain affiliate links. Read my disclosure policy.
Gooey Baked Brie Recipes are the best way to start any party. These cheesy appetizers are so easy to make with only a few ingredients and they are always a crowd-pleaser. Melty cheese with delicious toppings are perfect to pair with crackers, bread, chips, and even fruit and veggies to dip.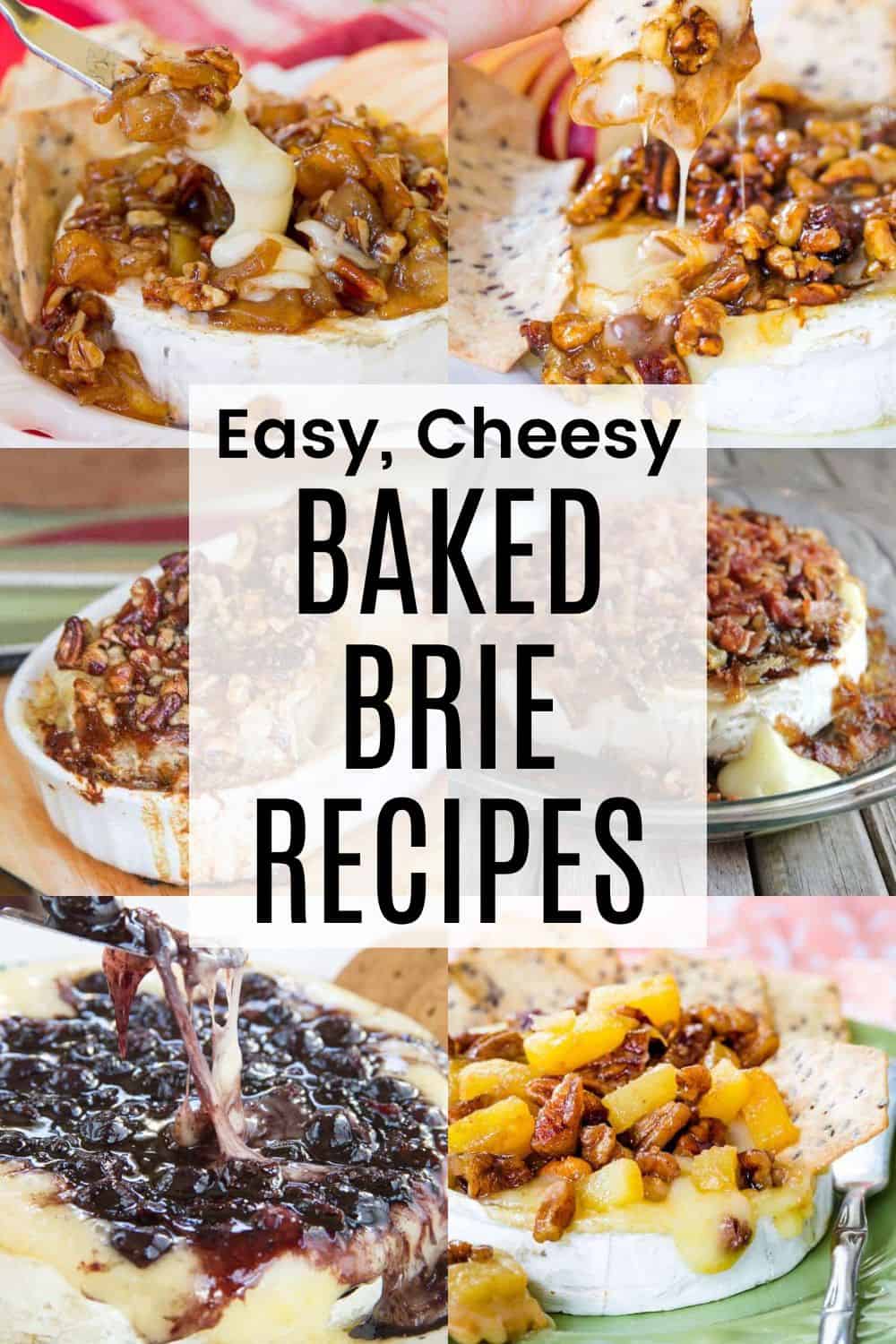 Baked Brie – The Best Appetizers
Let's get this party started! And one of the best ways to start a party is with appetizers. Especially cheesy ones. That's when baked Brie recipes come in!
The delicious toppings and ooey gooey melty cheese ensure that they are the first thing to disappear. Check out the video to see how easy they are to make…
What is Baked Brie?
Brie is a soft cow's milk cheese with a rind. When heated, it melts and you can use it for dipping things like crackers. That is why baked Brie is a popular party appetizer. It can be heated and topped with mixtures of fruit, nuts, herbs, jams, vegetables, or other ingredients. It can also be wrapped in phyllo dough, puff pastry, or crescent roll dough and baked, either on its own or again with a topping.
Is Baked Brie gluten free?
Generally, Brie cheese is considered gluten free. In the past, there were concerns that it might not be due to the source of the mold spores used to make Brie.
However, there has been repeated testing that shows Brie to have undetectable levels of gluten regardless of the source of the mold spores. If you have a severe sensitivity or are unsure, you might want to consult a doctor or avoid it altogether.
If you add a topping that does not have any gluten-containing ingredients, it will be gluten free. But if you wrap it in any of the doughs mentioned previously, it will not be gluten free unless you use a gluten free recipe.
Can you reheat Baked Brie?
Technically you can to rewarm the cheese and toppings. However, once it has been melted and cooled completely, it does not tend to achieve that same ooey gooey, molten consistency as it had previously. But it is still delicious.
Now let's get some new ideas…
---
10 of the Best Baked Brie Appetizer Recipes
Crunchy, creamy, and sweet, this is one of the easiest versions of this favorite appetizer with only four ingredients. Hot and gooey Brie cheese is topped with nuts coated in honey and a hint of cinnamon.
Get The Recipe
Topped with a balsamic-infused blueberry compote studded with crumbled bacon, you won't be able to resist this salty sweet combo. It's the kind of party food that sets hearts aflutter.
Get The Recipe
Juicy apples, crunchy pecans, and the perfect amount of cinnamon make this version of the appetizer extra festive. With just six ingredients and ready in minutes, this easy recipe is an instant hit at holiday parties!
Get The Recipe
You only need a handful of ingredients to make this caramelized pineapple and pecan topping with a hint of ginger. It's absolutely delightful and pairs well with holiday meals.
Get The Recipe
A fun take on that other "bloomin'" appetizer, but this one is sweet, savory, cheesy and creamy. Just cut off slices of the apple or scoop it onto crackers or bread.
Get The Recipe
Fill a large wheel of brie with cranberry sauce and pistachios, then wrap it in phyllo dough for a quick and easy holiday party appetizer. The crispy exterior is the perfect contrast to the melty middle.
Get The Recipe
Fresh tomatoes and basil loaded on top of delicious gooey brie will make this Bruschetta Baked Brie your favorite go-to easy party appetizer!
Get The Recipe
Topping your melty cheese with basil pesto and roasted garlic take sit to the next level. It's a deliciously savory option versus the usual sweet toppings.
Get The Recipe
Only five ingredients, ready in 35 minutes, and it's loaded with bacon. That makes it he perfect appetizer for having friends or over during the holidays or anytime you're craving something delicious.
Get The Recipe
Apricot preserves serve as the base, with pecans and dried cranberries to elevate the flavor, and add texture and sophistication. Perfect for parties or a romantic night in.
Get The Recipe
The flavor is really incredible, opting for savory toppings of garlic and bell pepper. There's a secret trick to infuse the whole wheel of cheese with tremendous flavor.
Get The Recipe