This post may contain affiliate links. Read my disclosure policy.
Pineapple Pecan Baked Brie is an easy party appetizer with festive flavors and only a handful of ingredients. In just a few minutes you can make this hot cheesy appetizer that will impress your family and friends. Because the holidays aren't complete without ooey gooey, melty cheese, just top warm Brie cheese with caramelized pineapple and pecans. Check out the video below to see how fast and simple it is to make one of the best gluten free appetizers. And make sure make sure this Pineapple Pecan Baked Brie recipe is part of your celebrations.
Disclaimer: This recipe was developed through a sponsored partnership with Dole Packaged Foods. As always, all opinions are my own.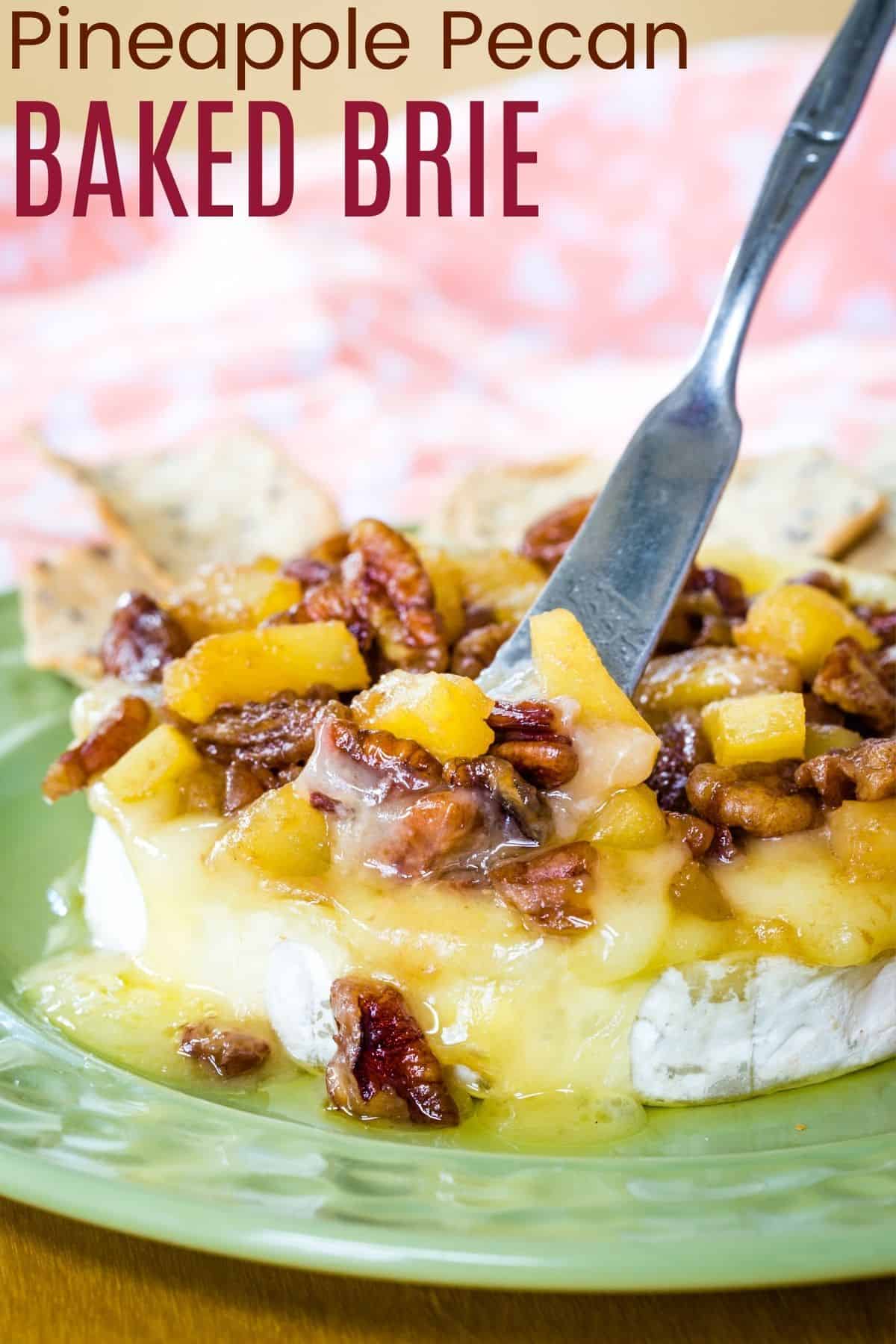 Guys, I'm going to tell you something and I don't know if this makes me an awesome wife and mom or a terrible one.
Despite trying to do most of my work during the week, one Saturday I really wanted to get some videos done. Both videos I wanted to shoot happened to be for baked Brie appetizer recipes. Past experience has taught me that as easy as the recipes are to make, shooting a video of this melty appetizer is not trivial. This is especially true when you are a one-woman operation.
The pineapple pecan topping takes literally minutes to make and the Brie is only in the oven a short while. You can easily manage this while making it for a party. However, it definitely requires a bit more choreography when you have to switch around lights and cameras and props.
Then let's talk about that money shot. You know the one. You'll see it in the video right above the recipe. It's the one where I sink a cracker into the the pool of gooey deliciousness. Then I pull it up and you see that sweet pineapple and those glazed pecans and that glorious, glorious cheese.
Oh gosh, I'm getting hungry just thinking about it. Well yes, that requires an entirely different camera and lighting and prop setup. And I have to get all that in place while the Brie cheese is at the ideal temperature to achieve the perfect cheese pull.
Plus, I had to do this twice since I was also making my Honey Nut Baked Brie. By that time, I honestly didn't even want to cook a real meal. I'll give you one guess what we had for dinner.
And I'm not even sorry…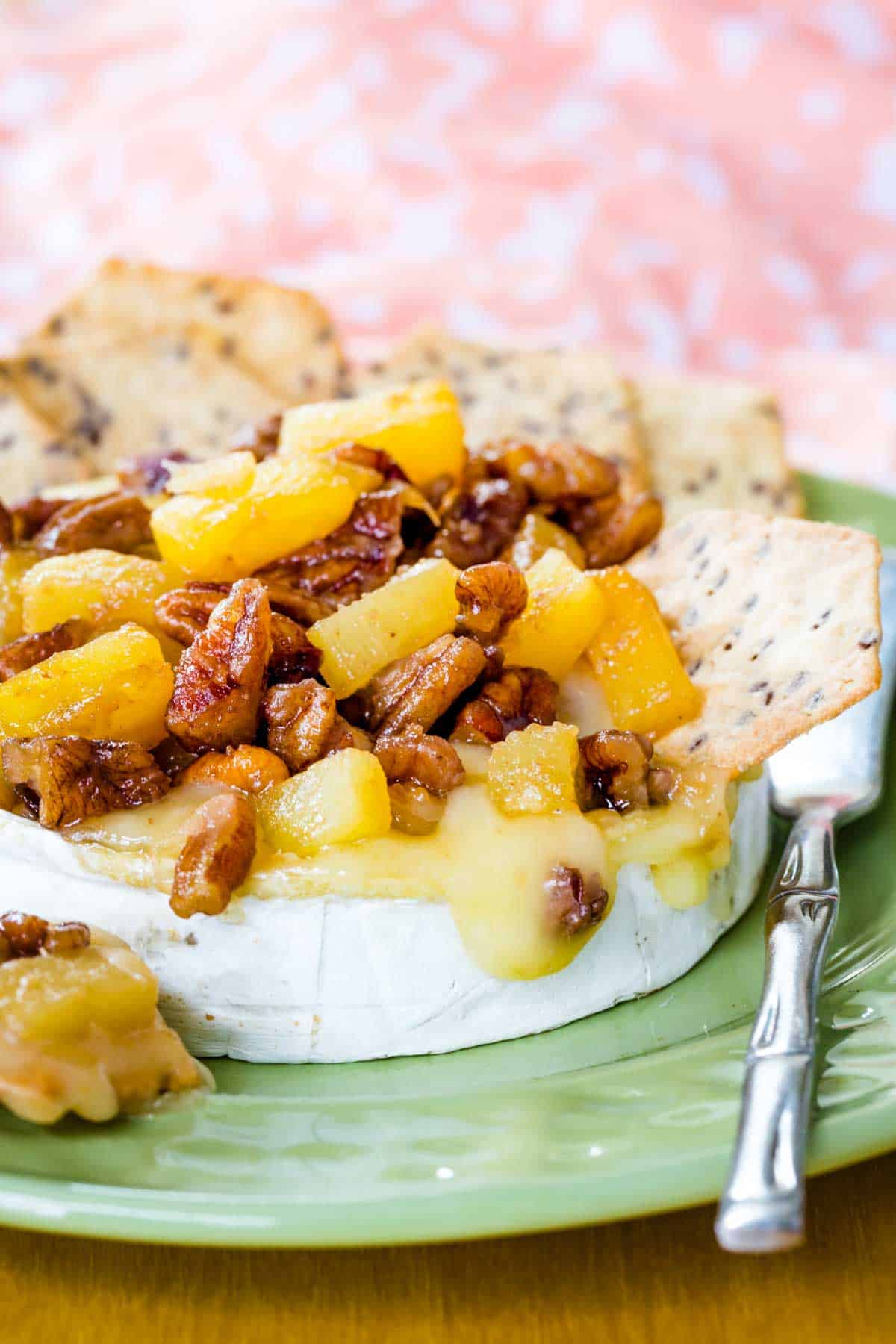 Pineapple Pecan Baked Brie Cheese Appetizer Recipe
So basically, what makes the video a challenge is what makes the recipe so easy. You have to make it fast, and I guarantee your guests will devour it even faster! I'm definitely a sucker for a good baked Brie recipe. It's one of my favorite things to serve when I have friends over. And my family loves to snack on it while waiting for a holiday meal to be ready.
Then a couple years ago I made Pineapple Pecan Glazed Green Beans. I just loved the festive flavor and contrasts in texture it gave the beans by adding pineapple, pecans, and just a bit of ginger. So I decided to combine the two into one holiday party snack that is sure to be a hit.
How to Make Pineapple Pecan Baked Baked Brie:
Using a small paring knife, score the top rind about a half inch from the edge and place it in the oven.
While it is in the oven, prepare the topping.
First, drain a can of Dole Pineapple Tidbits in 100% Juice and reserve the juice.
Then you start by simply toasting pecans in a pan. Add pineapple, brown sugar, a bit of ground ginger, and some of the reserved pineapple juice. Cook until it thickens and everything is nicely glazed.
Once the Brie is nice and oozy, you can just peel off the top rind and top it with the caramelized pineapple and pecans.
How do you serve Pineapple Pecan Baked Brie?
As soon as you take the Brie out of the oven, you'll want to put it right onto your serving plate. Immediately top it with the glazed pineapple and pecan mixture. If you think you will need to keep it warm a little longer, you can even bake it in a glass pie plate or some other oven-safe platter or dish and keep it right on the warm dish. Then just surround it with all of your dipping options.
The most common thing to use for scooping up the cheese and topping are crackers. I prefer to use a sturdier cracker so it doesn't crumble with the toppings.
You can also slice baguette, and even toast it if that is what you prefer. You may want to put a small spreader with the Brie to scoop and spread it on the bread.
For a gluten free option, apple or pear slices or even carrot sticks also work nicely.
Why do I love Dole Packaged Foods?
I am proud to be partnering with Dole Packaged Foods to create recipes featuring their highest quality, GMO-free fruits and veggies. I love Dole Pineapple Tidbits in 100% Juice for adding something sweet and juicy to my holiday dishes. And since the fruit is packed in 100% juice, I know that I'm adding an ingredient I can feel good about!
All throughout the year I keep Dole products in my pantry or freezer to have on hand to add to everything. I use it in meals and snacks like Pineapple Coconut Energy Balls, plus appetizers and desserts like Gluten Free Pineapple Upside Down Cake for Two. You'll also often find them in #BugsLunchbox. I am thrilled to share ways to use their products to make it easy to get more fruits and veggies in your diet in a no-fuss way. Find out more about their products by following Dole Sunshine on Facebook, Twitter, Instagram, and Pinterest.
Is Pineapple Pecan Baked Brie gluten free?
In the past, concerns were that Brie might not be due to the mold spores used to make Brie being grown on wheat or rye. However, scientists have done more testing recently. Results show Brie to have undetectable levels of gluten regardless of the source of the mold spores. As always, I caution that if you have a severe sensitivity or are unsure, you should consult a doctor or avoid it altogether.
While some recipes do call for wrapping Brie in phyllo or another type of dough that does contain gluten, this recipe has no other gluten-containing ingredients. So it is gluten free. Just be sure to enjoy it with fruit slices, carrot sticks, or gluten free crackers.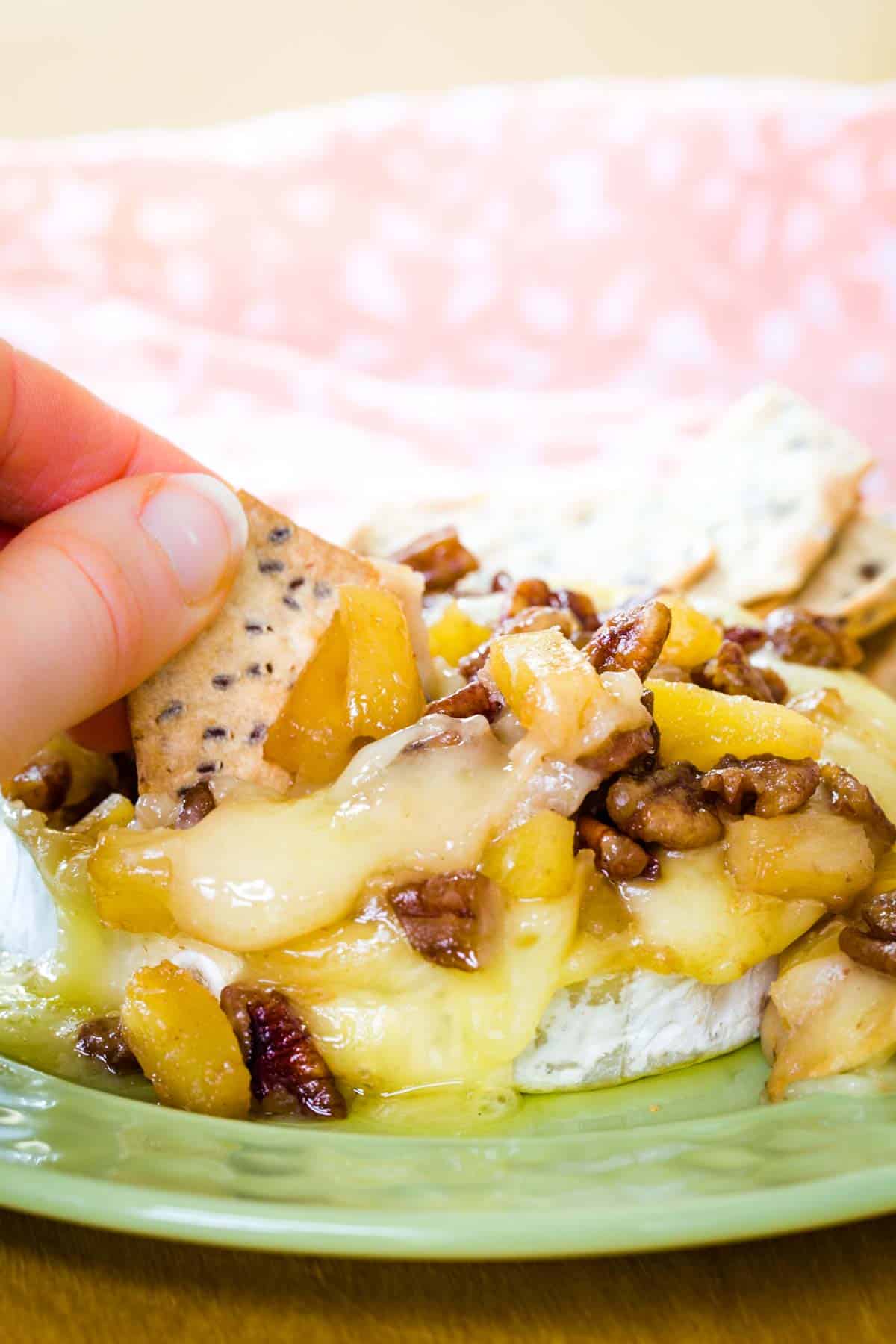 For more yumminess from me and my foodie friends, keep up with me on…
Or sign up to have Cupcakes & Kale Chips delivered straight to your Inbox!
What other holiday appetizers can you make with Dole Pineapple Tidbits?
Pineapple Pecan Baked Brie Recipe
If your friends and family love sweet and savory or ooey and gooey, then this is the appetizer for them. With juicy pineapple and crunchy pecans caramelized with a bit of ginger and piled on top of a wheel of melted Brie cheese, I guarantee they will be weak in the knees. There are so few ingredients and quick and easy preparation. So this is the perfect appetizer recipe to add to any party menu. It is simple and sure to impress!
I hope you'll leave a comment and give it a FIVE STAR rating or share a photo on this pin on Pinterest!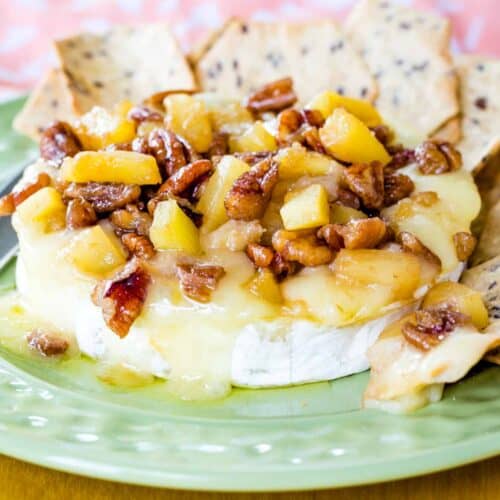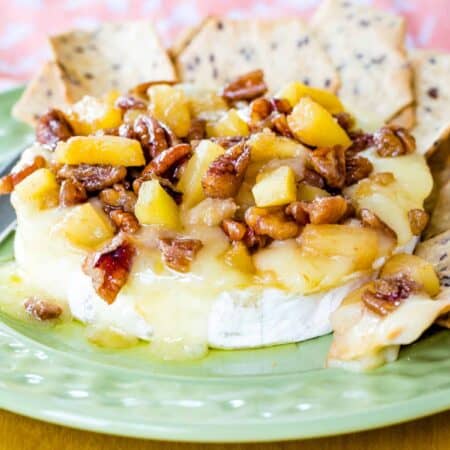 Pineapple Pecan Baked Brie
Melty Brie cheese is topped with caramelized pineapple and pecans for an easy party appetizer that everyone will love.
Ingredients
8 

oz. 

round of Brie cheese

1/4

cup 

chopped pecans

1/2

cup

Dole Pineapple Tidbits

in 100& Pineapple Juice, drained and juice reserved

1 

Tablespoon 

brown sugar

2

Tablespoon

reserved pineapple juice

1 

pinch 

salt

1/4 

teaspoon

ground ginger

crackers, sliced baguette, apple slices

, etc. for serving
Instructions
Preheat oven to 350°F. Place brie round on baking sheet. With a sharp knife, cut into the rind on the top of the brie about a quarter inch from the edge. Do not remove the rind. Bake 15 minutes, or until cheese is soft and melted.

Heat a small saute pan over medium heat and add the pecans, toasting until they slightly brown and give off a nutty aroma.

Add the pineapple, brown sugar, pineapple juice, salt, and ginger to the nuts and stir to coat.

Let it bubble until thickened and the pineapples and pecans are glazed.

Remove the Brie from the oven and place on a serving plate. Peel the rind from the top of the Brie and pour the pineapple pecan mixture over the top of the Brie.

Serve with crackers, sliced baguette, apple slices, etc. for dipping
Nutrition Facts
Pineapple Pecan Baked Brie
Amount Per Serving (1 g)
Calories 88
Calories from Fat 54
% Daily Value*
Fat 6g9%
Cholesterol 14mg5%
Sodium 113mg5%
Potassium 61mg2%
Carbohydrates 4g1%
Protein 3g6%
Vitamin A 95IU2%
Vitamin C 1.8mg2%
Calcium 32mg3%
Iron 0.2mg1%
* Percent Daily Values are based on a 2000 calorie diet.
Enjoy!