This post may contain affiliate links. Read my disclosure policy.
Baked Brie with Bacon Balsamic Blueberries is the kind of ooey gooey, sweet-and-savory appetizer that will set hearts aflutter! This swoon-worthy party snack is topped with a delicious bacon blueberry jam and is amazing to serve with crackers, apple slices, or crostini for easy dipping. Guests adore this easy gluten free appetizer recipe that's perfect for the holidays!
Baked Brie with Homemade Bacon Blueberry Jam
I'll admit it: parties have never been my strong suit (show of hands for those who can relate?). That being said, cooking for parties is another story altogether! Whatever I may lack in hostess skills, I believe I make up for in other ways, especially when it comes to providing deliciously melty Baked Brie recipes.
I've gone classic with Caramelized Apple Baked Brie. Given things a bit of tropical flair with Pineapple Pecan Baked Brie. And then there's perhaps my piece de resistance: Baked Brie with Bacon Balsamic Blueberries!
A simple mixture of blueberries and balsamic vinegar is simmered together while a wheel of baked Brie cheese is baked to melty perfection in the oven. Add just a bit of crispy bacon for the perfect amount of smoky/salty flavor, serve next to crackers for dipping, and you have a cheesy holiday appetizer worthy of any special occasion.
This baked Brie recipe has a delectable combination of rich and savory flavors, with the perfect amount of tangy sweetness from the homemade blueberry balsamic reduction. Easy, cheesy, and outrageously delicious – just the way a baked brie recipe should be.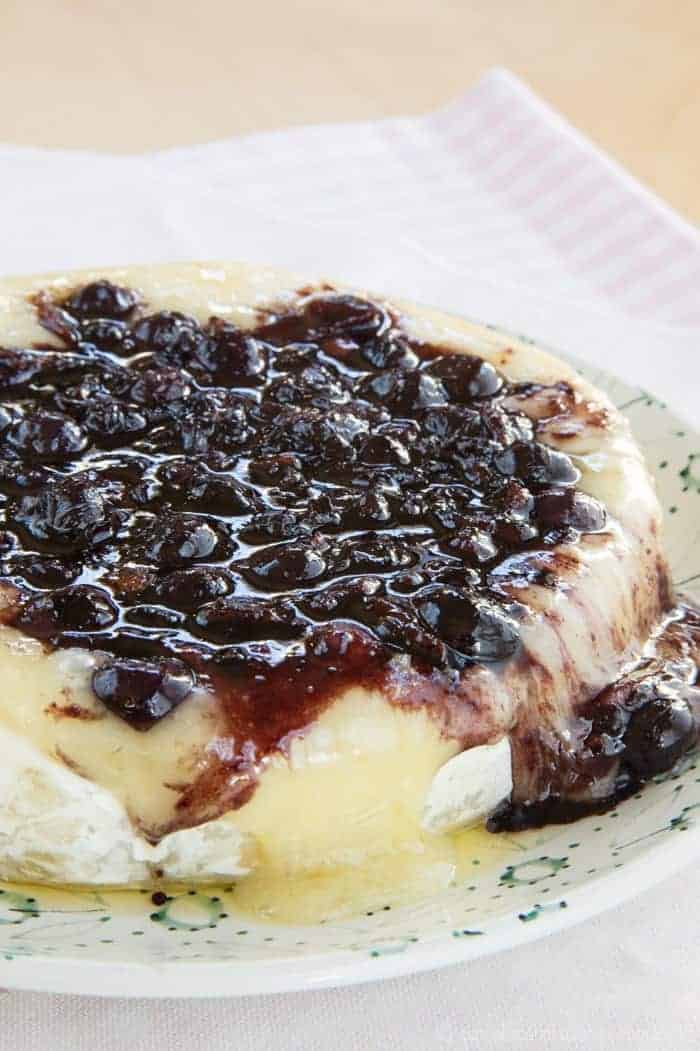 What You'll Need
The list is small but the flavors are larger than life! You only need a handful of ingredients for this simple recipe for baked brie with balsamic blueberries.
Brie Cheese: A large wheel of Brie is best. I go big or go home with the larger 17oz wheels of Brie that you often find at Costco. This recipe makes enough topping to cover a Brie of that size perfectly!
Bacon: Diced bacon or pancetta for the blueberry topping. Bacon is optional if you want to make this baked Brie recipe vegetarian-friendly.
Blueberries: Frozen blueberries are easy to cook down for the topping. Fresh blueberries also work however, if you have them available.
Balsamic Vinegar: Brings a special tanginess to the bacon blueberry jam that really takes the flavors up a level.
Maple Syrup: The real and natural kind, and not pancake syrup!
Cinnamon
Shallot
Crackers, Apple Slices, Crostini: For Serving
Do You Take the Rind Off Brie Before Baking?
The rind will help keep the cheese together as it melts, and is best left on! Score the top of the Brie wheel for easy removal after baking, and leave the rest of the rind intact.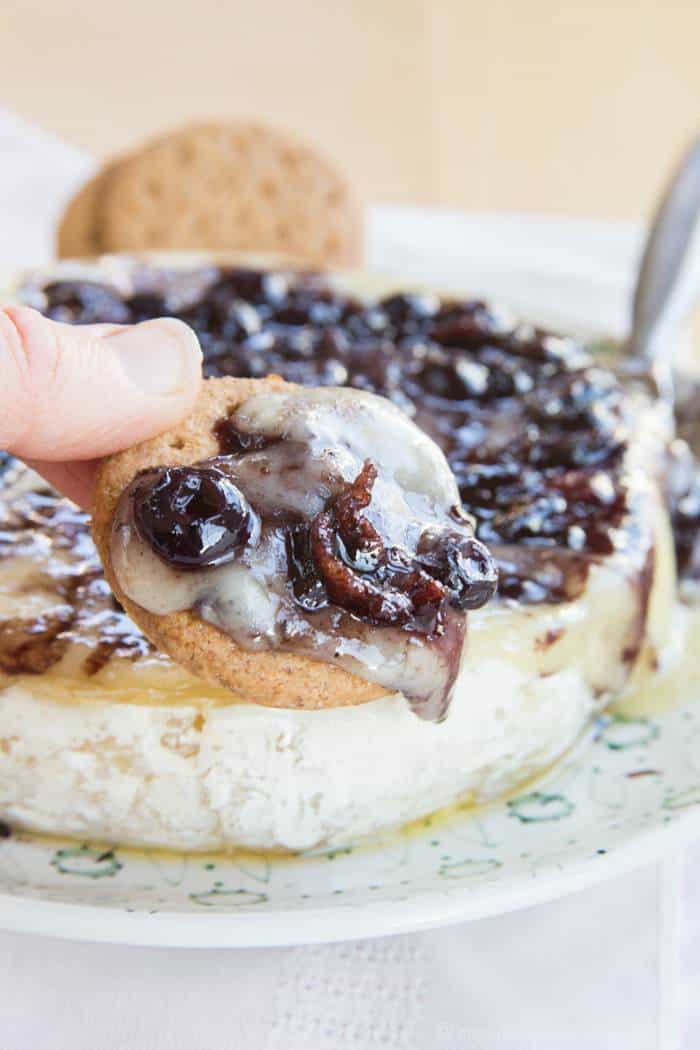 How to Make Baked Brie with Bacon Blueberry Jam
Bake the Brie: Have your Brie wheel ready to bake in an oven-safe tray or dish. Score around the top of the Brie using a small knife, and then bake in a preheated oven at 350°F for about 15 minutes. You'll remove the top of the rind after the Brie is finished baking.
Cook the Bacon: While the Brie is in the oven, prepare the ingredients for the topping. In a skillet, first cook the diced bacon until crispy, and keep it aside.
Make the Balsamic Blueberry Topping: In the same skillet, saute the shallot in a bit of the leftover bacon grease. Add the blueberries and balsamic vinegar into the pan, followed by the maple syrup and cinnamon, and simmer everything on low until you have a jammy texture. Lastly, you'll remove the skillet from the stove and stir in the bacon.
Pour the bacon blueberry topping over top of the prepared Brie, and serve immediately with your choice of crackers, bread, or fruit slices for dipping!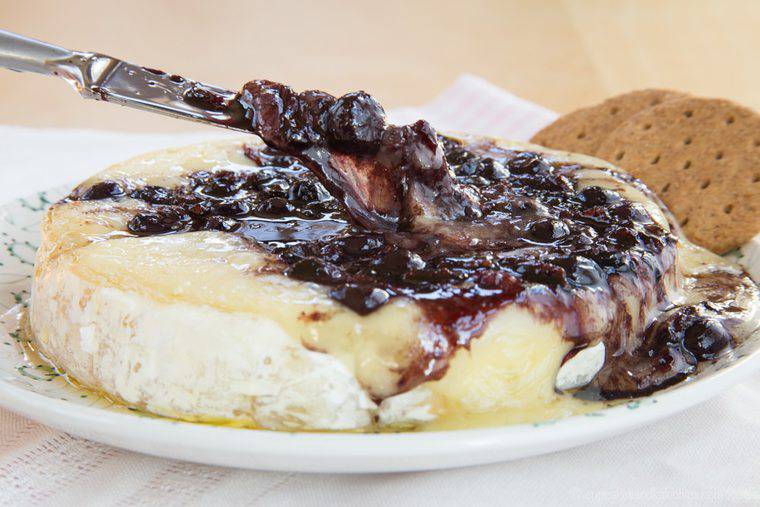 Tips for Success
Adapt to Different Sized Brie Wheels: If you can't find a large wheel of brie, you can add more berries to one of the smaller rounds from the grocery store. Alternatively, use half of the topping and save the rest for another time or recipe. It's delicious on top of grilled chicken marinated in Balsamic Blueberry Dressing.
Serve Right Away: Baked Brie is best served immediately after baking. While it can be rewarmed, cheese that has melted and cooled completely won't really achieve the same melty consistency as before. Still delicious, but different in texture.
Make it Vegetarian: As mentioned, you can make this recipe vegetarian by skipping the bacon and cooking the shallot in a tablespoon of olive oil instead.
Variation Ideas
A simple wheel of Brie cheese is the best blank canvas for all kinds of delicious ingredients – give these other variations a try at your next holiday party.
Other easy topping ideas include:
Honey & Fresh Thyme
Caramelized Onions
Fruit Preserves
Chili or Bacon Jam
What Goes with Baked Brie?
I love to serve this easy baked Brie appetizer whenever I entertain throughout Thanksgiving and Christmas holidays and beyond. It goes amazingly well with dishes like Honey Mustard Chicken Bites, Honey Glazed Walnuts, this Pineapple Ham Cheese Ball, and so many other easy Gluten Free Appetizers.
If served as part of a larger cheese board, the flavors of this Blueberry Balsamic Baked Brie also pair nicely next to blue cheese, gryuère, and sharp cheddar.
How to Store and Reheat Extras
Leftover Baked Brie can be stored in the refrigerator in an airtight container for 2-3 days before the texture and flavor will go downhill. Make sure the cheese is completely cool before storing!
To reheat baked Brie in the Oven, place the Brie cheese in an oven-safe dish and bake at 300°F until heated through.
If you're reheating using a Microwave, heat the Brie for a minute or so, or until it begins to bubble slightly.
Can I Freeze Baked Brie?
You can freeze both unbaked and baked Brie in a pinch – since freezing fresh Brie cheese will alter the texture and flavor a bit, it's recommended to only freeze Brie that will eventually be melted or cooked. Lucky for us, that's exactly what a baked Brie calls for!
To freeze Brie (baked or unbaked) for a later time, wrap the wheel tightly in double layers of plastic wrap or aluminum foil, and seal it in an airtight ziplock freezer bag before placing it in the freezer for up to 2 months.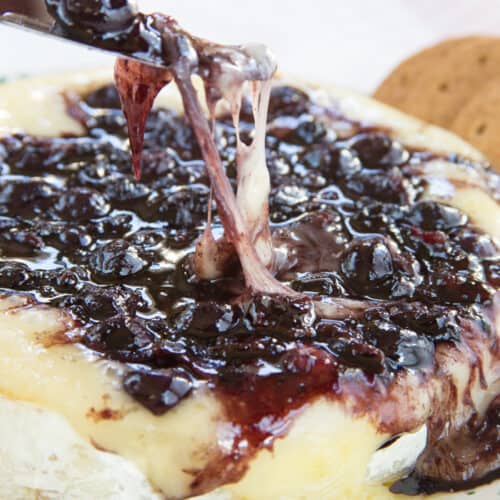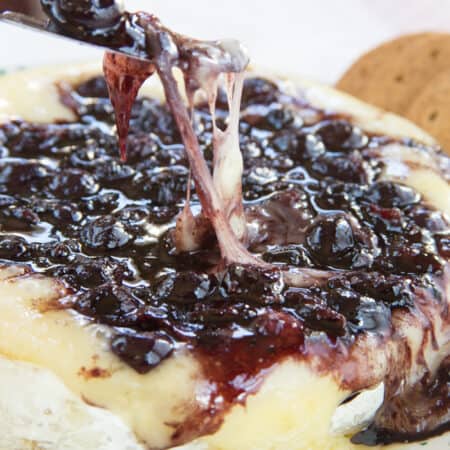 Baked Brie with Bacon Balsamic Blueberries
Baked Brie with Homemade Bacon Blueberry Jam is an ooey gooey, cheesy appetizer that's the ultimate combination of sweet and savory. A deliciously easy baked Brie recipe perfect for holiday parties!
Ingredients
17

oz

brie cheese*

4

slices

bacon

(see note)

1

shallot

minced (2 Tablespoons)

1

cup

frozen blueberries

(I used Mountain Peak Organic Blueberries from Cascadian Farm)

3

Tablespoons

balsamic vinegar

1

Tablespoon

pure maple syrup

1/4

teaspoon

cinnamon

Crackers, toasted baguette, apples, etc., for serving.
Instructions
Preheat oven to 350°F.

Place brie round on baking sheet. With a sharp knife, cut into the rind on the top of the brie about a quarter inch from the edge. Do not remove the rind.

Bake 15 minutes, or until cheese is soft and melted.

While the Brie is baking, in a skillet, cook the bacon until crispy. Remove bacon from the pan and place on paper towels. Leave about 1 Tablespoon of the bacon grease in the pan.

Reduce heat to medium low, add shallot and sauté for 1-2 minutes or until they become translucent.

Add the frozen blueberries, balsamic vinegar, maple syrup, and cinnamon to the pan, stir and bring to a simmer.

Reduce heat to low and simmer for about 8-10 minutes until the liquid is reduced and the mixture is thickened.

Remove from heat and stir in the bacon.

Move the hot brie to a serving plate. Carefully remove the top rind using a sharp knife to separate it, if needed.

Top brie with blueberry mixture and serve with crackers, baguette, apple, etc.
Notes
Recipe adapted from the U.S. Highbush Blueberry Council and RecipeGirl.
If you can't find a large wheel of brie (I bought mine at Costco), you could just have more berries on one of the smaller rounds from the grocery store, or use half and save the rest of the berry mixture for another use.
If you want to make this vegetarian, omit the bacon and use 1 Tablespoon of olive oil in the pan for making the topping.
Nutrition Facts
Baked Brie with Bacon Balsamic Blueberries
Amount Per Serving (2 Tablespoons)
Calories 128
Calories from Fat 81
% Daily Value*
Fat 9g14%
Cholesterol 31mg10%
Sodium 213mg9%
Potassium 70mg2%
Carbohydrates 2g1%
Protein 6g12%
Vitamin A 175IU4%
Vitamin C 1mg1%
Calcium 54mg5%
Iron 0.2mg1%
* Percent Daily Values are based on a 2000 calorie diet.
Categories:
More Easy Appetizer Dips
Whether you're craving cold or hot dip recipes, you can't miss out on these: