Balsamic Blueberry Baked Brie with Bacon
Balsamic blueberry baked Brie with bacon. All of those b words can't be wrong! This easy gluten free appetizer recipe is perfect for any occasion.
I don't know about you, but my heart goes all aflutter at the sight of ooey gooey cheese, especially when it's in a sweet and savory combination like this cheesy appetizer recipe. Dip some crackers, apple slices, or a spoon into this Balsamic Blueberry Baked Brie Recipe with Bacon.
Balsamic Blueberry Baked Brie with Bacon
Disclosures: This post is sponsored by Cascadian Farm. As a brand ambassador, I am being compensated for writing this post. As always, all opinions are my own. Also, there are affiliate links in this post, meaning that if you click and make a purchase, the cost to you is the same, but I will receive a few pennies. I use the money to help maintain this website and to bring you new recipes!
The other day I was reminded how socially awkward I truly am. On the morning radio show I listen to, they were talking about small talk, and I realized how I manage to screw up small talk in different settings. I make it through the "Hi, how are you, and how is your family?" stage, but beyond that, I'm kind of a bumbling fool, especially when I don't know people very well.
Sometimes I just don't say anything. I'll make a snap decision that I'm just not fitting in well, you know, as the science-geek-turned-food-blogger-recluse that I am. I used to spend my days mixing chemicals in a lab, and now I spend my days taking pictures of food and sharing it on social media and "talking" to my friends who live in my computer. So I just feel like I either stick out like a sore thumb or blend into the background totally unnoticed or totally uninteresting.
Worse than that is when I latch on to one thing someone says and then start rambling endlessly about myself, and then say something that is just weird or goofy or too much information or, heaven forbid, unintentionally offensive. I try to stop myself, but once I get going, well, it's just a slippery slope, and it's not until hours later that I realize I should have asked the person I was talking at something about themselves.
I think I just need more practice. Soooo, who wants to invite a social misfit to some parties? Any takers? I can bring food.
Because who needs small talk when you and other party guests can just gather around a dish of melted cheese…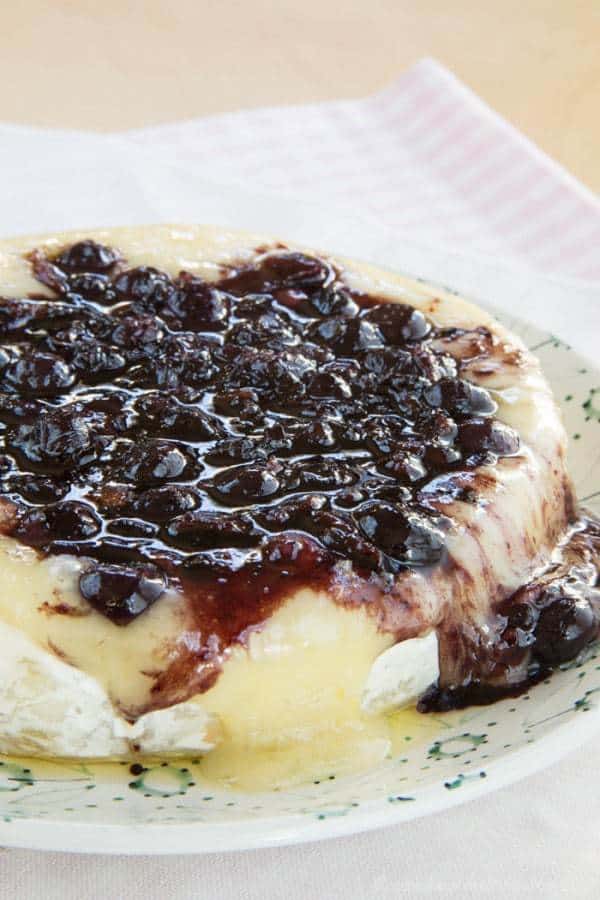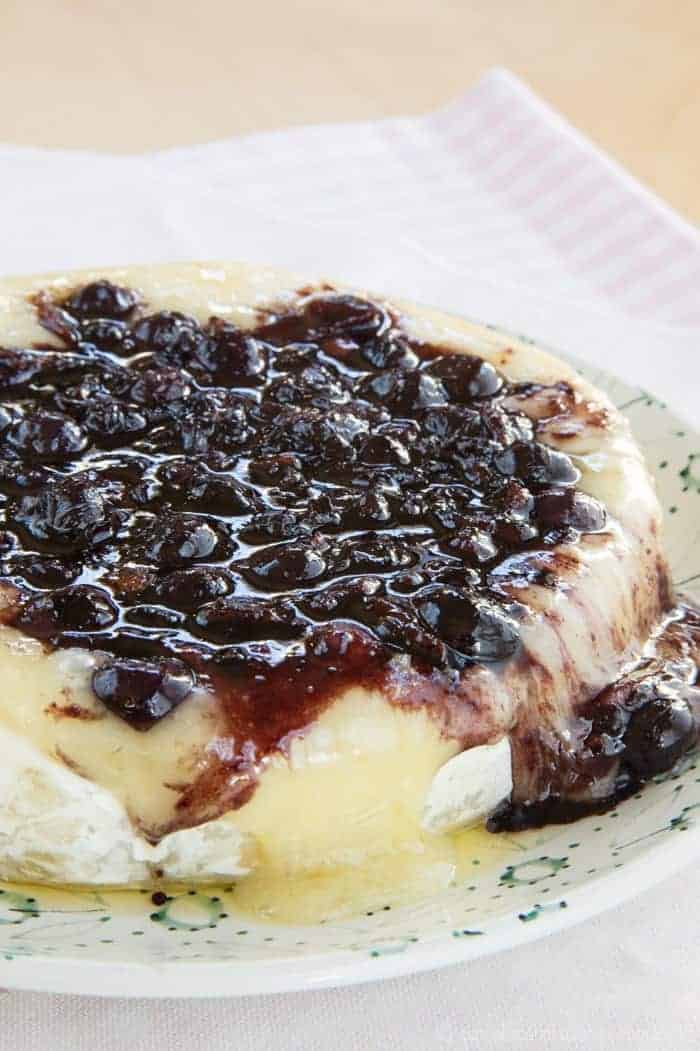 This Balsamic Blueberry Baked Brie Recipe is the perfect combination of rich and savory, with the perfect amount of tangy sweetness, and just a bit of smoked, salty bacon.
Because, well, duh, bacon. Sure you can spread it on some crackers, but I was literally eating it off a spoon. I actually even put it on some chicken I made for dinner. Oh wait, hmmm, maybe that's a future recipe idea.
[Tweet "Balsamic Blueberry Baked Brie Recipe with Bacon – just look at that cheesy goodness!"]
You guys, just look at that awesomeness…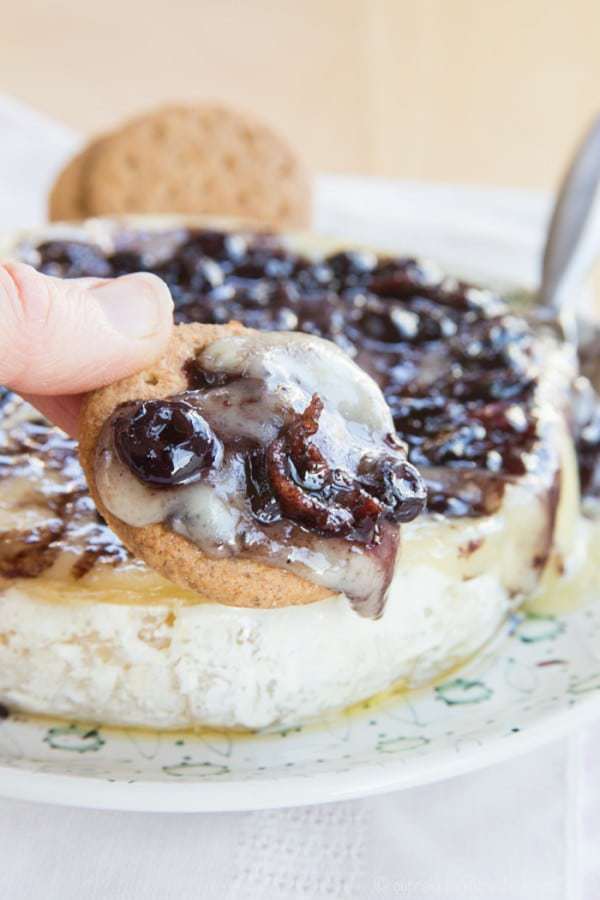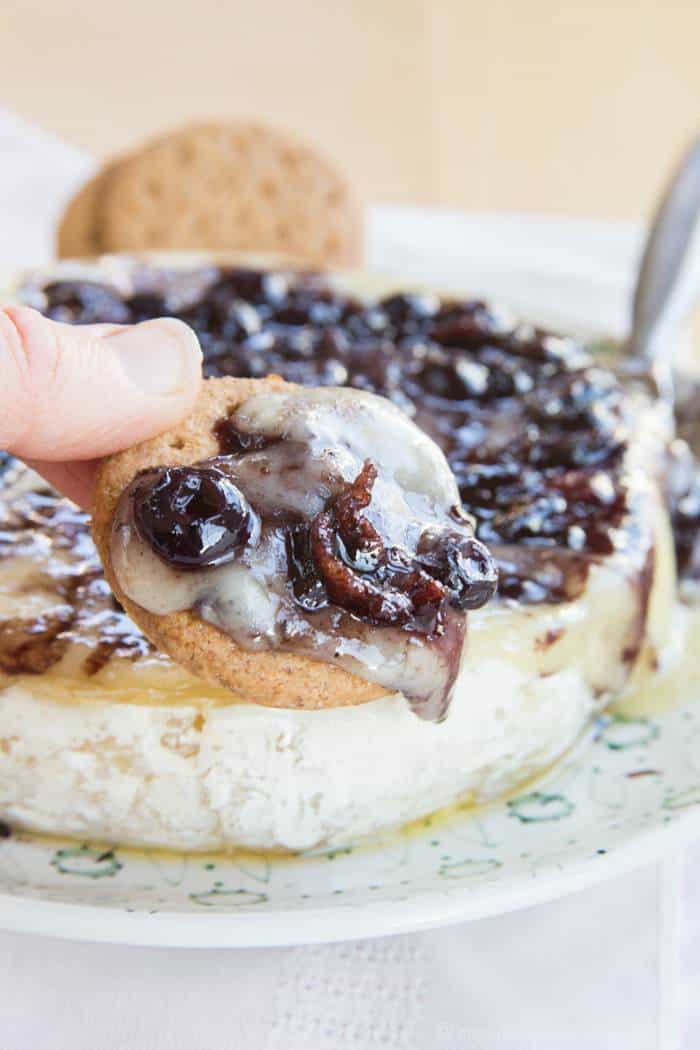 I used a technique for this baked brie recipe that I discovered from RecipeGirl when I was searching Pinterest. In my Honey Nut Baked Brie recipe, I prepare the topping, slice the top rind off of the brie, then put on the topping and pop it in the oven or microwave to get all gooey. In this case, I cut a circle in the top of the rind and bake it. While it is in the oven, I make the super easy blueberry bacon balsamic compote and just pour it over the top. Done and done.
And those blueberries, well they are pretty special too, because they are Mountain Peak Organic Blueberries from Cascadian Farm…
Found exclusively at Whole Food and grown on the Home Farm in Skagit Valley, WA, Mountain Peak Organic Blueberries are a combination of four varieties of berries that have been grown in that location for 25 years. This flavorful blend is frozen at the peak of freshness so that you can have the sweet flavor of these delicious berries any time of the year. Just look at those big, juicy berries…
Make sure you pick up some Mountain Peak Organic Blueberries the next time you are at Whole Foods so that you can make some smoothies, parfaits, and a platter of balsamic blueberry baked brie with bacon!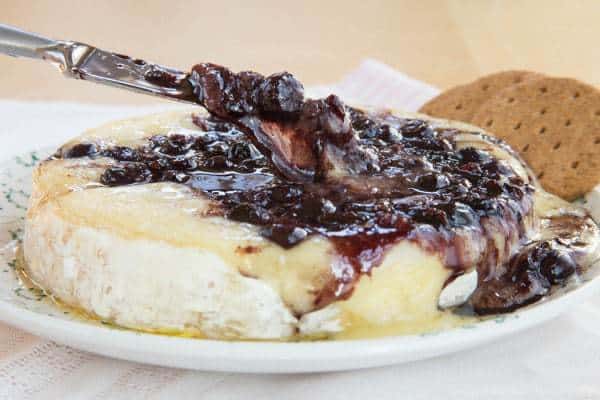 What are your tips for making small talk?
For more yumminess from me and my foodie friends, keep up with me on…
Or sign up to have Cupcakes & Kale Chips delivered straight to your Inbox!
A couple of things you may need to make this easy baked Brie appetizer recipe:
Products from Amazon.com
‹
›
Balsamic Blueberry Baked Brie with Bacon
An ooey gooey cheesy appetizer recipe with the perfect combo of sweet and savory.
Ingredients
1

large brie round

mine from Costco was 17.6 oz, though you could just have more berries on one of the smaller rounds from the grocery store, or use half and save the rest of the berry mixture for another use

3-4

slices

bacon

2

Tablespoons

shallots

minced

1

cup

frozen blueberries

I used Mountain Peak Organic Blueberries from Cascadian Farm

3

Tablespoons

balsamic vinegar

1

Tablespoon

pure maple syrup

1/4

teaspoon

cinnamon

Cracker

toasted baguette, apples, etc., for serving.
Instructions
Preheat oven to 350°F.

Place brie round on baking sheet. With a sharp knife, cut into the rind on the top of the brie about a quarter inch from the edge. Do not remove the rind.

Bake 15 minutes, or until cheese is soft and melted.

While the Brie is baking, in a skillet, cook the bacon until crispy. Remove bacon from the pan and place on paper towels. Leave about 1 Tablespoon of the bacon grease in the pan.

Reduce heat to medium low, add shallot and sauté for 1-2 minutes or until they become translucent.

Add the frozen blueberries, balsamic vinegar, maple syrup, and cinnamon to the pan, stir and bring to a simmer.

Reduce heat to low and simmer for about 8-10 minutes until the liquid is reduced and the mixture is thickened.

Remove from heat and stir in the bacon.

Move the hot brie to a serving plate. Carefully remove the top rind using a sharp knife to separate it, if needed.

Top brie with blueberry mixture and serve with crackers, baguette, apple, etc.
Check out my Pinterest board for more Appetizer Recipes!
Follow Brianne @ Cupcakes & Kale Chips's board Appetizer Recipes! on Pinterest.
Here are some more blueberry recipes…