Maple Walnut Sweet Potato Hummus
Sweet potato hummus with a twist from adding maple syrup and nuttty walnuts is a sweet and savory autumn twist on everyone's favorite dip. Perfect for lunch or a snack that's also gluten free and vegan, blend up a batch of Maple Walnut Sweet Potato Hummus.
Maple Walnut Sweet Potato Hummus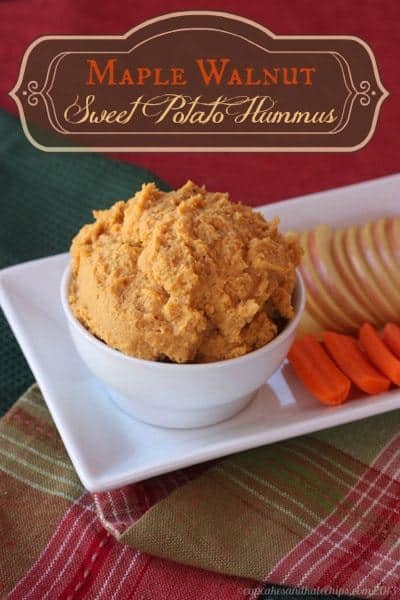 The Bug loves sweet potatoes.  He will devour an entire one with his dinner, and then ask for more.  As evidenced by how often this has been showing up in his lunch, he obviously likes this sweet potato hummus.  Of course that has absolutely nothing to do with the fact that I had to tweak the recipe a couple of times to get the flavor that I liked, so we had a couple of batches around.  But as I've mentioned, he loves chocolate and peanut butter even more.  One day he asked for a snack, and I offered something he had previously loved – apple slices with some of this Maple Walnut Sweet Potato Hummus.
He wanted peanut butter.  Well, chocolate and peanut butter, but that wasn't happening.  Anyways, I was already scooping this out, so I kinda sorta told him it was peanut butter.  He polished it off in minutes.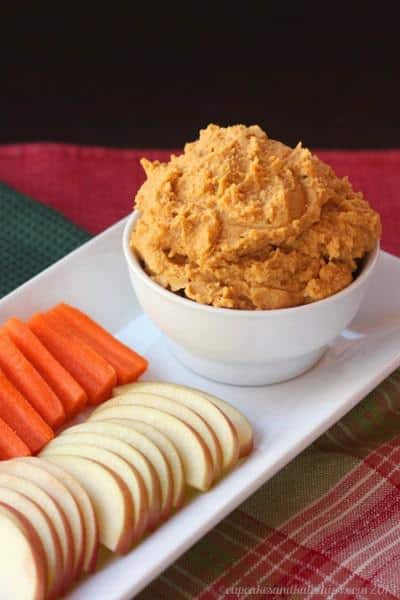 I told you I had to tweak the recipe.  At first, the flavor of the walnuts and olive oil overwhelmed the subtle sweet potato flavor and the hint of spices.  I cut down the walnuts and instead used some of the liquid from the can of chickpeas to make it creamy.  If you don't want to do that, you may just want to use a more neutral flavored oil, or perhaps walnut oil would be good, but I didn't have any.
But I think this is just the right balance, so that none of the flavors overpower the others.  The sweet potatoes and maple syrup give it just a hint of sweetness, and naturally you can always add more syrup if you want more.  There is the hint of nuttiness from the walnuts, and just a bit of your favorite fall spices to round it all out and enhance the sweet potato flavor.  And no, regardless of what the 3-year-old-peanut-butter-lover thinks, it does not taste like peanut butter.  In fact, I think it is actually reminiscent of pumpkin pie.
Pumpkin pie that you can eat by the spoonful and still call it healthy.  I'm in!
We've been enjoying Maple Walnut Sweet Potato Hummus on everything.
It's perfect with apples and carrots, spread on sandwiches and rice cakes, with some of the various flavors of tortilla chips that are out there, and scooped on salads.  But there is a hint of sweetness, so I don't see why you couldn't make it a sweeter snack, perhaps with some graham crackers.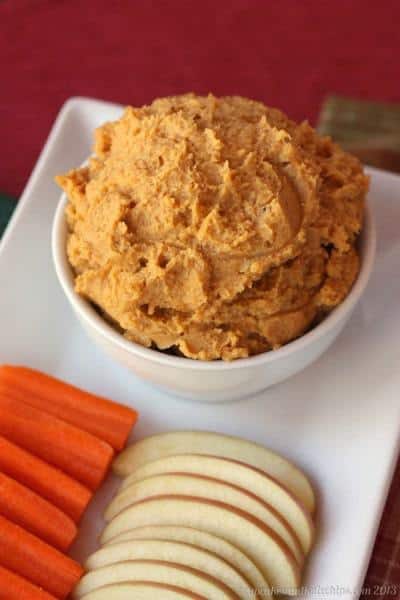 Want to chat with fellow foodies? Join my No-Fuss Food and Fun group on Facebook. Everyday we have fun topics, share recipes and ideas, ask and answer questions, and see all of my new Cupcakes & Kale Chips creations! If you'd like to check it out, you can request to join HERE.
For more yumminess from me and my foodie friends, keep up with me on…
Or sign up to have Cupcakes & Kale Chips delivered straight to your Inbox!
 Enjoy this Maple Walnut Sweet Potato Hummus recipe!
Maple Walnut Sweet Potato Hummus
A slightly sweet and nutty version hummus with just a hint of maple and a touch of your favorite autumn spices to enhance the sweet potato flavor.
Ingredients
one 15 oz can chickpeas, drained (reserve some of the liquid), rinsed and dried
About 1 cup mashed sweet potato from 1 medium sweet potato, baked, boiled or steamed until soft
1/4 cup chopped walnuts
1 Tablespoon maple syrup
1/2 teaspoon cinnamon
1/4 teaspoon ground ginger
2-3 Tablespoons reserved chickpea liquid and/or oil (I used 1 Tablespoon olive oil and another 1-2 Tablespoons of the liquid)
Directions
Combine all of the ingredients except the reserved liquid and/or oil in your food processor or blender and puree.
Continue to puree and add oil and/or reserved liquid slowly until you have achieved your desired consistency.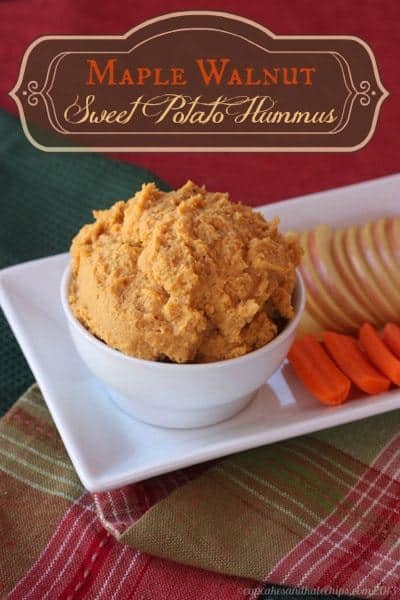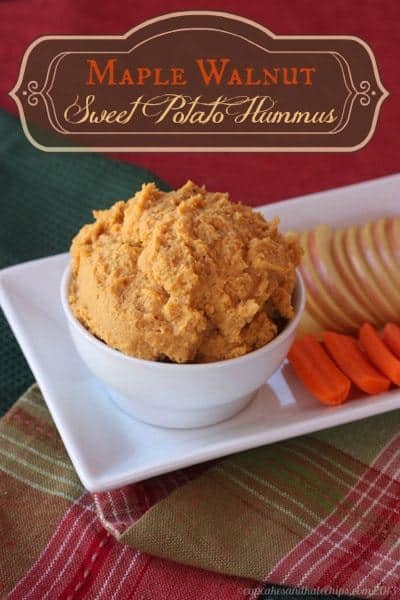 Loading nutrition data...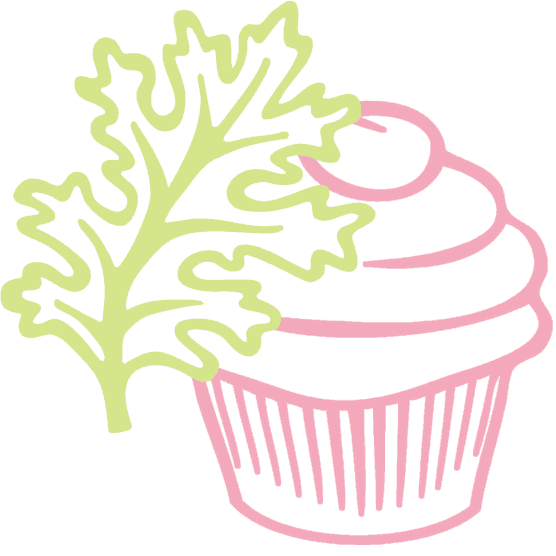 LOVE THIS RECIPE?
Give it a 5 STAR rating and share your photos on Instagram with the hashtag #CKCrecipes!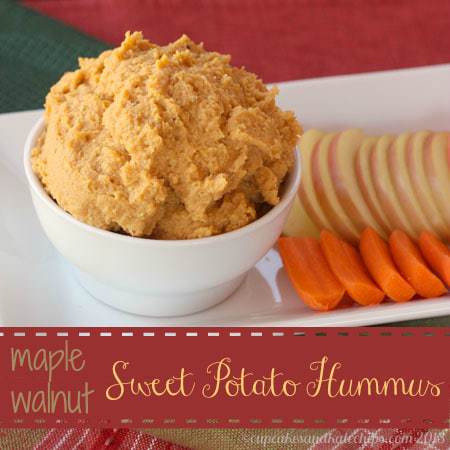 Here's a few more recipes you can make in a blender…
Plus some from my friends…