Pumpkin Black Bean Hummus
Disclosure: This post may contain affiliate links. Cupcakes & Kale Chips is a participant in the Amazon Services LLC Associates Program, an affiliate advertising program designed to provide a means for us to earn fees by linking to Amazon.com and affiliated sites.
Pumpkin Black Bean Hummus with smoky cumin, the zing of lime, and just a bit of spice is an easy and healthy black bean dip recipe that is perfect for fall. From an appetizer for tailgating and pumpkin carving parties to the kids' lunchbox or a healthy snack, get your veggies and chips ready to dip into this naturally gluten free and vegan black bean hummus recipe, just one of fall's best gluten-free pumpkin recipes.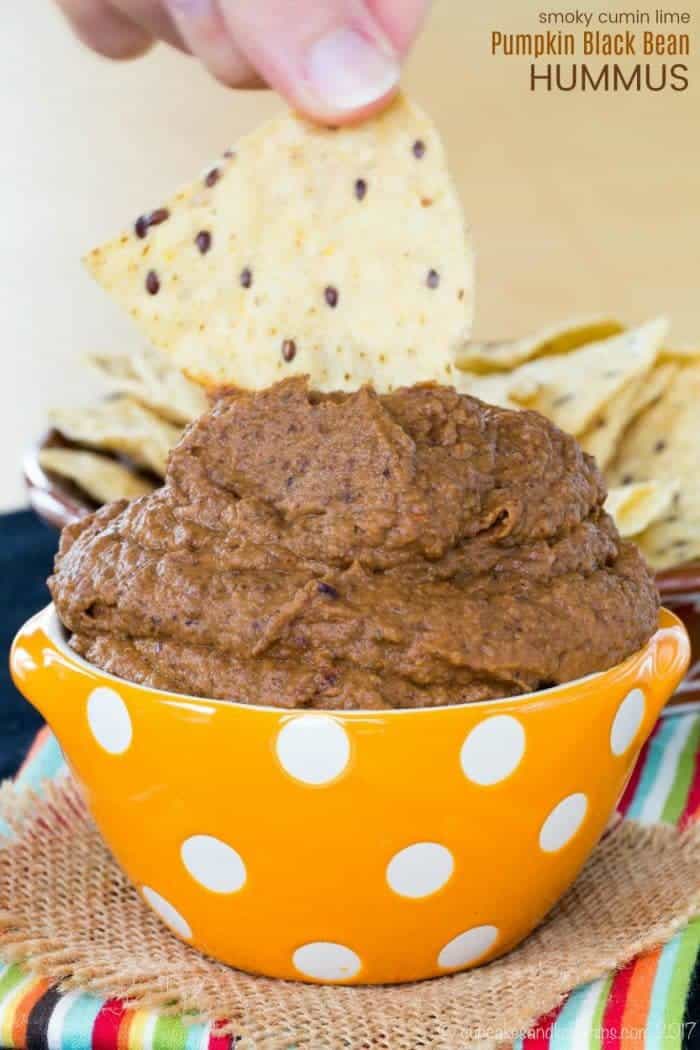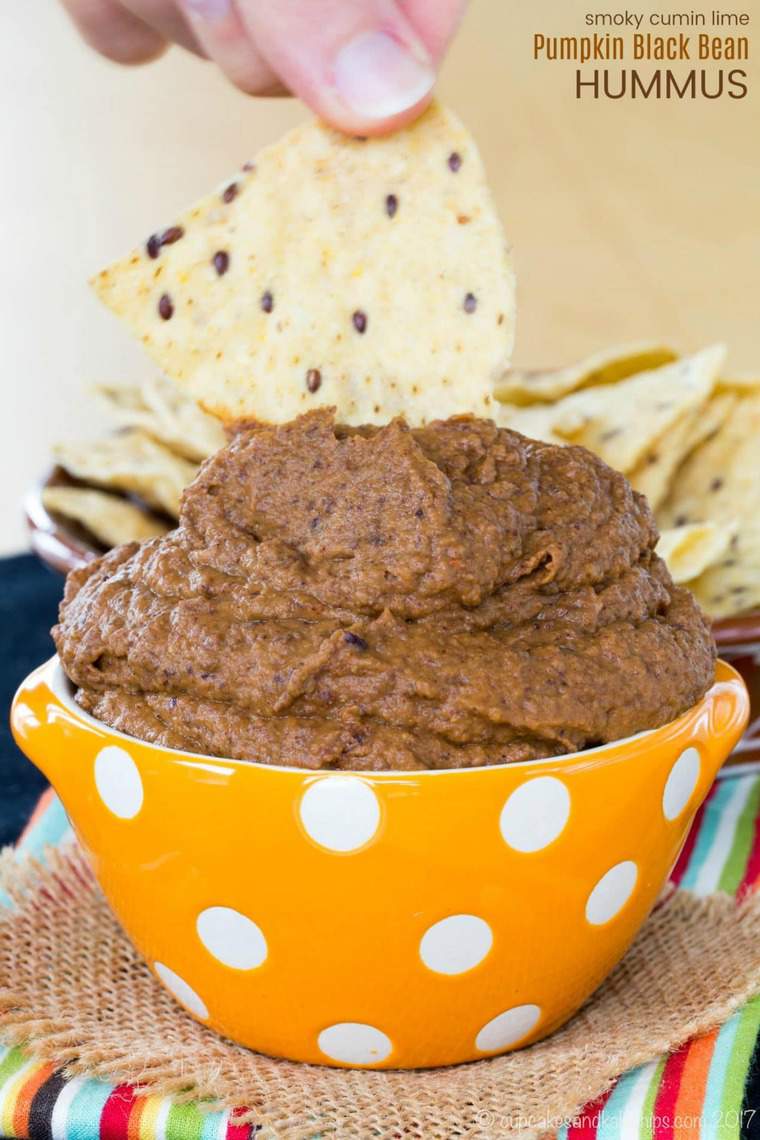 Smoky Cumin Lime Black Bean Dip with Pumpkin
Don't get me wrong, I like pumpkin. Give me my Mini Crustless Pumpkin Pies. Cut me a slice of pumpkin crumb cake. I'll even go the savory route with pumpkin cream sauce. But you've got to admit, the pumpkin craze is getting a bit out of control.

MY LATEST VIDEOS
Thank you Starbucks for really jump starting the trend with the Pumpkin Spice Latte. Now it's pumpkin everything. Pumpkin cream cheese. Pumpkin pasta. Pumpkin pop tarts. Pumpkin tortilla chips. Heck, half the stuff doesn't even have pumpkin, just that ubiquitous pumpkin spice. Pumpkin spice Peeps. Pumpkin spice pudding. And yes, there's even pumpkin spice toothpaste.
So several years ago I was at a little restaurant in Louisville, Kentucky, and they had a Pumpkin Black Bean Soup on the menu. I thought it might all be part of the trend, but I had to admit, I was intrigued. So I ordered it, and out came this steamy bowl of a weirdly orangy-brown soup. But the appearance did not do justice to this soup. It wasn't really spicy; there was just a little heat enhanced by the zing of some lime. But what really stood out was all the smoky cumin flavor. Cumin can be underappreciated or overdone, but in this soup, it was perfect. It was totally there, and totally complemented by the earty, savory flavors of the black beans and the pumpkin. We all know pumpkin works well with warm spices like cinnamon and ginger, but who knew it would be so perfect with chili and cumin. All this time later, I can't remenber the name of the restaurant, but I can't get that soup out of my head.
Guys, I totally forgive them for jumping on the pumpkin bandwagon.
And I figure, if you can't beat 'em, join 'em…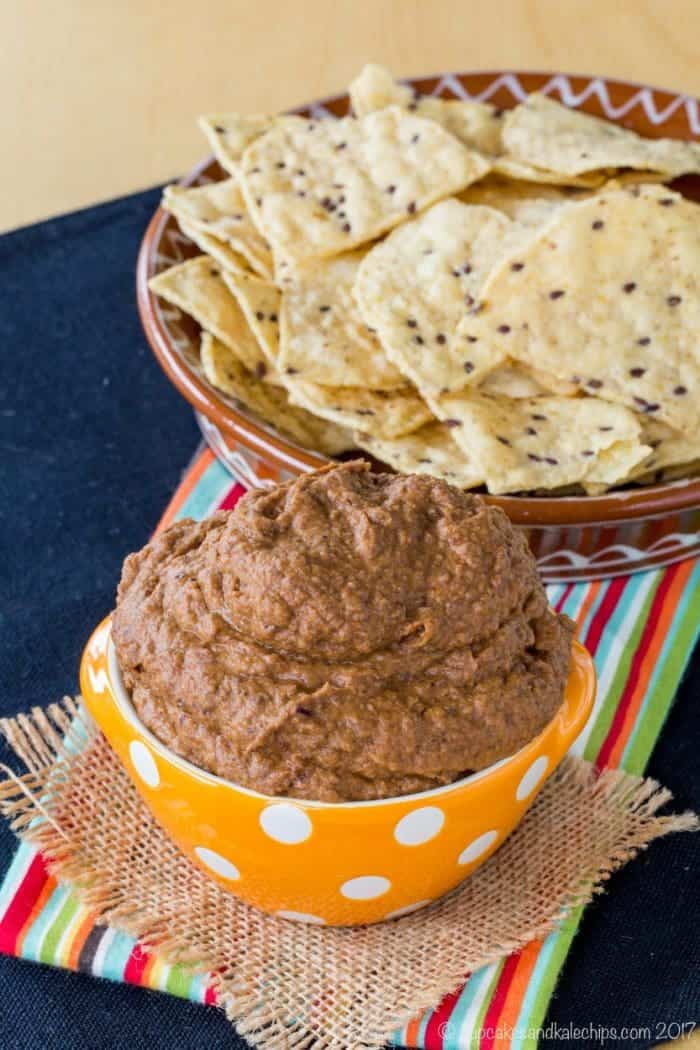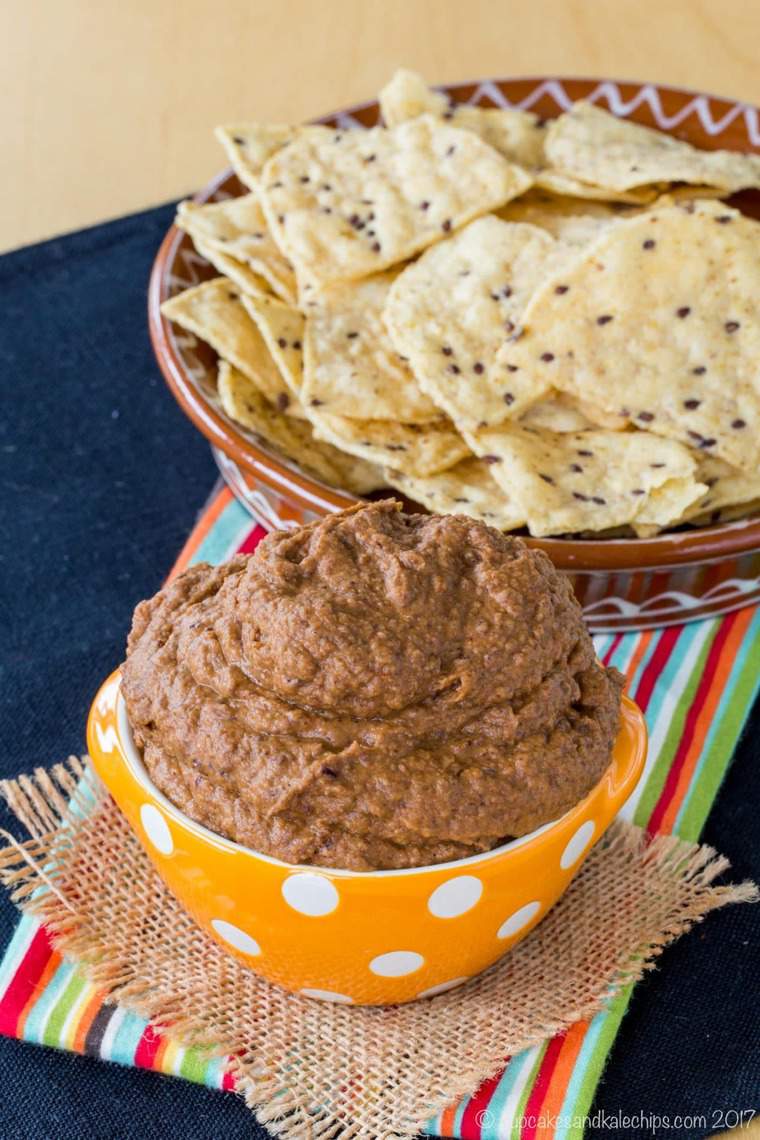 This Pumpkin Black Bean Hummus recipe will be a surprising new favorite for fall!
Inspired by that soup, this pumpkin black bean dip has the distinctive flavors I remember – the chili, the cumin, the lime – all blended together into a smoky, slightly spicy dip for your chips and vegetables. The pumpkin not only adds to the savory flavor, but it really helps make this black bean hummus smooth and creamy without needing a ton of oil. Plus, you know, hidden veggies. This mom is all about that.
With only six ingredients, you could be snacking on Pumpkin Black Bean Hummus in no time. You'll be the hit of the party with this naturally gluten-free dip recipe that's also vegan because we all know, everything's better when you add pumpkin.
#PUMPKINALLTHETHINGS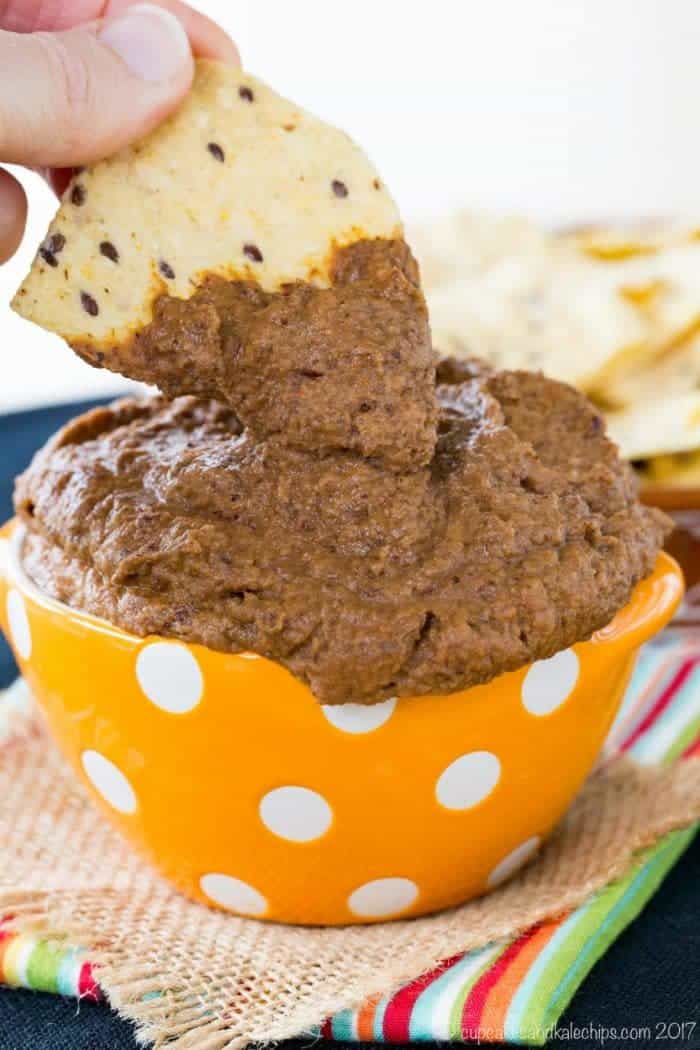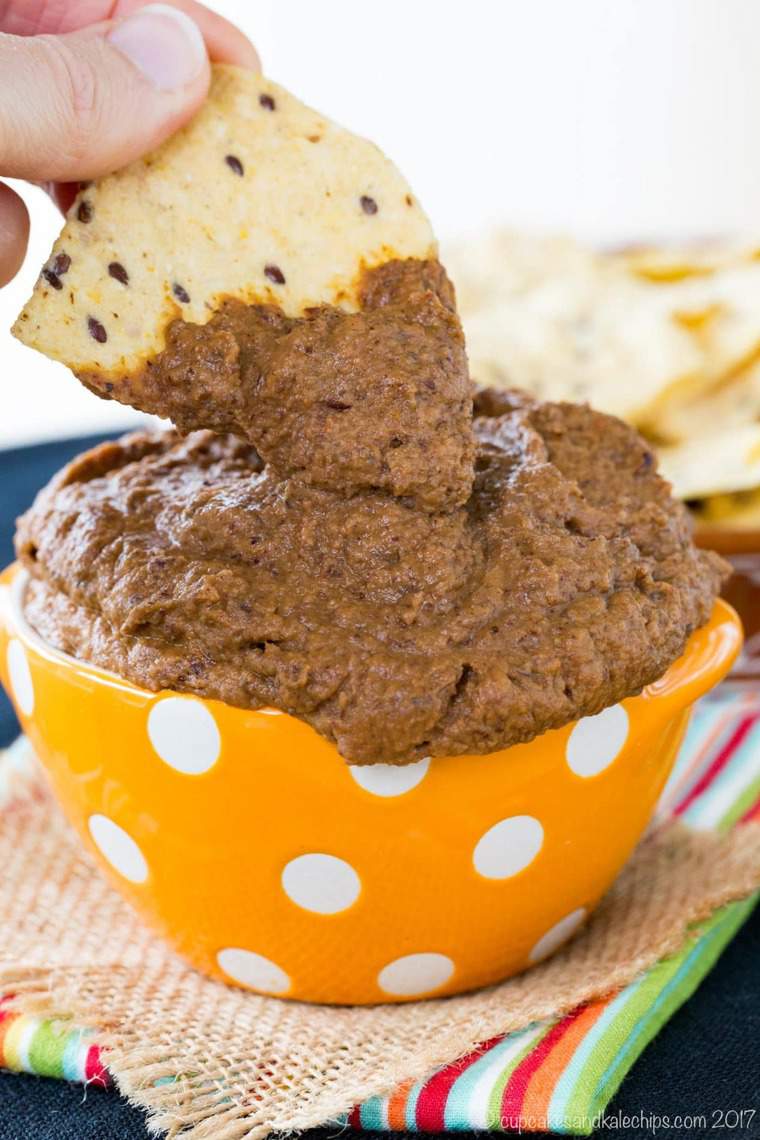 If you like this Pumpkin Black Bean Hummus, you might also enjoy these…
Here's a few ideas from my friends as well. Black Bean Cilantro Bean Dip from Happy Food Healthy Life is another black bean hummus recipe with some tasty toppings. Stick with chickpeas in this Spicy Chipotle Pumpkin Hummus from Boulder Locavore. And Slow Cooker Three-Bean Pumpkin Chili from Aggie's Kitchen is another tasty way to combine these two ingredients.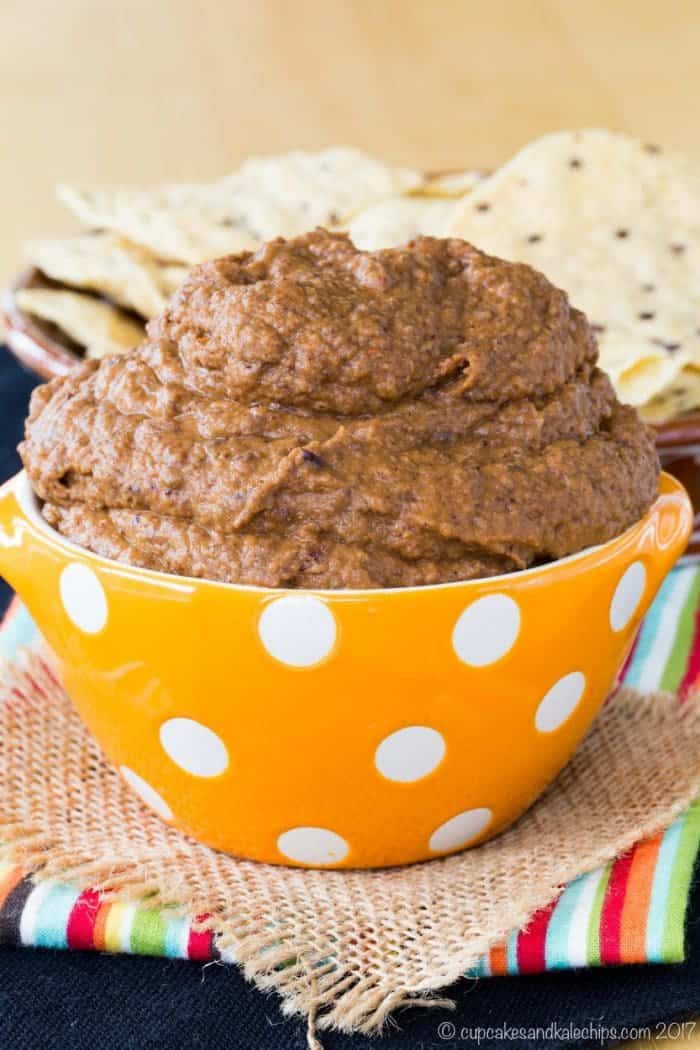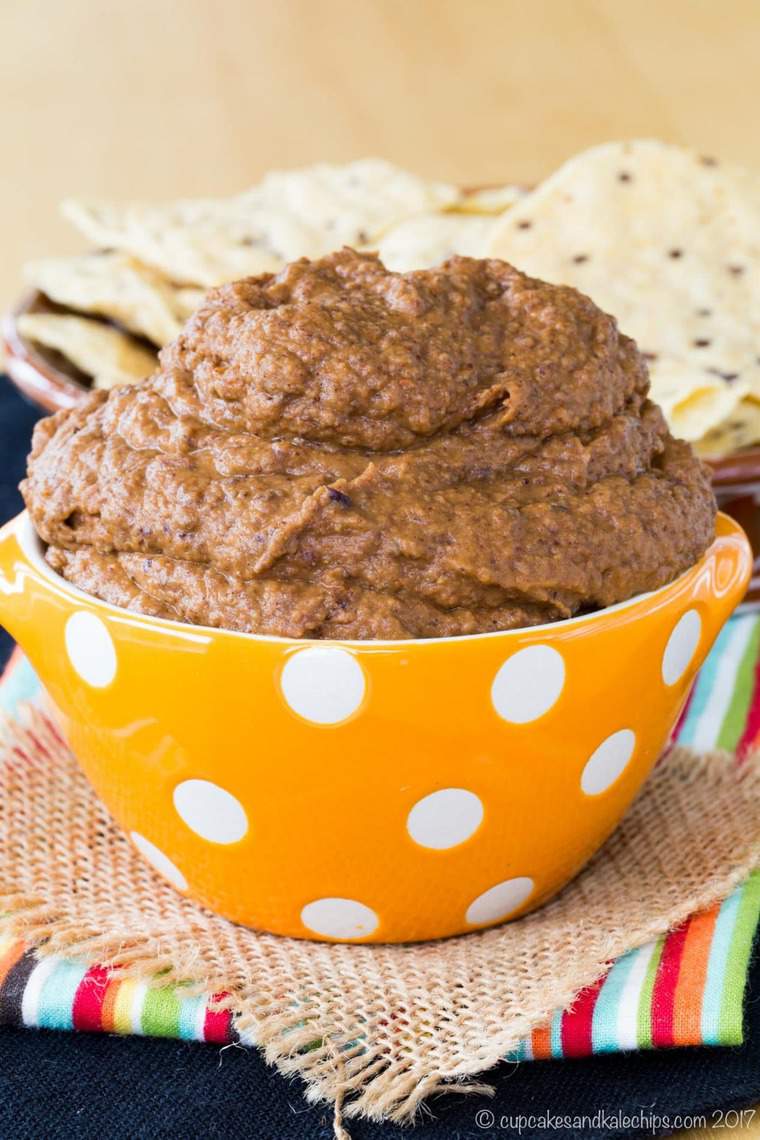 For more yumminess from me and my foodie friends, keep up with me on…
Or sign up to have Cupcakes & Kale Chips delivered straight to your Inbox!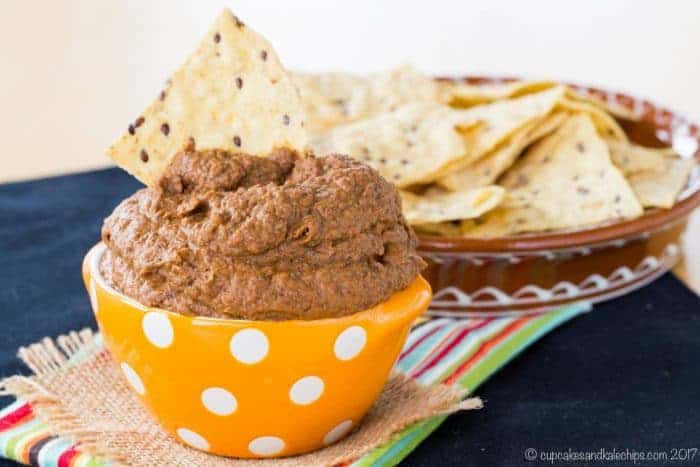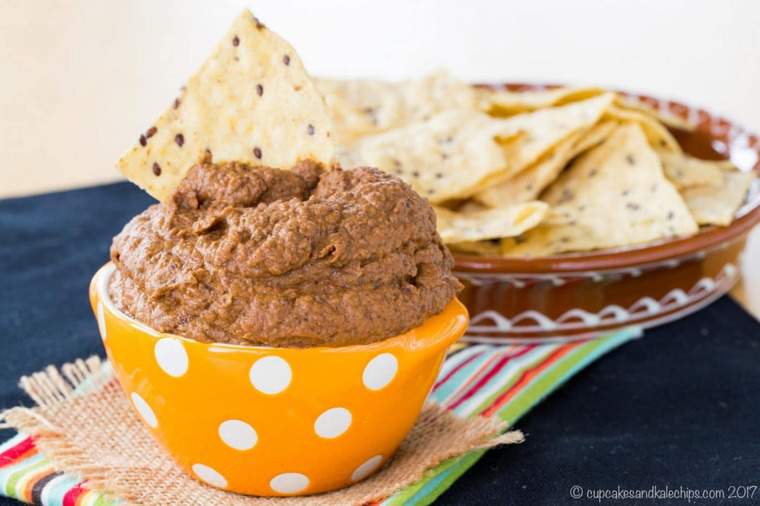 Here some things you might need to make this hummus recipe…

Products from Amazon.com
‹
›
Check out how to make Pumpkin Black Bean Hummus!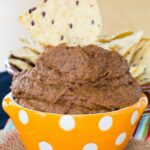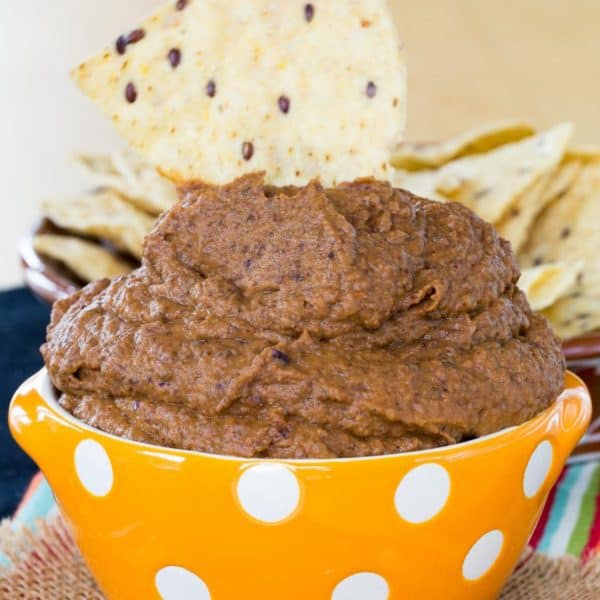 Pumpkin Black Bean Hummus
An easy and healthy black bean dip recipe that is perfect for fall. A naturally gluten-free and vegan appetizer or healthy snack!
Ingredients
one 15 oz. can of black beans

drained and rinsed

1/2

cup

pumpkin puree

2

teaspoons

chili powder

1

teaspoon

cumin

2

Tablespoons

lime juice

1

Tablespoon

olive oil

1/2

teaspoon

Kosher salt

or to taste
Instructions
Combine all of the ingredients in a food processor or high-powered blended and process until smooth, scraping down the sides as necessary.

Serve with chips and vegetables for dipping.
Enjoy!