This post may contain affiliate links. Read my disclosure policy.
Hot and melty Honey Nut Baked Brie will be your go-to appetizer for the holiday season and beyond. It is creamy, crunchy, and sweet, plus so easy to make in just a few minutes with only four ingredients! Get your favorite crackers, apple slices, and taste buds ready for a fantastic treat because you'll go "nuts" for it.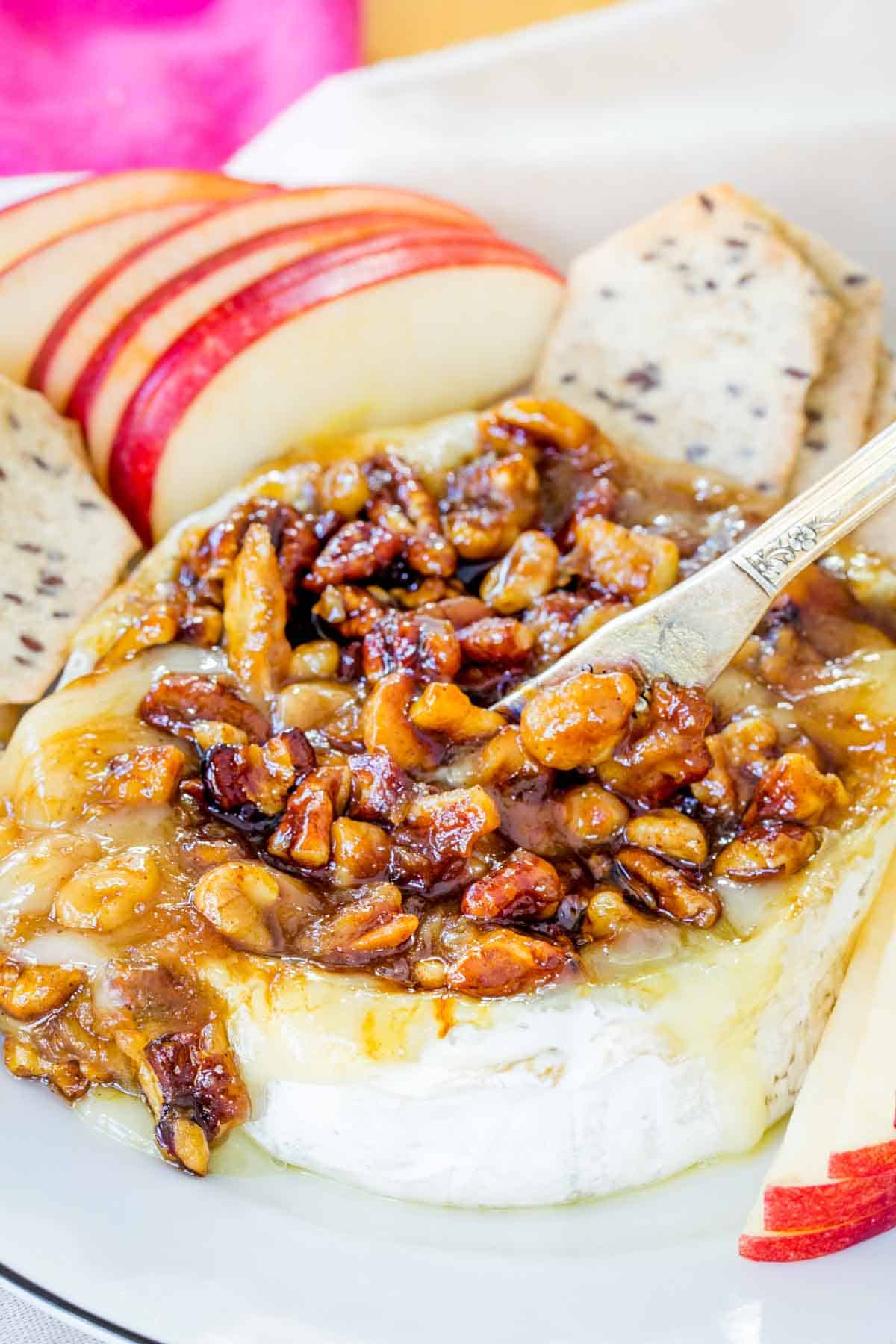 Everyone Loves this Baked Brie Recipe
Do you have a recipe that your friends or family ask you to make for every gathering? Or maybe they don't ask you, it's just kind of implied that you'll bring it. This, my friends, is that recipe.
Even though I always love to try making new things, this is my most requested contribution to any party. Seriously, how can you go wrong? Ooey gooey Brie cheese is topped with nuts coated in honey with a hint of cinnamon. Once you make it, you'll be asked to bring it again and again.
I originally got it out of one of the coupon inserts in the Sunday paper. But over the years I have tweaked it a bit to make it even easier and better than the original recipe. And honestly, while I do give you measurements in the recipe, your really can just eyeball everything. It'll still turn out perfectly caramelized and oozy and oh, so good!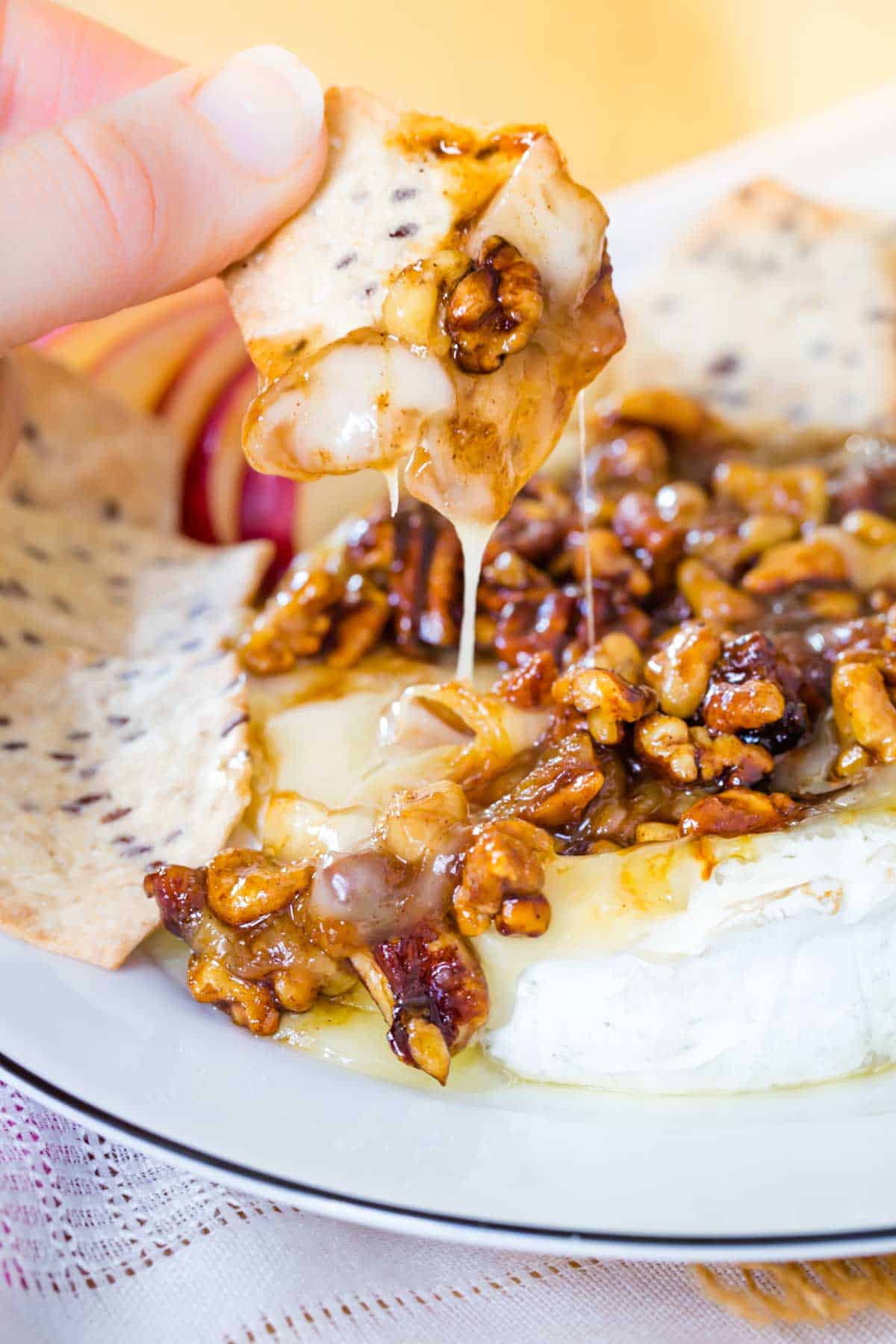 What is Baked Brie?
Brie cheese is a mild, soft cow's milk cheese named after the region of France where it originated. But it is now produced in other parts of the world. The inside is soft and creamy, while the outside is covered in a white rind. You can typically buy it in rounds or wedges and can find it in many grocery stores.
When heated it melts and becomes semi-liquid, perfect for dipping. And its mild flavor means that it pairs well with a variety of ingredients from sweet to savory.
You can make a topping for the Brie, like this recipe, and top it after baking. Or you can wrap the Brie in phyllo dough, puff pastry, or gluten free crescent rolls dough before baking.
Do you take the rind off before baking?
The rind of Brie is edible. However, some people prefer not to eat the rind. Also, it is hard to scoop up the cheese with the rind still attached. Therefore, I like to remove the top of the rind before serving. Here is how I do that.
Is Baked Brie gluten free?
Yes, this baked Brie appetizer recipe is gluten-free. In the past, there were concerns that it might not be due to the source of the mold spores used to make Brie. Over the years, repeated testing shows Brie to have undetectable levels of gluten regardless of the source of the mold spores. However, if you have a severe sensitivity or are unsure, you might want to consult a doctor or avoid it altogether.
While some recipes like this Cranberry Pistachio Brie Wrapped in Phyllo are covered in doughs that do contain gluten, this recipe has no other gluten-containing ingredients. Just be sure to enjoy it with fruit slices or gluten free crackers.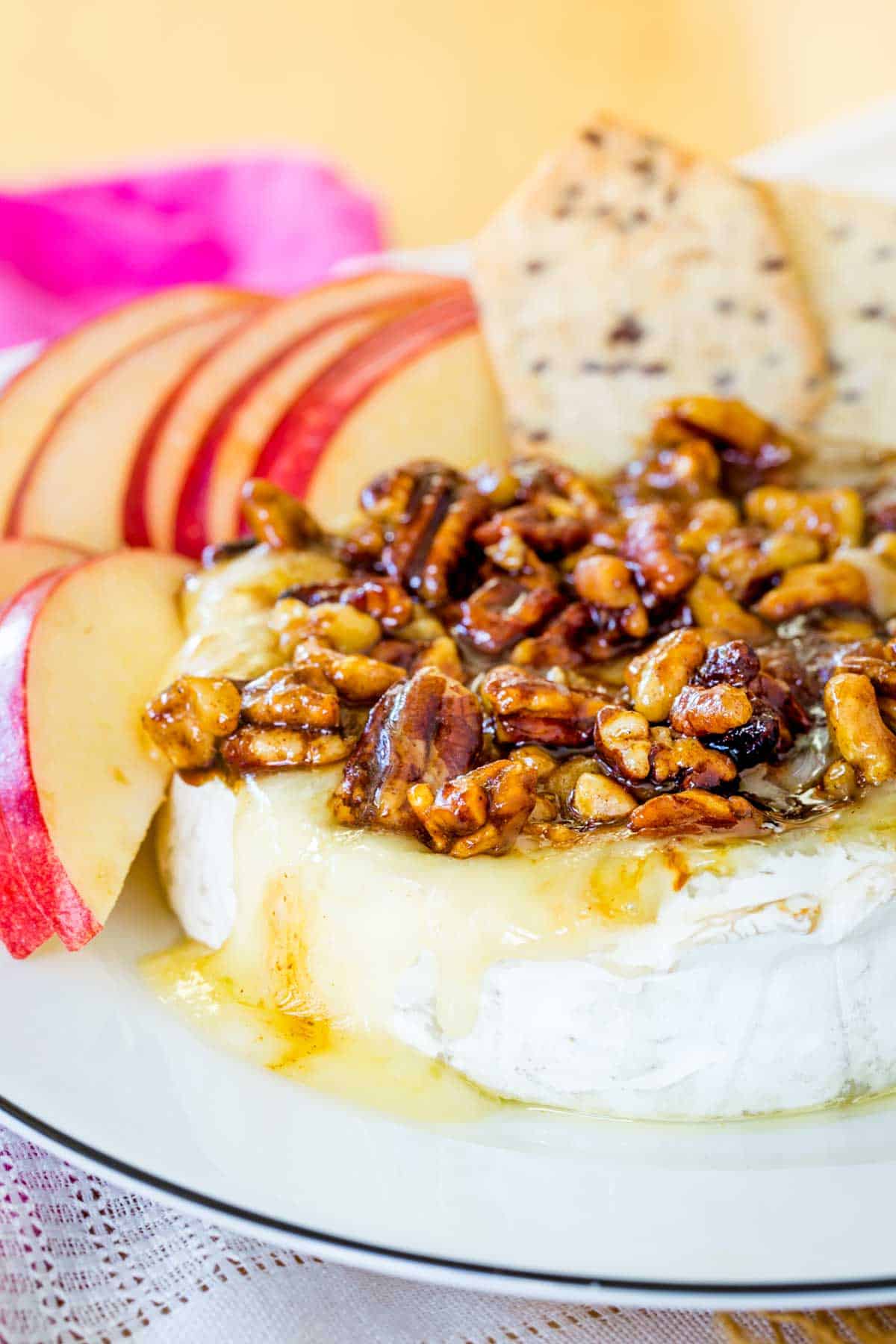 Recipe Ingredients
Here is a short and sweet list of ingredients to make baked Brie. For the full amounts, scroll to the recipe card. In the meantime, keep reading for more tips and info.
Brie cheese – this makes enough topping for about an 8 oz. wheel or wedge of Brie. If you get a larger one, such as the ones they sell at Costco, just double the topping.
Nuts. You can use walnuts or pecans, though a combination of both is also nice.
Honey.
Cinnamon.
Salt.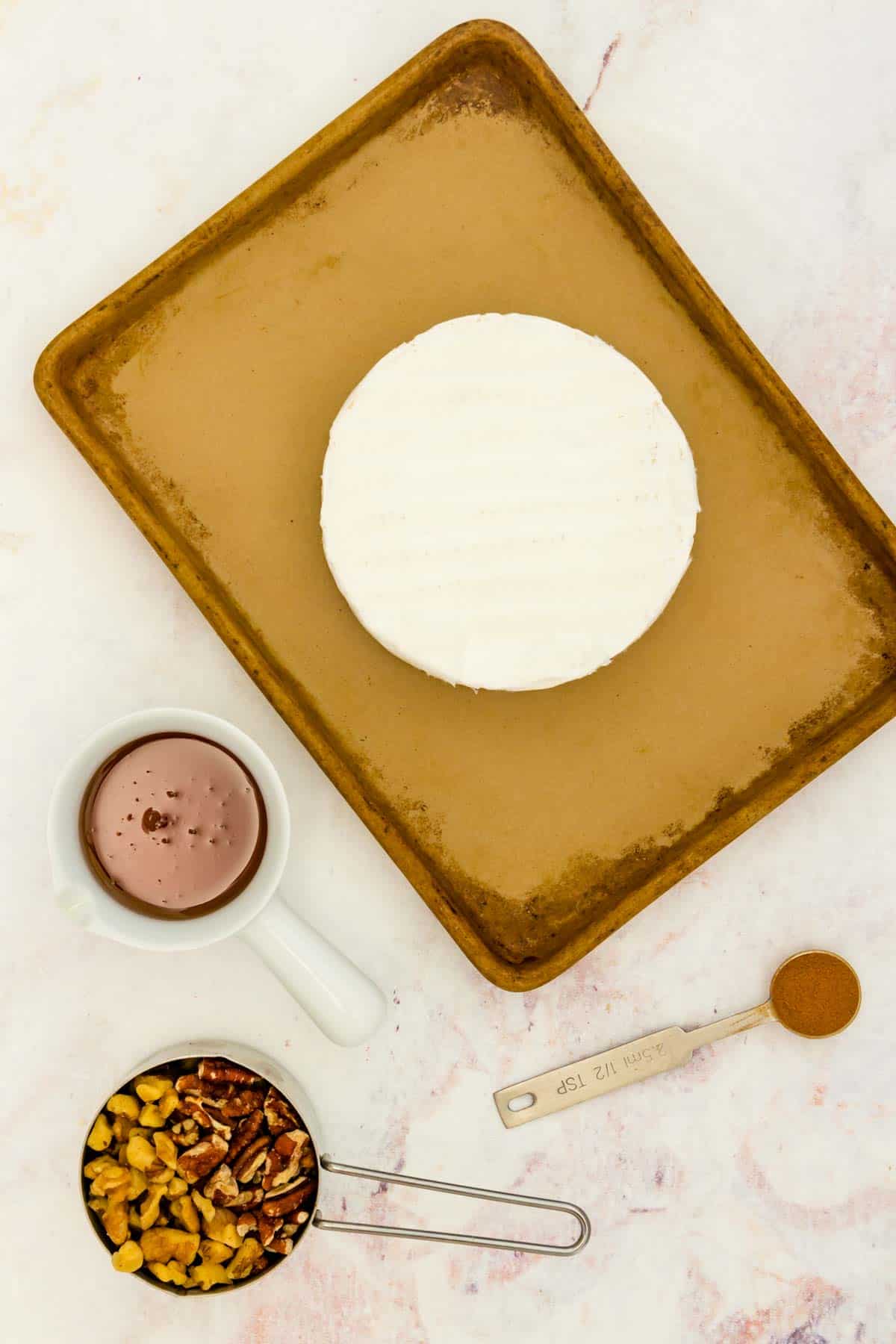 How to Make Baked Brie
This recipe is so simple! First, you are going to bake your brie (or warm it in the microwave). Then you'll make the topping while the cheese warms up.
Warm the Cheese. Place your wheel of Brie on a baking sheet or in a glass pie plate. Use a small paring knife to score a circle about 1/4-inch from the edge. Do not remove the rind. Bake it at 350°F for about 15 to 20 minutes or microwave for 3 to 5 minutes, just until the cheese is hot and melty.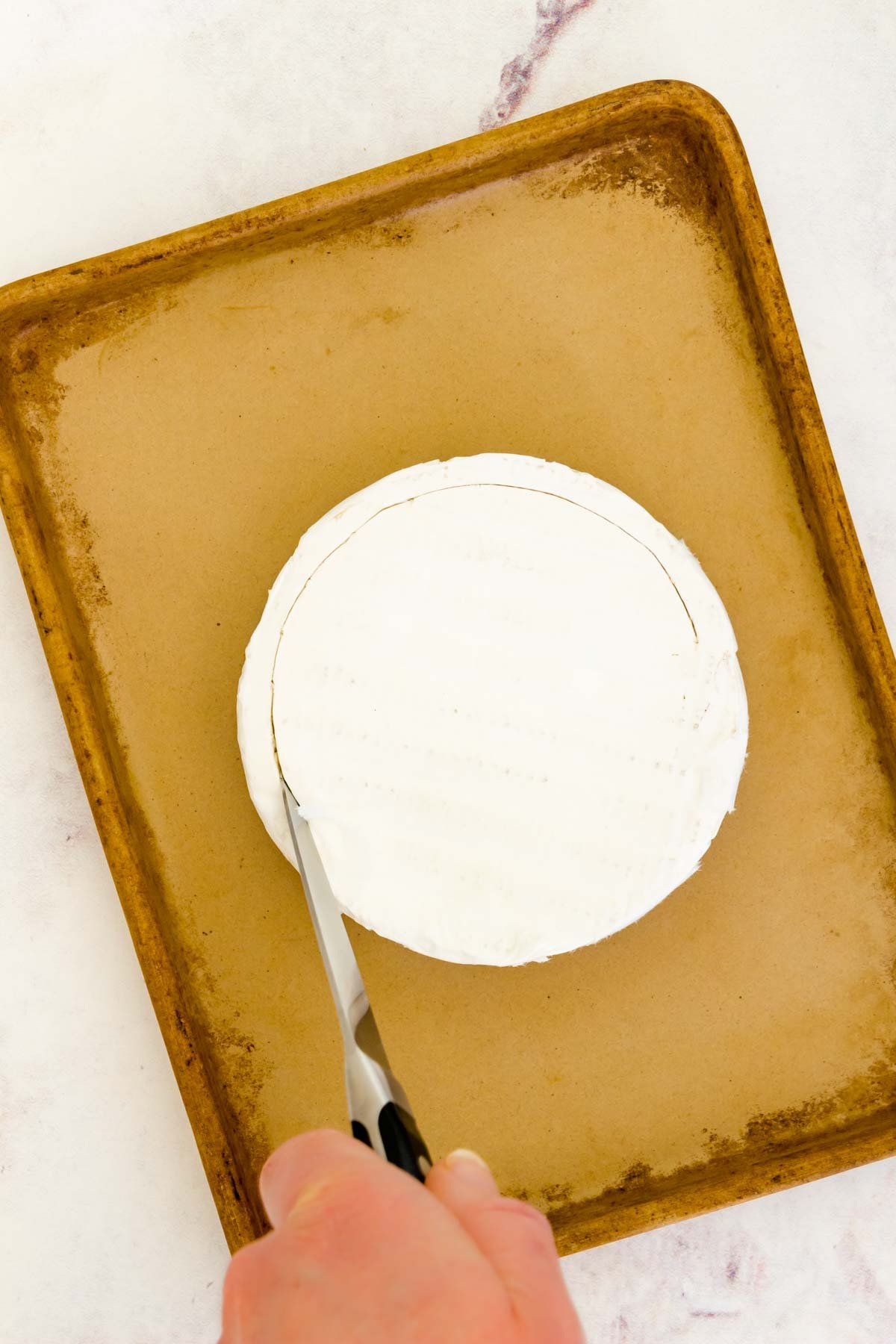 Make the Honey Nut Topping. In a small skillet, toast the nuts over low heat until they smell nutty. Be careful not to burn the. Add honey, cinnamon, and a pinch of salt and stir until bubbly.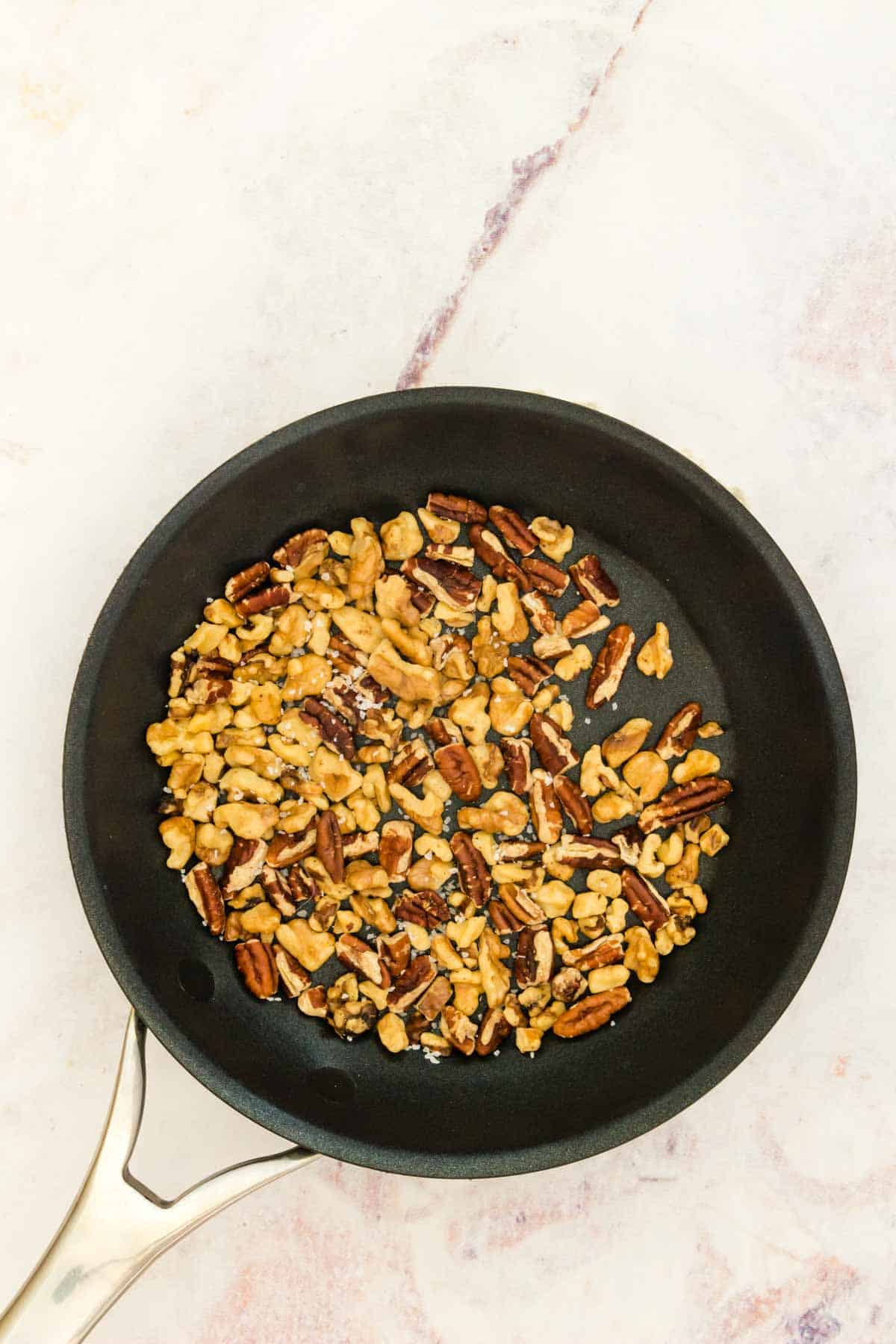 Top the Baked Brie. Remove the Brie from the oven and use a butter knife or small spatula to gently separate the top of the rind where you scored it from the cheese. It should peel off quite easily. Pour the honey nut topping over the melted cheese. Serve with crackers, apples, or whatever you would like to dip.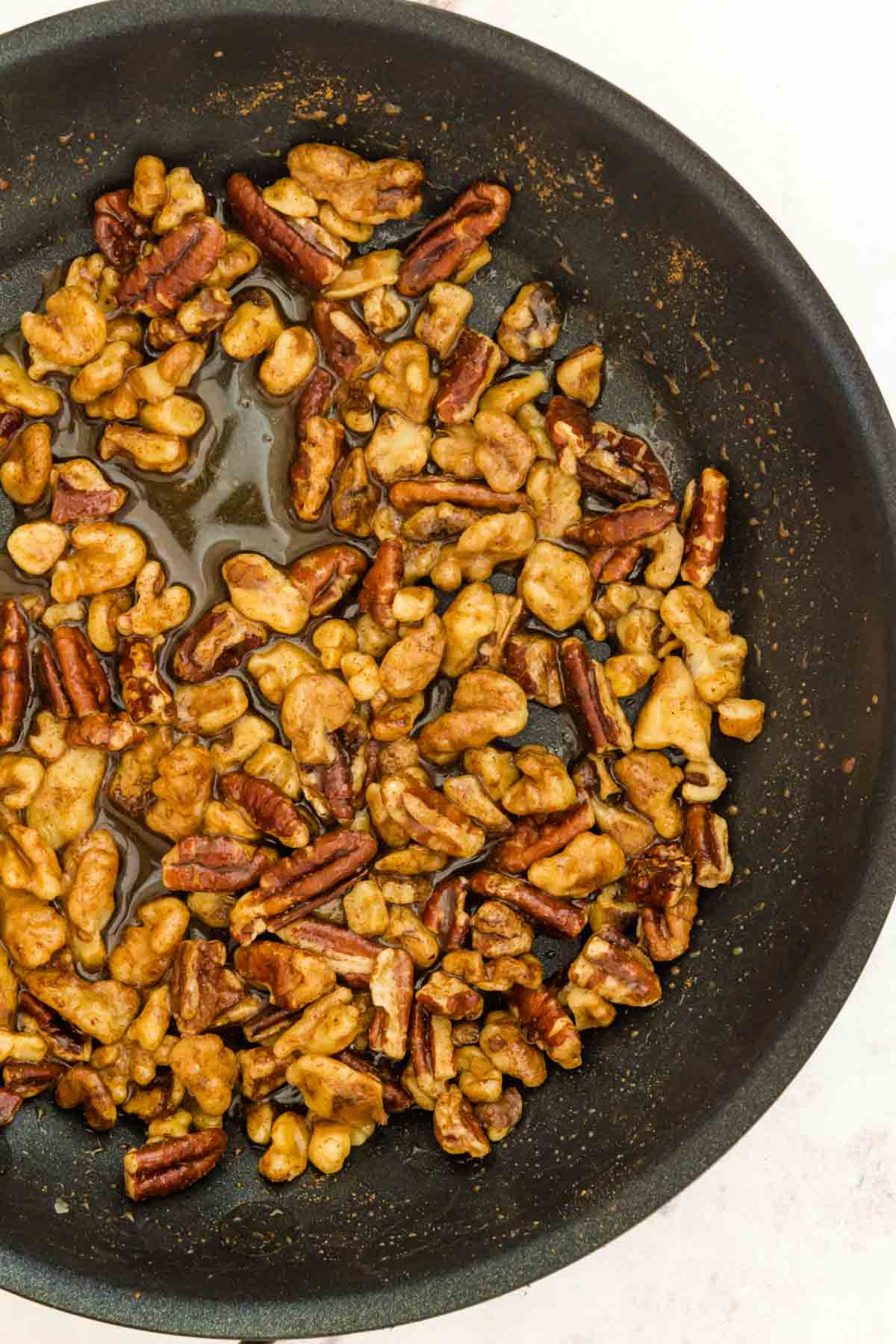 Tips for Success
A wheel of cheese is best, but wedges work too. If you cannot find a wheel of Brie, you can pick up a wedge or two, slice off the top ring, and place it in a glass pie plate or small baking dish.
Mix up the nuts! I like the combo of walnuts and pecans, but have made this baked brie recipe many times with only one or the other.
Add chopped fruit. You can also toss in some chopped apples when you are caramelizing the nuts. Other ideas might include dried cranberries or chopped up fresh pear.
Try maple syrup. For a little twist in the flavors, you can use maple syrup instead of honey.
Make it for a crowd. Double the topping and get one of those giant wheels of Brie from Costco. Or get a couple of wedges, slice the rind off the top, and press them into a ceramic baking dish. The just pop the dish into the oven as directed and pour the topping right ove the cheese in the dish..
Variation Ideas
This is truly a versatile appetizer because you can customize it in endless ways. You follow the same steps for how to bake Brie but then add your favorite toppings. Here are all of my favorite Brie recipes:
For a fun twist, take the same honey nut mixture along with your Brie cheese and stuff it in these Honey Nut Baked Brie Bloomin' Apples.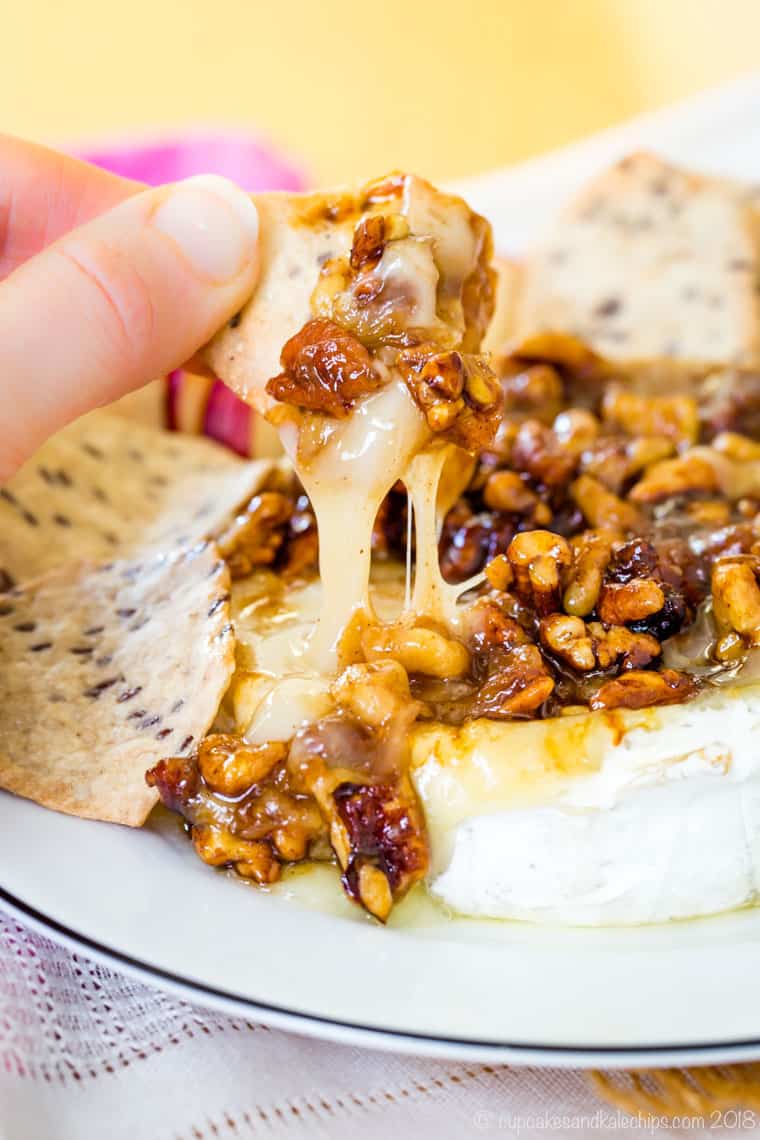 Serving Suggestions
You have a number of options for dipping in your Brie cheese. For softer dippable items, like the pita bread, I recommend including a small butter knife or serving knife so that it's easier to scoop up the brie.
Or, you know, you could also just eat this with a spoon. It's all good, whatever way you choose. I'm a big supporter of equal-opportunity cheese consumption.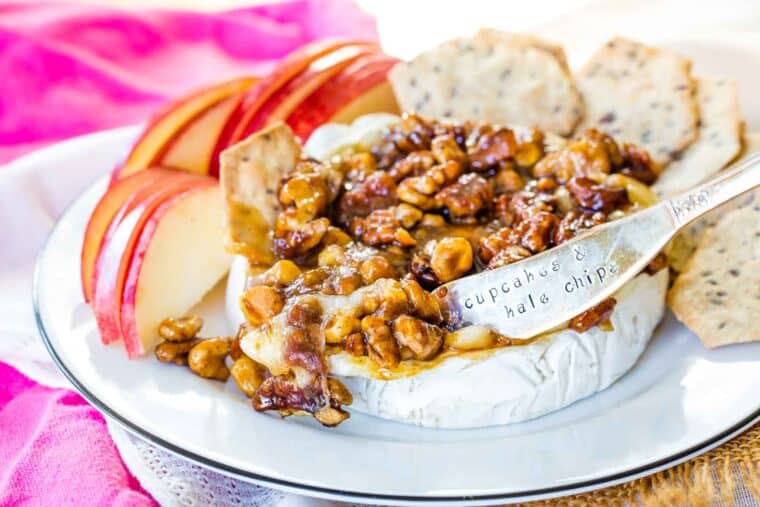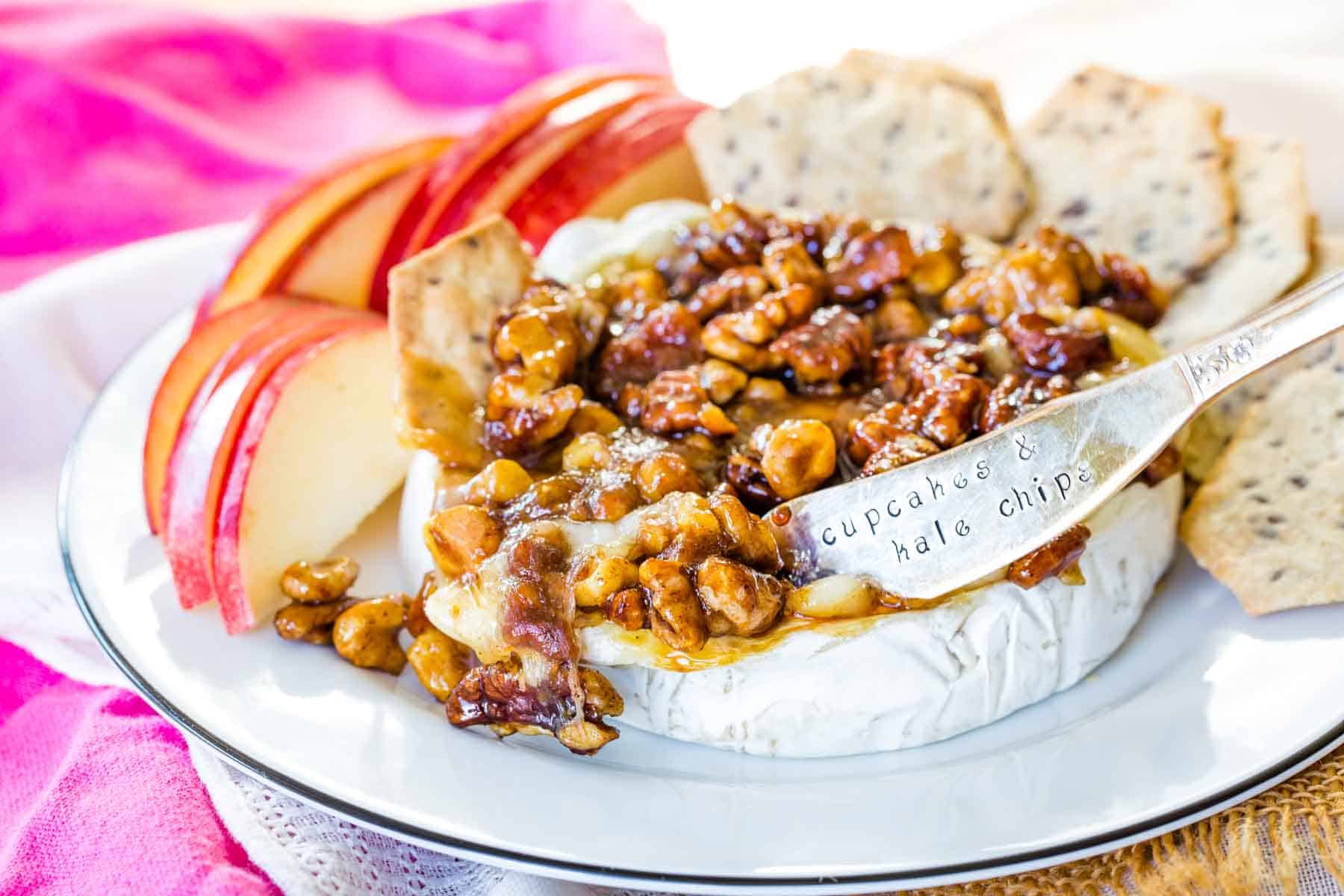 More cheesy appetizers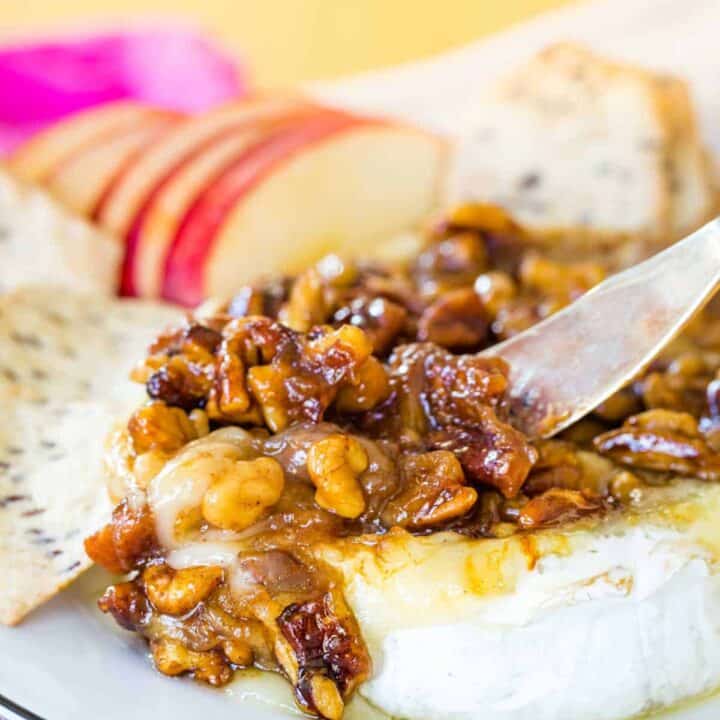 Honey Nut Baked Brie
Hot and melty Honey Nut Baked Brie will be your go-to appetizer for the holiday season and beyond. It is creamy, crunchy, and sweet, plus so easy to make in just a few minutes with only four ingredients! Get your favorite crackers, apple slices, and taste buds ready for a fantastic treat because you'll go "nuts" for it.
Ingredients
Instructions
Preheat oven to 350°F. Place the Brie round on baking sheet. With a sharp knife, cut into the rind on the top of the Brie about a quarter inch from the edge to score a circle. Do not remove the rind.

Bake at 350°F for 15-20 minutes, or until cheese is warmed through and the center melted. Alternatively, you can place it in a microwave-safe dish and microwave it for 3-5 minutes.

While the Brie is baking, heat a small saute pan over medium heat and add the nuts, toasting until they are slightly brown and give off a nutty aroma.

Add the honey, salt, and cinnamon to the nuts and stir to coat.

Remove the hot Brie from the oven and transfer to a serving plate. Carefully remove the top rind using a sharp knife to separate it, if needed.

Pour the honey nut mixture over the top of the Brie. Serve immediately with crackers, apple slices, bread, etc.
Nutrition Facts
Honey Nut Baked Brie
Amount Per Serving (1 serving)
Calories 158
Calories from Fat 108
% Daily Value*
Fat 12g18%
Cholesterol 28mg9%
Sodium 183mg8%
Potassium 75mg2%
Carbohydrates 5g2%
Protein 7g14%
Vitamin A 170IU3%
Calcium 59mg6%
Iron 0.4mg2%
* Percent Daily Values are based on a 2000 calorie diet.
Categories: