Honey Nut Baked Brie Cheese
Disclosure: This post may contain affiliate links. Cupcakes & Kale Chips is a participant in the Amazon Services LLC Associates Program, an affiliate advertising program designed to provide a means for us to earn fees by linking to Amazon.com and affiliated sites.
Honey nut baked Brie cheese is an elegant, gluten free appetizer recipe. Creamy Brie cheese topped with honey sweetened walnuts and pecans. Get your favorite dippers out and your taste buds ready for a fantastic treat!
It's time for January's Improv Challenge, and this month we are all making recipes with cheese and crackers. Actually Kristen let us off the hook and said that we could make a recipe with cheese that you shovel into your mouth with a cracker. So it was the perfect time to make one of my family's favorite easy, cheesy, sweet, creamy and crunchy appetizer that only requires four ingredients (plus whatever you want to dip). You'll go "nuts" for my Honey Nut Baked Brie recipe.
Honey Nut Baked Brie Cheese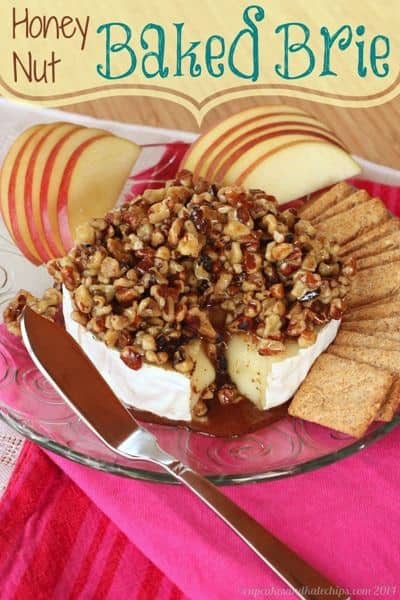 Disclosure: There are affiliate links in this post, meaning that if you click and make a purchase, the cost to you is the same, but I will receive a few pennies. I use the money to help maintain this website and to bring you new recipes!

MY LATEST VIDEOS
Do you have a recipe that your friends or family ask you to make for every gathering? Or maybe they don't ask you, it's just kind of implied that you'll bring it. Let me tell you, that is seriously the most frustrating thing for a food blogger. I always want to make new things and have them all be guinea pigs. They just want the same old bowl full of melty cheese topped with sticky, nutty goodness. I guess it's better anyway. My mom can be kinda of fussy at times. If I had her tasting all of my recipes, some of them that my guys and I have enjoyed would never see the light of day. If I tried to serve her Maple Sesame Glazed Salmon or Chicken Curry or Whipped Cauliflower Gratin, she'd "Ewwwww!" like a 3-year-old.
Oh wait my 3-yeal-old doesn't do that. Ummm…
So here you have it, my most-requested recipe – Honey Nut Baked Brie Cheese.
I think I originally got it out of one of the coupon inserts in the Sunday paper on a coupon for Country Crock or I Can't Believe It's Not Butter. Over time, I removed that ingredient from the recipe, because I don't think it really needs it. And honestly, I never really measure anything, so obviously, this isn't the most sensitive of recipes.
I like the combo of walnuts and pecans, but have made honey nut baked Brie many times with only one or the other. Sometimes I even toss in chopped up apples, or use maple syrup instead of the honey. And I usually just toss it in the microwave, because who wants to wait another fifteen minutes for melty cheesy sweet sticky nutty creamy crunchy goodness? #aintnobodygottimeforthat
Having a bigger party? Double the topping and get one of those giant wheels of Brie from Costco. Can't find the round ones? Then get a wedge and jam it into some sort of ceramic baking dish. This is such a low maintenance recipe. Gotta love it!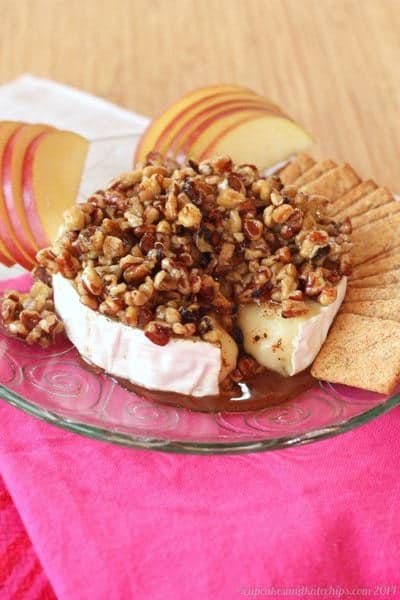 So I know this is the Cheese and Crackers Improv, but, you know, wheat allergy and all, I am kind of partial to consuming this baked brie with apple slices. Or, you know, a spoon. Just gets those extra carboy calories out of the way so that you can justify eating more cheese and nuts. See – protein! My family generally takes the "have a little cracker with your giant mound of cheese" approach. It's all good, whatever way you choose. I'm a big supporter of equal opportunity cheese consumption.
As I mentioned, this recipe is part of the Improv Challenge, which is a blog hop hosted by Kristen of Frugal Antics of a Harried Homemaker. A theme is given, which is two assigned ingredients. Then it is up to the participating bloggers to let the creative juices flow, and see what they can come up with. Then on the third Thursday of the month, we will all publish our new recipes based on the theme. This month's theme – lime & white chocolate. If you are have a blog and would like to join us, click on the picture to the below to learn more. If you are new to my blog, finding me because you have been following the Improv Challenge, then WELCOME!
Check out the links at the bottom of this post to more great Cheese and Crackers Recipes!  I can't wait to see what everyone has come up with!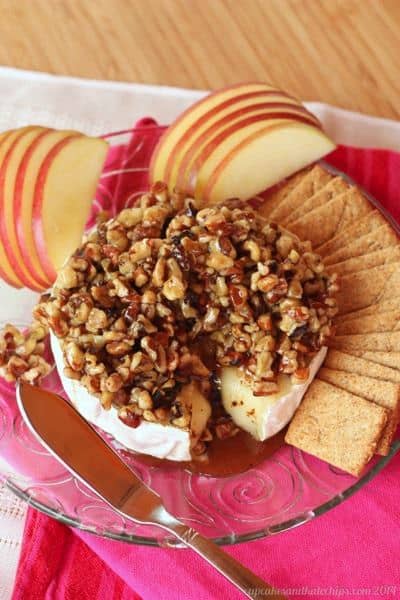 What is your most-requested recipe?
A couple of things you may need to make the honey nut baked Brie recipe:
Products from Amazon.com
‹
›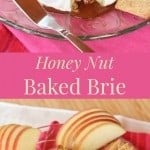 Honey Nut Baked Brie
Warm and melty baked Brie cheese, topped with a sweet and sticky nut topping. An easy, but elegant appetizer with only four ingredients.
Keyword:
baked brie, gluten free appetizers, holiday appetizers, hot dips
Instructions
If you are going to bake in the oven, preheat your oven to 350°F.

Cut the top rind off of the Brie and place in an oven or microwave safe dish.

Heat a small saute pan over medium heat and add the nuts, toasting until they slightly brown and give off a nutty aroma.

Add the honey, salt, and cinnamon to the nuts and stir to coat.

Pour the honey nut mixture over the top of the Brie.

Microwave the Brie for 3-5 minutes or bake at 350°F for 15-20 minutes, or until the cheese is warmed through, slightly bubbly and melty.

Serve with crackers, apple slices, etc.
Nutrition Facts
Honey Nut Baked Brie
Amount Per Serving (1 g)
Calories 211
Calories from Fat 144
% Daily Value*
Total Fat 16g 25%
Cholesterol 37mg 12%
Sodium 244mg 10%
Potassium 100mg 3%
Total Carbohydrates 7g 2%
Protein 9g 18%
* Percent Daily Values are based on a 2000 calorie diet.
Enjoy!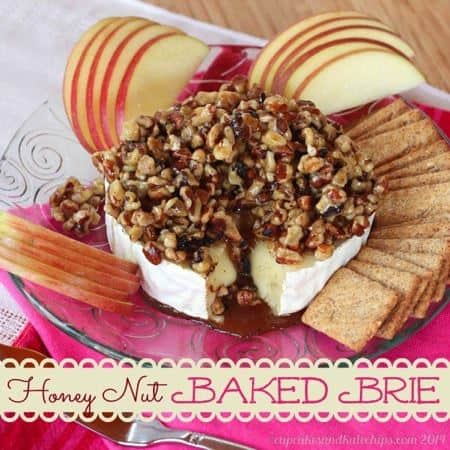 If you like this recipe you'll love…
Plus a few more from my friends…
And make sure you check out what the rest of the Improv-ers have cooking or baking with…

'); // ]]>