Honey Nut Baked Brie Cheese
Disclosure: This post may contain affiliate links. Cupcakes & Kale Chips is a participant in the Amazon Services LLC Associates Program, an affiliate advertising program designed to provide a means for us to earn fees by linking to Amazon.com and affiliated sites.
Honey nut baked Brie cheese is an elegant, gluten free appetizer recipe. Creamy Brie cheese is topped with honey sweetened walnuts and pecans. Get your favorite and apple slices and your taste buds ready for a fantastic treat. This is one of my family's favorite easy, cheesy, sweet, creamy and crunchy appetizer that only requires four ingredients (plus whatever you want to dip). You'll go "nuts" for this Honey Nut Baked Brie recipe.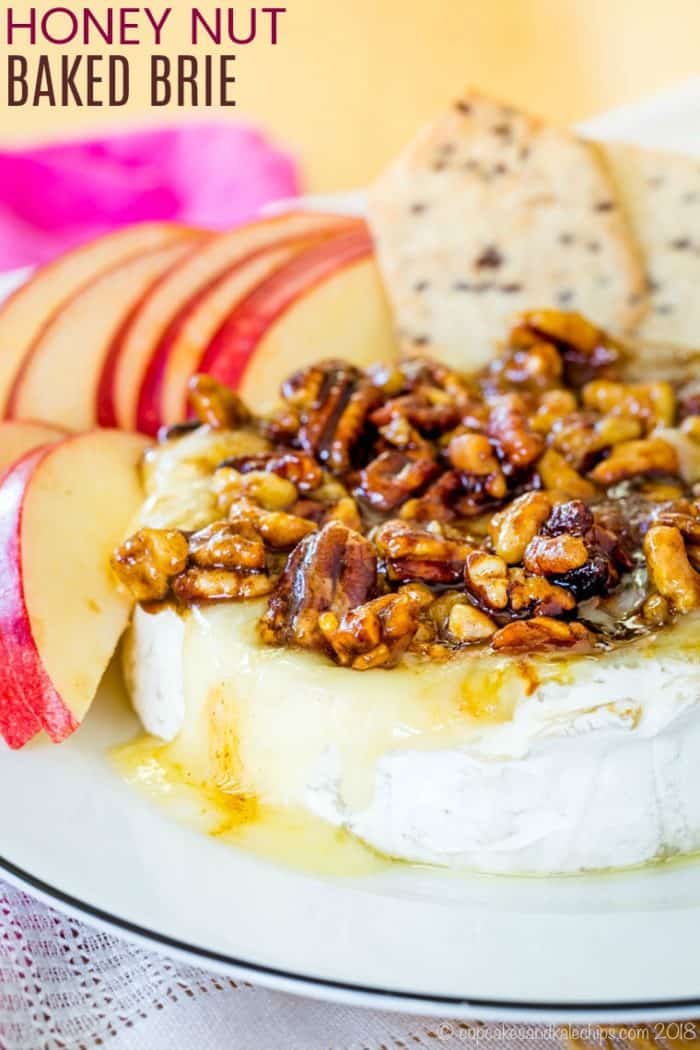 Do you have a recipe that your friends or family ask you to make for every gathering? Or maybe they don't ask you, it's just kind of implied that you'll bring it. Let me tell you, that is seriously the most frustrating thing for a food blogger. I always want to make new things and have them all be guinea pigs. They just want the same old bowl full of melty cheese topped with sticky, nutty goodness.
I guess it's better anyway. My mom can be kinda of fussy at times. If I had her tasting all of my recipes, some of them that my guys and I have enjoyed would never see the light of day. If I tried to serve her Maple Sesame Glazed Salmon or Chicken Curry or Whipped Cauliflower Gratin, she'd "Ewwwww!" like a 3-year-old.
Oh wait my 3-year-olds never even did that.
So here you have it, my most-requested recipe – Honey Nut Baked Brie Cheese.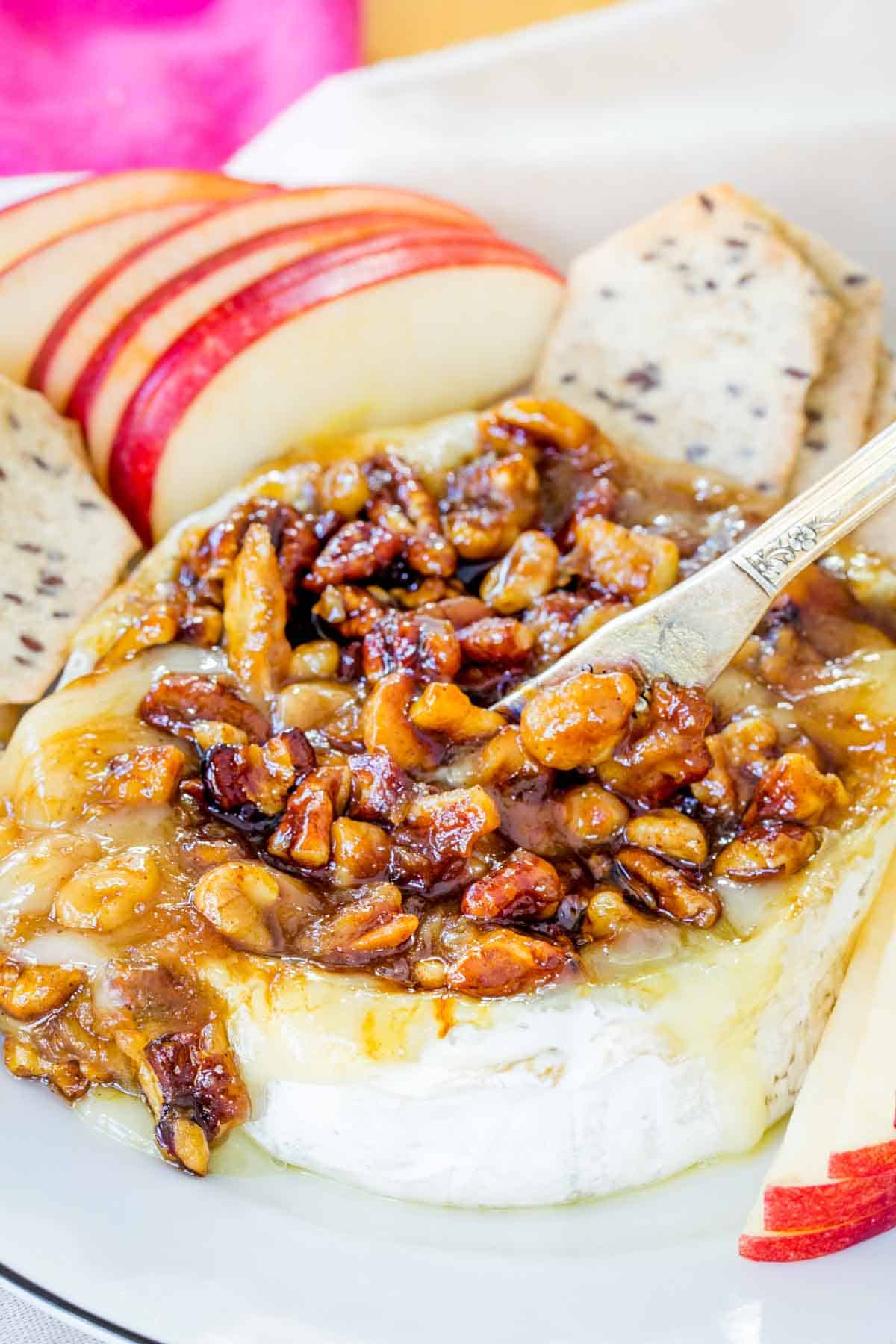 Honey Nut Baked Brie Cheese
I think I originally got it out of one of the coupon inserts in the Sunday paper on a coupon for Country Crock or I Can't Believe It's Not Butter. Over time, I removed that ingredient from the recipe, because I don't think it really needs it. It's still creamy and sweet and nutty and oh, so good!
Basically you just heat your Brie till it is melty. Then toast some nuts in a pan. Get them all nice and caramelized with honey, cinnamon, and a pinch of salt. Then just pour it over your Brie. Annnnd dip!
How to Make Baked Brie
I used to make baked Brie by slicing off the top of the rind, adding your topping, then putting it all in the oven until warm and melty.
Another option is to do the same thing, but heat it in the microwave so it is ready quicker.
I now prefer to score the top rind and place it in the oven. Then while it is in the oven, I prepare the topping. Once the Brie is nice and oozy, you can just peel off the top rind and top it with the nut mixture or any other topping you choose.
Honey Nut Baked Brie Appetizer Recipe Tips…
I like the combo of walnuts and pecans, but have made this baked brie recipe many times with only one or the other.
You can also toss in some chopped apples when you are caramelizing the nuts.
For a little twist in the flavors, you can use maple syrup instead of the honey.
And honestly, I never really measure anything, so obviously, this isn't the most sensitive of recipes.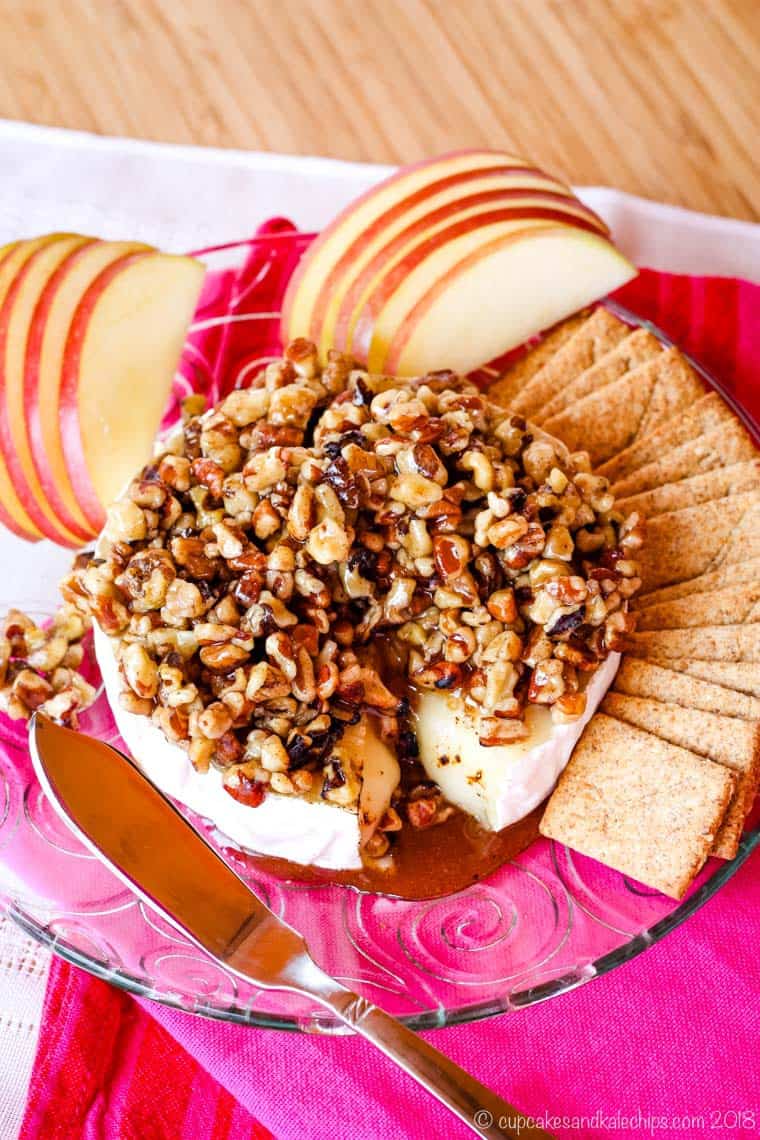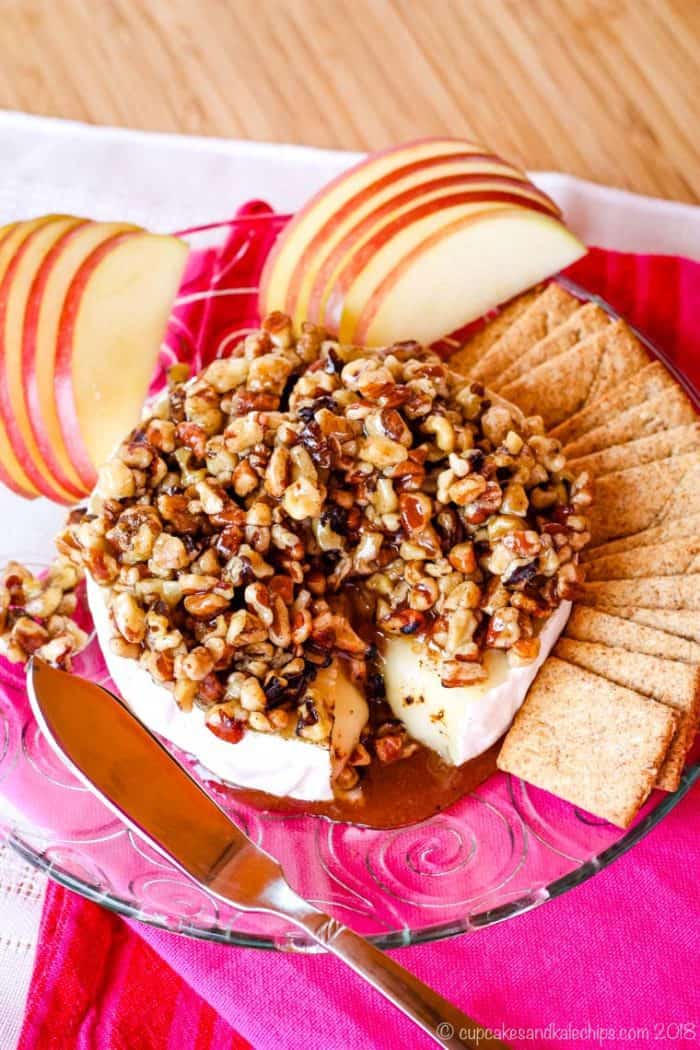 What to serve with Honey Nut Baked Brie?
I am kind of partial to consuming this baked brie with apple slices. Or, you know, a spoon. Just gets those extra carb calories out of the way so that you can justify eating more cheese and nuts. See – protein!
My family prefers crackers or sliced baguette. In fact, they generally takes the "have a little cracker with your giant mound of cheese" approach.
It's all good, whatever way you choose. I'm a big supporter of equal opportunity cheese consumption.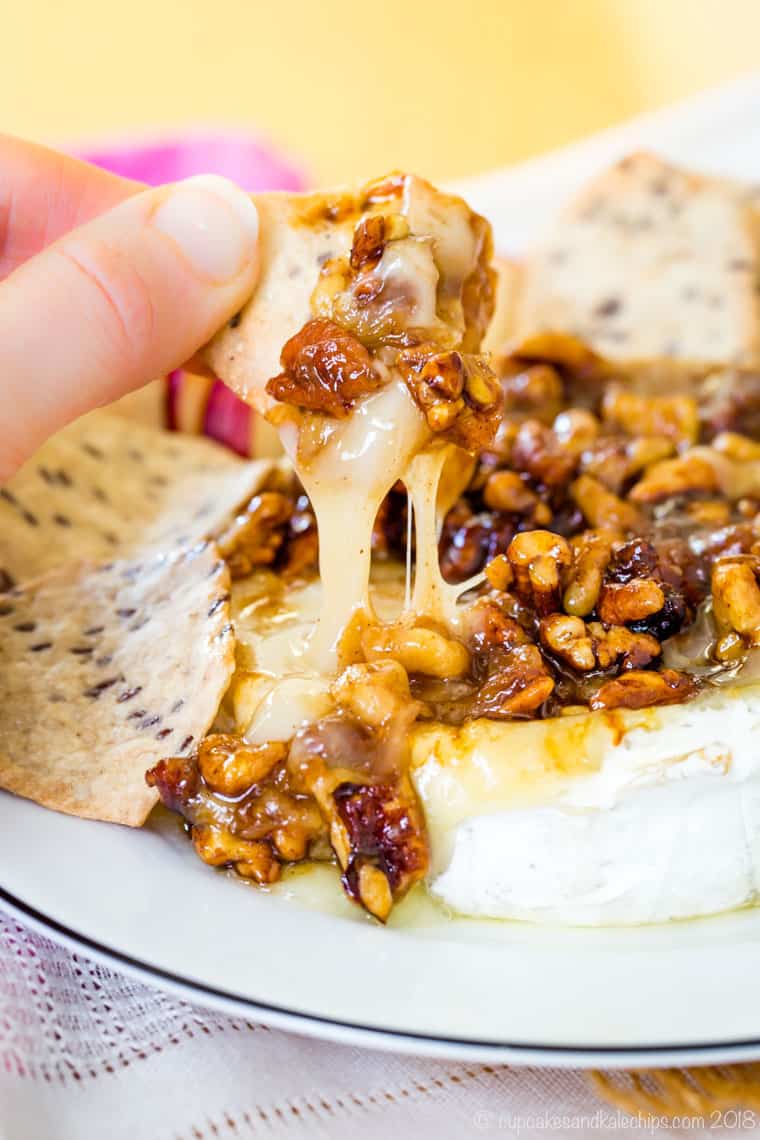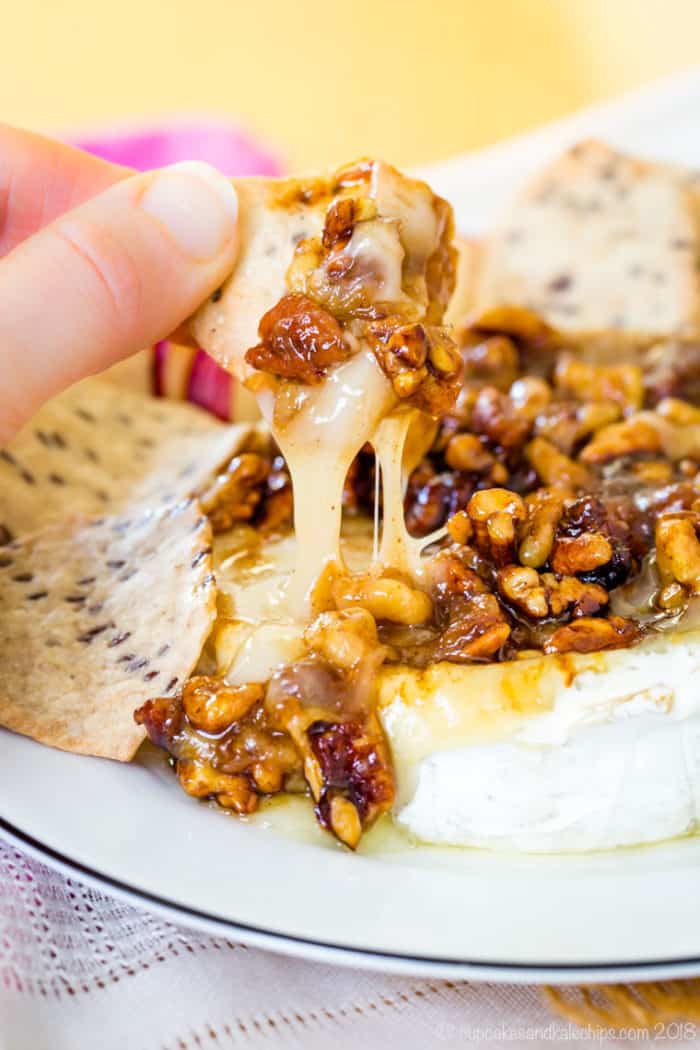 Is Baked Brie gluten free?
Yes, this baked Brie appetizer recipe is gluten free. While in the past there were concerns that it might not be due to the source of the mold spores used to make Brie. There has been repeated testing that shows Brie to have undetectable levels of gluten regardless of the source of the mold spores. However, if you have a severe sensitivity or are unsure, you might want to consult a doctor or avoid it altogether.
While some recipes like this Cranberry Pistachio Brie Wrapped in Phyllo are covered in doughs that do contain gluten, this recipe has no other gluten-containing ingredients. Just be sure to enjoy it with fruit slices or gluten free crackers. Or eat it with a spoon. I won't judge!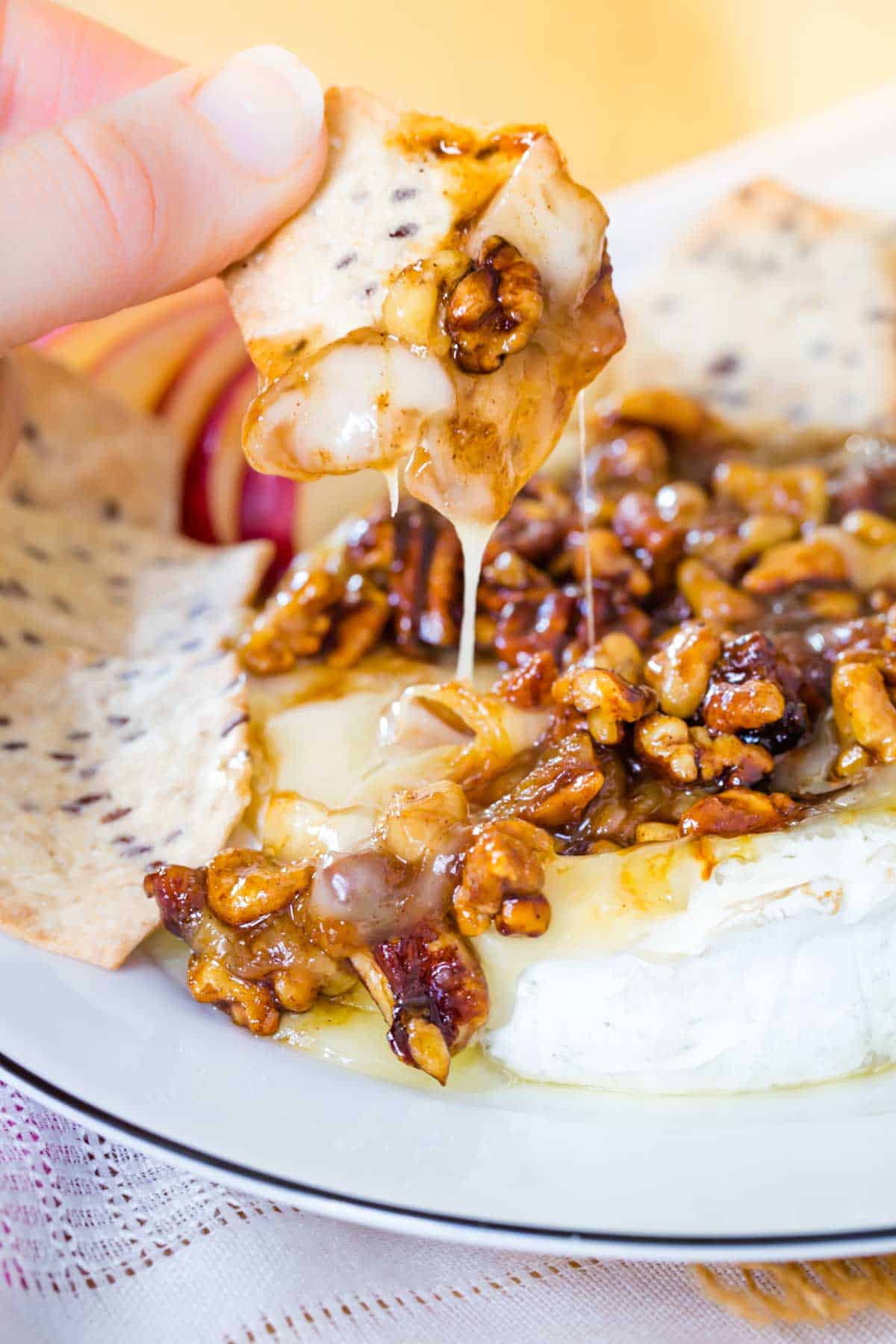 How to serve baked Brie for a large party?
Having a bigger party? Double the topping and get one of those giant wheels of Brie from Costco. Can't find the round ones? Then get a couple of wedges and press them into a ceramic baking dish. This is such a low maintenance recipe. Gotta love it!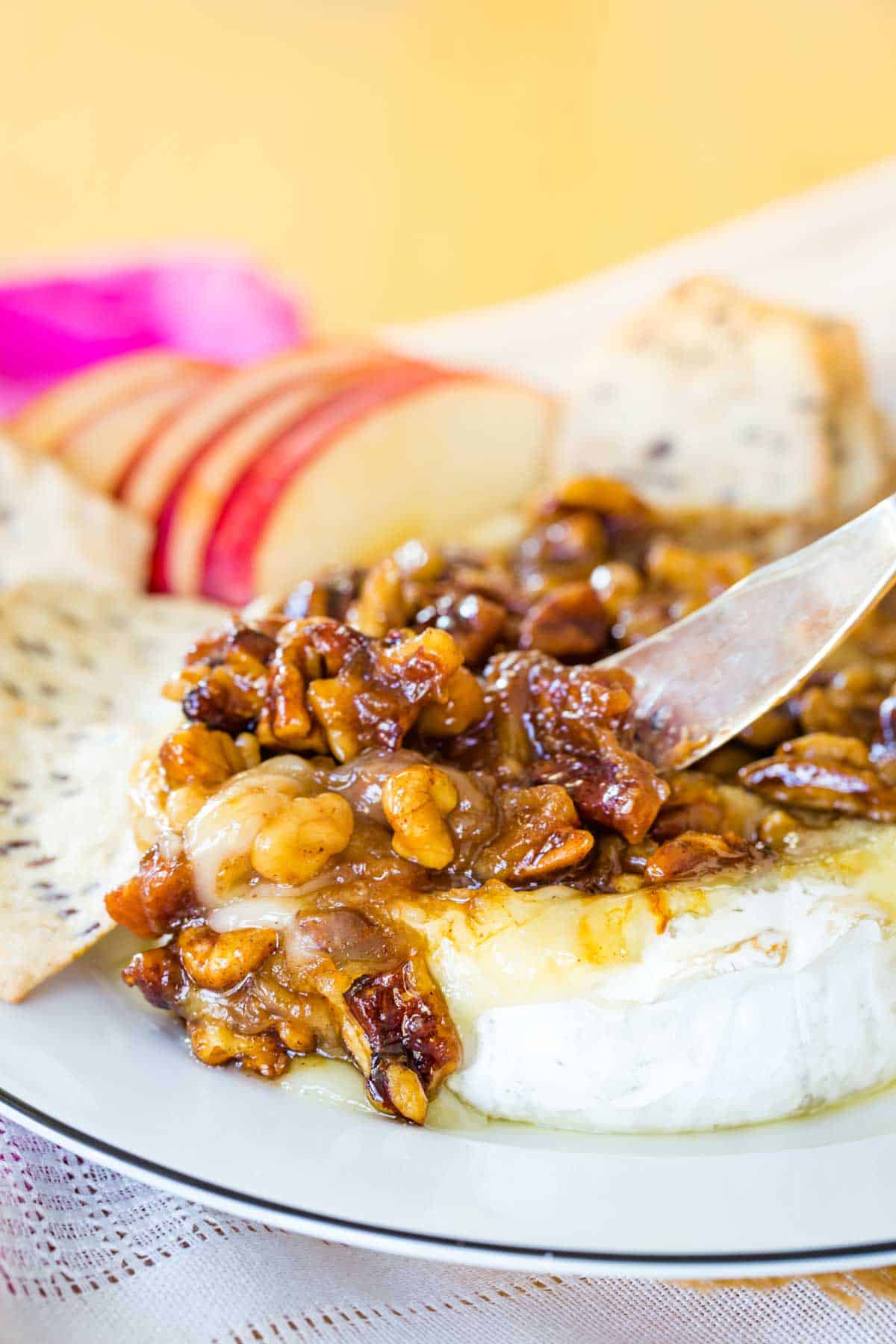 What to put on baked brie?
If you like this Honey Nut Baked Brie but want to try some other toppings, here are a few more ideas for you…
And if that's not enough, here are 15 Easy and Oozy Baked Brie Appetizer Recipes!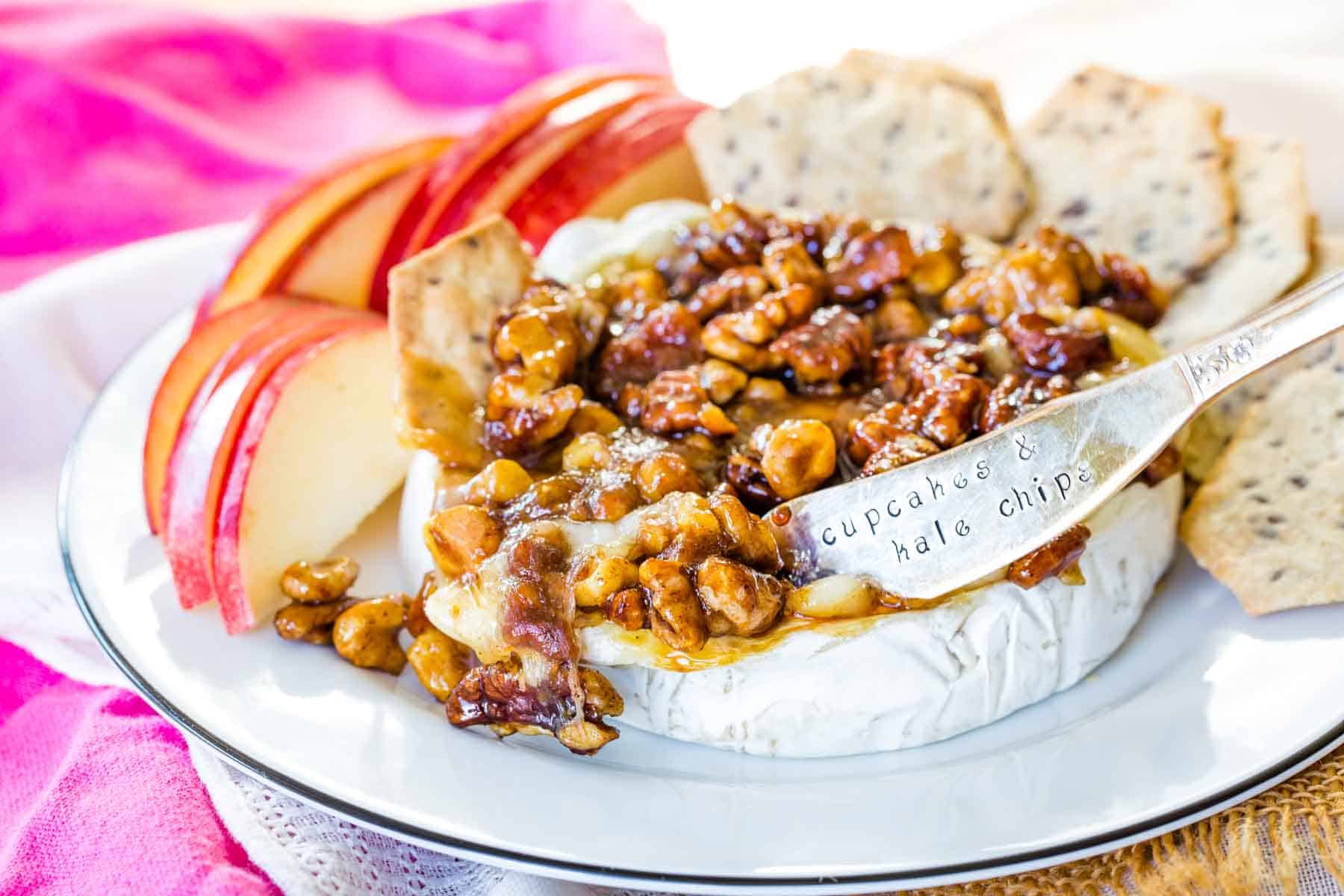 For more yumminess from me and my foodie friends, keep up with me on…
Or sign up to have Cupcakes & Kale Chips delivered straight to your Inbox!
Honey Nut Baked Brie Recipe
This oozy, melty, cheesy appetizer recipe is my go-to for the holiday season and really all year. Since it takes just a few minutes to make, it's easy to whip up and impress your friends. They'll be even more impressed that it only takes four ingredients to put together such amazing flavors. Grab your crackers and apples and get ready to scoop up this delicious Brie cheese topped with honey and walnut and pecans.
I hope you'll leave a comment and give it a FIVE STAR rating or share a photo on this pin on Pinterest!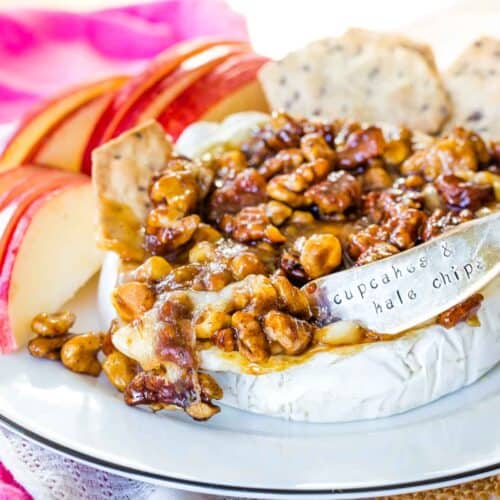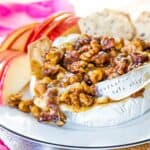 Print Recipe
Honey Nut Baked Brie
Warm and melty baked Brie cheese, topped with a sweet and sticky nut topping. An easy, but elegant appetizer with only four ingredients.
Ingredients
Instructions
Preheat oven to 350°F. Place brie round on baking sheet. With a sharp knife, cut into the rind on the top of the brie about a quarter inch from the edge. Do not remove the rind.

Bake 15 minutes, or until cheese is soft and melted.

While the Brie is baking, heat a small saute pan over medium heat and add the nuts, toasting until they slightly brown and give off a nutty aroma.

Add the honey, salt, and cinnamon to the nuts and stir to coat.

Remove the hot brie from the oven and transfer to a serving plate. Carefully remove the top rind using a sharp knife to separate it, if needed.


Pour the honey nut mixture over the top of the Brie.

Serve with crackers, apple slices, etc.

Alternatively, you can cut the top rind off of the Brie and place in an oven or microwave safe dish. Then top with the nut mixture and microwave the Brie for 3-5 minutes or bake at 350°F for 15-20 minutes, or until the cheese is warmed through, slightly bubbly and melty.
Nutrition
Serving:
1
g
|
Calories:
158
kcal
|
Carbohydrates:
5
g
|
Protein:
7
g
|
Fat:
12
g
|
Saturated Fat:
5
g
|
Cholesterol:
28
mg
|
Sodium:
183
mg
|
Potassium:
75
mg
|
Sugar:
4
g
|
Vitamin A:
170
IU
|
Calcium:
59
mg
|
Iron:
0.4
mg
Enjoy!
Originally published Jan 16, 2014