This post may contain affiliate links. Read my disclosure policy.
Fill a large wheel of brie with cranberry sauce and pistachios. Wrap it in phyllo dough for a quick and easy Christmas appetizer. Every holiday party needs ooey gooey cheese like this Cranberry Pistachio Stuffed Brie Wrapped in Phyllo.
The Twelve Guest Posts & Roundups of Christmas continues with this fabulous collection from my friend Christie! Make sure you also head over to Food Done Light to enter our amazing giveaway for a $200 Amazon Gift Card and your choice of cookbooks!
Cranberry Pistachio Stuffed Brie Wrapped in Phyllo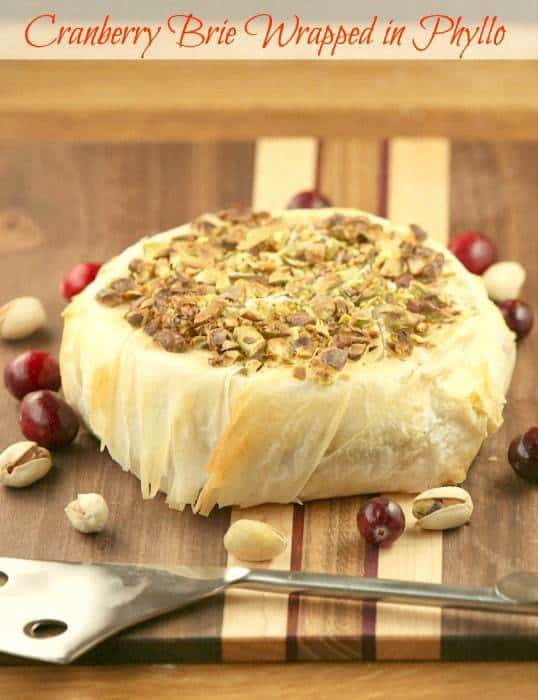 Hi! I'm Christie from Food Done Light. When I needed to get my butt in gear and lose some weight, I started a healthy eating blog. What? That isn't the first thing you think to do when needing to get healthy? I know, it is a little strange, but it is just the way my brain works. It is kind of on the theory "If you can't beat them, join them." I love to cook and eat, so publishing a blog about healthy eating just seemed like a natural thing to do. I am always on the lookout for other healthy recipes, and that is how I came to know Brianne and her fantastic blog. I was beyond thrilled when she asked me to guest post for her this holiday season.
I can totally relate to the stress of moving. My Dad spent 25 years in the Air Force, so we moved every couple of years while I was growing up. By the time I graduated from High School, I had been to 9 different schools. When you move that much, packing and unpacking gets to be old hand. All the moves gave me a love of traveling and learning about different cultures. One of the best ways to learn about people and cultures is through their food. Oh, I do enjoy that. I can remember eating sausages every morning we were on vacation in Germany. I absolutely loved the lunches at my English school. Greece was all about gyros, oh how scrumptious.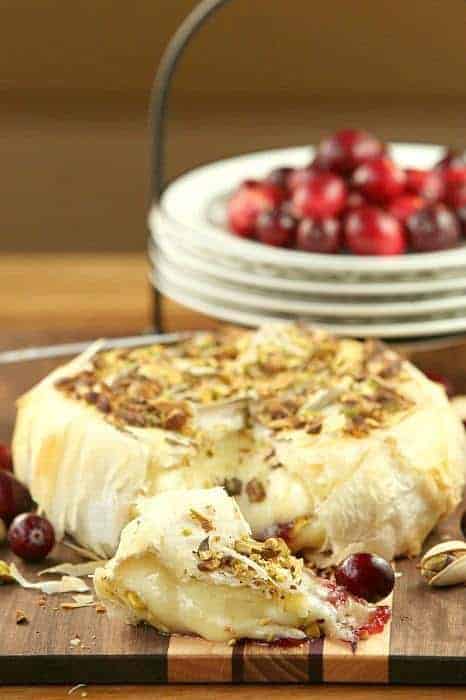 Today, I'm bringing you an appetizer, Cranberry Pistachio Stuffed Brie Wrapped in Phyllo. Every Christmas Eve for as long as I can remember, we have appetizers and Shrimp Bisque Soup for dinner. It may just be my favorite meal of the year. It may just beat out Thanksgiving! I just adore small bits of food. Small bites mean I can have lots of different flavors and textures without a lot of food. What better way is there to have a little taste of everything? Christmas Eve would not be complete without cheese. We are a cheese loving family, but it isn't exactly light. So cheese is delegated to special occasions, just like Christmas Eve. Brie is classically wrapped in puff pastry, but phyllo is lower in calories and fat. Phyllo still gives that delicious crunch you want with ooey, gooey cheese.
I bet Santa would be just as happy with a big piece of phyllo wrapped brie as he would be with cookies. Who wouldn't be? I'm not sure my 8 yr old daughter would be willing to share brie, even with Santa. I think we will be sticking with the cookies and milk for Santa and carrots for the reindeer. What do you leave for Santa?
Happy Holidays to you all and thanks so much to Brianne for hosting.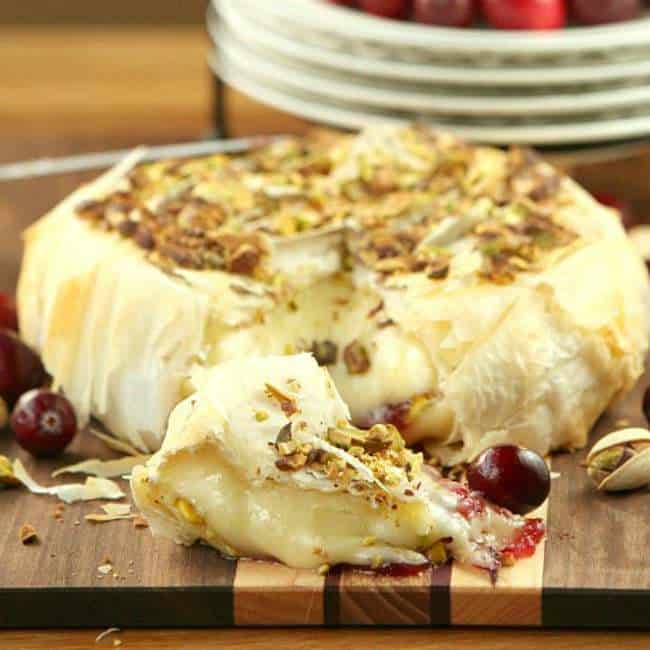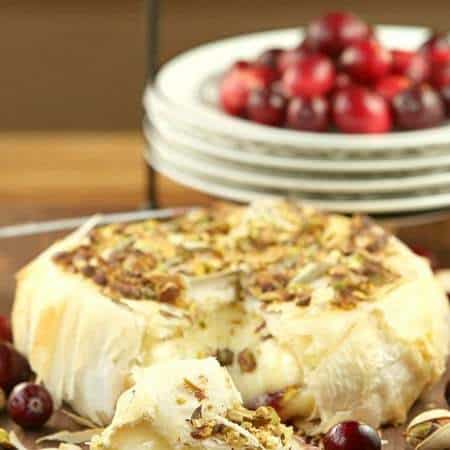 Cranberry Pistachio Stuffed Brie Wrapped in Phyllo
This Cranberry Pistachio Stuffed Brie is a quick and easy Christmas appetizer that you will LOVE. Every holiday party needs some ooey gooey cheese!
Ingredients
13.4

ounce

wheel of brie

¼

cup

whole berry cranberry sauce

¼

cup

crushed pistachio nuts

divided

4

sheets of phyllo dough

Non-stick cooking spray
Instructions
Preheat oven to 400°.

Cut the brie in half so you have 2 circles.

Spread cranberry on the top of one half.

Sprinkle with 2 tbsp. crushed pistachios

Top with other half of brie making sure the rind is on the top.

Lay a piece of phyllo dough onto a work surface and spray with non-stick spray.

Place another piece of dough on top and spray with non-stick spray. Repeat using all 4 sheets.

Place brie in the middle of the phyllo.

Fold up the phyllo around the brie. Spraying the dough each time you fold.

Place seam side down onto a baking sheet.

Spray the top and sides of the phyllo with cooking spray. Sprinkle with remaining pistachios.

Bake for 10 to minutes, or until phyllo is crisp and lightly browned.
Nutrition Facts
Cranberry Pistachio Stuffed Brie Wrapped in Phyllo
Amount Per Serving
Calories 134
Calories from Fat 90
% Daily Value*
Fat 10g15%
Cholesterol 27mg9%
Carbohydrates 6g2%
Protein 6g12%
* Percent Daily Values are based on a 2000 calorie diet.
Categories: