This post may contain affiliate links. Read my disclosure policy.
This Easy Guacamole recipe for kids is not only super simple to make, but it isn't full of those chunks of raw onions and peppers that turn off some little tastebuds. It has only 6 ingredients, isn't too spicy (unless you want it to be), and it still tastes super yummy! That makes everyone's favorite dip for tortilla chips both kid-friendly to make and to eat! And, like most guac recipes, it is gluten free and keto-friendly!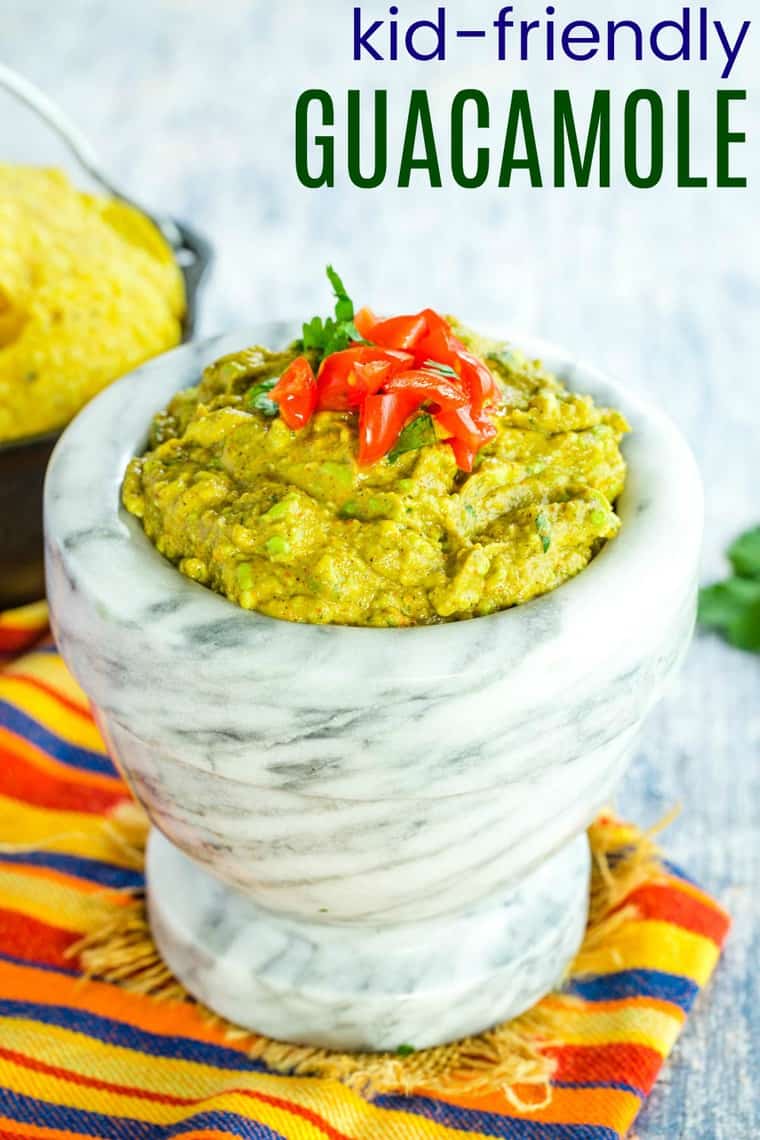 Everyone raves about how much they love guacamole. Guac on everything!
So years ago when I first made Mexican Black Bean Quinoa Burgers I felt they needed a dollop on top. But I had one little picky eater, and, well, picky mom. At least about some things.
You see, I call this kid-friendly, but it is also me-friendly.
I've told you that I am not really a fan of raw onions. Well, you can add raw jalapeños to that, too. But that doesn't mean I don't like a little heat. Just not in raw jalapeño form. That's what is so great about this recipe.
There are no big chunks of raw onion or pepper that turn off some kids. You can easily adjust the heat by adding as little or as much chipotle or chili powder as you like since there is no uncertainty depending on just how hot that jalapeño happens to be. You are in total control.
With only a few ingredients, minimal chopping and cutting, and the fun of mashing everything all together, it's definitely a great recipe for kids to make to get them involved in the kitchen. Check out below where I even recommend a few tools that will make it safer and will make them think it is super cool to help out.
And if they are anything like my kids, they will love eating it up, too. Totally Kid-Approved!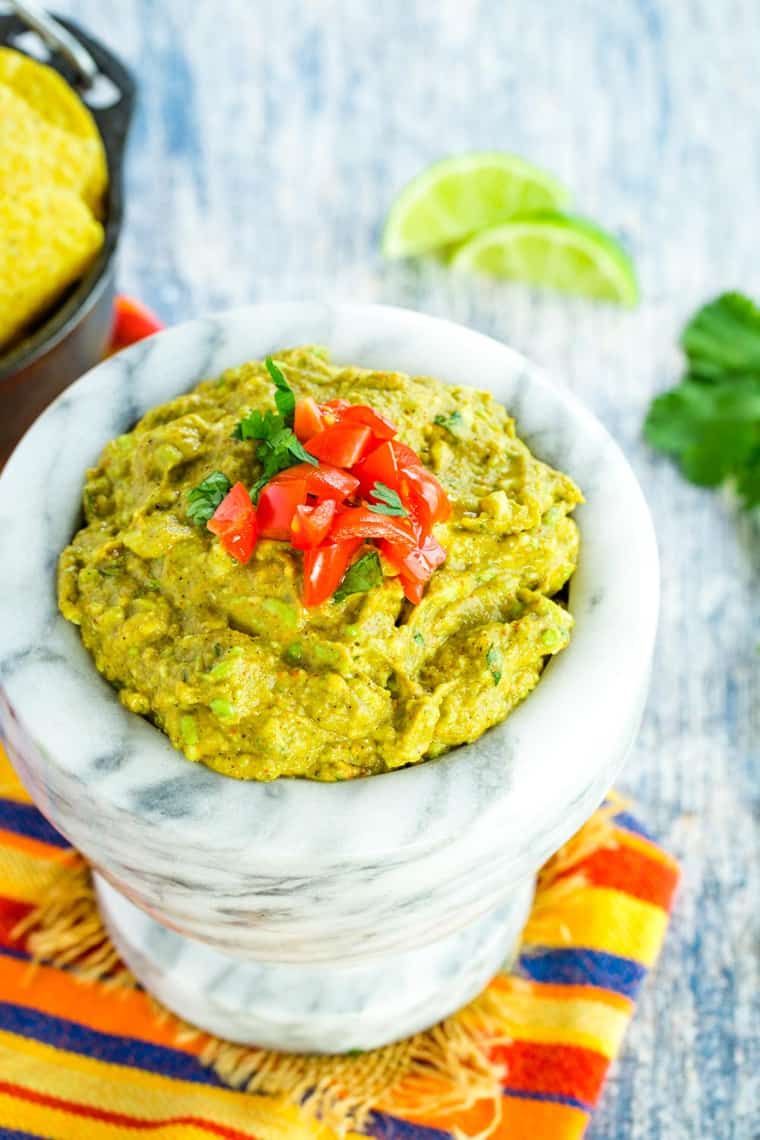 Easy Guacamole Recipe
Six ingredients, one bowl, a bunch of mushing and mashing. This is totally a kid-friendly guacamole recipe because they will be begging to make and eat it! Check it out…
Here is a brief overview so you can see just how easy it is to make. Scroll down to the printable recipe card for the full quantities and details.
But don't skip my PRO TIPS below!
Ingredients
Avocados
When picking an avocado, you'll want to give slightly when you lightly squeeze it, but not be too mushy. You can also pop out the little piece of stem. If it is a vibrant green underneath, it is good to go. If it is brown, it'll likely be brown on the inside.
Lime
You'll need the juice of one lime.
Garlic
Only one clove so it doesn't have an overpowering garlic flavor, and it gives it that same hint of flavor as onion without the pungent onion flavor or large chunks. I do recommend chopping or crushing your garlic well so that it is nice and smooth and evenly distributed.
Chili powder or canned chipotles in adobo
This is how you add the bit of heat without adding the more intense spice and chunks that you would get from raw jalapeno. It gives it more of a warm flavor that a huge kick. You can certainly adjust the amount based on your preference. Chili powder works great if you don't have chipotles, but the adobo does add a nice bit of smokiness. However, if you are gluten free, do be aware that some brands thicken the sauce with flour so READ THE LABELS!
One note is that using chili powder or chipotles is what gives the guacamole recipe a bit of a reddish-brownish hue. Don't worry!
Cilantro
Cilantro can be a polarizing ingredient. Some people love it and some hate it. This recipe doesn't call for a lot. It just adds a hint of freshness. But you can always add more or less.
Salt
Pull all the flavors together and enhance them with this essential ingredient. I use Kosher salt, so you may want to use a little less if you only have regular table salt or fine sea salt.
Directions
Cut the avocados in half, remove the pits, and scoop the flesh out into a large bowl.
Squeeze the lime juice over the avocado.
Add the remaining ingredients and mash everything together to your desired consistency. Adjust the spice and salt to taste.
Enjoy immediately or refrigerate covered until ready to serve.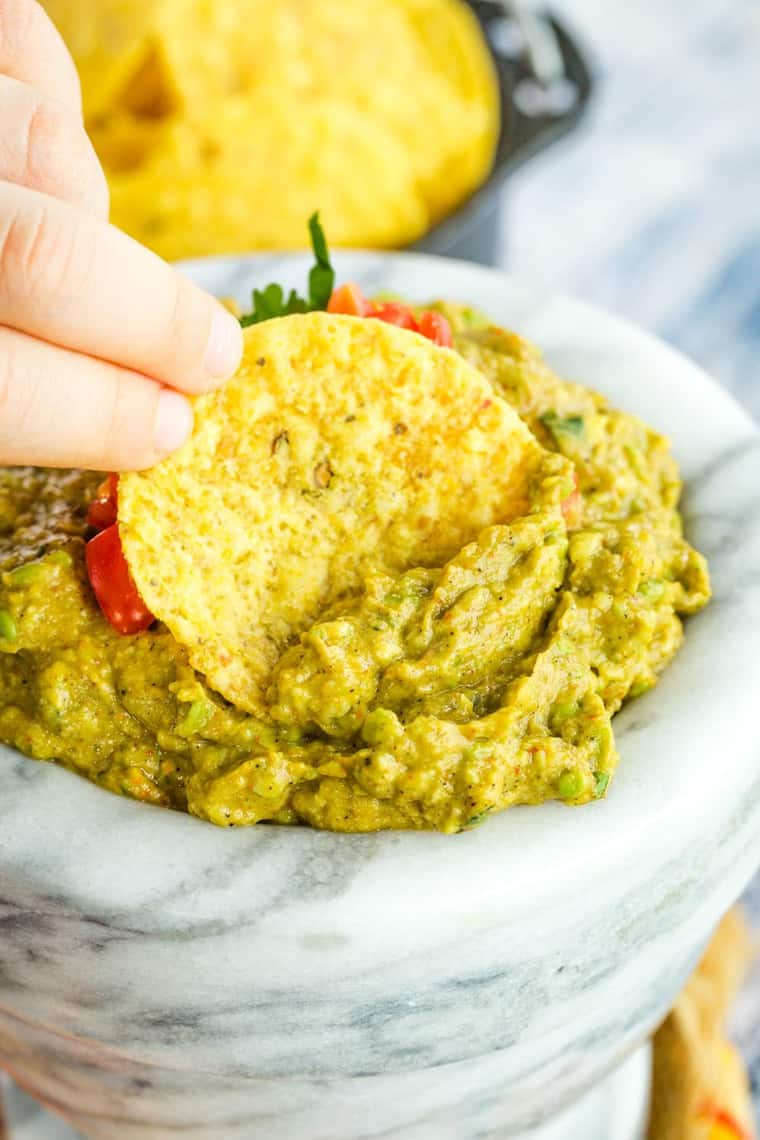 A few things you might need
While all of this prep can be done with basic kitchen tools like knives and bowls and potato mashers, there are a few items that might make it a little more safe AND fun if you are getting the kids involved.
For cutting and pitting the avocado
For mashing up the guacamole
Some other items to make easy guacamole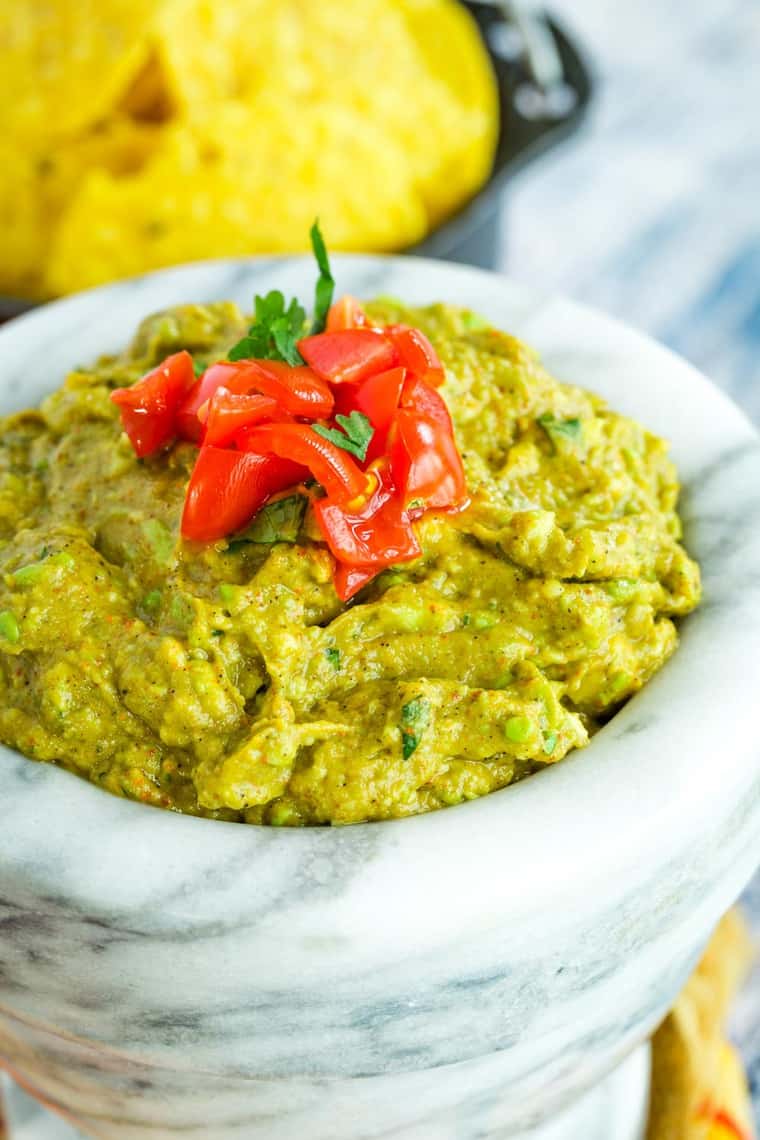 BRIANNE'S PRO TIPS
Juice the lime right over the avocado immediately to help prevent it from turning brown right away.
Eating this kid-friendly guacamole right away is definitely preferred for the best color. If you want to make it ahead or want to give the flavors time to blend more, store it in the refrigerator with plastic wrap pressed right against the surface to minimize browning. Because you know how kids are – even if it tastes the same, once it turns a funny color, it won't be kid-friendly anymore!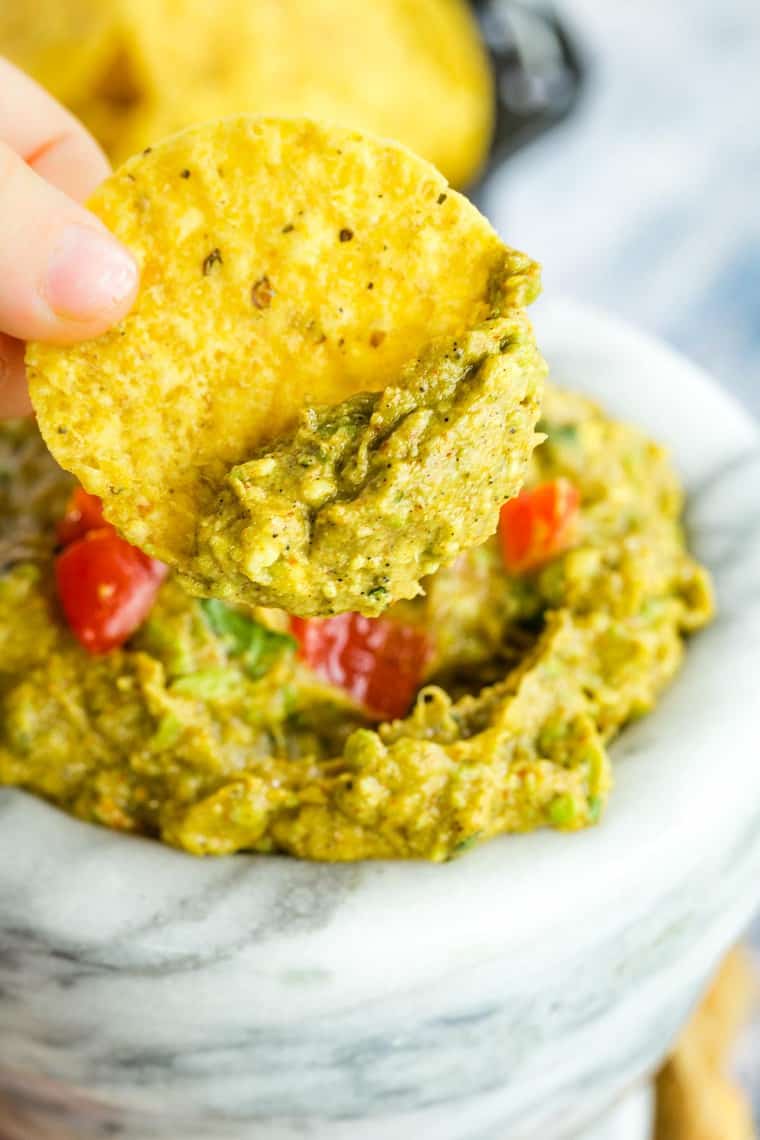 Use it as a dip for
Serve it with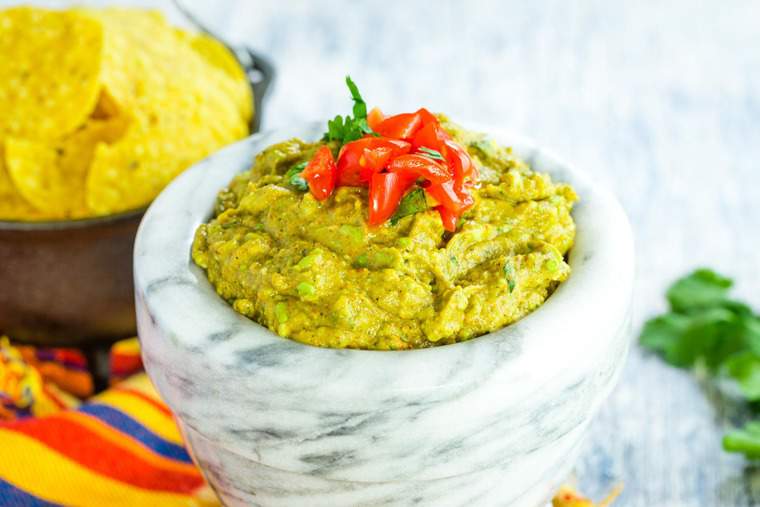 Kid-Friendly Recipe for Guacamole
This easy guacamole is perfect for kids to make and eat. Totally picky-eater approved because there are no chunks of raw peppers or onions. And you can adjust the spice level just how you like it. And with only six ingredients and minimal chopping and cutting, it's a great recipe for kids to get involved in the kitchen.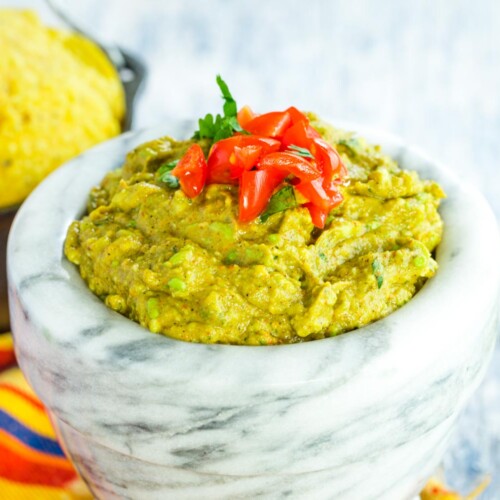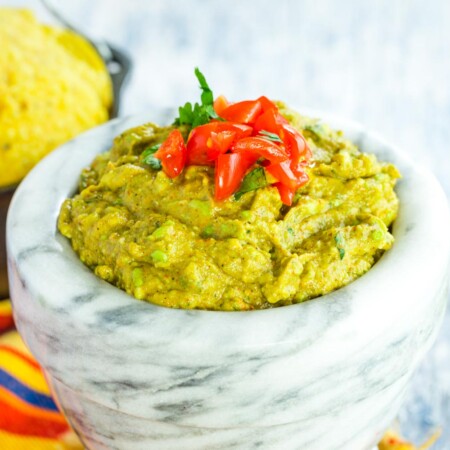 Kid-Friendly Guacamole
This easy Guacamole recipe has only 6 ingredients and no chunks of raw onions and peppers, but still tastes yummy! Kid-friendly to make and eat!
Ingredients
2

avocados

juice of half of a lime

1

clove

garlic,

minced or crushed

1

teaspoon

minced chipotles in adobo

or 2 teaspoons chili powder (or to taste)

1

Tablespoon

minced fresh cilantro

(plus more for garnish, if desired)

1/2

teaspoon

kosher salt

or to taste

chopped tomatoes

(for garnish, if desired)
Instructions
Cut the avocados in half, remove the pit, and scrape the flesh into a bowl (or use a mortar and pestle or molcajete).

Squeeze the lime juice over the avocados to prevent browning.

Add the remaining ingredients, and mash together to desired consistency with a fork or potato masher (or mortar and pestle or molcajete).

Store in the refrigerator. Press plastic wrap against the surface of the guacamole to prevent browning.
Nutrition Facts
Kid-Friendly Guacamole
Amount Per Serving
Calories 41
Calories from Fat 36
% Daily Value*
Fat 4g6%
Sodium 78mg3%
Potassium 122mg3%
Carbohydrates 2g1%
Protein 1g2%
Vitamin A 52IU1%
Vitamin C 3mg4%
Calcium 3mg0%
Iron 1mg6%
* Percent Daily Values are based on a 2000 calorie diet.
Categories:
Enjoy!