This post may contain affiliate links. Read my disclosure policy.
Ready in under 30 minutes, these Baked Chicken Tacos are an easy weeknight dinner or Cinco de Mayo feast! Made with crunchy hard taco shells filled with slow cooked salsa chicken and beans, oven baked with two types of cheese, and then loaded with your favorite taco fixings.
Cheesy Chicken Tacos with Black Beans
Ever since I started making Salsa Chicken with Black Beans in my slow cooker, it's been a repeat offender at my dinner table. The delicious combination of spicy pulled chicken and tender beans is quickly becoming a family favorite in our Tex-Mex-inspired dinners.
Burrito Bowls, Taquitos, Nachos… it's certainly gotten a workout lately! (Not that anyone around here is complaining). Most recently, I used my slow cooked salsa chicken recipe to make these incredibly easy and flavor-packed Baked Chicken Tacos. Just in time for Cinco de Mayo, I think we have a winner!
Making these took less than half an hour from start to finish. Baked tacos are super simple, super flavorful, and perfect for your next weeknight dinner or friendly fiesta!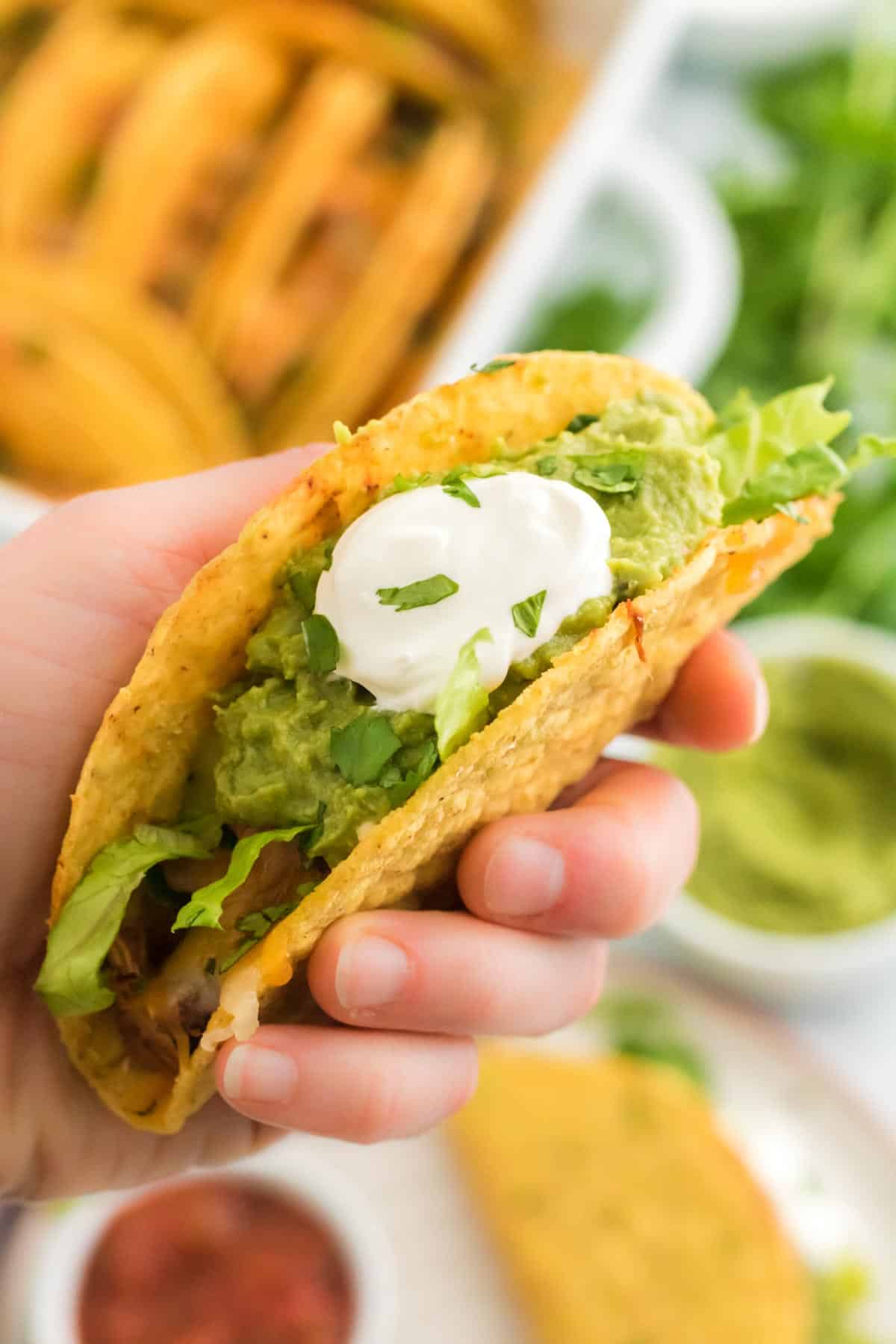 Why Bake Tacos?
These tacos are a triple threat of ease, flavor, and fun! Here's why we can't get enough of this oven-baked taco recipe (and why you shouldn't wait to make a batch of these, asap!):
They're extra crispy: Crunchy hard taco shells come out of the hot oven all crispy and delicious. I love the combination of juicy shredded chicken and crunchy, salty shells!
The cheese gets super melty: Baking these tacos means the cheese has time to get all golden and melty in the oven.
It's quick: A full batch bakes up fast and easy in one dish. Have your whole meal ready in less than 30 minutes!
It's a crowd pleaser: We'll munch these for family dinner, but they're just as perfect to make for parties, potlucks, and entertaining (who doesn't love a hot crunchy taco?). Just prepare everything in advance, fill the shells, and bake!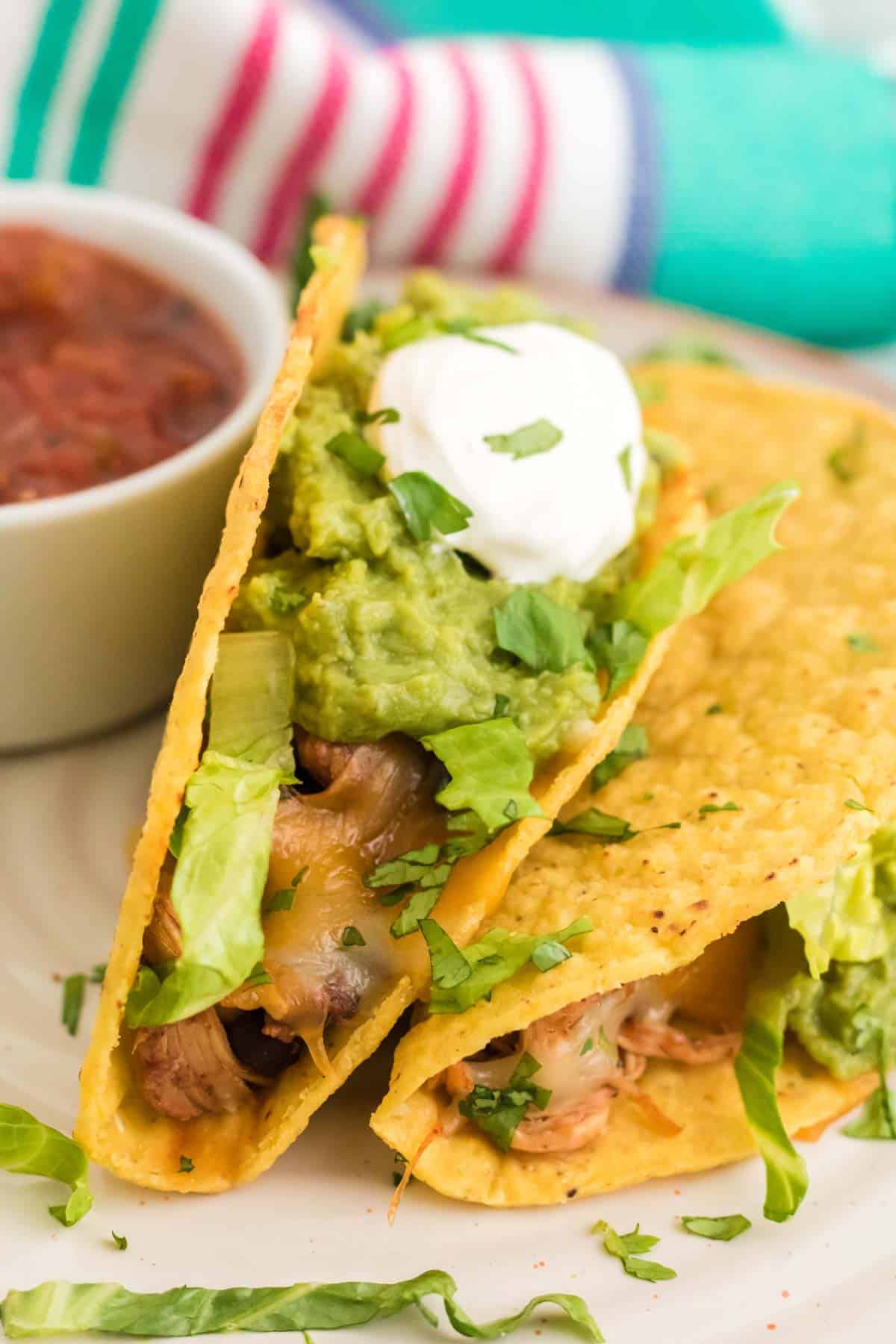 What You'll Need
I use store bought taco shells and pre-make the chicken taco filling, so this list is basically only 3 ingredients long! Plus your toppings of choice, of course.
Chicken: I used my recipe for Slow Cooker Salsa Chicken with Black Beans in these tacos and loved it. Just make sure to drain off any excess liquid. Alternatively, you can use 2 cups of just about any leftover chicken (or rotisserie chicken), shredded and mixed with store bought salsa.
Taco Shells: Most hard taco shells come in packs of 12. If you can get your hands on the stand-up taco shells (the ones with flat bottoms), all the better, though these tend to come in packs of 10. Depending on the size and brand you use, you can use more or less shells to fill the pan.
Cheese: Shredded cheddar cheese and Monterey Jack cheese, for double the cheesiness! You can also use something spicier like Pepper Jack, or a premixed Tex-Mex cheese blend.
Taco Toppings: Lettuce, sour cream, jalapeños, salsa, guacamole, cilantro – any fixings your heart desires!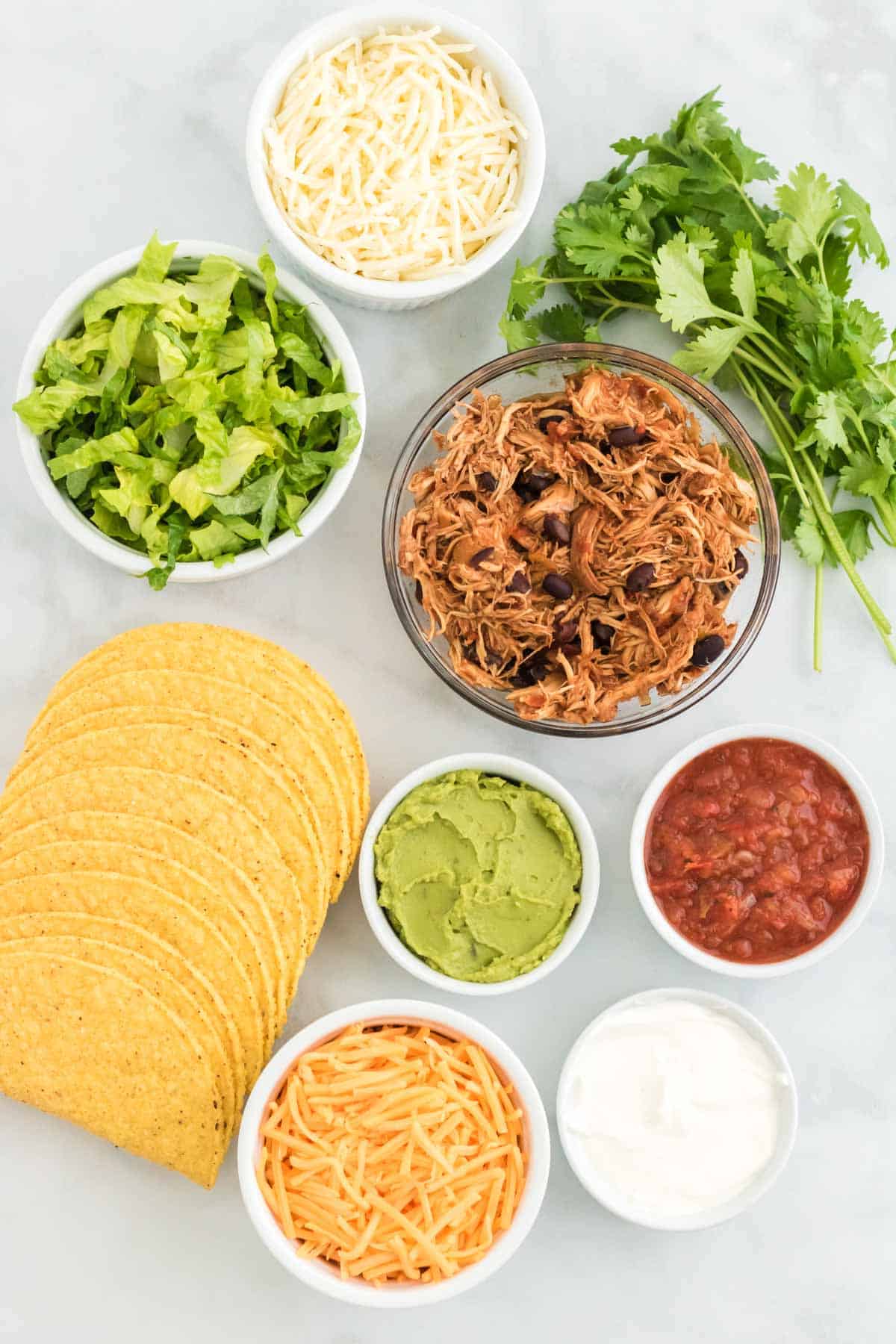 How to Make Baked Chicken Tacos
These chicken tacos couldn't be any easier to make in the oven. Here's how to make a quick batch for your next fiesta:
Prep the Shells: Stand the taco shells upright in a large, greased baking dish. Place the empty shells in a preheated oven for 5 minutes to crisp them up a bit.
Fill the Tacos: Spoon the chicken evenly into the shells, and give each taco a sprinkle of mixed cheese.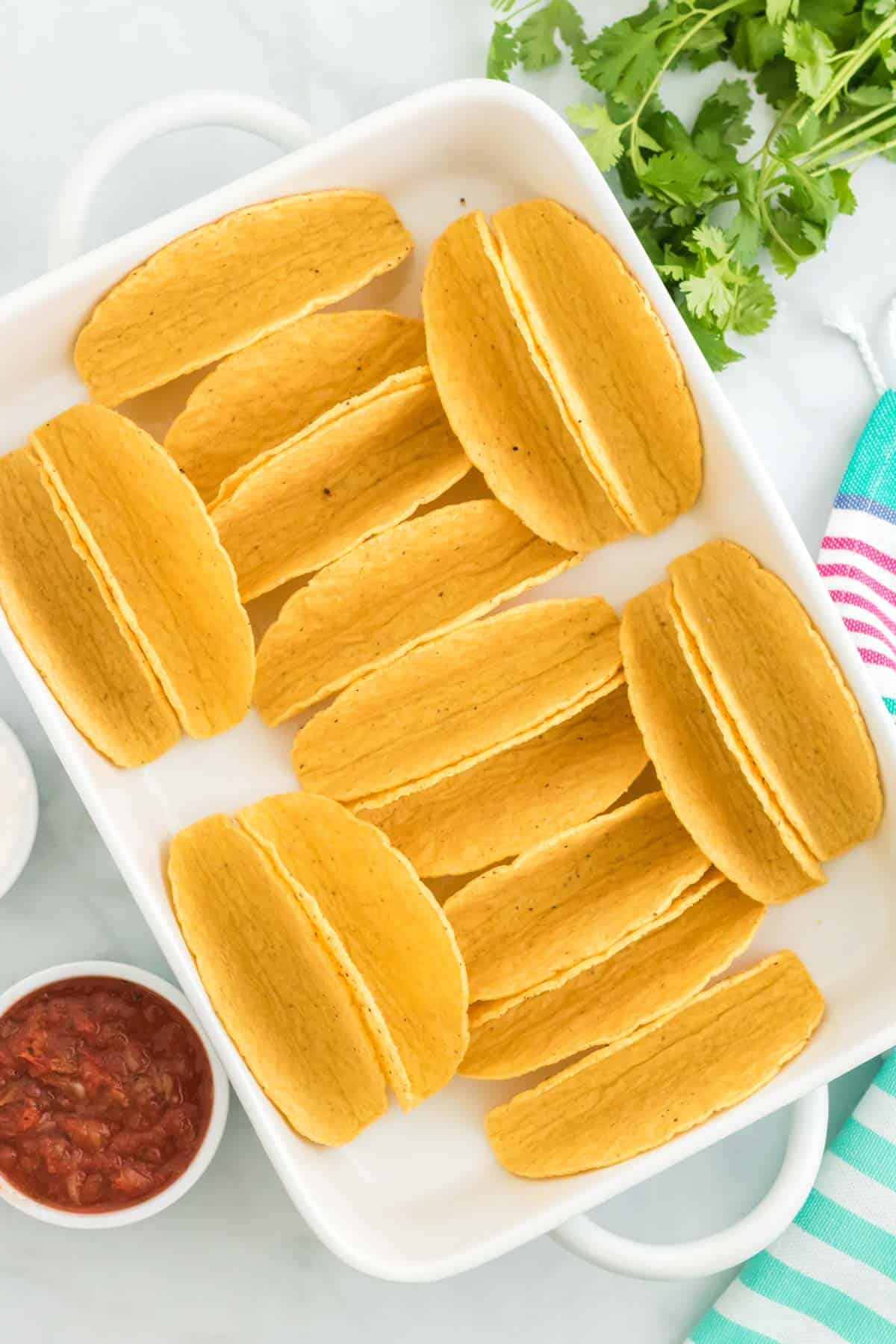 Bake: Pop the filled tacos back into the oven to bake until the cheese is melted and bubbly. Assemble your favorite toppings and serve!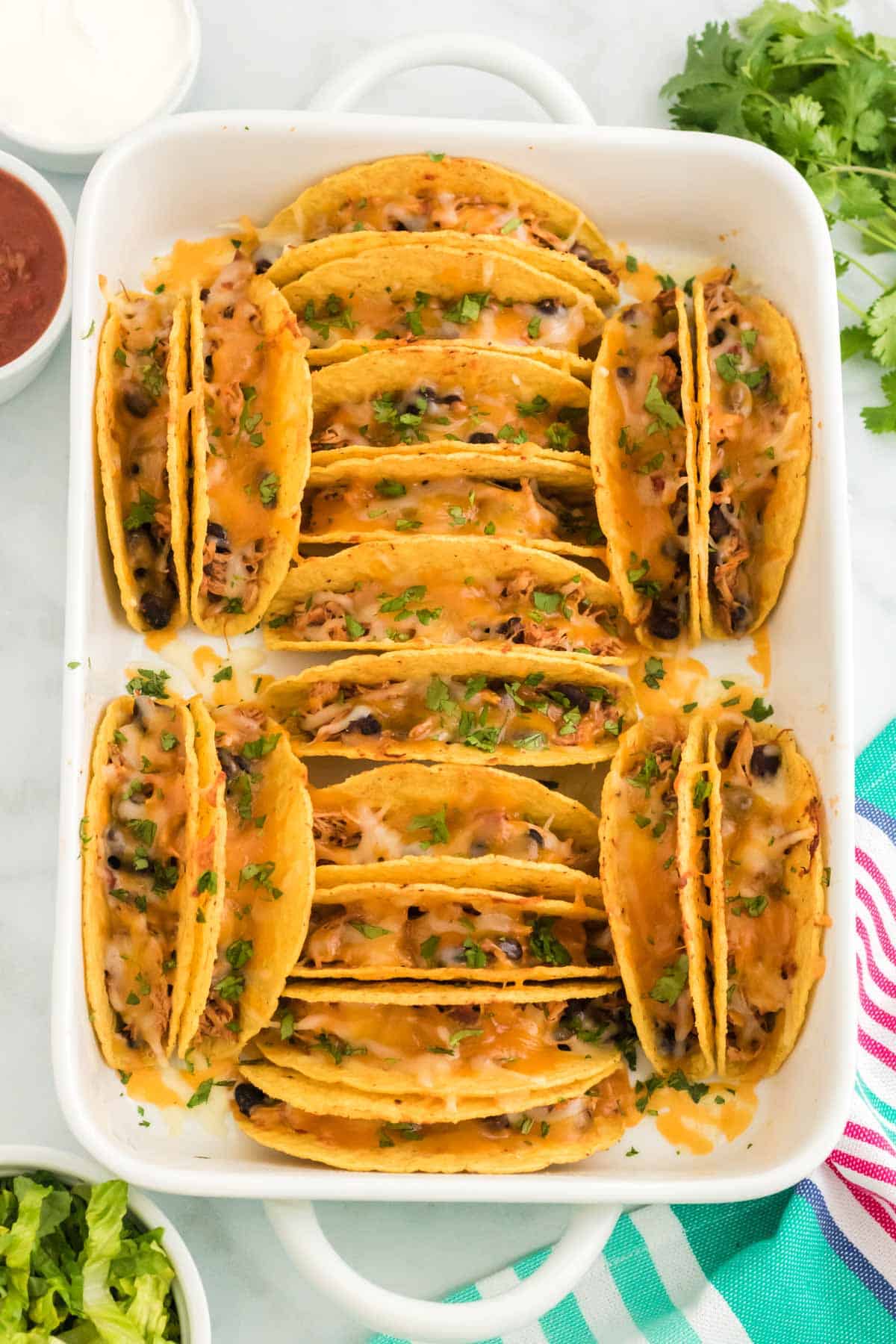 Tips for Success
Bake the Shells First: I've included this step in my recipe because it really makes a difference! Giving the hard taco shells a few minutes in the oven beforehand helps to keep them crunchy and not soggy once they're filled. Just be sure to keep an eye on them, as they burn easily if left for too long!
Drain the Salsa: Whether you're using the chicken recipe I've included here, or another version that uses salsa, be sure to drain the excess liquid! This will also avoid a soggy shell.
Scale Up or Down: Making tacos for two? Or tacos for a larger gathering? This recipe is easy to double, triple, or scale back. Just adjust the pan size accordingly!
Tasty Topping Ideas
A baked chicken taco is a beautiful thing. Delicious on its own, in all its cheesy, melty glory. And just as perfect for filling and customizing with your family's favorite toppings! Here are some ideas to jazz up your baked tacos:
Sour cream (a true classic, otherwise lighten things up with Greek yogurt instead!)
Diced tomatoes
Avocados or guacamole
Shredded lettuce or cabbage
Jalapeños
Hot sauce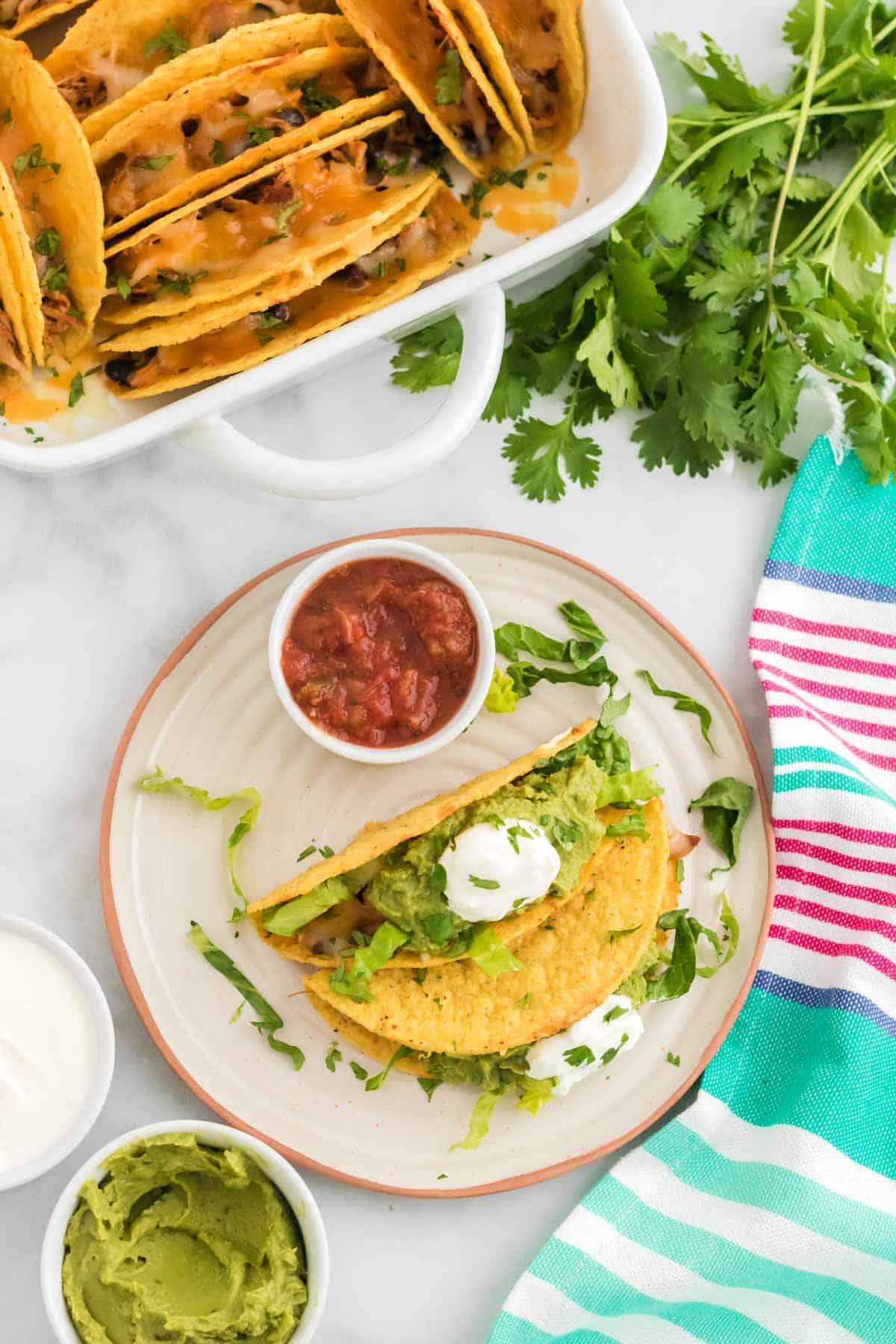 Make it a Meal
We're huge fans of Mexican-inspired cooking in this house. I love serving my tacos with Easy Cilantro Lime Rice, and quick side dishes like my 15-Minute Chili Lime Steak Bites (these also make a great alternative filling for a beef taco version!). I'll even mix together some festive Skinny Grapefruit Margaritas when I'm expecting guests.
Whether you're planning a full-on Mexican-style spread or a casual weeknight dinner, round out your meal with some of these side dish ideas: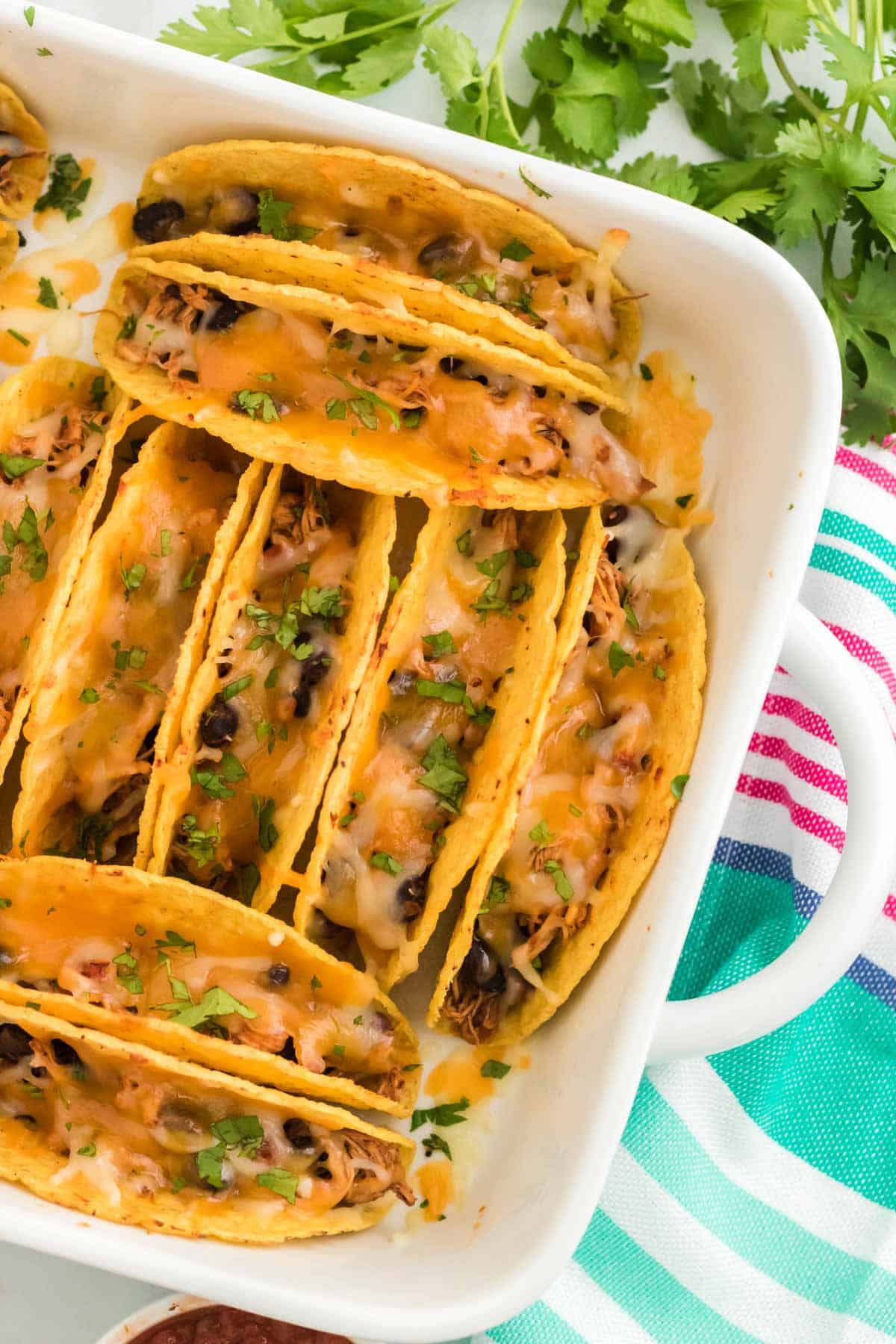 Storage and Reheating
I recommend baking and serving these chicken tacos right away, as this is when they're at their best! Hard tacos tend to lose their crispness and texture quickly, especially after they're stored.
Of course, if you must store them, place your leftover tacos in an airtight container to keep in the fridge. Reheat any leftovers within 3 days.
For best results, reheat the tacos in an oven or air fryer to help crisp up the shells again. It usually only takes a couple of minutes for them to reheat, so start at 3-5 minutes and watch them closely until they're heated through.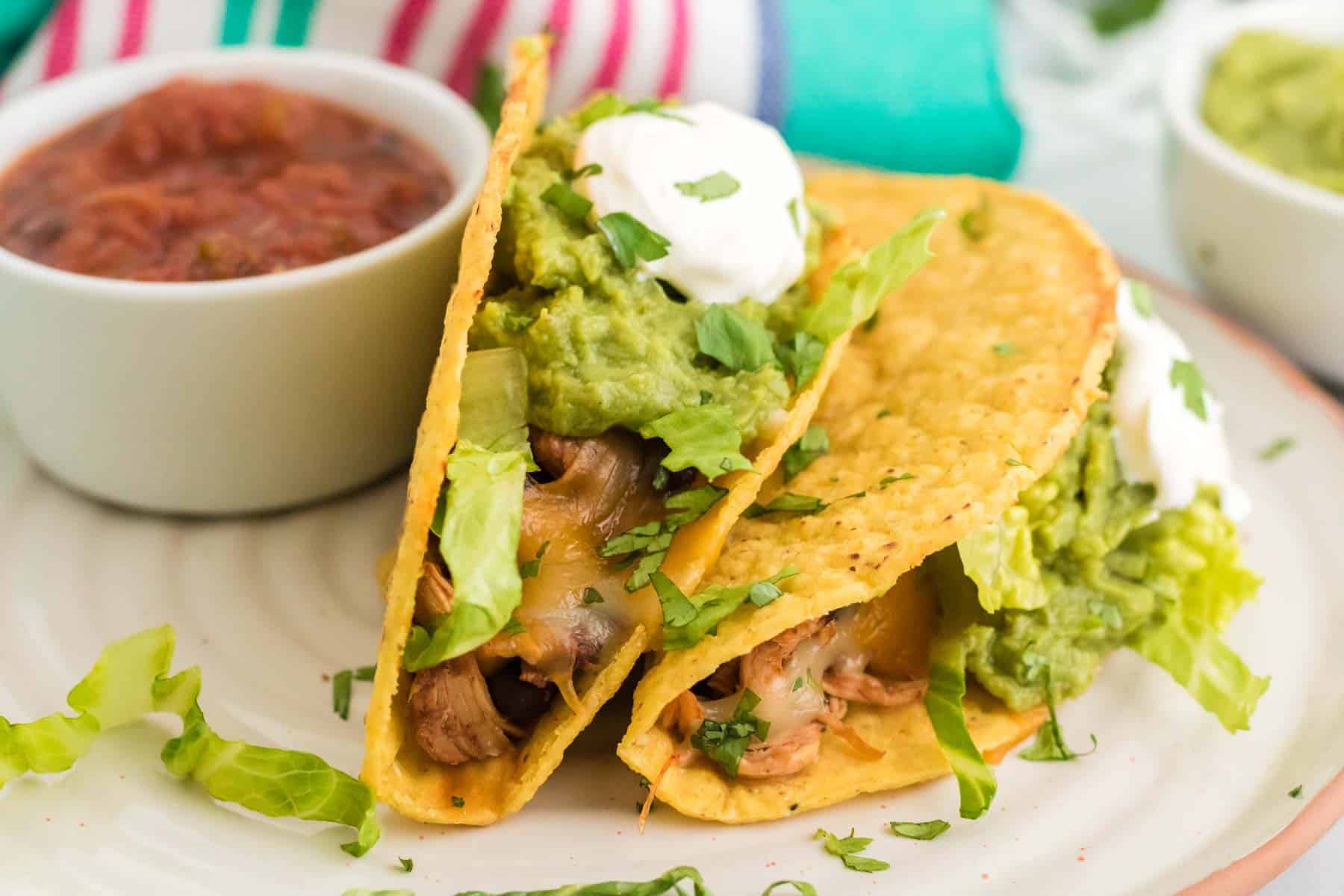 More Mexican-Style Dinner Ideas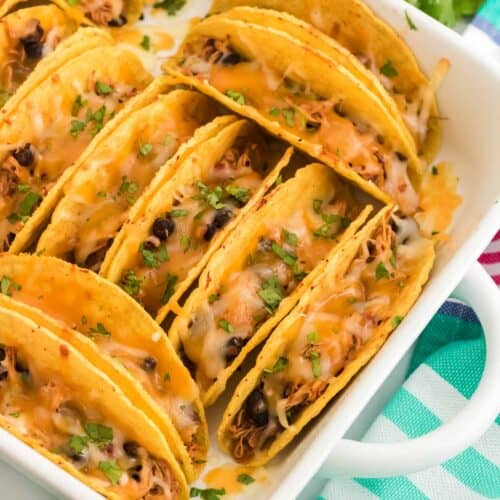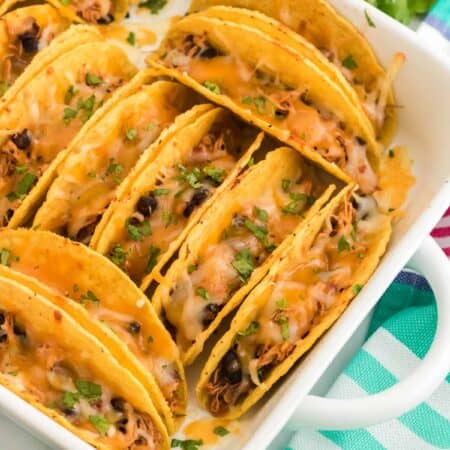 Baked Chicken Tacos
In less than 30 minutes, these Baked Chicken Tacos are ready for an easy weeknight dinner or Cinco de Mayo feast! Made with crunchy hardshell tacos filled with slow cooked salsa chicken and then baked with two types of melty cheese.
Ingredients
2

cups

salsa chicken

(Try my Slow Cooker Salsa Chicken with Black Beans, with excess liquid drained off)

10-12

taco shells

(see note)

1

cup

shredded cheddar cheese

1

cup

shredded Monterey Jack cheese

Toppings such as lettuce, sour cream, sliced jalapeños, salsa, guacamole, cilantro, etc.
Instructions
Preheat the oven to 400°F. Coat a 13×9-inch baking dish with cooking spray.

Stand the taco shells up in the baking pan. Bake the empty shells for 5 minutes.

Remove the pan from the oven and divide the chicken between the taco shells, then top with the cheese.

Bake for another 5-7 minutes until the cheese is melted. Serve with your favorite toppings.
Notes
Traditional taco shells usually come in a 12-pack, the stand-up ones usually are in a 10-pack. If your brand of shells are very narrow or you use a larger pan, you can use more to fill the pan.
Nutrition Facts
Baked Chicken Tacos
Amount Per Serving
Calories 320
Calories from Fat 180
% Daily Value*
Fat 20g31%
Cholesterol 71mg24%
Sodium 336mg14%
Potassium 183mg5%
Carbohydrates 13g4%
Protein 22g44%
Vitamin A 356IU7%
Calcium 299mg30%
Iron 1mg6%
* Percent Daily Values are based on a 2000 calorie diet.