This post may contain affiliate links. Read my disclosure policy.
Easy chicken enchiladas are an awesome way to reuse leftovers! Cook once and eat twice (or three times) is a great strategy for busy weeknights. So is cooking that big batch of food in your crockpot. Combine both to have a fiesta all week with slow cooker salsa chicken doing double duty when you make extra to roll up in these Easy Chicken Enchiladas.
This also makes great gluten-free Cinco de Mayo food!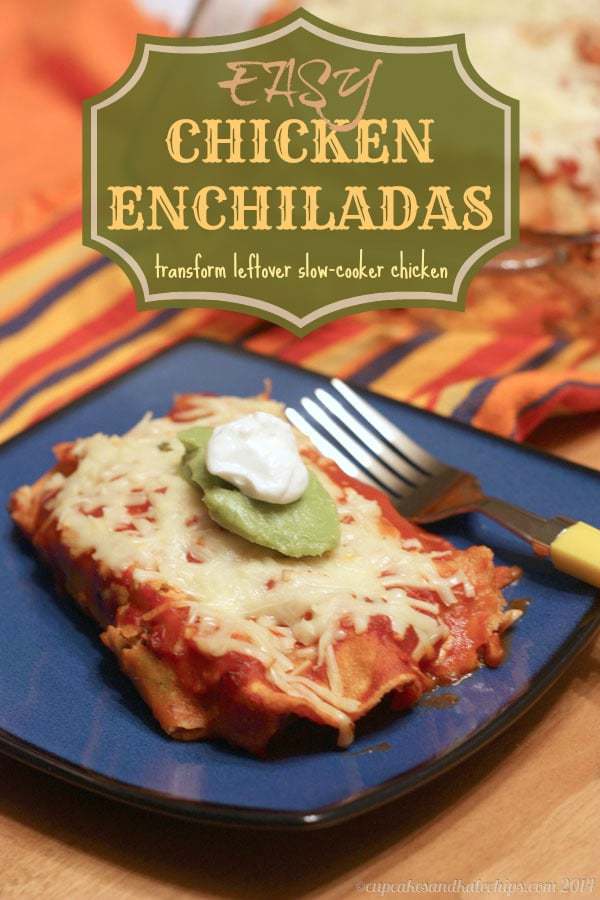 It starts off as one day a week and soon becomes a way of life.
As you know, #SundaySupper has expanded to #WeekdaySupper, where every Monday through Friday we bring you meals that are simple enough to make any night of the week, and are suited to busy families. You can see what's cooking up this week at the bottom of this post. And don't forget about the #SundaySupper and #WeekdaySupper Pinterest boards!
My mom and stepdad eat out a lot. Or at least it seems that they do to me. I guess because I almost never have lunch out, and we go out for dinner or get takeout maybe once a week. The hubby will occasionally take The Bug for a slice of pizza or he will grab a burger running errands, but other than that one dinner a week where I enjoy someone else preparing my food, I'd rather eat at home. It's cheaper, healthier, oftentimes faster. I also like to use up every last bit of food I possibly can, and lunchtime for me and the boys is a great time to make smaller meals where I can sneak in all those bits and pieces.
On a recent visit to my mom's, it was a Saturday afternoon, and she asked if my stepdad would run out and grab everyone some lunch because they didn't have anything. Yeah, nothing except a FRIDGE FULL OF FOOD! I think they still got takeout, but I took a little of this, a little of that and made the boys and I sandwiches or omelets or salads. I don't remember what it was that particular day, since this is something I do all the time. But we were all well-fed and happy. And didn't have to spend another dime.
One of the things in the fridge was the leftovers of my Slow-Cooker Salsa Chicken & Black Beans. So when we packed up to head home, I took it with me, along with the leftover corn tortillas and guacamole from our taco night. We did a quick stop for enchilada sauce towards the end of our three and a half hour drive home.
Within about a half hour of arriving home, we had these easy chicken enchiladas for dinner.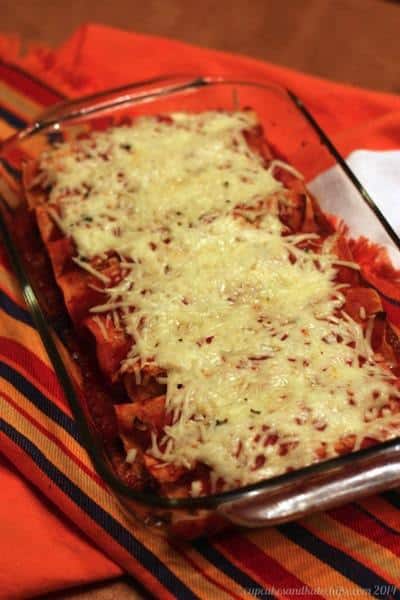 But even though these whipped up super fast, I had some hungry guys after a long drive, so it was all I could do to grab these few quick photos before we all attacked these Easy Chicken Enchiladas. And while these aren't my most stellar pictures, I'm lucky I got what I did, because we wiped out this pan of enchiladas. Let's just say the appearance and simplicity do not do justice to how tasty they are, mainly because of the super flavorful the chicken was. I did use a bottle of enchilada sauce since I was on a time crunch, but if you make your own, feel free to use that.
And even after taco night and chicken enchiladas, I still had some chicken left to make sliders. Cook once, eat three times!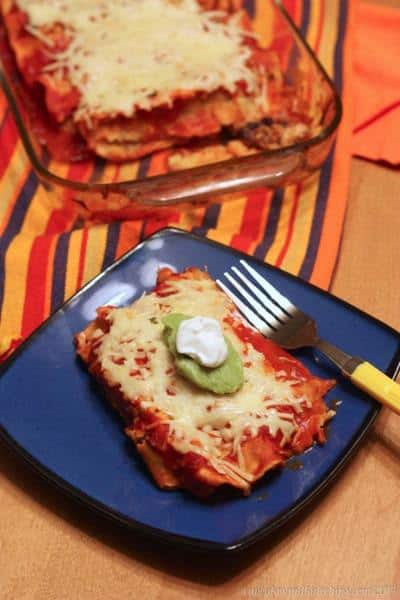 How do you like to reinvent leftovers?
I'd love to hear back from you after you try the chicken enchiladas recipe!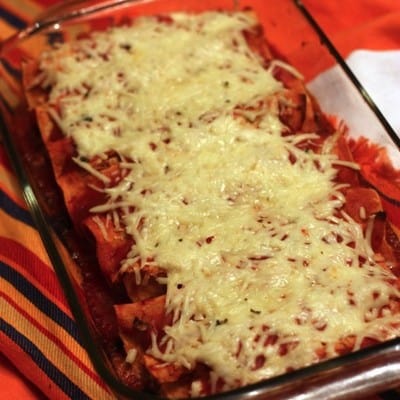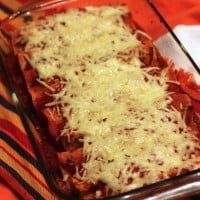 Easy Chicken Enchiladas
Slow cooker salsa chicken does double-duty when you make extra to roll up in these Easy Chicken Enchiladas.
Ingredients
About 1 1/2 cups enchilada sauce

from a bottle or homemade

8

corn tortillas

About 2 cups Slow Cooker Salsa Chicken & Black Beans

1

cup

shredded cheddar cheese

Sour cream

guacamole, etc., for serving
Instructions
Preheat your oven to 400°F and coat a glass baking dish with oil or nonstick cooking spray.

In a small pan, slightly warm the enchilada sauce.

One at a time, lightly dip both sides of a corn tortilla in the sauce, lay on a flat surface, place about 1/4 cup of the chicken mixture down the middle, roll up and place seam side down in the baking dish.

Repeat with the remaining tortillas and chicken.

Pour any remaining sauce over the top of the enchiladas.

Top with the cheese and bake for 20-25 minutes, or until heated through and cheese is slightly browned.

Serve with sour cream, guacamole or any other fixings, as desired.
Enjoy!
Equipment you may need to make the chicken enchiladas recipe:
[amazon_link asins='B00EZI26GO,B0006BDCZ8,B004RB73A8′ template='ProductGrid' store='cupkalchi-20′ marketplace='US' link_id='54d0fa26-0a81-11e7-a99f-dfc967a0482a']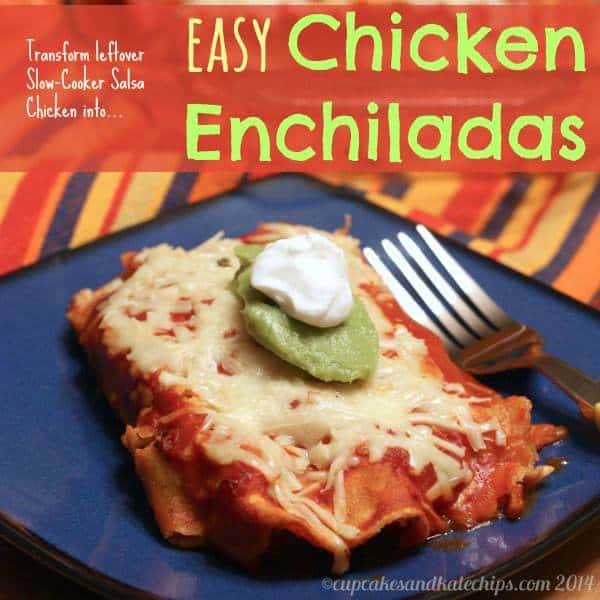 Have you missed any of my previous Weekday Supper recipes?
Weekday Supper Menu for the week of March 31 – April 4
This month we will be stuffing, wrapping, and rolling here on the Sunday Supper Movement website! Let's kick things off with these easy Weekday Supper recipes.
Egg and Chorizo Wraps from Family Foodie
#WeekdaySupper for the family on the go. These wraps are so quick and easy — they even travel well.