This post may contain affiliate links. Read my disclosure policy.
This Instant Pot Pinto Beans recipe is super easy and so versatile! Learn how to cook pinto beans in your pressure cooker to serve as a side for your favorite Mexican dinners, or use them in loads of healthy meal ideas. They are naturally gluten free and can be made vegan!
Looking for more easy Instant Pot recipes? Try my traditional Instant Pot Black Eyed Peas!
Easy Instant Pot Pinto Beans (No Soaking!)
I am all about cooking beans in the Instant Pot. This recipe turns humble dried pinto beans into a delicious side dish or an easy addition to our favorite Mexican-inspired meals. The beans cook up in a rich and flavorful bean broth spiced with a hint of chili and cumin, in a fraction of the time it would take on the stovetop.
These Instant Pot pinto beans come out perfect every time, with next to zero effort. You don't even need to soak the beans. Simply sauté some aromatics in the pot, add your beans and broth, and then set everything to pressure cook. Open the lid to tender, savory Mexican pinto beans that are ready to serve!
Pinto beans are full of protein and this Instant Pot recipe tastes miles better than canned beans. We love adding pinto beans to burrito bowls and tacos, salads, and more. This recipe also makes a generous amount, meaning tons of leftovers to enjoy all week!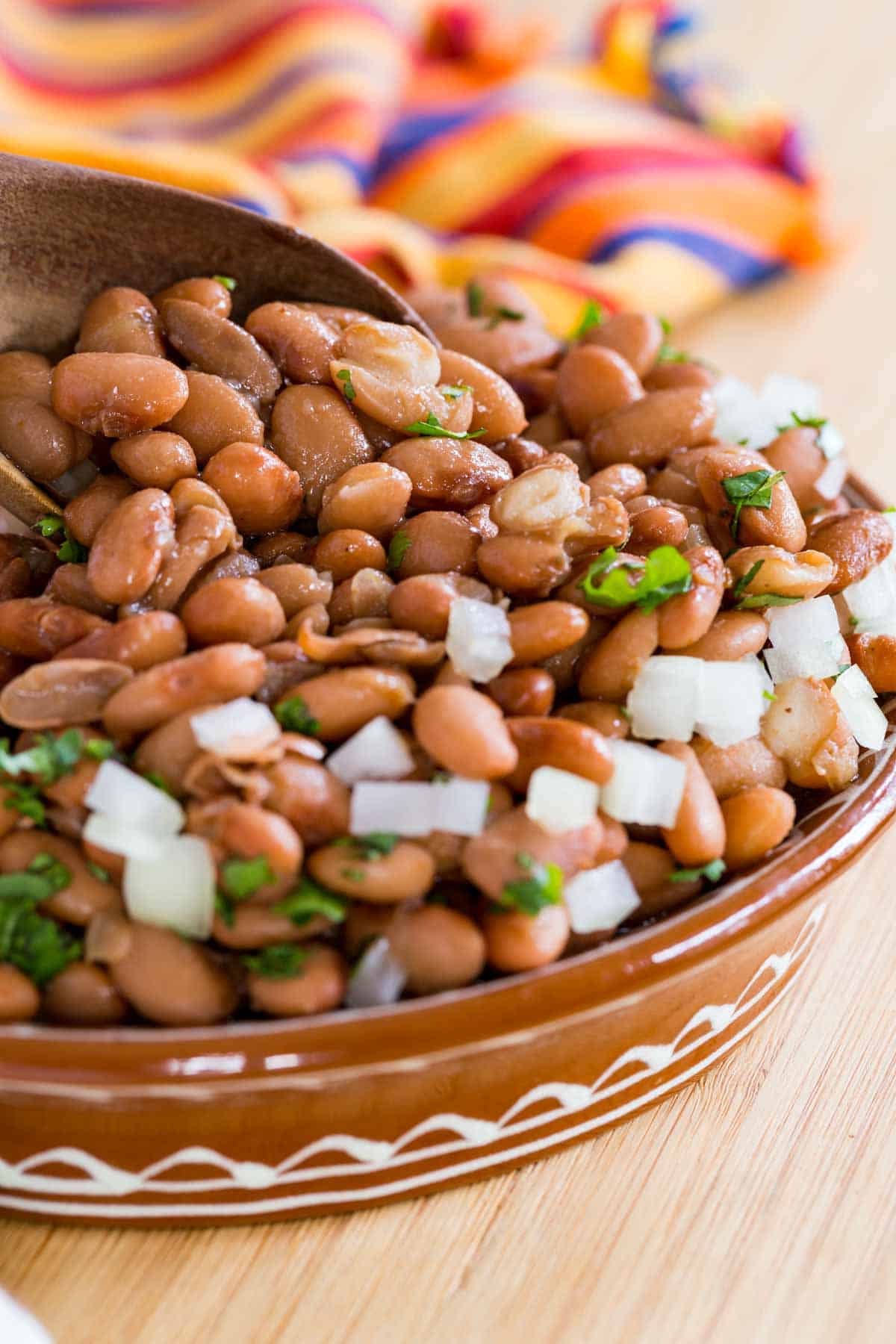 Why You'll Love This Recipe
Here are just some of the reasons you're going to love cooking pinto beans in your Instant Pot:
No soaking. Dried beans cook up perfectly in the pressure cooker, even without soaking. This makes Instant Pot pinto beans great for last-minute meal ideas.
Quick and (almost) hands-free. Once all the ingredients are combined, all that's left is to set the pot to cook!
Healthy. Protein-rich pinto beans are a good source of fiber and antioxidants. I love serving these beans as a satisfying vegetarian side dish.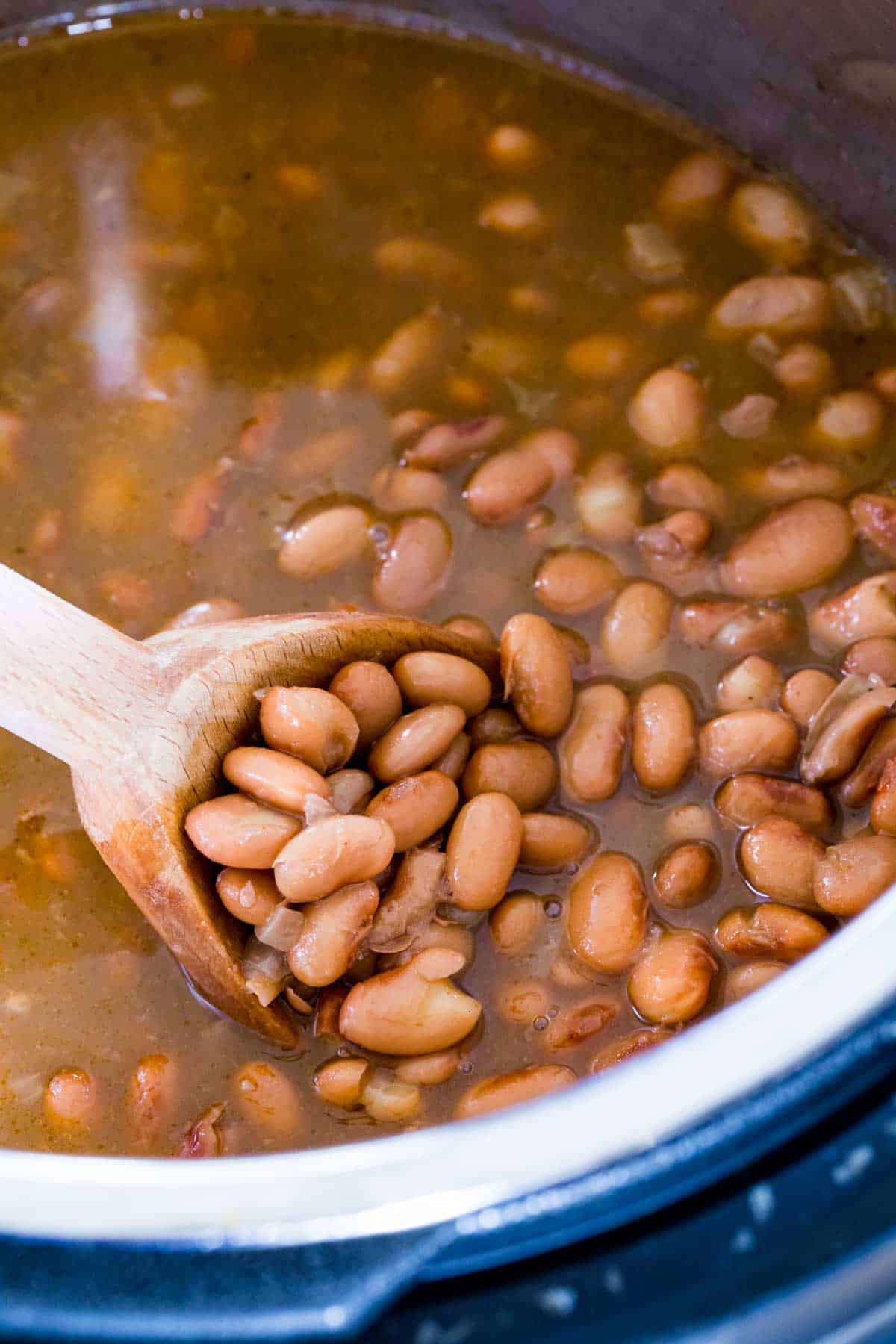 What You'll Need
You don't need much to make regular dried pinto beans into something truly awesome! Below is an overview of the ingredients, with the full recipe details available in the recipe card later on.
Pinto Beans: You'll need about one pound (2 cups) of dried Mexican pinto beans. Called frijoles pintos in Spanish, the name literally translates to "painted bean", after their speckled appearance. You'll find dried pinto beans in most major grocery stores.
Onion and Garlic: Diced onion and freshly minced garlic sautéed in a bit of olive oil form the flavor base for the beans.
Seasoning: I season my beans with chili powder, cumin, salt, pepper, and a bay leaf.
Chicken Broth: I recommend using low-sodium chicken broth or stock so that you can season the beans to taste. Vegetable stock will also work.
Cilantro: For optional garnish. You can also dice up some extra onion to sprinkle over the finished beans.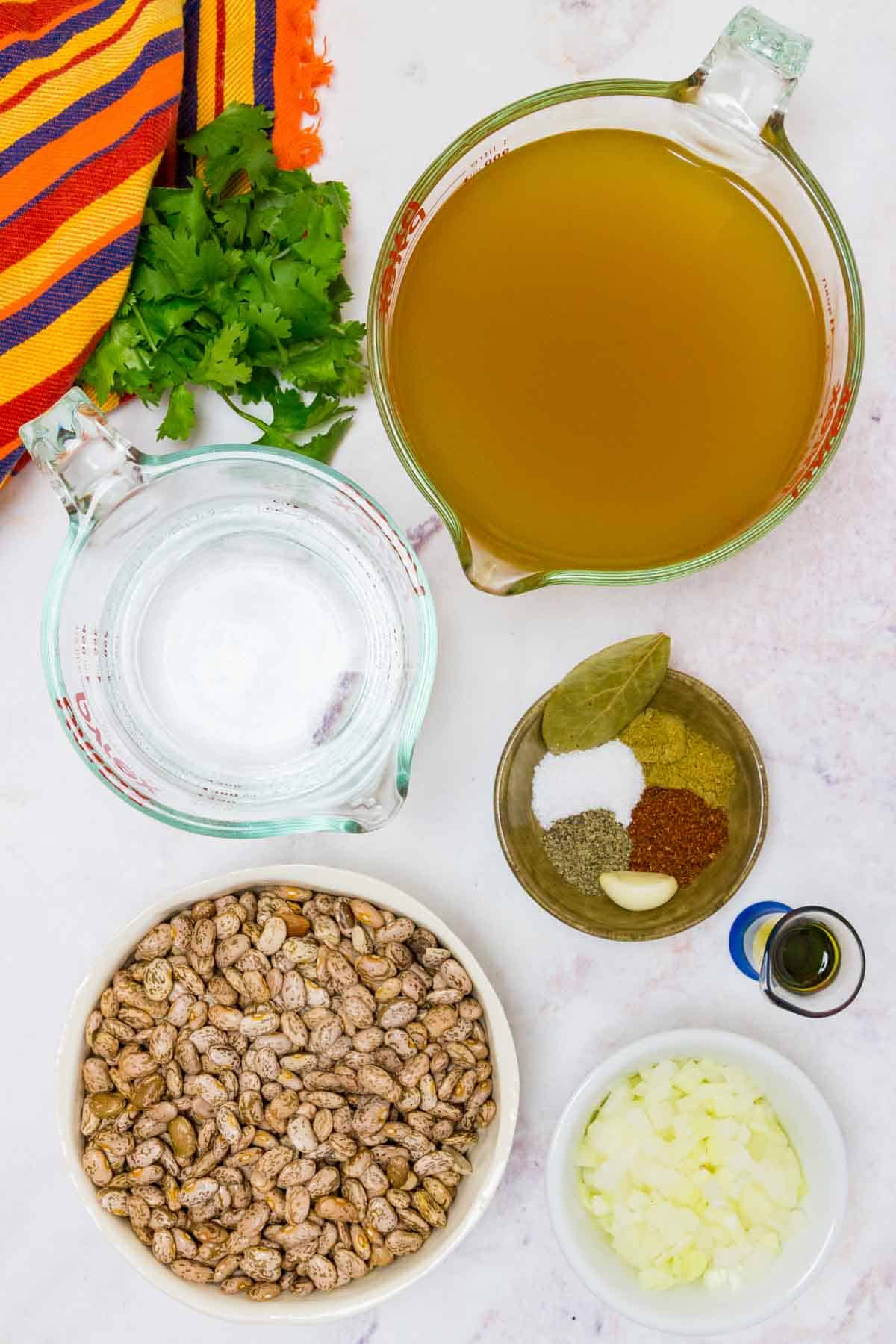 Do I Need to Soak the Beans Before Pressure Cooking?
No, for this Instant Pot recipe, you don't need to soak the beans beforehand. It's one of my favorite things about cooking beans in the pressure cooker! Leaving the beans unsoaked also makes them less likely to split while they cook.
On the other hand, you can still soak the beans if you want to – one pro of soaking the beans for 8-12 hours ahead of time is that they become easier to digest. They'll also cook faster. It's up to you! Your pinto beans will come out delicious either way.
How to Cook Pinto Beans in the Instant Pot
Ready to make some savory Instant Pot pinto beans? Before you start, rinse and drain your beans. You may also notice small pebbles or debris among the beans, which should be plucked out. Once your pinto beans are prepped, here's how to cook them in the IP:
Sauté: Begin by setting the Instant Pot to Sauté. Cook the onions in a bit of hot oil, until softened, then add the minced garlic. Stir for another minute until fragrant.
Add the Beans: Next, stir in the drained pinto beans, followed by the seasonings. Pour in the broth and some water, and give everything a good stir.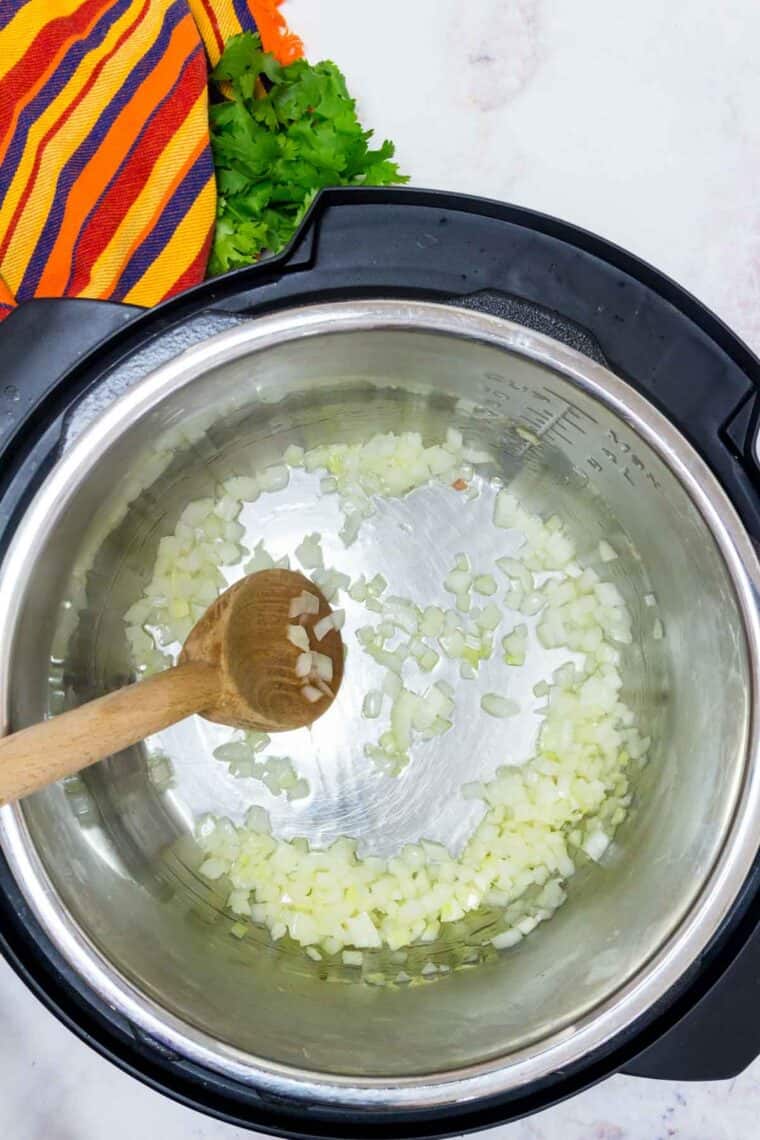 Cook: Seal the pot and cook the beans on Manual for 50 minutes at high pressure, then let the pressure naturally release for 15 minutes before venting the remaining pressure manually.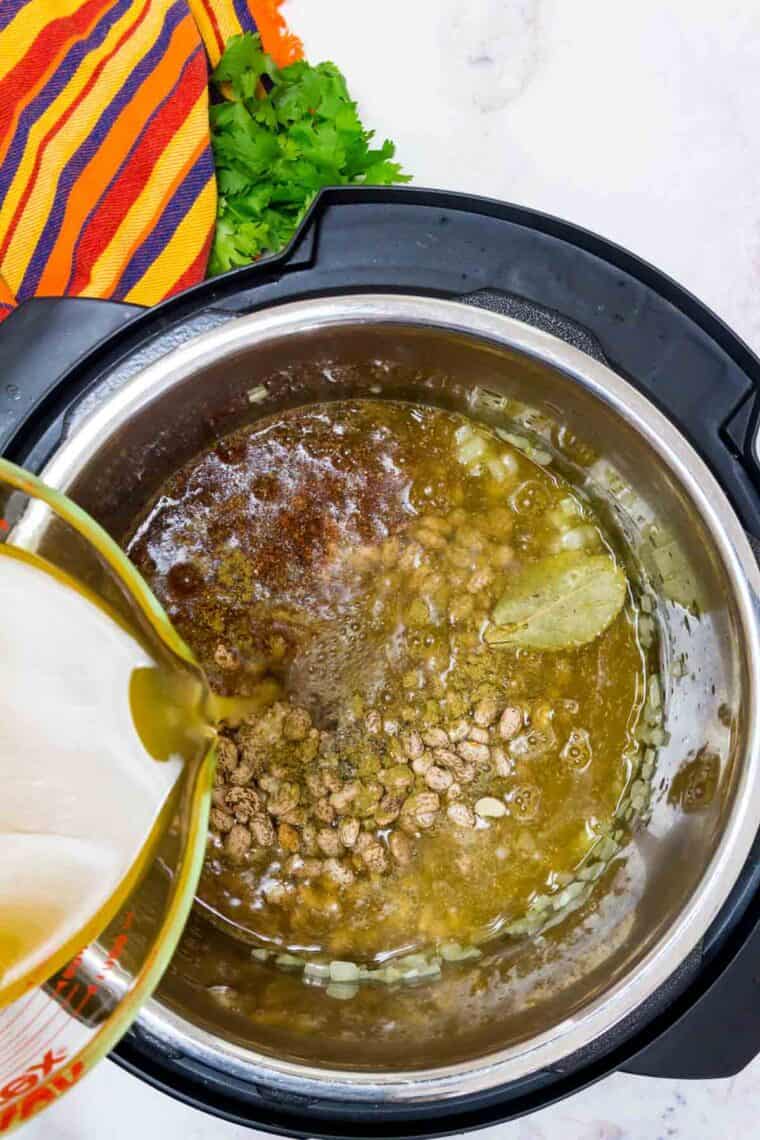 Finish and Serve: Remove the bay leaf and season your beans to taste with more salt and pepper as needed. Afterward, serve the pinto beans garnished with chopped fresh cilantro and diced onion, and dig in! See below for easy serving suggestions.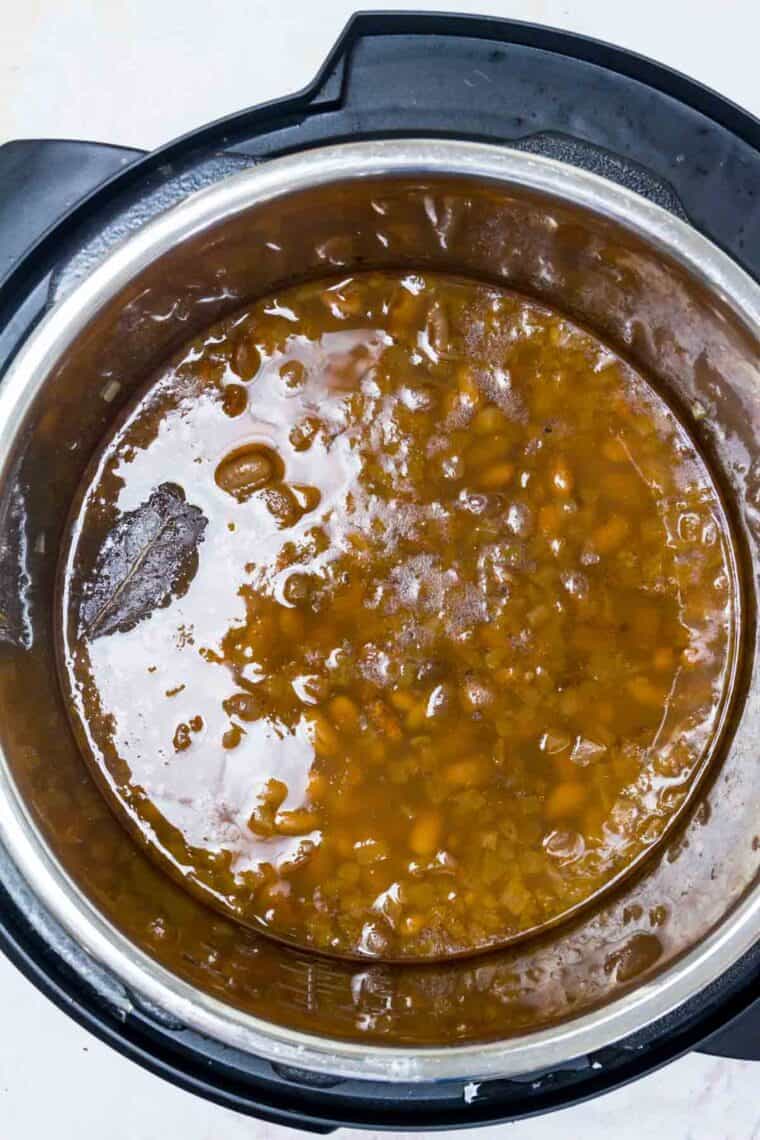 Tips for Success
Even if you're new to pressure cooking, this pinto beans recipe is the perfect way to get better acquainted with your Instant Pot! And in case you needed some extra guidance, here are some final tips:
Don't skip the natural release. It's the natural release combined with the additional 10 minutes or so that it takes the IP to pressurize that allows the beans to cook perfectly without the need to soak them.
Be careful to not overfill your Instant Pot. If you plan to make more than 1 pound of dried beans, make sure that you don't fill past the halfway line inside the pot. Depending on the size of your pressure cooker, you may need to cook your beans in batches.
You can halve this recipe if needed. The cooking time will still be the same.
For a spicy kick, sauté diced jalapenos with onion and garlic.
If you soak your beans beforehand, the cooking time will be less.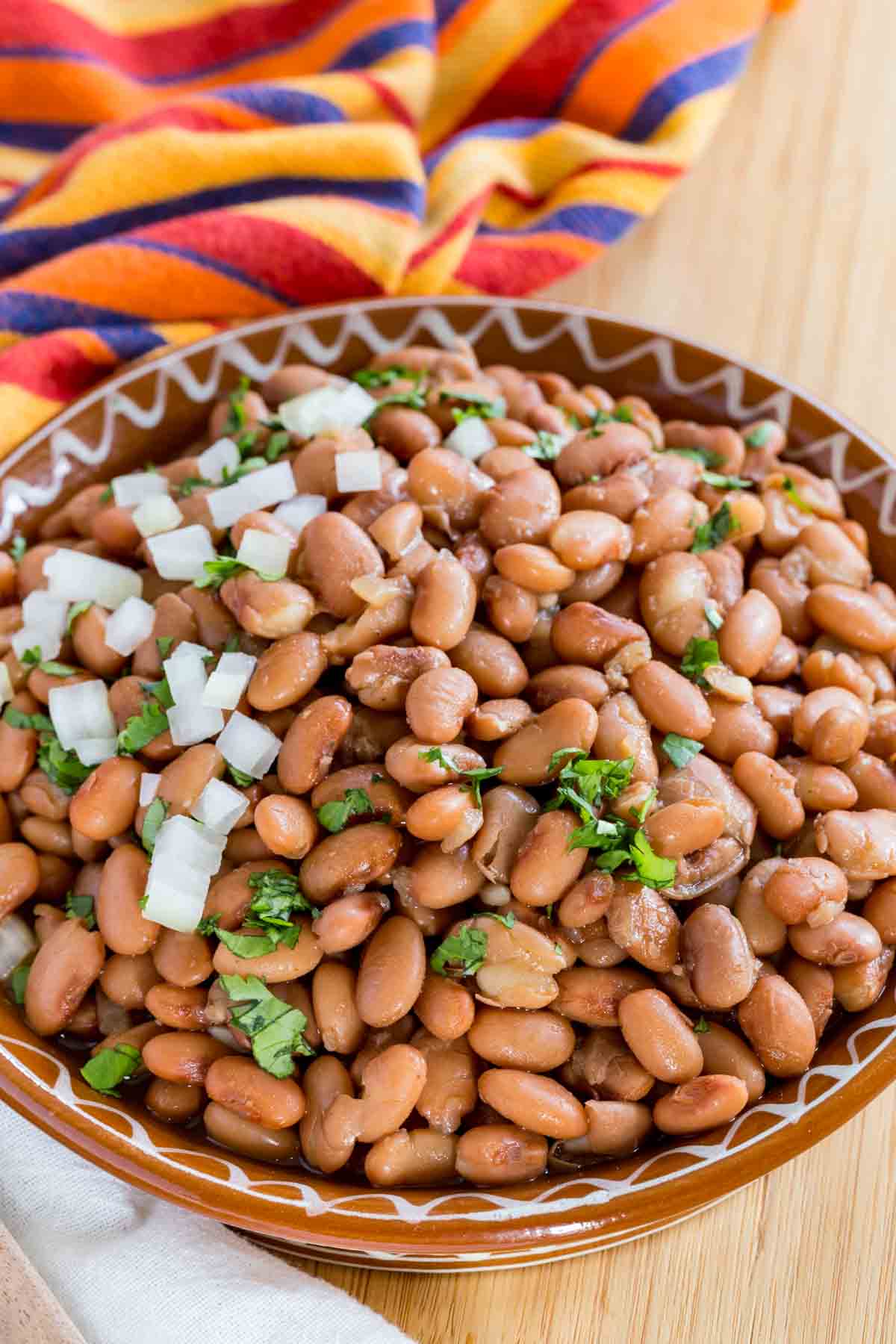 Make It a Meal
These Instant Pot pinto beans make a quick and flavorful side dish, or I'll use them as an ingredient in all sorts of meals. Serve them over rice in a Beef Burrito Bowl or Chicken Burrito Bowl, or use them as a filling in burritos or Breakfast Tacos. You can even stir the cooked beans into Turkey Chili!
Serve your Instant Pot pinto beans as a side to Chili Lime Cube Steaks or Chicken Enchiladas, paired with more easy sides like Instant Pot Spanish Rice.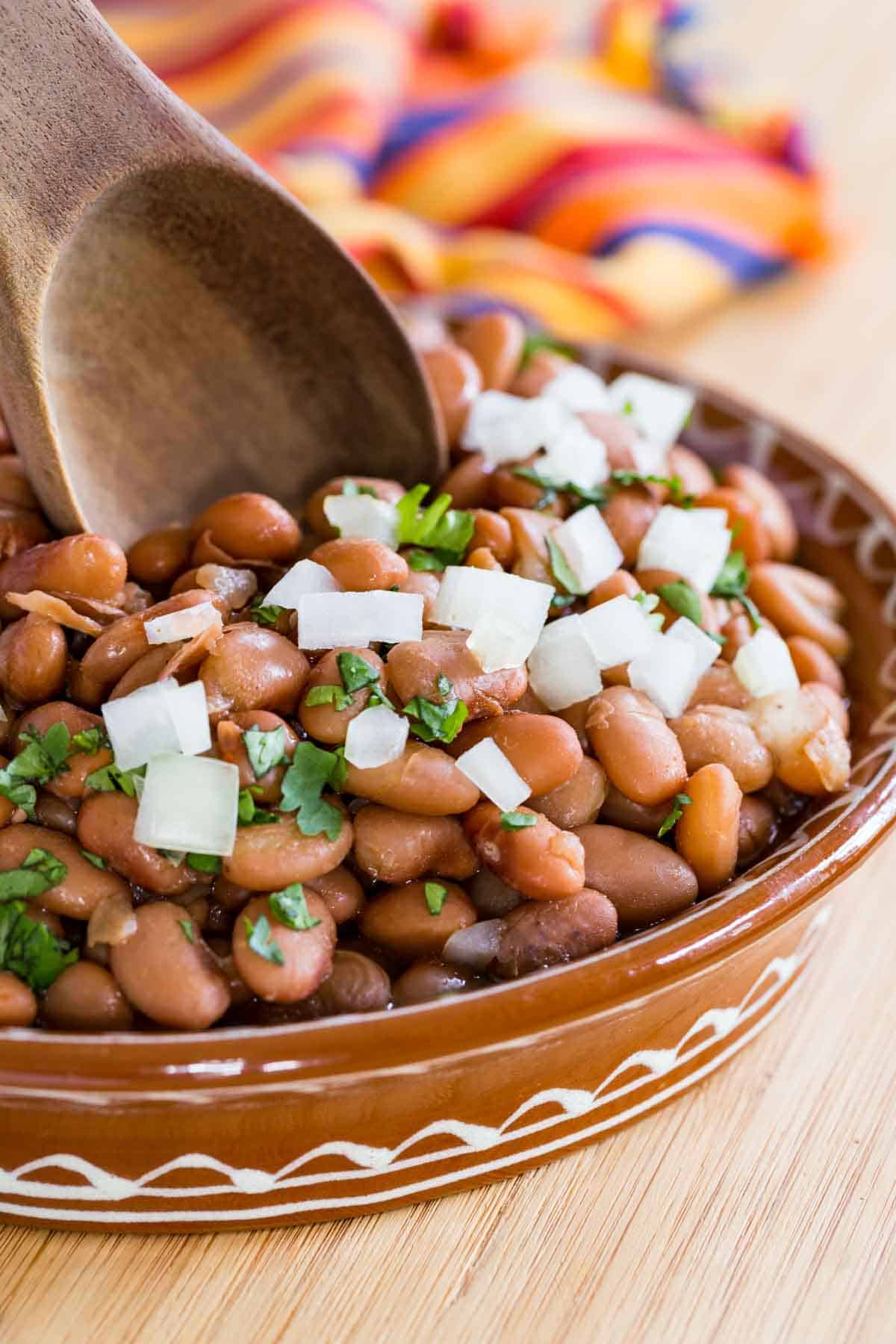 Storing and Reheating Pinto Beans
Store any leftover pinto beans airtight in the fridge for up to 4 days. They can be easily reheated on the stove or in the microwave.
Can I Freeze Pinto Beans?
Yes, once the pinto beans have completely cooled, store them airtight and freeze them for up to 3 months. Defrost the beans in the fridge before reheating.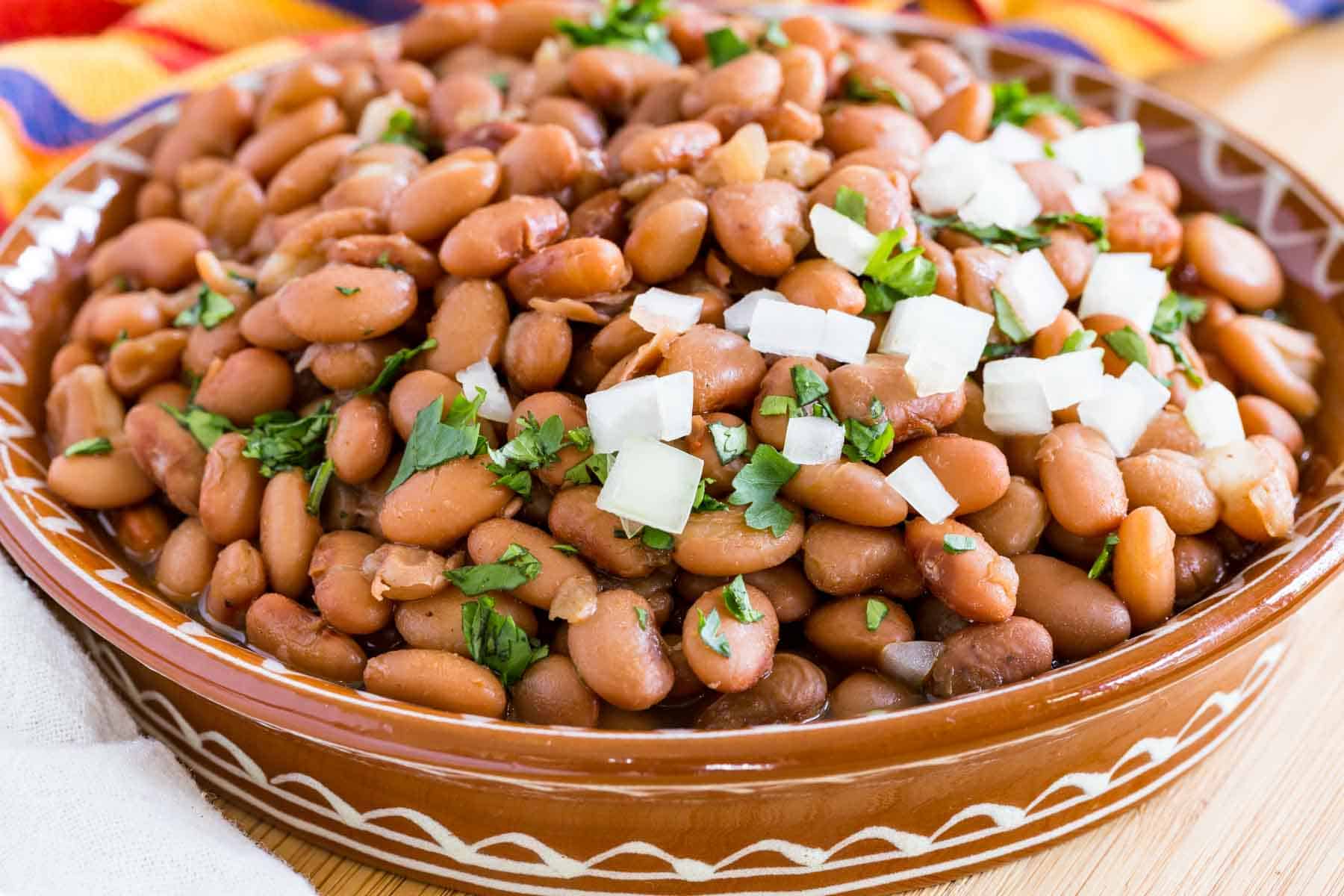 What Instant Pot Do You Need?
Which Instant Pot you buy depends on your budget and the size you need based on the many people you usually cook for. However, for this pinto bean recipe, the smaller 3-quart Instant Pot will not be large enough. You'll need one that is at least 6 quarts so that it isn't overfilled. Here are some options.
Last updated on Dec 1, 2023 7:09 am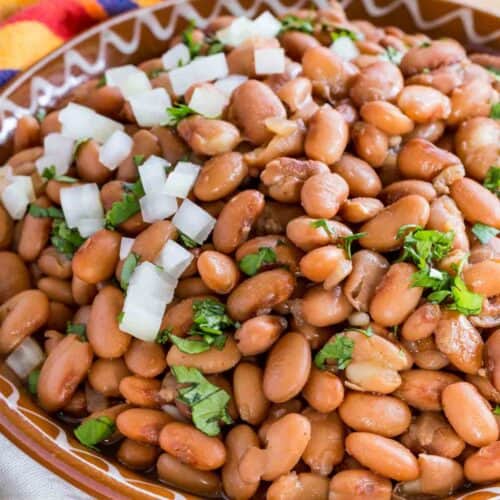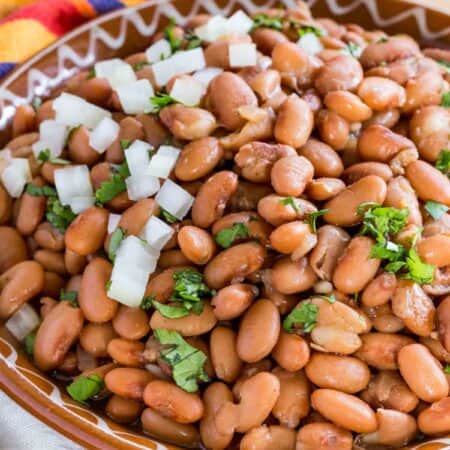 Instant Pot Pinto Beans
Instant Pot Pinto Beans are so easy and versatile. Learn how to cook pinto beans in your pressure cooker to serve as a side, or use them in loads of healthy meals!
Ingredients
1

lb

dried pinto beans

(about 2 cups)

1

Tablespoon

olive oil

one small onion or half of a medium onion

, diced

1

clove

garlic

, minced

1

teaspoon

chili powder

1

teaspoon

cumin

1

teaspoon

salt

1/2

teaspoon

black pepper

1

bay leaf

4

cups

chicken or vegetable broth or stock

1

cup

water

Minced cilantro and chopped onion for garnish

, optional
Instructions
Rinse and drain the pinto beans, remove any small pebbles that may be present, and set them aside.

Set the Instant Pot to Saute and add the oil. Once the oil is hot, add the onion and cook, stirring occasionally, until the onion is tender and translucent. Add the garlic and cook for another minute or two until the garlic is fragrant.

Add the beans to the Instant Pot, then add the chili powder, cumin, salt, and pepper, as well as the bay leaf. Pour the broth and water over the beans. Stir to combine.

Close the lid and the vent, and set to cook on Manual for 50 minutes (at high pressure if your Instant Pot has that setting). It will take the Instant Pot about 8-10 minutes to come to pressure.

Once the cooking time is complete, allow the pressure to release naturally for 15 minutes before manually venting the remaining pressure.

Adjust seasoning with salt and pepper, if needed, and discard the bay leaf.

Garnish with cilantro and chopped onion, if desired.
Notes
It is the time it takes to pressurize and the natural release that allows the beans to cook properly without soaking. Do not skip this step.
Nutrition Facts
Instant Pot Pinto Beans
Amount Per Serving (1 serving)
Calories 263
Calories from Fat 36
% Daily Value*
Fat 4g6%
Cholesterol 4mg1%
Sodium 476mg20%
Potassium 949mg27%
Carbohydrates 41g14%
Protein 15g30%
Vitamin A 83IU2%
Vitamin C 5mg6%
Calcium 76mg8%
Iron 3mg17%
* Percent Daily Values are based on a 2000 calorie diet.
Categories:
More Easy Instant Pot Recipes