This post may contain affiliate links. Read my disclosure policy.
Make this tender and creamy Instant Pot Black Eyed Peas recipe to enjoy a Southern New Year's tradition! This hearty and smoky, heartwarming dish is loaded with flavor and perfect for the holidays. But it's quick and easy when you make it in the pressure cooker!
The Best Black Eyed Peas Recipe
Black Eyed Peas are such a quintessential Southern dish. Creamy, smoky, and filled with flavor, these hearty beans are super warming and filling, making them perfect for the holidays.
It's common in the Southern US to serve black eyed peas as part of New Year's celebrations (more on this later). More than just a tradition, I love making these easy black eyed peas in the pressure cooker all year round. Making black eyed peas in the Instant Pot means zero soaking time, and they also happen to be super healthy!
Black eyed peas are little legume power houses packed with protein and fiber as well as iron and other nutrients, but of course they are naturally gluten free. This time-saving recipe is filled with other tasty ingredients like veggies and ham for the heartiest, warming meal you'll have all year!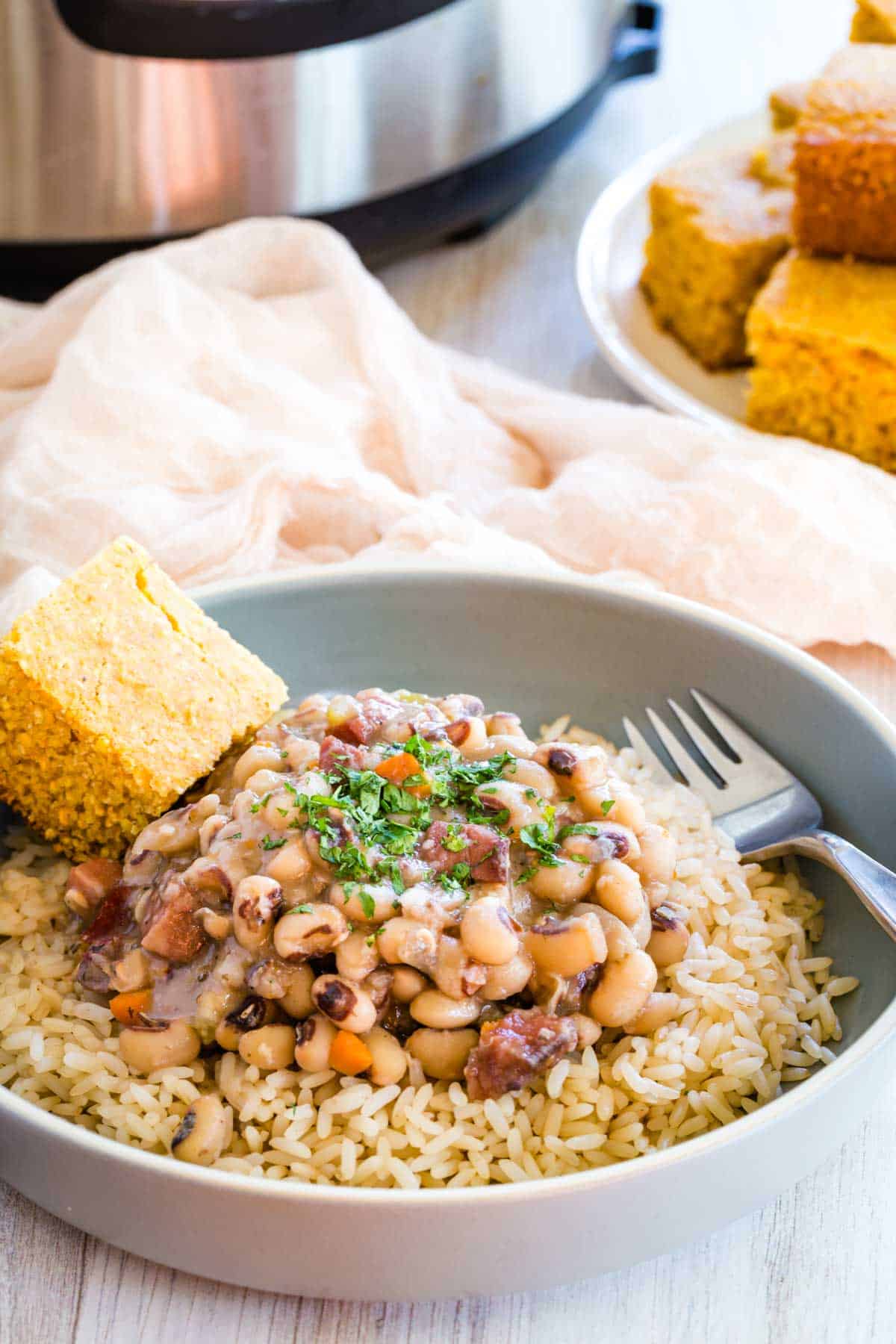 Why Do You Eat Black Eyed Peas on New Years?
There's an expression in the South that goes, "Eat poor on New Year's, and eat fat the rest of the year."
This could have something to do with why black eyed peas, a common bean, have come to represent luck when enjoyed over New Year's celebrations. The fact that they swell up when they're cooked is also said to be a sign of growing wealth!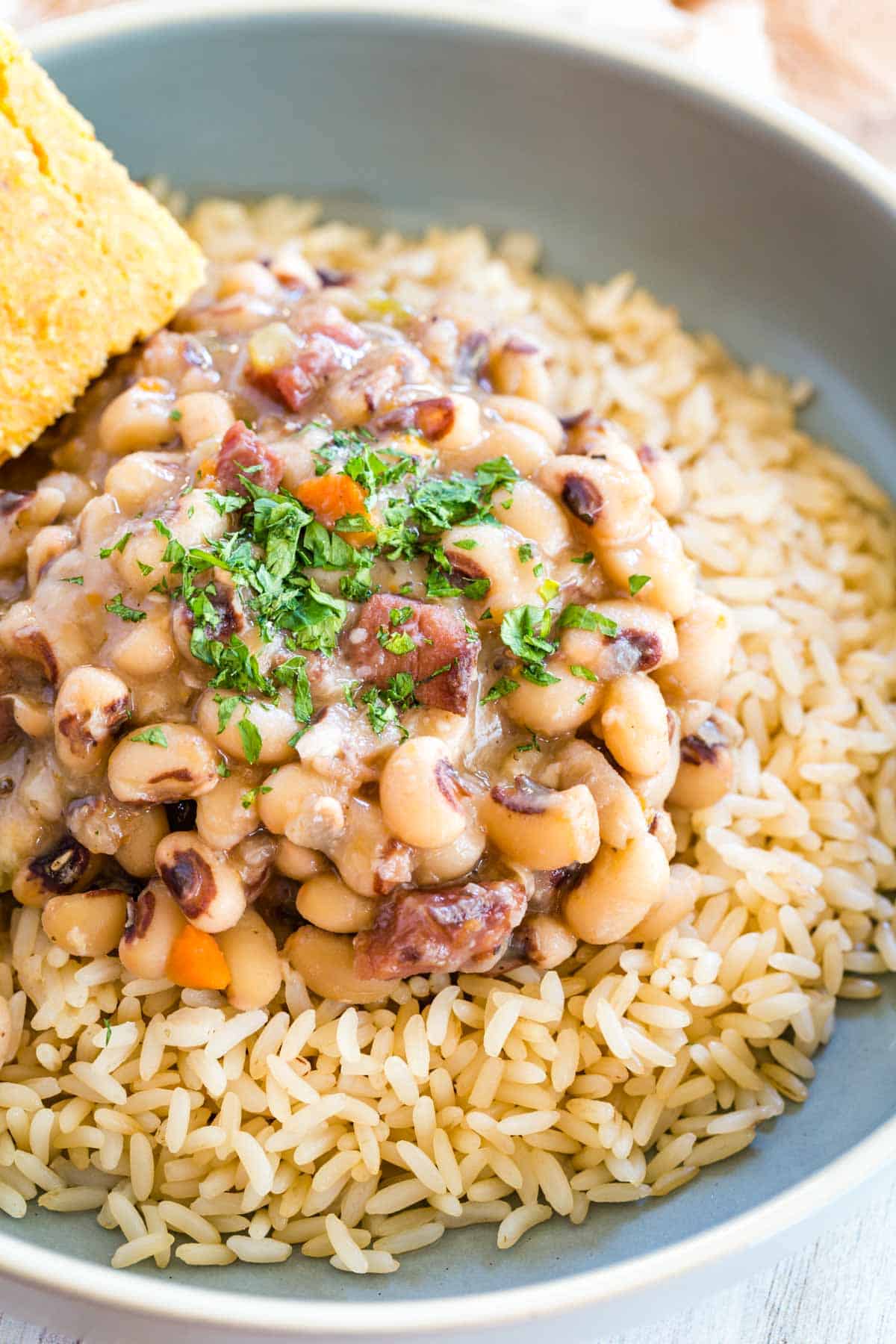 What You'll Need
Black Eyed Peas is a humble dish, while being absolutely loaded with flavor. This Instant Pot version is made with easy-to-come-by ingredients:
Dried Black-Eyed Peas: For this Instant Pot recipe, I use dried black eyed peas for their bold flavor, and also since in this case the pressure cooker takes over the hard work of softening the beans. No soaking!
Onion, Carrots & Celery: Finely diced. (Fun fact: did you know this combo is traditionally called a "Mirepoix" in French, and "Soffritto" in Italian cooking? It's a common vegetable mix in many recipes, from soups to bolognese!)
Ham: Cooked and cubed. You can use leftover ham if you have, or buy a pre-cooked ham from the grocery store to chop up.
Chicken Broth: Or low sodium chicken stock.
Garlic: Whole cloves, minced.
Italian Seasoning: You can also make your own homemade blend using a combination of dried oregano, thyme, basil, rosemary and marjoram.
Olive Oil
Bay Leaves
Salt & Pepper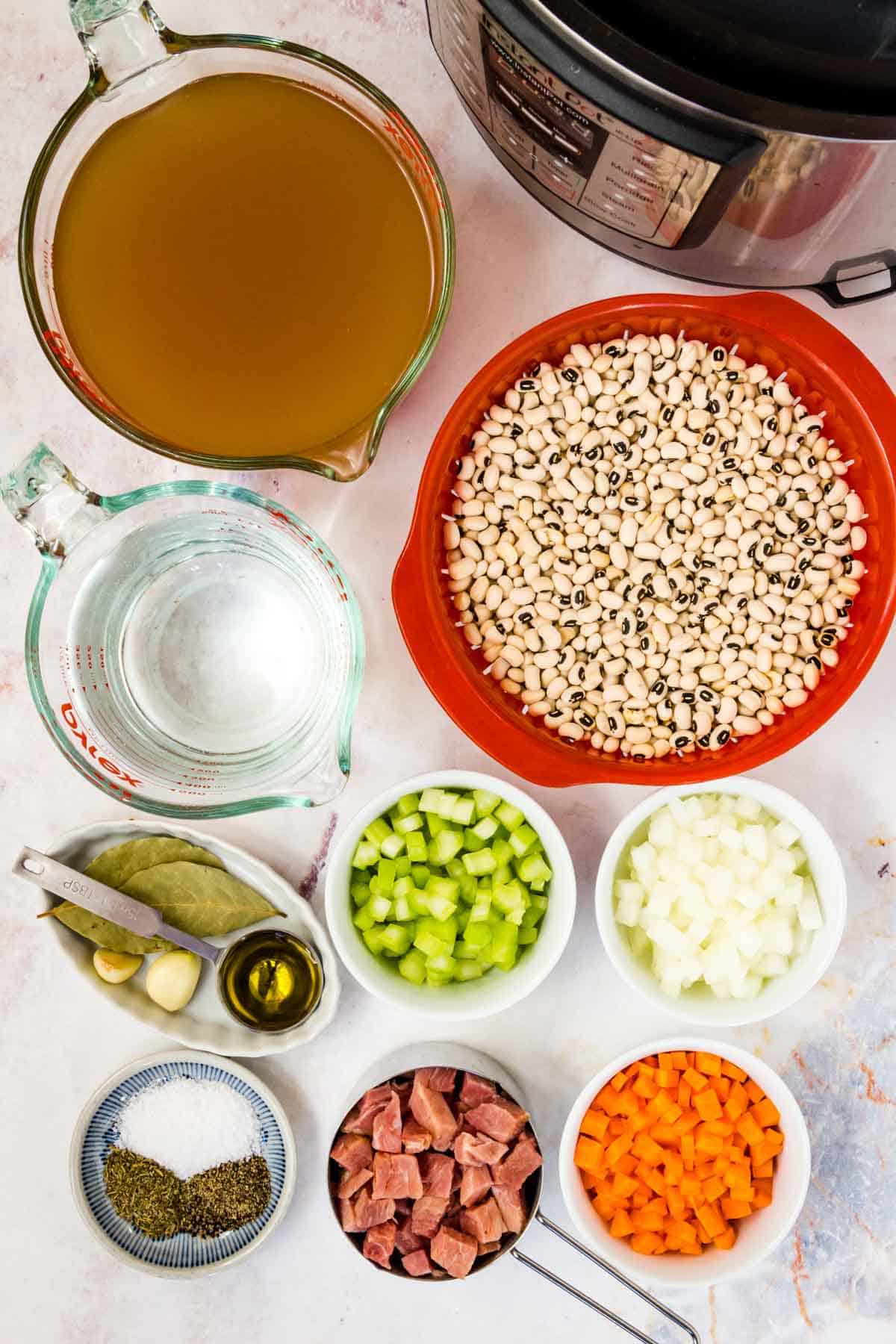 How to Cook Black Eyed Peas in the Instant Pot
The Instant Pot does most of the work here! Note that you may need to adjust and tweak the timing depending on the size and brand of your pressure cooker.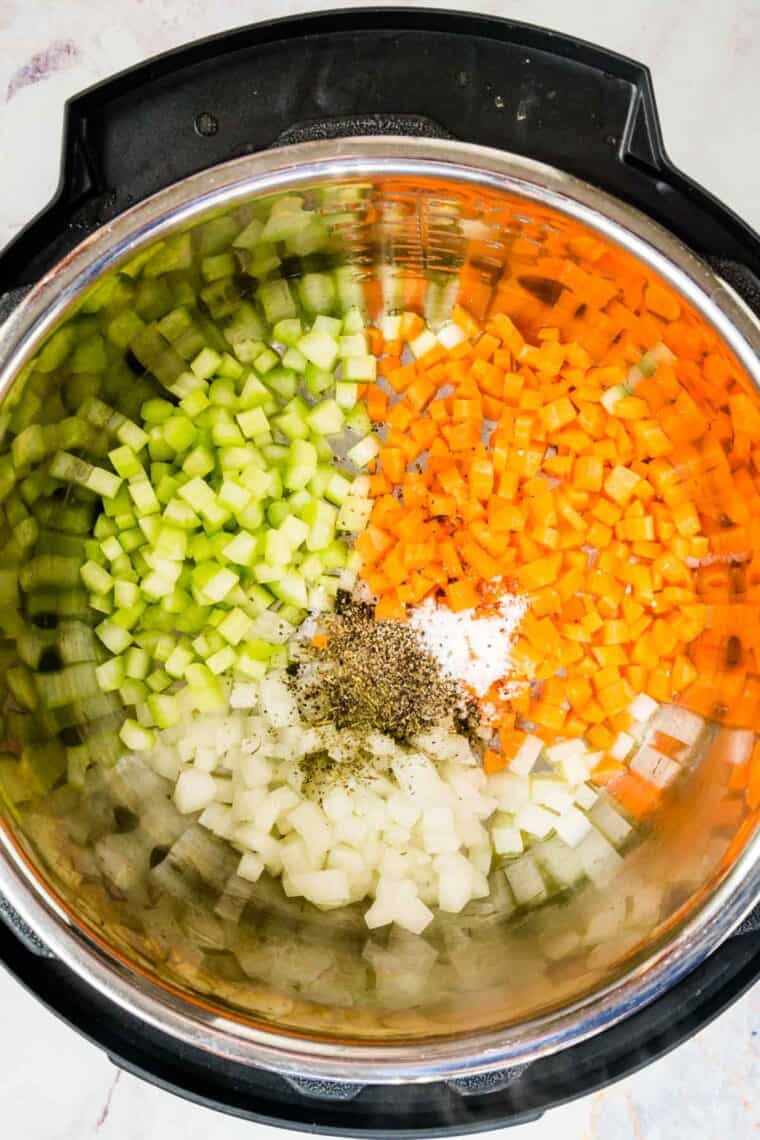 Saute the Aromatics: First, saute the carrots, onion, and celery in the Instant Pot. You'll want to season them and cook them down until the veggies are slightly golden and tender.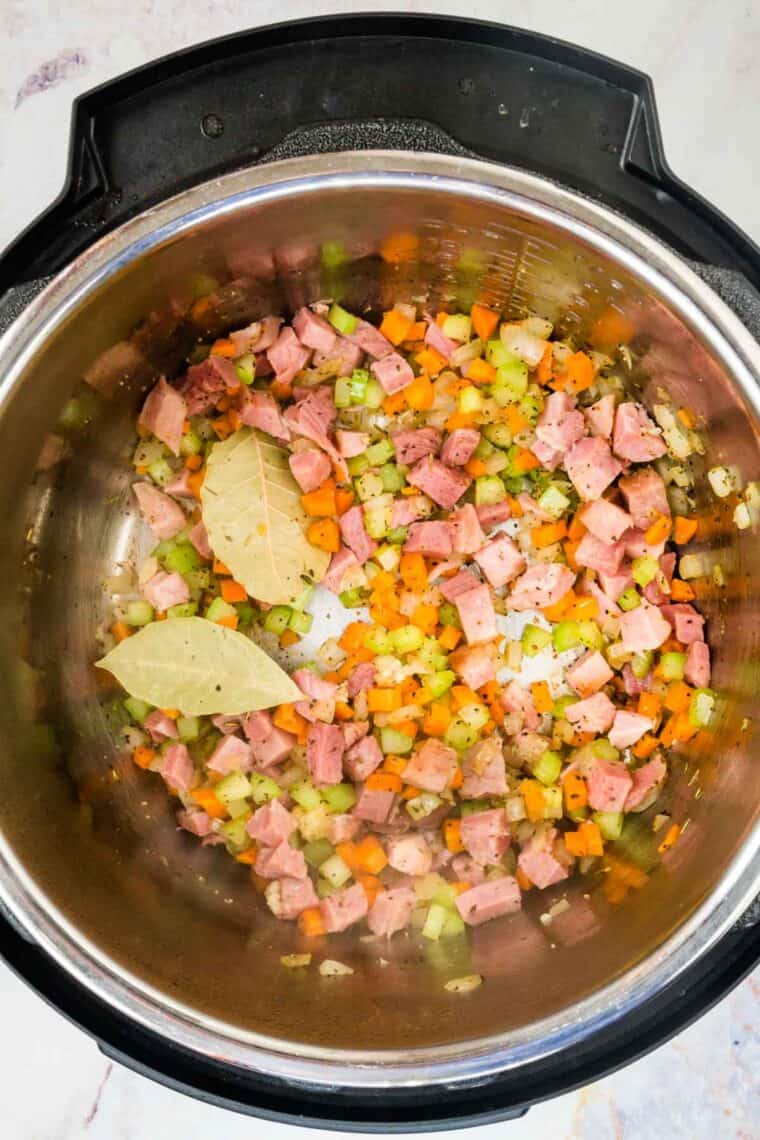 Add in the Rest: Add in the ham and the rest of the ingredients, and then stir in the rinsed and drained black eyed peas.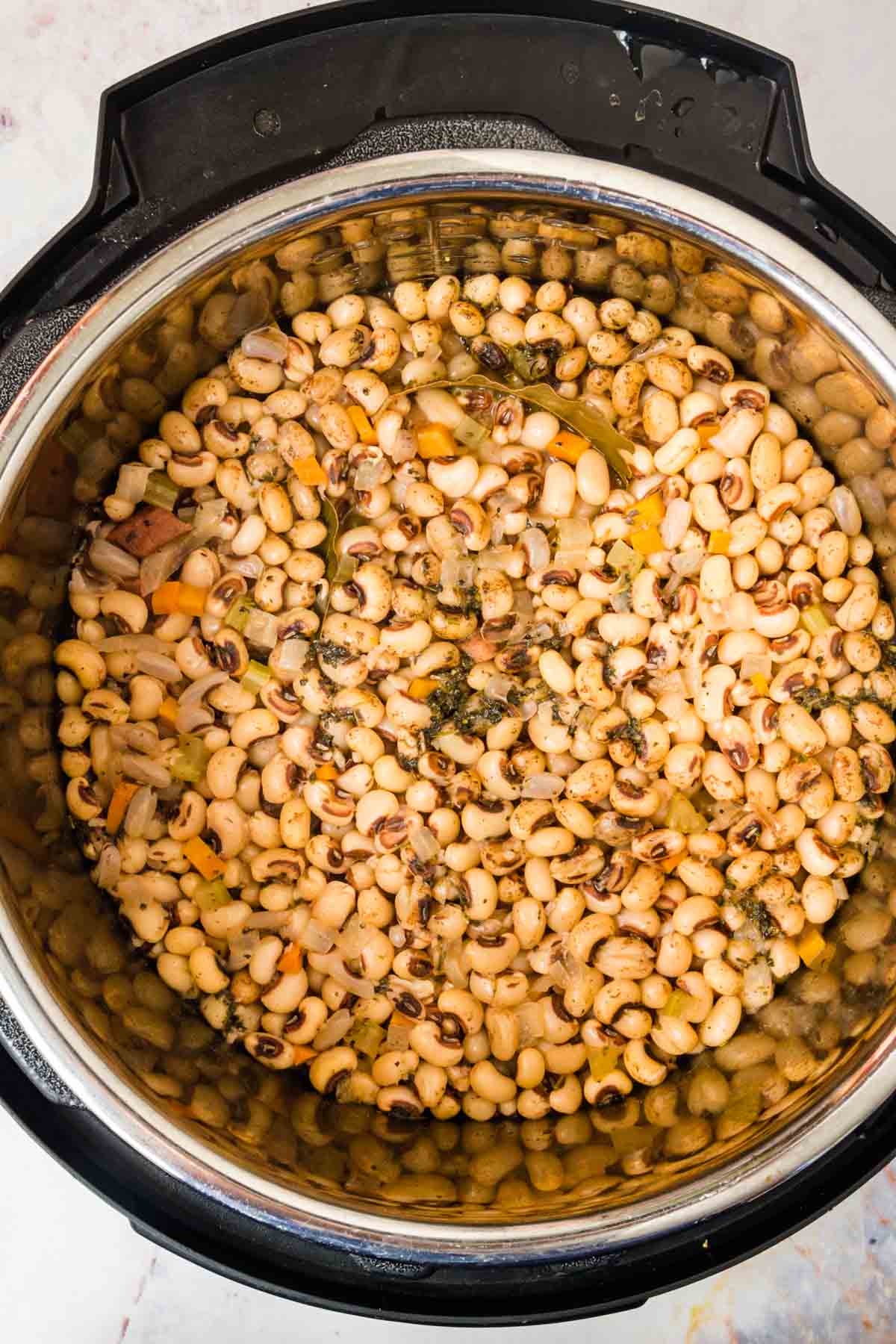 Cook: Seal the Instant Pot and allow the black eyed peas to cook on manual high pressure for about 25 minutes. Let the pressure release for about 15 minutes and then manually vent anything left over.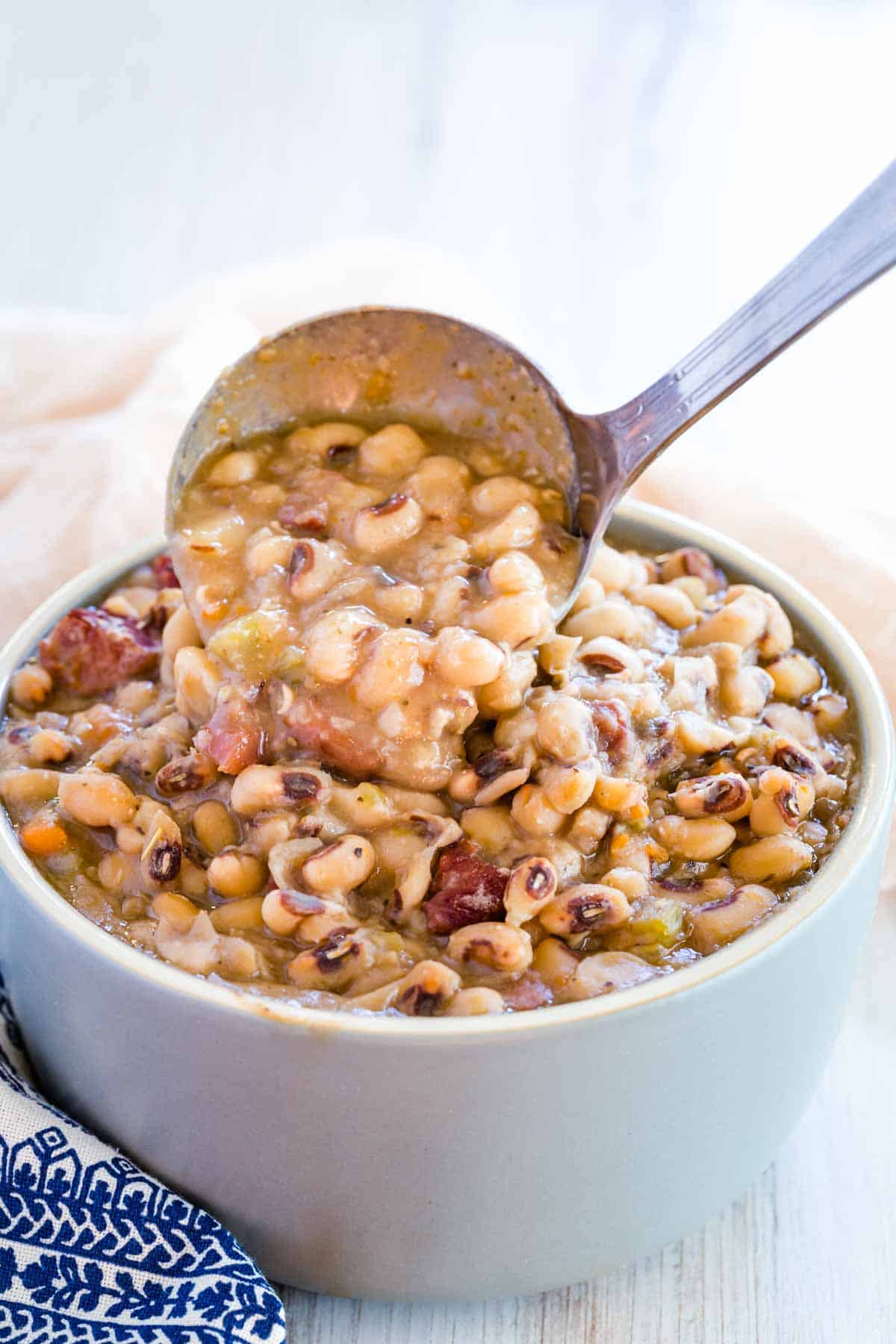 Season & Serve: Adjust the seasoning on your black eyed peas as needed and remove the bay leaves. You can give them a few minutes to sit and thicken, and then dish them up with rice or your choice of classic sides! See my suggestions below.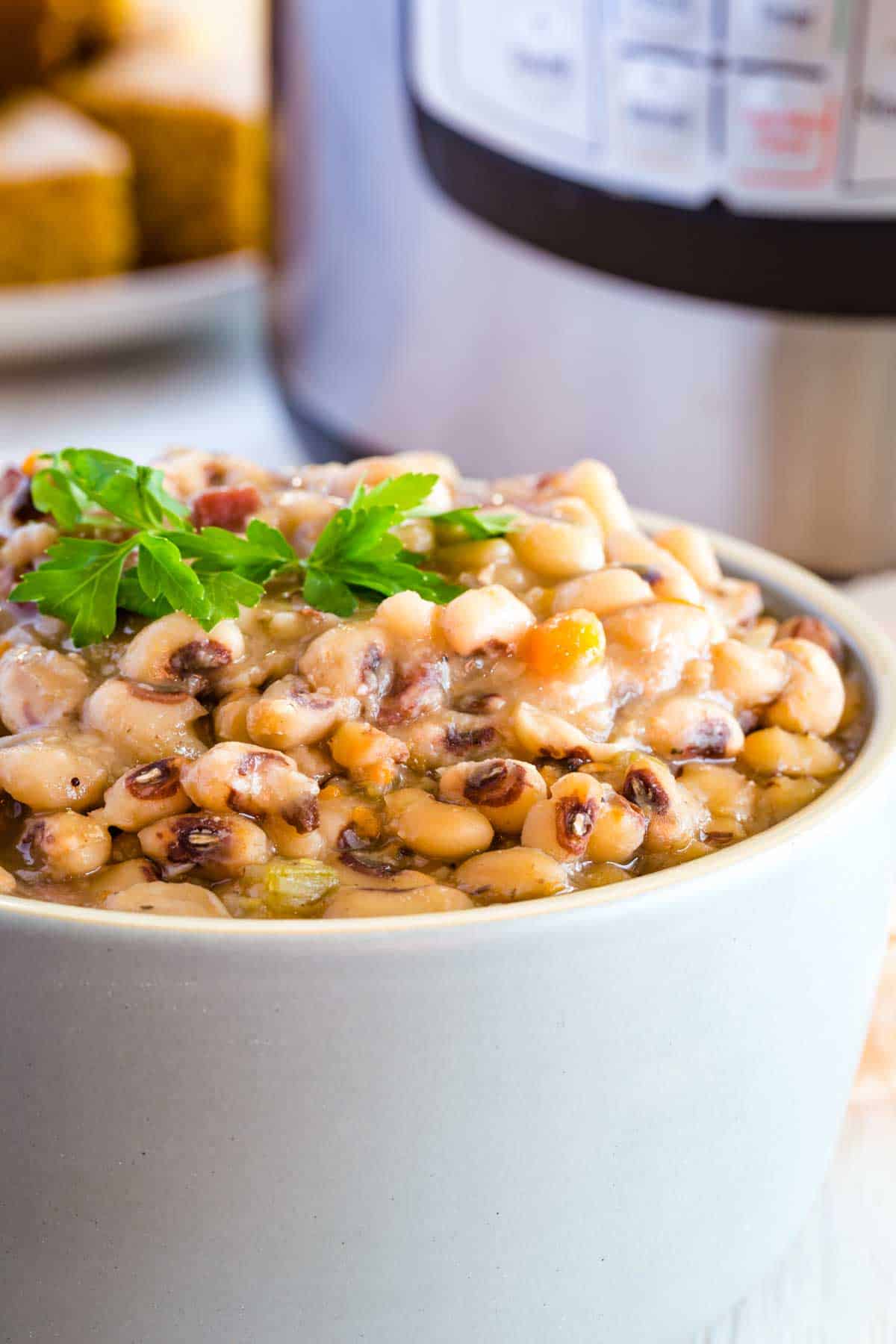 Tips for Success
This recipe is incredibly easy since the Instant Pot does most of the work, but here are a few quick tips for perfect black eyed peas:
Let the Instant Pot Do Its Job: The time it takes the Instant Pot to pressurize, as well as the natural release, is what lets the dried black eyed peas cook perfectly without soaking. Don't skip these steps!
Don't Mind the Liquid: There will be a lot of liquid in the pot, and that's a good thing! The liquid is what forms the creamy sauce as the beans break down. For even thicker black eyed peas, use the back of a spoon or a potato masher to mash up some of the beans after they've cooked.
Make Vegetarian Black Eyed Peas: To make this recipe vegetarian-friendly, use vegetable broth and leave out the ham. If you find that your vegetarian black eyed peas need a boost of flavor, you can add in a dash of liquid smoke or smoked paprika.
Add Butter: A little butter goes a long way for exceptionally creamy black eyed peas!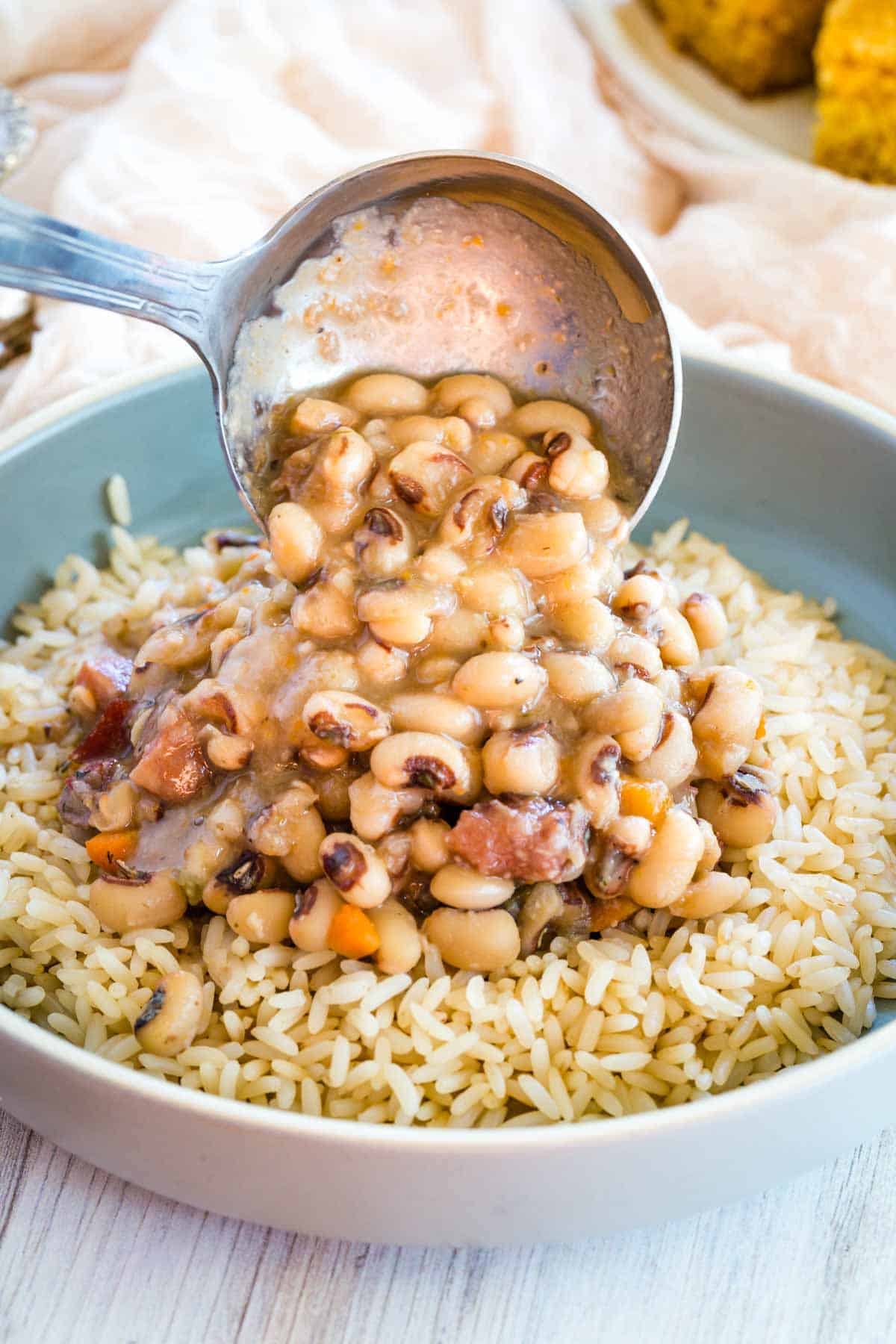 Serving Suggestions
You can serve these black eyed peas as a traditional Hoppin' John recipe, ladled over White Rice, or Brown Rice. Make it a New Year's feast with classic sides like collard greens and Cornbread!
Here are some more ways to enjoy your lucky black eyed peas!
Drizzle black eyed peas with hot sauce for a little added heat.
Black eyed peas are great to serve with Shrimp and other seafood recipes.
Pair them with Creole-inspired meals like these Jambalaya Stuffed Sweet Potatoes.
For a hearty dinner, serve these beans with easy homemade Mac and Cheese, or even these Southern-style Grilled Cheese sandwiches.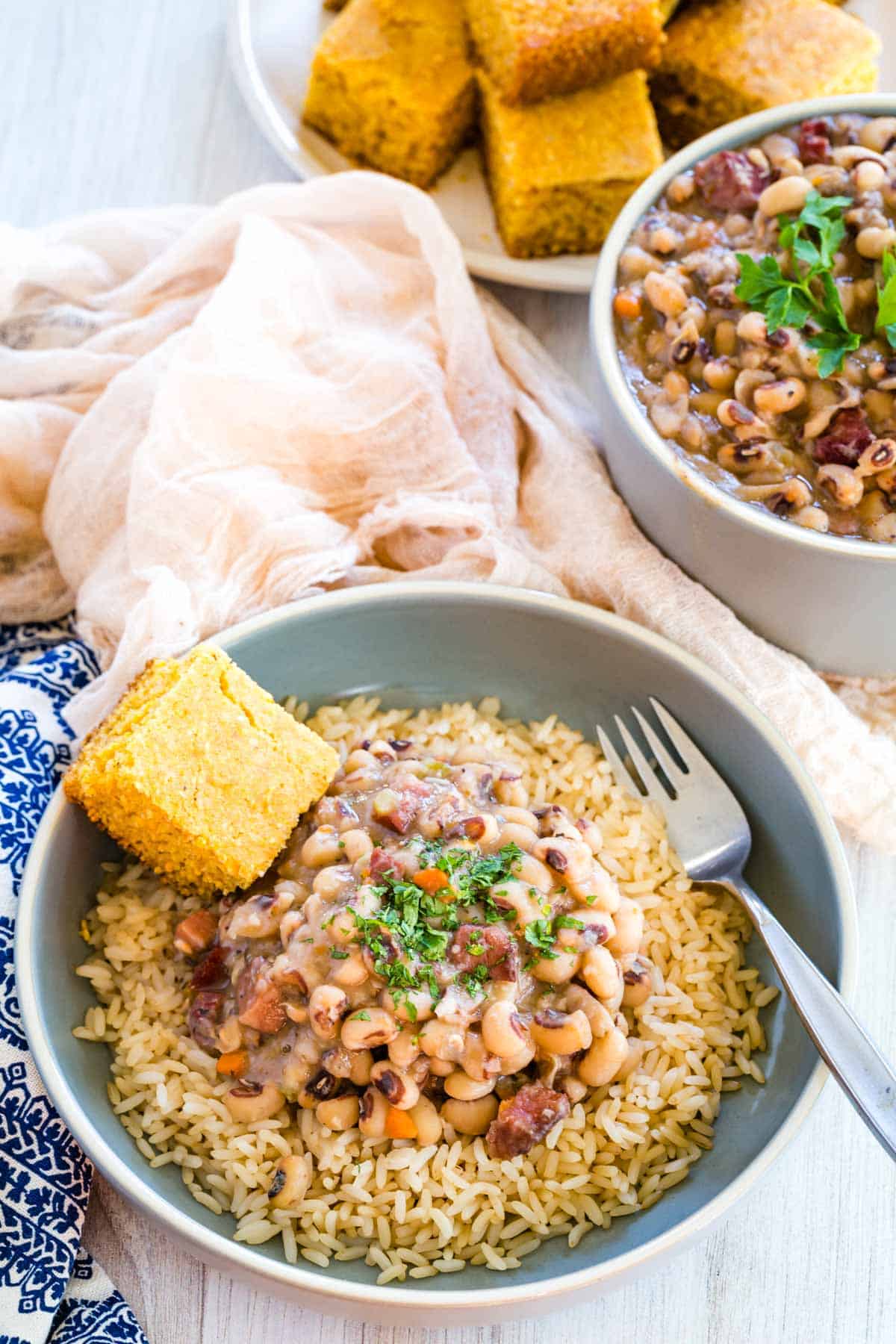 Storing and Reheating Leftovers
Store leftover black eyed peas in an airtight container (ideally within two hours after cooking), and keep them in the fridge for up to 5 days. Reheat them on the stove or in the microwave. Adding a bit of water can help to revive them if needed!
Is This Dish Freezer-Friendly?
You can make ahead and freeze black eyed peas for a later date. Spread the cooked beans in a shallow, freezer-safe container and store them frozen for up to 4-6 months. Thaw them in the fridge and then reheat as usual.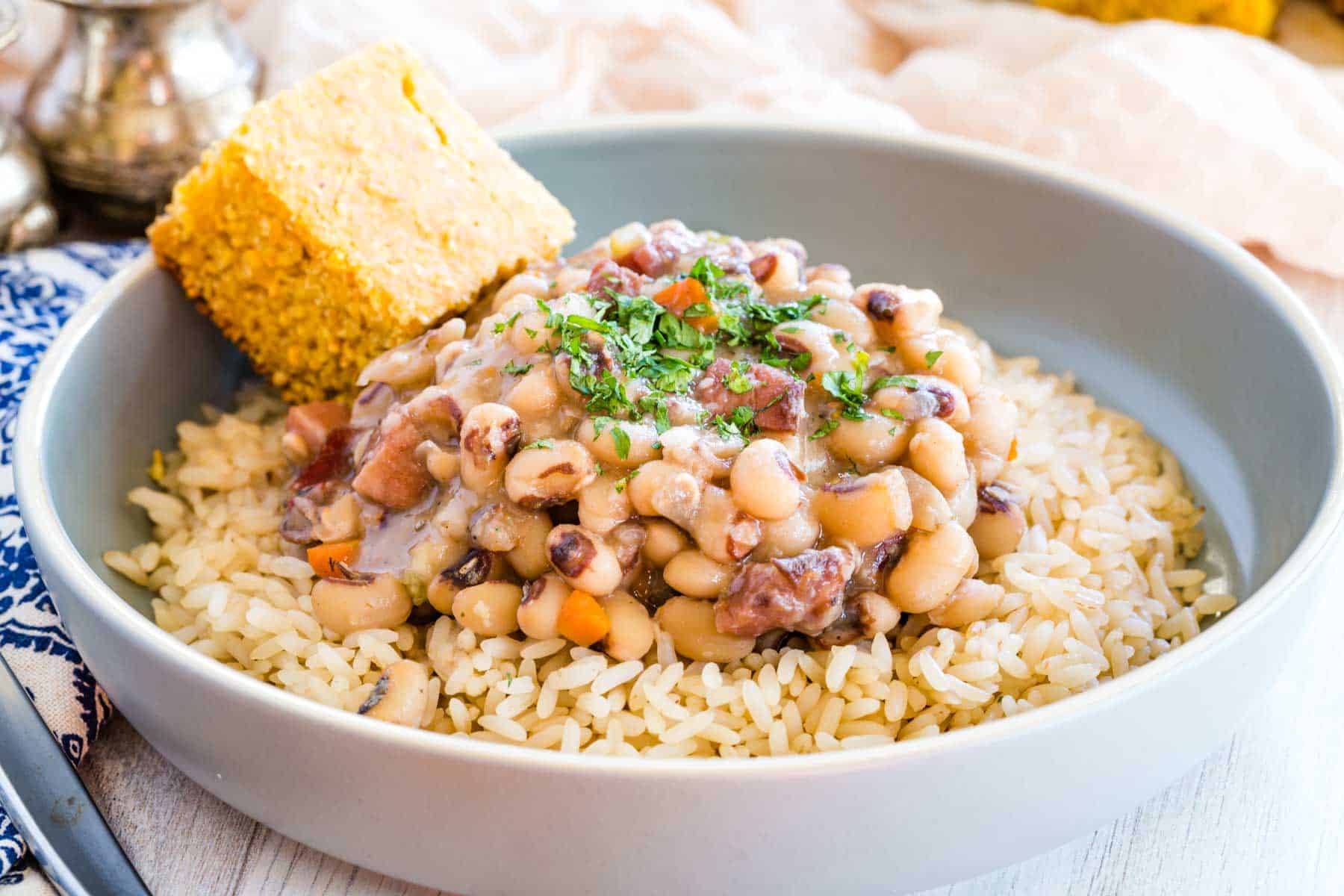 More Easy New Year's Recipes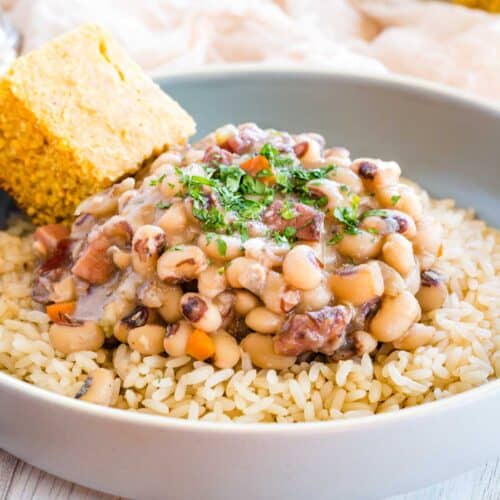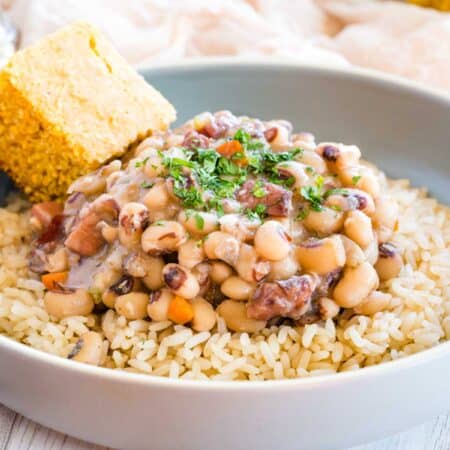 Instant Pot Black Eyed Peas
Quick and easy Black Eyed Peas, made in an Instant Pot! This hearty and creamy black eyed peas recipe is perfect for New Year's and holidays. A classic and delicious Southern dish loaded with flavor!
Ingredients
1

lb

dried black-eyed peas

1

tbsp

olive oil

1

small onion

diced

1/2

cup

carrots

finely diced

1/2

cup

celery

finely diced

1 1/2

tsp

salt

1/2

tsp

black pepper

1/2

tsp

Italian seasoning

2

cloves garlic

minced

1

cup

ham

cooked and cubed

2

bay leaves

4

cups

chicken broth

or stock

2

cups

water
Instructions
Rinse and drain the black-eyed peas and set them aside.

Set the Instant Pot to Saute and add the oil. Once the oil is hot, add the onion, carrots, celery, salt, pepper, and Italian seasoning. Stir everything together, and cook, stirring occasionally, until the vegetables are slightly golden and starting to get tender, about 6-8 minutes. Add the garlic, ham,and bay leaves and cook for another minute or two until the garlic is fragrant.

Add the broth, water, and black-eyed peas and stir to combine.

Close the lid and the vent, and set to cook on Manual for 25-30 minutes (at high pressure if your Instant Pot has that setting). It will take the Instant Pot about 8-10 minutes to come to pressure.

Once the cooking time is complete, allow the pressure to release naturally for 15 minutes before manually venting the remaining pressure

Adjust seasoning with salt and pepper, if needed, and discard the bay leaves. The black eyes peas will thicken more as they sit. Serve with rice, cornbread, collard greens, and even a drizzle of hot sauce, if you like.
Notes
It is the time it takes to pressurize and the natural release that allows the beans to cook properly without soaking. Do not skip this step.
Nutrition Facts
Instant Pot Black Eyed Peas
Amount Per Serving
Calories 266
Calories from Fat 54
% Daily Value*
Fat 6g9%
Cholesterol 11mg4%
Sodium 1097mg46%
Potassium 843mg24%
Carbohydrates 37g12%
Protein 18g36%
Vitamin A 1400IU28%
Vitamin C 11mg13%
Calcium 85mg9%
Iron 5mg28%
* Percent Daily Values are based on a 2000 calorie diet.