This post may contain affiliate links. Read my disclosure policy.
This easy homemade Jalapeno Ranch Dressing will kick up all of your favorite salads. Bursting with the fresh flavors of cilantro and lime and just a bit spicy, this creamy salad dressing recipe adds a tasty twist to the classic Ranch you love, and it can even be used as a dip or sauce.
Can't handle the heat? Try Buttermilk Avocado Ranch Dressing!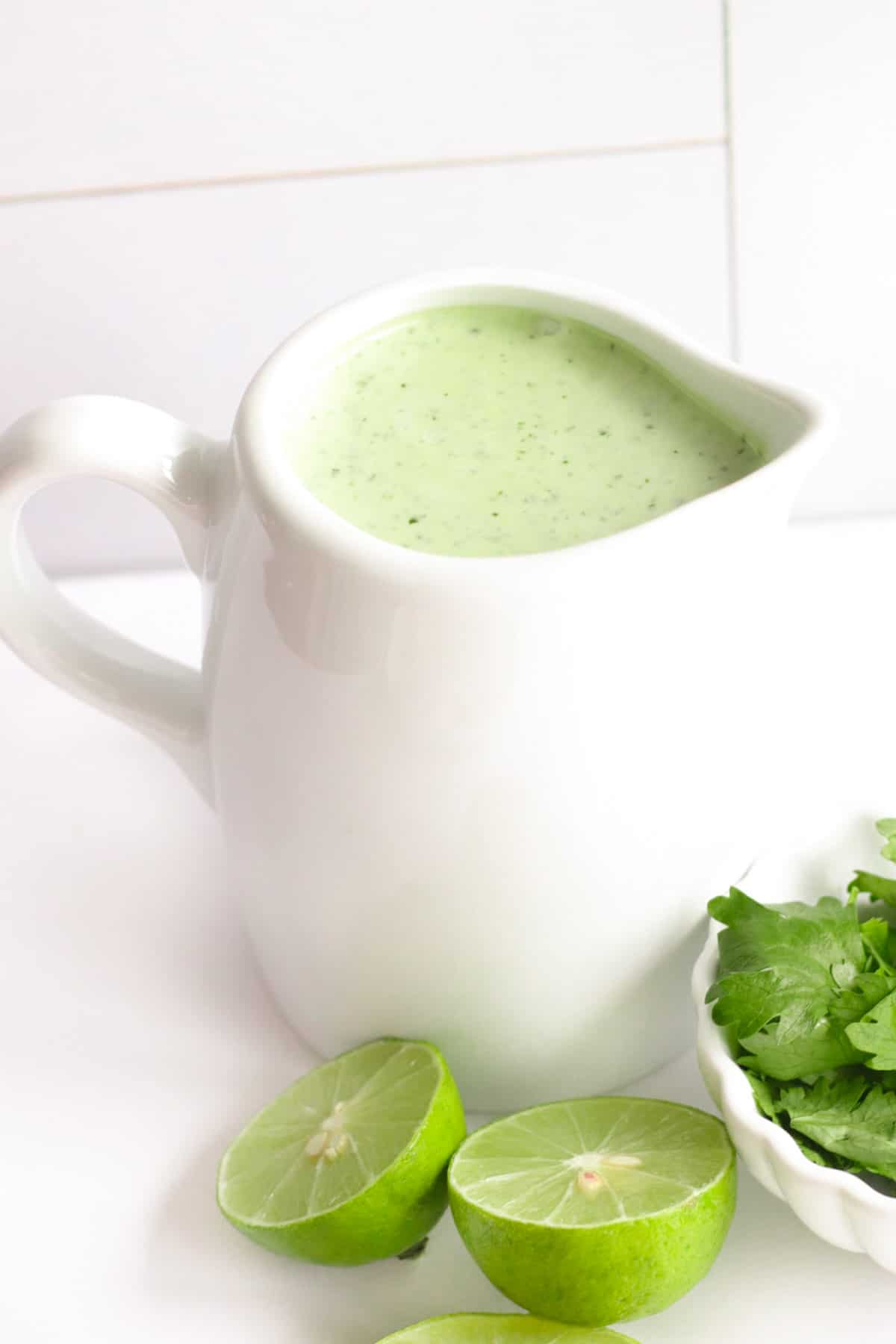 Cilantro Lime Ranch with a Kick
Ranch dressing is basically an American institution. It usually starts with a base of mayonnaise and buttermilk, though sometimes sour cream is used. You can even make Greek Yogurt Ranch Dressing if you want to lighten it up or pack in more protein. It is then flavored with a variety of herbs and spices, sometimes fresh and sometimes dried. It usually has onion and garlic flavor, whether from onion and garlic powder, fresh onion and garlic, or even chives. And the characteristic herbal flavor is usually a combination of parsley and dill.
It is the best-selling salad dressing in the United States, and besides pouring it over lettuce, may like to use it as a dip for veggies or chicken, drizzled on sandwiches, and even served with pizza!
So naturally when something is this popular, it eventually becomes time to shake things up a bit. I've made Buffalo Ranch Dressing and Barbecue Ranch Dressing in the past, but now I wanted to add some freshness and spice!
In this recipe, cilantro stands in for parsley which gives it more of a citrusy flavor that is enhanced by lime juice that replace the vinegar or mustard you find in classic Ranch dressing. Then let's not forget the jalapenos! You'll love the southwestern inspiration in this Jalapeno Ranch Dressing with the fresh pairing of cilantro and lime to cool it off just enough!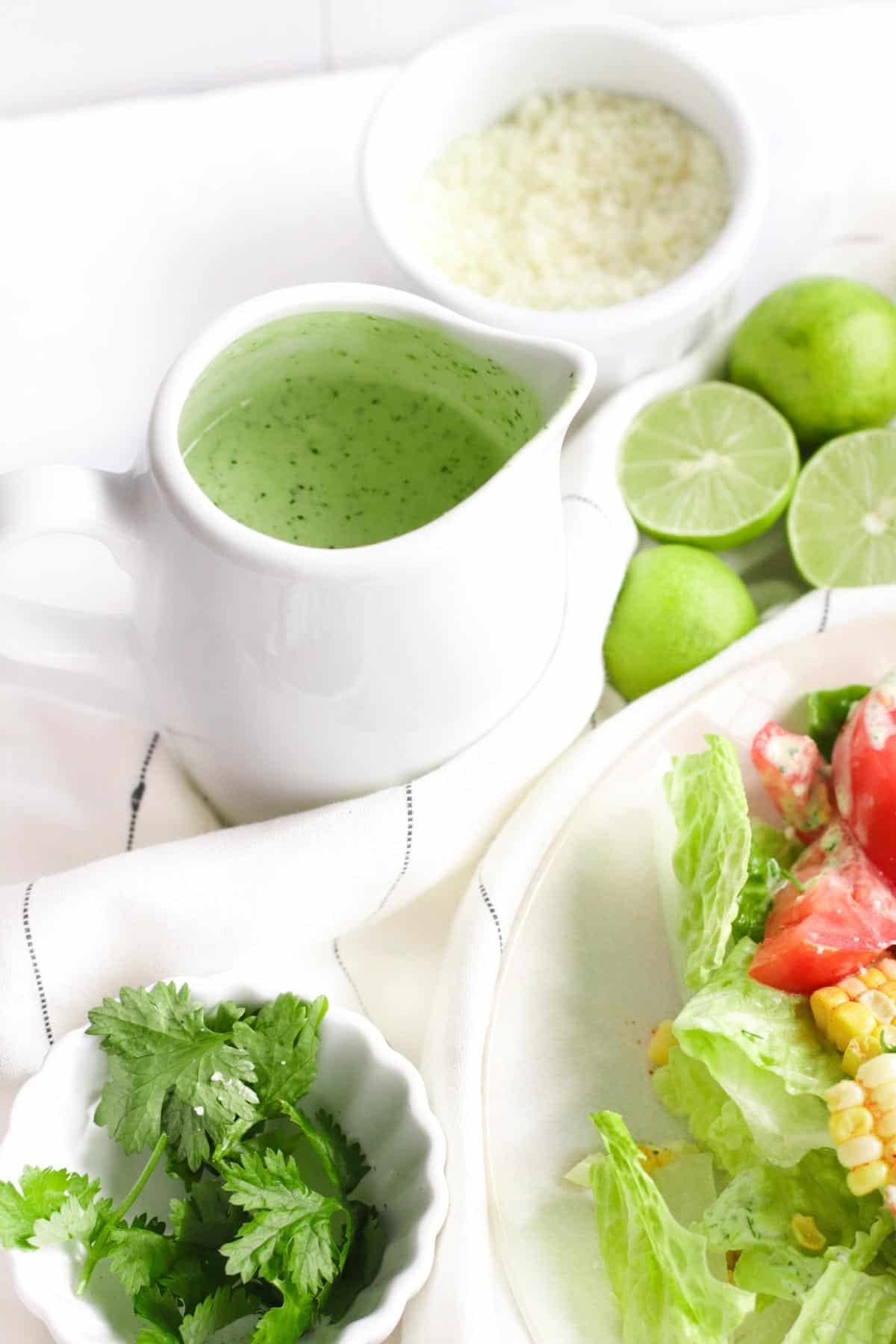 Can't I just buy Jalapeno Ranch Dressing?
Sure, you actually can buy Jalapeno Ranch Salad Dressing. Several brands are available in bottles in the grocery store. And there are even recipes to use the packets of powdered Ranch seasoning and "doctor" it up just a bit with fresh jalapenos.
But salad dressing is so easy to make, and totally worth the minimal effort. The fresh ingredients give it such a bright flavor that is unmatched by anything you would get from a bottle or packet. And you have complete control over everything you put in there, meaning no preservatives or other funky stuff.
Plus, you can modify it to fit your dietary needs, from low fat and low calorie to keto-friendly, and yes, even vegan. And you can crank up the heat level if your tastebuds can handle it.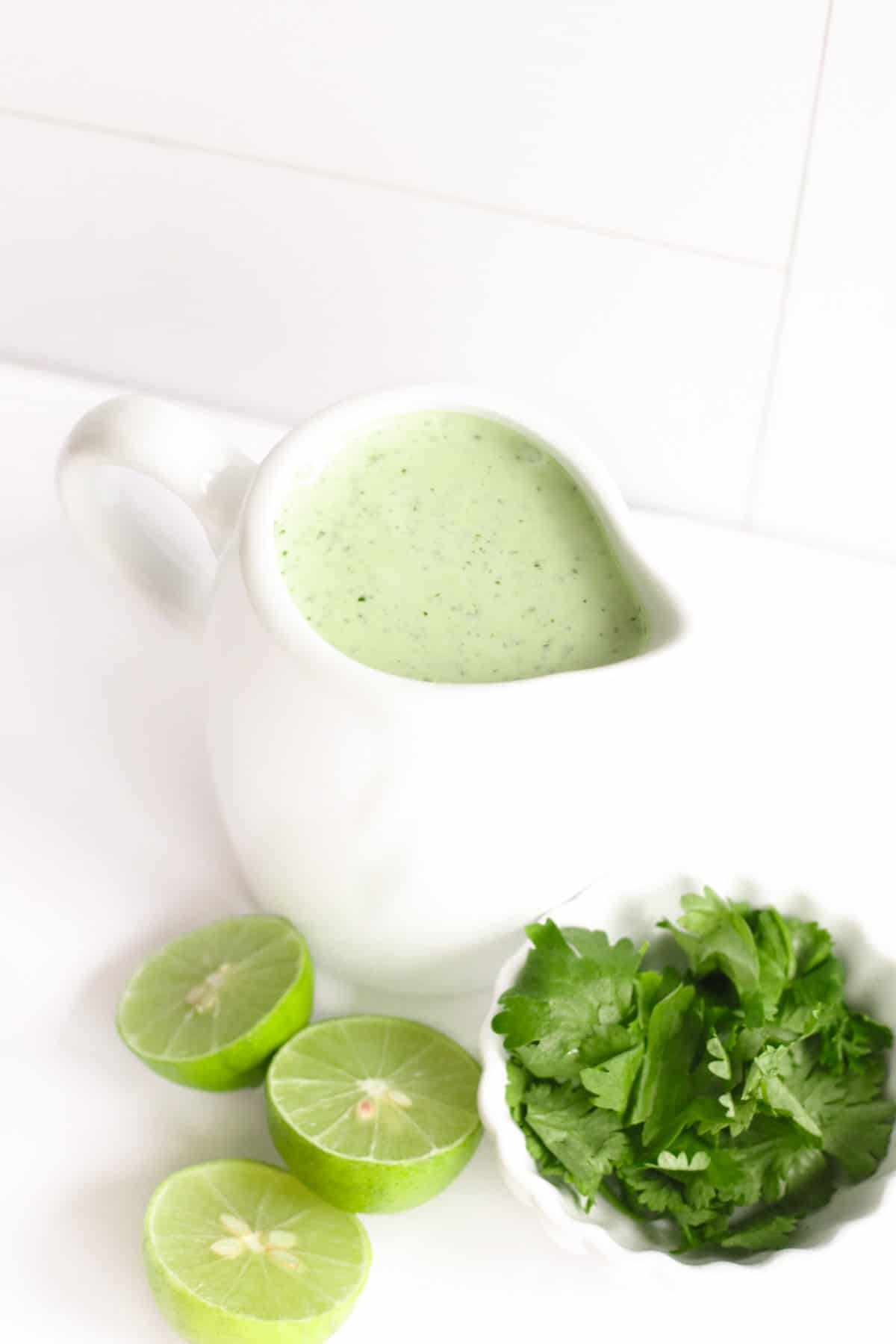 Ingredients
This simple combination of ingredients gives you a smooth and creamy dressing with bold flavor. It has the freshness of the herbs and the tangy zip of lime with the spicy kick from the jalapeno.
Milk: You can use any kind you have on hand and adjust the amount to give you the consistency you like. Whole milk will make a thicker dressing, skim or almond milk will thin it out more, so you may want to use a little less.
Mayonnaise: The classic base to make a super creamy dressing, but you can also use plain Greek yogurt to lighten it up or if you prefer the flavor.
Fresh lime juice: Adds the acid the dressing needs to balance the creaminess.
Fresh cilantro: No need to separate the leaves from the stems since the stems are edible and will be broken down in the blender. Dried cilantro is no recommended because it is the main flavor profile, giving the salad dressing a nice fresh flavor and bright green color.
Chopped jalapeño: Since it is doing to be blended, you just need to give it a rough chop so it breaks down in the blender. Be sure to remove the seeds as they are the hottest part of the jalapeno (well, unless you want it hotter).
Fresh dill: Roughly chopped, or you can use dried.
Chopped chives: Again, these just need to be roughly chopped since they will be pureed. You can also use dried.
Garlic powder: This really gives it that classic Ranch flavor.
Salt: Just a pinch.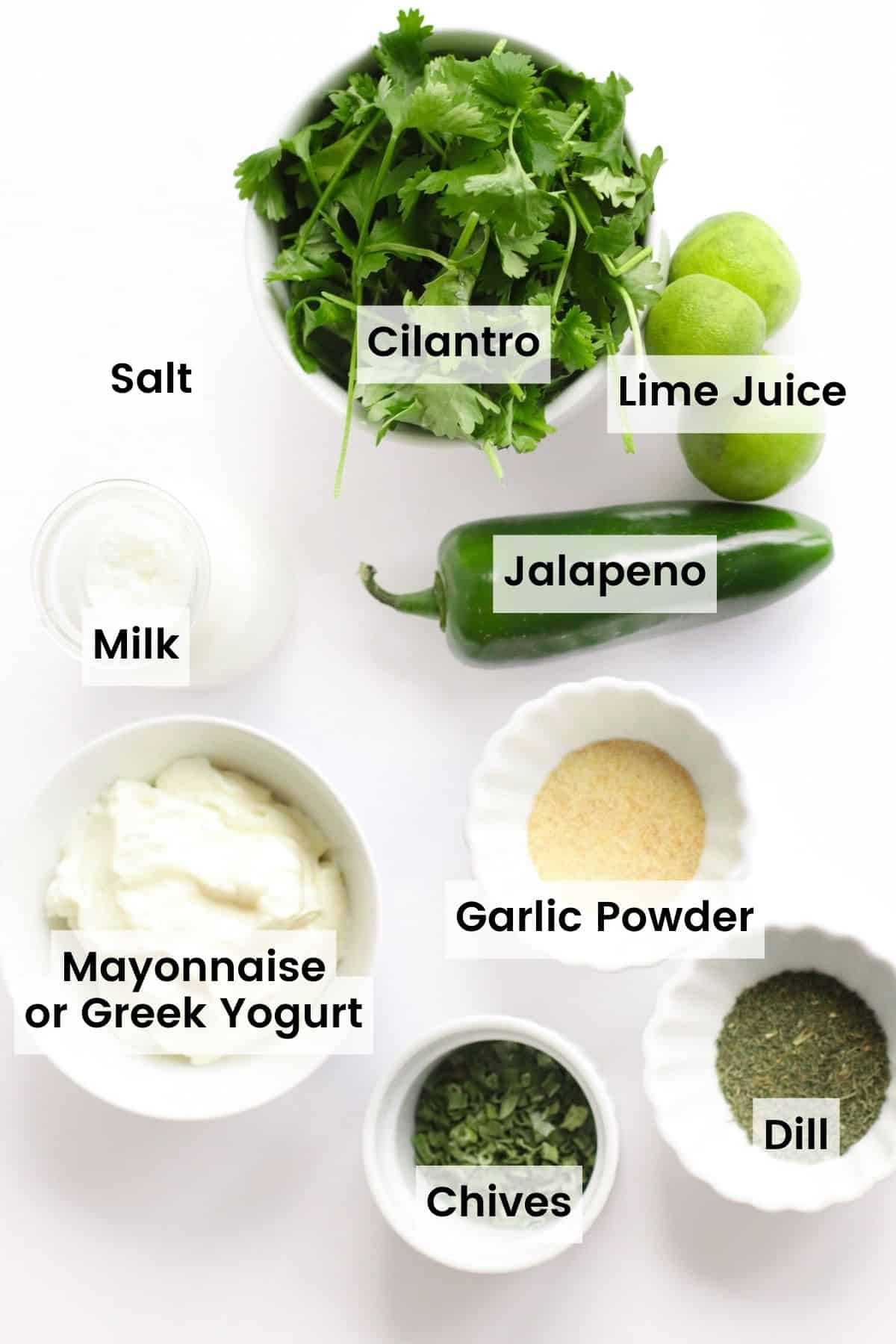 How to Make Jalapeno Ranch
It really doesn't get any easier. First start by giving your herbs and jalapeno a rough chop. They don't have to be finely minced. You just want to make them a little smaller so they are easier to blend.
Then just combine all of the ingredients in a blender, food processor, or Magic Bullet. Then blend it up until it is smooth with a gorgeous green color. Keep it in the refrigerator until you are ready to use it.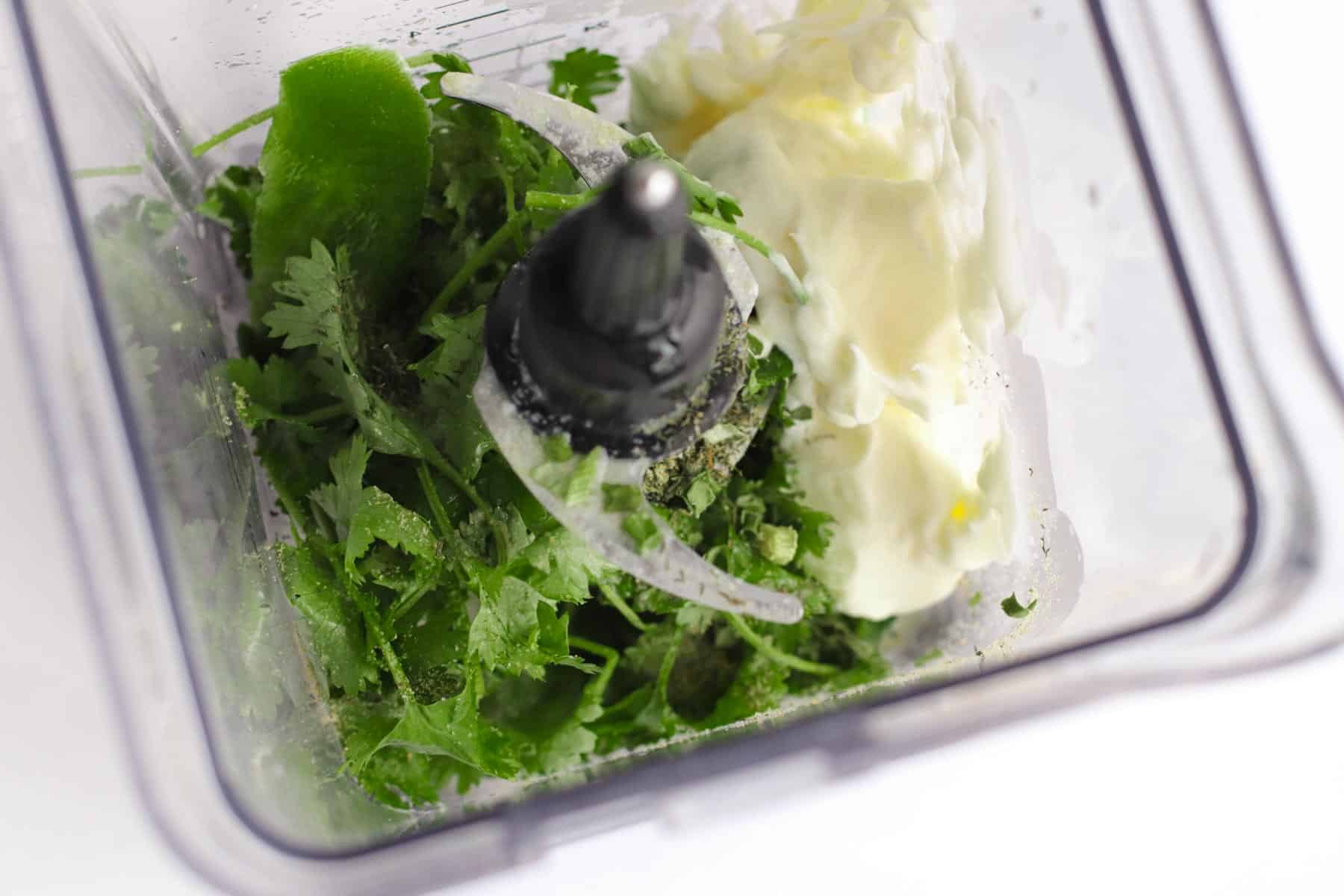 Variations and Substitutions
Make it Lighter
Use low fat or nonfat Green yogurt instead of mayonnaise. If you still want to keep it rich and keto-friendly, but aren't a fan of mayo, full fat Greek yogurt works too.
Make it Spicier
If you like even more heat, you ca always add more jalapeno peppers or add in the seeds with the pepper.
Make it Dairy Free
For a non-dairy version, you can substitute almond milk for regular milk. It won't change the flavor of the dressing much. However, it is a tad thinner than regular milk so, if you find the dressing overall to be too thin, just add extra mayonnaise! Or start by using less milk and add more as needed.
If you want to make it vegan, try a vegan mayonnaise.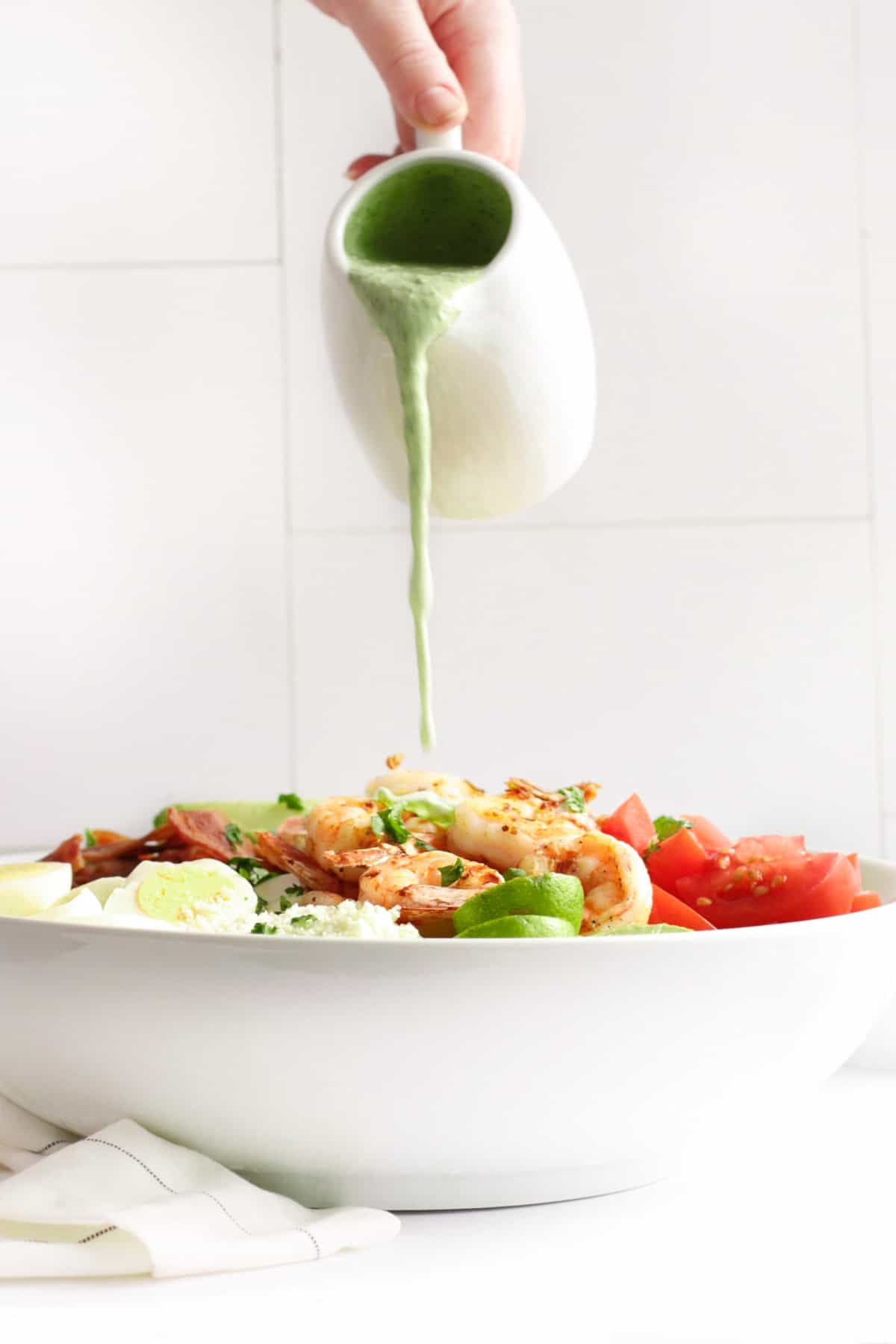 What tastes good with Jalapeno Ranch Dressing?
Pour it on a Salad
Grilled Shrimp Cobb Salad
Or just jazz up a simple garden salad!
Use it as a Dip
Or use it for dipping all of your favorite veggies!
Drizzle it as a Sauce
Or pour it over your favorite tacos or even burgers!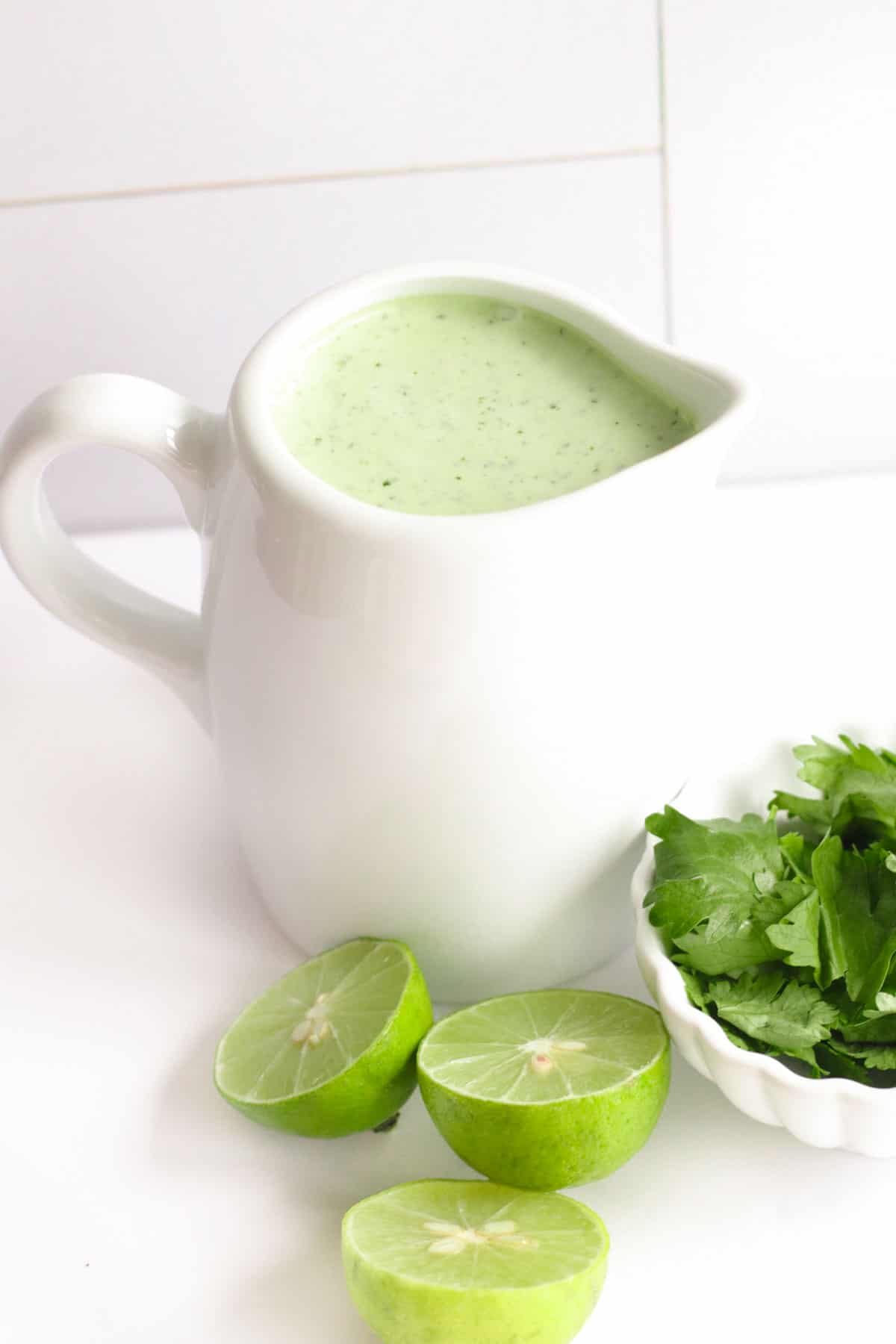 How to Store Jalapeno Ranch?
Keep this ranch salad dressing in a covered container in the refrigerator. Even something like a glass mason jar with a screw on lid is a good option.
How long will the Ranch Dressing last?
Dressing can be kept covered and refrigerated for about a week, but since it is a fresh dressing with no added preservatives I wouldn't recommend longer than that.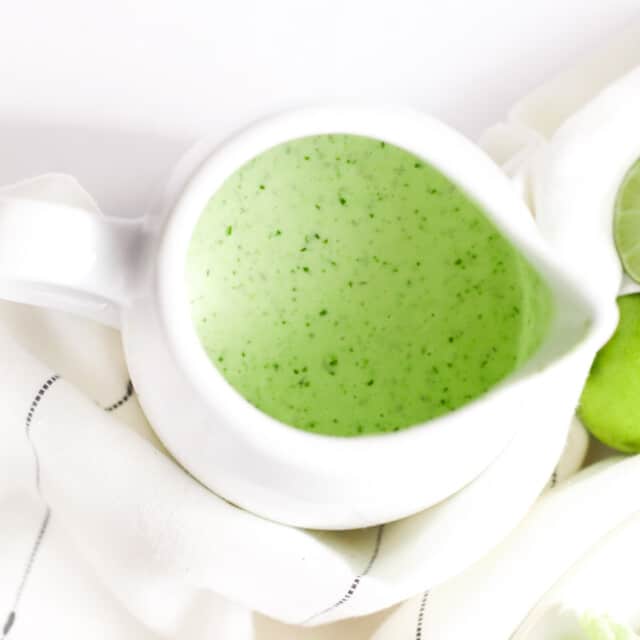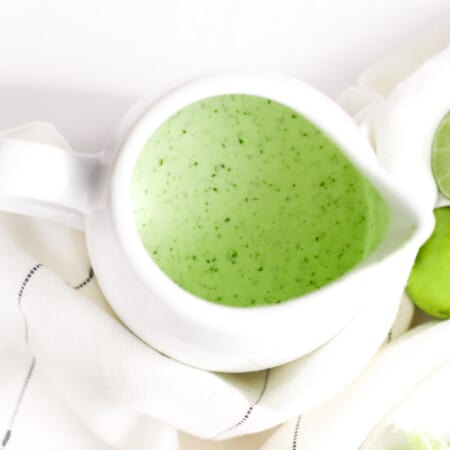 Jalapeno Ranch Dressing
Ingredients
1

cup

milk

1

cup

mayonnaise

or plain Greek yogurt

1

Tablespoon

fresh lime juice

1

cup

fresh cilantro

(leaves and stems)

2

Tablespoons

chopped jalapeño

(seeds removed)

1

Tablespoon

chopped fresh dill

(or 1 teaspoon dried)

1

Tablespoon

chopped chives

(or 1 teaspoon dried)

1

Tablespoon

garlic powder

pinch

of salt
Instructions
In a blender or food processor, combine the milk, mayonnaise or Greek yogurt, lime juice, cilantro, jalapeño, dill, chives, garlic powder, and a pinch of salt.

Blend on high until all of the ingredients are completely mixed. You should have a nice light green color and texture should be smooth.

Store dressing in the refrigerator covered until ready to use. If kept refrigherated, it will keep for about a week.
Notes
You can use dried dill and dried chives if you don't have access to fresh herbs, but it's really important to at least use fresh cilantro . The cilantro is the main flavor profile in this dressing and using fresh cilantro helps bring that to the forefront, it also makes the color such a pretty green, and gives you a  nice fresh taste.
Nutrition Facts
Jalapeno Ranch Dressing
Amount Per Serving (2 Tablespoons)
Calories 140
Calories from Fat 126
% Daily Value*
Fat 14g22%
Cholesterol 9mg3%
Sodium 129mg5%
Potassium 55mg2%
Carbohydrates 2g1%
Protein 1g2%
Vitamin A 163IU3%
Vitamin C 4mg5%
Calcium 27mg3%
Iron 1mg6%
* Percent Daily Values are based on a 2000 calorie diet.
Categories:
More salad dressing recipes:
I am all about making my own salad dressing. The fresh flavors are unmatched compared to anything from a bottle. Here are some favorites for you to try.