This post may contain affiliate links. Read my disclosure policy.
This Keto Taco Bowl is a heavenly, low-carb lunch or dinner option! It's filled with fresh greens, colorful veggies, hearty taco-flavored meat, cheese, and sour cream. You'll love this healthy ground beef taco salad for a fast family dinner that each person can make with their favorite toppings!
An Easy Low Carb Keto Taco Bowl
I just think taco bowls are the perfect food! Well, to be fair, I like pretty much everything that has the word "taco" in it. Taco soup, taco bowls, taco salad – you name it. These taco bowls are nice and salad-y, which helps to keep things keto-friendly! But if you aren't avoiding grains, feel free to add those, too!
One really nice thing about serving taco bowls is that they're easy to customize. You can set out whatever toppings you have on hand, and everyone can mix and match. These could be adjusted to suit any dietary restriction, in fact. It would be very easy to make a vegan version, a dairy-free version, a GAPS version, or whatever you need!
You'll notice that I'm using my Instant Pot Ground Beef Taco Meat here, which is so simple to make. It's perfect to make a batch for Taco Tuesday, then use the leftovers to make these ground beef taco salads another night (yes, you can even freeze the meat) or to meal prep some lunches!
However, you could definitely use any other meat, seafood, or plant-based protein you want! Leftover fajita chicken or shredded Mexican chicken, some spicy steak strips or steak bites, whatever you have on hand or prefer!
Recipe Ingredients
These ingredients make one nicely-sized taco bowl. If you'd like to make more, just double, triple, or quadruple the ingredients. It's very flexible!
Lettuce: I like to use Romaine lettuce; it's got a lovely color and robust texture. But you can use any greens you like! Plan on about two cups per serving.
Taco Meat: You'll need ⅔ cup of cooked Instant Pot Ground Beef Taco Meat, so easy to make and store!
Cherry Tomatoes: Just a sprinkling of chopped tomatoes adds a lot of nutrition and a pop of color and flavor to your taco bowl. You can substitute grape, Roma, plum, or even chopped beefsteak tomatoes.
Red Onion: Finely mince one tablespoon of red onion. You can omit this if raw onion isn't your thing!
Avocado: Half an avocado adds a creamy contrast and lots of healthy fat to this hearty bowl.
Cheese: I like to use a couple of tablespoons of shredded cheddar.
Sour Cream: Let's not forget the sour cream! It's so delicious.
Salsa: I'm always on the lookout for added sugar, and salsa is definitely a place where it crops up. For this recipe, you'll need a tablespoon of no-sugar-added salsa if you want to keep it truly keto-friendly.
Jalapeño: I like things a little spicy, so I add 3 slices of fresh jalapeño to my taco bowl. Feel free to omit this, though, if you're not a fan!
Cilantro: This is optional, but I think two tablespoons of chopped fresh cilantro adds a fresh and pungent flavor that really wakes up the dish.
Lime Wedges: To squeeze over the top of the salad. Yum!
If you'd like to enjoy this as a ground beef taco salad, you might find you want to add some dressing instead of just the taco toppings. Here are some ideas…
Need dressing for your taco bowl?
Try these…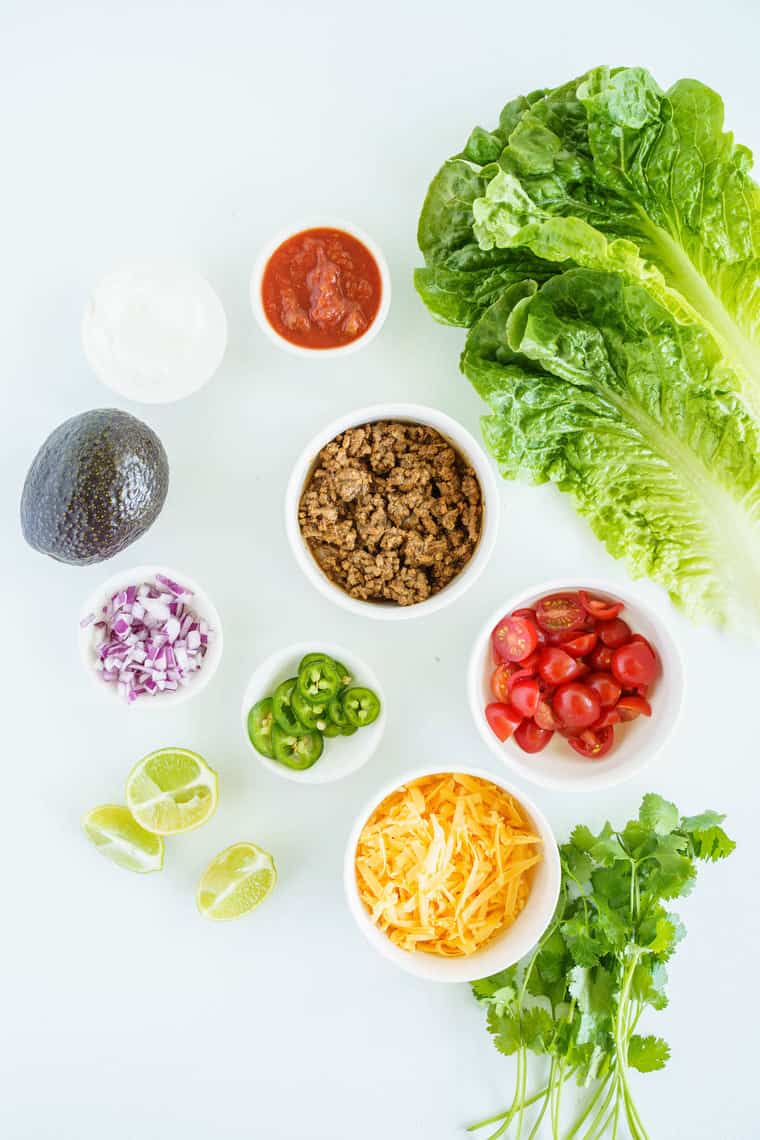 How to Assemble Your Taco Bowl
Assembling your taco salad bowl is as easy as falling off a log. You can basically do it any way you'd like! I generally line my bowl with lettuce so the toppings sit on top instead of getting lost underneath.
Start with Lettuce: Add the two cups of lettuce to the bottom of a shallow, generously-sized bowl.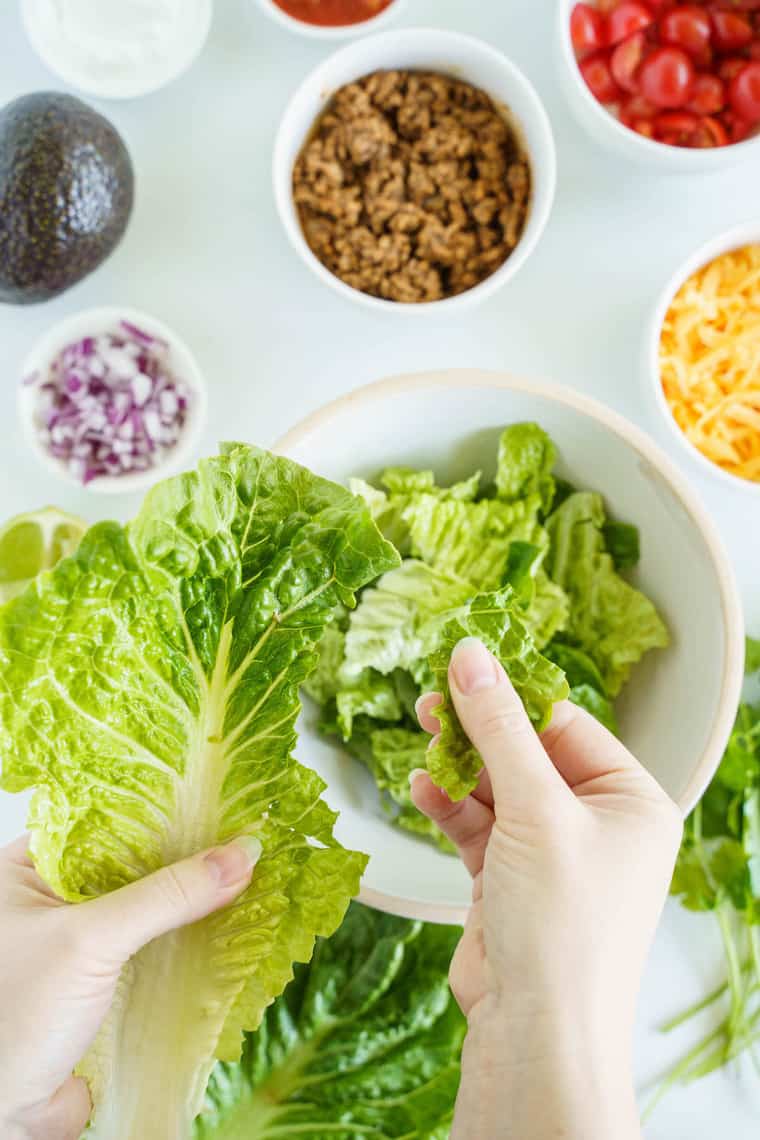 Add Meat, Veggies & Cheese: Arrange the taco meat, tomato, red onion, avocado and cheddar on top of the lettuce.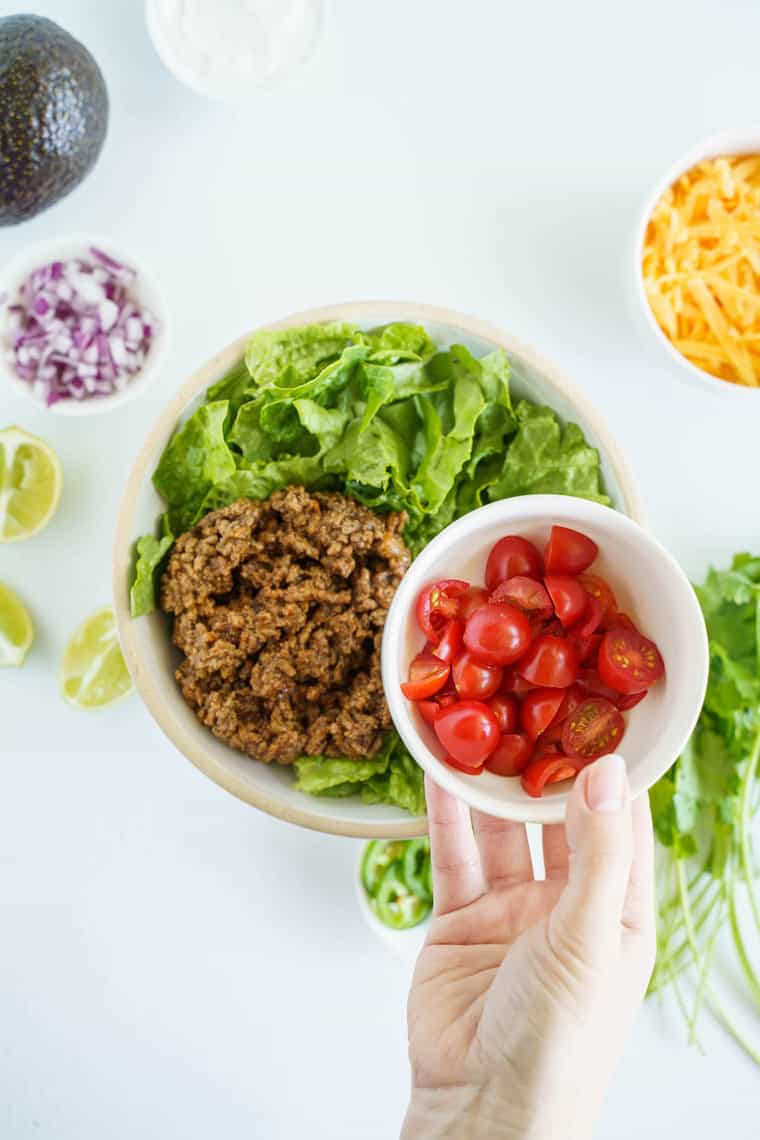 Add Remaining Toppings: Dollop the sour cream and salsa on top. Garnish with the jalapeño slices and fresh cilantro. Give it a drizzle of salad dressing, if you like. I gave some suggestions above.
Enjoy! Serve with the lime wedges, to squeeze on top.
More Topping Ideas
What else could you add to these delicious taco bowls? Tons of things! There are so many ways to customize this meal. Here are a few favorites to get you started!
Black Olives
Green Olives
A Drizzle of Queso
Crumbled Corn Chips
Sauteed Peppers, Onions, and/or Mushrooms
Black Beans (or any kind of beans)
Corn Kernels
Diced Cucumber
Pico de Gallo
Is your mouth watering yet? I know mine is!
Can I Meal Prep a Taco Bowl?
Definitely! Store each taco salad item separately, for the best results. Otherwise, the ingredients can affect each other and the lettuce will wilt. Try storing the lettuce in a large airtight container, with the other ingredients nestled alongside in smaller containers or zip-top bags!
When it comes to heating up the taco meat, I do know some people who like to eat theirs cold. But I think it tastes better heated up, and it's so easy to do in the microwave! Just heat for about 15 seconds at a time, and give it a little stir now and then, until hot all the way through.
Another option is heating it on the stove. If you do, try adding just a teaspoon of water or so to help it heat up more evenly without scorching.
Keto Taco Bowl
This Keto Taco Bowl is a heavenly, low-carb lunch or dinner option! It's filled with fresh greens, colorful veggies, hearty taco-flavored ground beef, cheese and sour cream.
Ingredients
For the Taco Salad Bowls:
2

cups

chopped Romaine lettuce

1/4

cup

chopped cherry tomatoes

1

Tablespoon

minced red onion

1/2

avocado

2

Tablespoons

shredded cheddar cheese

(about 1/2 ounce)

1

Tablespoon

sour cream

1

Tablespoon

salsa

(no-sugar-added, if needed)

3

slices

jalapeno

2

Tablespoons

chopped fresh cilantro

2

lime wedges,

to squeeze on top

Or any other taco toppings or salad dressing you love
For the Instant Pot Ground Beef Taco Meat:
2

pounds

85% lean ground beef

(can use 90% or 93% lean if preferred)

1

yellow onion,

peeled and chopped

4

cloves

garlic,

crushed

2

teaspoons

dried oregano

1 1/2

teaspoons

salt

1

Tablespoon

chili powder

1

Tablespoon

cumin

1/2

teaspoon

black pepper

1/4

teaspoon

cayenne pepper

3

Tablespoons

tomato paste

3/4

cup

water
Instructions
For the Taco Salad Bowls:
Add the lettuce to the bottom of a shallow bowl.

Arrange the taco meat, tomato, red onion, avocado, and cheddar on top of the lettuce.

Dollop the sour cream and salsa on top, and garnish with the jalapeno slices and fresh cilantro. Add any other toppings you like.

Serve with the lime wedges to squeeze on top, or give it a drizzle of your favorite salad dressing.
For the Instant Pot Ground Beef Taco Meat:
Add ground beef, onion, garlic, dried oregano, salt chili powder, cumin, black pepper, cayenne pepper, tomato paste, and water to the Instant Pot (there's no need to stir). Put the lid on the Instant Pot and set it to "Sealing". Cook on "Manual, High Pressure" for 8 minutes. Once it's finished, carefully release the valve.

If you want to thicken the sauce a bit, turn the Instant Pot on "Sauté" and let it cook for a couple minutes, stirring frequently.
Notes
Nutrition facts apply to one taco bowl with the given toppings. The toppings listed here are just a guide. You can use your favorites.
This recipe makes a single serving taco bowl, but it can easily be doubled, tripled, quadrupled, and so on!
The Instant Pot Taco Meat makes 8 servings, so you can make a batch to meal prep taco bowls, or use half for taco night, and use the rest to make your taco bowls
Nutrition Facts
Keto Taco Bowl
Amount Per Serving (1 bowl)
Calories 580
Calories from Fat 369
% Daily Value*
Fat 41g63%
Cholesterol 101mg34%
Sodium 830mg35%
Potassium 1522mg43%
Carbohydrates 29g10%
Protein 31g62%
Vitamin A 9791IU196%
Vitamin C 88mg107%
Calcium 258mg26%
Iron 6mg33%
* Percent Daily Values are based on a 2000 calorie diet.
Categories:
More Low Carb Recipes to Try
Need more tasty, low-carb dishes in your life? I've got you covered!