This post may contain affiliate links. Read my disclosure policy.
Keto Chicken Enchilada Skillet is the best part of cheesy chicken enchiladas in a 30-minute meal you can make on busy weeknights. No tortillas needed for this easy low carb dinner recipe that puts a twist on a Tex Mex favorite. But it is versatile enough for everyone in the family to enjoy. The perfect way to change up Taco Tuesday or for a gluten-free Cinco de Mayo recipe.
Looking for more low carb chicken recipes? Try Prosciutto-Wrapped Chicken with Pesto or Orange Saffron Marinated Chicken Legs.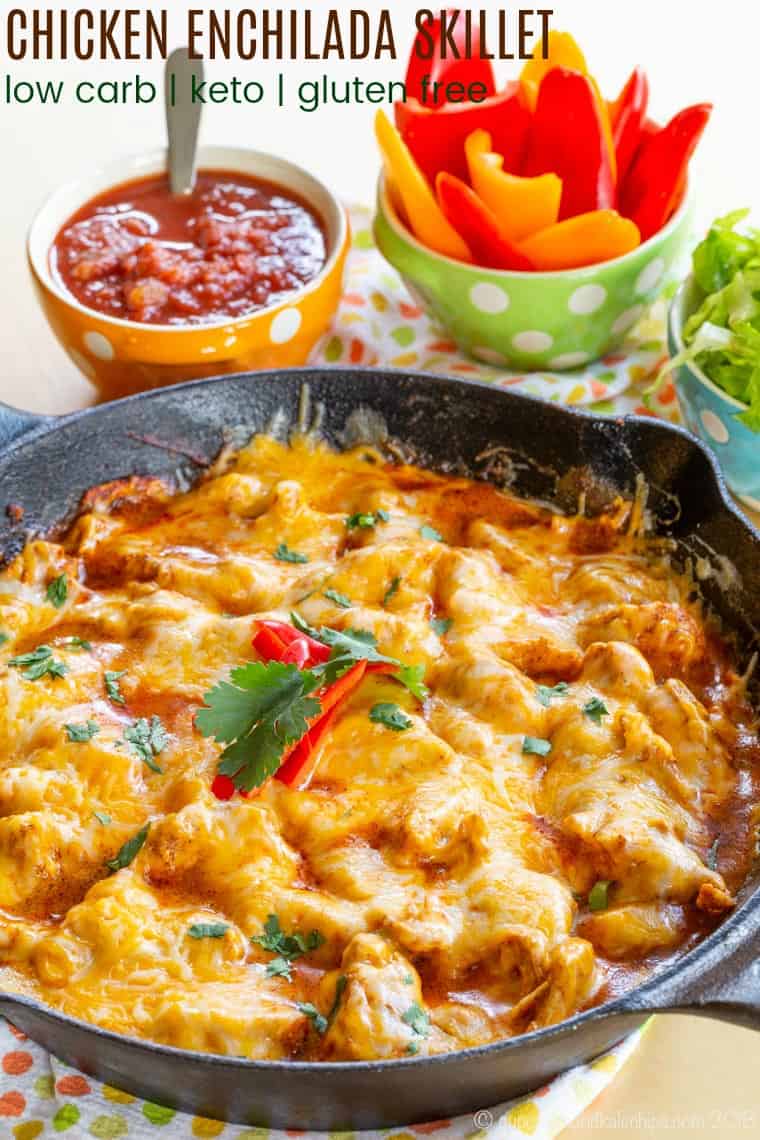 Originally published May 3, 2018.
My friend Carolyn Ketchum of the blog All Day I Dream About Food is a rock star in the keto world and in the food blogging world. And she is also just an all-around awesome person.
She creates some of the most amazing low carb recipes you've ever seen. I make her extra meaty Bolognese sauce all the time and even stuffed it in my Bolognese Ground Beef Stuffed Mushrooms. And being able to create recipes for treats like Chocolate Peanut Butter Buckeye Cake that you can eat without guilt takes a special kind of talent.
These days you can't read health and fitness news or scroll through your Facebook feed without someone talking about their successes with weight loss, increased energy, mental clarity, or any of the other benefits of a keto lifestyle.
But let's be honest, in order for a short term diet to become a long term lifestyle, which is the true key to maintaining health and wellness, it needs to be able to fit into the craziness of life. That's where her second cookbook comes in…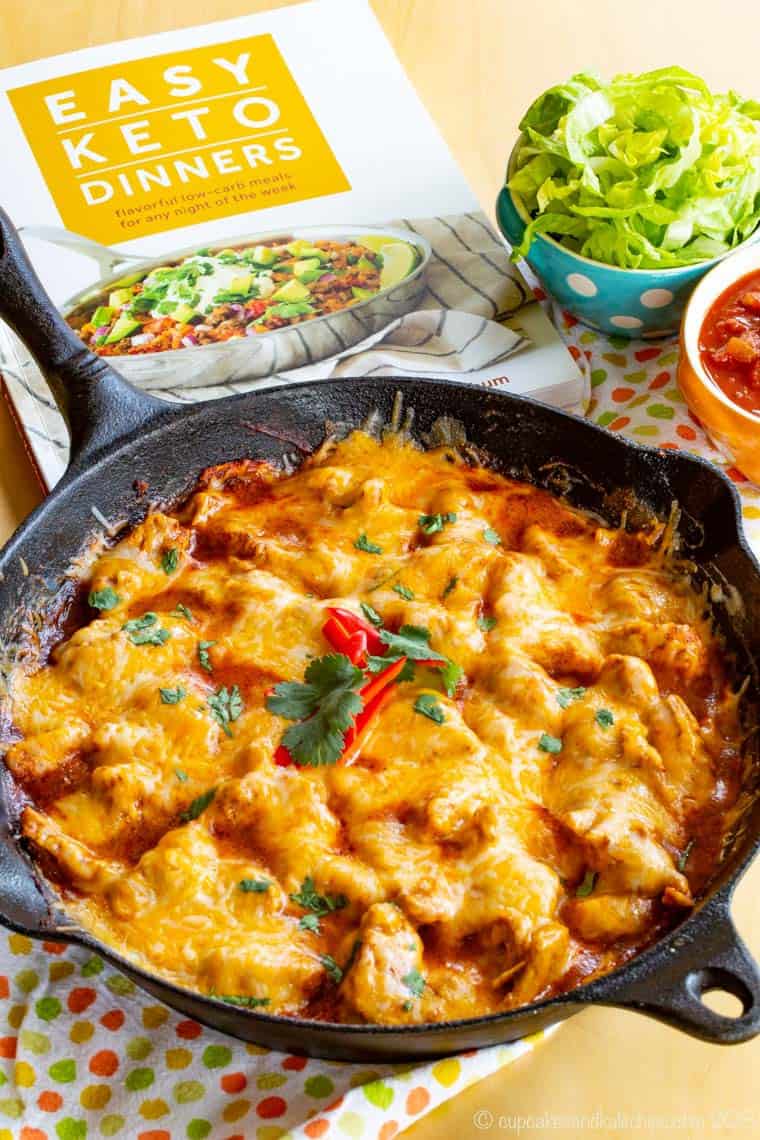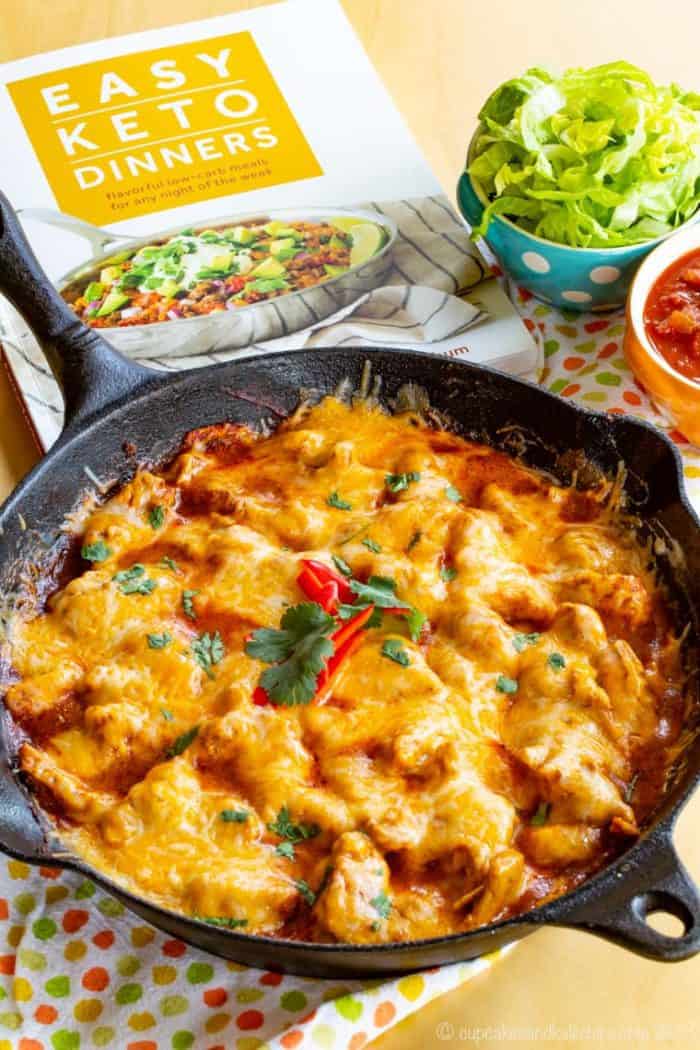 Easy Keto Dinners Cookbook
Easy Keto Dinners is packed with over 50 recipes that you can whip up any night of the week. There are low carb dinner recipes for chicken, beef, pork, fish, and even vegetarian options. And even if you aren't following a strict low carb diet, but are gluten free like me, these are great dishes to make. I can attest that you don't have to be following a keto lifestyle or diet 100% of the time to enjoy these recipes.
The Thai Chicken Salad is next on my list, as well as the Zucchini Pan Pizza (move over, cauliflower crust!). You can even preview a few recipes since Dara of Cookin' Canuck made Grilled Cilantro Lime Chicken, Shelby of Grumpy's Honey Bunch raved about the Chicken Parmesan Casserole.
Since Carolyn has three kids, I know her recipes get the kiddo seal of approval, meaning they are perfect for my family as well. Of course, I might give the kids some tortillas with this keto enchiladas recipe or mashed potatoes with the Instant Pot Meatloaf while I stick with mashed cauliflower. But I know they will still love the main course and I don't have to cook two separate meals to keep my own carb count down.
And before even diving into the recipes, Carolyn shares all of her best tips, tricks, and tools for making keto meals fast every day.
And you have to check out this Low Carb Stuffed Pepper Soup from Carolyn's newest book, Keto Soups & Stews! But first, let's talk about this…
Keto Chicken Enchiladas Skillet Recipe
If you want to know how amazing this book is, let me just tell you I didn't have to turn past the first page to find what I wanted to make first. This super easy, flavor-packed Chicken Enchilada Skillet was a hit with everyone in my family, from the five-year-old to the hubby. In fact, the eight-year-old had no school the next day, and when Daddy got home from work, he told him that for lunch he "got to eat more of that delicious chicken".
Here is a brief overview so you can see just how easy it is to make. Scroll down to the printable recipe card for the full quantities and details.
But don't skip my PRO TIPS below!
Ingredients
Butter
Boneless, skinless chicken breasts
Salt and pepper
Tomato paste – since you only need two tablespoons of tomato paste, it's helpful to have one of those tubes of tomato paste on hand in your refrigerator instead of opening a can.
Chili powder
Garlic powder
Cumin
Cayenne pepper
Sour cream
Shredded cheddar cheese
Equipment
A nice, big skillet is key. I used a cast-iron skillet and love the flavor it gave from the butter browning on the chicken so nicely.
And I love this handheld paddle cheese grater for shredding cheese right on top of whatever you are making.
Directions
Season chicken with salt and pepper.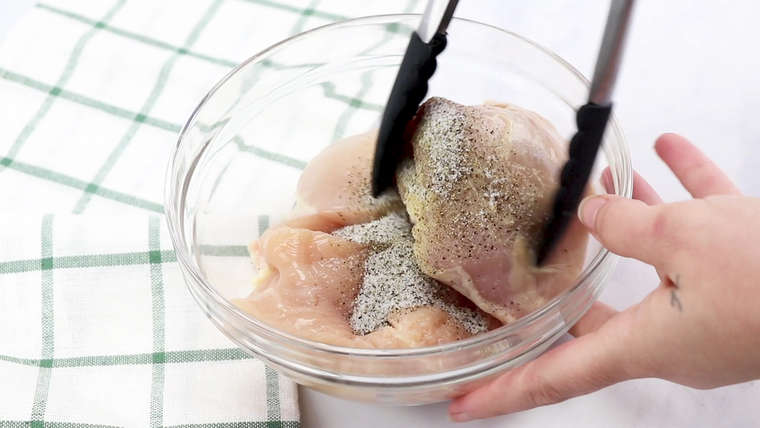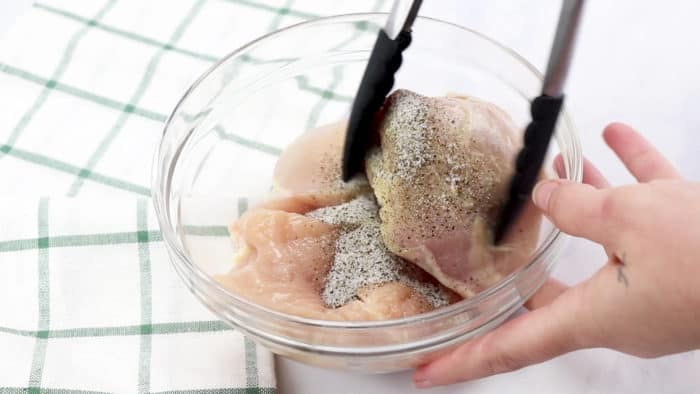 Melt the butter in a skillet. Add the chicken and brown on all sides.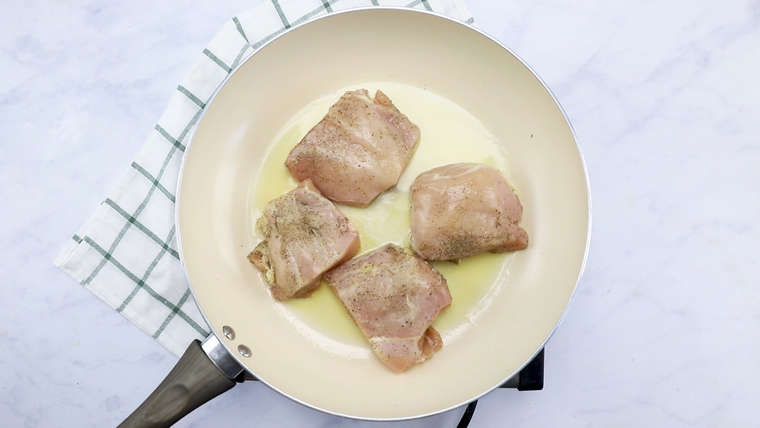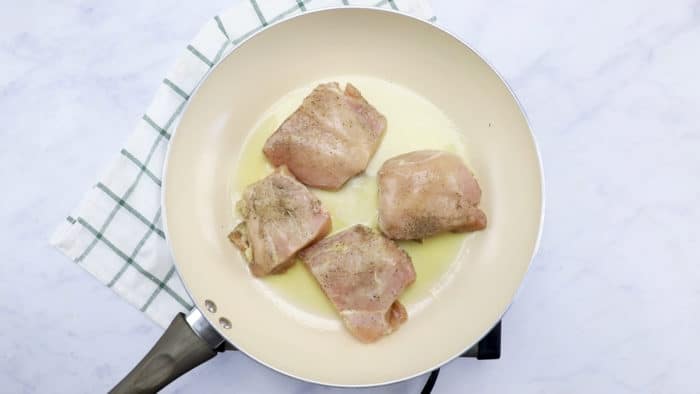 Add the broth, bring it to a simmer and cook until the chicken is cooked through. Remove the chicken to a plate and shred it.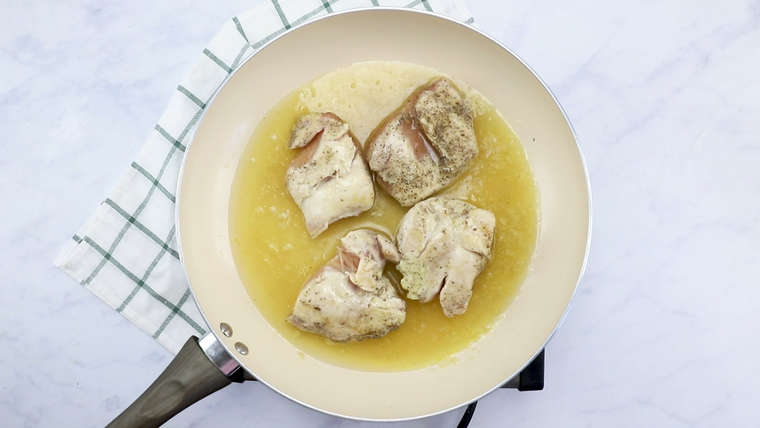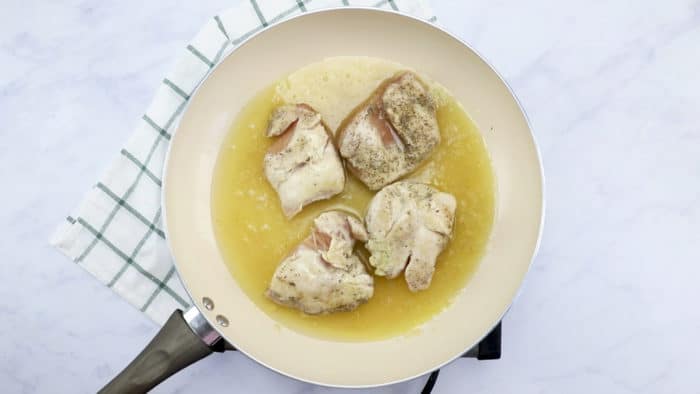 Discard about half the broth and whisk the tomato paste and seasonings into the remaining broth.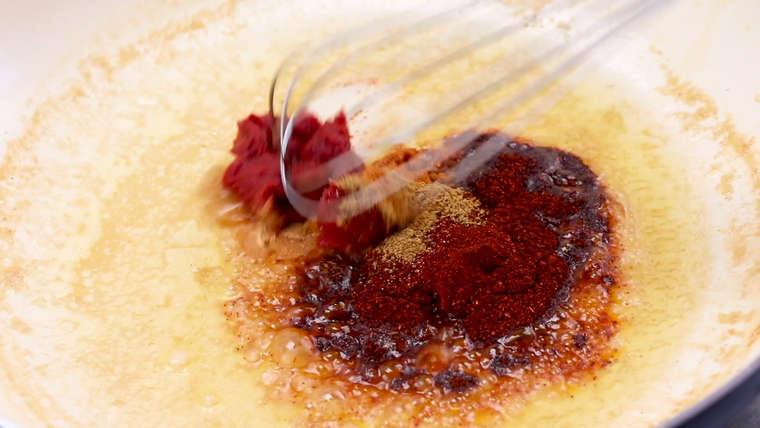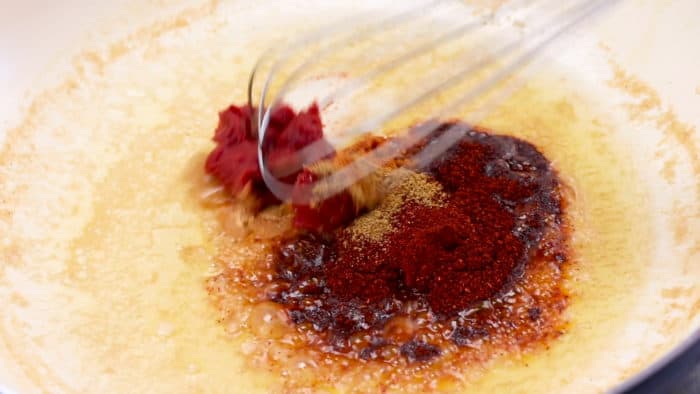 Whisk in the sour cream and stir in the chicken.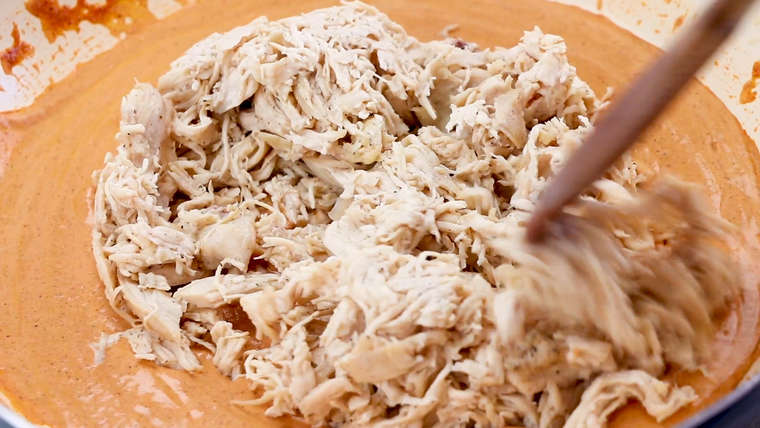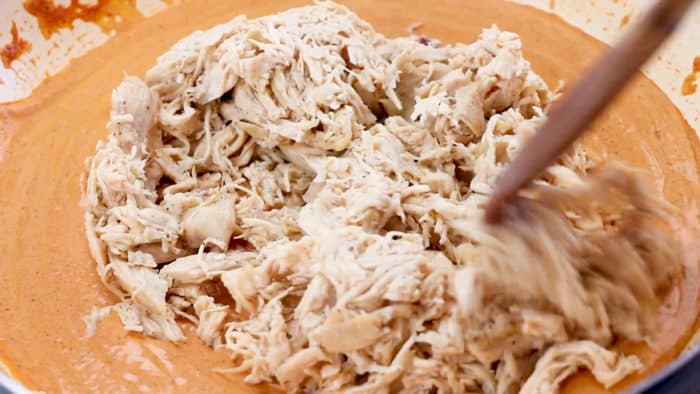 Sprinkle cheese over the top and cover until the cheese is melted.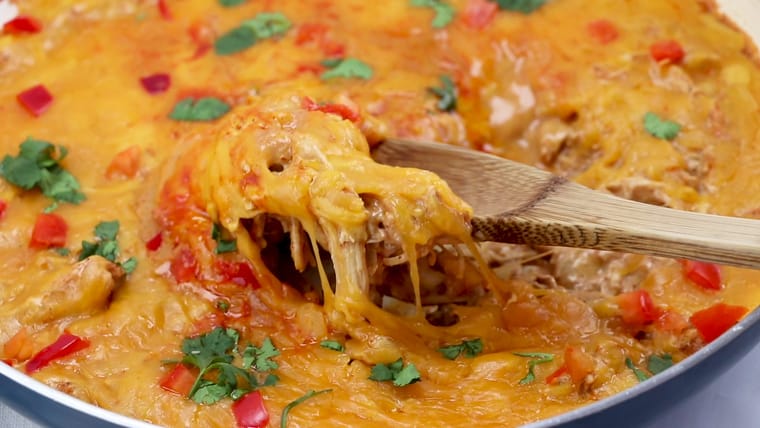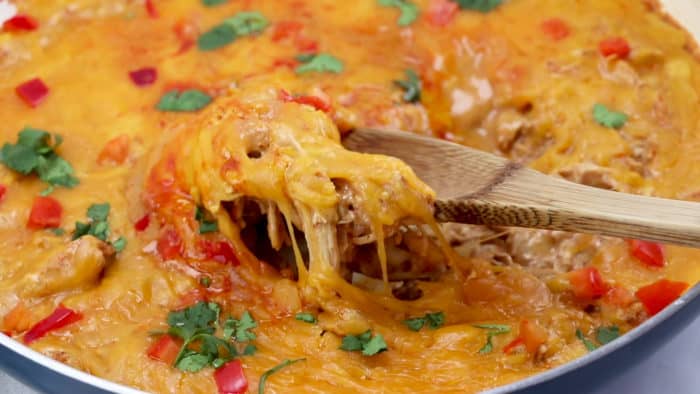 Make it a Meal
Now it's time to enjoy! Keep it a low carb chicken dinner or serve with your favorite Tex Mex sides.
Serving suggestions
Side dishes
Toppings
Mango Avocado Salsa would add some fresh flavor on top of this chicken enchilada skillet, just watch your serving size to keep it low carb.
Kid-Friendly Guacamole has the flavors you love without the chunks of raw onions and jalapenos that the kids don't like.
Don't forget your other toppings like lettuce, tomatoes, and sour cream.
Drinks and Desserts
Brianne's Recipe Tips:
The directions call for you to discard about half of the broth after cooking. My stove tends to run a little hot, so I think I evaporated a little more of the broth. If your stove has crazy flames like mine, even on low, I'd recommend pouring it off into a bowl and then adding back if you need a little more liquid, as I did.
Use your favorite cheddar cheese and shred it yourself, or pick up a shredded Mexican cheese blend. I had just received the new 4 Cheese Mexican Shredded Cheese from my friends at Cabot, and that worked perfectly.
Carolyn also mentions that you can make it even faster by picking up a rotisserie chicken at the grocery store and reducing the amount of broth.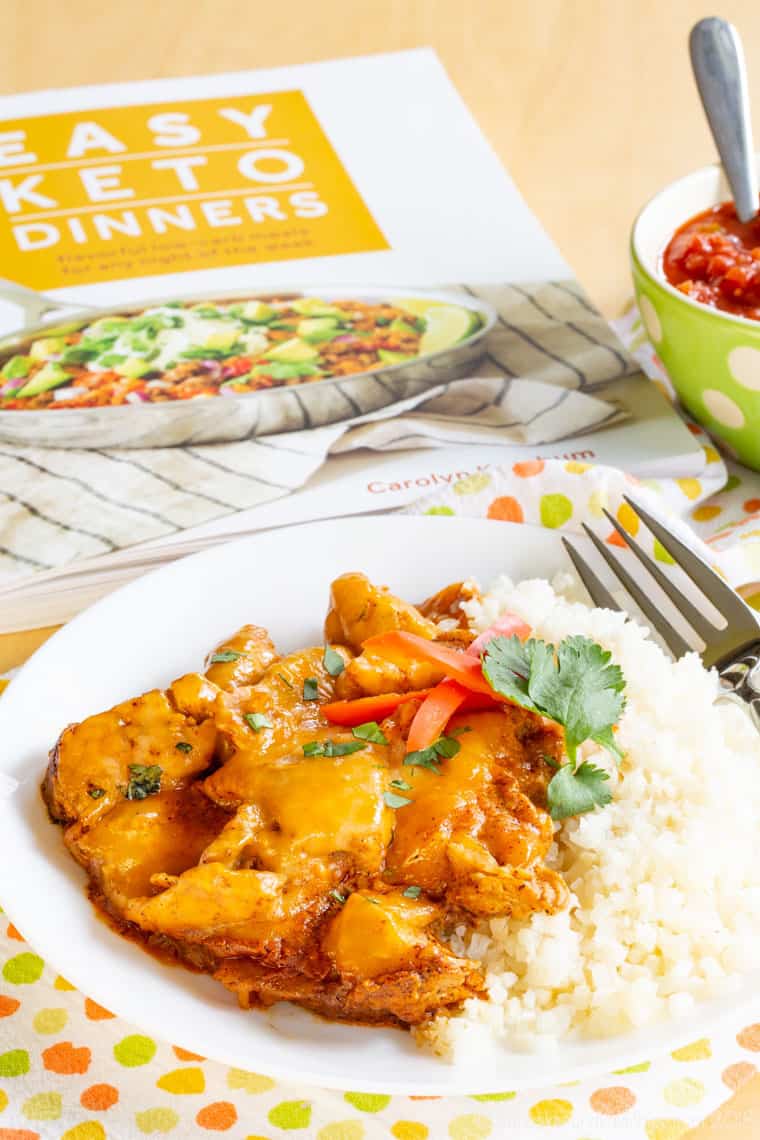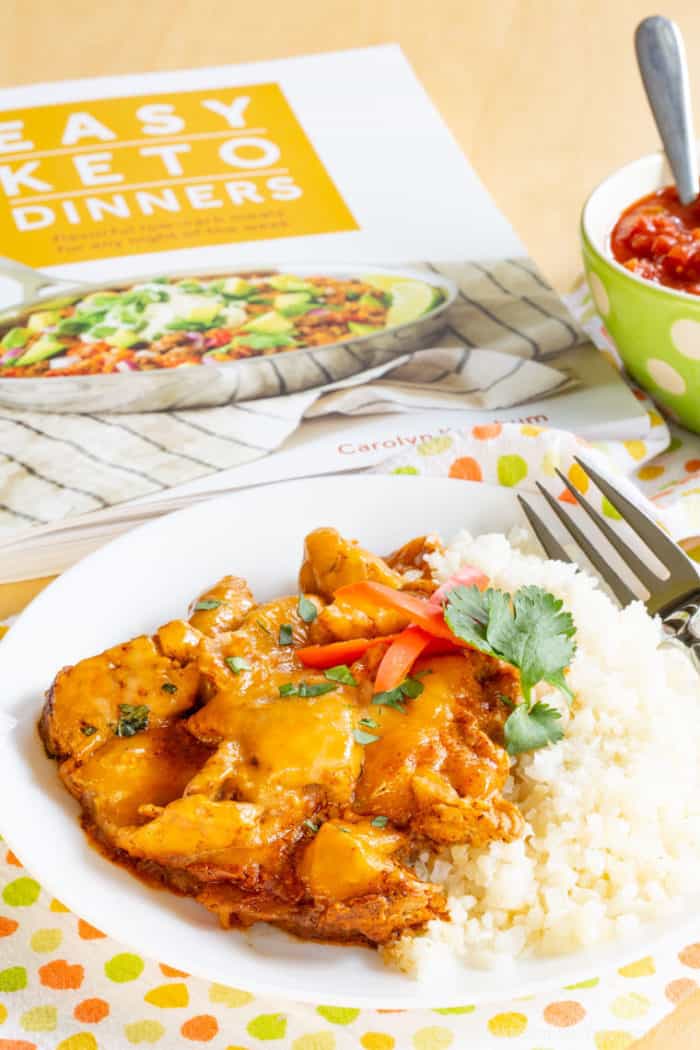 Favorite low carb and keto cookbooks
Since Carolyn is, in my eyes, the Queen of Keto, I consider her cookbooks the absolute authoritative sources on low carb cooking and baking. I don't always eat low carb. But I am gluten free and do try to watch my consumption of grains. So her recipes fit well into my lifestyle. And for my husband and kids, they are versatile enough that I can always add rice or pasta on the side while I enjoy my gluten free and low carb meal.
More keto chicken recipes
Not in the mood for chicken? Try this Low Carb Shepherds Pie!
Cheesy Chicken Enchilada Skillet Recipe
To share Carolyn's words about this recipe, "Who needs tortillas with their chicken enchiladas? The fillings and the sauce are the best part anyway, and this skillet dinner is so much easier to make." You can have this easy low carb dinner recipe on the table in about 30 minutes, and the kids will go crazy for it while you stick to your low carb or keto lifestyle.
I hope you'll leave a comment and give it a FIVE STAR rating or share a review on Pinterest or photo on Instagram!
Tag me @cupcakekalechip and use #cupcakesandkalechips!

Chicken Enchilada Skillet
The best part of chicken enchiladas in a family-friendly low carb dinner recipe that is ready in about 30 minutes.
Ingredients
2

Tablespoons

salted butter

1 1/2

pounds

boneless, skinless chicken breasts

cut into large chunks (about 4 inches each)

Salt and pepper

1

cup

chicken broth

2

Tablespoons

tomato paste

1

Tablespoon

chili powder

1/2

teaspoon

garlic powder

1/2

teaspoon

ground cumin

1/8

teaspoon

cayenne pepper

3/4

cup

sour cream

1 1/2

cups

shredded cheddar cheese

or Mexican cheese blend (about 6 ounces)

Cauliflower rice and your favorite enchilada toppings
Instructions
In a large skillet over medium heat, melt the butter. Season the chicken generously with salt and pepper. Brown the chicken in the butter for about 2 minutes per side.

Add the broth and bring to a simmer. Cook for 12 to 15 minutes, until the chicken is cooked through.

Remove the chicken to a plate and remove about half of the broth from the skillet. Discard the broth. Whisk the tomato paste, chili powder, garlic powder, cumin, and cayenne into the remaining broth in the skillet. Shred the chicken with 2 forks.

Reduce the heat to low and whisk in the sour cream until well combined. Stir in the chicken. Sprinkle the cheese over the top and cover the skillet until melted, about 4 minutes.

Serve with cauliflower rice and your favorite enchilada toppings, like pickled jalapenos, cilantro, guacamole, and tomatoes.
Nutrition Facts
Chicken Enchilada Skillet
Amount Per Serving
Calories 343
Calories from Fat 198
% Daily Value*
Fat 22g34%
Cholesterol 127mg42%
Sodium 571mg24%
Potassium 599mg17%
Carbohydrates 3g1%
Protein 32g64%
Vitamin A 1105IU22%
Vitamin C 5.5mg7%
Calcium 250mg25%
Iron 1.2mg7%
* Percent Daily Values are based on a 2000 calorie diet.
Enjoy!