This post may contain affiliate links. Read my disclosure policy.
This Cilantro Lime Rice is a simple way to add a bright, fresh flavor to your meals. Easy and versatile, you can use it as a base for burrito bowls, serve it with grilled shrimp, or pile it high with pulled pork!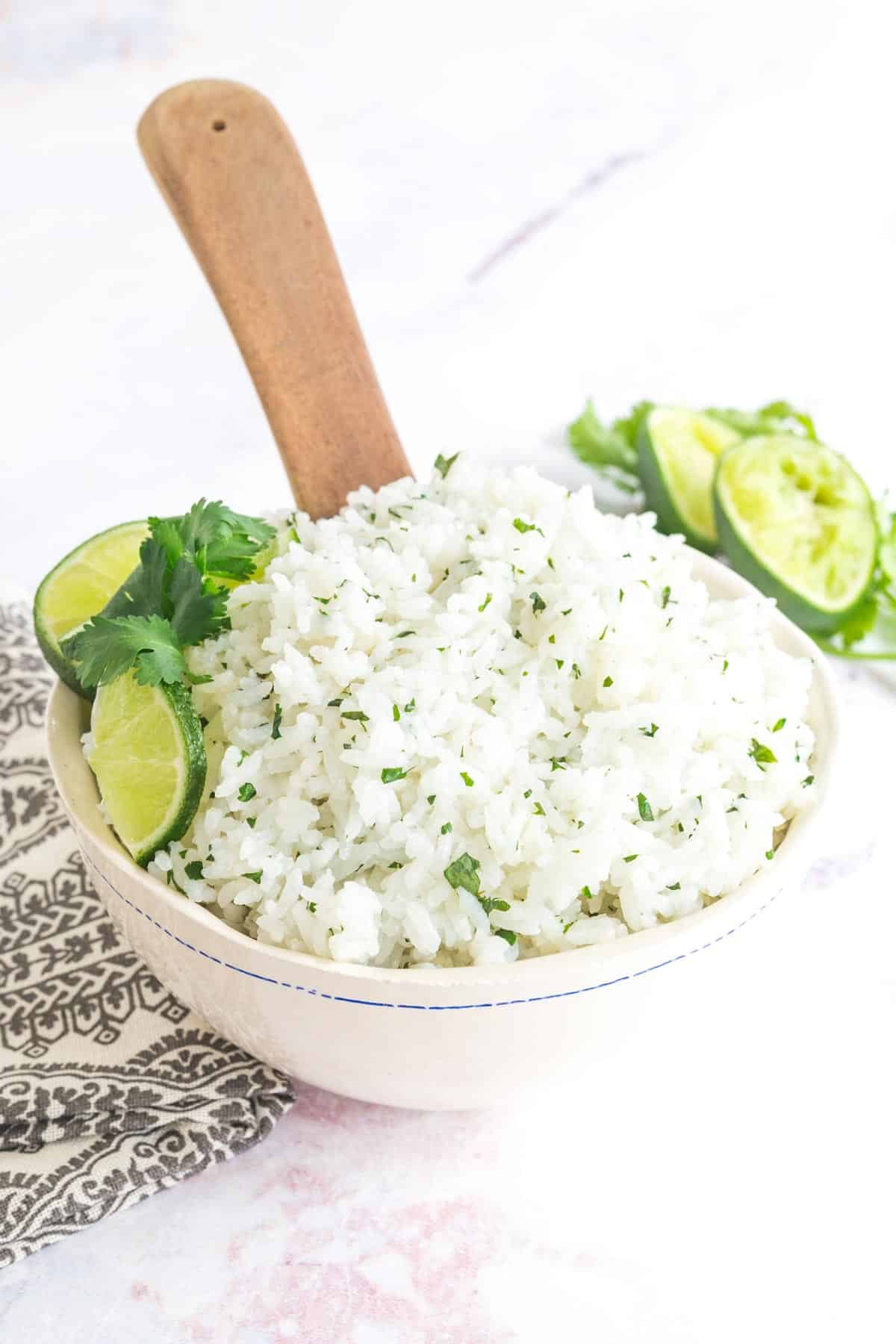 Cilantro Lime Rice – Better than Chipotle Copycat Recipe
I know there are some Chipotle superfans out there who might not take kindly to my claims of being better than Chipotle. But here's the thing. It's one of the easiest rice recipes – it's just rice with cilantro and lime. So it is super simple to make and is sure to turn out delicious no matter what.
Plus, to keep theirs from getting hard and dry, they add a fair amount of oil to it. You certainly have the option to enhance the flavor and give it a richer mouthfeel by stirring in some olive oil or butter.
But you have control over the amount (and, in fact, over each of the ingredients you use to ensure they are the freshest), or you can omit it entirely. It'll still be just as good, especially since you'll probably enjoy it right away versus it possibly sitting out for hours, and you'll save a few calories in the process.
I prefer to use those extra calories to add more cheese to my taco bowls!
Why You'll Love this Cilantro Lime Rice Recipe
Easy. There are really only two steps to make this recipe. First, cook your rice. Then add the cilantro, lime, and other flavorings. Mix and serve!
Quick. If your Chipotle is as busy as most of the locations near me, you can probably make it in less time than it takes to drive there and wait in line.
Flavorful. Every bite of this simple rice recipe is bursting with fresh lime and cilantro flavor.
Gluten Free. Some people wonder if rice is gluten free. Yes, it is! And while some rice mixes add gluten-containing ingredients, when you flavor it yourself, you know there is no hidden gluten.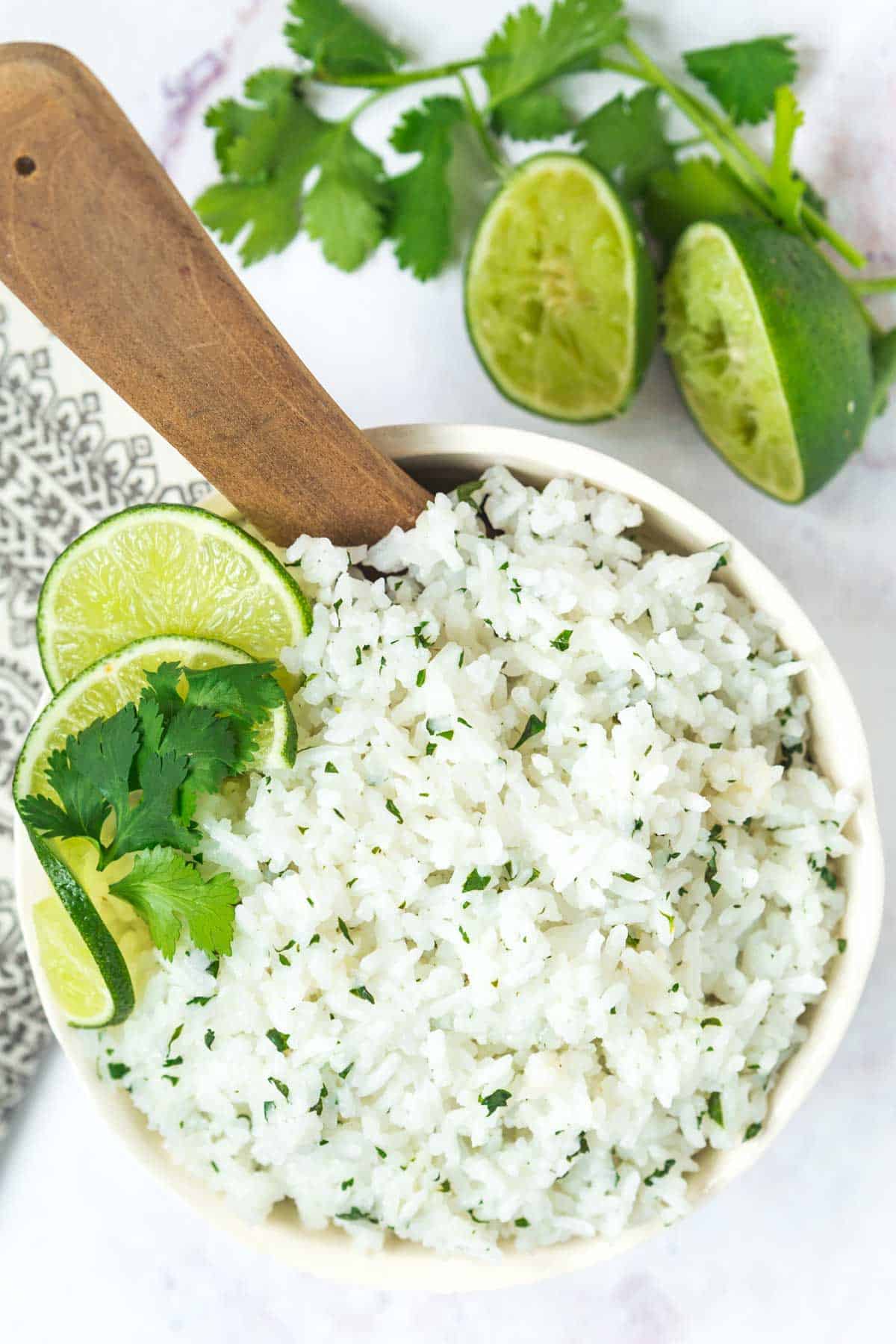 Ingredients
What can you add to white rice to make it taste better? We all know it can be pretty plain on its own. But with just a few additions, it can go from basic to spectacular with just a few simple additions.
White rice: Many people like to make cilantro lime rice with basmati or jasmine rice. But your basic long grain white rice will do just fine if that is what you have in your pantry. If you want a whole grain option, brown rice works great too!
Water: Since you are adding other ingredients, cooking the rice just in plain water is all you need to do, but you can also choose to use chicken or vegetable broth for an extra flavor boost.
Salt: If you are not using a salted broth, then a pinch of salt will help elevate the flavors.
Cilantro: You can't make cilantro lime rice without cilantro. In this case, you definitely want to use fresh. And if you are one of those people who doesn't like it, feel free to use another fresh herb for a different but still tasty flavor profile.
Lime juice: Fresh is best in this case, as bottled can be bitter. While you are at it, feel free to toss in the zest of the lime if you want some extra zing.
Optional butter or olive oil: This can add richness to your rice, but you can also leave it out to keep the calorie count a bit lower.
Pro Tip
If you made a big batch of rice or have extra from that takeout order, you can use it to make this recipe. You'll just need to reheat it first. See the directions below!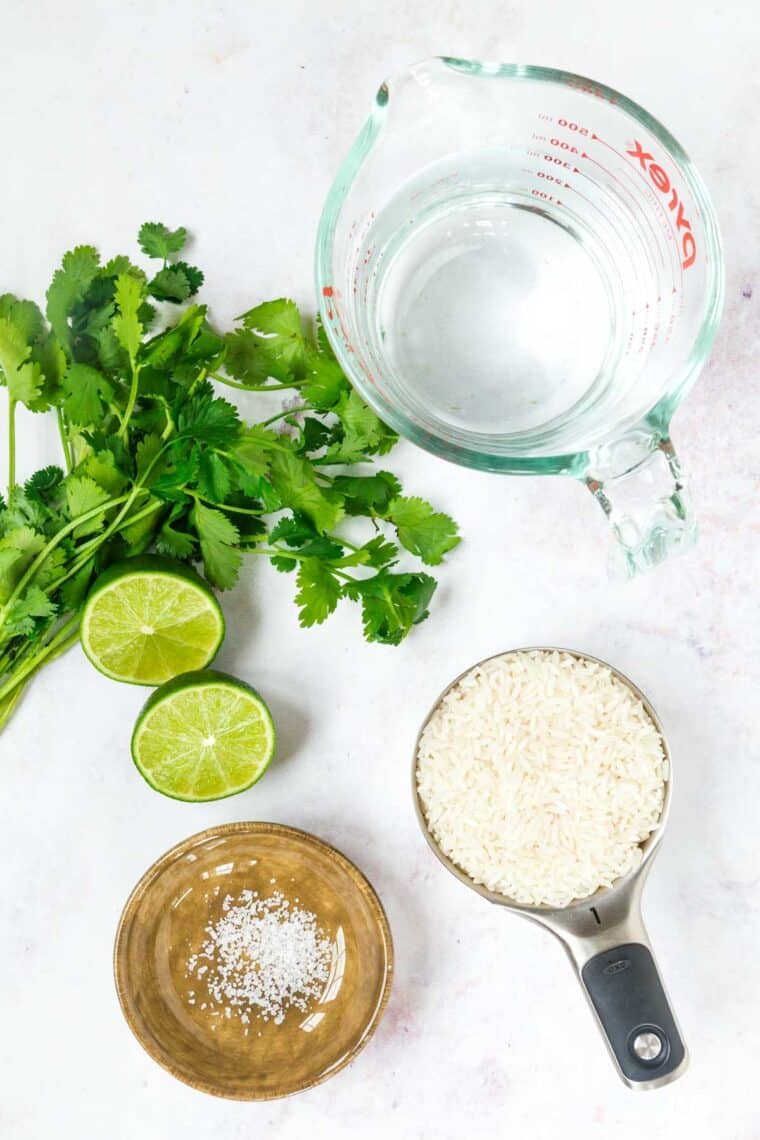 How to Make Cilantro Lime Rice
Here's how to make cilantro lime rice that tastes even better than what you can get at Chipotle:
Prepare the rice: Cook the rice on the stove per the package directions using water or broth, or use one of these methods for how to cook white rice if you want to make it in the microwave, slow cooker, Instant Pot, or rice cooker.
Combine Rice, Lime, and Cilantro: Stir together cooked rice, minced cilantro, and fresh lime juice. You can also stir in the butter or olive oil, if you are using it.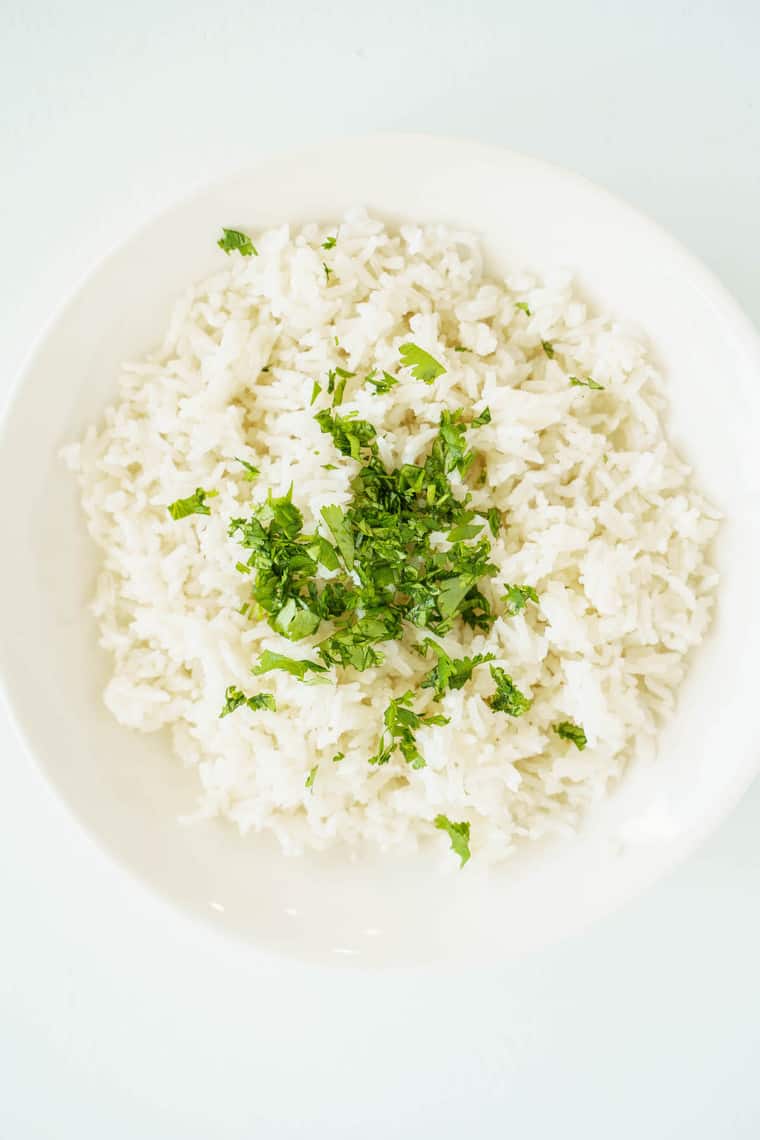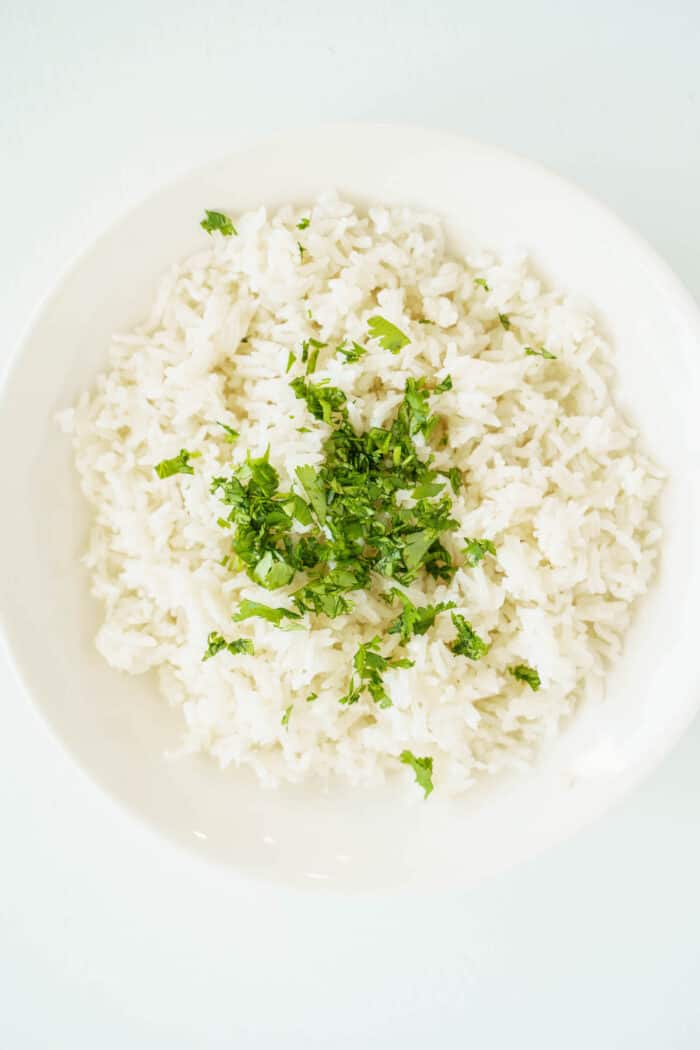 How to Store Leftover Rice
Note that rice should not be saved and reheated more than once. If you use leftover rice to start with, it's best to toss the leftovers rather than store them!
To Refrigerate: Place portions into shallow, airtight containers. Refrigerate immediately; rice shouldn't be left out longer than one hour at room temperature. Toss it out after 3-4 days.
To Freeze: Store in freezer containers and keep in the freezer for three to four months.
How to Reheat Leftover Rice
Cooked rice typically loses moisture in the refrigerator. As a result, before reheating the cilantro lime rice (or the leftover plain white rice you use to make it), you'll want to add a tablespoon of cooking liquid per cup of cooked rice.
Microwave: Put the rice in a microwave-safe container and sprinkle the liquid over the top. Cover with a water-dampened paper towel on top. Microwave it for 1 minute, and then carefully remove and stir it. Microwave in additional 30-second intervals until warm.
Stove: Add the rice and liquid to a saucepan. Cover the pan with a lid and cook on the stove top on low for 3-5 minutes, a fork to break up any large clumps.
With either method, make sure it is steaming hot before you eat it.
Rice Bowls
Use it as a base for any of your favorite grain bowl dishes like these:
Side for Easy Main Dishes
It can also go on the plate alongside your favorite proteins, including: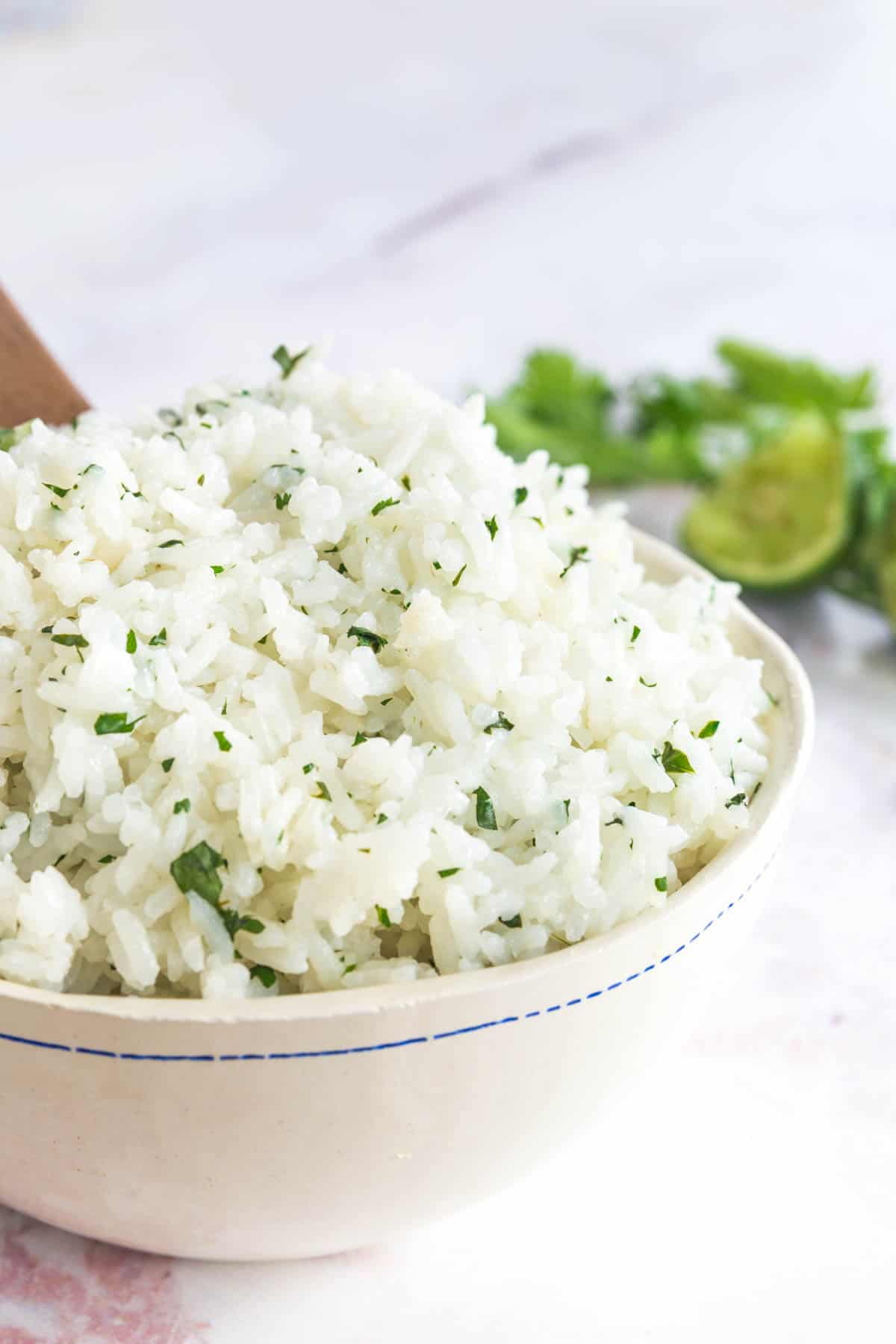 Things You'll Need
Brianne Recommends
You can use many techniques to make your rice, but I like this super simple rice cooker to make it turn out perfectly every time.
Get every last bit of juice out of your limes with this hand juicer.
An Aerogarden is a fun way to always have fresh herbs growing in your kitchen.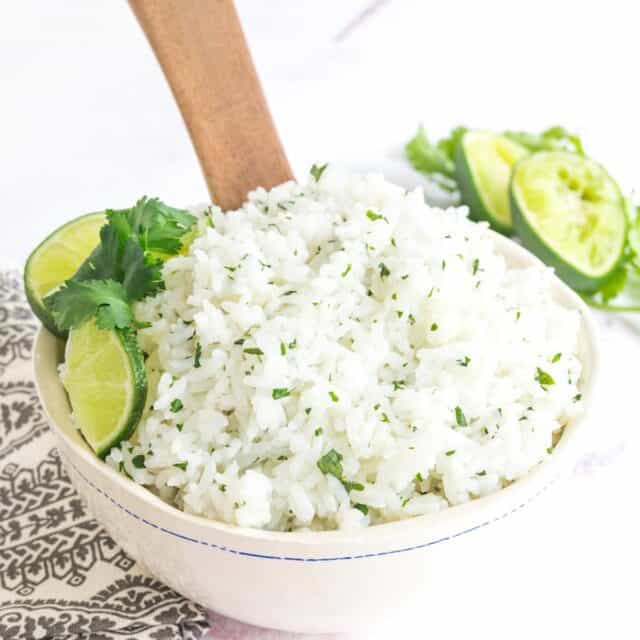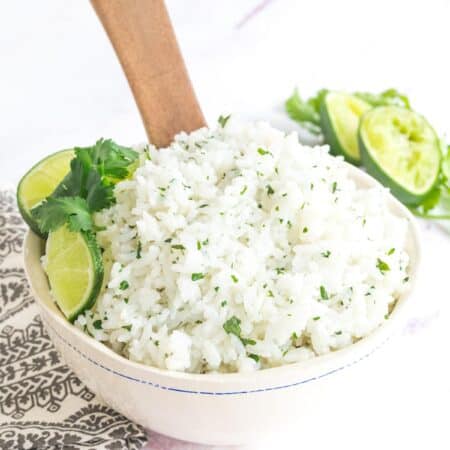 Cilantro Lime Rice
A simple way to add a bright, fresh flavor to this basic side dish. This Cilantro Lime Rice recipe is easy and versatile, with only a few ingredients! Use it as a base for burrito bowls, or serve it with your favorite grilled dishes or Asian or Mexican meals.
Ingredients
1

cup

uncooked long grain white rice

(can also use basmati or jasmine rice), or 2 cups leftover cooked rice (omit the water)

1 1/2

cups

water

or chicken or vegetable broth (you may need more or less if you use another method for cooking the rice instead of on the stovetop)

1/4

teaspoon

salt

2

Tablespoons

minced fresh cilantro

1

Tablespoon

freshly squeezed lime juice

up to 1

Tablespoon

olive oil or butter,

optional
Instructions
If you starting with uncooked rice: Combine rice with water or broth in a saucepan. Bring contents to a boil, then reduce the heat to medium-low and simmer with the lid on. Cook until all of the water is absorbed, about 25 minutes. Remove from heat, keep the lid on, and let it sit for 10 minutes. (See Note for other cooking methods.)

If you are starting with leftover cooked rice: Reheat the rice. Put the rice in a microwave-safe container and sprinkle a tablespoon of water over the top, cover with a dampened paper towel, then heat for 1-2 minutes on high power to warm it through. Or add the rice and tablespoon of water to a saucepan, cover the pan with a lid and cook on the stove top on low for 3-5 minutes, using a fork to break up any large clumps.

Fluff the rice with a fork, then add the minced cilantro, lime juice, and the butter or oil, if using. Stir everything togeger until evenly distrubuted, then serve immediately.
Notes
If you would like to use a microwave, slow cooker, Instant Pot, or rice cooker to make the rice, 
Nutrition facts do NOT include the optional oil or butter.
Nutrition Facts
Cilantro Lime Rice
Amount Per Serving (0.5 cups cooked rice)
Calories 170
Calories from Fat 9
% Daily Value*
Fat 1g2%
Sodium 152mg6%
Potassium 59mg2%
Carbohydrates 37g12%
Protein 3g6%
Vitamin A 15IU0%
Vitamin C 1mg1%
Calcium 16mg2%
Iron 1mg6%
* Percent Daily Values are based on a 2000 calorie diet.
Categories:
More easy side dishes