Maple Sesame Glazed Salmon – Holiday Recipe Club
For a sweet and savory Asian-inspired fish recipe that even the non-seafood eaters will love, make this Maple Sesame Glazed Salmon.
Maple Sesame Glazed Salmon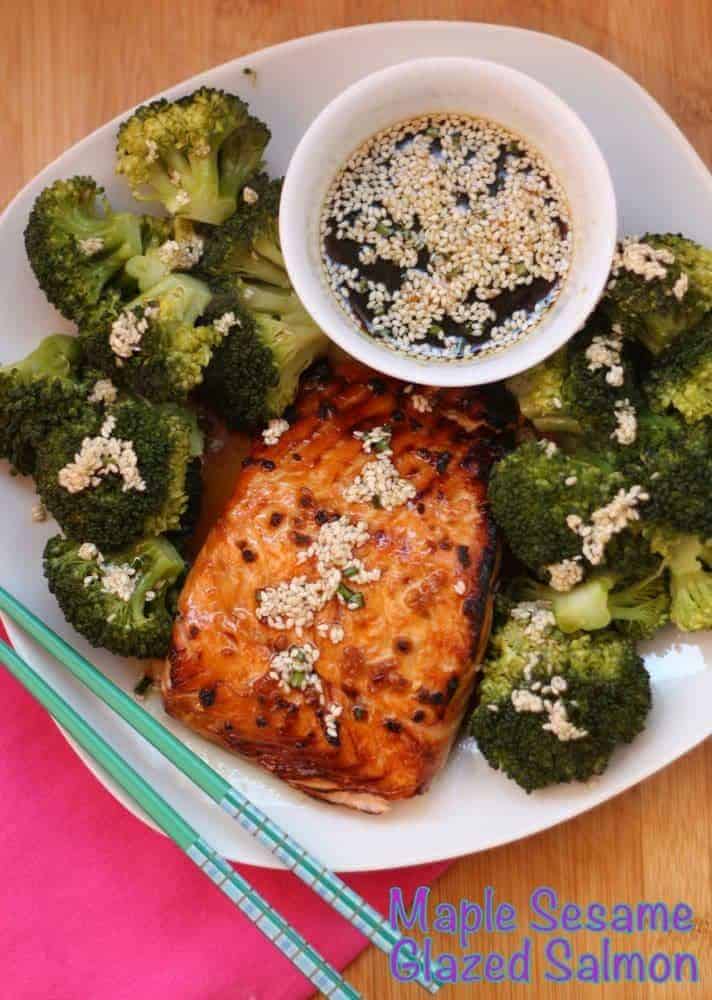 I am back for another installment of the Holiday Recipe Club.  The Holiday Recipe Club is a blog hop centered around holiday recipes, and trying to inspire people to come up with something different than their usual holiday fare.  So each month, participants are given a list of a few ingredients.  They must then come up with a holiday recipe that contains at least one of the ingredients.  We will all then post our recipes at the same time, and include a link to all of the other participants' recipes.  You'll see this at the bottom of this page.
So, late April…  we already had Easter (for which I made this) and Cinco de Mayo is a week away.  What holiday could we possibly be celebrating?  Why, Buddha's Birthday, of course.  You see, the Holiday Recipe Club decided to start going a little more international, since it includes people from all over the world.  For Buddha's Birthday, the ingredients were Garam Masala, Tofu, Sesame.
Well, I've never used Garam Masala, and, funny, now that I look at what typical components are, it would probably be good in this recipe (if you try it, let me know).  But for some reason, I wasn't feeling adventurous.  I had assumed it was something like curry, which I am not a big fan of.  If I make tofu, I think my husband will immediately file for divorce.  So that left sesame – yes, I can do that.  I wanted to make some salmon, so I found a couple of recipes for Toasted Sesame Ginger Salmon and Maple Glazed Salmon on How Sweet It Is blog, and sort of did a mish mash of them, with a few other changes.  OK, so maple isn't necessarily something you associate with Buddha, but I am sure he would love maple syrup if he had ever tried it.
Anyway, about the Maple Sesame Glazed Salmon – yum!  I am not a big fish person.  I usually eat it because I know I should.  Well, let's just say that I wish I had bought a bigger piece.  The Hubby loves all seafood, so he was a fan, but the biggest surprise to me was how The Bug devoured it, along with the rice and the broccoli.  He loved the saucy glazey stuff – I've told you about his dipping obsession.  This is definitely one to try, even for the salmon-haters out there.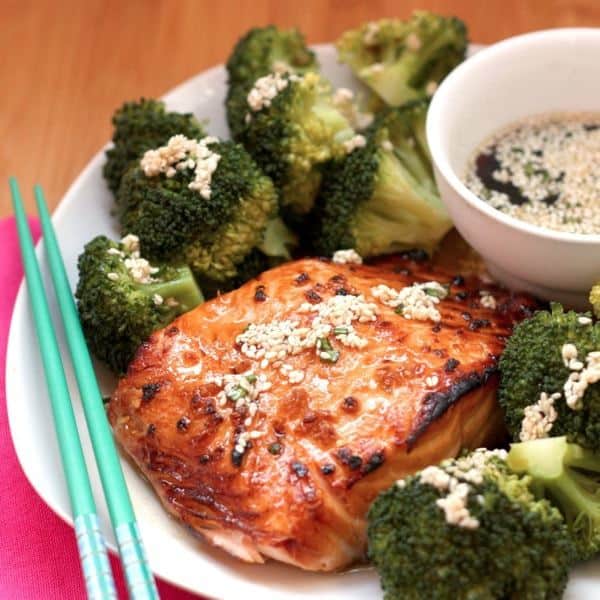 And Happy Birthday Buddha!
What would you like to have for your birthday meal?
Maple Sesame Glazed Salmon
A sweet and savory Asian-inspired fish recipe that even the non-seafood eaters will love.
Ingredients
For the salmon
1-1 1/2 pounds raw salmon
2 Tablespoons olive oil
1/4 cup maple syrup
1 Tablespoon toasted sesame oil
2 Tablespoons rice vinegar
2 Tablespoons soy sauce (or tamari, for gluten-free)
1 garlic clove, minced
1/8 teaspoon dry, ground ginger
1/8 teaspoon crushed red pepper
Maple Sesame Glaze (see below)
About 1 lb broccoli, if desired, steamed to desired doneness
For the Maple Sesame Glaze
3 Tablespoon maple syrup
1 teaspoon toasted sesame oil
2 Tablespoons soy sauce/tamari
pinch dry, ground ginger
1/2 teaspoon minced chives
1-2 Tablespoons toasted sesame seeds (I used 2 T, and as you can see from the pictures, it was kind of a lot)
Directions
In a large bowl or baking dish, combine olive oil, maple syrup, sesame oil, rice vinegar, soy sauce/tamari, garlic, ginger, and crushed red pepper, and whisk well until combined.
Add salmon to the dish or place everything in a ziplock bag, then refrigerate and marinate for at least 30 minutes (I marinated it for a couple of hours).
Prepare the glaze, as per the Note below.
Preheat the broiler in your oven. (Or preheat your grill, etc if you prefer to use something else.) Line the bottom of your broiler pan or a baking sheet with aluminum foil, and spray the top of the broiler pan or a wire rack liberally with cooking spray or olive oil.
Remove salmon from the marinade and place directly on the broiler pan or wire rack. Pour some of the excess marinade over the salmon, sprinkle with a little bit of salt and pepper, then place directly under the broiler. Cook for 10-12 minutes, depending on the salmon's thickness, until opaque and flakes easily with a fork. If desired, about halfway through, pour over the rest of the marinade.
Remove and serve immediately with broccoli and Maple Sesame Glaze drizzled over both. Serve the extra glaze on the side.
For the Maple Sesame Glaze:
In a small bowl, combine the ingredients and stir until smooth.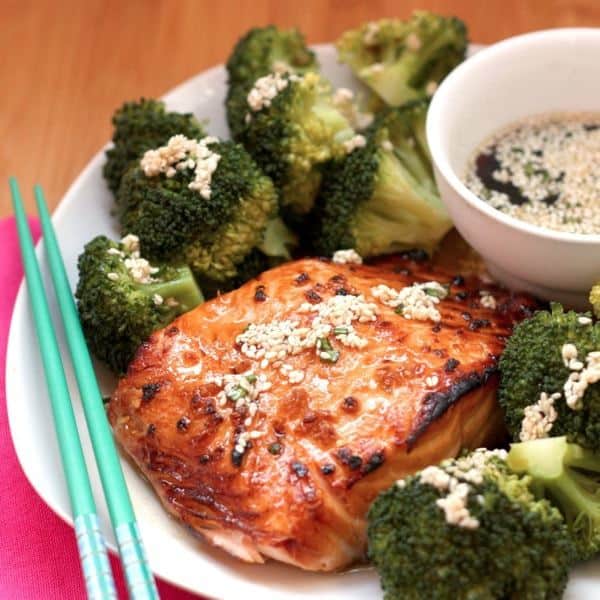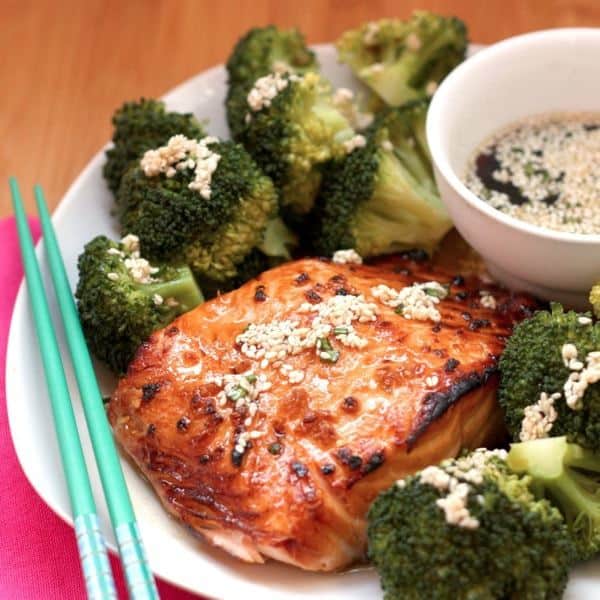 Loading nutrition data...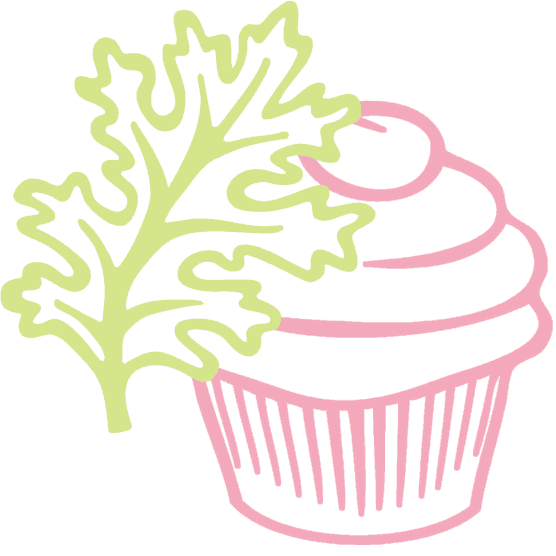 LOVE THIS RECIPE?
Give it a 5 STAR rating and share your photos on Instagram with the hashtag #CKCrecipes!
Adapted from Toasted Sesame Ginger Salmon and Maple Glazed Salmon on How Sweet It Is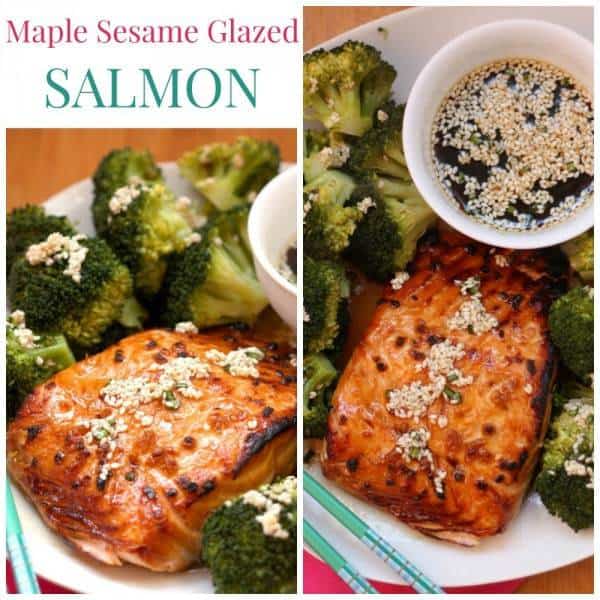 Enjoy!