This post may contain affiliate links. Read my disclosure policy.
These homemade Sweet Potato Buddha Bowls are an easy-to-make, delicious, and healthy one-bowl meal. Packed full of nutritious roasted vegetables, crispy chickpeas, and leafy kale layered over a hearty bed of protein-rich quinoa. Change up the ingredients to suit your tastes!
A Nourishing Sweet Potato Buddha Bowl Recipe
A nod to cooler weather, I've filled my vegan sweet potato buddha bowls with roasted root vegetables, chickpeas, kale, and a spicy chili kick that will warm you from the inside out.
You can change up the ingredients to fill your bowls with new flavors and textures every time you make them! I've included a handy "Buddha Bowl Blueprint" below, with loads of easy and healthy ingredient substitutions to try.
Did I mention that buddha bowls are fantastic for meal prep? Because they are. You can prep all the ingredients and even assemble the bowls in one go, and enjoy balanced and healthy lunches or dinners all week long.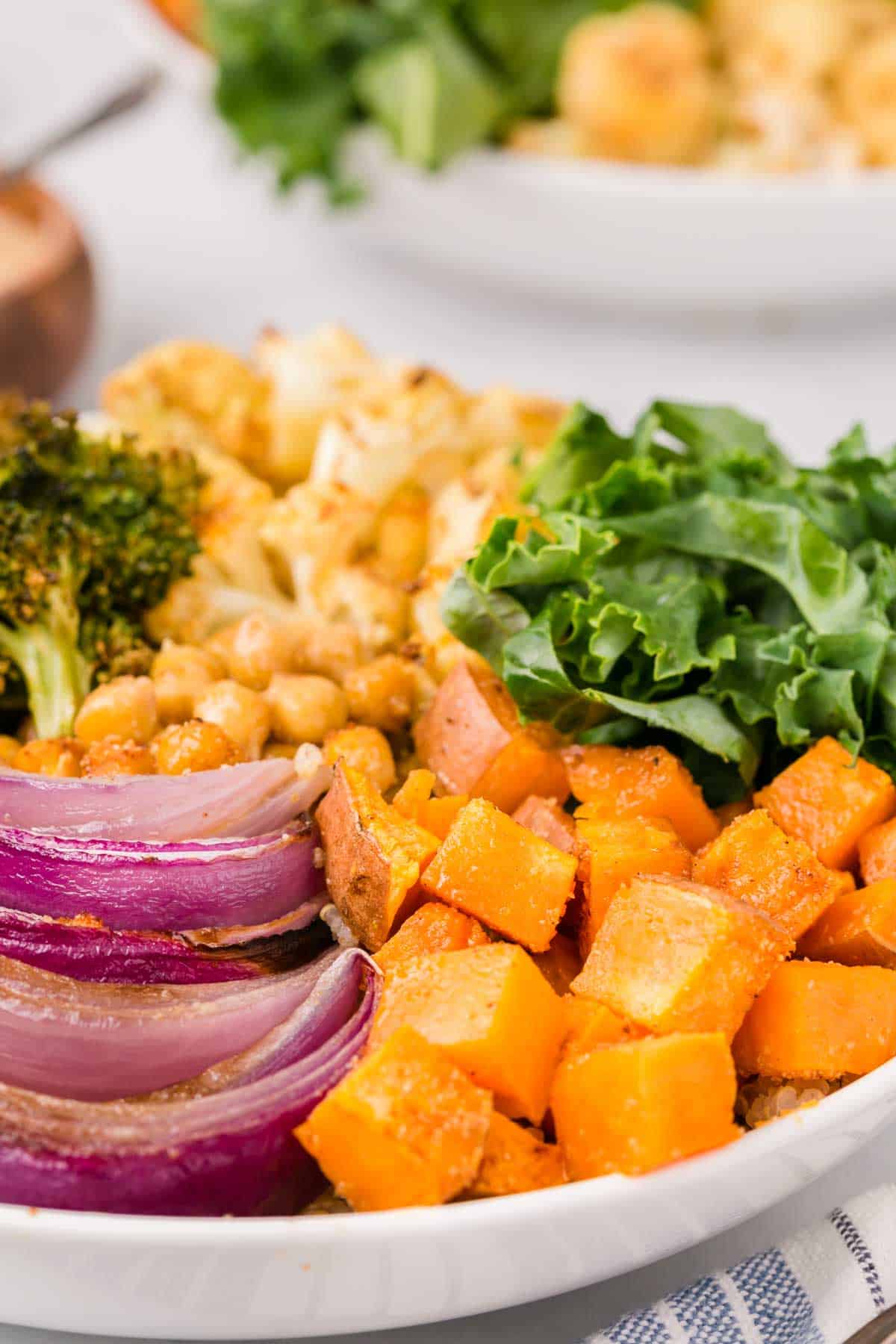 What Is a Buddha Bowl?
I like to think of a buddha bowl as a salad's more balanced cousin. Buddha bowls are a meal-in-one made from a combination of whole grains, proteins, and vegetables, assembled in a bowl.
Compared to a salad where the base is leafy greens, you'll find buddha bowls made with a bed of grains such as quinoa (like in this recipe), rice, or noodles. This is then layered with portions of ingredients like tofu, chickpeas, lentils, assorted vegetables, seeds, and seasonings.
A buddha bowl gets its name from its round, buddha-belly shape!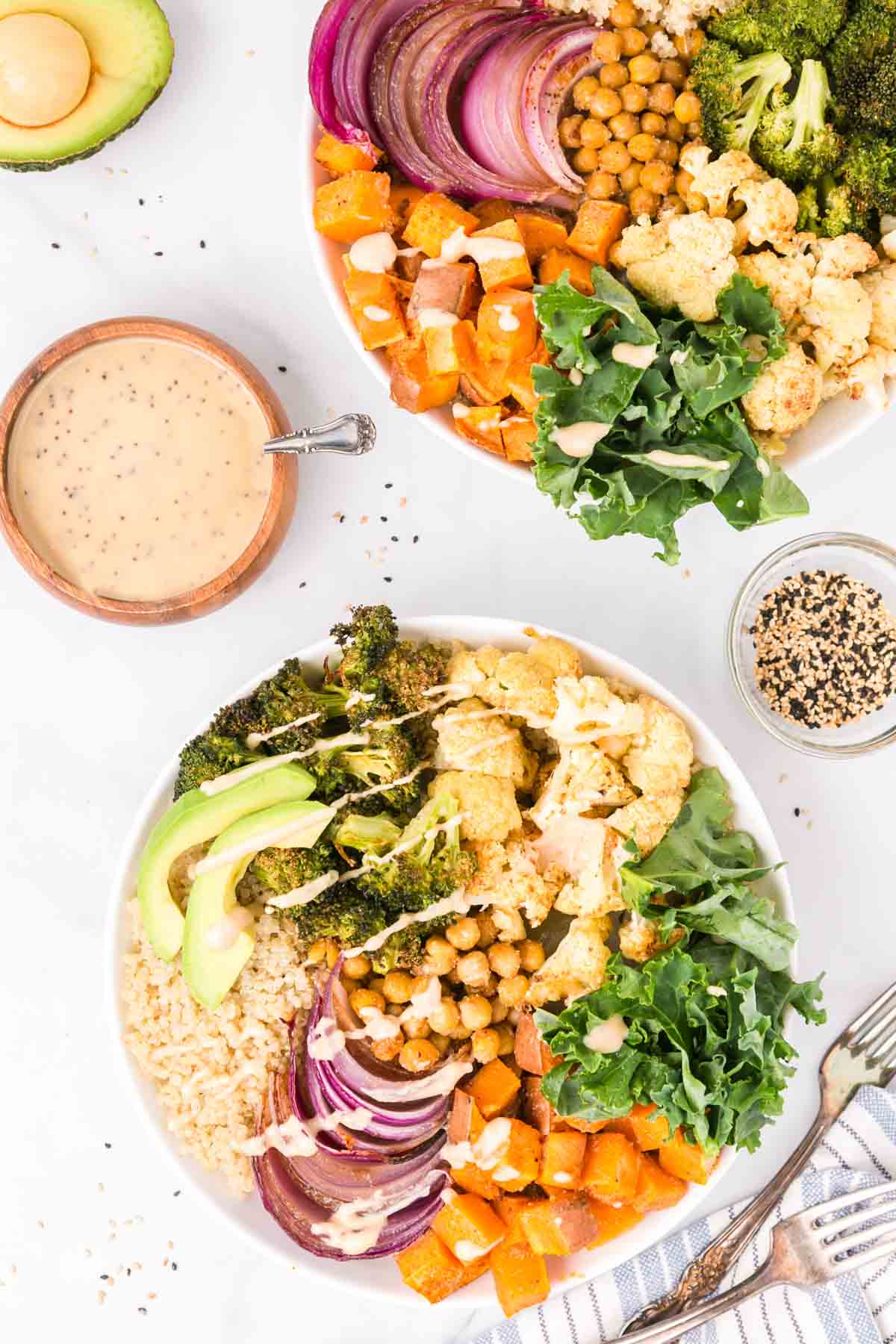 What You'll Need
Below you'll find all the ingredients that make this sweet potato buddha bowl extra nourishing! Make sure to refer to the recipe card further down for the full recipe details.
Sweet Potatoes: These little powerhouses are high in fiber and antioxidants. Sweet potatoes are also naturally gluten-free, making them my favorite ingredient to use in buddha bowls!
Kale: Kale is one of the most nutrient-dense foods. It has more iron than beef, more calcium than milk, and 10x more vitamin C than spinach! I love including it in buddha bowls as it's also super filling. Arugula or spinach are also good options.
Quinoa: Quinoa is one of the best sources of vegan protein. This makes it perfect for a vegan buddha bowl. Prepare it your preferred way (check out 5 Ways to Cook Quinoa for all the instructions).
Red Onion: Roasted red onions add a rich flavor to this recipe. You can also use regular white or yellow onions – whichever you have on hand.
Cauliflower: For a healthy dose of even more fiber, I choose cauliflower as it's rich in vitamins and low in fats. Plus, it tastes delicious when seasoned and roasted!
Broccoli: A heart-healthy choice that's also packed with vitamins and minerals. 
Chickpeas: Another great source of whole plant-based protein, crispy roasted chickpeas also bulk up this buddha bowl nicely.
Oil and Seasonings: You'll need a good quality extra virgin olive oil, along with your choice of herbs and spices for seasoning your veggies. I use a combination of chili powder, salt, and pepper for this sweet potato buddha bowl. You'll also need your preferred dressing to drizzle over when serving.
Sauce or Dressing Ideas:
You can use a bottle of your favorite dressing or drizzling sauces from the grocery store. I like Brianna's Poppyseed Dressing, the Asian-style sauces from Wegman's which are gluten free, or even simple vinaigrettes.
Or try these:
How to Make Sweet Potato Buddha Bowls
Making your own buddha bowls brimming with nutritious ingredients is really just a 3-step process with minimal prep. It's so easy! Here's how to make the perfect homemade buddha bowl:
Prep the Veggies: I start by lining my sheet pan with foil or parchment paper. It makes clean-up that much easier! Then, arrange your assorted vegetables in a single layer. Give them a good drizzle with olive oil and a sprinkle of chili powder, salt, and pepper, then toss to coat.
Roast: Roast the vegetables at 400ºF for about 35-40 minutes, giving them the occasional stir so that they cook evenly. Use the sweet potato as a reference point to know when the veggies are done. It should be soft, and easy to pierce with a fork.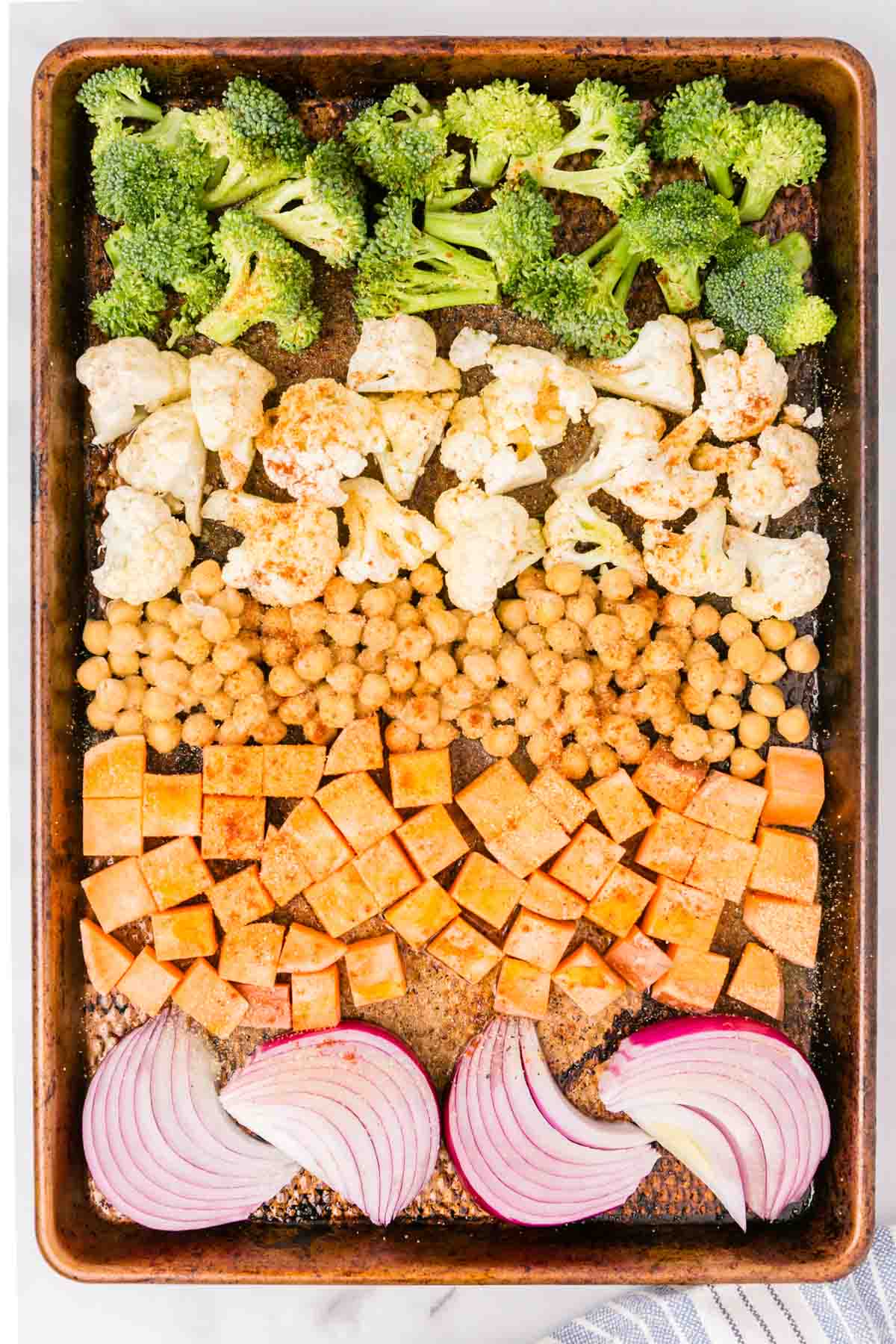 Assemble the Bowls: While your veggies are roasting, use the time to cook your quinoa according to the package directions. Once all your ingredients are ready to go, it's time to build your buddha bowls! First, divide the cooked quinoa between two bowls. Next, arrange the roasted vegetables and chickpeas over top (see photos). Finally, drizzle your bowl with the dressing of your choice, give it a sprinkle with sesame seeds, and dig in!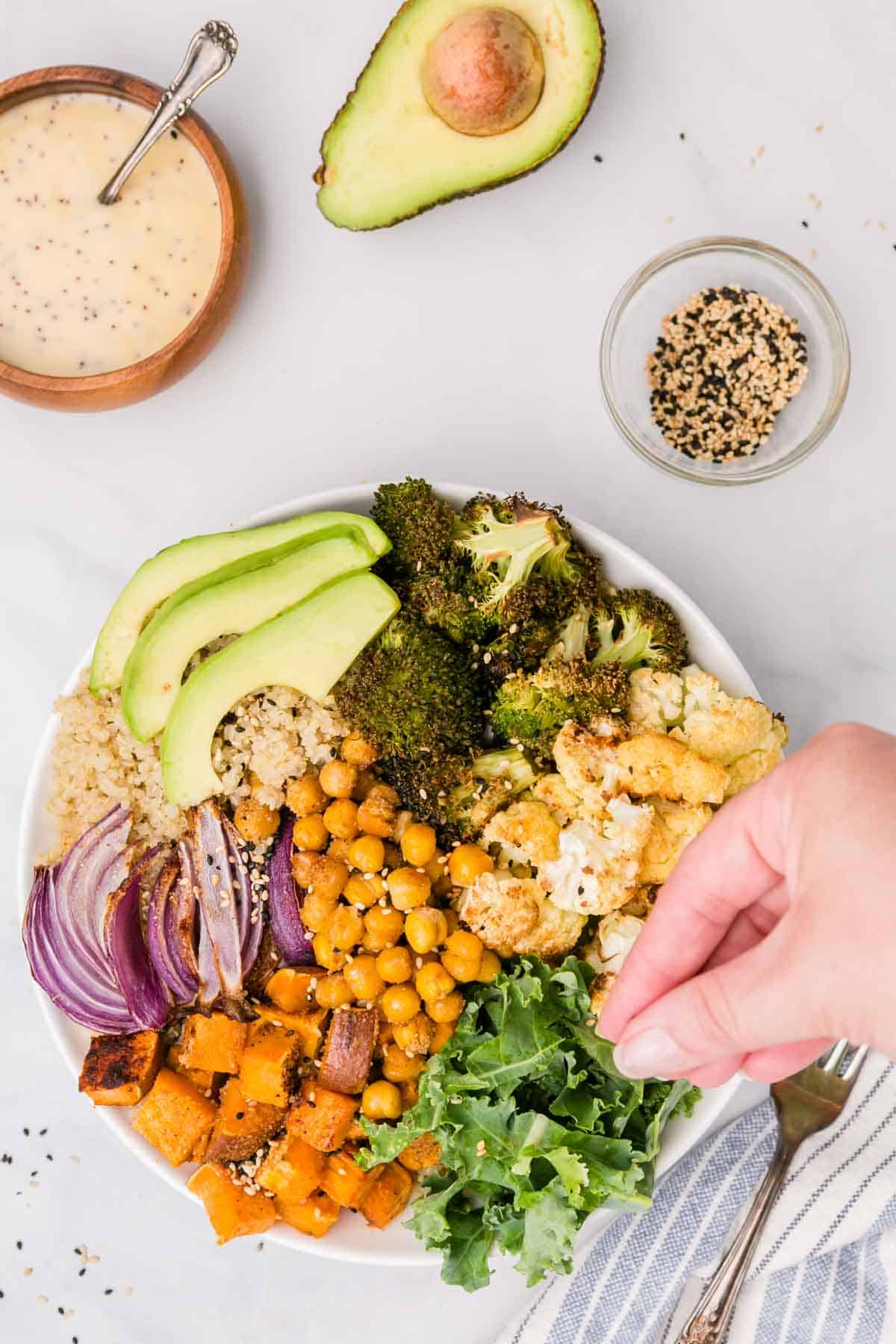 Tips for Success
Some additional tips when it comes to making homemade buddha bowls:
Adjust the oven time for different vegetables. We use cruciferous veggies, but you can add any vegetable your family prefers. You can always use two baking sheets when roasting, and adjust the cooking time for softer vegetables like red peppers. So worth it! 
Can I add meat to a buddha bowl? You can. This vegan buddha bowl recipe is obviously meat-free, and traditionally, buddha bowl recipes tend to be vegan or vegetarian. However, there are no rules that say you can't add cooked beef, chicken, or even shrimp to your bowl for a different kind of protein. My Chili Lime Steak Bites work great in grain bowls. Baked Eggs would also be a great vegetarian, (albeit not vegan) addition. You do you!
Get creative! There's no right or wrong way to fill your buddha bowls, from the grains you choose to the veggies you layer over top, plus all the fixings. See the blueprint below for even more tasty recipe variations.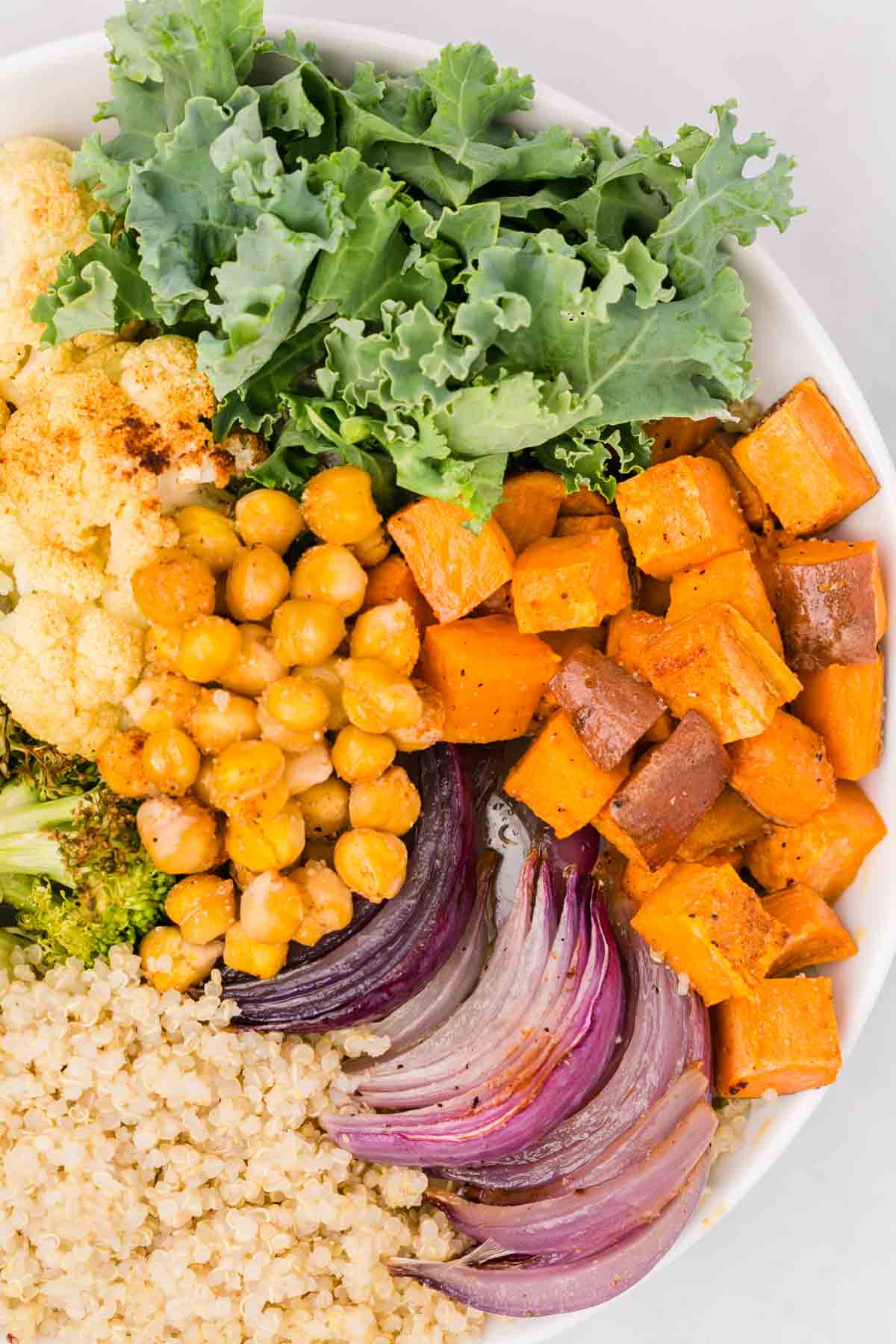 The Buddha Bowl Blueprint
There are so many variations of buddha bowl recipes out there! You'll be blown away by how simple yet versatile buddha bowls can be. I'll warn you now that if you're anything like me, prepare to be obsessed.
The idea is for your bowl to cover all the nutritional bases, for a home run of healthy eating! Below is a general "blueprint" for building healthy, well-rounded buddha bowls, with easy ingredient variations:
One Serving of a Whole Food Carb: Quinoa, brown rice, wild rice, berries, dates, figs, mangoes, apples, and other fruits.
Two Servings of Cruciferous Vegetables: Broccoli, cabbage, cauliflower, Brussels sprouts, eggplant, or bell peppers.
One Serving of Root Vegetables: Carrots or beets.
A Serving of Leafy Greens: Spinach, bok choy, arugula, sprouts, kale, mustard, Swiss chard, or romaine lettuce.
One Serving of Protein: Chickpeas, chicken, tofu, shrimp, egg, tempeh, or lentils.
Two Servings of Healthy Fats: Avocado, coconut oil, nuts and seeds (see below for ideas), or olive oil.
You can also customize add-ons such as seasonings and dressings, and "sprinklers" like nuts and seeds:
Other Spices: Cumin, curry powder, turmeric, chipotle (or try my spicy Cajun-style Blackened Seasoning!)
Nuts and Seeds: Pumpkin seeds, sesame seeds, sunflower seeds, hemp hearts, chia seeds, and flax seeds.
More Dressings: Barbecue Ranch Dressing, Maple Dijon Dressing, Creamy Southwestern Dressing, or Avocado Buttermilk Ranch Dressing.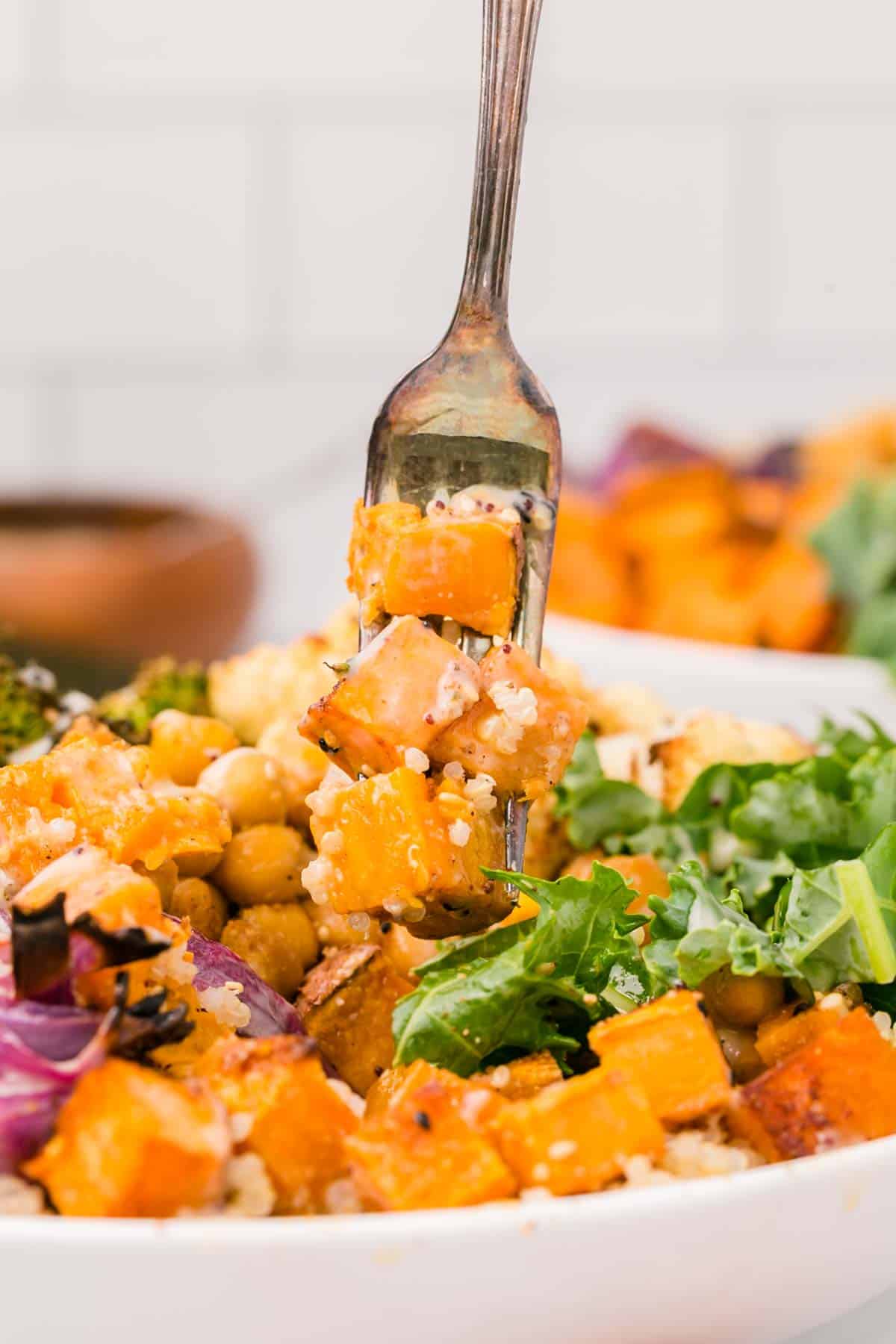 Common Questions
Are buddha bowls healthy?
Yes, these nourishing bowls are not only packed full of flavor but also loads of veggies and whole grains. Add in your choice of protein, and you have a healthy, balanced meal in a bowl.
Can I eat buddha bowls warm or cold?
This depends on the ingredients you use! Depending on your preference, these sweet potato bowls can be enjoyed either warm or cold.
Are there other variations I can make?
Absolutely! The variations for buddha bowls are endless. Follow the blueprint above to create your own unique, wholesome combos.
What if I don't have parchment paper?
Parchment paper makes for easy clean-up when roasting the veggies. If you don't have any on hand, foil or a plain, unlined baking sheet will work just as well.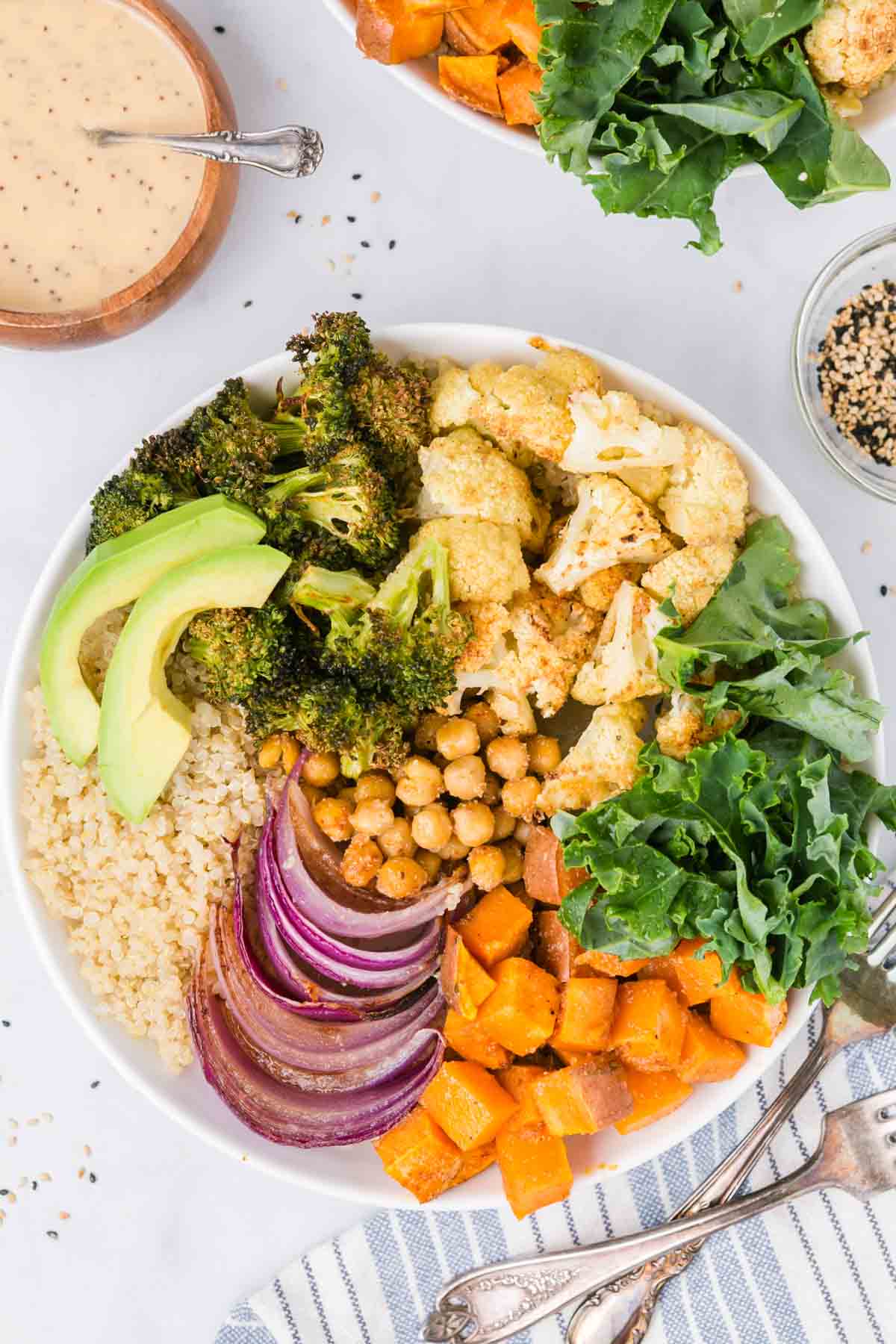 How to Store Buddha Bowls
You can refrigerate your cooked buddha bowl ingredients for up to 5 days. Simply store them in an airtight container. If you'd like, you can reheat the quinoa and veggies in the microwave to warm them up again before assembling and serving.
Can I Freeze This?
I wouldn't recommend freezing your sweet potato buddha bowls once they're assembled. However, the roasted veggies freeze great, if you'd like to prepare them ahead of time and defrost them later.
Once the roasted vegetables are out of the oven, leave them to cool completely on the baking sheet, then pop the whole pan into the freezer. When the veggies are frozen solid, transfer them to a resealable freezer bag to store for up to 2-3 months.
When ready to enjoy a buddha bowl, defrost the vegetables in the fridge overnight. Prepare a fresh batch of quinoa or rice, then get layering!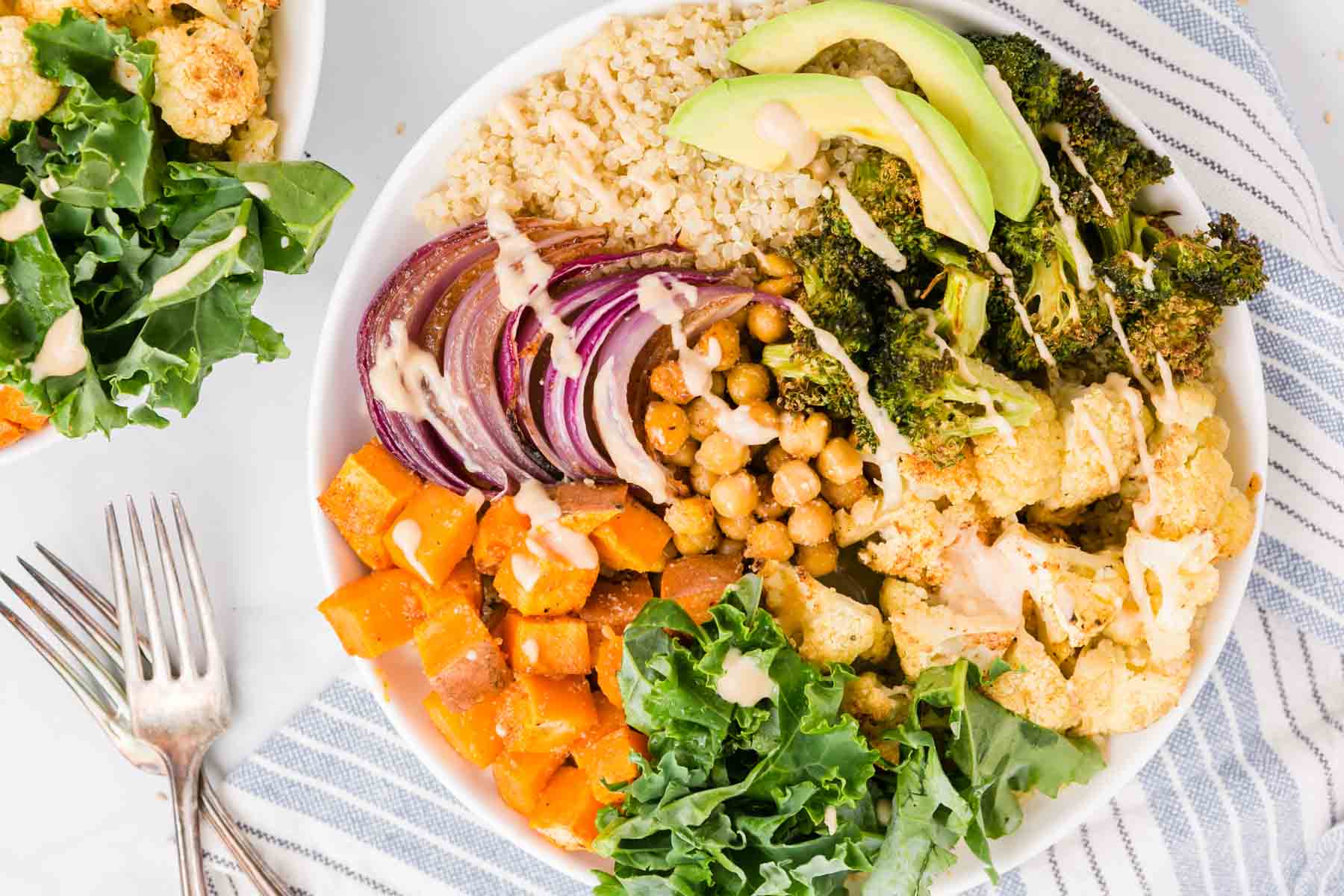 Things You'll Need
BAKING SHEETS: Here is yet another use for my favorite sheet pans from Nordicware.
PARCHMENT PAPER: Precut parchment sheets are so convenient and make cleanup a breeze.
GLUTEN FREE INGREDIENTS: You'll love that the components of these Buddha bowls are naturally gluten free. But it's always important to read labels to check for cross-contamination risks.
Last updated on Dec 5, 2023 5:57 pm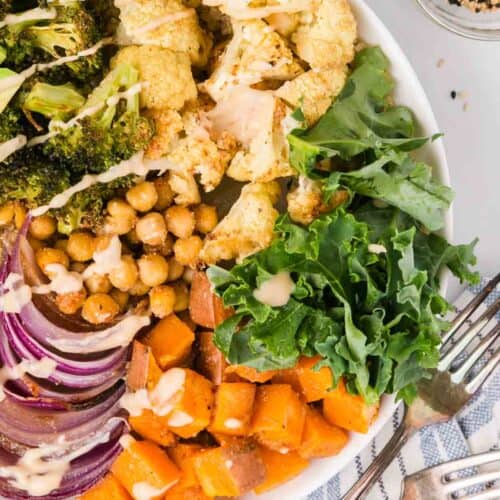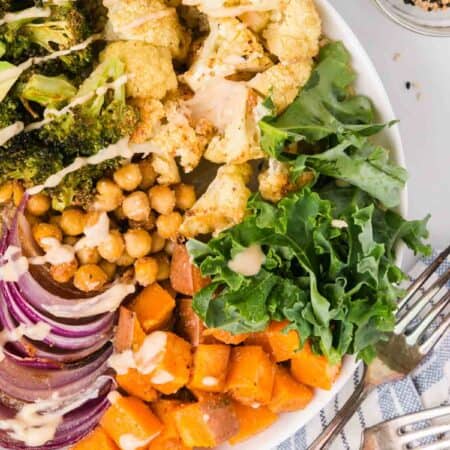 Sweet Potato Buddha Bowls
These nourishing Sweet Potato Buddha Bowls are an easy-to-make, balanced, and healthy one-bowl meal. Piled with roasted vegetables, crispy chickpeas, and leafy kale layered over a hearty bed of protein-rich quinoa.
Servings:
2
dinner-sized bowls
Equipment
Sheet pan

Parchment Paper or Foil

Bowls
Ingredients
1

sweet potato

, peeled and cubed

2

cups

cauliflower florets

2

cup

broccoli florets

1 15

oz.

can of chickpeas

, drained and rinsed

1

cup

red onion

, sliced in 1⁄2 inch chunks

2

cups

cooked quinoa

2

cups

chopped kale

2

Tablespoon

olive oil

1

teaspoon

chili powder

½

teaspoon

kosher salt

½

teaspoon

black pepper

1

teaspoon

sesame seeds

Your favorite salad dressing or sauce
Instructions
Preheat the oven to 400°F.

Line a sheet pan with foil or parchment paper. Lay the vegetables on the sheet pan in a single layer, drizzle with olive oil, and sprinkle the chili powder, salt, and pepper over the vegetables. Toss to coat the vegetables.

Roast in the oven at 400°F for 35-40 minutes, stirring the vegetables occasionally. The sweet potato should be soft when cooked; if not, return it to the oven for another 10 minutes.

Divide the Quinoa between the two bowls, and layer the vegetables and chickpeas on each bed of Quinoa. Top with the dressing of your choice.
Notes
The cooked ingredients can be stored in an air-tight container for up to 5 days in the refrigerator.
Nutrition Facts
Sweet Potato Buddha Bowls
Amount Per Serving
Calories 751
Calories from Fat 216
% Daily Value*
Fat 24g37%
Sodium 1363mg57%
Potassium 1973mg56%
Carbohydrates 113g38%
Protein 28g56%
Vitamin A 23634IU473%
Vitamin C 201mg244%
Calcium 409mg41%
Iron 9mg50%
* Percent Daily Values are based on a 2000 calorie diet.
Categories:
More Healthy Bowls To Try