This post may contain affiliate links. Read my disclosure policy.
We're going over how to bake eggs in the oven for a healthy breakfast that's ready in minutes! Baked Eggs are an easy, protein-filled meal or snack that you can enjoy on-the-go, or at home alongside other breakfast favorites.
These Healthy Baked Eggs Are Practically Effortless!
Egg lovers, in case you missed it: baked eggs are a thing! And they are awesome. When most people picture cooked eggs, the image that comes to mind is probably a classic fried egg in an iron pan. Well, let me tell you, the oven is a game changer. Baked eggs are an effortless way to enjoy a protein-filled breakfast.
For individual servings, I'll bake my eggs in ramekins. This makes them easy to garnish with toppings like crème fraîche and chives, or grated cheese for the kids.
A batch of baked eggs is also one of my favorite meal prep ideas. Eggs bake up easily in a muffin tin, perfect to enjoy at home, or to take along as an on-the-go breakfast throughout the week. Just pop one of these eggs in a bagel with cheese and deli ham for a quick breakfast sandwich!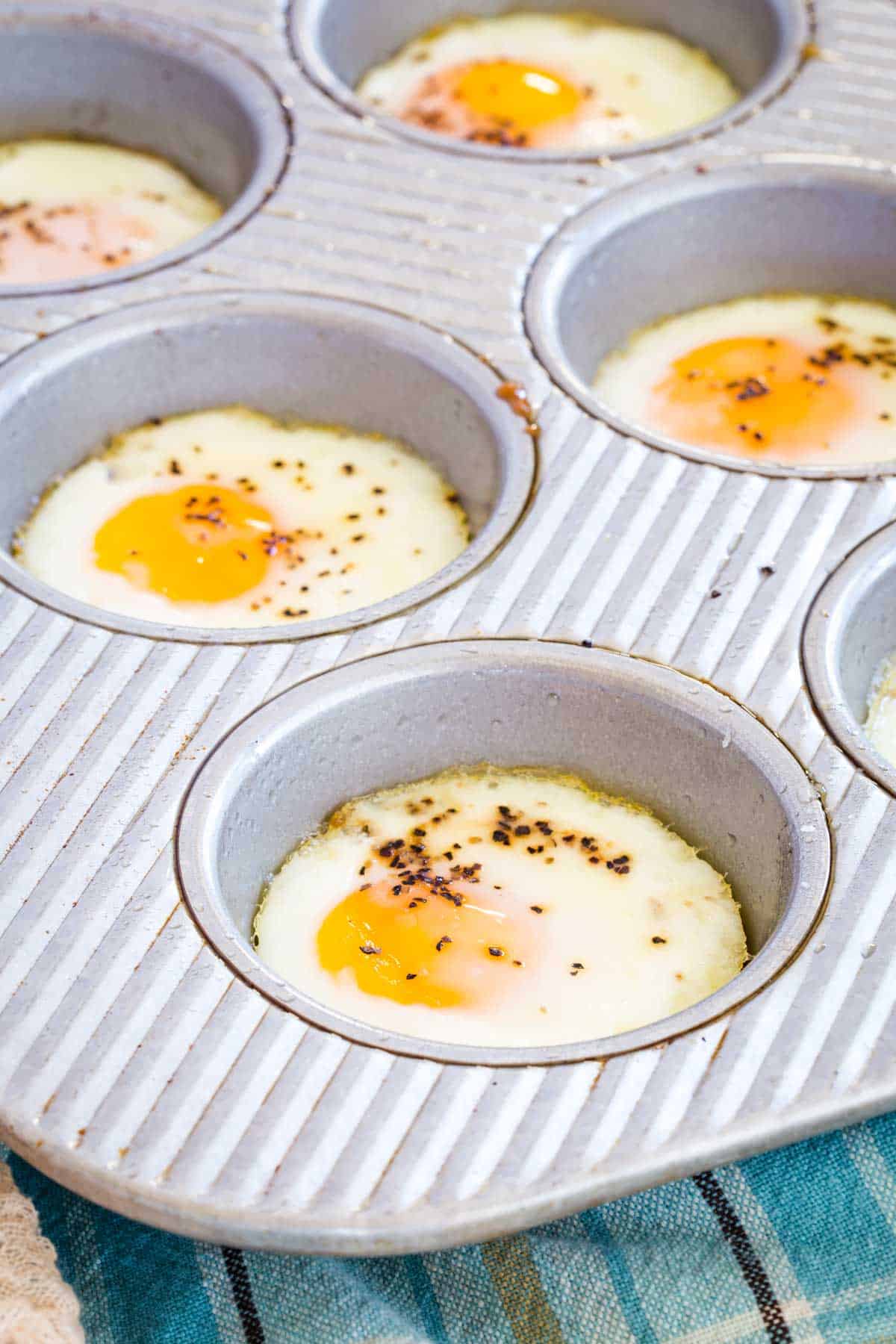 Why Cook Eggs in the Oven?
In case the convenience hasn't sold you yet, let's discuss why baking eggs in the oven is basically a stroke of genius:
Quick and easy: Oven baked eggs are as simple as cracking the eggs into a muffin tin or ramekin, seasoning, and then popping them into the oven. It's an effortless, hands-off way to have breakfast ready in minutes.
A healthy breakfast: Eggs are little protein powerhouses, ready to fuel your day. Plus, baking eggs cuts out the oil that often comes with frying them in a pan.
Bake in bulk: Baking is a great method for cooking a full dozen eggs all at once. Perfect for feeding a hungry brunch crowd!
No peeling: Baked eggs are everything we love about hard boiled eggs, minus the shell.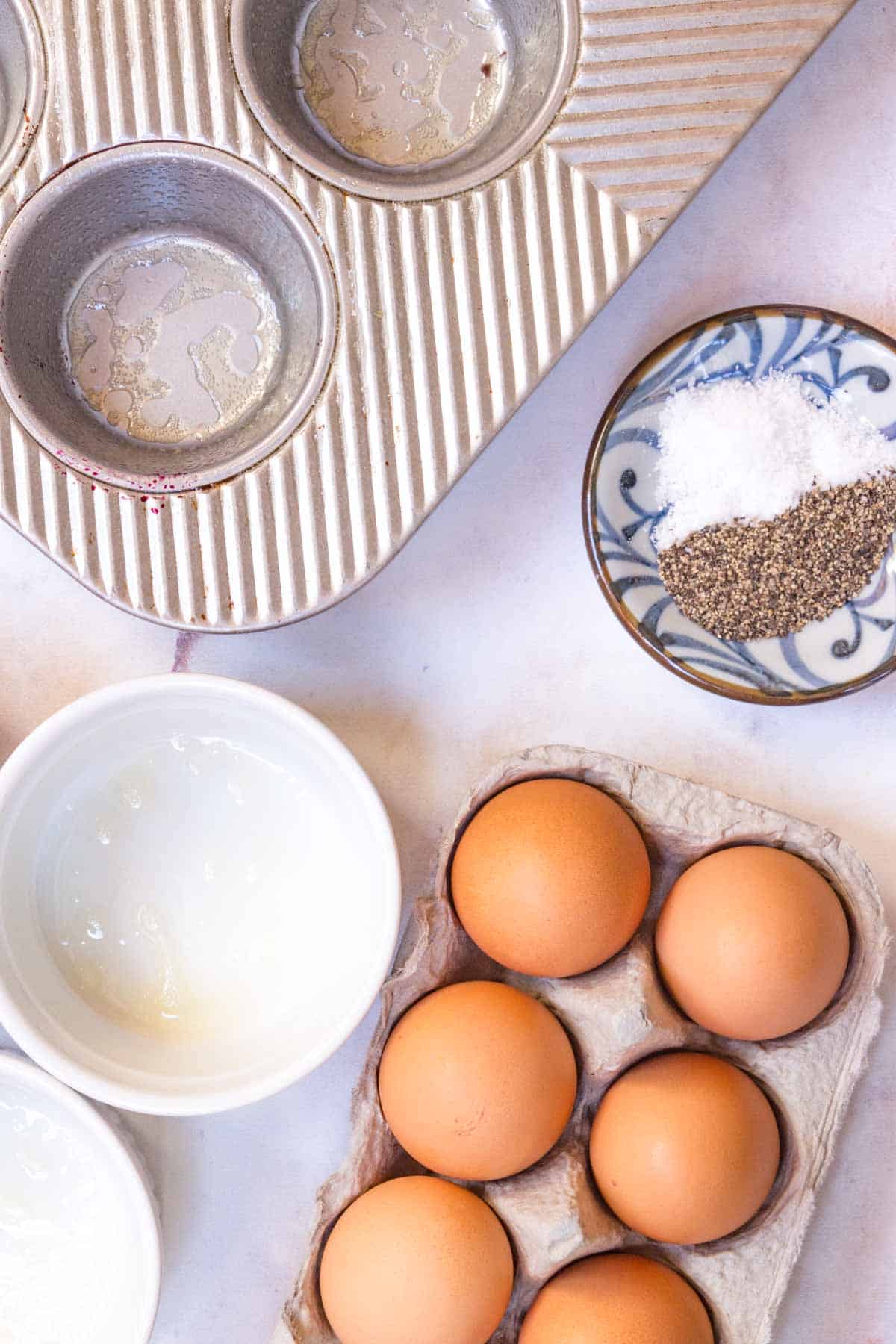 What You'll Need
So, unsurprisingly, you'll need eggs! You'll also need either a muffin pan or oven-proof ramekins for baking. Then it's just a matter of greasing and seasoning. Check out the recipe card for the full amounts, but here is the gist of what you'll need:
Cooking Spray: You'll need nonstick spray or oil to grease the muffin tin or ramekins, unless you're using silicone muffin cups.
Eggs: The freshest eggs you can find. I like to visit my local farmer's market for free-range, farm-fresh eggs.
Salt and Pepper: For seasoning.
$16.99
in stock
as of Dec 7, 2023 8:02 am
$26.93
$29.95
in stock
15 new from $26.75
3 used from $21.27
as of Dec 7, 2023 8:02 am
Last updated on Dec 7, 2023 8:02 am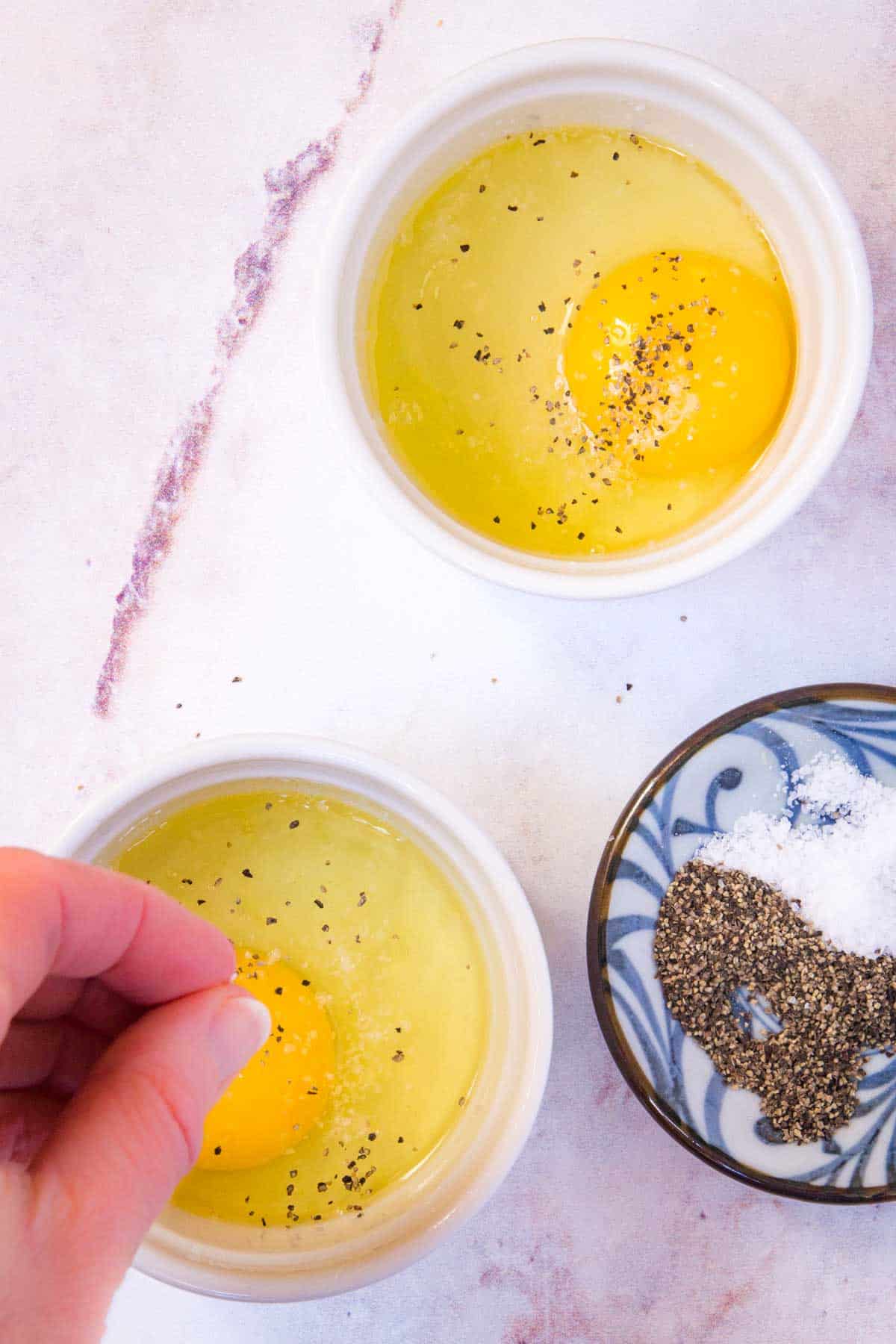 How to Make Perfect Oven-Baked Eggs
It couldn't be easier to achieve perfect eggs, cooked to your liking in the oven. Here's how to have them ready to serve in less than 20 minutes:
Prep the Pan: While the oven preheats, give your muffin tin or ramekins a good coating with cooking spray. Whenever I use ramekins, I like to place them onto a baking sheet to make it easy to place them into the oven all in one go.
Crack the Eggs: Crack one egg into each well of the muffin tin (or into each ramekin). Season the eggs with a pinch of salt and pepper, to taste.
Bake: Bake the eggs in a 350ºF oven. The exact baking time will vary depending on how firm you prefer your egg yolks and whether you're using a muffin tin or ramekins. They'll usually take about 14-18 minutes in a muffin pan, or 8-12 minutes in ramekins, but it's a good idea to check them along the way.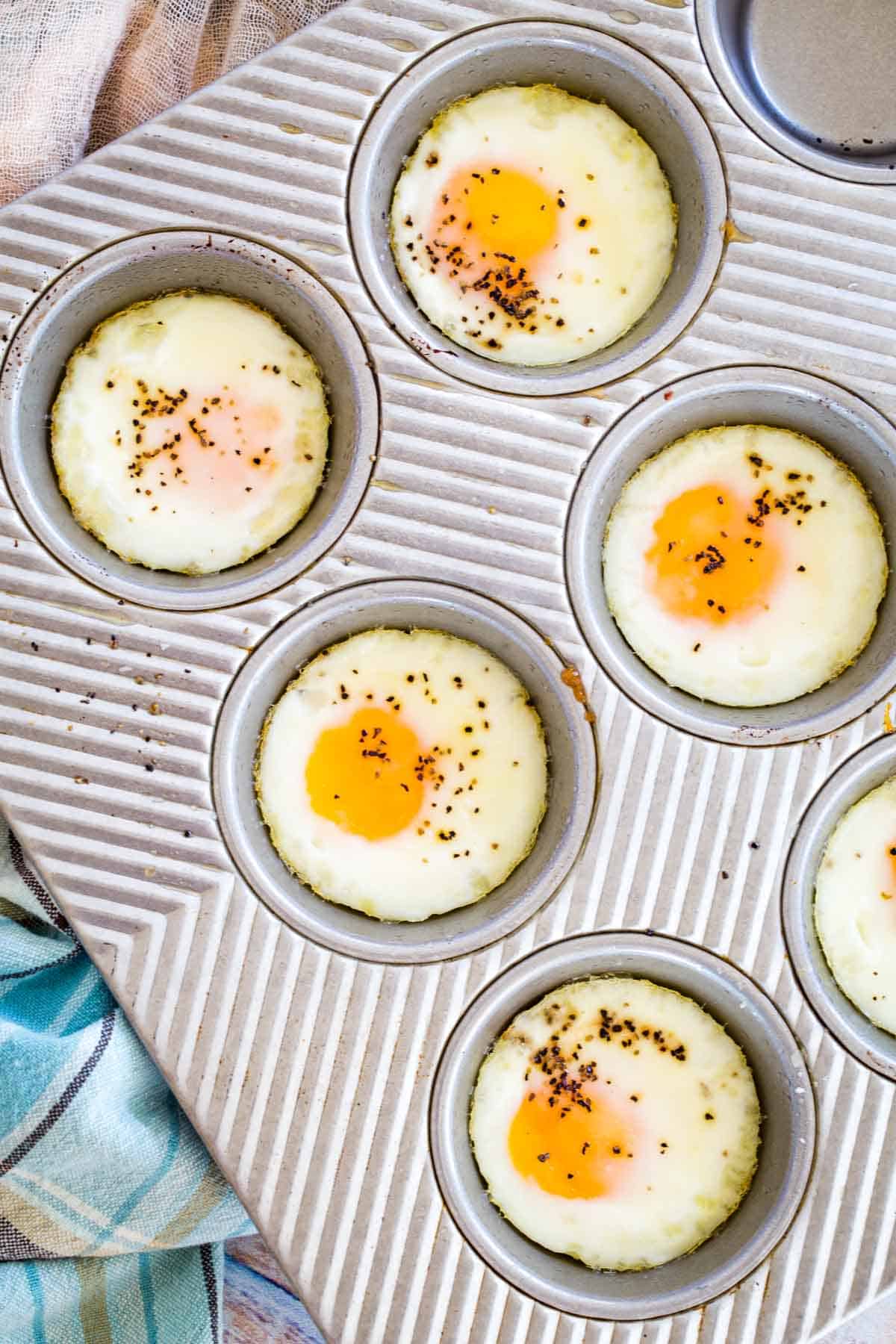 Tips for Success
This method is pretty straightforward, but here are some tips to make the process fail-proof:
Grease the Pan: Don't forget to grease your muffin tin or ramekins before you begin, to make the eggs easy to remove.
Adjust the Baking Time: As mentioned, baking times for these baked eggs will vary a bit due to the oven itself, the type of vessel you're baking your eggs in, and how runny you want your eggs to be. The longer you leave your eggs in the oven, the more cooked the yolk will be.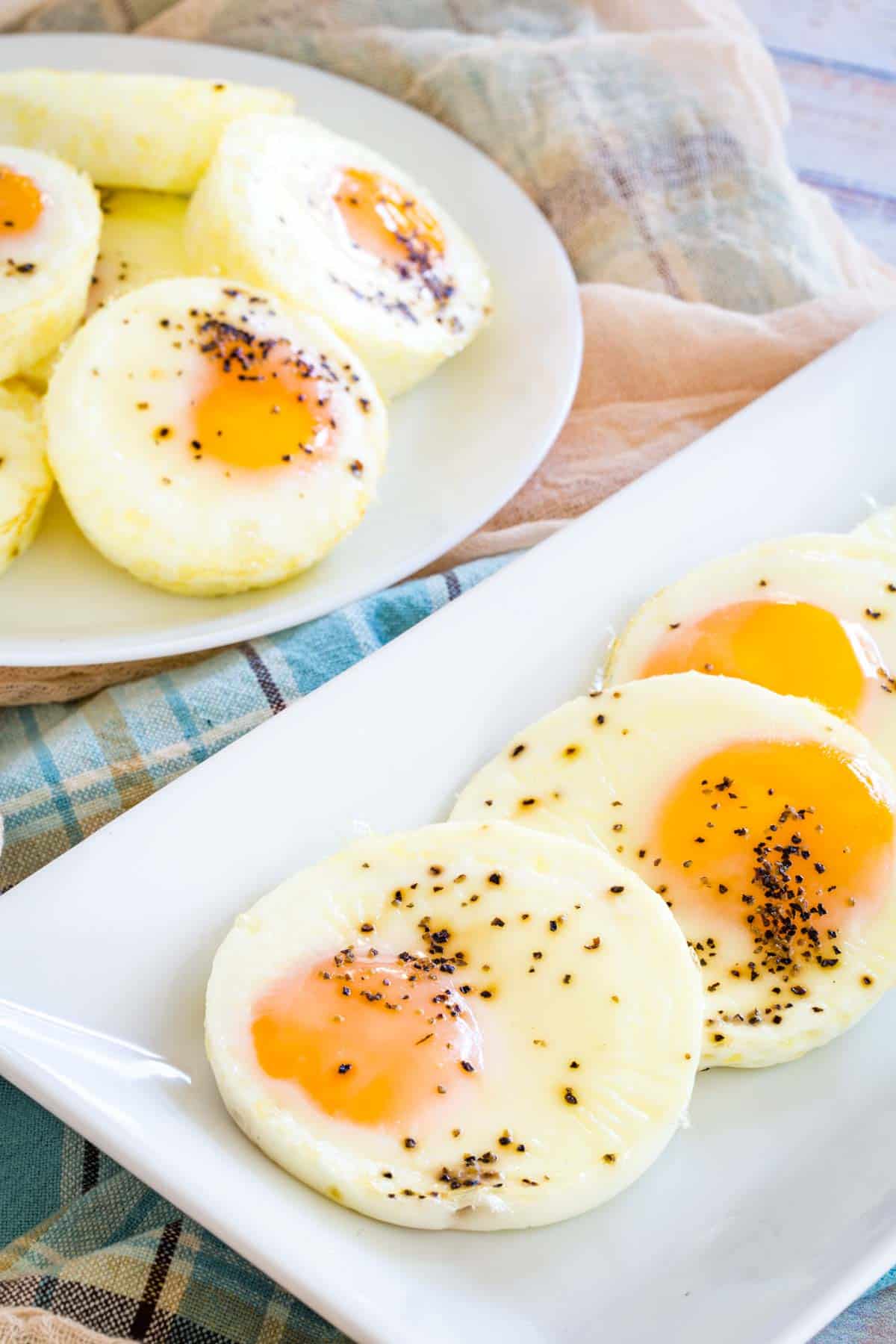 Topping Ideas
The best part about baked eggs is how versatile they can be! Like pan fried eggs, or even poached eggs, the possibilities don't end at just a cooked egg.
Make what they call "shirred eggs" by topping the eggs with a dollop of heavy cream before baking. You can also add a sprinkle of parmesan cheese while you're at it! Or, try any of these easy garnish ideas once your eggs are out of the oven:
Cheddar cheese, feta, crumbled goats cheese, or gruyere
Crème fraîche
Fresh herbs like chives, dill, thyme, or basil
Paprika, cayenne pepper, celery seed or fennel seed
Sautéed mushrooms, garlic, kale, or spinach
Salsa or pico de gallo
Crumbled bacon
Chili sauce or hot sauce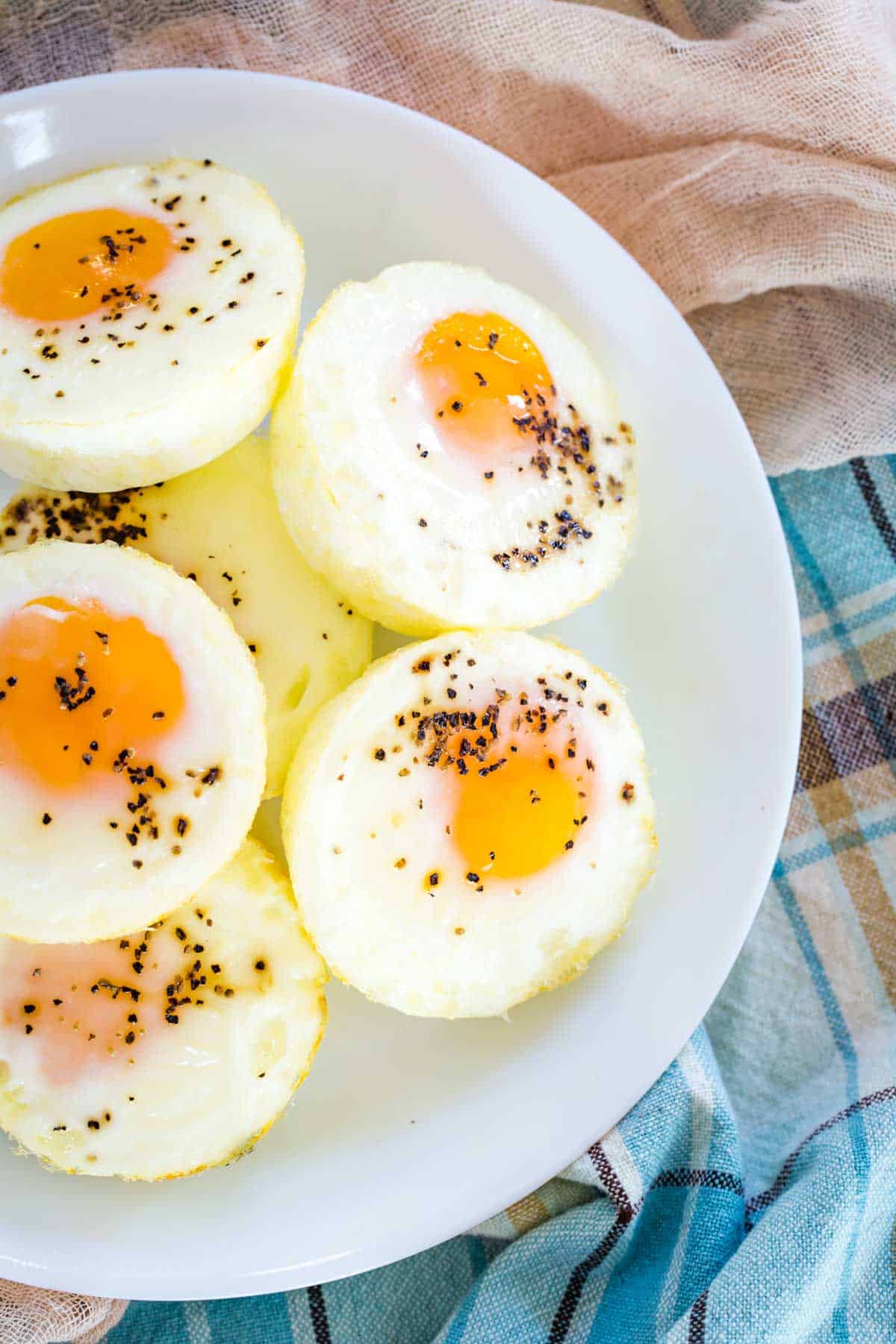 Make It a Meal
You can serve your eggs as simply or as lavishly as you like! Baked eggs are great to bake in bulk for family brunches, or keep handy in the fridge for an easy breakfast add-on. Here are some easy ways to make your eggs into a protein-filled meal: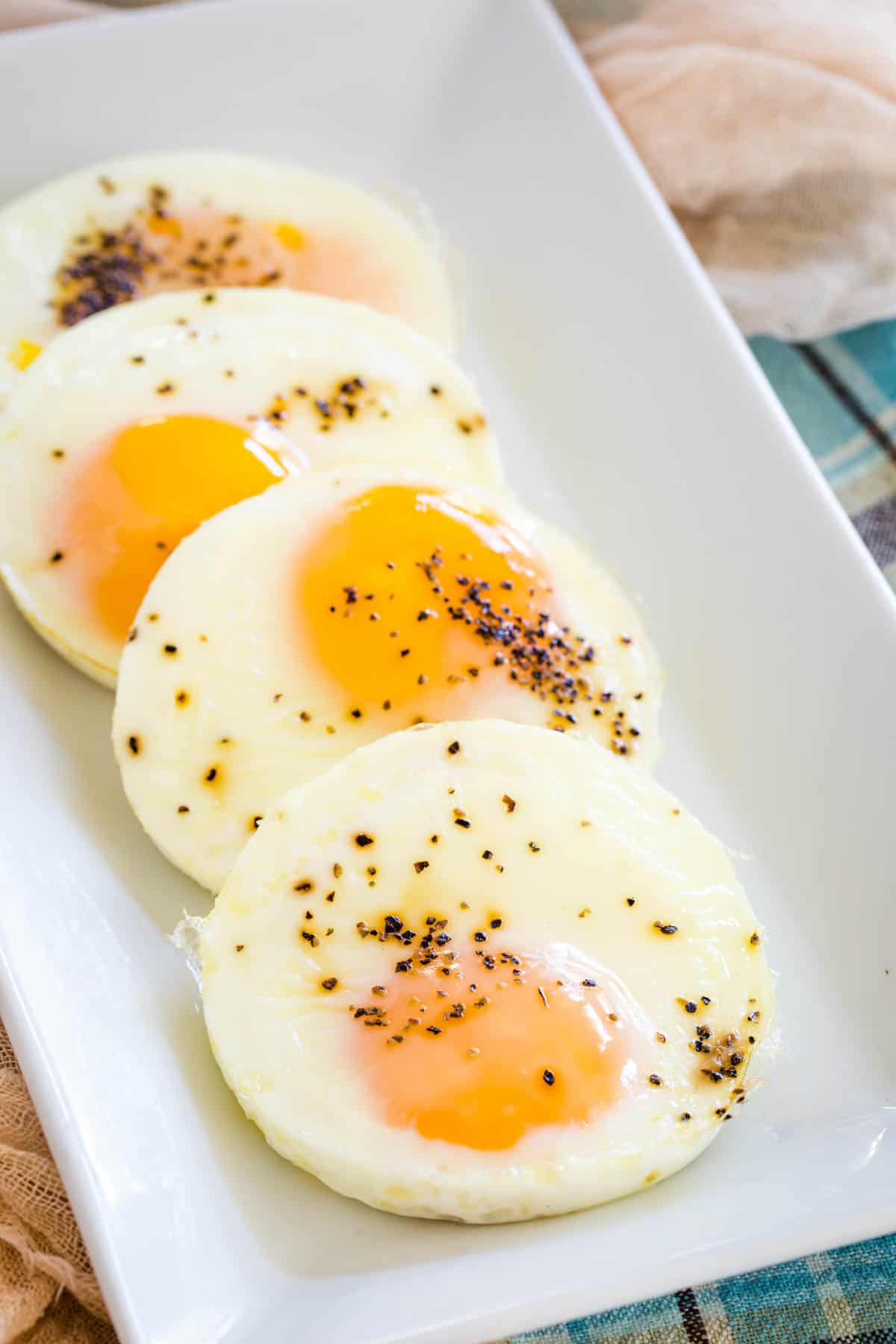 How to Store and Reheat Extras
Baked eggs are great to make ahead, and extras are easy to store in the fridge. Let the eggs cool completely, and then keep them stored airtight for up to 5 days. You can also freeze them for longer storage – see below.
Leftover eggs are perfect to enjoy cold, or warmed up. To reheat the baked eggs, just warm them in the microwave for about 30 seconds or so before serving.
Do These Freeze Well?
Freezing eggs is just one more reason this recipe is great for meal prep! To freeze baked eggs, I like to let them cool and then pre-freeze them on a baking sheet before transferring them to a container or freezer bag. Thaw the eggs in the fridge before using or reheating. Eggs can be reheated in the microwave directly from frozen in about a minute!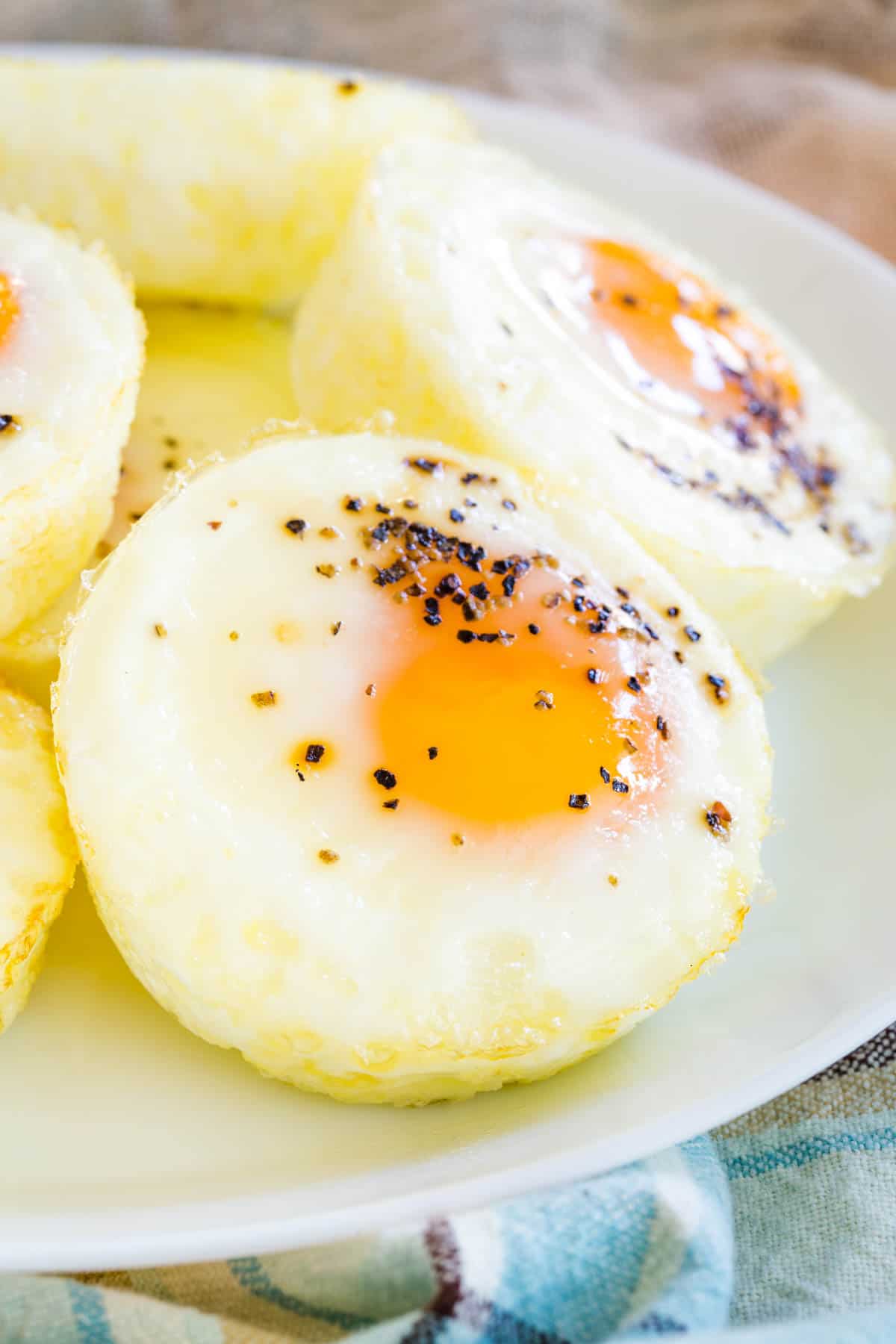 More Quick & Easy Breakfast Ideas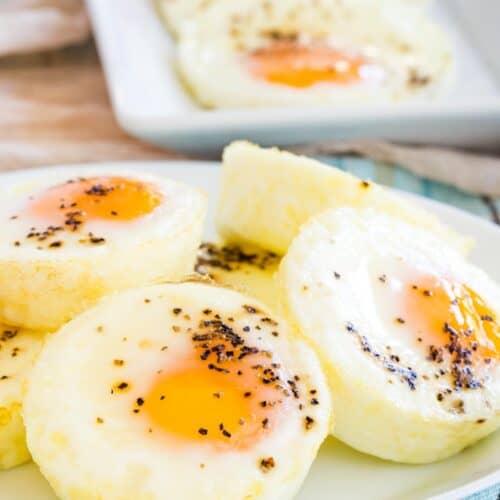 Baked Eggs
Learn how to bake eggs in the oven for a healthy breakfast that's ready in minutes! Baked Eggs are a quick, protein-filled meal or snack that you can enjoy on-the-go, or at home alongside other easy breakfast ideas.
Ingredients
nonstick cooking spray

6

large eggs

salt and pepper

to taste
Instructions
Preheat your oven to 350°F and coat a muffin pan or 6 ramekins with nonstick cooking spray. If you are using the ramekins, place them on a baking sheet to make it easier to transfer them to the oven.

Carefully crack one egg into each well in the muffin pan or ramekin and sprinkle each with salt and pepper.

Bake in the oven until the yolks are as set as you like them, about 14-18 minutes for the muffin pan or 8-12 minutes for the ramekins.
Nutrition Facts
Baked Eggs
Amount Per Serving
Calories 63
Calories from Fat 36
% Daily Value*
Fat 4g6%
Cholesterol 164mg55%
Sodium 62mg3%
Potassium 61mg2%
Carbohydrates 0.3g0%
Protein 6g12%
Vitamin A 238IU5%
Calcium 25mg3%
Iron 1mg6%
* Percent Daily Values are based on a 2000 calorie diet.