This post may contain affiliate links. Read my disclosure policy.
Dill hash brown potatoes is an easy vegan hash browns recipe that's simple to make and full of flavor! This gluten free casserole recipe is perfect for any meal of the day!
Last week I asked on Facebook what types of recipes everyone would like to see more of, and one of the popular answers was vegan recipes. Hopefully I'll get you some myself, but in the meantime, I thought I'd ask a friend to jump in. Today, Sandra from Vegan Mother Hubbard has stopped by with a simple, fresh and flavorful side dish for breakfast, brunch, or even breakfast for dinner. Easy, versatile, and yup, vegan, you need to try these baked hashbrowns!
Dill Hash Brown Potatoes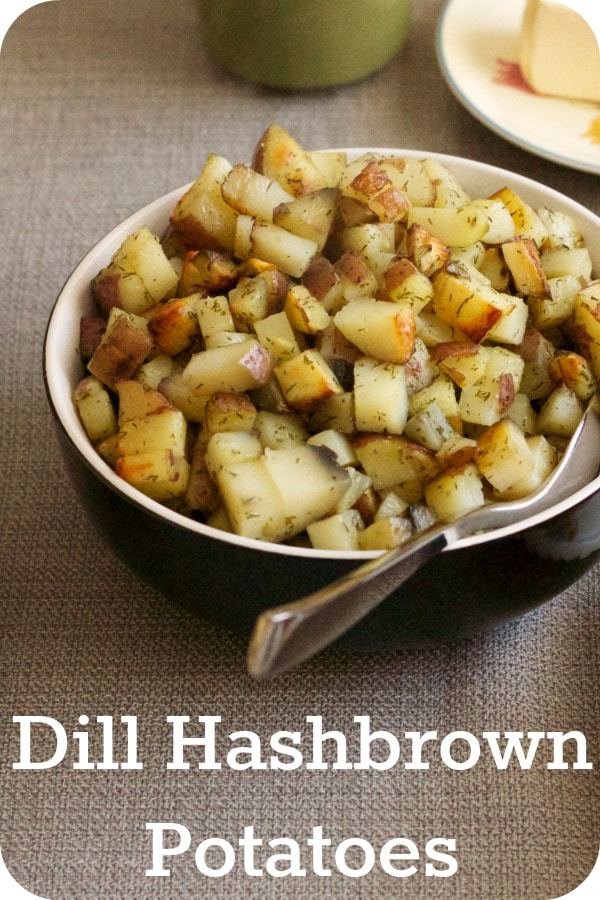 Disclosure: There are affiliate links in this post, meaning that if you click and make a purchase, the cost to you is the same, but I will receive a few pennies. I use the money to help maintain this website and to bring you new recipes!
Sandra is a mom of adorable twin girls, and makes fabulous vegan recipes, like In fact, she was in my kitchen several months back with some Chili-Lime Sweet Potato Home Fries. Make sure you stop by Sandra's blog for more great vegan recipes, like Vanilla Cupcakes with Raspberry Buttercream, Veggie Dumpling Stew, or Banana Nut Cinnamon Rolls, then head on over to find her on Facebook, Twitter, Pinterest, and Google+.
Then head on over to Pinterest, too, where I pin all of my Guest Posts on their own board, plus my Inspiration boards!
Take it away, Sandra…

Hi! I'm Sandra from Vegan Mother Hubbard. Thank you to Brianne, for letting me take over Cupcakes & Kale Chips for the day. The recipe I'm sharing is part of an entire brunch menu, that I'm featuring on my blog this week. Check out www.veganmotherhubbard.com throughout the week, to find recipes for tofu scramble bake, applesauce coffeecake, mimosa champagne cocktails, and blueberry overnight pancakes.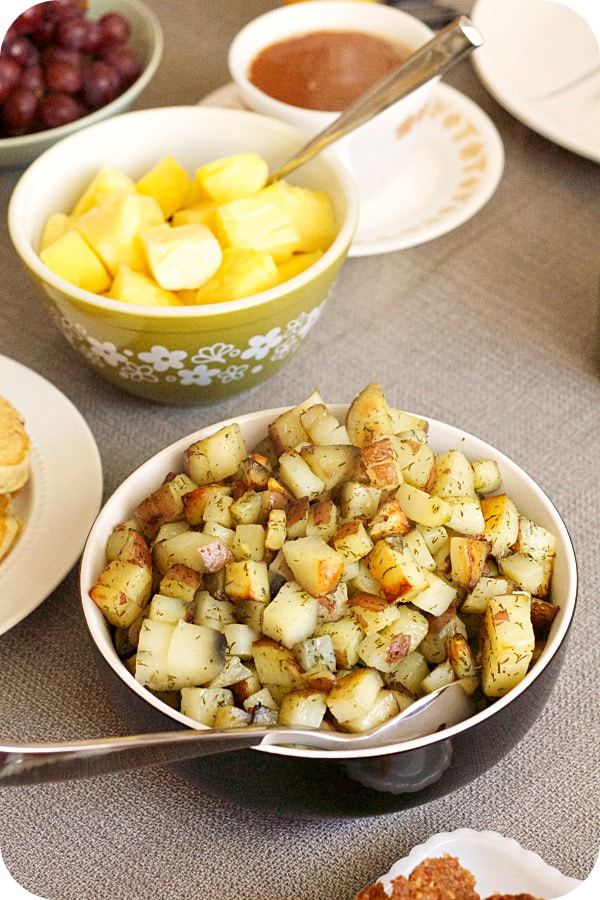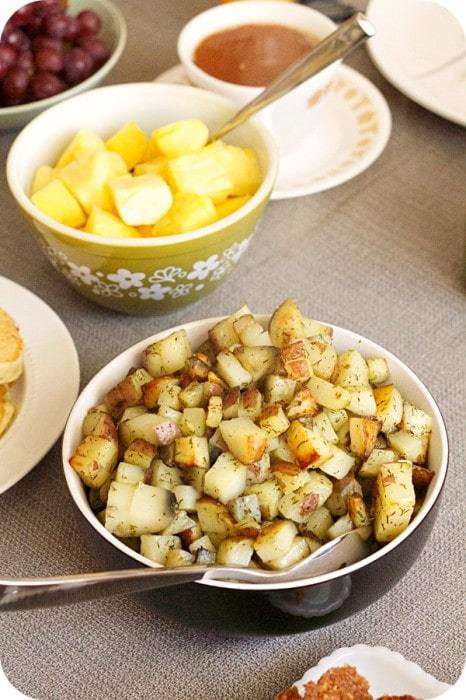 These dill hash brown potatoes are brunch perfection. They can be made the day before, so that on Saturday or Sunday morning, they just bake for half an hour, while you prepare the rest of the meal. And did I mention that they have just four ingredients?
The recipe is really versatile, too. As written, it calls for lots of dill, which goes with just about anything. If you're featuring breakfast burritos, on your brunch menu, try subbing cilantro for the dill. Making crepes? How about a mix of sage, thyme, savory, and rosemary for a French flair? Want to go the Italian route? Opt for basil, oregano, thyme, and marjoram.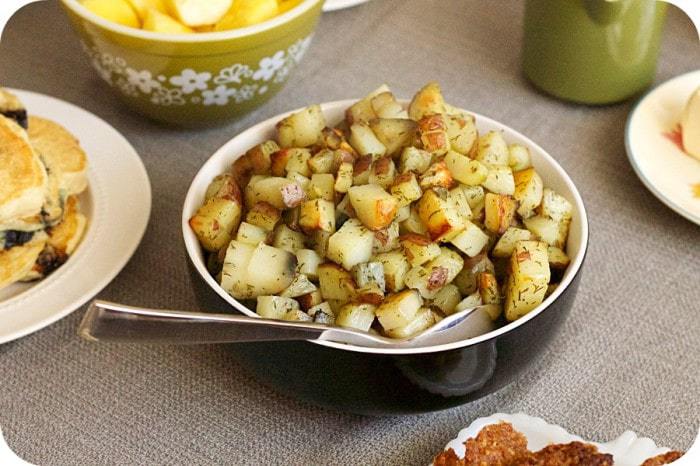 The most important thing to remember when making the dill hash brown potatoes is to use fresh herbs.
The brightness of fresh herbs contrasts nicely with the earthiness of the potatoes. Onion and garlic salt provides just a hint of onion and garlic flavor, which adds depth to the herbs, without overpowering the dish.
A couple of things that are helpful in making this dill hash brown potatoes recipe: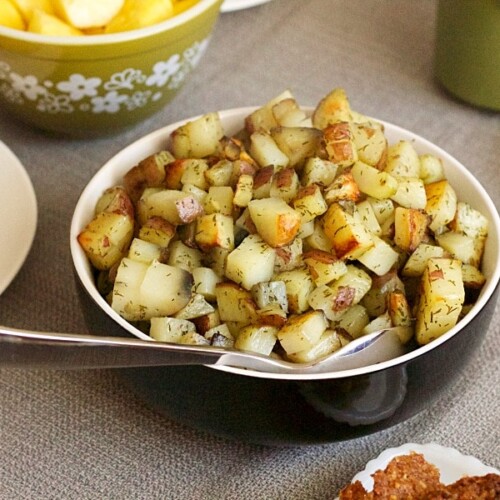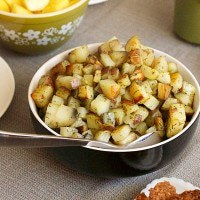 Dill Hashbrown Potatoes
A simple, fresh and flavorful side dish for breakfast, brunch, or even breakfast for dinner.
Ingredients
6

medium-large sized potatoes

reds, yukon gold, or russets are all great

2

Tbsp

olive oil

1

Tbsp

minced

fresh dill

2

tsp

onion and garlic salt
Instructions
Scrub the potatoes, then quarter them.

Cook the potatoes in a pot of generously salted, boiling water, until the potatoes are just tender. Don't overcook. You don't want mashed potatoes!

Drain the potatoes, and allow them to cool for about 15 minutes. Cut the potatoes into bite sized dice, and allow them to cool for another 15 minutes.

Toss the diced potatoes with the oil, dill, and onion and garlic salt.

Spread in a greased, 2-3 quart casserole dish. Bake the potatoes at 375 for about 20 minutes and serve. Or cover the potatoes and chill overnight. Baked at 375, covered, for 10 minutes. Remove the cover and bake another 20 minutes, or until golden brown.

Thanks Sandra! Sounds and looks super-yummy!
Looking for more vegan recipes? I've got a few…
Plus a few from my friends…