This post may contain affiliate links. Read my disclosure policy.
Turn the world's most versatile veggie into your next favorite meal with over 20 Easy Gluten Free Potato Recipes!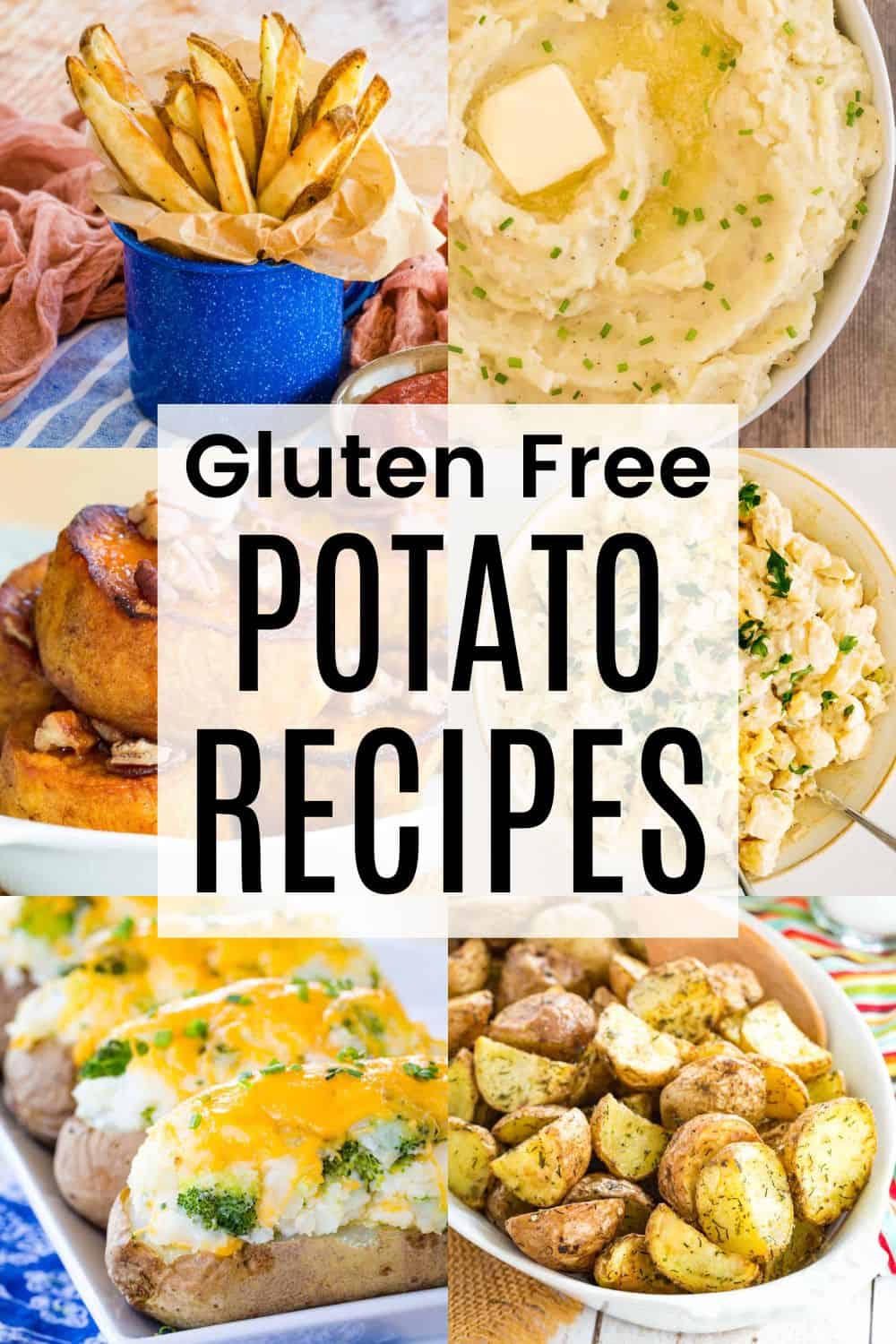 The World's Most Versatile Vegetable
The humble potato is kind of the low-key all-star of the vegetable world. At least, it is in my books. So many wonderful things come from potatoes: French fries, mashed potatoes, potato salad. You can roast them, mash them, stuff them, and bake them.
They're a staple at every holiday, almost every cookout, and a faithful companion to family favorites like burgers, chicken tenders, and more. But you can even make them the centerpiece of the meal by making loaded baked potatoes with a hearty filling!
I figured it was high time that I shared a list of my best gluten-free potato recipes. Consider this a little homage to the potential-filled potato!
Common Potato Varieties
Potatoes come in a variety of shapes, colors, and sizes. Each one is just as tasty as the last, and you can choose the best potatoes to suit just about every recipe under the sun. Here are some of the familiar faces you're likely to find in your local produce aisle:
Russet: When you picture a potato in the US, chances are your brain will conjure up a Russet potato. This is probably the most popular kind of potato out there. Russets are brownish-gray and tough on the outside, with flesh that cooks up light and fluffy, making them a favorite for baking and mashing.
Yukon Gold: Yukon Gold is a brand of yellow potatoes, and one of the most popular in the US. Yellow potatoes have a golden appearance and buttery flavor, with a thin skin that crisps up especially well when baked or fried.
Red Potatoes: Also known as redskin potatoes, these are waxy potatoes that are great to use in recipes like potato salads and soups. This is because waxy potatoes hold their shape after cooking.
White Potatoes: In terms of taste and texture, white potatoes are very similar to Russet potatoes. The main difference is that white potatoes have thin skin that softens as it cooks, which often means you can skip the peeling.
Baby Potatoes: You may also see these called creamer potatoes. Fun fact: Baby potatoes can technically be any kind of potato, just as long as they're petite in size!
Sweet Potato: Ok, so this one isn't technically a potato. Despite its name, a sweet potato is actually a root vegetable. Still, you'll usually find it in the same section as actual potatoes in the supermarket, and I've even included a couple sweet potato recipes in the roundup below. You can recognize a sweet potato for their reddish-orange skin and sweet, orange insides.
Fingerling Potatoes: In case you couldn't guess, a fingerling potato is named after its semblance to a pudgy finger! These potatoes come in a variety of colors, with thin skins and waxy interiors that make them great for cooking whole.
Are Potatoes Healthy?
Potatoes sometimes have a reputation of being overly starchy and carb-y, but they're actually one of the healthiest foods to include in recipes! Potatoes are fat-free and filled with protein, fiber, and nutrients. Especially vitamin C. Just a single potato packs over 30% of your daily value of this immune-boosting vitamin!
Your average spud also contains plenty of potassium, B vitamins, iron, copper, zinc, magnesium, manganese, plus antioxidants. Even the starch in potatoes is the good kind of resistant starch, which helps with fat-burning. This is all to say that, yes, potatoes (starch and all) are very good for you! They contribute to supporting heart and immune function, and help control blood sugar.
The best way to reap the full health benefits of potatoes is to leave the skins on. This is where you'll find many of the vitamins, minerals, and antioxidants mentioned earlier. So save and use those potato skins when you can!
Do Potatoes Have Gluten?
I'm sharing some of my favorite gluten-free potato recipes, but are potatoes themselves gluten-free? The answer is yes, potatoes are completely free from gluten. This is because a potato is a vegetable, while gluten is found in grains like wheat, rye, or barley. But if you want to know a couple of things to watch out for, be sure to check out my article about eating potatoes on a gluten free diet.
This makes potatoes an excellent food source of vitamins and nutrients for those with Celiac disease or gluten intolerance.
How to Store Raw Potatoes
The key thing to remember when storing potatoes: Potatoes need air! This means that the best place to store potatoes is in the open, in a bowl, basket, or in a paper bag away from direct sunlight. Don't overcrowd them and let those taters breathe.
Avoid sealed or closed containers and bags, or other storing methods that would otherwise limit air flow. Potatoes stored airtight will trap moisture and spoil quicker!
20+ Potato Recipes You Have to Try
Check out these delicious and easy potato recipes you can try tonight. These are some of my favorite variations of baked potatoes, mashed potatoes, roasted potato recipes and more. You're going to love them!