This post may contain affiliate links. Read my disclosure policy.
One of the most classic, simple summer desserts is given a fun, tasty, and wheat-free twist in this recipe for Gluten Free Potato Pound Cake with Berries and Greek Yogurt.
Gluten Free Potato Pound Cake with Berries and Greek Yogurt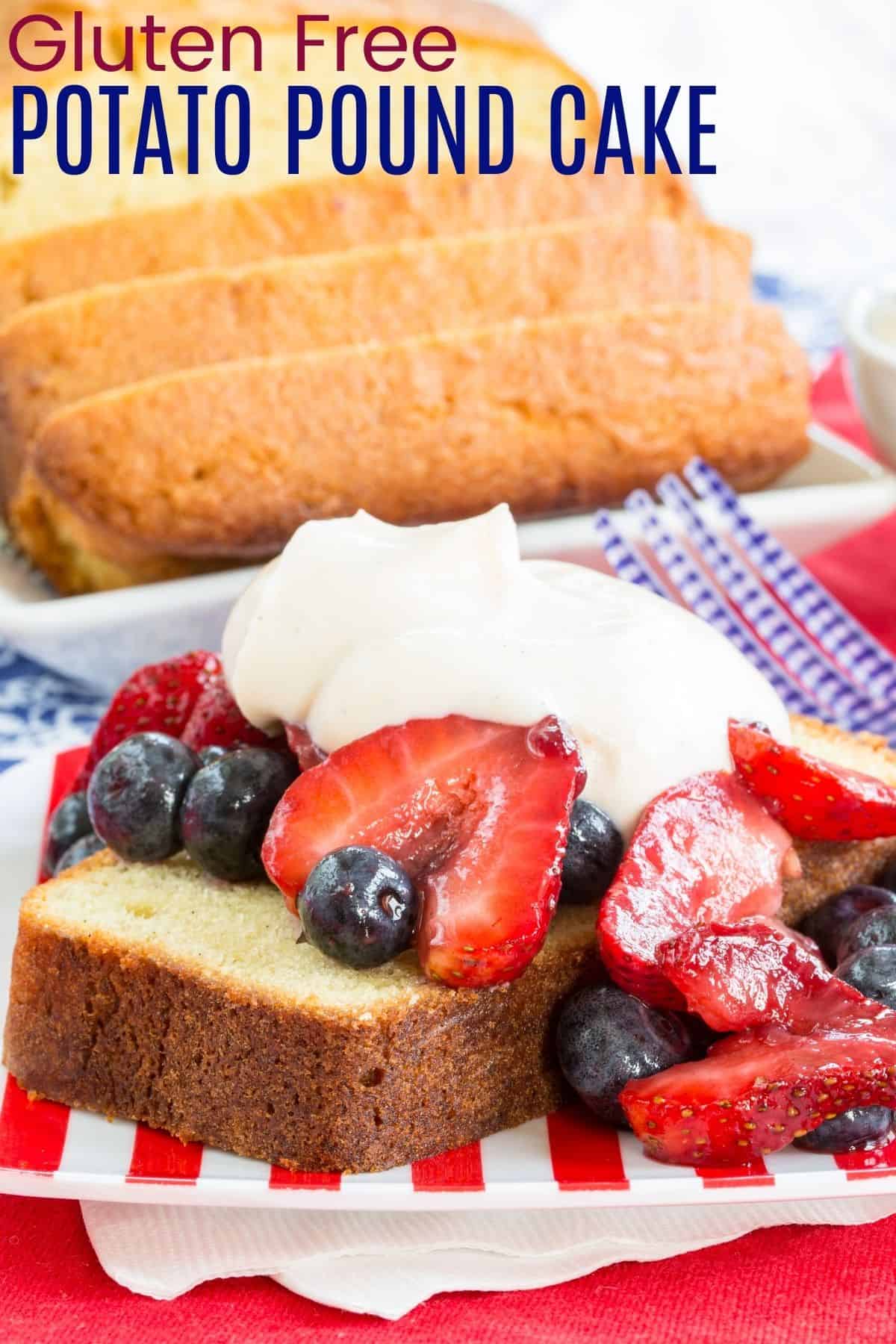 The other day I shared a little about this year's Food Wine Conference (plus 101 Reasons Why Your Recipe Will Never Go Viral and Why None of That Matters – it's a fun read, go check it out!). When Isabel shared my post on her Facebook page, she shared a fun photo of me from the conference and commented about my infectious smile. I've been going through a lot lately that I'm not going to get into just at this moment, so her words really hit me that I really felt a freedom and a joy while I was there that I desperately needed at that moment. It also was sort of a realization.
For years thought I was a terrible public speaker, painfully shy, with a wavering nervous voice. But what's funny is as I got older, I realize I love being on a stage, I love speaking, I love introducing people to each other, working my way around a room chatting with my friends (though I still have a hard time approaching people that are complete strangers, so if I don't come up to you don't take it personally – starting conversations without already having a connection is something I am still working on). I didn't speak at this year's conference, but I got a huge high out of sharing all of the deliciousness from the Idaho Potatoes lunch on Facebook Live. That was such a blast, even if I looked totally nuts with a giant potato hat on my head!
I love blogging, but I'd love to be able to connect through more than just typing words on a screen. I think that's why I love jconferences so much. I do thrive on having my alone time and actually enjoy working from home, but sometimes I need an injection of seeing faces and hearing voices and speaking my own words out loud to to another human being.
I have had the fleeting thought of starting a podcast, but it may be something I really do need to give a whirl, as well as some more Facebook Live videos. So stay tuned, you may be seeing and hearing me as opposed to just reading my words.
Oh, and speaking of that lunch where I put on my spud-shaped talk show host hat, I was pleasantly surprised that there was a gluten free dessert! While it was just served plain at the conference, I knew when I got home I had to add a little pizzazz using some of the deliciousness from other Food Wine Conference sponsors to create this…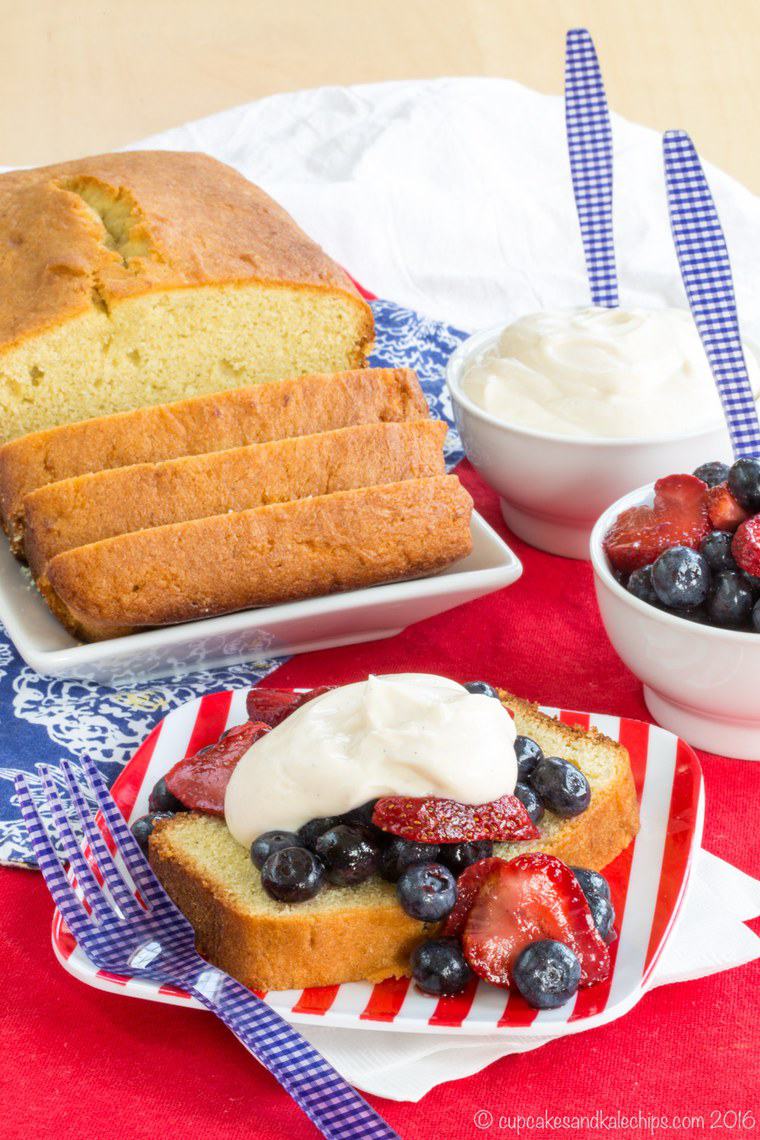 Gluten Free Potato Pound Cake with Berries and Greek Yogurt is a delightfully delicious spin on a summertime favorite. I mean, who doesn't crave a simple pound cake topped with fresh seasonal berries and something creamy on top at this time of year? I started with the pound cake recipe from the Idaho Potatoes website, but tried swapping out the combo of different flours for a basic gluten free all-purpose blend and it worked perfectly. The recipe mentioned that the cake won't rise as much as a traditional gluten-containing pound cake, but mine had a nice little dome and upon slicing into it, by visual appearance you'd never know it was gluten free. The outside was golden and the inside had a tender crumb. It was not the lightest and fluffiest cake, but pound cakes do tend to be a bit more dense, and this one I think would hold up perfectly if you wanted to make a dessert with grilled pound cake. The potatoes certainly helped the texture and added moisture to the cake, and the flavor was perfect with all of the luscious butter and vanilla.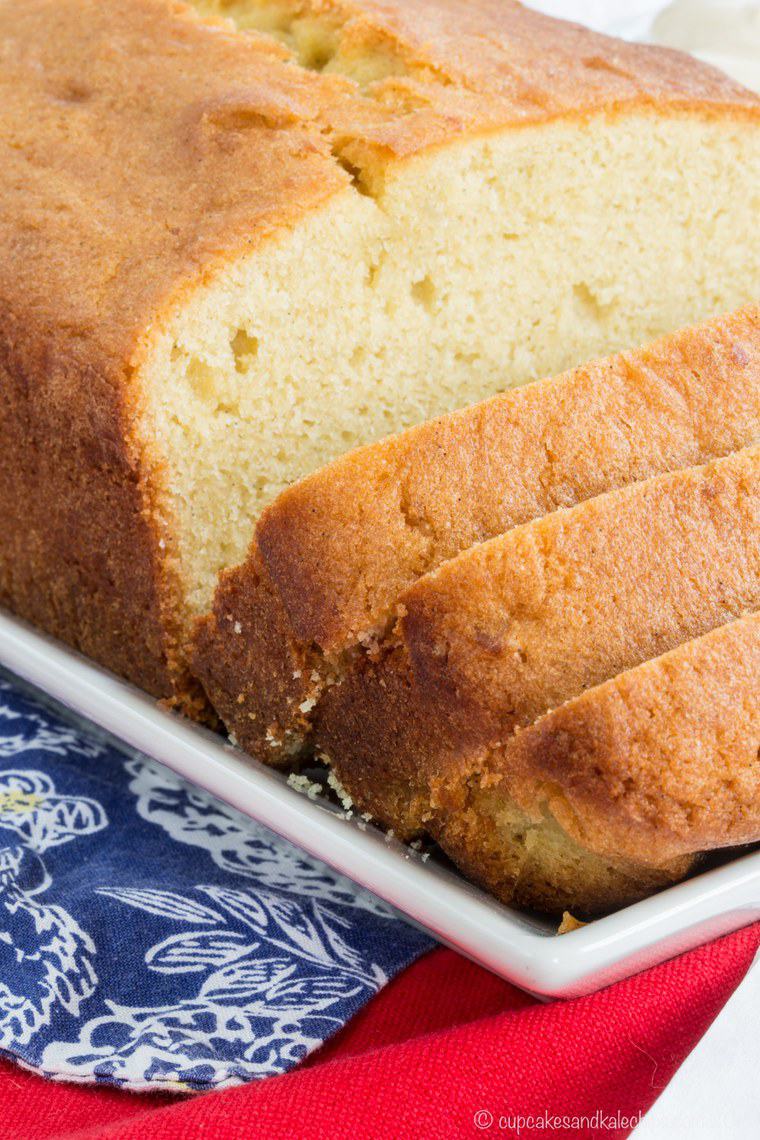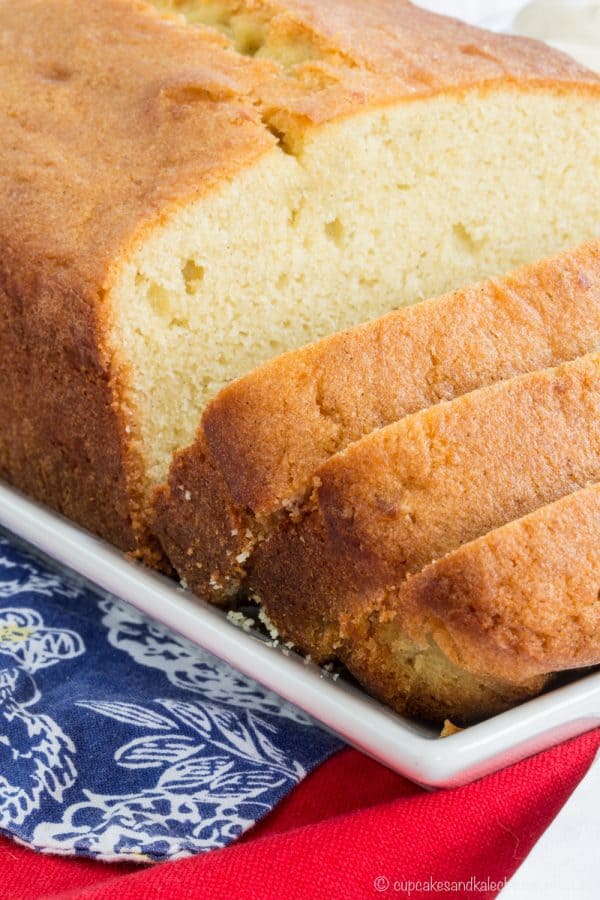 It truly was the perfect match for a lovely bowl of berries tossed in just a bit of jam to help them release their juices. Since Florida Strawberry Growers Association and Wish Farms were sponsors of the conference, I knew adding strawberries and blueberries was a must. Topped with Cabot Lowfat Vanilla Bean Greek Yogurt that is so rich that there's no need for whipped cream, and you have a totally dreamy summer dessert. The buttery cake, the fresh berries, and the creamy yogurt, it's the traditional blend of ingredients made a little more special.
But it's simple too! Once your made and sliced your cake, just put out bowls filled with the toppings and let your guests make their own.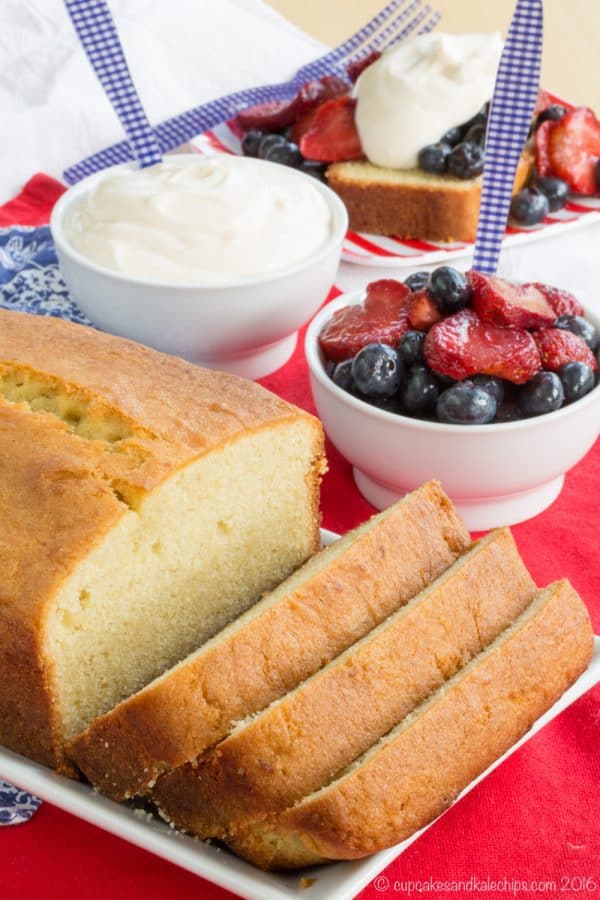 Or you can plate it all up for your guests and be all fancy like that. But it's summer and the get-togethers should be casual, so just sit back and enjoy!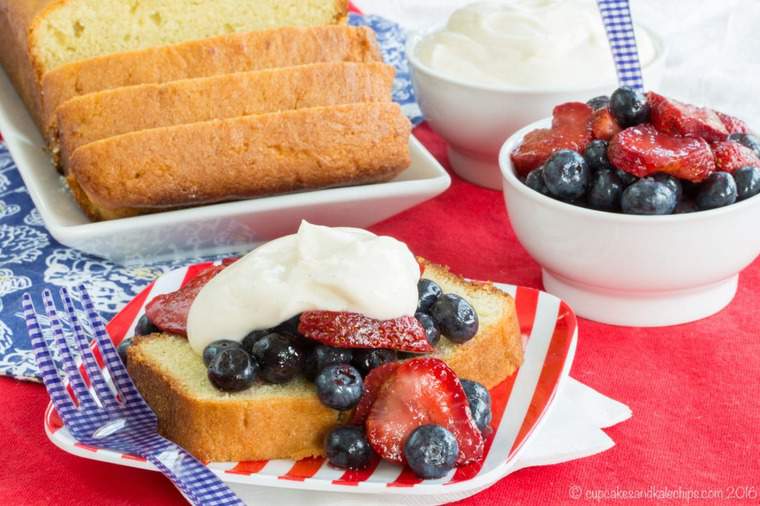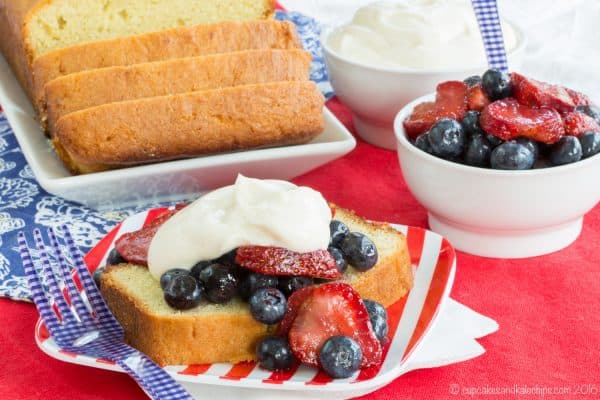 Are you an introvert or extrovert?
For more yumminess from me and my foodie friends, keep up with me on…
Or sign up to have Cupcakes & Kale Chips delivered straight to your Inbox!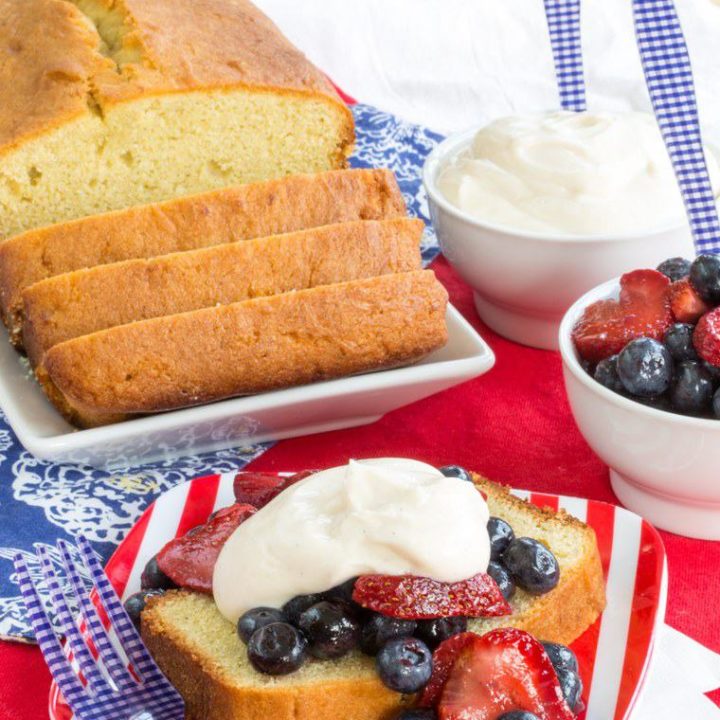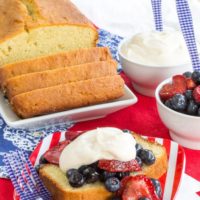 Gluten Free Potato Pound Cake with Berries and Greek Yogurt
One of the most classic, simple summer desserts is given a fun, tasty, and wheat-free twist. This Gluten Free Potato Pound Cake is made with fresh strawberries and blueberries, and berry jam, too!
Ingredients
1 3/4

cup

all purpose gluten free flour

I used Bob's Red Mill. See notes for substitutions

2

teaspoons

baking powder

1

teaspoon

Xanthan Gum

1/2

teaspoon

salt

1

cup

unsalted butter

at room temperature

1

cup

sugar

4

large eggs

1/2

cup

packed mashed potatoes

made from Idaho® Russet potatoes that have been peeled and boiled until tender

1

Tablespoon

vanilla extract

2

cups

fresh strawberries

sliced

2

cups

fresh blueberries

1

Tablespoon

berry jam

or jelly of your preference

Cabot Vanilla Bean Greek Yogurt
Instructions
Preheat oven to 350°F. Lightly coat a 9-inch bread pan with cooking spray or butter, then line with parchment paper.

Sift together all of the dry ingredients into a bowl and set aside.

In the bowl of a stand mixer with the paddle attachment, whip the butter for 3 minutes or until fluffy.

Add sugar and whip 2 minutes more.

Add eggs, one at a time, ensuring each is incorporated before the next addition.

Add mashed potatoes and whip 3 minutes more, then add the vanilla. The mixture may look curdled.

Add dry ingredients to the mixture and mix at medium speed until combined and no streaks show.

Spread the stiff batter in to the baking pan. Bake at 350°F for one hour. Remove from oven and cool on a wire rack.

Combine the berries and jam in a bowl and keep in the refrigerator until ready to serve.

To serve, slice the cake and serve with berries and Greek yogurt.
Notes
*Substitution for all-purpose gluten free flour:
1/4 cup sweet white sorghum flour + 1/4 cup garbanzo bean (chickpea) flour + 1 cup sweet white rice flour + 1/4 cup tapioca starch
Nutrition Facts
Gluten Free Potato Pound Cake with Berries and Greek Yogurt
Amount Per Serving (1 slice)
Calories 315
Calories from Fat 153
% Daily Value*
Fat 17g26%
Cholesterol 95mg32%
Sodium 129mg5%
Potassium 173mg5%
Carbohydrates 37g12%
Protein 4g8%
Vitamin A 565IU11%
Vitamin C 17mg21%
Calcium 59mg6%
Iron 1.2mg7%
* Percent Daily Values are based on a 2000 calorie diet.
Categories:
Enjoy this Gluten Free Potato Pound Cake with Berries recipe!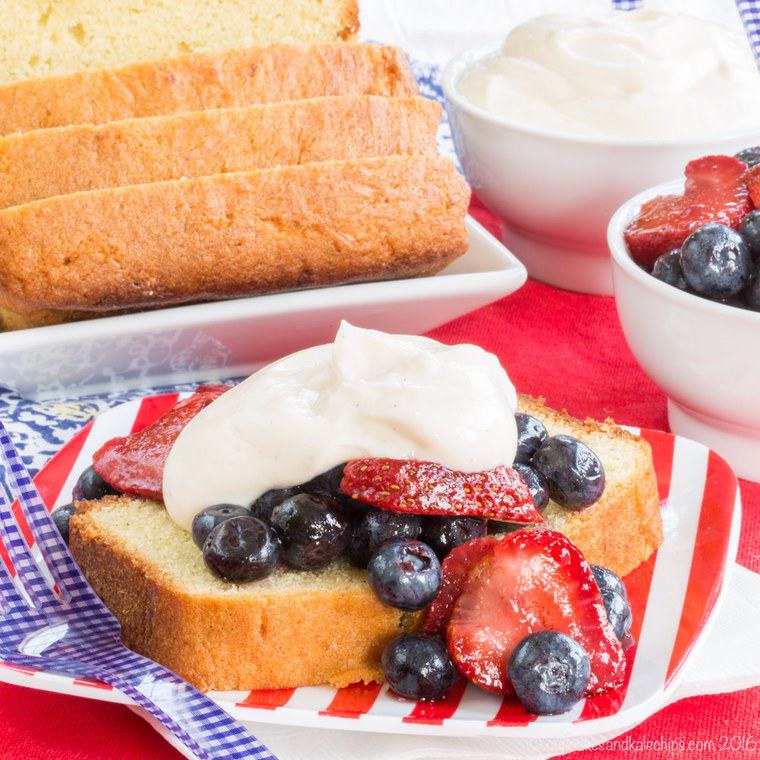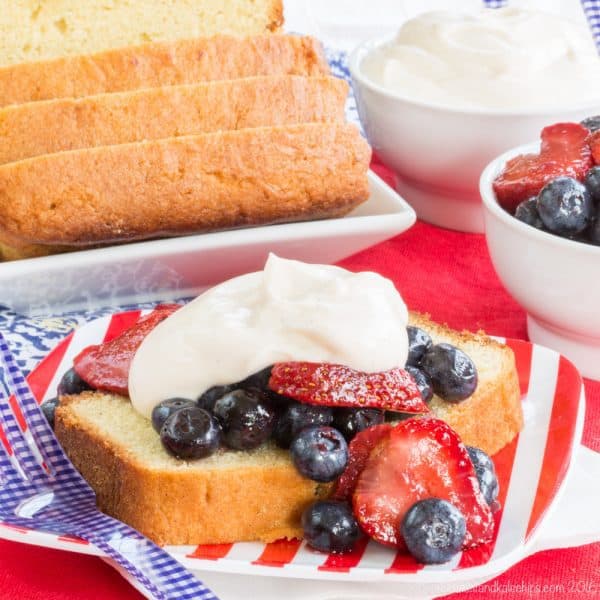 Here are some more berry-licious desserts you might like…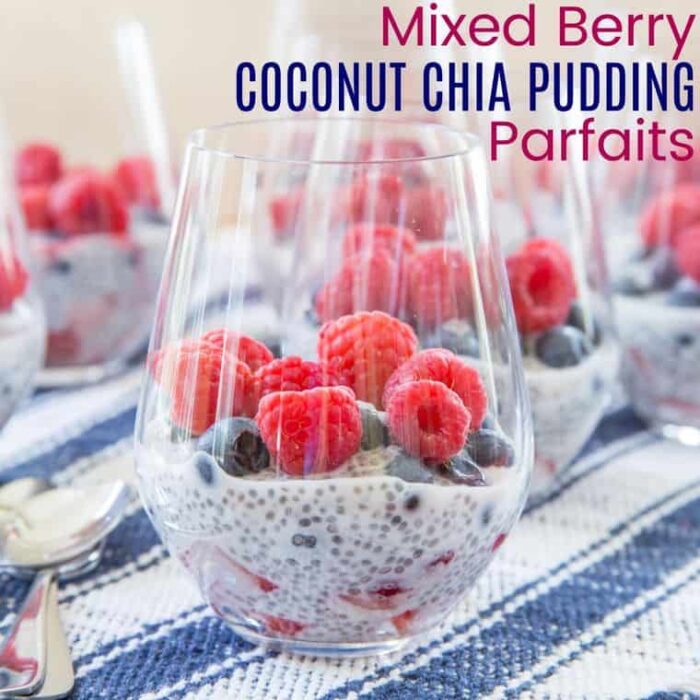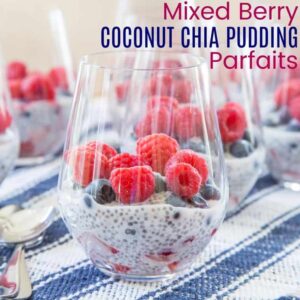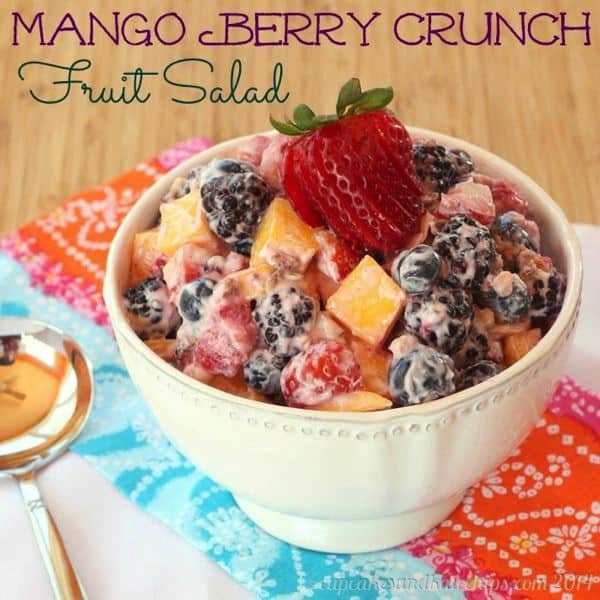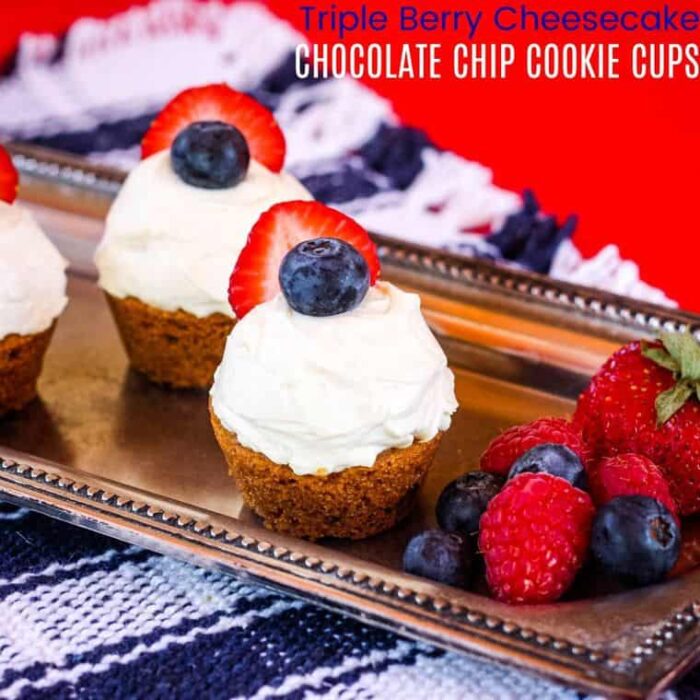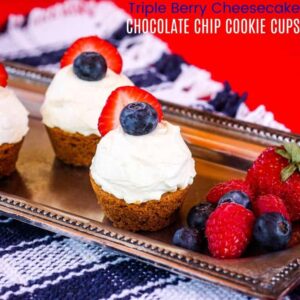 Plus this collection of 20 Red, White, and Blue Berry Desserts!