This post may contain affiliate links. Read my disclosure policy.
Ground Beef and Potatoes Skillet with a creamy, cheesy sauce is a hearty but healthier version of a classic comfort food recipe. This easy one pan meal is made with budget-friendly hamburger meat and potatoes. But it updates an old-school dish by replacing canned soup with fresher and gluten free ingredients. Feel good about feeding your family this soul-warming cheesy ground beef skillet recipe for dinner tonight!
Originally published September 15, 2013. Updated with new photos, video, and more useful information about the recipe.
Skillet Ground Beef and Potato Recipe
Ground Beef and Potato Skillet Supper was one of my mom's back pocket meals, and one of the first meals I learned how to make. It's classic comfort food, but reinvented with healthier, fresher, and naturally gluten free ingredients. Ground beef and potatoes cooked in one pan with a simple, creamy, cheesy sauce make this an easy dinner recipe that the family will love. This ground beef skillet recipe is hearty, budget-friendly, and totally delicious!  
Just like my mom always did, I make eating meals together around the kitchen table a priority in my family. I actually learned to cook so that on days when she was going to be late, dinner would still be ready so that we could eat together at a reasonable time. These may have been very simple dinners, but what mattered was the family time.
Now that I have my own family, it is still important to me that we make this time. It allows us to catch up on our day and plan for the day or week ahead. And it has been how we teach our kids the patience to sit through a meal, table manners, and about eating a wide variety of foods, not a special "kids' meal".
With as busy as families are these days, I know how hard this can be. In fact, we have now reached the point where we don't all get to eat together every day. But we do our best, even if that means Daddy walks in and joins us as we are finishing up so that we can get to karate or Cub Scouts on time.
That's why I often go back to my "back pocket meals" – meals I can make quickly, don't really need a recipe, and usually have most of the ingredients on hand. Things like BBQ Chicken Tostadas or Spinach Tomato Frittata. This is a great strategy for being able to eat a home-cooked meal together.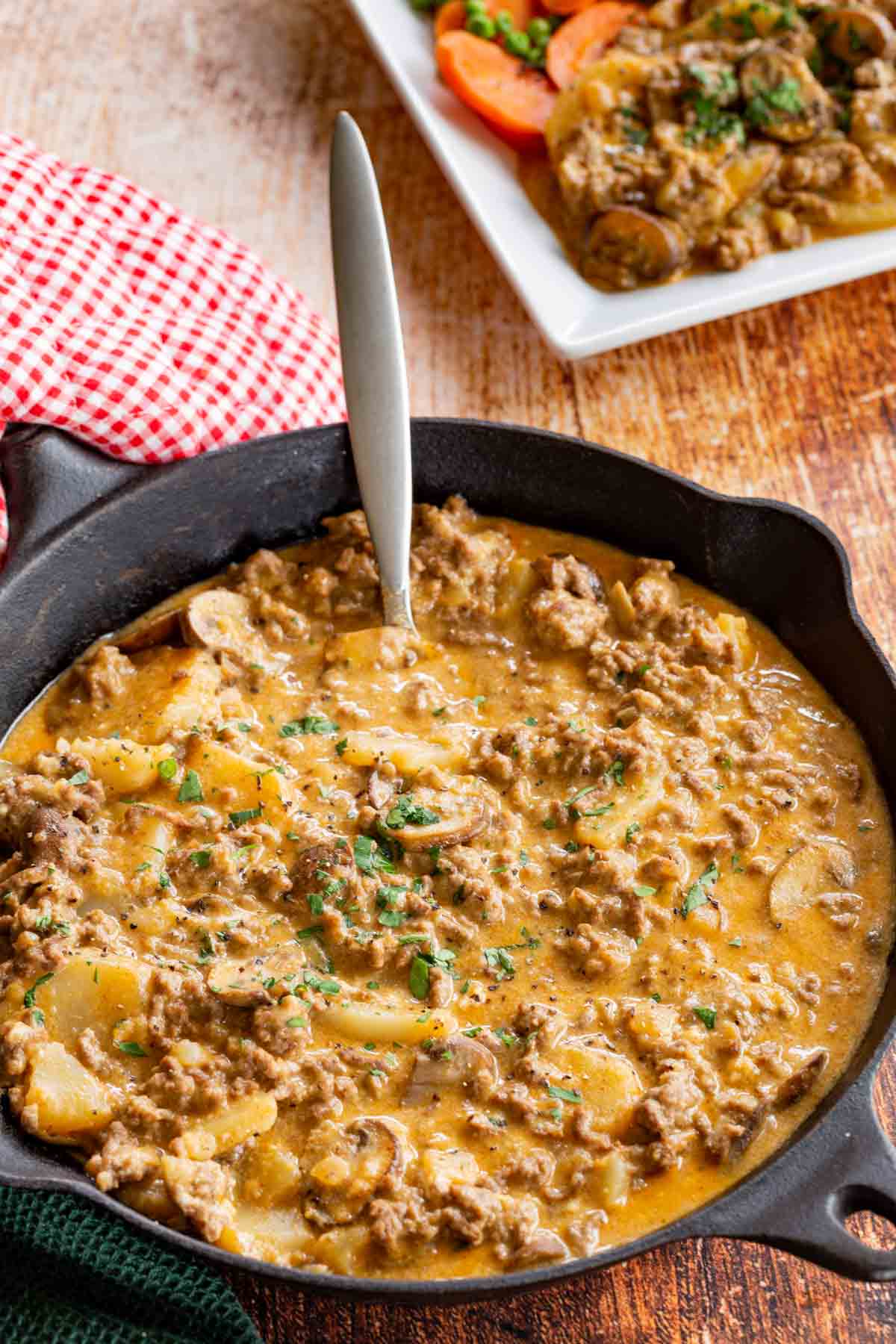 Updating a classic comfort food
Of course, like many moms from that time period, she had a whole array of dinner ideas with ground beef and potatoes or rice or stuffing mix or noodles and some kind of canned soup.
This was one of them – brown some ground beef, add a can of cream of mushroom soup, a can of cheddar cheese soup, and a can of sliced white potatoes, then enough water to get it to the right consistency. Obviously something that, even as a kid, I could manage on my own.
But I decided it was time for an update made with fresh veggies and naturally gluten free ingredients.
Instead of canned soups and potatoes with all of the extra sodium and other funky ingredients, this uses fresh veggies with Greek yogurt and shredded cheddar cheese to make that creamy, cheesy sauce.
It may take a few minutes longer, but it still came together quickly. And is certainly a lot more nutritious, while still being as hearty and comforting as I remember.
My family devoured it, and I savored each bite reminiscing about eating it as a kid with my mom. It definitely brought back flavors and memories of childhood. And while it may not be the prettiest meal I've ever made, it is seriously delicious.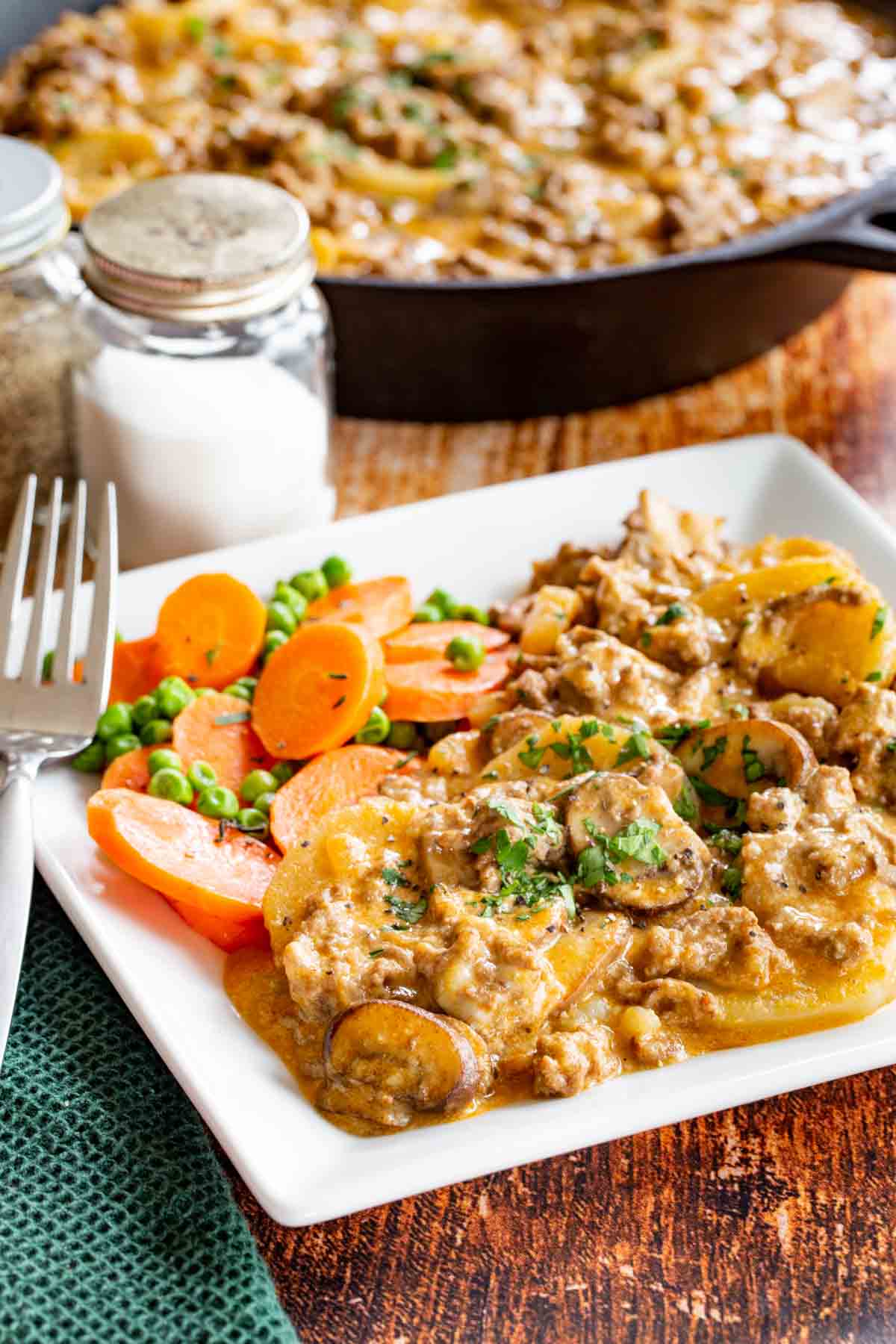 Ingredients
Olive oil
Onion
Potatoes – white potatoes or small Russet potatoes will work. You'll want to wash, peel, and slice these.
Mushrooms – you can use white button mushrooms or Baby bellas. Wipe off the dirt with a paper towel and slice.
Ground beef – I usually use 90% or 93% lean, but you can use whatever you prefer.
Paprika
Dry mustard
Garlic powder
Chicken broth – homemade or storebought. With storebought, I prefer broth or stock from a box over the canned. Be sure it is gluten free, if needed.
Cheddar cheese – I prefer Cabot Seriously Sharp, but use your favorite cheddar.
Plain Greek yogurt – I usually use nonfat, but any will work.
Cornstarch
Water
Salt and pepper
How to make this Ground Beef and Potatoes Skillet Dinner
1. Heat oil in a skillet and saute onions till translucent.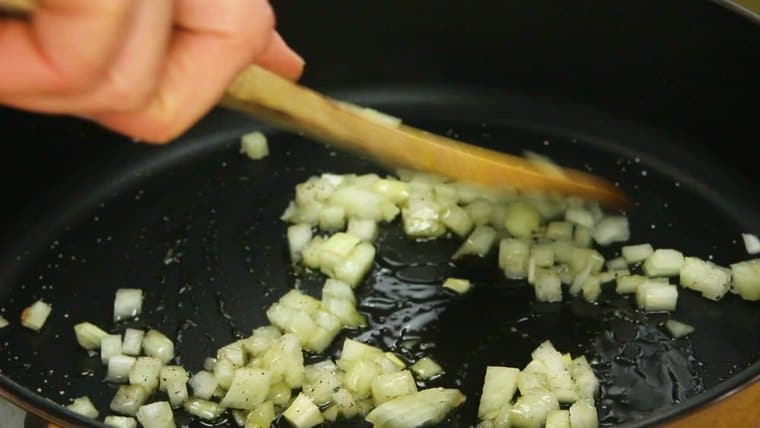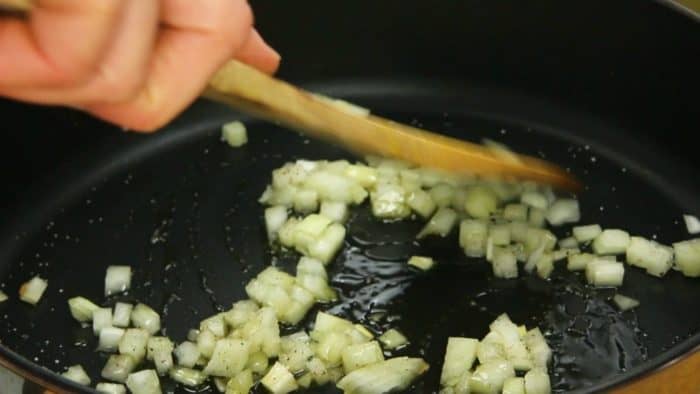 2. Add potatoes and cook till slightly browned, then add mushrooms and saute until tender. Transfer to a bowl.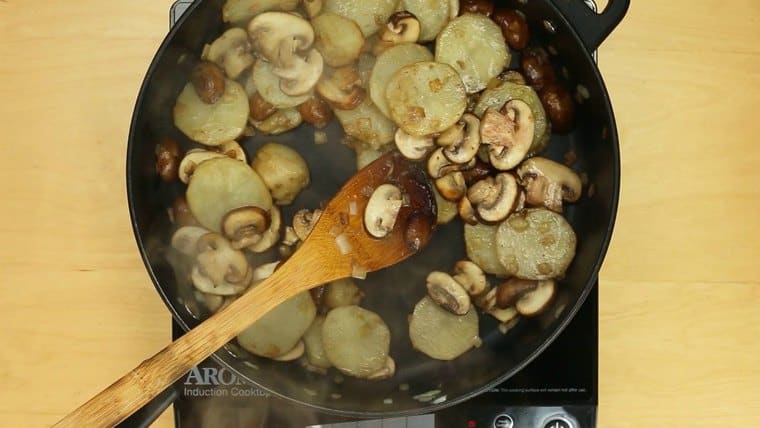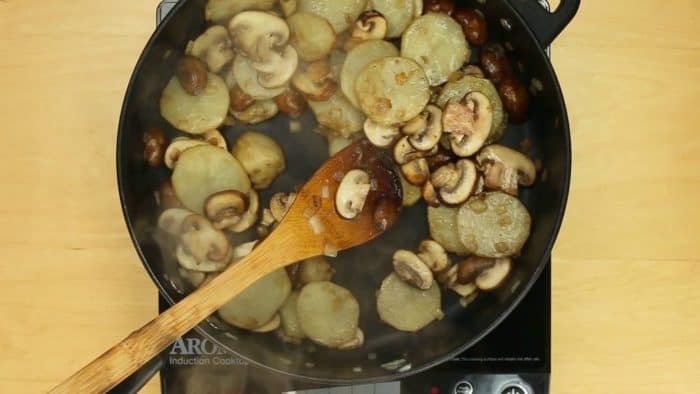 3. Return the skillet to the heat and add ground beef, salt, and pepper. Cook until browned. then drain any excess grease.
4. Return the potato mixture to the pan, add paprika, dry mustard, and chicken broth. Cover and simmer until potatoes are tender.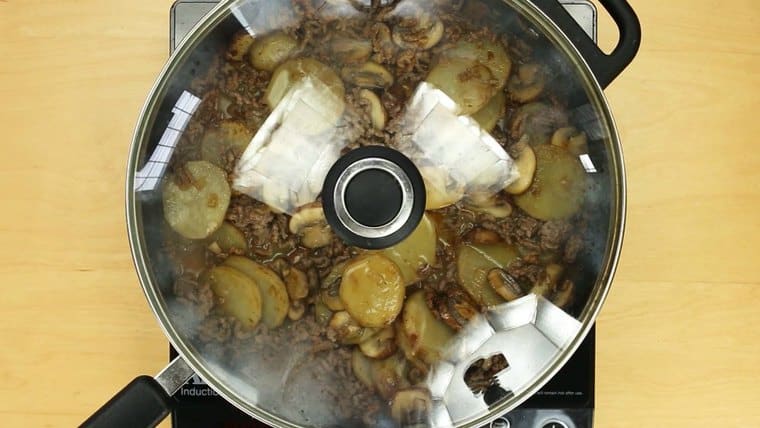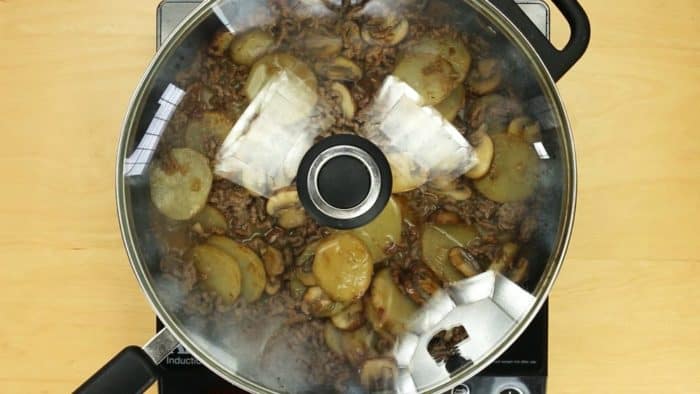 5. Reduce heat and slowly stir cheddar cheese and greek into the ground beef and potatoes mixture.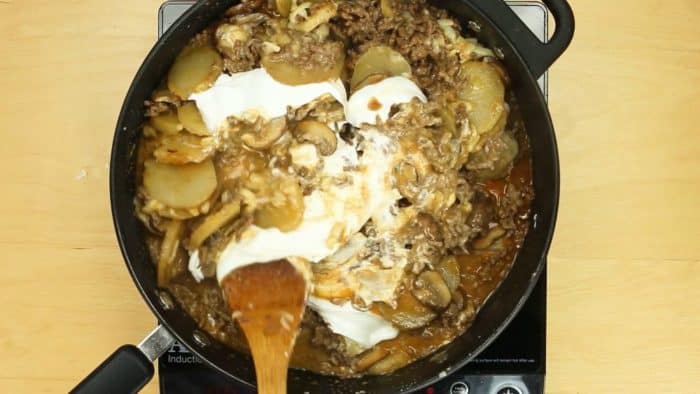 6. Make a slurry of the cornstarch and water, stir into the skillet.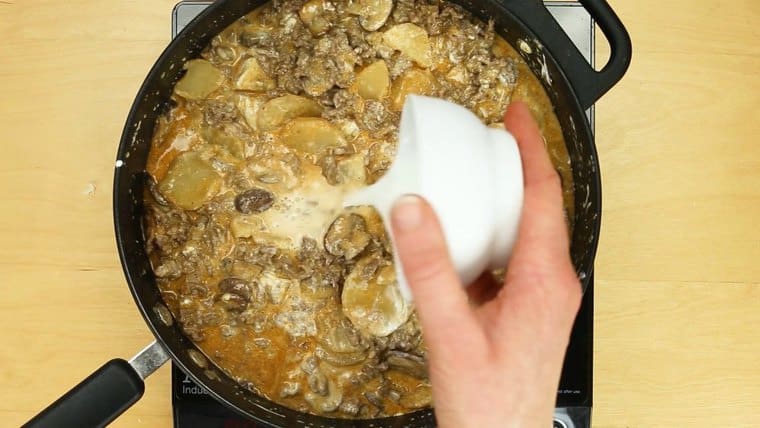 7. Simmer until thickened.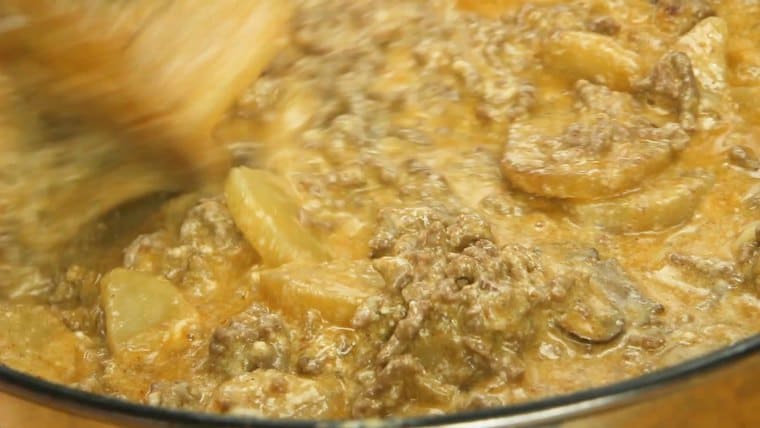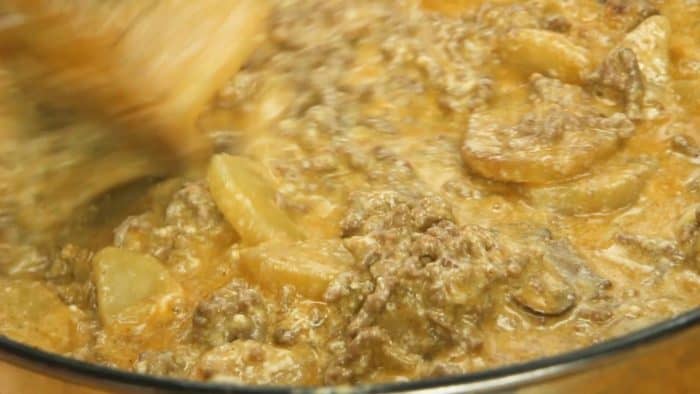 Tips for Success
Equipment
Be sure to use a nice, large skillet so that everything has room to brown nicely. You'll also want to make sure the skillet has a tight-fitting lid.
When making recipes like this, I like to use a wooden spoon to be able to scrape everything off the bottom of the pan. A heat-proof spatula would also work.
Preparing the potatoes
Small white or Russet potatoes will work. Be sure to scrub them thoroughly. I prefer peeling them, but you don't have to. Then slice about a quarter-inch thick.
Cleaning mushrooms
As I mentioned, you can use either white button mushrooms or baby bellas (also known as cremini mushrooms). You can buy the pre-sliced mushrooms, I just find that these tend to turn brown in the fridge more quickly, so I prefer to buy whole mushrooms. Try to avoid using canned mushrooms.
When cleaning mushrooms, you don't want to run them under the water as they will absorb moisture and become chewy. Just use a paper towel or kitchen towel and lightly wipe off the excess dirt. Then just slice them about a quarter-inch thick.
Adding dairy ingredients to the skillet
To avoid curdling, you want to reduce the heat to low so it is no longer boiling but just at a gentle simmer. The cheese should be added in small portions, stirring it in after each addition. Once you begin adding the yogurt and cheese, you do not want to bring it back to a full boil.
Making it ahead or reheating leftovers
This recipe does reheat well either in a skillet on the stove or in the microwave. So you can make it ahead or heat up the leftovers. This makes it great for those nights when the family can't all sit down to dinner bat the same time.
Just heat it gently to avoid bringing it to a full boil. You can add a bit of water or milk if you need to thin it out a little.
Side dishes
While this ground beef skillet recipe makes a satisfying one-pan meal all on its own, you may want to add some veggies on the side. Here are some easy options:
Or toss a simple salad with one of my favorite homemade salad dressings: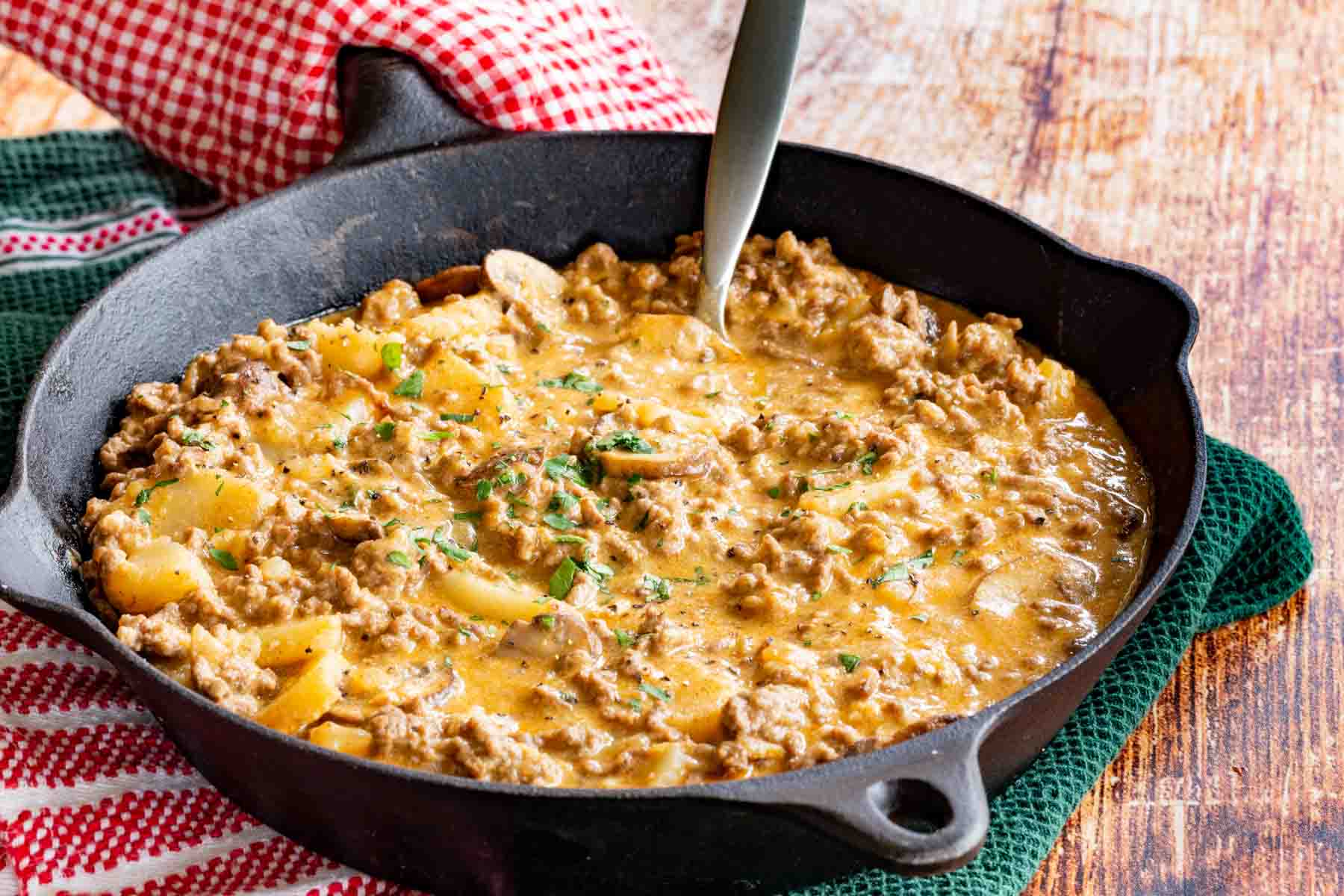 More family-friendly ground beef recipes
Beef & Potato Skillet Supper
A hearty, comforting dish that will satisfy the whole family with budget-friendly hamburger meat and potatoes in a creamy, cheesy sauce. Based on a classic one pan meal, but made with fresh ingredients that are also gluten free.
Ingredients
1

Tablespoon

olive oil

one

medium onion

or half of a large onion, chopped

1

pound

white potatoes

peeled and sliced about 1/4 inch thick

8

oz.

mushrooms,

sliced (I used baby bellas, but white mushrooms would be fine, also)

1 1/4 – 1 1/2

pound

ground beef

1

teaspoon

paprika

1

teaspoon

dry mustard

1/2

teaspoon

garlic powder

1 1/2

cups

chicken broth

1

cup

plain Greek yogurt

2

cup

shredded sharp cheddar cheese

(about 8 oz.)

2

Tablespoons

cornstarch

1/4

cup

water

salt and pepper

fresh parsley

, optional for garnish
Instructions
In a large skillet, heat the olive oil over medium heat. Add the onions and cook 2-3 minutes, or until starting to soften and turn translucent.

Add potatoes and a pinch of salt and pepper, and saute for 4-5 minutes to start to cook and slightly brown the potatoes.

Add the mushrooms and cook for another 4-5 minutes, or until mushrooms are softened.

Remove the contents of the skillet to a bowl and set aside.

Return the skillet to medium heat and add the ground beef and a pinch of salt and pepper.

Cook until the ground beef is fully coked through and browned, breaking up the meat as it cooks. Drain any excess grease from the pan.

Add the potato mixture back to the skillet with the gorund beef, and add paprika, dry mustard, garlic powder, and chicken broth. Cover and simmer 5-10 minutes, or until the potatoes have softened.

Reduce heat to low. Add Greek yogurt and slowly add the cheddar cheese, stirring between each addition until cheese has melted.

Slurry the cornstarch in the water and add to the skillet.

Bring to a simmer and cook for another minute or two until thickened and heated through.

Adjust seasoning with salt and pepper. Garnish with parsley, if desired.
Nutrition Facts
Beef & Potato Skillet Supper
Amount Per Serving
Calories 636
Calories from Fat 333
% Daily Value*
Fat 37g57%
Cholesterol 177mg59%
Sodium 612mg26%
Potassium 1191mg34%
Carbohydrates 16g5%
Protein 58g116%
Vitamin A 563IU11%
Vitamin C 14mg17%
Calcium 367mg37%
Iron 8mg44%
* Percent Daily Values are based on a 2000 calorie diet.
Enjoy!