This post may contain affiliate links. Read my disclosure policy.
Homemade Sloppy Joes take just minutes to make and you'll have all the classic slightly sweet and tangy flavors and saucy deliciousness you love. A budget-friendly family favorite, it is almost as quick as using the stuff from a can. This easy sloppy joe recipe will be a regular on your dinner menu. And there are plenty of flexible options if you want an alternative to serving them on rolls.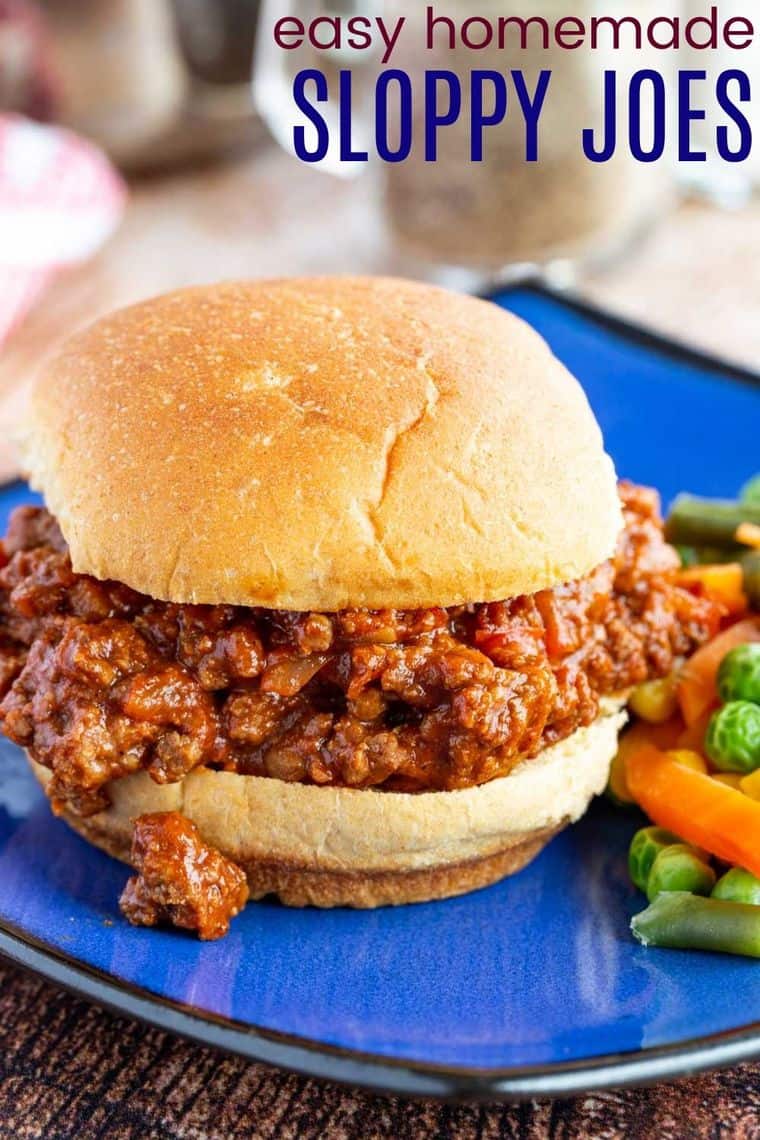 Like many homes, when I was growing up, ground beef was a dinner staple and continues to be in my family today. It's affordable and versatile, and it's the basis for so many classic all-time favorite meals, from tacos to chili and so much more.
My mom is amazing and despite being very busy, she always made sure we had dinner on the table. But it was the 80's and 90's, you know, the peak of processed food. So many of those meals involved ground beef combined with some box mix or canned soup.
I've taken to reinventing some of those childhood classics minus all the cans and boxes. I've made her ground beef and potatoes skillet meal without the cream of mushroom soup.
Now I've replaced the can of Manwich with these homemade sloppy joes that my kids just devour.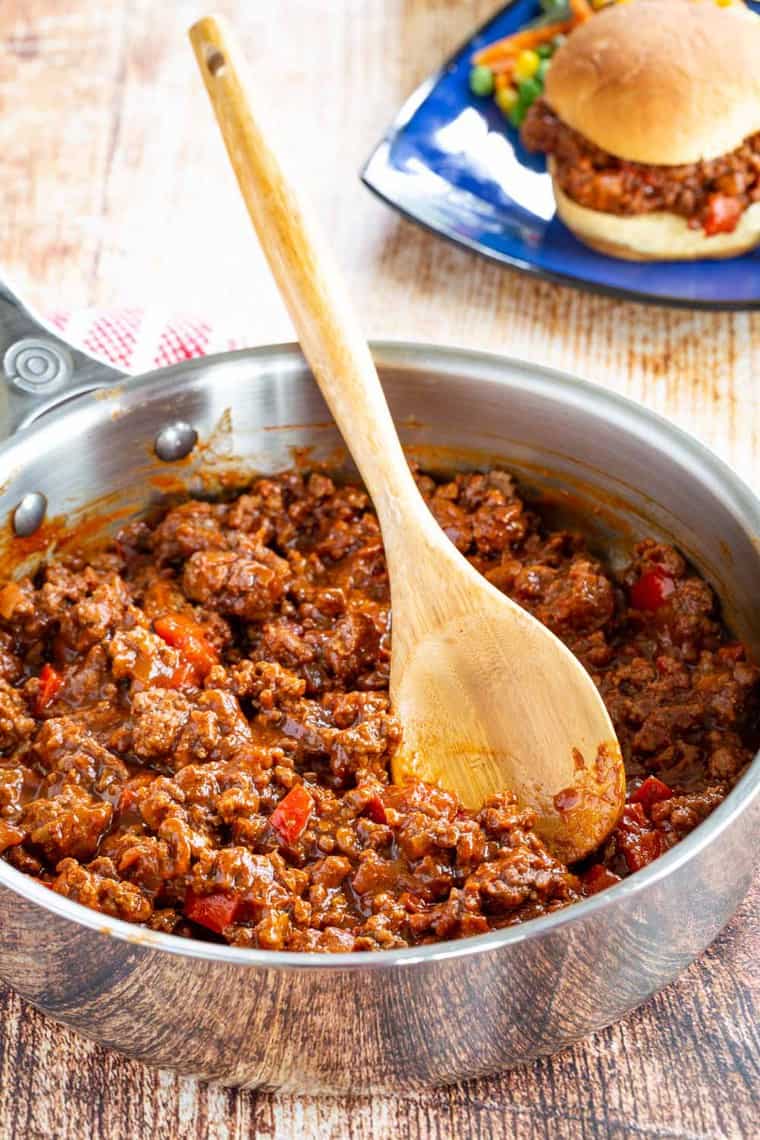 What is a Sloppy Joe
The Sloppy Joe is basically ground beef cooked in a tomato sauce and served on a bun. It has a bit of an unclear origin. Some say it started as "loose meat sandwiches" at a cafe in Iowa, while others attribute its beginnings to Sloppy Joe's Bar in Key West, Florida.
Over time, the sandwich became synonymous with the name Manwich, which the the most well-known brand of canned Sloppy Joe sauce that was launched in 1969. Manwich continued to increase in popularity through the 70's and 80's as many people began to make this quick and easy dinner using the canned sauce.
In recent years, there has been a rise in homemade Sloppy Joes recipes and reinventions, adding ingredients like red wine or wild boar, serving it on brioche rolls, or turning it into Sloppy Joe Burritos.
But let's start with the basics…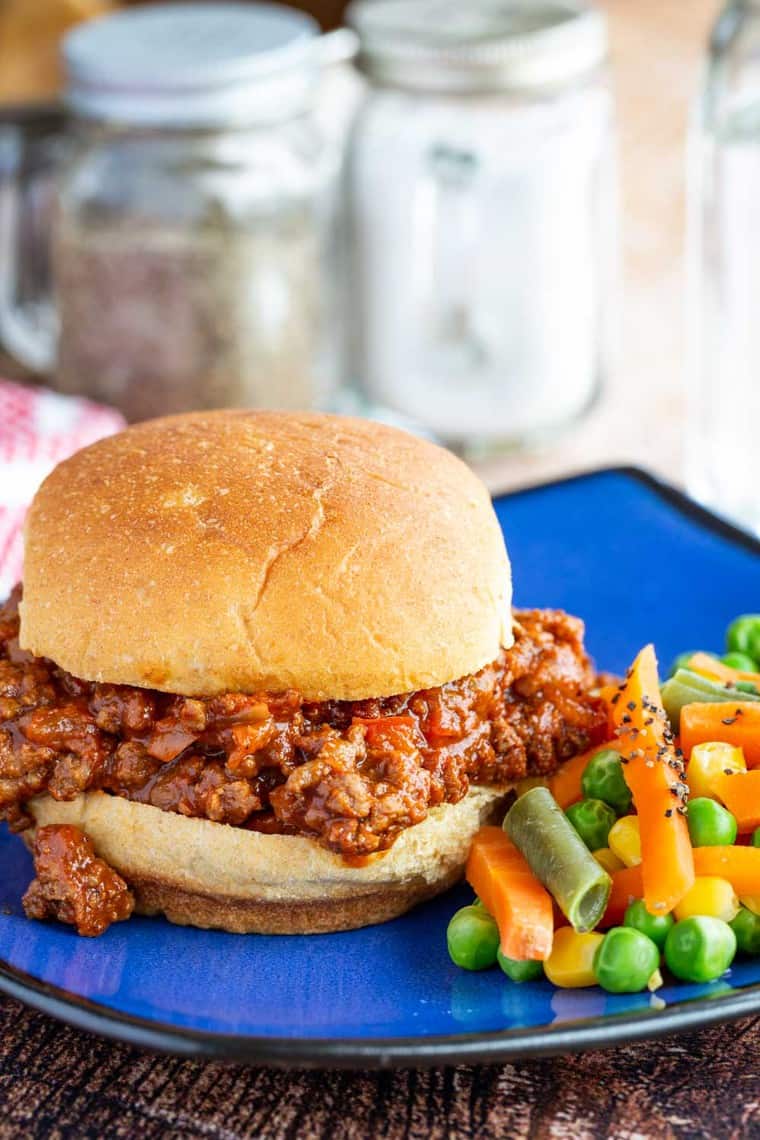 How to Make Sloppy Joes
Start with that frugal favorite, ground beef, and saute it with onion, pepper, and garlic. Ketchup, molasses, and a few seasonings and spices from your pantry give it that sweet and tangy flavor you love with just the slightest hint of spice. Pile it all on hamburger rolls and you have a kid-approved dinner that will have the entire family running to the table.
Here is a brief overview so you can see just how easy it is to make. Scroll down to the printable recipe card for the full quantities and details.
But don't skip my PRO TIPS below!
What You'll Need
Ground beef – use your preference, but I tend to buy 90% lean.
Onion – you'll only need half so save the rest for another recipe. I like to use sweet onions, but any red, white, or yellow onion will be fine.
Red bell pepper – you'll only need half so save the rest for another recipe or to snack on. Another color pepper can be used. I prefer red due to their natural sweetness, as green peppers can be bitter.
Garlic
Salt and pepper
Ketchup – use your favorite. You can even use a sugar free version if you want to cut down on the carbs, or try my homemade ketchup.
Molasses – this adds a bit of smoky sweetness, but you can leave it out if you need low carb. Brown sugar can be substituted in a pinch.
Mustard – spicy brown mustard gives it a nice little kick, but use whatever you have one hand of you only have Dijon, yellow, or another mustard.
Worcestershire sauce
Chili powder
Paprika – I use regular paprika, but smoked or hot can be used depending on the flavors you prefer.
Dry mustard powder
Water – this can be adjusted up or down depending on how thick you like your sloppy joe sauce.
Directions
Place skillet over medium heat and add ground beef, onion, pepper, garlic, salt, and pepper. Break up meat while it cooks, and cook until meat is browned and vegetables are tender. Drain excess grease.
Return skillet to the heat and add ketchup, molasses, mustard, Worcestershire sauce, chili powder, paprika, dry mustard, and water. Stir until combined.
Bring to a simmer and cook until heated through and thickened.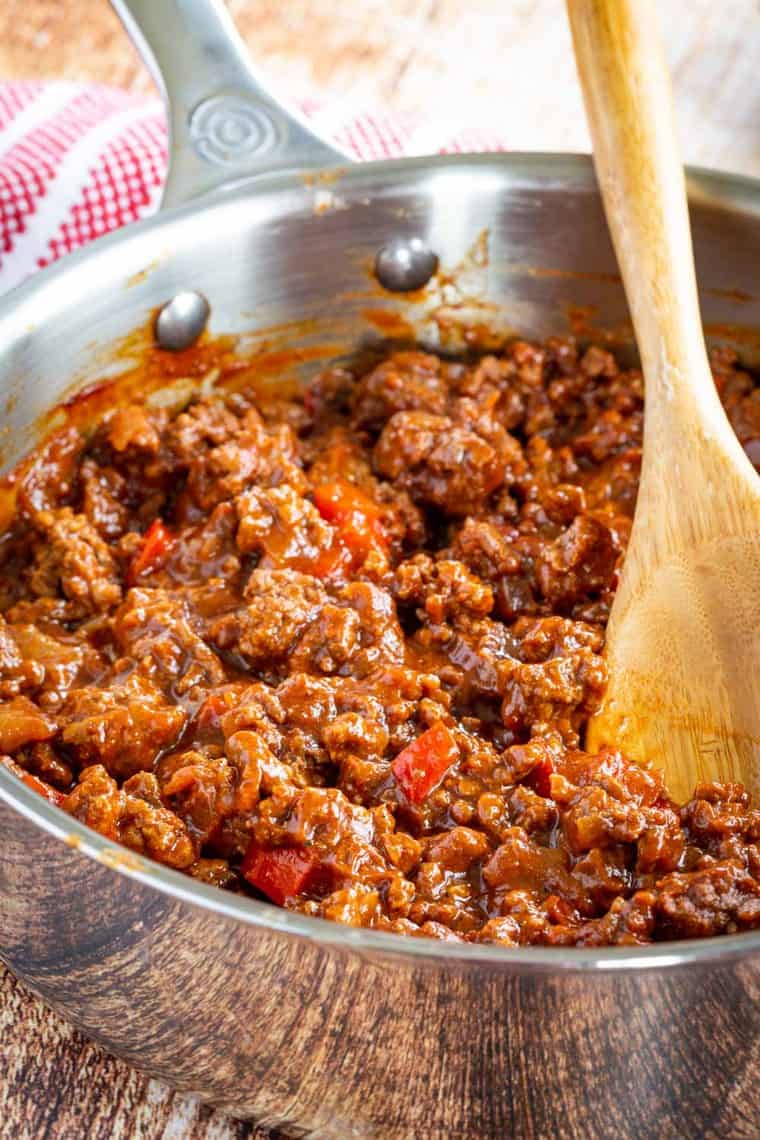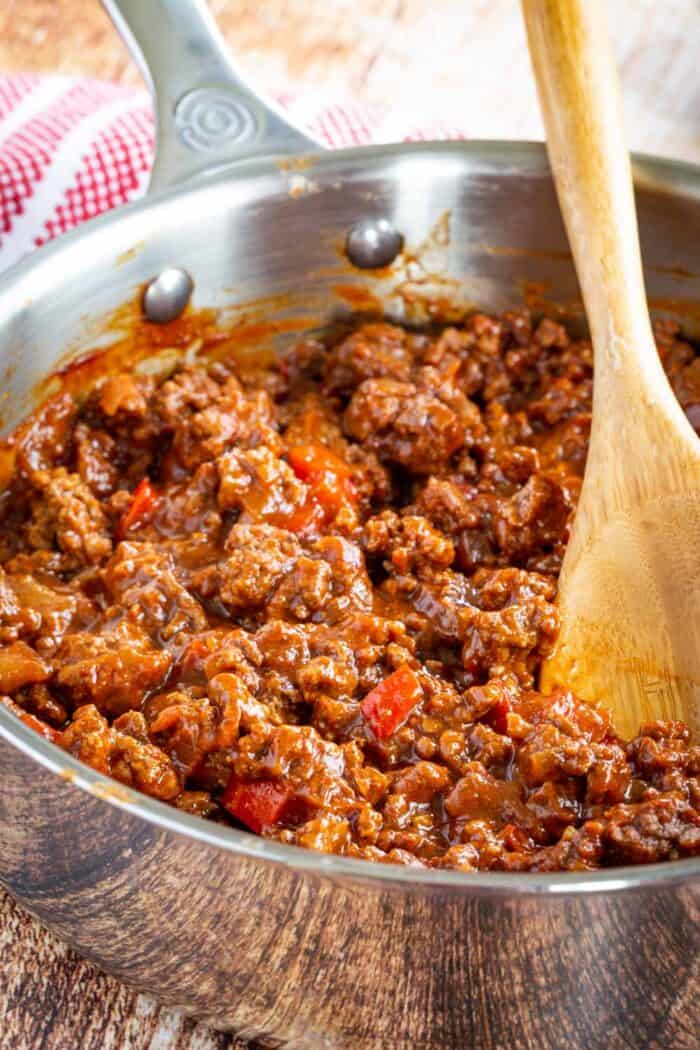 Make it a meal
Serving sloppy joes
The classic way to serve a sloppy joe is on a hamburger bun or another type of soft roll. However, sometimes you might want to change it up. Or maybe someone in your house is gluten free or low carb. Yes, gluten free buns are an option, or even keto-friendly cloud rolls.
But you can also get creative!
Side dishes
Many times I will save my sanity by just making some frozen veggies and maybe even a box of mac and cheese. But these are some easy sides that are kid favorites!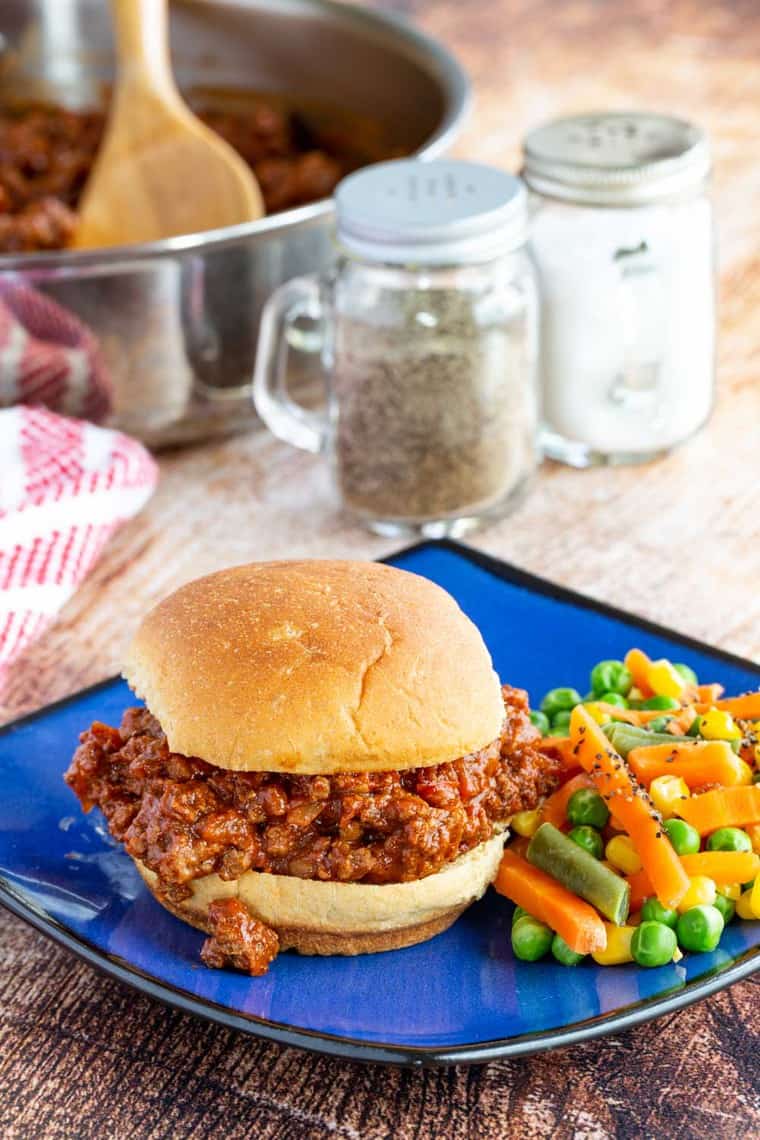 Recipe tips and FAQs
Are sloppy joes healthy?
It all depends how you make them. When you make homemade sloppy joes, you have control over the ingredients versus just using the canned sauce. That is loaded with sugar, sodium, and preservatives.
The biggest culprit in this recipe would be the ketchup, but you can choose organic ketchup, low or no sugar varieties, or even make your own. Besides the ketchup, there is a bit of molasses, but only a tablespoon in the entire recipe. It adds a hint of rich sweetness, but it can be omitted if needed.
You can also choose lean ground beef, or replace the beef with ground chicken or ground turkey, though it won't have the same depth of flavor.
And you can always serve it on a whole wheat bun or use one of the serving options mentioned above.
Are sloppy joes gluten free?
Gluten Free Disclaimer: I am not a medical professional. This information is solely based on my research and personal experience, and I provide it as a courtesy to my readers. Please consult your doctor or medical professional for any questions as it relates to your needs, particularly if you have celiac disease or a severe gluten allergy or intolerance. Products, manufacturing facilities, and ingredients change frequently, so you should always contact the manufacturer for the latest information.
All of the ingredients are naturally gluten free or have gluten free options available. Most brands of ketchup and mustard are gluten free. And since this uses individual spices, you will typically not have to be concerned about gluten-containing ingredients.
Please do read the labels on your Worcestershire sauce. At the time of writing this, Lea & Perrins Worcestershire Sauce is gluten free in the United States, but may not be in other countries.
Also make sure to use a gluten free bun or try one of the other ideas for serving the sloppy joe sauce and meat mixture.
Can sloppy joes be frozen?
Yes, this mixture freezes well in a plastic zipper top freezer storage bag or airtight container. It will be best if you eat it within two months.
Just remove it from the freezer the night before you plan to eat it and thaw in the refrigerator. Heat it in a pan on the stove, adding more water if needed to achieve the desired consistency.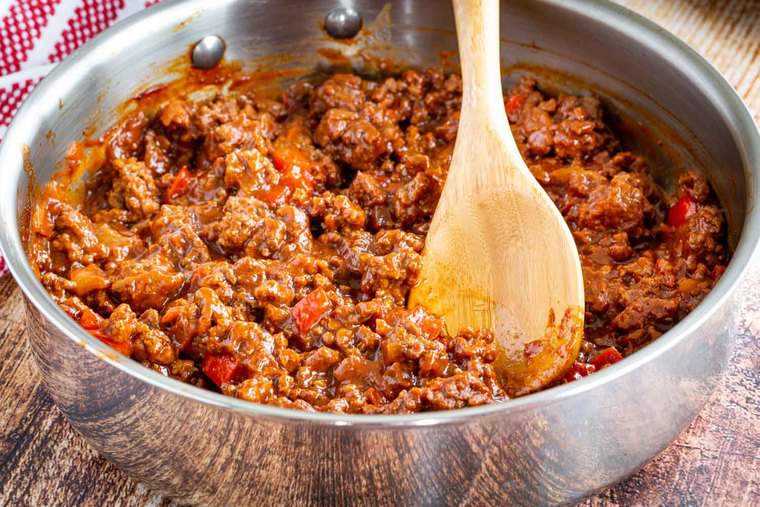 More dinner sandwiches
More ground beef recipes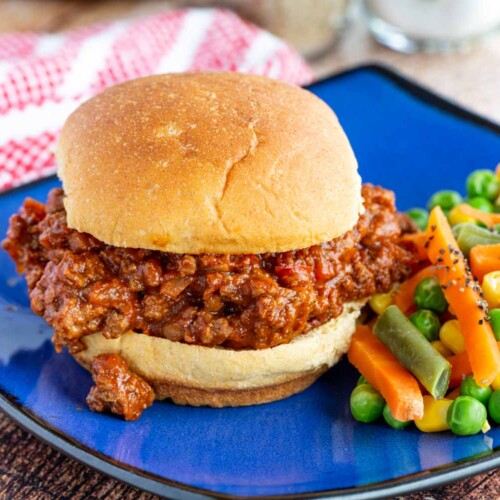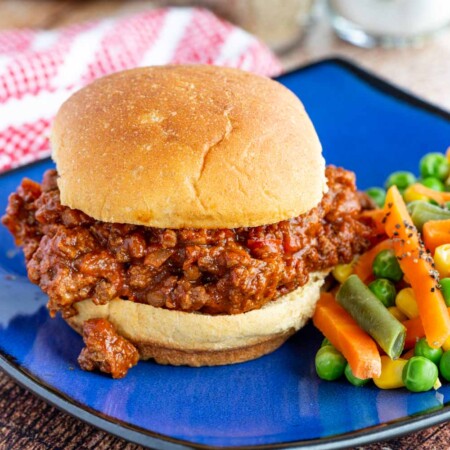 Easy Homemade Sloppy Joes
Homemade Sloppy Joes take just minutes to make and you'll have all the classic slightly sweet and tangy flavors and saucy deliciousness you love. A budget-friendly family favorite, this quick and easy recipe will be a regular on your dinner menu.
Ingredients
1-1 1/4

lbs

ground beef

half

of an

onion,

chopped

half

of a

red bell pepper,

chopped

1

clove

garlic,

minced

1/2

teaspoon

salt

1/4

teaspoon

black pepper

1

cup

ketchup

1

Tablespoon

molasses

1

Tablespoon

spicy brown mustard

1

Tablespoon

Worcestershire sauce

1

teaspoon

chili powder

1

teaspoon

paprika

1/2

teaspoon

dry mustard powder

1/2

cup

water

6

hamburger rolls

for serving (or see Note for other serving options)
Instructions
Place the skillet over medium heat and add ground beef, onion, red pepper, garlic, salt, and pepper.

Cook until the meat is browned and the vegetables are tender, breaking up the meat as it cooks.

Drain any excess grease and return to the heat.

Add the ketchup, molasses, mustard, Worcestershire sauce, chili powder, paprika, dry mustard powder, and water and stir until combined and evenly mixed.

Bring to a simmer and cook for another 5-10 minutes or until heated through and thickened to your desired consistency.

Serve on rolls or as desired.
Notes
The meat and sauce mixture can also be served in baked potatoes or sweet potatoes, over rice or cauliflower rice, on top of mashed potatoes or mashed cauliflower, in lettuce wraps, and more. Get creative!
Nutrition Facts
Easy Homemade Sloppy Joes
Amount Per Serving (1 sandwich)
Calories 355
Calories from Fat 99
% Daily Value*
Fat 11g17%
Cholesterol 61mg20%
Sodium 899mg37%
Potassium 604mg17%
Carbohydrates 37g12%
Protein 24g48%
Vitamin A 779IU16%
Vitamin C 16mg19%
Calcium 104mg10%
Iron 4mg22%
* Percent Daily Values are based on a 2000 calorie diet.