42+ of the Best Quick and Easy Dinner Ideas
Disclosure: This post may contain affiliate links. Cupcakes & Kale Chips is a participant in the Amazon Services LLC Associates Program, an affiliate advertising program designed to provide a means for us to earn fees by linking to Amazon.com and affiliated sites.
Easy dinner ideas are what you need when you have to get food on the table fast. The quick dinner recipes in this collection include one-pot meals, sheet pan dinners, casseroles, slow cooker recipes and more. There are over 40 simple meals right here, many with gluten free options too!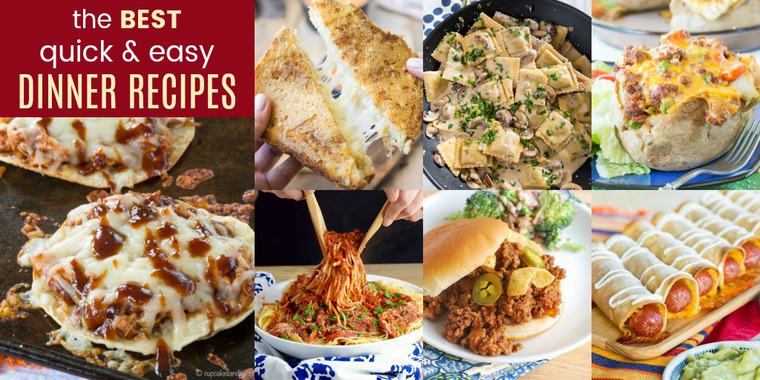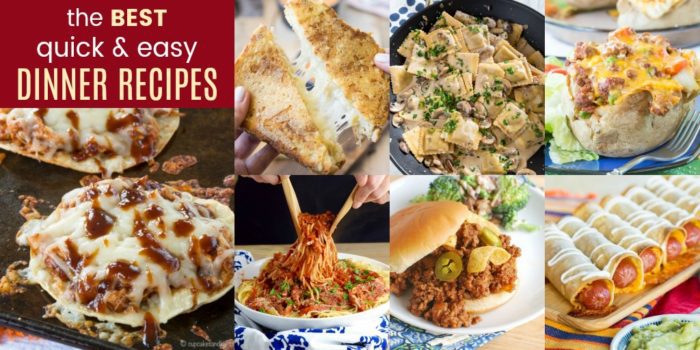 Best Quick Easy Dinner Recipes
Maybe it's the busy holiday season or summer when you want to just be outside having fun. Or it's back-to-school time when the school bus is late, one kid has football practice, the other has baseball, dance class is later, let's not forget about scouts and piano, and then there's that PTA meeting.
But you still have to eat!
Don't let weeknight dinners get you down! You don't have to always rely on fast food and microwave meals.
Whether you've pulled a package of ground beef out of the freezer, want to make a simple chicken dinner, or literally need to make a no-cook meal because you really don't have time, you'll find some amazing recipes to make sure you get dinner on the table fast.
The Best Quick and Easy Dinner Recipes
Easy Dinner Ideas with Chicken
Barbecue Chicken Tostadas are easy, cheesy, and covered in your favorite sauce. (GF)
Buffalo Chicken Sloppy Joes combines the spicy favorite and a classic kid-favorite dinner. (GF when using a gluten free bun or on lettuce wraps)
Chicken Enchilada Skillet is a cheesy keto dish that the kids can have in a tortilla or with rice if they aren't eating low carb. (GF)
Balsamic Crockpot Chicken is so versatile because you can serve it over pasta, rice, or even zoodles. (GF)
Instant Pot Pineapple Chicken lets the pressure cooker do all the work for this sweet and savory teriyaki dish. (GF when made with tamari or gluten free soy sauce or coconut aminos)
Greek Chicken Stuffed Zucchini Boats can even be made with leftover or rotisserie chicken. (GF)
Slow Cooker Chicken Enchilada Soup is Southwest comfort food cooked in your slow cooker for an easy dinner recipe on a busy day. (GF)
Baked Chicken Street Tacos are tossed in the oven for a quick meal. (GF if you use corn tortillas)
30 Minute 2 Ingredient BBQ Wings proves that even wings can be one of your favorite easy dinner ideas. (GF)
Baked Orzo with Chicken is a cozy casserole baked with orzo pasta, veggies, and chunks of chicken breasts for a deliciously simple weeknight chicken dinner.
Simple Beef and Steak Recipes
Shepherd's Pie made easy can totally be a weeknight meal. (GF)
Chili Lime Steak Bites are a fiesta for your mouth. (GF)
Cube Steak with Worcestershire Sauce takes minutes and a cast iron pan. (GF)
Ground Beef Quinoa Skillet with everything you love about bacon cheeseburgers is sure to be a hit. (GF)
Shepherds Pie Loaded Baked Potato with everything you love about Shepherd's Pie is genius. (GF)
Beef Stir Fry is always one of the best Asian-inspired easy dinner ideas. (GF when made with tamari or gluten free soy sauce or coconut aminos)
Greek Beef Kabobs are a simple way to bring on Mediterranean flavors. (GF)
Skillet Enchilada Bake turns your favorite Mexican food into a 30-minute meal.
Smoky Tex Mex Sloppy Joes gives one of everyone's favorite weeknight dinners gets a smoky, spicy twist. (GF when using a gluten free bun or on lettuce wraps)
Easy Beef Sliders are mini burgers that only need a little time and effort. (GF when using a gluten free bun or on lettuce wraps)
Quick Pasta Dishes
Chili Mac, aka Beefaroni, is perfect for weeknights because it only has a few ingredients and kids gobble it up. (GF when using gluten free pasta)
Vodka Sauce is ready in less time than it takes to boil pasta. (GF when using gluten free pasta)
Chicken Mozzarella Pasta is a simple dish with pasta, chicken, sundried tomatoes, and a creamy mozzarella sauce. (GF when using gluten free pasta)
Beef Stroganoff Ravioli Skillet gives the classic comfort food a new twist using beef ravioli.
One-Pot Southwest Macaroni is an easy dinner idea combining favorites of pasta and sloppy joes in one dish. (GF when using gluten free pasta)
One Pot Spaghetti and Meat Sauce is perfect because everyone loves spaghetti, especially when you can make it in one pot.
One Pot Spinach Artichoke Pasta tastes like your favorite dip.
French Spaghetti is a pasta and chicken dinner that can be made with a rotisserie chicken from the grocery store, making it perfect for busy nights. (GF when using gluten free pasta)
Slow Cooker Meaty Marinara made with turkey sausage and ground turkey means all you have to do is boil the pasta after a busy day. (GF when using gluten free pasta)
One Pot Cheesy Pizza Pasta Bake is a pasta dinner with your favorite pizza toppings that is sure to make the kids happy too.
Fast Seafood Recipes
Pesto Salmon cooked on a sheet pan with potatoes and green beans make for quick prep and cleanup. (GF)
Shrimp Quinoa Bowl gets kids eating this healthy meal because of the barbecue sauce and cheese. (GF)
Fish Sticks Tacos are so simple with an extra zing of chili and lime.
Shrimp and Mashed Potatoes in a hearty homestyle bowl are so comforting. (GF)
Kid-Friendly Easy Dinner Ideas
Hot Dogs in Tortillas turn basic dogs into cheesy baked taquitos. (GF)
Broccoli and Cauliflower Soup makes that old favorite cheesy soup healthier but just as creamy. (GF)
Pepperoni Bubble Up Pizza lets you have pizza any night of the week.
Pizza Muffins rolls up your pizza into a handheld food kids love.
Bubble Up Carbonara has only 10 minutes of prep time and is totally hearty and comforting.
Triple Grilled Cheese proved extra cheese makes an easy dinner extra good. (GF when using gluten free bread)
Breakfast Egg Muffins can be prepped ahead for a delicious breakfast for dinner. (GF)
Slow Cooker Pineapple Brown Sugar Pulled Pork has savory shredded pork smothered in a sweet barbecue sauce. (GF)
What should I make for dinner tonight?
Those quick dinners are just a start. There are so many types of easy dinner ideas you can add to your meal plan when you are thinking about what to cook for the week.

And if you need more quick and easy dinner ideas, here are 20 of The Best Chicken Recipes for Busy Weeknights.
Originally published Sep 21, 2017