This post may contain affiliate links. Read my disclosure policy.
Easy dinner recipes are what you need when you have to get food on the table fast. The quick dinner ideas in this collection include one-pot meals, sheet pan dinners, casseroles, slow cooker recipes, and more kid-friendly family favorites. There are over 50 simple meals right here, many with gluten free options too!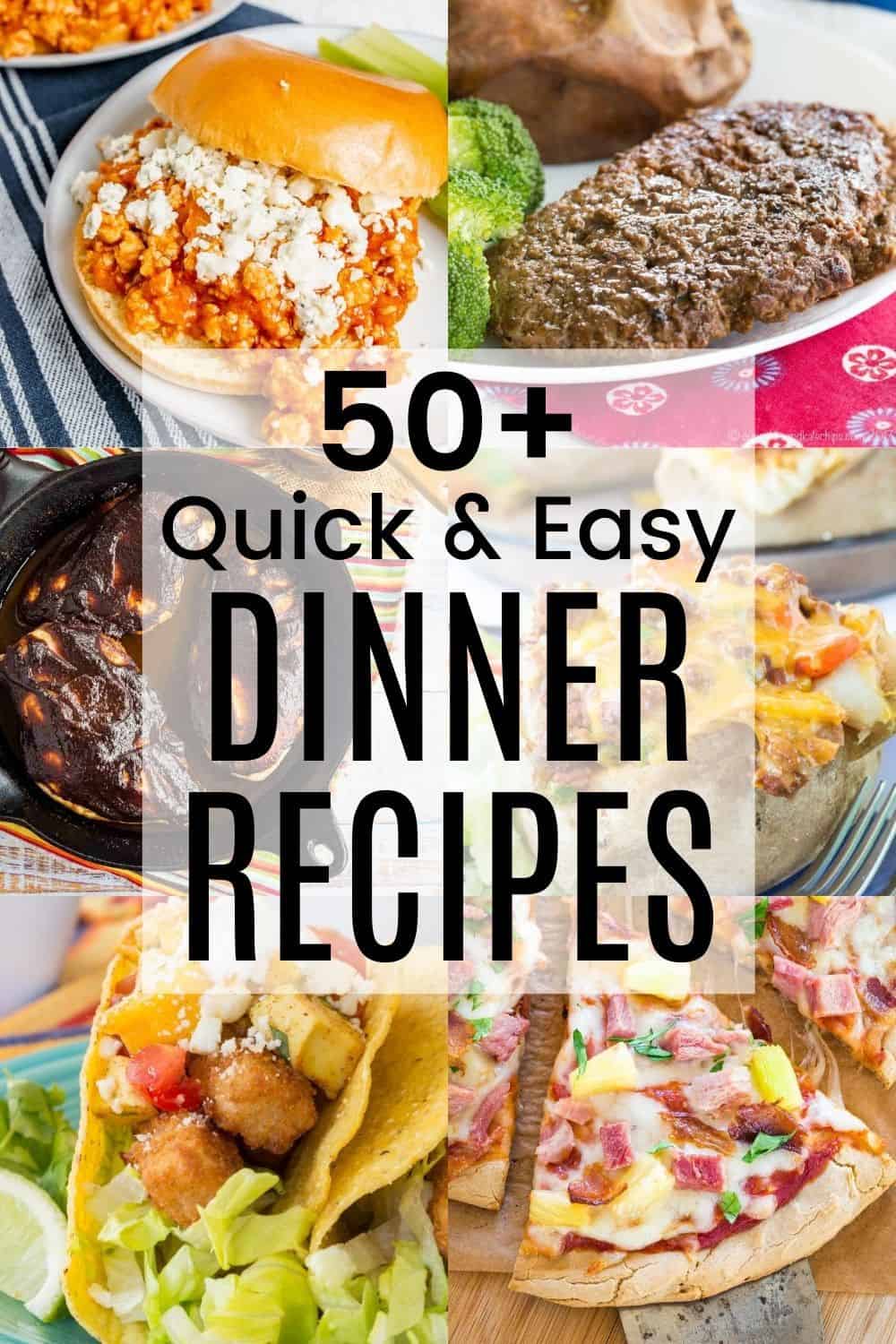 What should I make for dinner tonight?
Everybody is busy these days, but you still have to eat. Don't let weeknight dinners get you down!
Whether you've pulled a package of ground beef out of the freezer, want to make a simple chicken dinner, or literally need to make a no-cook meal because you really don't have time, there are so many amazing recipes to make sure you get dinner on the table fast.
Here are some of our favorite fast dinner ideas. These methods and techniques help you make dinner in a snap!
Then keep reading to find over 50 recipes that fit into these categories and more.
5 SECRETS TO FAST & FLEXIBLE MEALS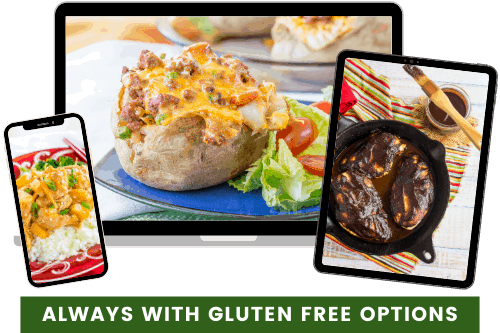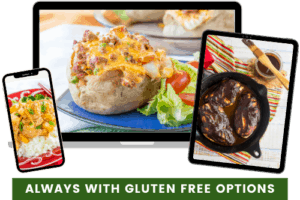 Click to learn my BEST recipes and strategies for quick and delicious family dinners without the stress (and always with gluten free options)! Make meals everyone CAN eat and will LOVE to eat!
The Best Quick and Easy Dinner Recipes
CLICK ON THE TITLES TO GET THE RECIPES
Key to finding gluten free recipes:
GF – gluten free recipe
GFO – recipe with gluten free option
Easy Dinner Ideas with Chicken
Easy, cheesy, and covered in your favorite sauce, this is a family favorite you can whip up in minutes using leftover chicken or a rotisserie chicken from the grocery store.
Combine your favorite spicy wing flavor and a classic kid-favorite dinner into one mouthwatering sandwich made with lean ground chicken for a healthy meal. An easy and versatile family favorite weeknight dinner with a hot sauce kick.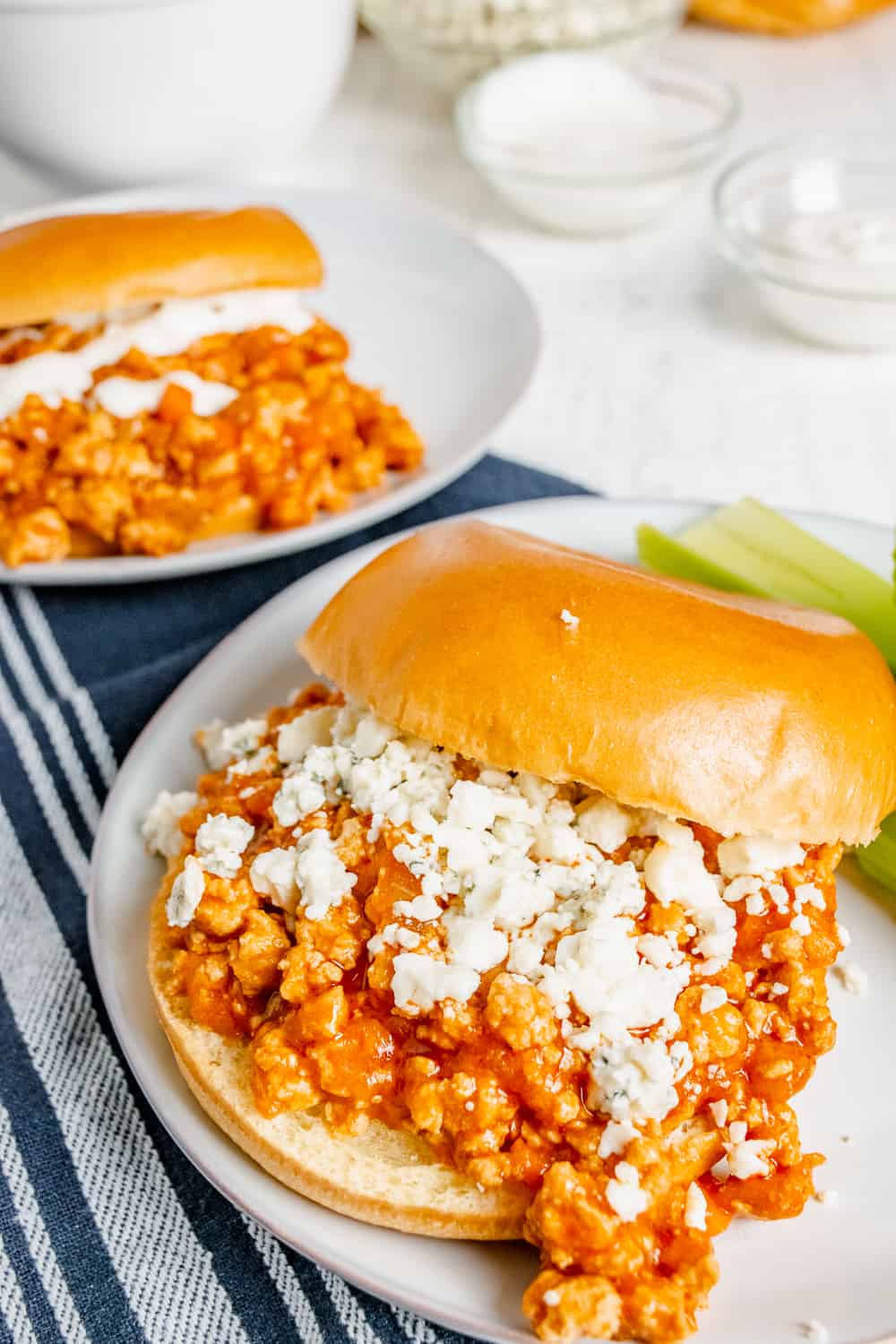 It's the best part of the enchiladas. This is a cheesy keto dish that the kids can have in a tortilla or with rice if they aren't eating low carb.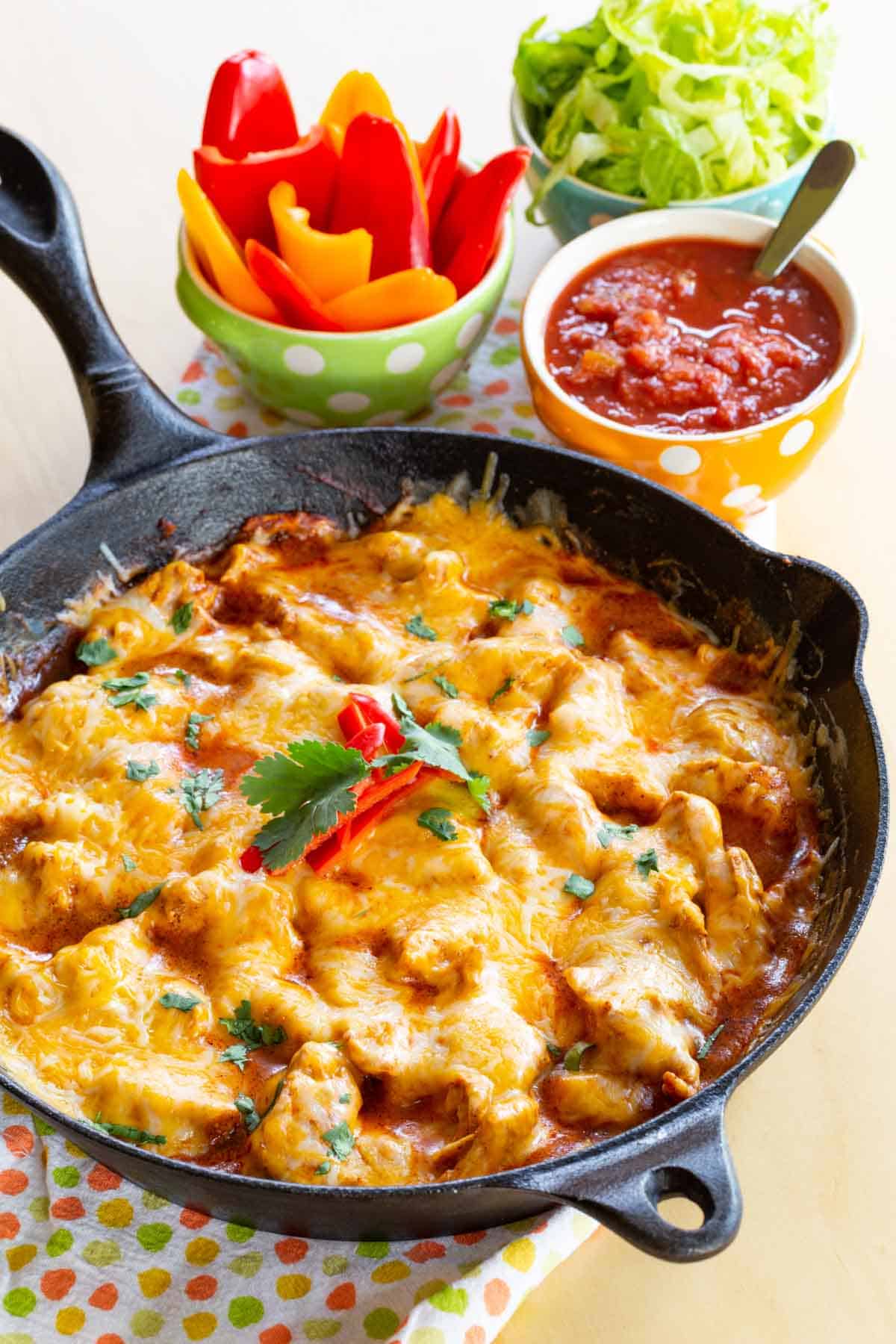 Seasoned, tossed in the oven, then slathered with a savory homemade barbecue sauce that is so simple to make while the chicken bakes. This easy technique ensures you end up with flavorful, juicy chicken.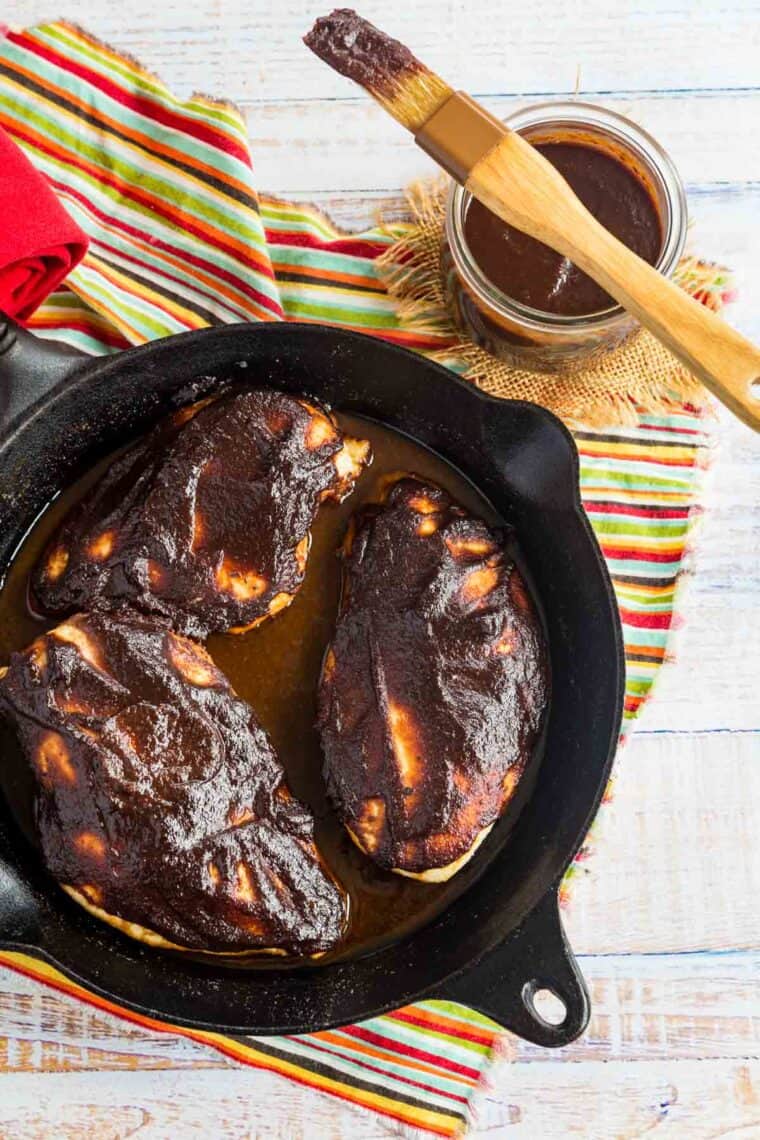 Easy, fresh, and flavorful with only five main ingredients, and super versatile. You can make it a hearty comfort food meal by serving it over pasta. Or keep it light, gluten free, and low carb with cauliflower rice.
Instant Pot Pineapple Chicken GFO, use tamari or gluten free soy sauce or coconut aminos
Let the pressure cooker do all the work for this sweet and savory teriyaki dish. So many versatile serving options, and it's even great for meal prep.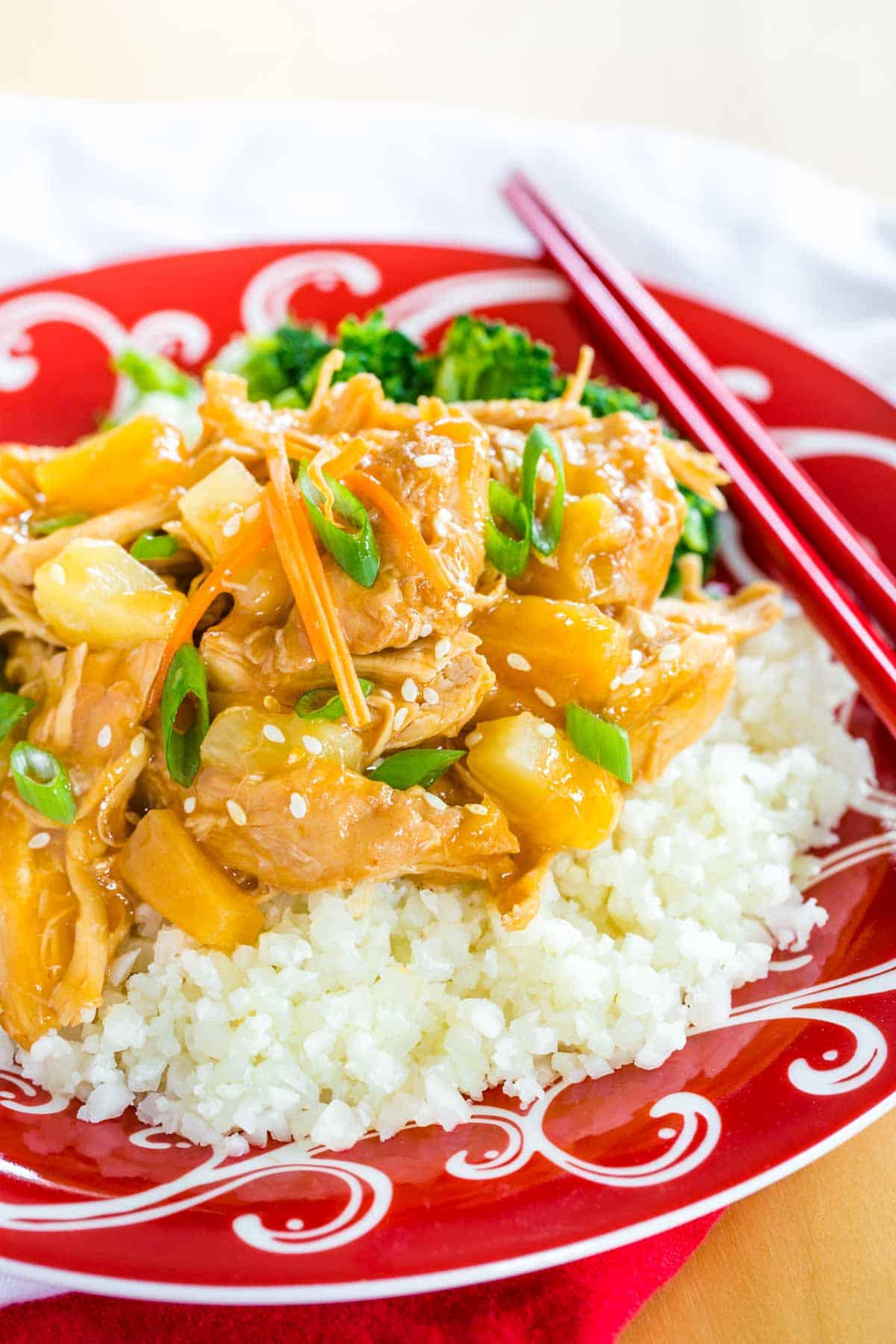 Add a little Mediterranean flair with tomatoes, olives, feta, and oregano in this wholesome meal packed with fresh ingredients and bold flavors. Enjoy this as a low carb dinner recipe or pair it with rice or pasta.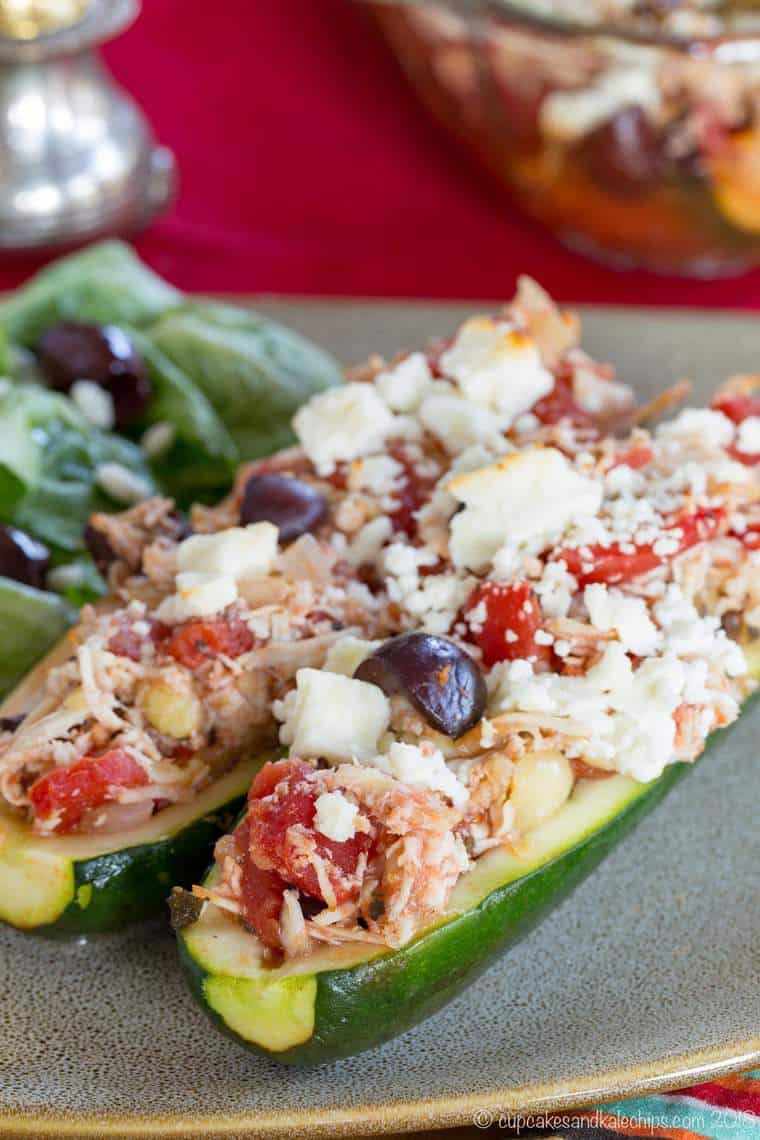 More recipes for chicken:
Simple Beef and Steak Recipes
A few shortcuts and streamlined preparation make this comfort food casserole a weeknight meal. The entire family will love the savory meat and veggie mixture and cheesy mashed potatoes topping. Cutting carbs? Try Keto Shepherd's Pie.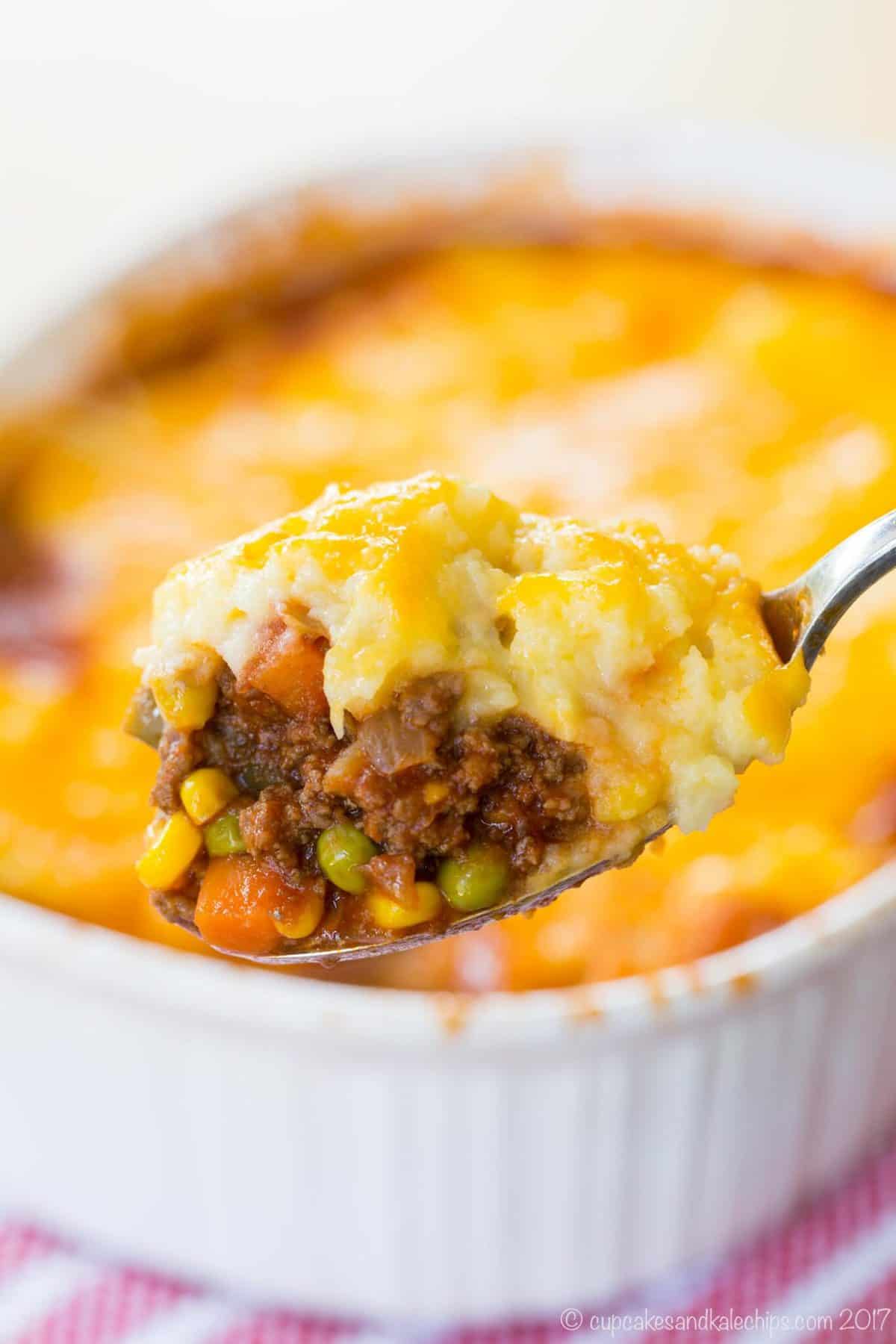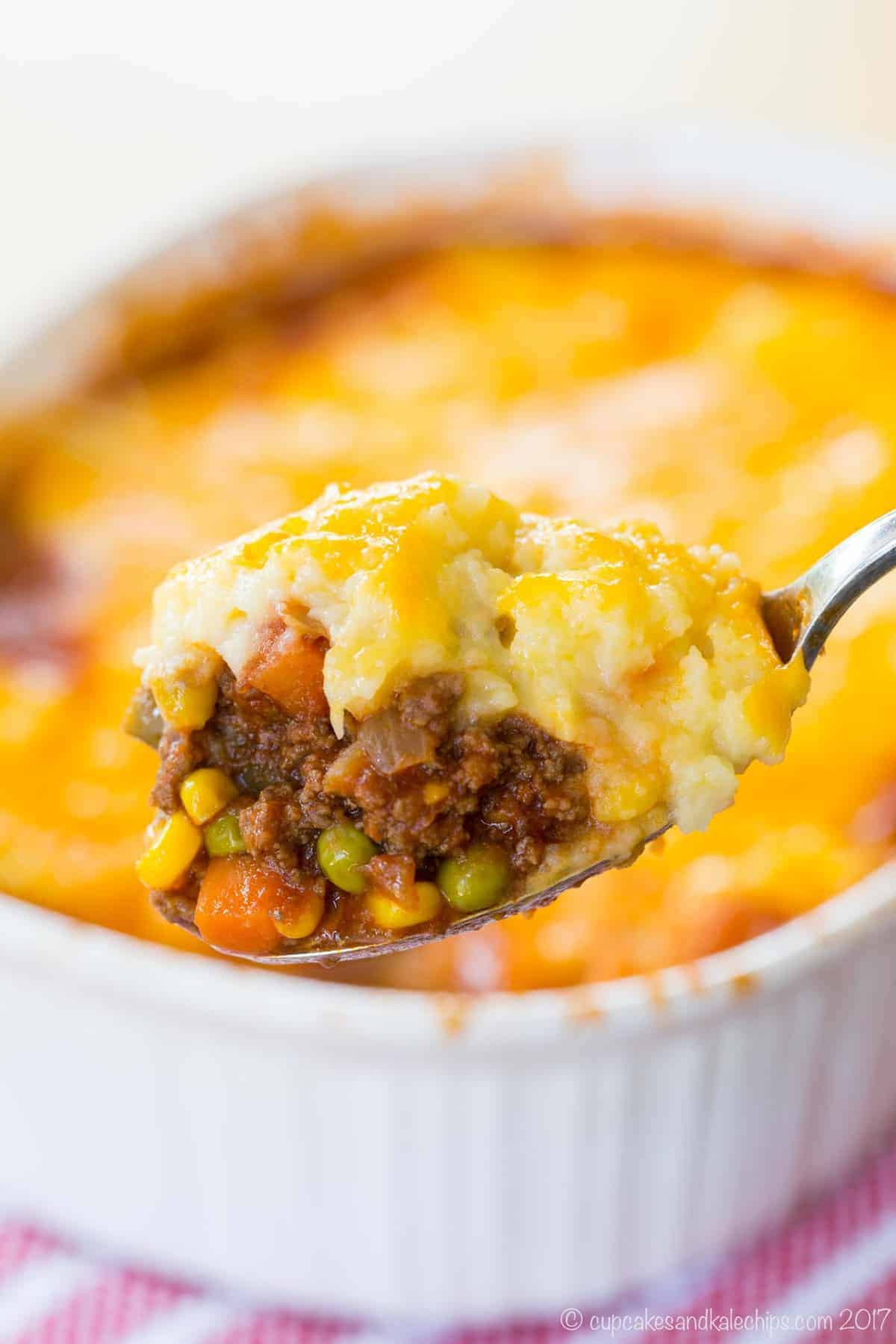 Pack plenty of spicy and zesty flavor into tender pieces of sirloin steak. With only a handful of ingredients and in less than fifteen minutes you'll have a fiesta for your mouth.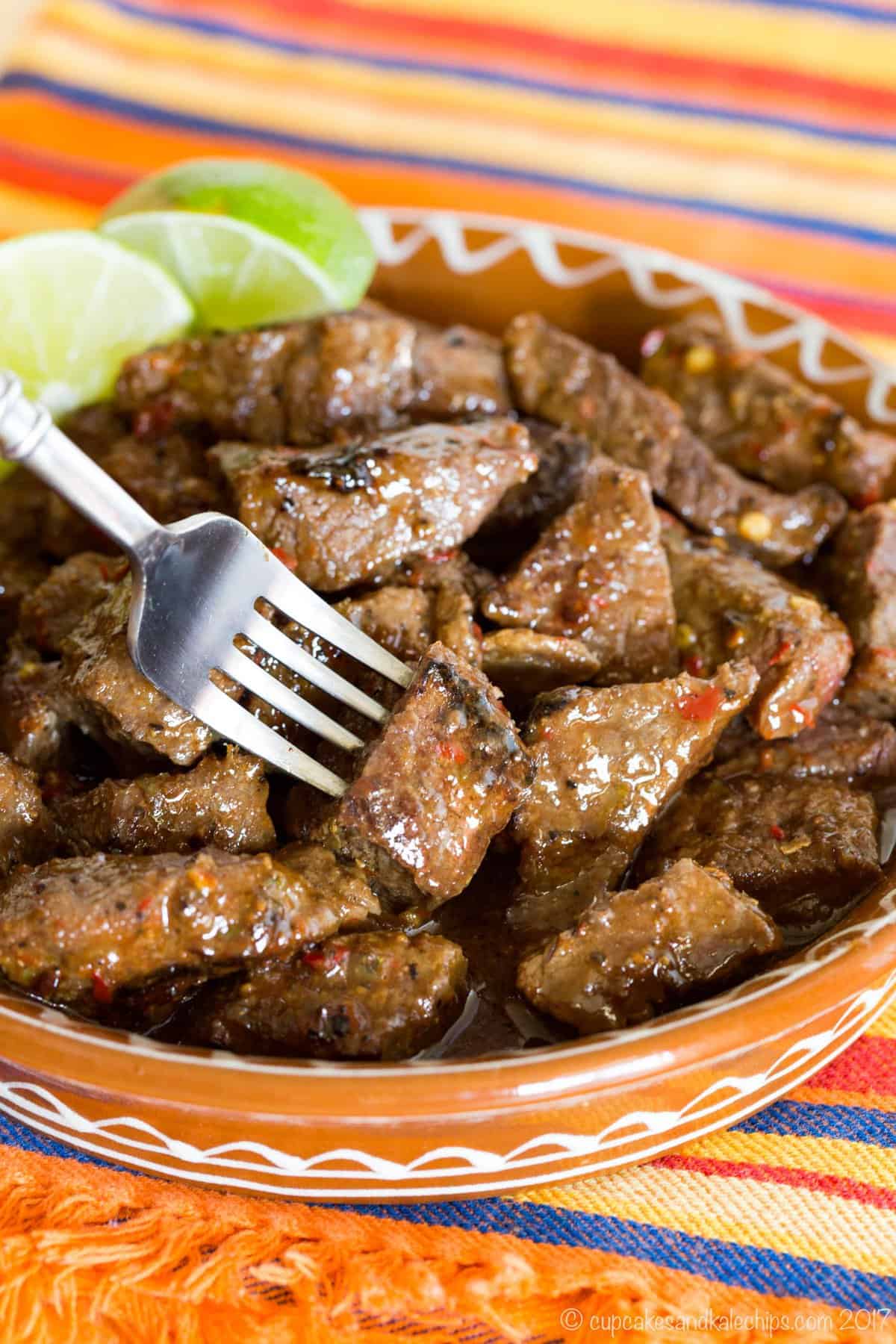 Instant Pot Tacos GFO with corn or gluten free tortillas
Simple and healthy, you don't need any seasoning packets, and the pressure cookie does most of the work. Just grab some spices from the pantry and you'll have a big batch to to double duty for salads, burrito bowls, or nachos later in the week.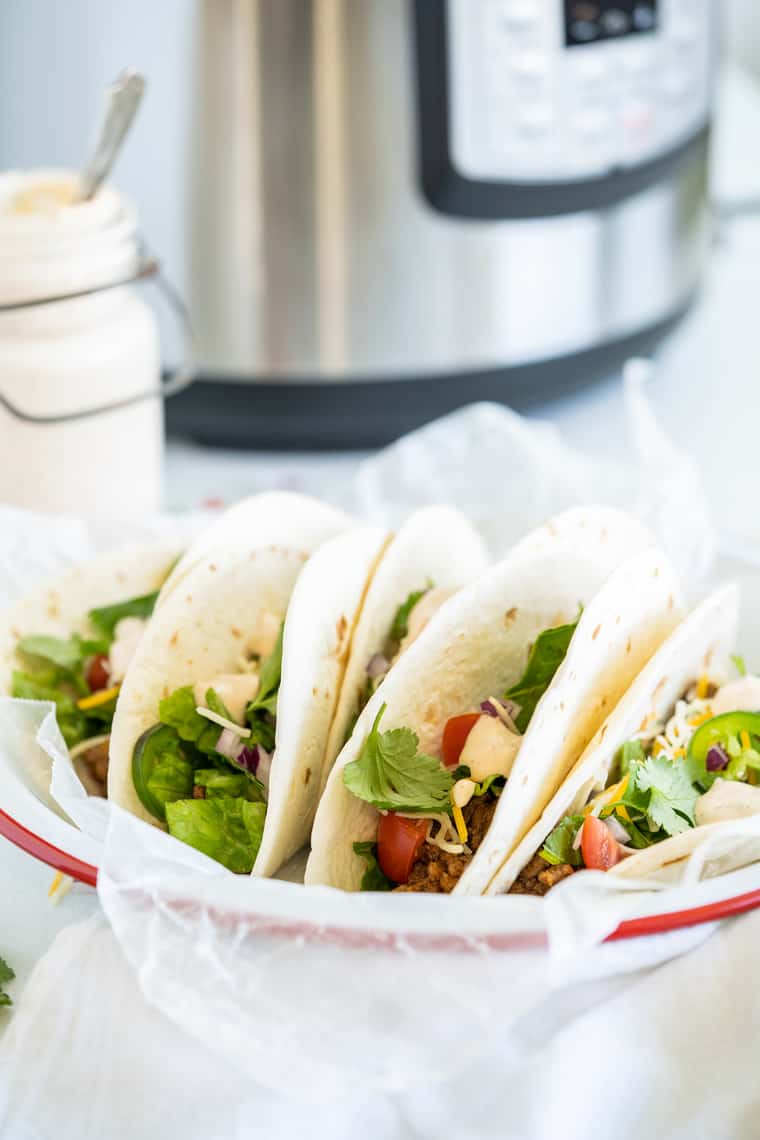 So simple, this recipe, if you can even call it that, only takes minutes and a cast iron pan. Just grab some salt, pepper, and a splash of Worcestershire sauce.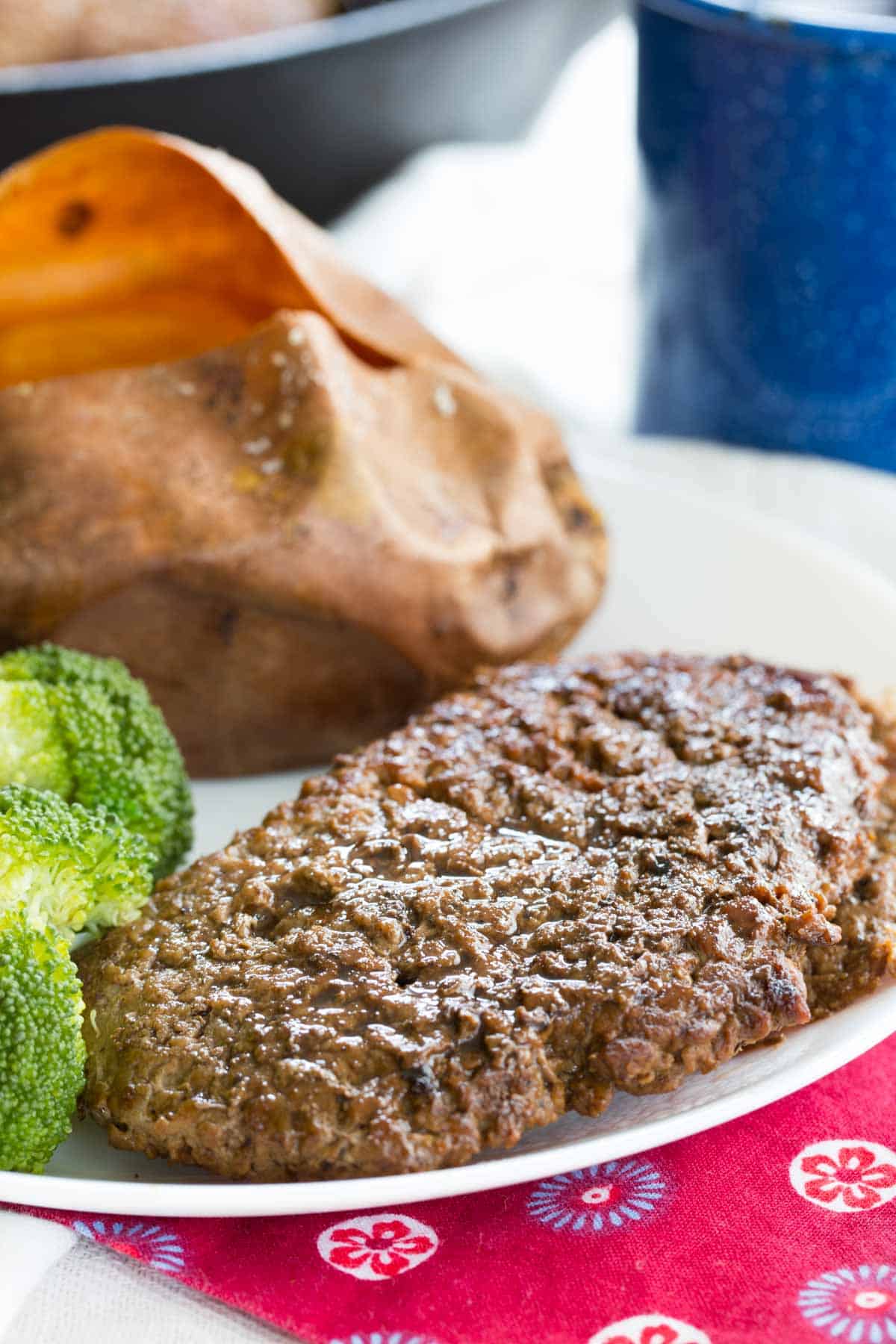 Everything you love about Shepherd's Pie, but without the work of peeling or mashing potatoes. You can make everything else while your baked potatoes cook in the oven, microwave, slow cooker, Instant Pot, or air fryer.
Beef Stir Fry GFO, use tamari or gluten free soy sauce or coconut aminos
This is always one of the best Asian-inspired easy dinner ideas. It's so simple but full of tone of bright, crisp-tender veggies.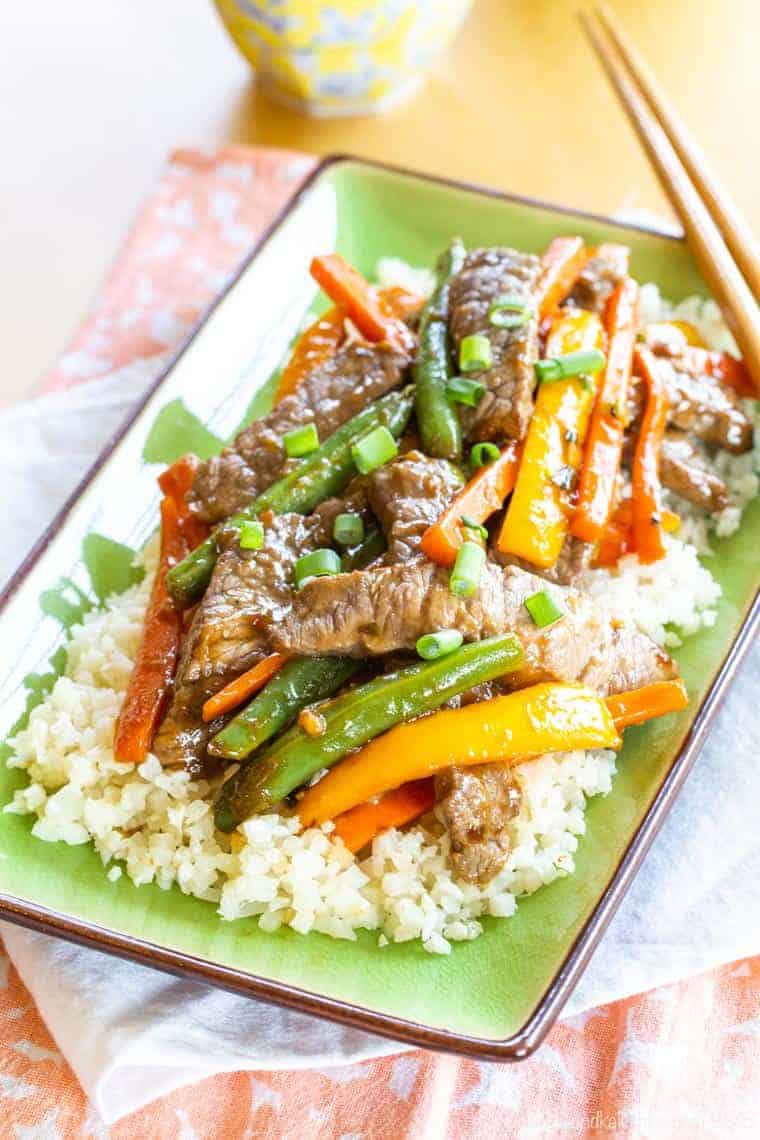 Fire up the grill (or grill pan) for a simple way to bring on Mediterranean flavors. With this basic recipe, you can customize your meal to be gluten free, low carb, or paleo based on your choice of side dishes.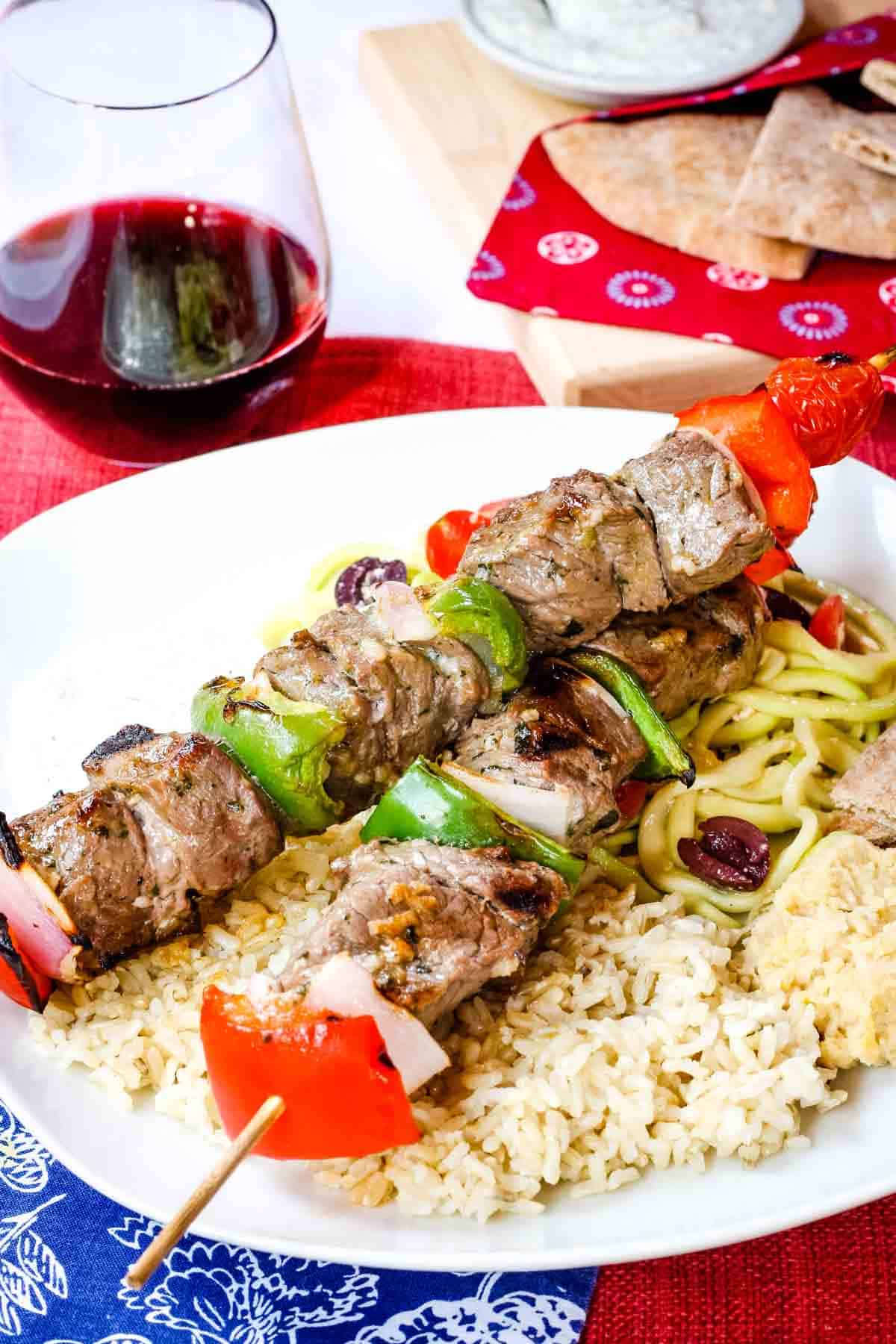 More recipes for beef and steak:
Skillet Enchilada Bake from A Dash of Sanity | Turns your favorite Mexican food into a 30-minute meal.
Smoky Tex Mex Sloppy Joes from Fake Ginger (GFO, use gluten free buns or on lettuce wraps) | Gives one of everyone's favorite weeknight dinners gets a smoky, spicy twist.
Easy Beef Sliders from Love Bakes Good Cakes (GFO, use gluten free buns or on lettuce wraps) | Mini burgers that only need a little time and effort.
Quick Pasta Dishes
Beefaroni GF, use gluten free pasta
Also known as chili mac or a million other names, this dish is perfect for weeknights because it only has a few ingredients, and kids gobble it up.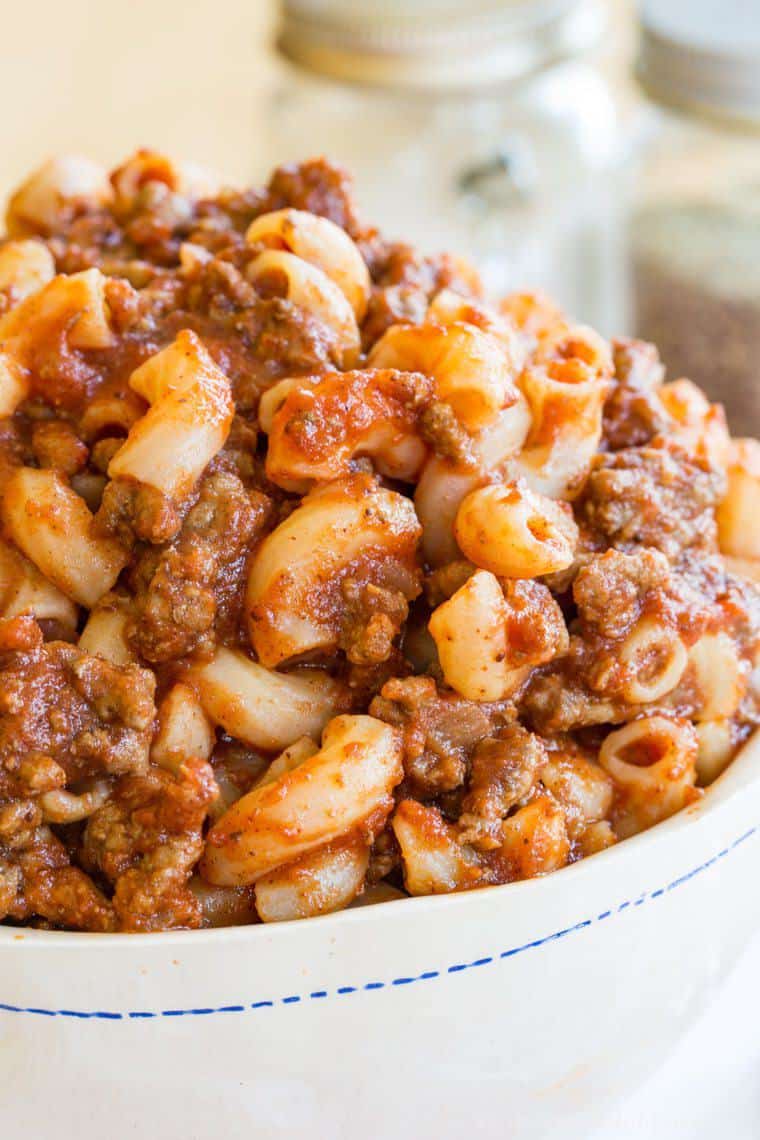 Vodka Sauce GF, use gluten free pasta
Only slightly more work than opening a jar of sauce, but with a flavor that blows basic marinara away. Ready in less time than it takes to boil pasta.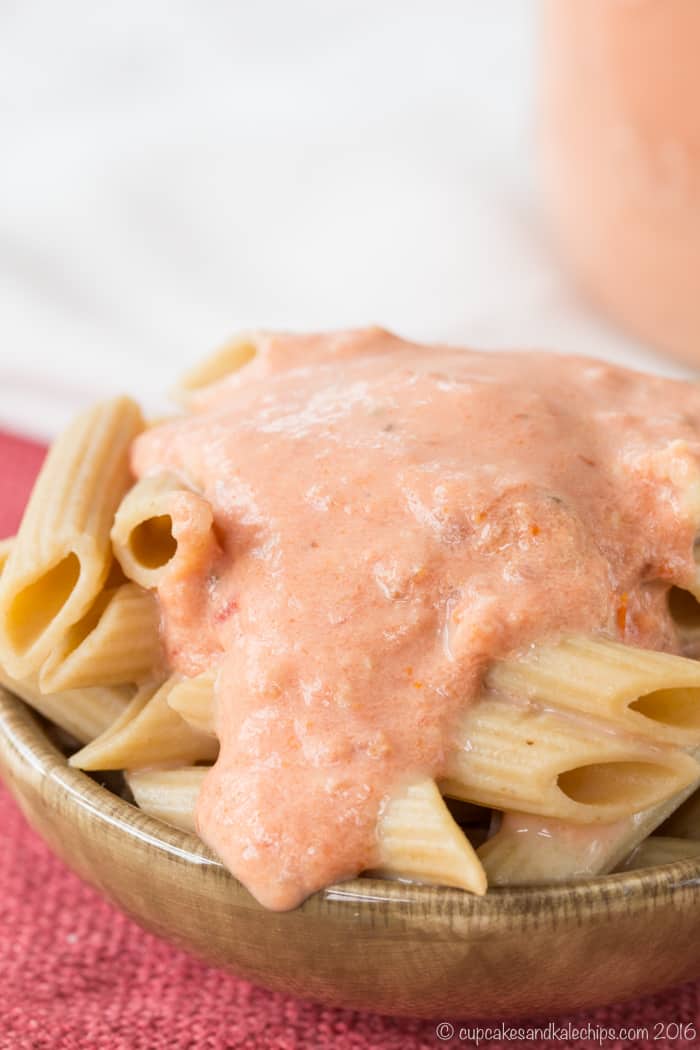 A satisfying one-pot meal made right on the stove. Your basic macaroni and cheese gets a comfort food upgrade because it's loaded with chicken, bacon, and, of course, plenty of cheese.
More recipes for pasta:
Fast Seafood Recipes
Kids enjoy eating this healthy meal because of the barbecue sauce and cheese. The shrimp takes just minutes and is done while the quinoa cooks.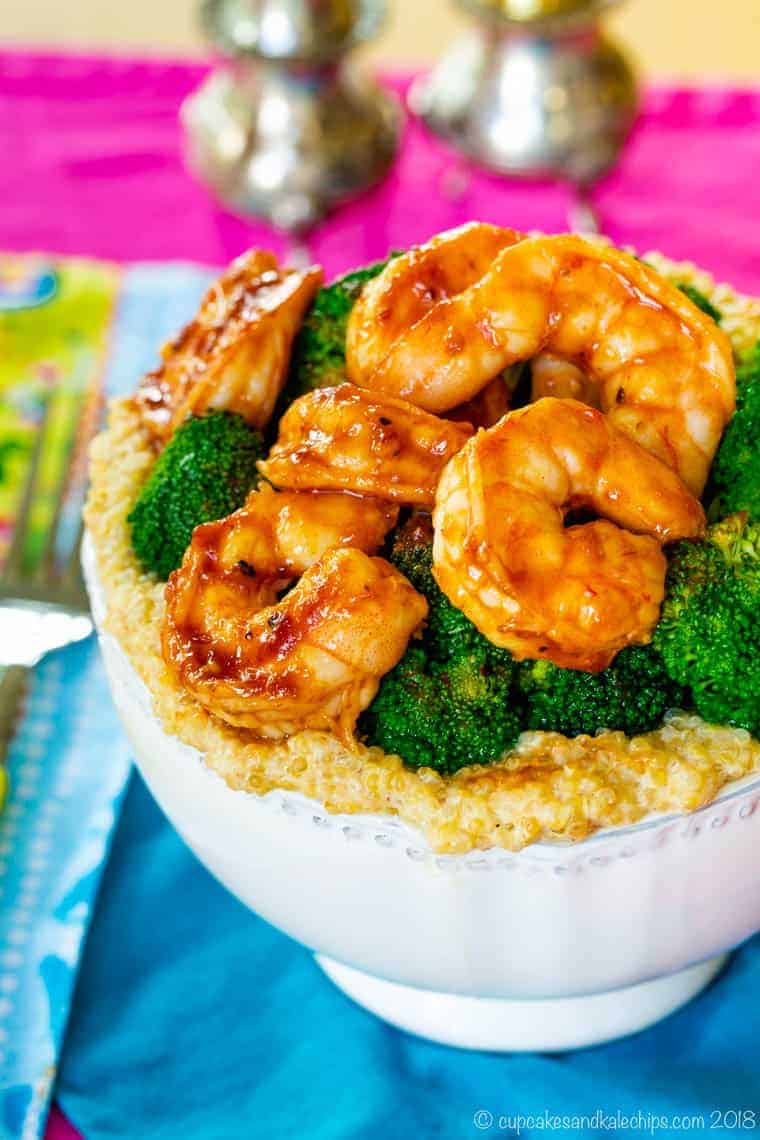 A sweet and savory Asian-inspired marinade is a fish recipe that even the non-seafood eaters will love. Drizzle your perfectly broiled salmon with the flavorful sauce and serve it with broccoli and rice or cauliflower rice to make it a full meal.
Give your basic fish sticks an extra zing of chili and lime. Then pile them in taco shells with your favorite toppings. They are especially tasty with Mango Avocado Salsa.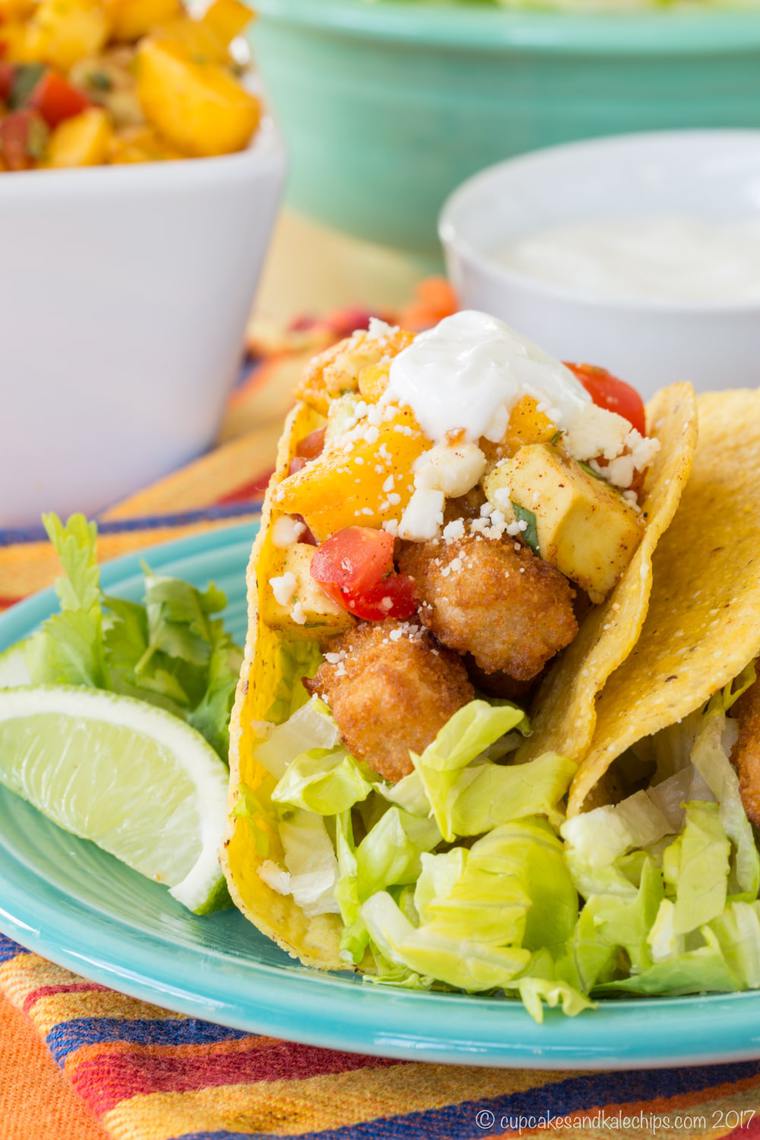 This hearty homestyle bowl is so comforting. You'll love those kicked up shrimp and rustic mashed potatoes.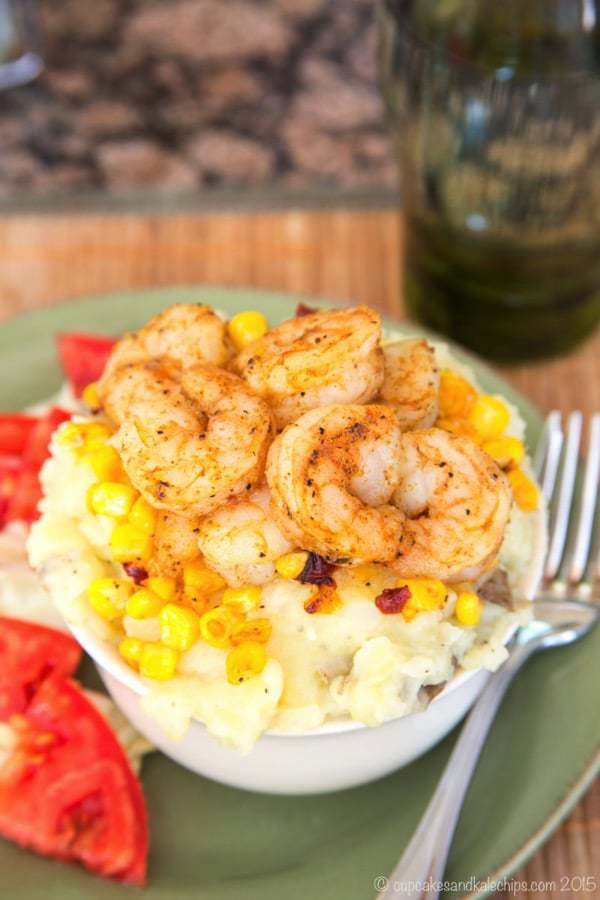 The fish is cooked on a sheet pan with potatoes and green beans make for quick prep and cleanup. Using a jar of pesto saves prep time but makes it burst with flavor.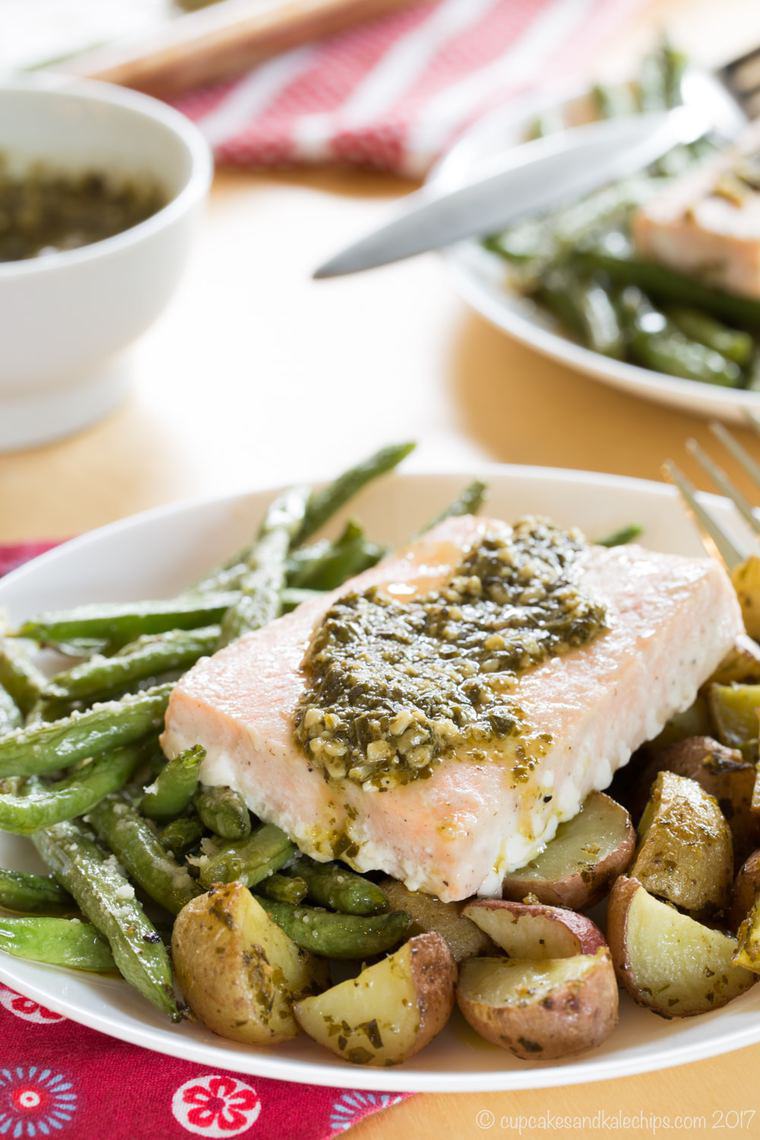 Saucy shrimp that pack a serious punch of flavor. But you only need a few ingredients, one skillet, and less than ten minutes.
More seafood recipes:
Parmesan Crusted Tilapia from Taste and Tell (GF) | A simple fish dish that is done in 20 minutes. Even non-fish lovers enjoy that cheese.
Lemon Garlic Baked Cod from Sweet C's (GF) | Tons of lemon garlic butter flavor in just 20 minutes and one dish.
Crab Cakes from Savory Simple | These might just be the best you've ever tried when they are broiled to perfection.
Kid-Friendly Easy Dinner Ideas
Turn basic dogs into cheesy baked taquitos. You can even make them in your air fryer. The only question is whether to dunk them in salsa or guacamole.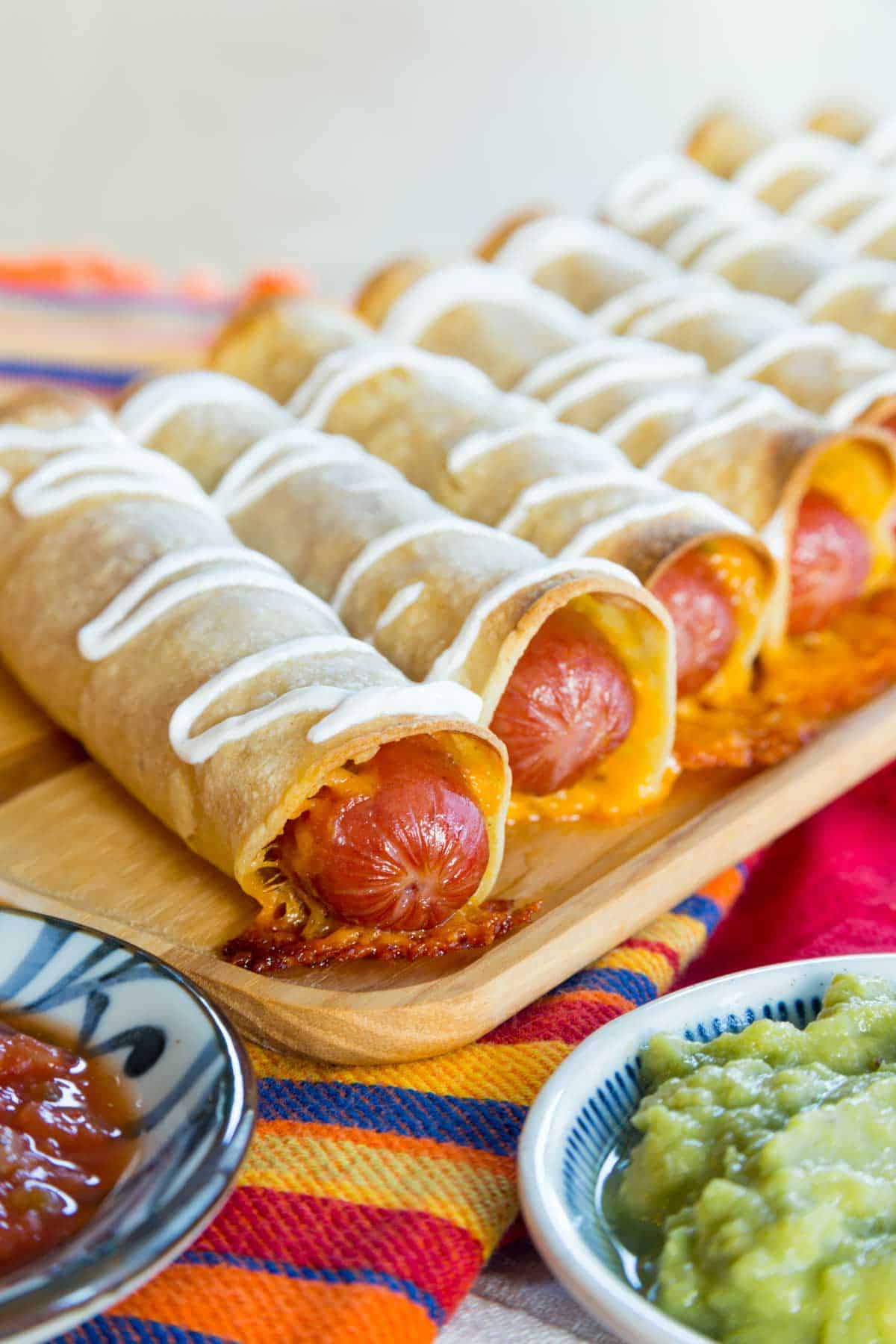 Definitely better than Panera. A veggie secret makes that old favorite cheesy soup healthier but just as creamy.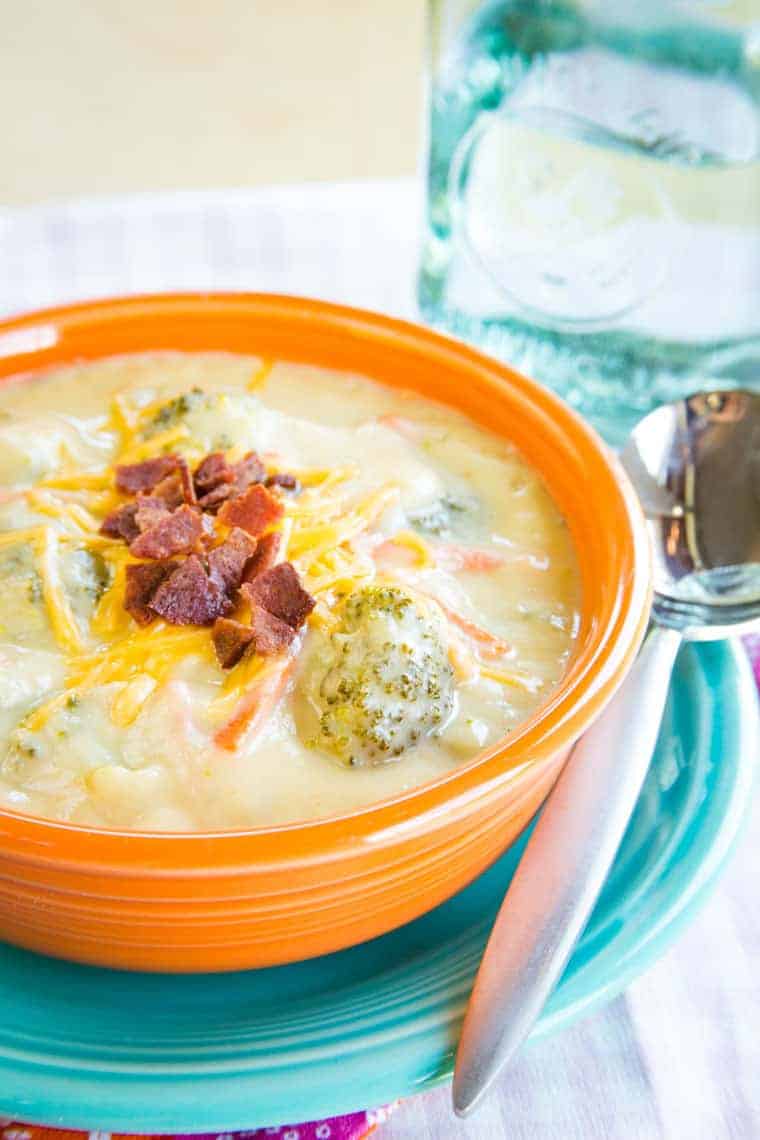 If you have a pre-made crust or one in the freezer, you can make this kid-favorite pizza in a flash. The sweet and salty flavor is irresistible.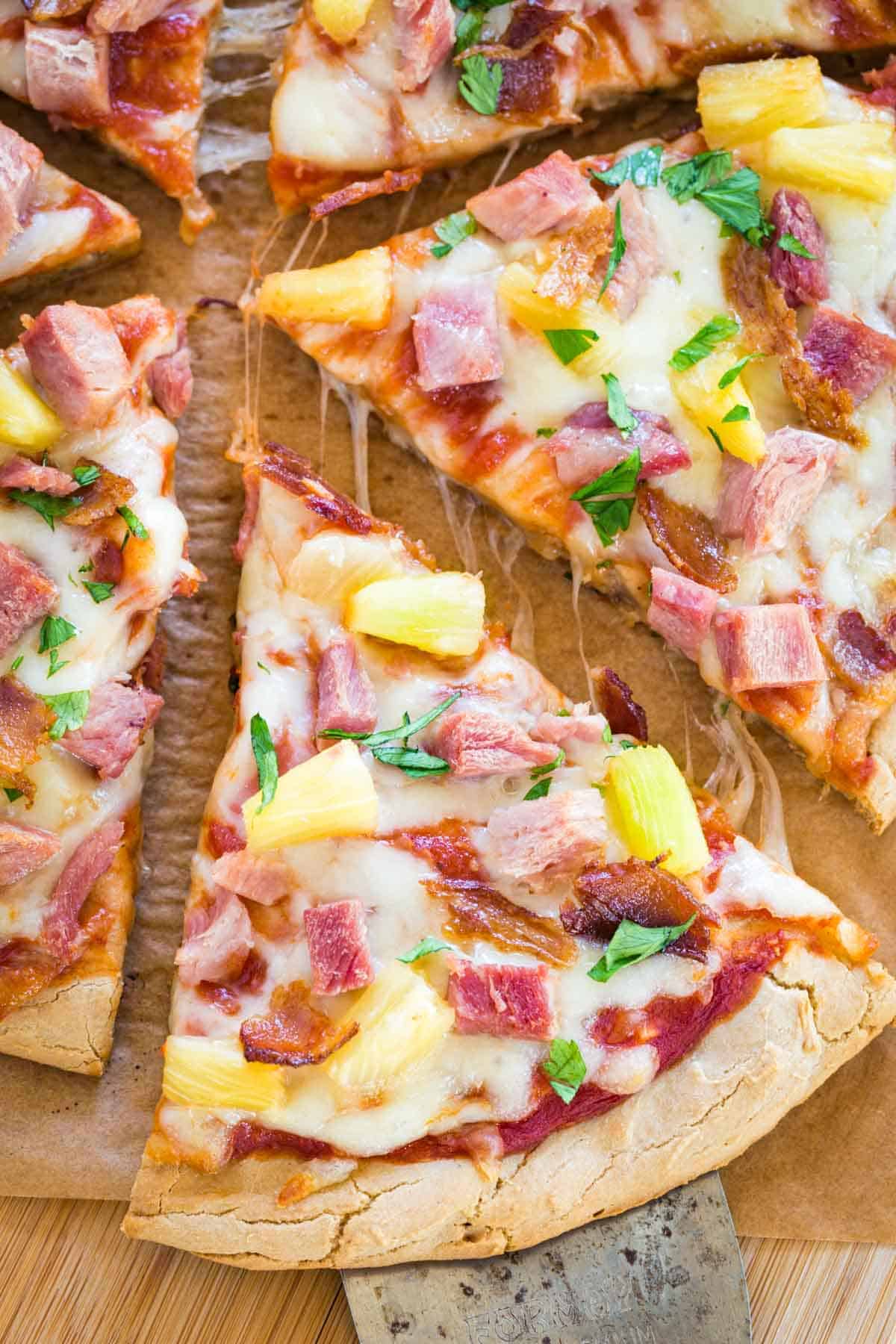 Jst minutes to make and you'll have all the classic slightly sweet and tangy flavors and saucy deliciousness you love. A budget-friendly family favorite, it is almost as quick as using the stuff from a can.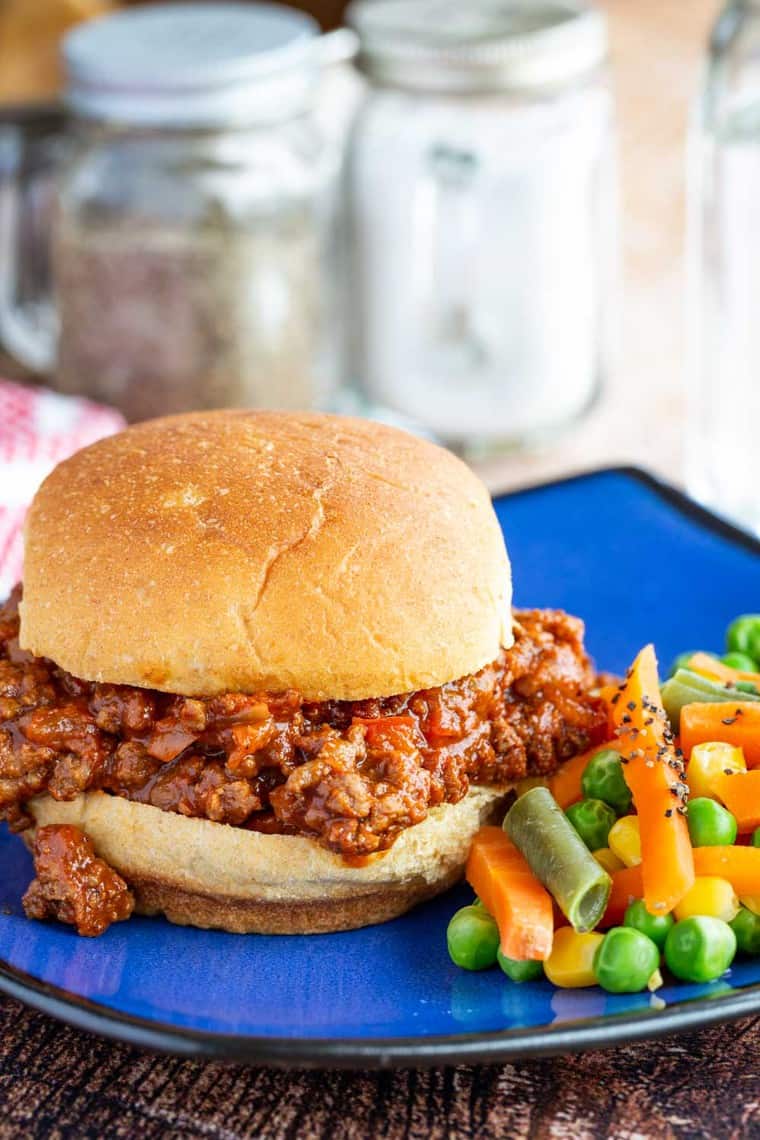 More kid favorite recipes:
And if you need more quick and easy dinner ideas, here are 20 of The Best Chicken Recipes for Busy Weeknights.
Originally published Sep 21, 2017