Best Quick and Easy Dinner Recipes
Disclosure: This post may contain affiliate links. Cupcakes & Kale Chips is a participant in the Amazon Services LLC Associates Program, an affiliate advertising program designed to provide a means for us to earn fees by linking to Amazon.com and affiliated sites.
Quick and easy dinner recipes are what we all need any time of the year, from the busy holiday season to the summer when you want to just be outside having fun, and especially at back-to-school time. The school bus is late, one kid has football practice, the other has baseball, dance class is later on, let's not forget about scouts and piano, and then there's that PTA meeting. That's when you need quick, easy dinner ideas!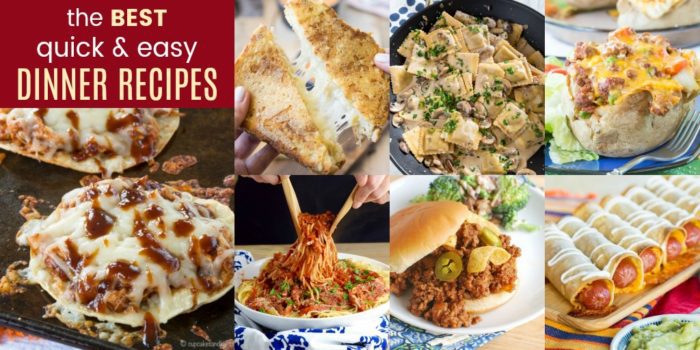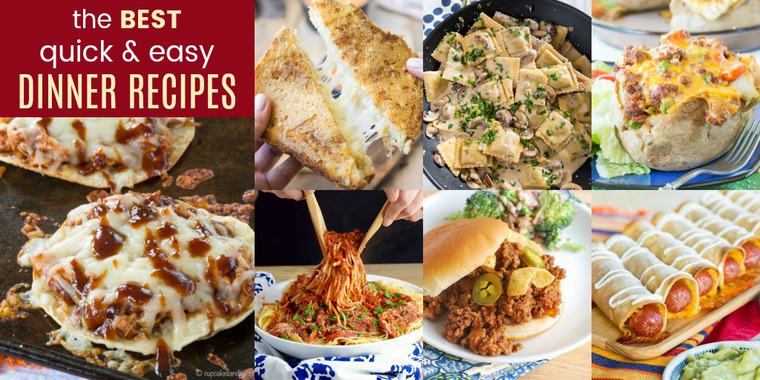 MY LATEST VIDEOS
Over 25 of The Best Quick and Easy Dinner Ideas
Don't let weeknight dinners get you down. You don't have to always rely on fast food and microwave meals. Whether you've pulled a package of ground beef out of the freezer, want to make a simple chicken dinner, or literally need to make a no-cook meal because you really don't have time, you'll find some amazing recipes to make sure you get dinner on the table fast.
What do you make when you are looking for quick and easy dinner recipes?
One pot meals or one skillet meals – there's nothing better than a meal that comes together easily and you only have one pot or pan to wash, like my Chicken Corn Chowder.
Sheet pan meals or foil pack meals – toss everything on a pan or wrap it up in foil, then pop it in the oven and you have a no-fuss meal with tons of flavor and, once again, easy cleanup. These Cheesy Maple Dijon Chicken Foil Packets can even be tossed on the grill.
Casseroles – casserole recipes sometimes take a little longer to cook in the over, but prep time is usually fast, and you can be taking care of other things while it bakes.
Slow-cooker meals – sure these take awhile to cook, but your hands-on time is usually minimal, like my Slow Cooker Tomato Basil Pulled Chicken and all of these Back to School Crock Pot Recipes.
Breakfast for dinner – eggs, pancakes, oh heck, even sometimes a bowl of cereal is always a family favorite and simple to make. This can easily be a 15 minute meal if you are really pressed for time.
Instant Pot meals – those pressure cookers can do amazing things, especially when you forgot to defrost meat. And my Butternut Squash Soup with Sage and Thyme cooks in no time.
And that's just a few of the possibilities!
Want to share more quick and easy dinner ideas?
Join us in the No-Fuss Food for No-Fuss Families group on Facebook. Everyday we share recipes, ideas, sometimes even a little about ourselves to get to know each other, and, most importantly, chat about what we are having for dinner every night, and yes, sometimes that means telling everyone when we are having cereal or ordering pizza, because we are totally keeping it real.
But in the meantime, you still need some new ideas because you are bored of the same old dinners week after week.
Here are some of my favorite quick and easy dinner recipes…
Worcestershire Sauce Cast Iron Cube Steaks
Spinach, Tomato, and Feta Frittata
Slow Cooker Salsa Chicken and Black Beans
Bacon Cheeseburger Quinoa Skillet
Cheesy BBQ Shrimp Quinoa Bowls
But even I need some new ideas. Luckily I have some amazing food blogger friends who also know what it's like to be crazy busy, which is why we rounded up our favorite quick and easy dinner ideas.
The Best Quick and Easy Dinner Recipes for Back to School – you'll love these easy dinner ideas!
Skillet Enchilada Bake from A Dash of Sanity
This recipe turns your favorite Mexican food into a 30 minute meal.
Beef Stroganoff Ravioli Skillet from Dinners, Dishes, and Desserts
The classic comfort food gets a new twist using beef ravioli.
Chicken Mozzarella Pasta from 365 Days of Baking and More
A simple dish with pasta, chicken, sundried tomatoes, and a creamy mozzarella sauce.
Pepperoni Bubble Up Pizza from Let's Dish
Everyone loves pizza Friday, but this casserole lets you have pizza any night of the week.
One-Pot Southwest Macaroni from White Lights on Wednesday
An easy dinner idea combining favorites of pasta and sloppy joes in one dish.
Pizza Muffins from Bread Booze Bacon
Roll your pizza into a handheld food kids love.
Slow Cooker Chicken Enchilada Soup from That Skinny Chick Can Bake
Southwest comfort food cooked in your slow cooker is an easy dinner recipe for a busy day.
One Pot Spinach Artichoke Pasta from My Suburban Kitchen
One pot pasta is one of the best easy dinner ideas and this one tastes like your favorite dip.
You don't have to save the tacos for Tuesday, especially when you can just toss these in the oven for a quick meal.
One of everyone's favorite weeknight dinners gets a smoky, spicy twist.
There is probably not another easy dinner idea more fast and comforting than grilled cheese, and extra cheese makes it extra good.
Combine two favorite easy meals into one delicious dinner.
30 Minute 2 Ingredient BBQ Wings
Yep, wings can be ready in a flash.
One Pot Spaghetti and Meat Sauce
Who doesn't love spaghetti, especially when you can make it in one pot.
This pasta and chicken dinner can be made with a rotisserie chicken from the grocery store, making it perfect for busy nights.
One Pot Cheesy Pizza Pasta Bake
A pasta dinner with your favorite pizza toppings is sure to make the kids happy too.
This cozy casserole baked with orzo pasta, veggies, and chunks of chicken breasts makes a deliciously simple weeknight chicken dinner.
Mini burgers that only need a little time and effort are a creatively easy dinner idea.
Slow Cooker Pineapple Brown Sugar Pulled Pork
Shredded pork is smothered in a sweet and savory barbecue sauce.
Shepherd's Pie Loaded Baked Potatoes
Skip the work of mashed potatoes and load up those baked spuds with this meat and veggie filling.
Made with turkey sausage and ground turkey, all you have to do is boil the pasta after a busy day.
Everyone loves breakfast for dinner and you can even meal prep these ahead of time.
This hearty dish has only 10 minutes of prep time and is totally comforting.

 And if you need more quick and easy dinner ideas, here are 20 of The Best Chicken Recipes for Busy Weeknights.
Originally published Sep 21, 2017