Best Easy Vodka Sauce Recipe
Disclosure: This post may contain affiliate links. Cupcakes & Kale Chips is a participant in the Amazon Services LLC Associates Program, an affiliate advertising program designed to provide a means for us to earn fees by linking to Amazon.com and affiliated sites.
Homemade vodka sauce is creamy and luscious, and way too easy to taste this good. The recipe came straight from my neighbor's Italian mother, so you know it has to be the best. Only six ingredients and a few minutes to make, this rich pink sauce is traditionally served over penne pasta, hence the name Penne Alla Vodka. But this kicked up tomato cream sauce is delicious over any kind of regular or gluten free noodles, or even zoodles or spaghetti squash.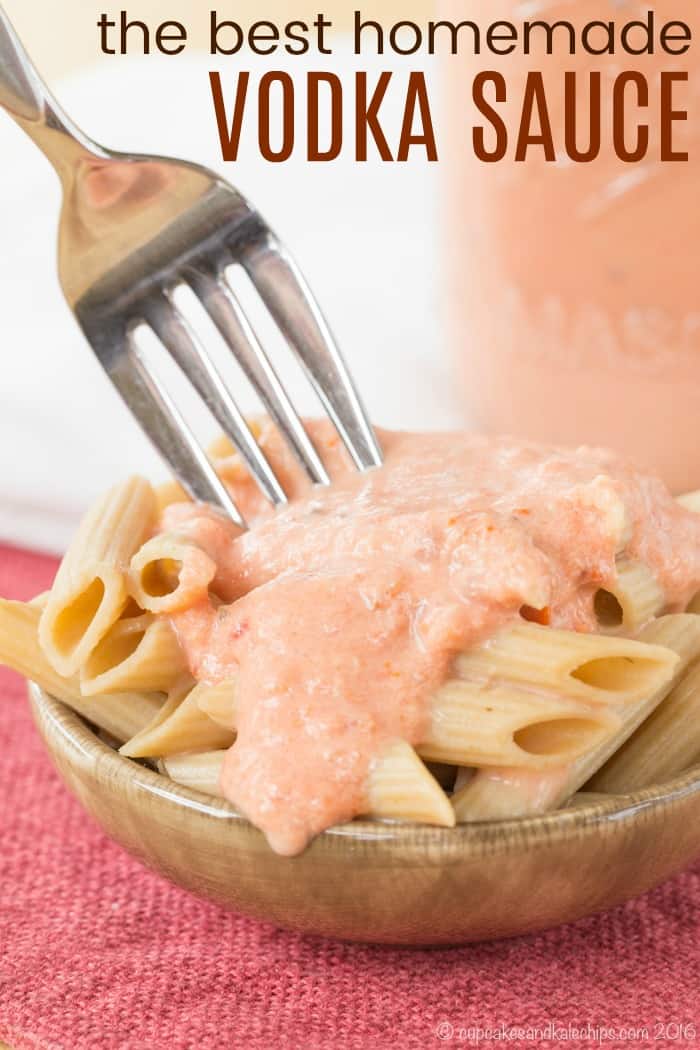 Originally published Apr 3, 2016
Where I grew up in New Jersey, there was a large Italian-American population. We had local pizza and pasta restaurants (some actually named Pizza & Pasta, coincidentally) on pretty much every corner. The restaurants are run by families who, if they weren't from Italy themselves, were only a generation or two removed from Italian immigrants. So while Italian-American cuisine does have some differences from authentic Italian dishes, the roots of these recipes are the same.
I was also lucky to have friends from that heritage throughout my life, and this helped drive my passion for this food and making Italian-inspired fare in my own kitchen.
It's not always completely authentic, like when I have to make Best Lasagna Recipe with Gluten Free Lasagna Noodles or have to forego baked ziti for a spaghetti squash casserole because of my gluten allergy.
Yet it is still made from the heart. Which, if you've ever been to Italy or you know an Italian-American family, is truly what makes their food so special and delicious.
But this, my friends, is as authentically Italian-American as it gets. This incredibly luscious homemade vodka sauce recipe comes directly from my old next-door neighbor's Italian mother.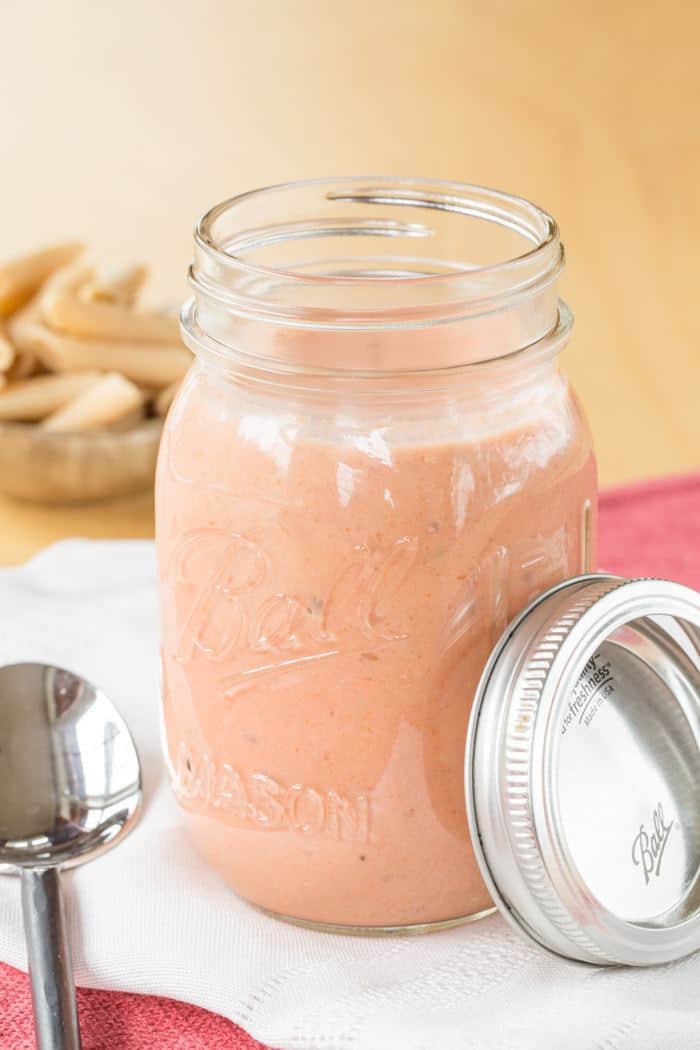 What is Vodka Sauce?
Penne alla Vodka is a staple on the menu of many Italian restaurants where I am from in New Jersey, as well as around the country. The star of this dish is the Classic Vodka Sauce, which is similar to a pink sauce or tomato cream sauce, but with something a little extra – vodka.
You'll start with a simple tomato sauce and make it extra creamy with butter, heavy cream, parmesan cheese.
Yes, it is sinfully rich. Personally, I think a little of this sauce on my noodles goes a long way. So the indulgence is totally okay with me every once in a while. You can cut the butter a little, but if you are going to make it, then make it for a special treat and go all out. Trust me. The creamy deliciousness is worth it.
If you prefer a lighter option, you can try my Lightened-Up Penne with Tomato Cream Sauce. You still get some of that creaminess and zing because it is made with Greek yogurt, but it definitely cuts a few calories.
And yes, it also has vodka. This is what differentiates it from a basic pink sauce or tomato cream sauce.
Why does vodka sauce have vodka?
The vodka in vodka sauce actually does have a purpose. It actually helps to emulsify the water in the tomato sauce with the fat from the cream and butter. Thus making for a smoother sauce, as well as enhancing the flavors. And the tangy zing balances the richness of the dish.
Also, as it cooks, the alcohol evaporates. So while it does not taste like vodka, the evaporation of the alcohol helps carry the aromas into the air. This helps to both intensify and balance the flavors.
How much vodka is in the recipe?
This recipe makes about twelve servings and calls for a total of two-thirds of a cup of vodka (for reference, this is about three and a half shots, or one-third of a shot per serving). Vodka is typically 80 proof, or 40% alcohol by volume. This would mean that prior to cooking, there are about 4 Tablespoons of alcohol in the sauce or about a teaspoon per serving.
For those who are concerned, based on the amount of time this dish simmers, 60% of this would cook off. Thus leaving less than a half a teaspoon of pure alcohol, of the equivalent of less than one-tenth of a shot.
So no, unless you eat the entire pot, you won't get drunk from vodka sauce.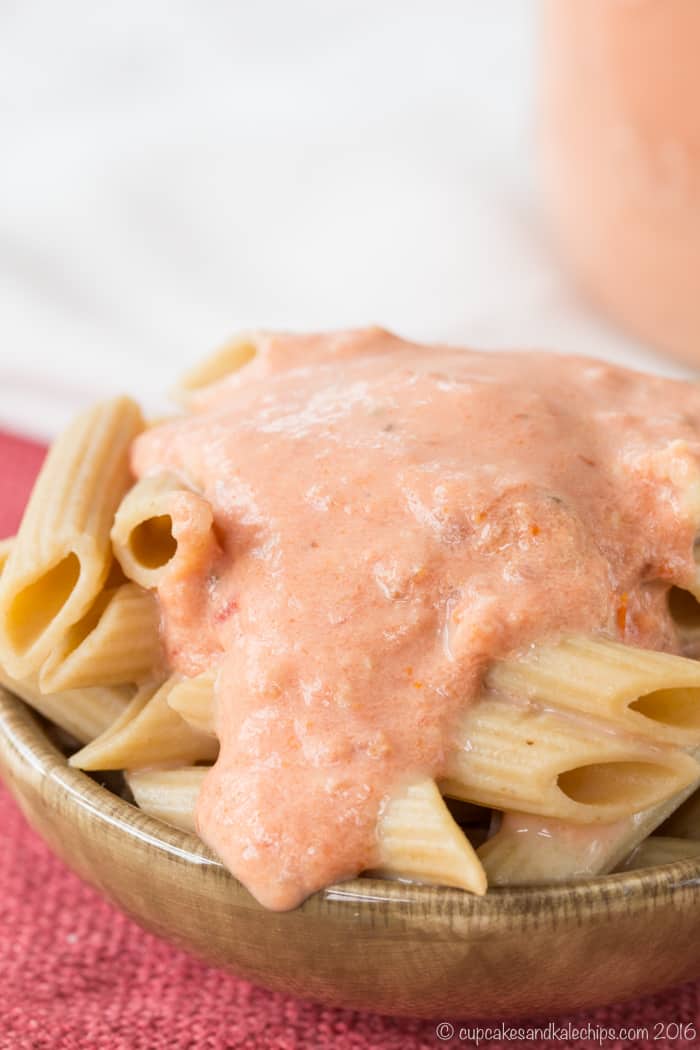 The best vodka sauce recipe
Now that we have talked about what it is and why it is so delicious, let's talk about how to make it. If you want to see the step-by-step photos don't skip this part!
Here is a brief overview so you can see just how easy it is to make. Scroll down to the printable recipe card for the full quantities and details.
But don't skip my PRO TIPS below!
Ingredients
Butter – I typically use unsalted butter.
Vodka – any brand will work just fine, but be sure it is not a flavored vodka.
Red pepper flakes – you can omit this if you are sensitive to spice, but it isn't very spicy. It just adds a nice bit of background warmth to the dish.
Canned crushed tomatoes – I recommend Tuttorosso Canned Crushed Tomatoes. It has been my favorite for years and is the only one I use in this recipe.
Heavy cream – for the best flavor and creaminess I do not recommend substituting this with anything else like milk or half and half.
Grated parmesan cheese – I prefer to freshly grate it or buy a store-grated parmesan cheese that does not have added fillers.
Directions
Melt butter in a saucepan.
Add the vodka and red pepper flakes.
Bring to a simmer and cook for a couple of minutes to cook out the alcohol.
Add the crushed tomatoes.
Bring to a simmer and cook until slightly thickened.
Stir in the cream and cook to heat through.
Stir in the cheese.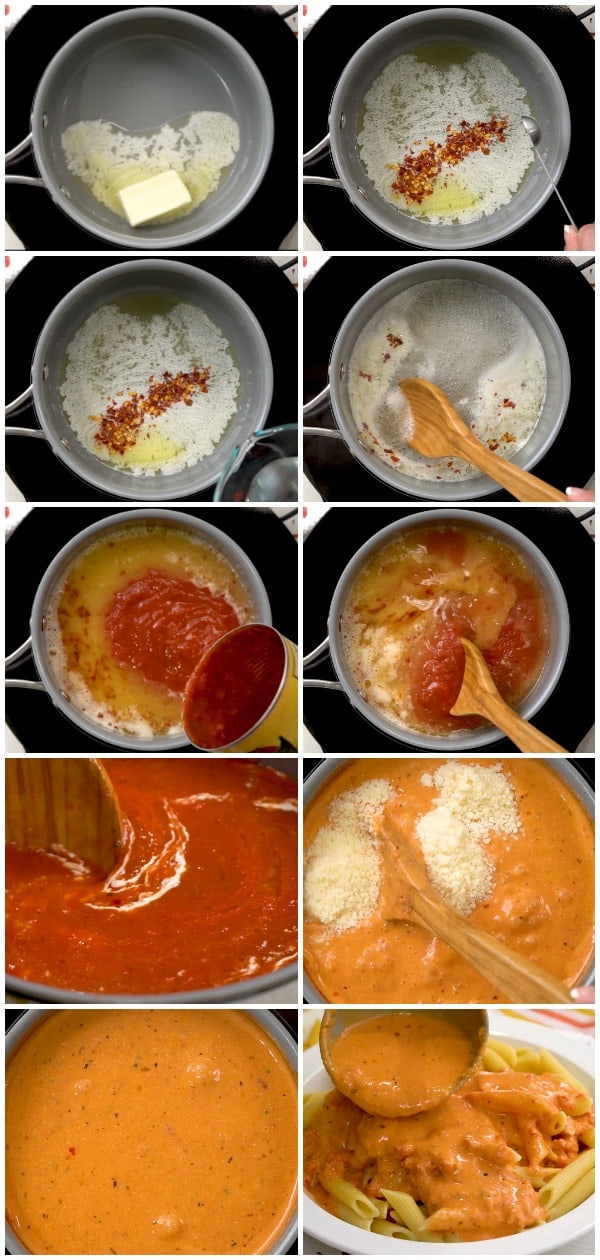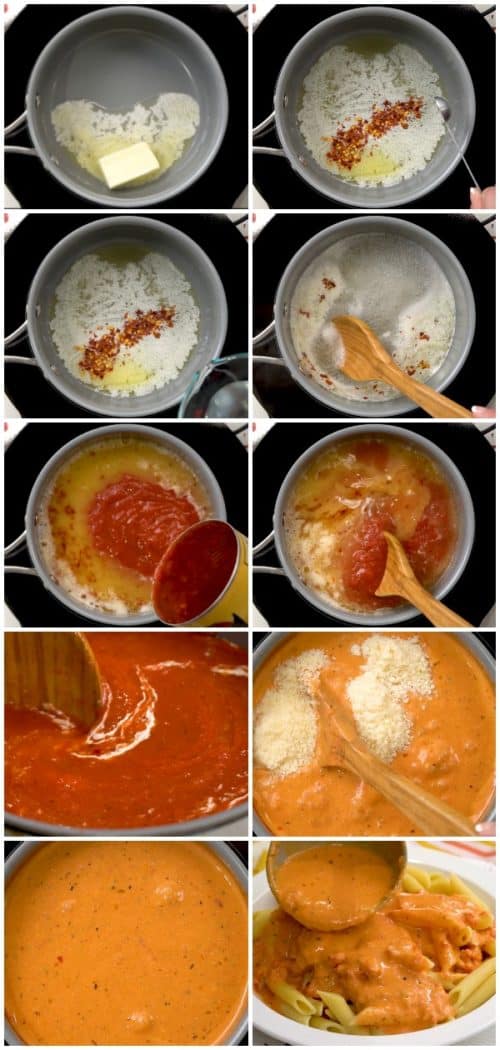 Brianne's Gluten Free Recipe Tips
Gluten Free Disclaimer: I am not a medical professional. This information is solely based on my research and personal experience, and I provide it as a courtesy to my readers. Please consult your doctor or medical professional for any questions as it relates to your needs, particularly if you have celiac disease or a severe gluten allergy or intolerance. Products, manufacturing facilities, and ingredients change frequently, so you should always contact the manufacturer for the latest information.
Yes, you can easily make this recipe gluten free to serve over your favorite gluten free pasta or zoodles for a delicious gluten free pasta dinner!
Most of the ingredients are gluten free foods you can eat without concern. In particular, the dairy products – butter, heavy cream, and parmesan cheese – are naturally gluten free. The only real caution is that some brands of pre-grated parmesan cheese could add gluten-containing fillers.
The same is true for the red pepper flakes and canned tomatoes, though most are fine. Just make sure you know what to look for when reading labels for foods that contain gluten.
Vodka is typically distilled from raw foods like potatoes and corn, meaning it is gluten free. However, some brands are distilled from the gluten grains of wheat, barley, and rye. While the distillation process removes the alcohol from the gluten, some Celiacs may have an adverse reaction to it. However, there are many brands of gluten-free vodka available, such as Tito's, Smirnoff, Ciroc, Dixie, Deep Eddy, and Crystal Head, to name a few.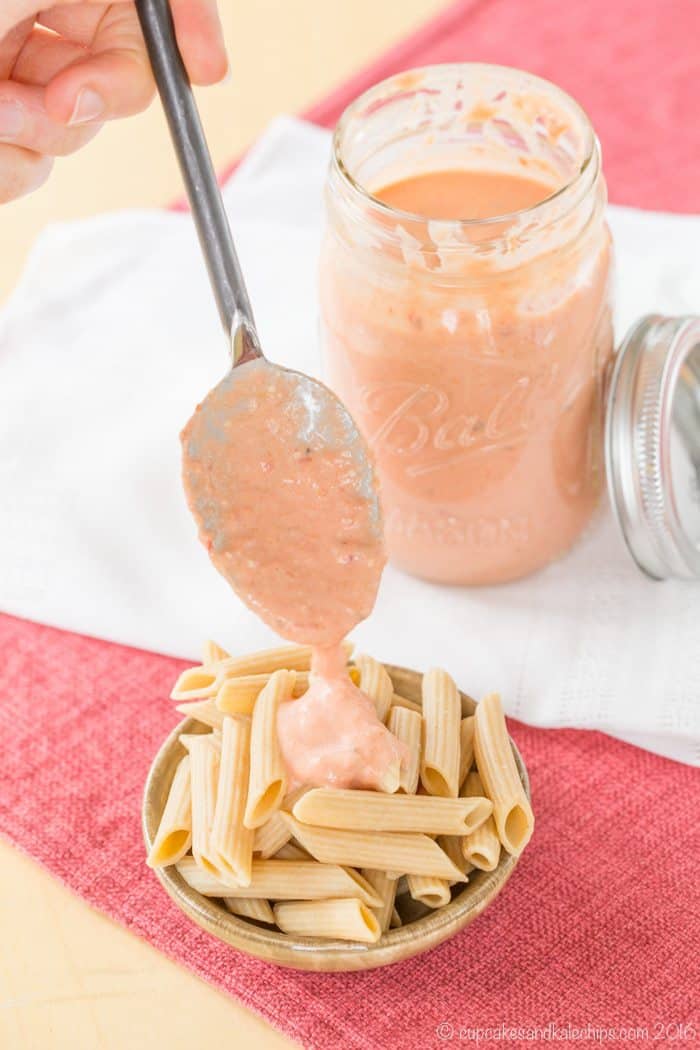 How to serve vodka sauce
Vodka sauce has so much flavor that you can simply serve it as-is over pasta or zoodles for a fabulous meatless meal. In fact, the traditional way to enjoy it is penne with vodka sauce, where penne pasta is simply coated with this delicious sauce, and then simply topped with freshly grated parmesan cheese.
If you are looking to add more protein, it's great with bits of crispy prosciutto, sliced sausage, or sliced grilled chicken if you want some meat, or shrimp for a seafood dish.
And peas or broccoli are also a common and tasty addition, especially if you like to add some vegetables and a little pop of color.
Side dishes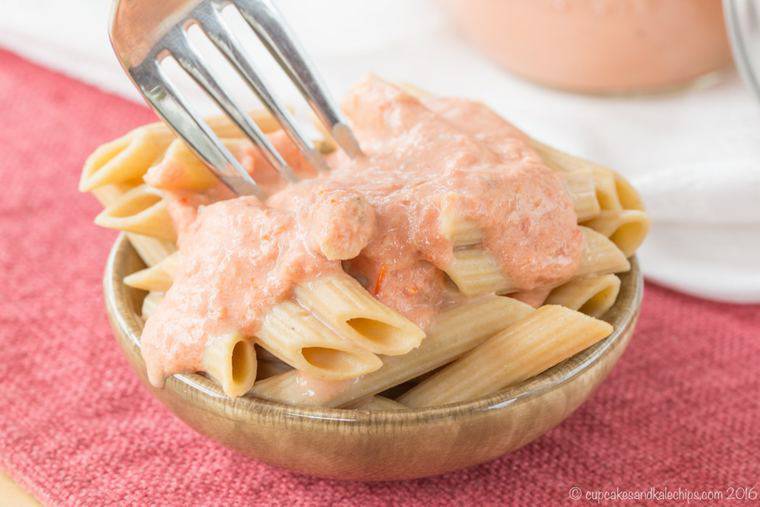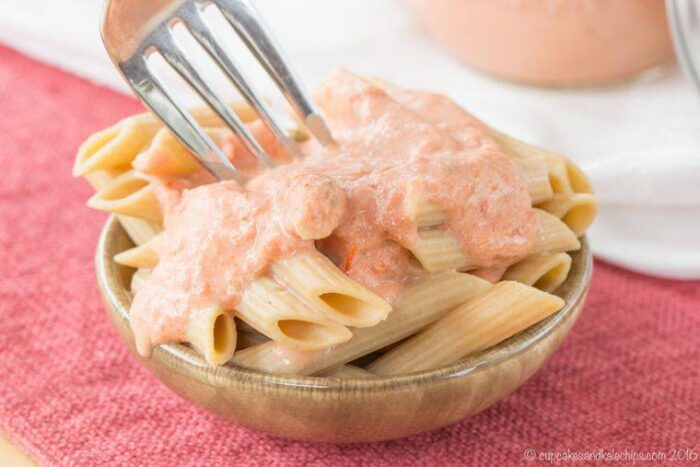 For more yumminess from me and my foodie friends, keep up with me on…
Or sign up to have Cupcakes & Kale Chips delivered straight to your Inbox!
More pasta and sauce recipes
Best Vodka Sauce Recipe
A rich pasta sauce recipe that takes only minutes to make, but tastes amazing. A basic tomato sauce becomes even more creamy and delicious with the addition of butter, cream, and parmesan cheese. And, of course, a little vodka to enhance all the flavors. Serve it over noodles or zoodles as-is, or add chicken, shrimp, prosciutto, peas, or broccoli.
I hope you'll leave a comment and give it a FIVE STAR rating or share a review on Pinterest or photo on Instagram!
Tag me @cupcakekalechip and use #cupcakesandkalechips!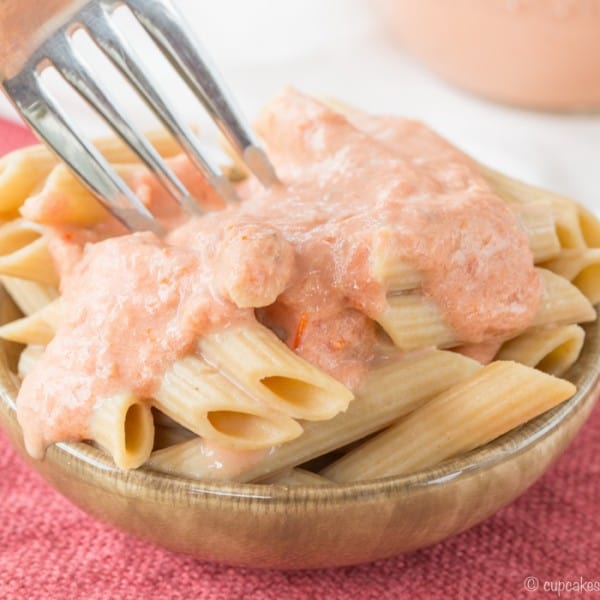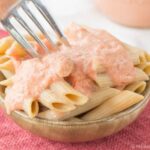 Print Recipe
Best Homemade Vodka Sauce
A rich and creamy pasta sauce recipe that takes only minutes to make, but tastes amazing. Serve it over noodles or zoodles as-is, or add chicken, shrimp, prosciutto, peas, or broccoli.
Servings:
12
servings (about 1/2 cup each)
Ingredients
1/4

cup

unsalted butter

(2 ounces or 1/2 stick)

2/3

cup

vodka

1/2

teaspoon

red pepper flakes,

optional

28

oz.

canned crushed tomatoes

(I use the Tuttorosso brand which has basil in it. If you use another brand without basil, you may want to add a pinch)

1

cup

heavy cream

1/2

cup

grated parmesan cheese

Pasta or zucchini noodles for serving
Instructions
In a saucepan, melt the butter over medium heat.

Add the vodka and red pepper flakes (if using), bring to a simmer and cook for a couple of minutes to cook out the alcohol.

Add the crushed tomatoes, bring to a simmer and cook for about five minutes, or until slightly thickened.

Stir in the cream and cook for another five minutes, then stir in the cheese.

Serve over pasta or zucchini noodles.
Notes
Nutrition values are only for sauce. Does not include pasta.
Nutrition
Serving:
0.5
cup
|
Calories:
172
kcal
|
Carbohydrates:
6
g
|
Protein:
3
g
|
Fat:
13
g
|
Saturated Fat:
8
g
|
Cholesterol:
41
mg
|
Sodium:
161
mg
|
Potassium:
214
mg
|
Fiber:
1
g
|
Sugar:
3
g
|
Vitamin A:
613
IU
|
Vitamin C:
6
mg
|
Calcium:
83
mg
|
Iron:
1
mg
Enjoy!