This post may contain affiliate links. Read my disclosure policy.
A hearty pasta sauce packed with veggies and protein, that comes together fast, but has such deep flavor and rich texture that your family will think you were cooking all day. And served over regular or gluten free noodles, polenta, or even spiralized veggies, Vegan Vegetable Tomato Sauce with Chickpeas makes a satisfying meal, and sneaks in a few extra vegetable servings to make it deceptively healthy.
Vegan Vegetable Tomato Sauce with Chickpeas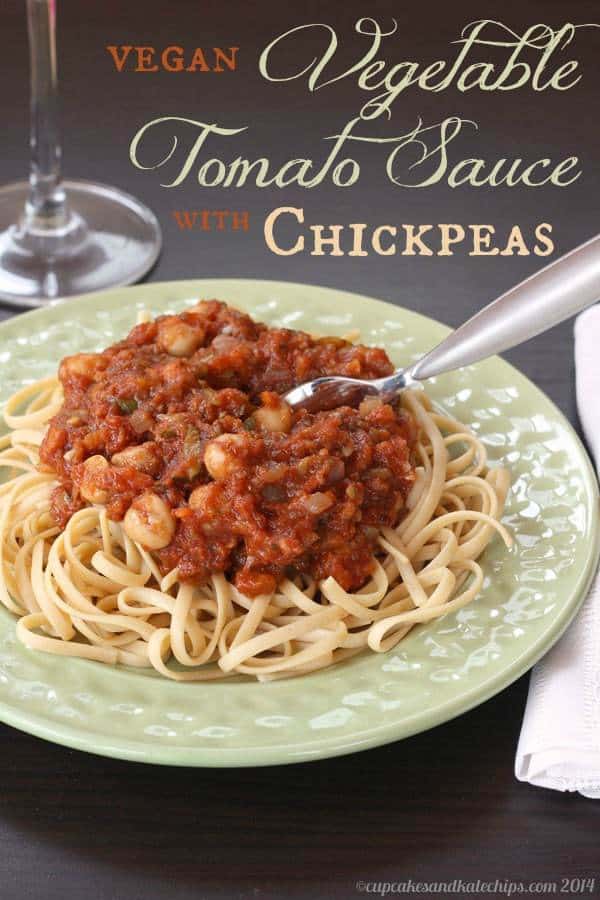 My kid has been like Jekyll & Hyde lately. Seriously! I'm gonna be honest, his behavior has been less than optimal all school year, but most of the time I chalk it up to typical 3-year old boy stuff. I'm not turning a blind eye and thinking my kid is perfect, but it hasn't been completely out of the norm, and I've been working on making it better. So he will be his usual self and at home –  pretty good, moments of temporary insanity, exerting his will and independence like most kids his age, shoving his brother or something, then apologizing, hugging all of us, and going off to play quietly by himself or asking me to read a book or Daddy to build something with Legos. Then he'll go to school and the second we walk in the door he gets all riled up, yelling and being disruptive. Then he will spend a week being really cooperative and sweet at school, but come home and be off the wall. The following week, sweet as honey at home, nutty boy at school.
What gives?
The past week, he has been kind of middle of the road at school and at home. Typical little boy nonsense, but for the most part cooperative. So I'm gonna keep doing what's working until one day it doesn't work anymore. Yep, the switch just flips like that. I don't get it. Just kinda hoping something magical happens the day he turns 4. Or maybe now that the snow has melted and the polar vortex has hightailed it outta here, he can work off some of that excess energy outside.
A mom can dream, right?
But I guess sometimes we all have Jekyll & Hyde aspects to our personalities. Mine sometimes comes out in my eating habits. While my dinners usually include steak or chicken and my diet seriously revolves around Greek yogurt and cheese, sometimes I go vegan…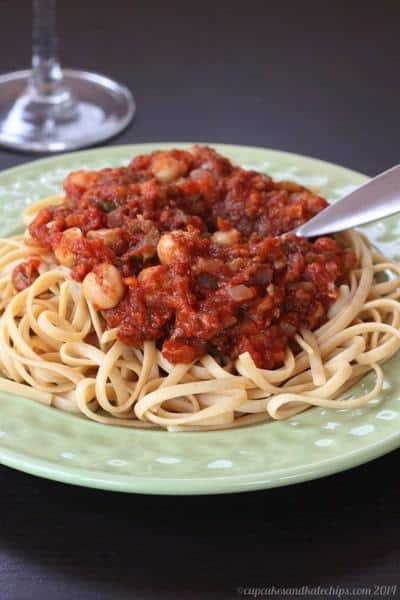 OK, I lied. I did actually sprinkle a bit of parmesan cheese over my Vegan Vegetable Tomato Sauce with Chickepeas, but that was just out of habit. This sauce was so full of intense flavor that it totally didn't need it. It really tastes like it was simmered all day, with the shredded veggies not only sneaking and packing in additional nutrition, but really making it hearty. Then the addition of chickpeas for protein gave it staying power. But the best part is that this is really a quick weeknight meal. It literally comes together in minutes and you can eat it right away, or make it early in the day and reheat it or let it simmer for the flavors to develop even more.
The boys ate it over pasta and I made some spiralized zucchini noodles, but I really think it would be amazing over polenta. Mr. It's Not a Meal Without Meat found this pasta sauce really satisfying. I actually didn't have to make him turkey sausage or meatballs to eat with it. Little Smiles was shoveling it into his mouth. The Bug is still having his tomato sauce aversion issue, which totally has nothing to do with this recipe, so we aren't currently trusting his opinion on anything that contains a red vegetable and isn't ketchup.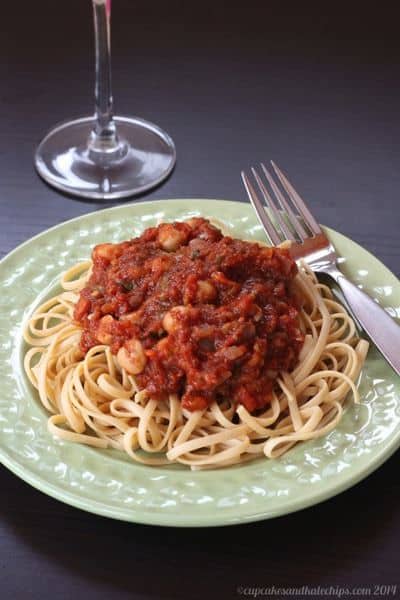 Are you vegetarian or vegan, or just a meat eater that sometimes likes a veggie meal?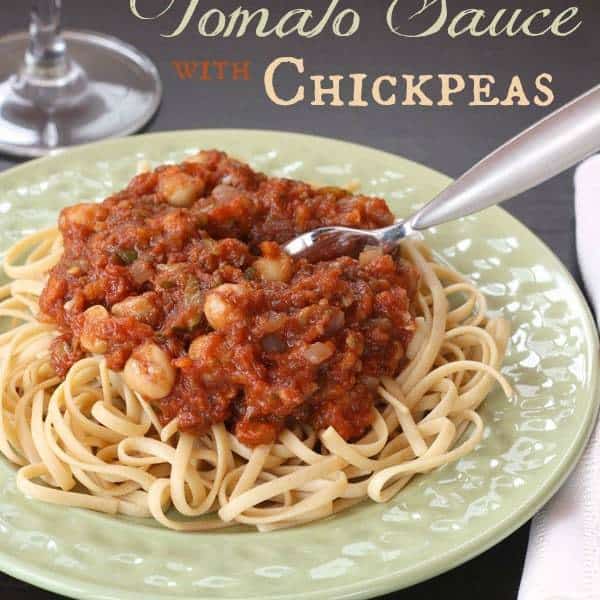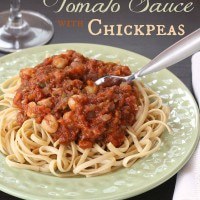 Vegan Vegetable Tomato Sauce with Chickpeas
A rich, flavorful pasta sauce packed with veggies and protein, that comes together fast for a satisfying weeknight meal.
Ingredients
1

tsp

olive oil

one medium onion

chopped

2

cloves

garlic

minced

1

medium zucchini

finely shredded

1

cup

finely shredded carrots

1

tsp

dried oregano

1

tsp

dried parsley

1/2

tsp

crushed red pepper

1/4

cup

balsamic vinegar

one 28 oz. can crushed tomatoes

I use Tuttorosso, which has basil, so if you use another brand, you may want to add dried or fresh basil

one 16 oz. can chickpeas

rinsed and drained

salt & pepper

pasta or polenta for serving
Instructions
In a large saucepan, heat olive oil over medium heat.

Add onion, garlic, zucchini, carrot, oregano, parsley, and red pepper, and season with salt and pepper. Saute for 5-8 minutes, or until vegetables are soft and begin to caramelize.

Add balsamic vinegar, crushed tomatoes, and chickpeas and stir to combine.

Bring to a simmer and reduce heat to low. Cook for at least 10-15 minutes, or until heated through, or simmer longer if desired, until ready to serve.

Serve over pasta or polenta.
Categories:
Enjoy!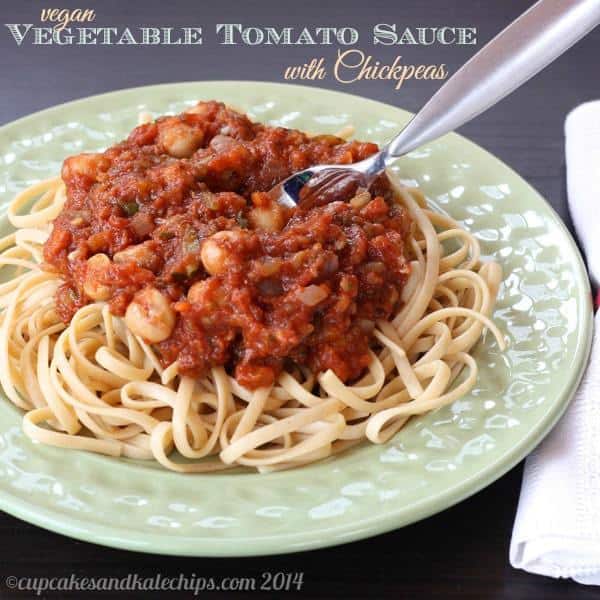 Want some more vegan meals?
And here are some from my friends…