This post may contain affiliate links. Read my disclosure policy.
Make your dreams of a crusty, Gluten-free French Baguette a reality with this homemade version! Airy, soft loaves with a perfect crackly crust are amazing to serve with all your favorite dinners and appetizers.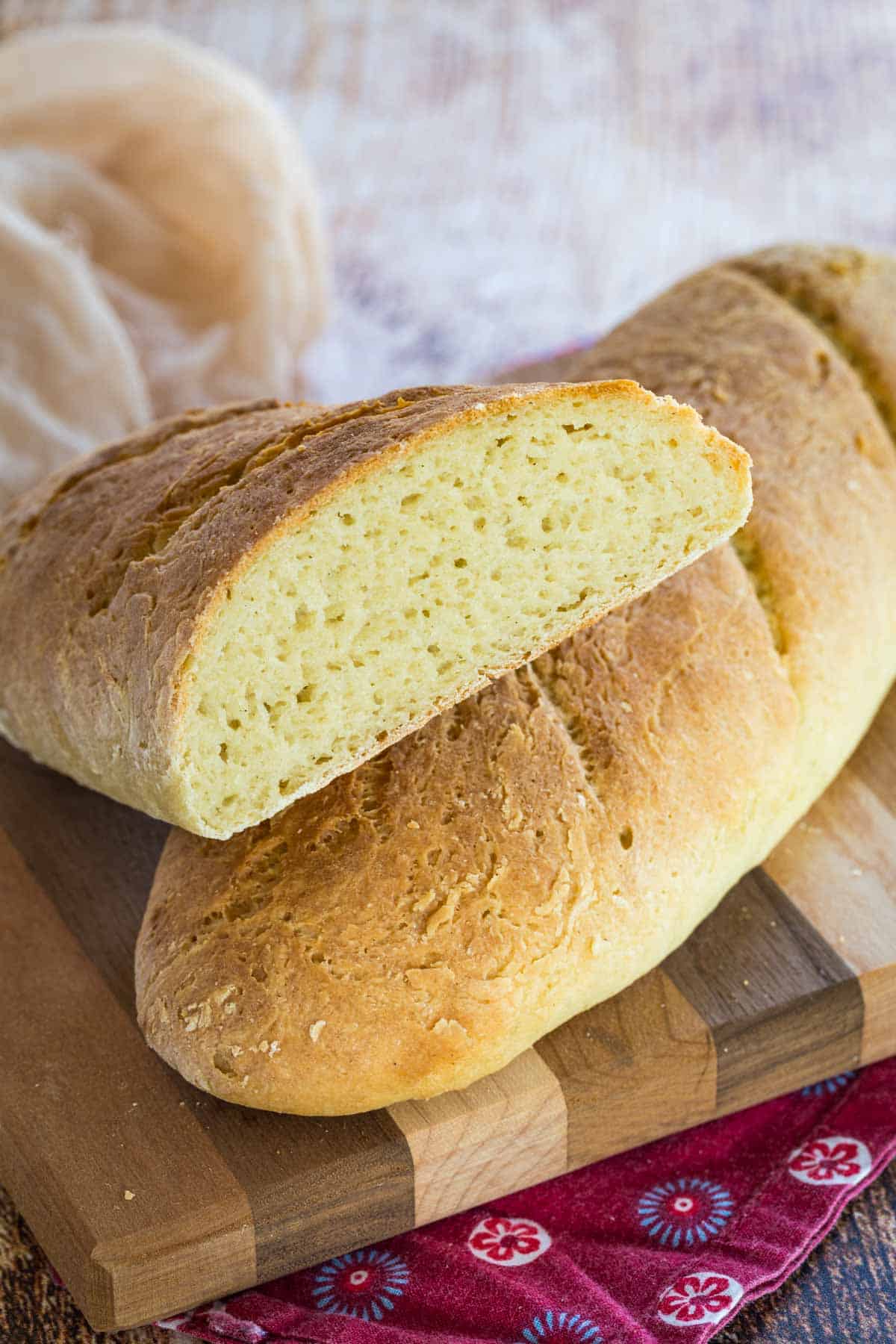 The Ultimate Gluten-Free Bread Recipe
Picture this: you're wandering the streets of Paris, the scent of the nearby bakery wafting through the air. A man in an apron beckons. He hands you a long loaf of bread with a crackly crust that smells like heaven! You're tempted to tear into it on the spot.
And then you remember you're allergic to gluten, and that fantasy goes poof.
Never one to give up on my dreams, I tried my hand at making a gluten-free version of these iconic French loaves. Can I just say: fantasy restored!
I am so thrilled with how this gluten-free baguette came out. These loaves definitely pass the "fresh" test: give the loaf a gentle squeeze and the crust crunches and splinters, giving way to a pillowy-soft, fluffy crumb. These baguettes are easy enough to make and perfect to serve in all sorts of ways!
Why is it Called a Baguette?
Baguettes are long loaves of bread that are synonymous with France and French culture. And the French word "baguette" translates to "wand" or "baton", which is fitting for the shape!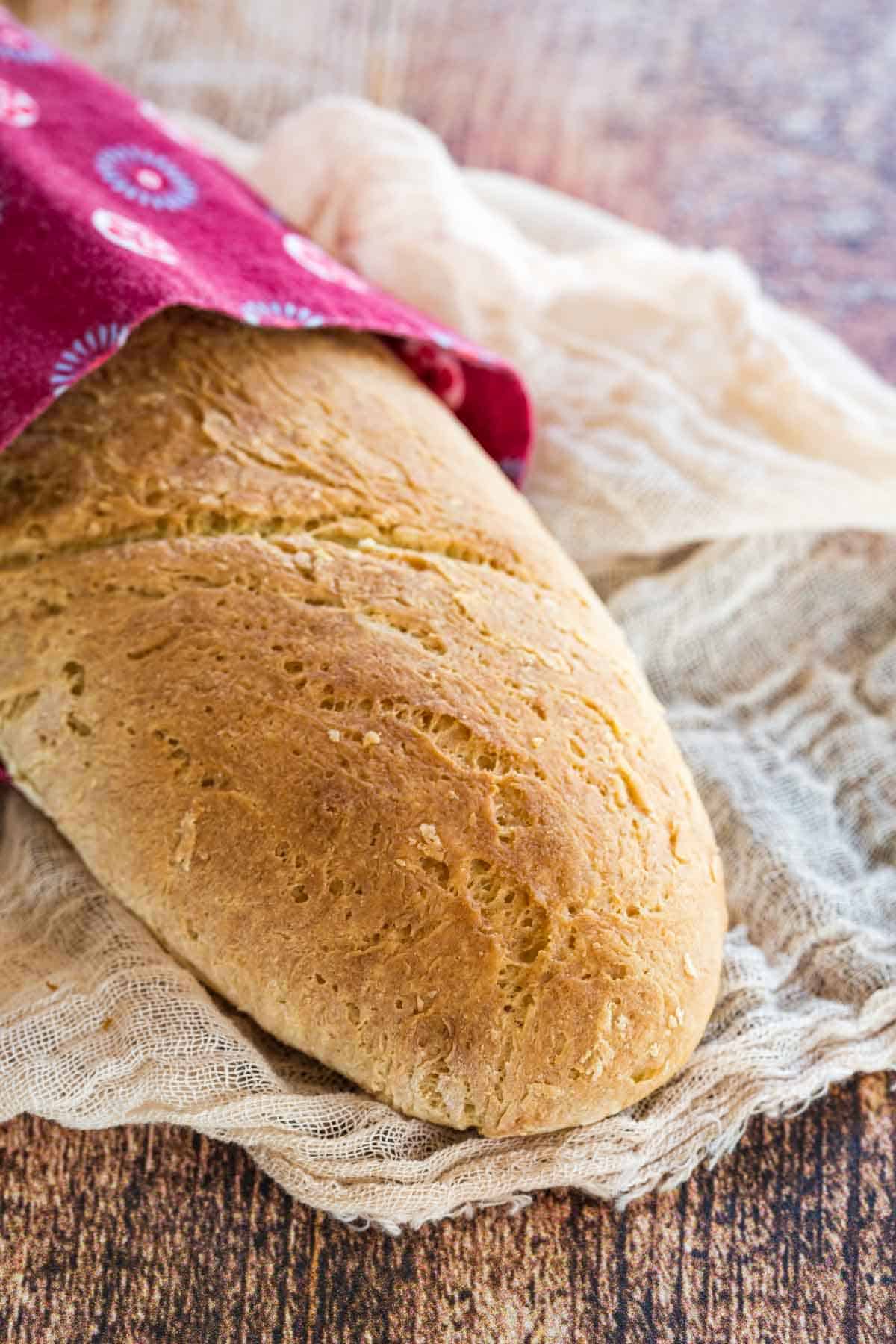 What You'll Need
Gluten-Free Flour: I use King Arthur Measure-for Measure.
Instant Yeast: Instant dry yeast works great for this bread recipe. Just make sure to check the expiration date! Also be mindful of the temperature of the water you use, water that's too hot will kill the yeast.
Sugar: Besides the hint of sweetness, it also helps activate the yeast.
Xanthan Gum: Helps to thicken and stabilize the dough ingredients.
Tapioca Starch: This is the secret to a perfectly crusty gluten-free baguette. Tapioca starch also helps bind the ingredients, while bringing chewiness and crispness to the bread.
Egg: For this recipe, you'll need one whole egg, as well as one egg white, both at room temperature.
White Vinegar: The acidity in vinegar helps with the rise of the dough, and enhances the flavor and airy texture of your French bread.
Salt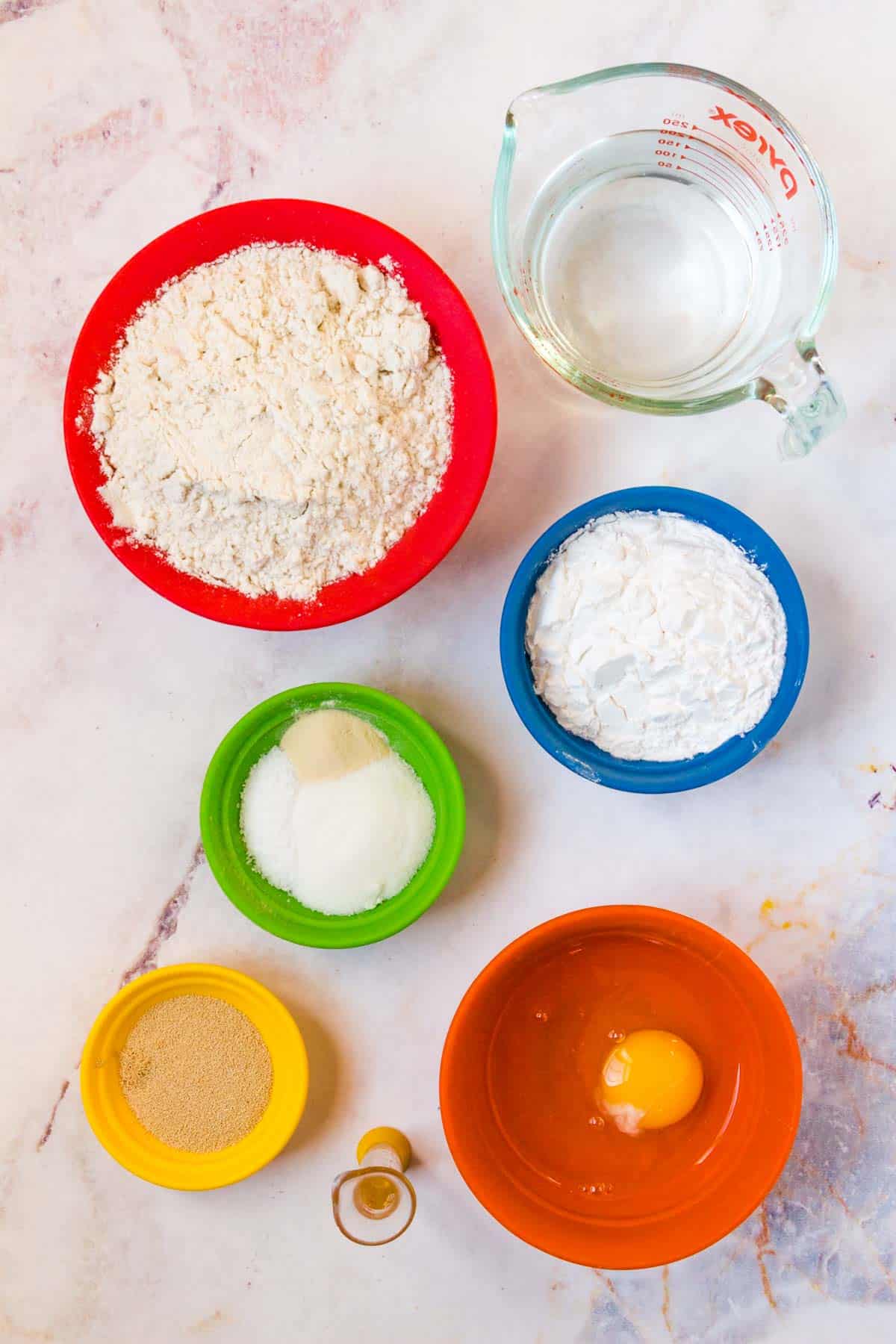 How to Make a French Baguette From Scratch
I've heard that nothing compares to the texture of the baguettes you'll find in France. But I sure can try my best! Here's how to make the best gluten-free French baguettes:
Make the Dough: In a mixing bowl, you'll combine the dry ingredients, followed by the wet ingredients. Stir until a whipped dough forms that's sticky but not wet. If you find your dough is on the wetter side, slowly add in a little more flour until you get the right consistency.
Chill: Cover the bowl with plastic wrap and proof the dough in the fridge. Aim for an hour at least, but you can even leave it there overnight if you'd like.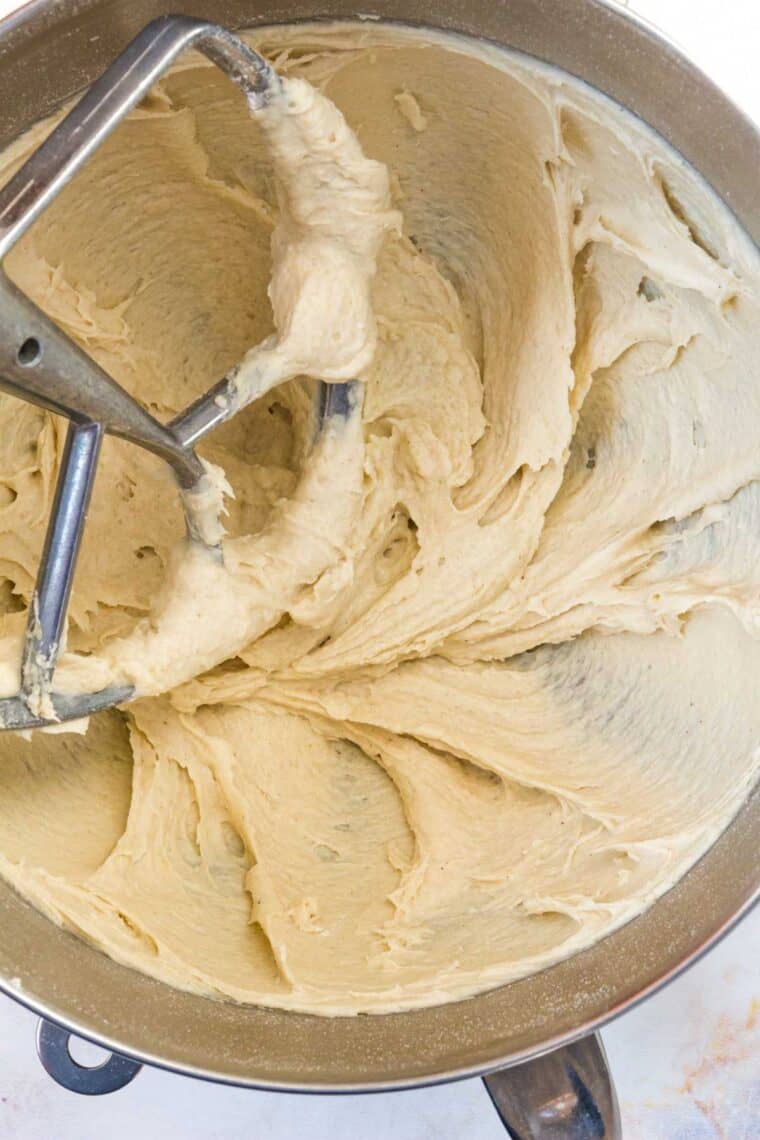 Roll: When the dough is finished resting, you'll divide the dough in half on a work surface dusted with tapioca starch. Knead the halves one at a time, and then carefully roll each half into a long baguette shape.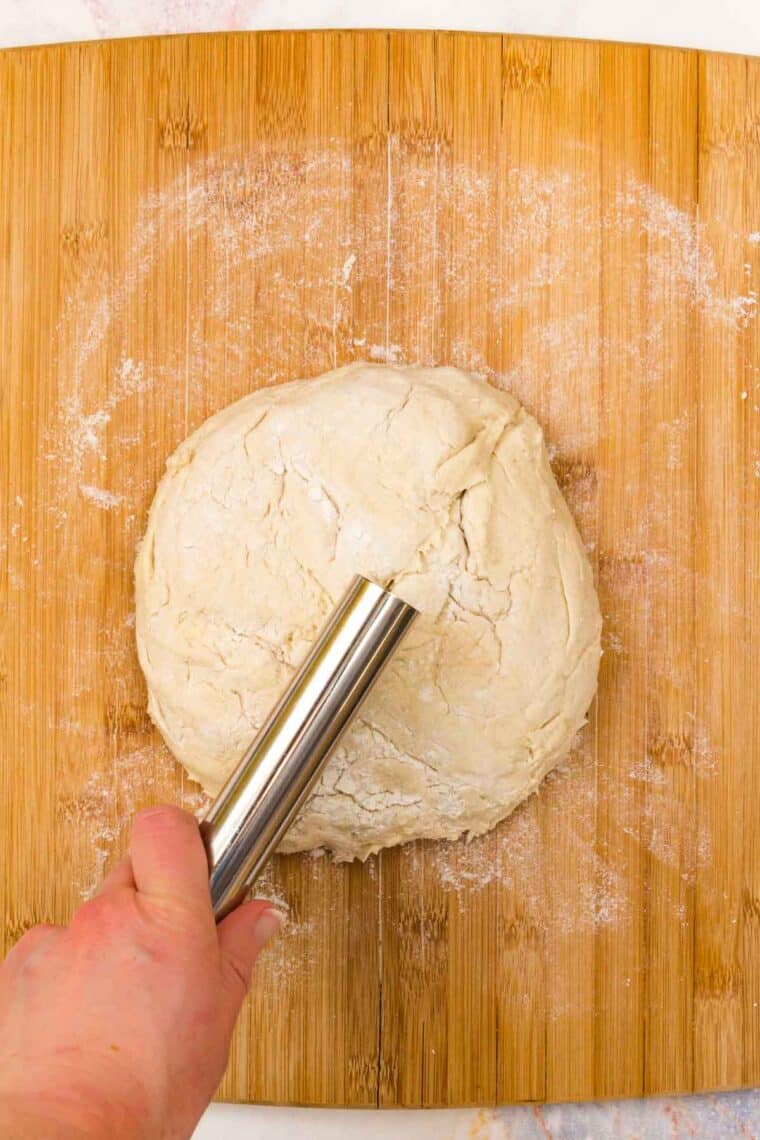 Rise: Next, cover the loaves with plastic wrap and leave them to rise in a warm location. Check them after 30 minutes, though you can leave them for up to 1 ½ hours. The baguettes should rise until they're not quite doubled in size. If the loaves start to split, they need to get in the oven! Transfer the loaves to a baking sheet and score the tops of the loaves with a knife and give them a spray with cooking oil.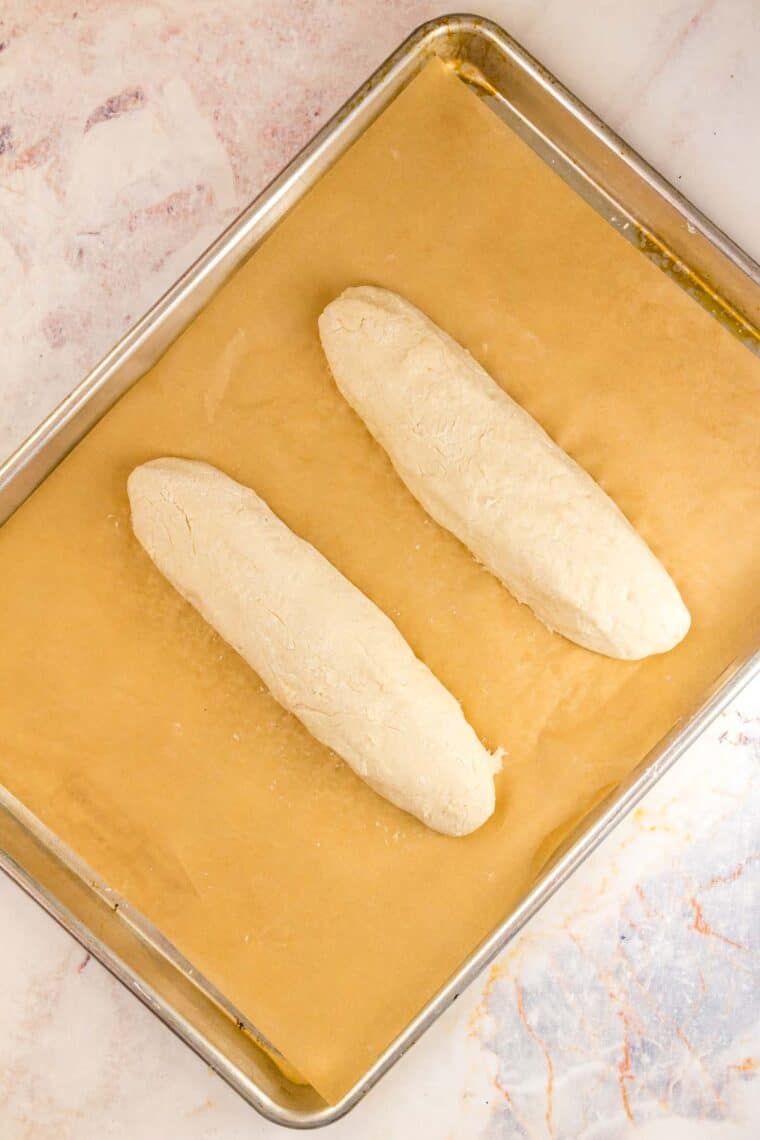 Bake: Before baking, place a shallow pan in the bottom of the preheated oven and pour in a couple of cups of boiling water. This will create steam and add moisture as the bread bakes. Finally, bake the baguettes in the center of the oven. You'll need to rotate the pan once about halfway through the baking time, but resist opening the door more than that and letting out the steam!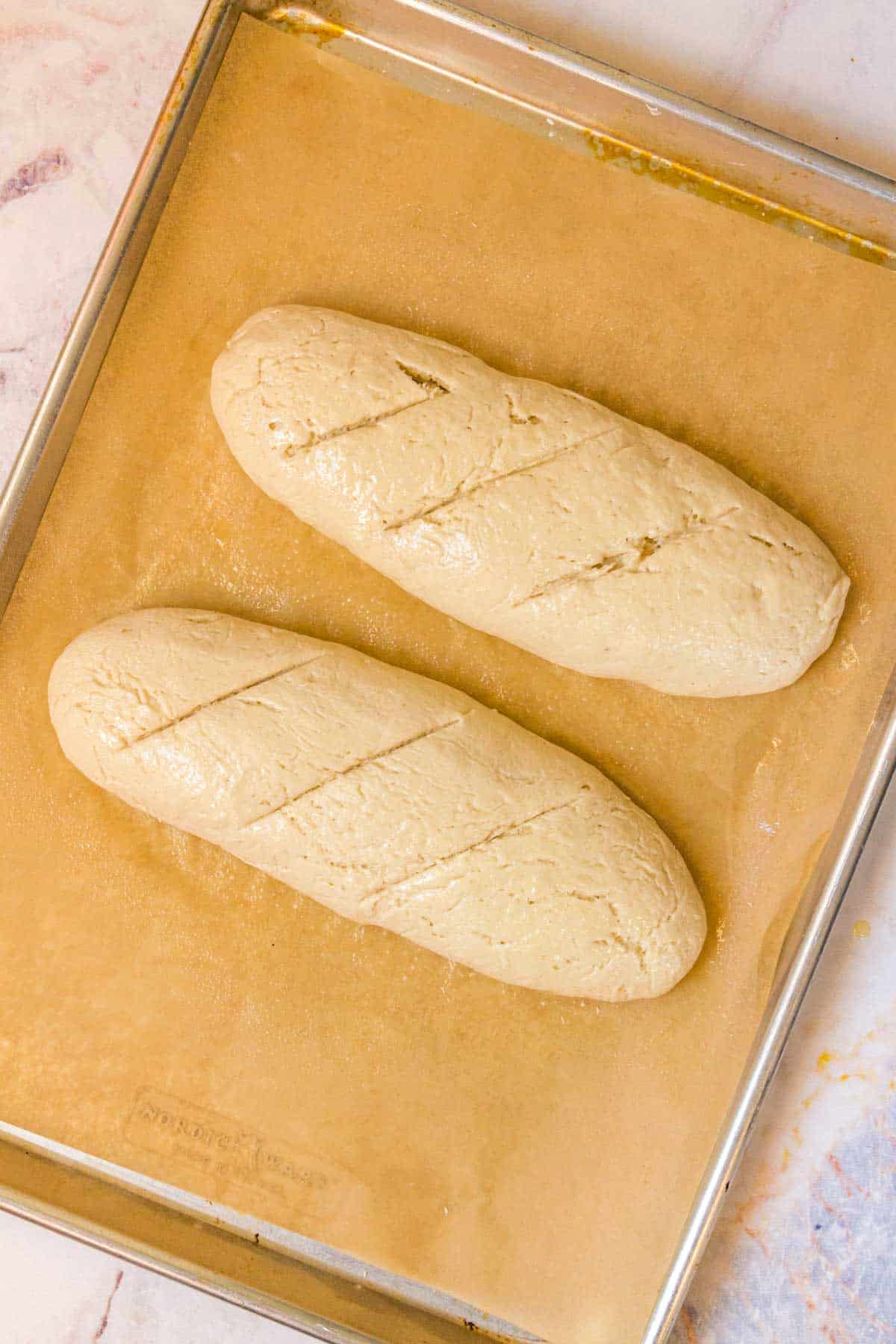 Remove the baguettes from the oven once they're baked and golden. Voilà! your very own homemade French bread.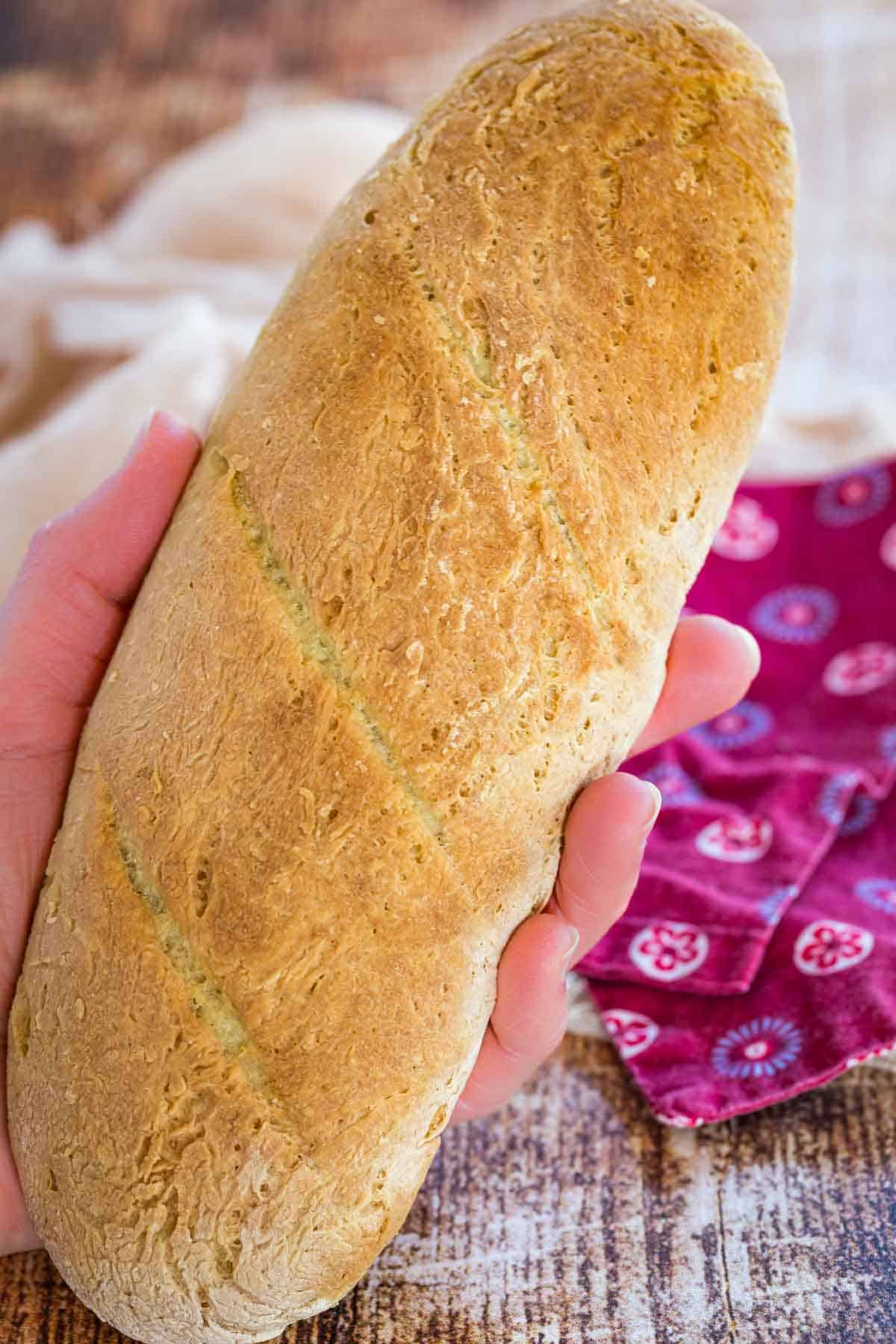 Tips for Success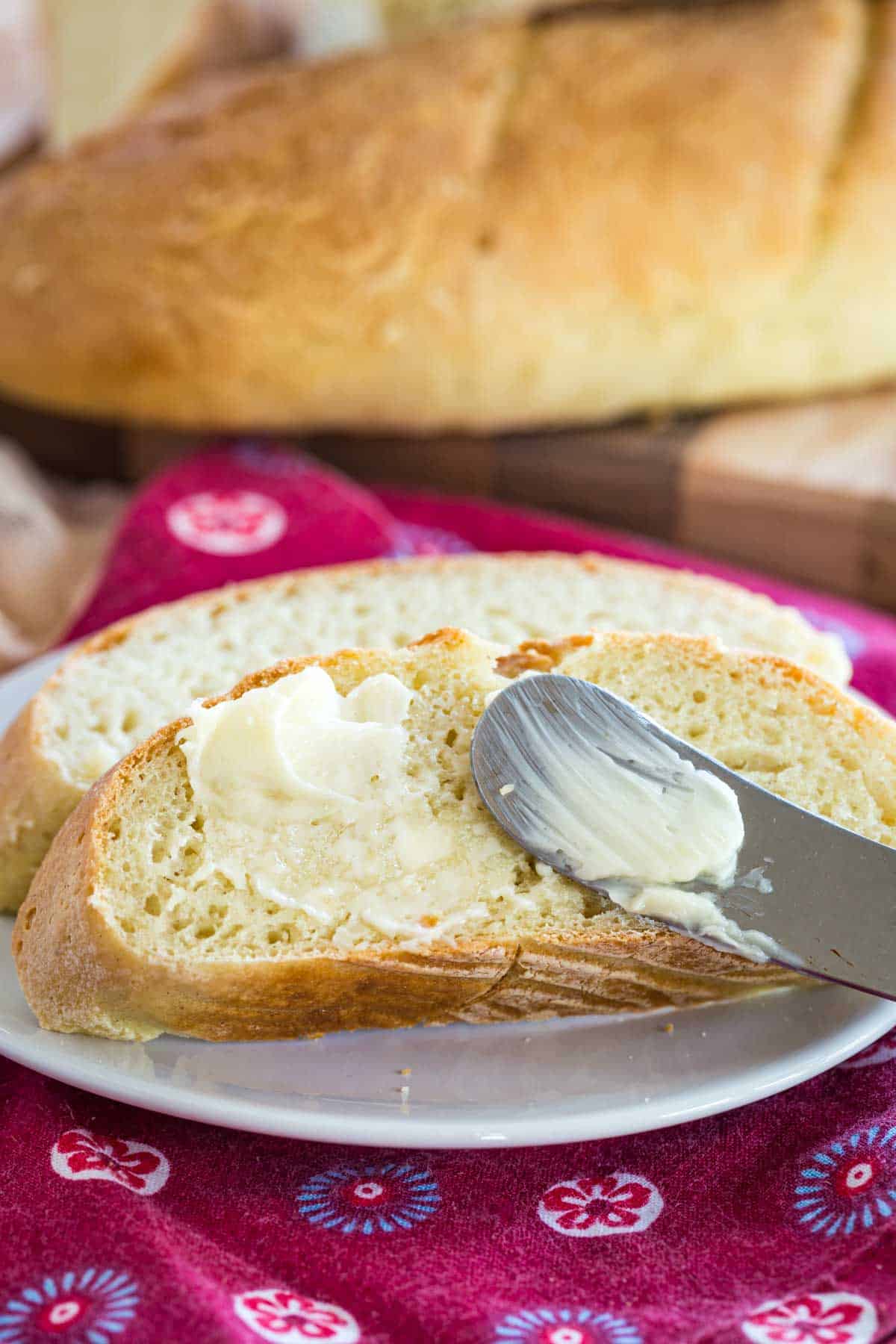 Serving Ideas
These French baguettes are super versatile. You can simply butter a slice and enjoy as is, tear off pieces to dip into soups and chilis, or get creative with slicing and serving!
Make it a Meal
A French baguette makes a wonderful addition to just about any dish or dinner. I especially love to have it with soups and saucy recipes so I can use the bread to literally mop up the flavors! Here are some of my favorite meal ideas to serve it with: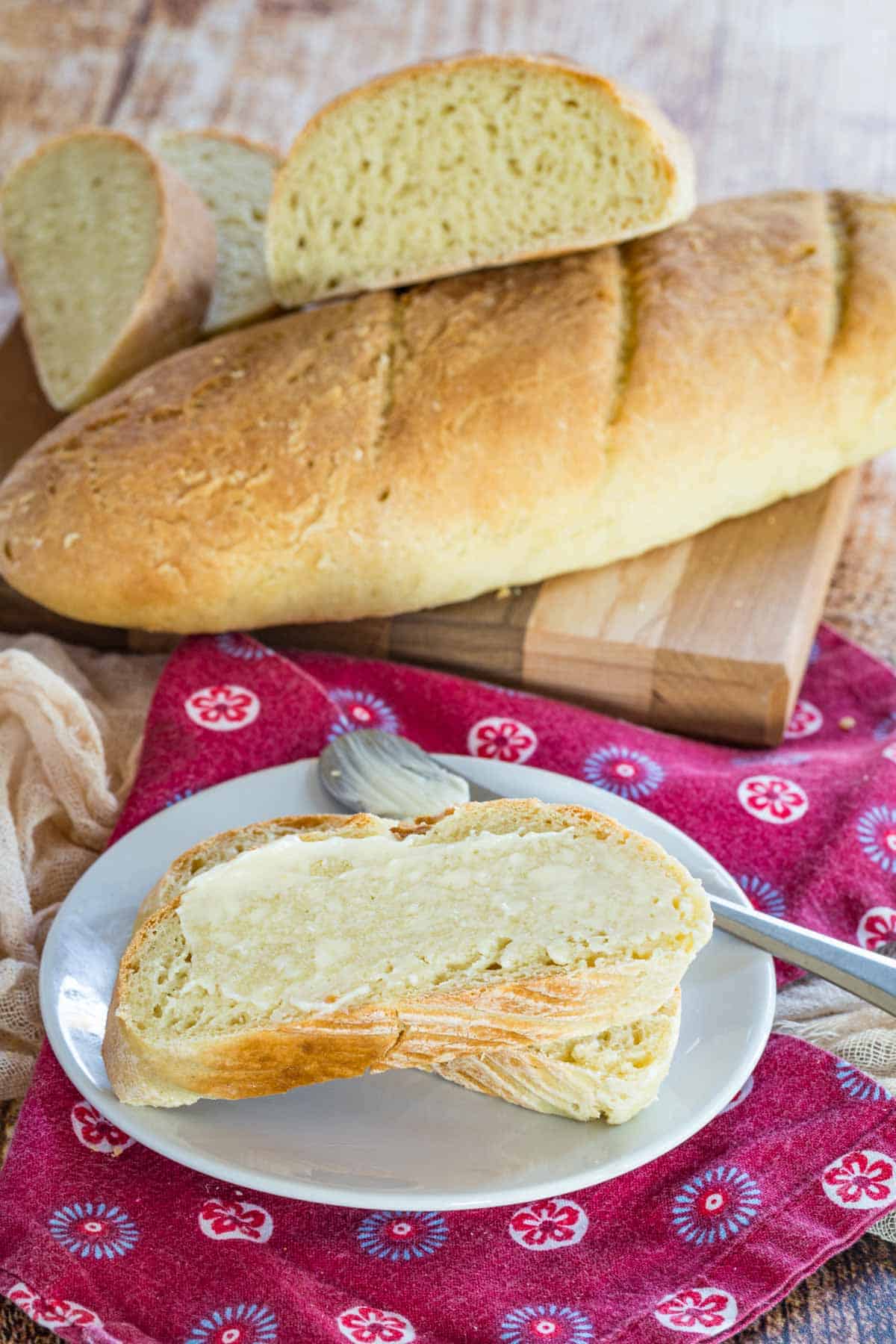 How to Store and Warm Up Extra Bread
Like most bread loaves, French baguettes are best enjoyed on the day they're made! However, the loaves will still keep for 2-3 days when stored loosely wrapped at room temperature. The crust will lose some of its crunch after a day or two, though you can revive it by popping the baguette in the oven on low for a few minutes. This should crisp it up again!
Can I Freeze This?
You can go ahead and freeze your French baguettes – we just won't tell the Parisians.
Freezing these loaves ensures that they don't go stale before you have a chance to use them, so why not. Freeze the baguettes the day you bake them, either whole or in slices. I find that a freezer bag works best for storing and freezing these airtight.
Whenever you're ready to serve your bread, just thaw the loaf or slices at room temperature. You can also warm them in the oven or toaster!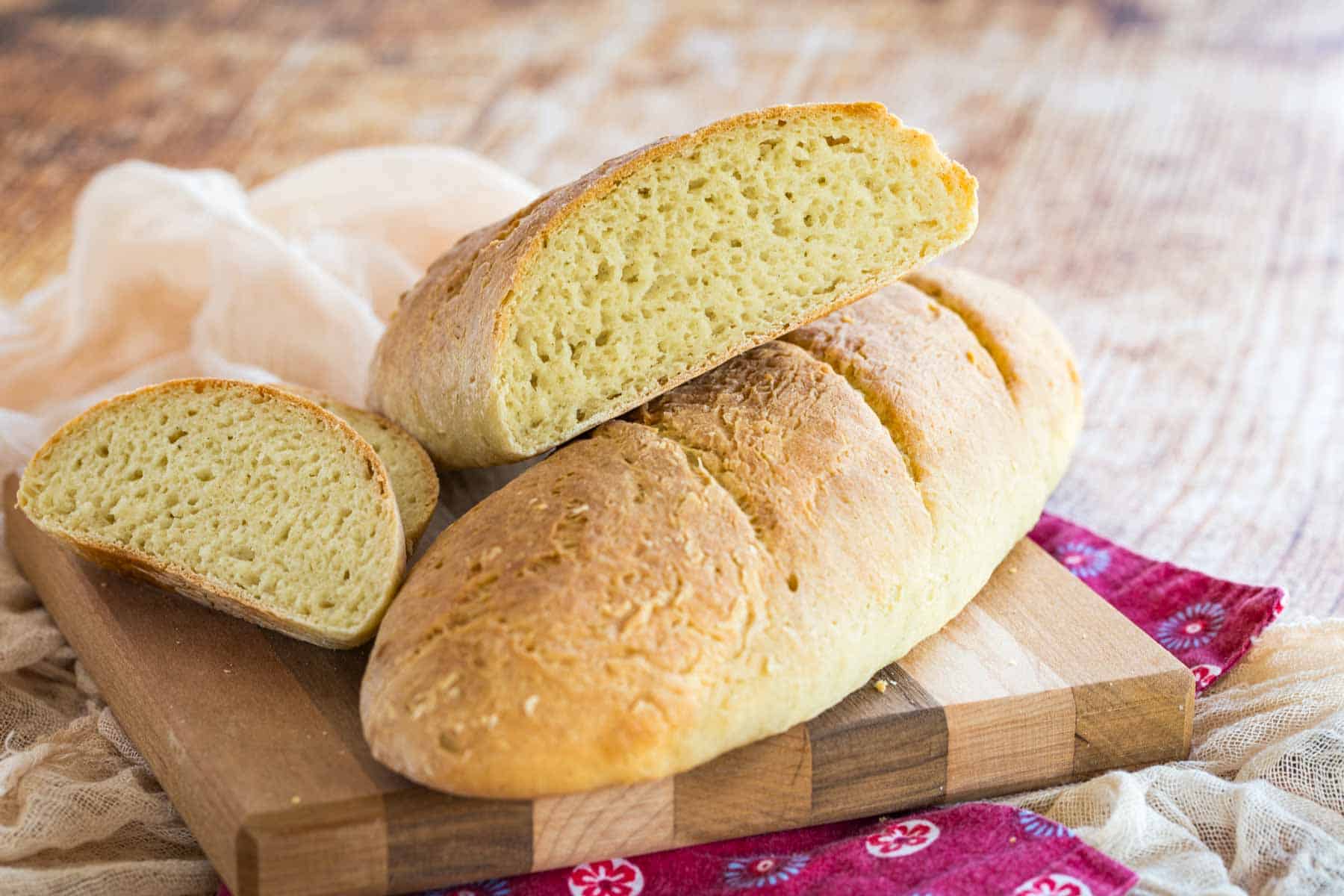 More Gluten Free Bread Recipes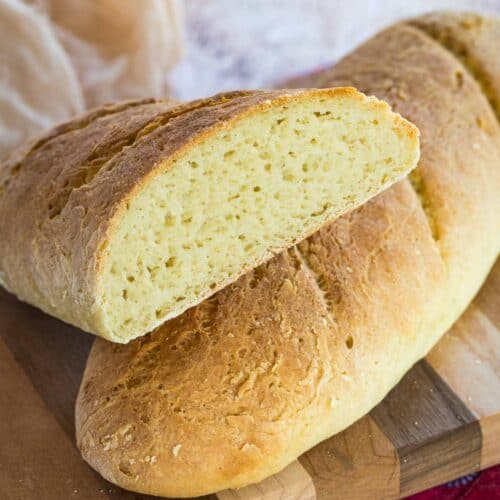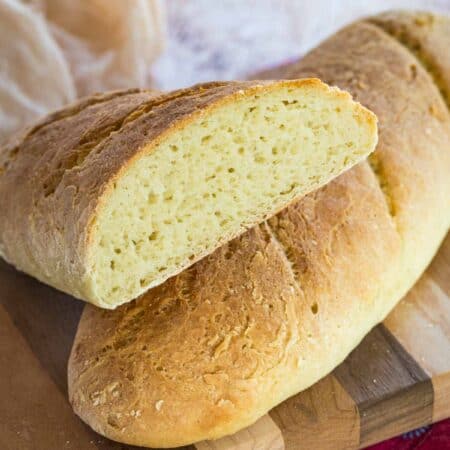 Gluten Free French Baguette
This recipe for crusty, Gluten-free French Baguettes makes the perfect soft and airy homemade bread loaves, complete with a crackly crust!
Ingredients
2

cups

gluten-free flour

(I use King Arthur Measure-for Measure), plus an additional 2-4 Tablespoons if needed

1/2

cup

tapioca starch

plus more for dusting the work surface

1 1/2

tbsp

sugar

1

tbsp

instant dry yeast

2

tsp

kosher salt

1

tsp

xanthan gum

1

cup

warm water

(90-100°F)

1

egg

+ 1 egg white, at room temperature

1

tsp

white vinegar

cooking oil spray
Instructions
In a mixing bowl or the bowl of a stand mixer fitted with a paddle attachment, combine the gluten free flour, tapioca starch, sugar, instant yeast, kosher salt, and xanthan gum. Stir to combine.

Add the water, egg and egg white, and vinegar and turn the mixer on low to combine. Then turn the mixer to medium and beat with a paddle for 1 minute, then increase to medium-high and beat for another 1 minute. The dough should look whipped and sticky, but not wet. If it is too wet, then mix in additional flour, 2 Tablespoons at a time.

Cover the bowl and chill in the refrigerator for 1 hour (or up to overnight).

Line a baking sheet with parchment paper.

Lightly dust a work surface with tapioca starch. When done resting, place the dough on the prepared work surface. Sprinkle the dough with more tapioca starch and divide it in half. Working with one piece at a time (keep the other half covered with plastic wrap), with floured hands, gently work the dough briefly just until it is smooth. Pat it into a thick rectangle about 8 inches long. Then, starting with the long (8-inch) side, fold it over to form a cylinder. Gently roll it to form a baguette shape with tapered ends. Carefully transfer it to the prepared baking sheet and reshape a bit if needed. Repeat with the remaining dough.

Spray a piece of plastic wrap with nonstick cooking spray and cover the loaves. Press it to the dough to help the loaves keep their shape as they rise. Don't seal it tightly, just rest it on the dough. Place the loaves somewhere warm to rise for 30 minutes to 1 1/2 hours, until the loaves are about one and a half their size. Do not let it overproof. If you see the loaves start to split at all, it is time to bake them.

Towards the end of the rising time, preheat the oven to 450°F. Place an oven-safe pan (preferably metal for safety, as glass can shatter) on the bottom of the oven. Bring 2 cups of water to a boil.

When the loaves are done rising, use a sharp paring knife or a bread lame to make three diagonal slashes on the top of each loaf. Spray the bread with nonstick spray.

Place the baking sheet in the oven on the center rack. Pour the boiling water into the pan on the bottom of the oven and quickly close the door to trap the steam inside. Bake for 23-25 minutes, rotating the pan after 18 minutes. The loaves are done when an instant-read thermometer registers 190°F and they are lightly golden all over. Remove from the oven and cool slightly or fully before slicing.
Nutrition Facts
Gluten Free French Baguette
Amount Per Serving
Calories 48
Calories from Fat 9
% Daily Value*
Fat 1g2%
Cholesterol 7mg2%
Sodium 201mg8%
Potassium 5mg0%
Carbohydrates 10g3%
Protein 1g2%
Vitamin A 10IU0%
Vitamin C 1mg1%
Calcium 8mg1%
Iron 1mg6%
* Percent Daily Values are based on a 2000 calorie diet.
Categories: