Banh Mi Salad
Disclosure: This post may contain affiliate links. Cupcakes & Kale Chips is a participant in the Amazon Services LLC Associates Program, an affiliate advertising program designed to provide a means for us to earn fees by linking to Amazon.com and affiliated sites.
The traditional Vietnamese Banh Mi sandwich is reinvented as a healthy Banh Mi Salad.
Banh Mi Salad
Life is a ride. And so is my body clock. Ever since the husband started his new job, he's been leaving home at 5.30am every morning, which means that I had to wake up before 5am daily compared to my normal waking up time at 6.30. Interestingly, this new habit makes me feel better and healthier and so does my husband. Although he normally is not a morning person, but nowadays, he feels like he has more energy and could accomplish more things during the day. As for me, my new habit of waking up early pushes me to exercise better and eat better. Sometimes being a picky eater is a good thing, don't you think?
Today I'm sharing a salad recipe… a delicious salad recipe to be exact. I like Banh Mi Sandwich even when it only comes with fried egg. When I was in college, my friend and I often had this sandwich in between classes, right around lunch time. Good thing I only have classes two days a week so I did not feel overwhelmed by the sandwich during those two years of college. The sandwich place that we often went to always add Maggi sauce to it; hence the mayo spread tastes different compared to other sandwich shops. It's unique and yet delicious.
[Tweet "Banh Mi Salad is a healthier way to enjoy the traditional sandwich!"]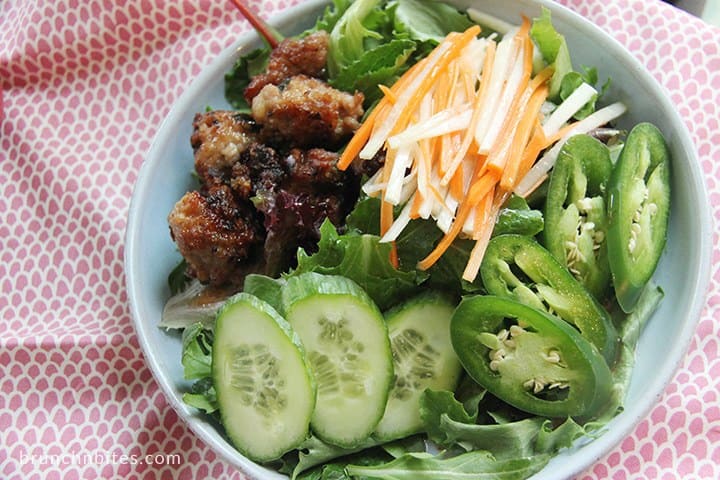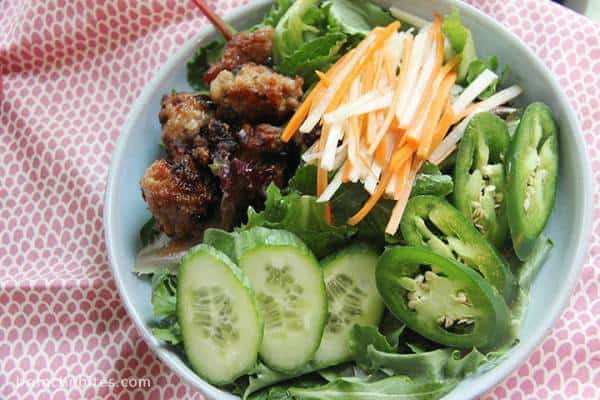 Well, today, I'm sharing this banh mi in salad and I'm adding pork meatballs on top, instead of fried egg. What I like about this salad is the dressing. Okay, I lied. I like everything about this salad. Pork meatballs are so easy to make and you only need 1 bowl to combine all the ingredients. And while you wait for the pork to harden a bit, you can start working on the pickles. Carrot daikon pickles are delicious and you only need 30 minutes to marinate it. Bonus point, you can enjoy this pickles alone or add them to your favorite salad. And the dressings… fresh and flavorful! I did not add lots of sodium to this; however it brings all the flavors out when you eat it with pickles and pork meatballs.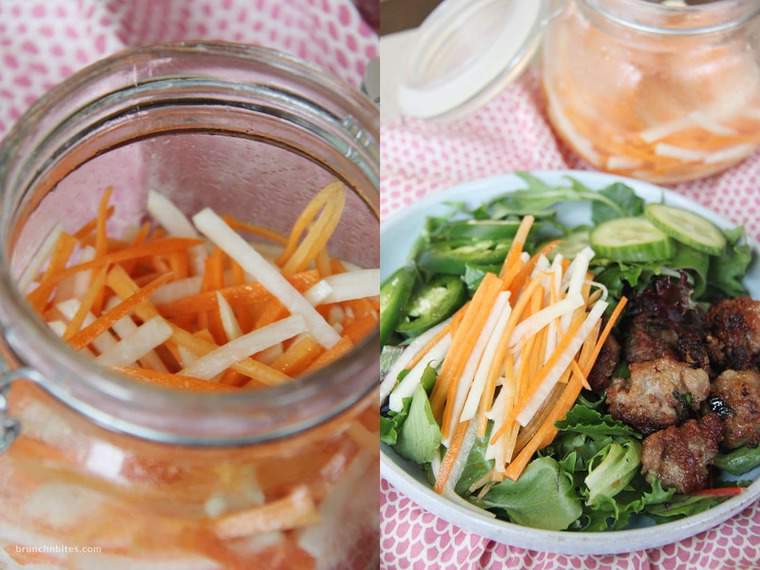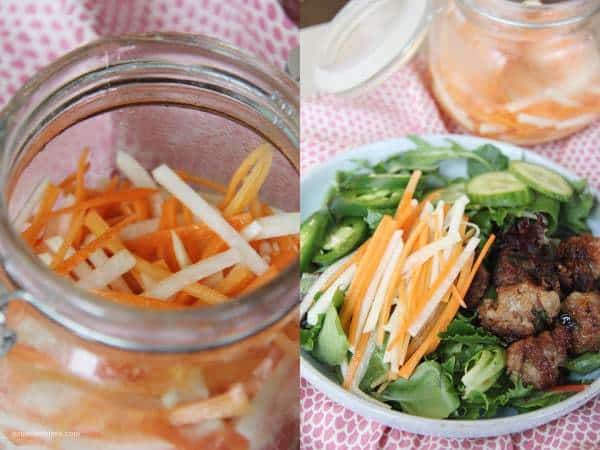 I hope you like this salad as much as I do because it does bring sunshine to the gloomy SF days.
Print Recipe
Banh Mi Salad
The classic Vietnamese pork sandwich is transformed into a healthy salad.
Ingredients
For the Pork Meatballs:
1

lb

ground pork

2

tbs

chopped cilantro

1

green onion

chopped

3

cloves

garlic

minced

2

tbs

fish sauce

1

tbs

sriracha

1

tsp

sugar

1/2

tsp

salt

1/2

tsp

grated ginger

1

tsp

white pepper

1/3

cup

cornstarch for dredging

Vegetable oil for frying
For the Carrot Daikon Pickles:
1

tbs

sesame oil

1

tbs

sugar

1

tbs

rice wine vinegar

2

tsp

lime juice

about 1/2 lime

1/3

cup

carrot

julienned

1/3

cup

daikon radish

julienned
For the Salad Dressing:
1/2

tsp

maggi sauce

2

tsp

sugar

1

tsp

fish sauce

2

tsp

lime juice

about 1/2 lime

1

tbs

rice wine vinegar

1

tbs

oil

1

tbs

sesame oil

1

tbs

sriracha
For the Salad:
5

oz

salad greens

5oz. Salad Spring Mix

1

Jalapeno

sliced

1

Cucumber

sliced or julienne
Instructions
For the Pork Meatballs:
Combine all the ingredients, except cornstarch, in a bowl.

Roll into approximately 16 balls (1 ounce each) and roll in cornstarch to completely cover the surface, refrigerate for 20 minutes.

Heat 2 inches of vegetable oil in a medium saucepan or a large pot over medium-­high heat. Add meatballs into the hot oil and fry for 5 minutes. Don't crowd them.

Remove the meatballs to a paper towel-­lined plate to drain.

Set aside.
For the Carrot Daikon Pickles:
Combine all ingredients in a jar and refrigerate for 1 hour.
For the Salad Dressing:
Combine all ingredients and drizzle over salad.
For the salad:
Add salad greens to your plate and top with jalapeno, cucumber, and meatballs.
Nutrition
Serving:
4
meatballs
|
Calories:
491
kcal
|
Carbohydrates:
22
g
|
Protein:
21
g
|
Fat:
34
g
|
Saturated Fat:
10
g
|
Cholesterol:
81
mg
|
Sodium:
1412
mg
|
Potassium:
579
mg
|
Fiber:
1
g
|
Sugar:
8
g
|
Vitamin A:
2320
IU
|
Vitamin C:
26
mg
|
Calcium:
45
mg
|
Iron:
1.6
mg
Here are a few of Brianne's favorite salads…