This post may contain affiliate links. Read my disclosure policy.
Happy Birthday Julia!! On August 15th, Julia Child would have been 100 years old. Sadly, she left this world several years ago, but she left behind a legacy that has inspired both professional chefs and novice cooks, alike. I remember watching Julia's shows on PBS on my grandma's 12-inch television when I was just a small child, pretending the perfume bottles and knick knacks that were scattered on her dresser were my bottles of ingredients as I "cooked" in her bedroom. That is why I am so excited that #SundaySupper is joining with PBS celebrate this event as we help them kick off the celebration during the week leading up to her birthday, as foodies around the world unite to #CookForJulia!
"Find something you're passionate about and keep tremendously interested in it." – Julia Child
Julia was wise and smart, and not just in the kitchen. I wish her words above had rung in my ears at an earlier age. While I am happy I found my passion for food, I wish I had discovered it sooner. Or perhaps I had discovered it, as evidenced by my story above, but maybe I just didn't accept it, and instead went with the more traditional route for your typical, geeky "smart girl" – 4 years of college followed by starting a career in my chosen field. Well, maybe one day I will get to culinary school. But for now, I am just going to keep interested in this passion (as well as my newer one – food photography) and indulge it by sharing with all of my wonderful readers, and learning from all of my incredible foodie friends.
"You don't have to cook fancy or complicated masterpieces – just good food from fresh ingredients." – Julia Child
When deciding what to make for #SundaySupper, I went to Facebook and asked my fans what I should make. I got a lot of great suggestions, but one thing jumped out at me – Ratatouille!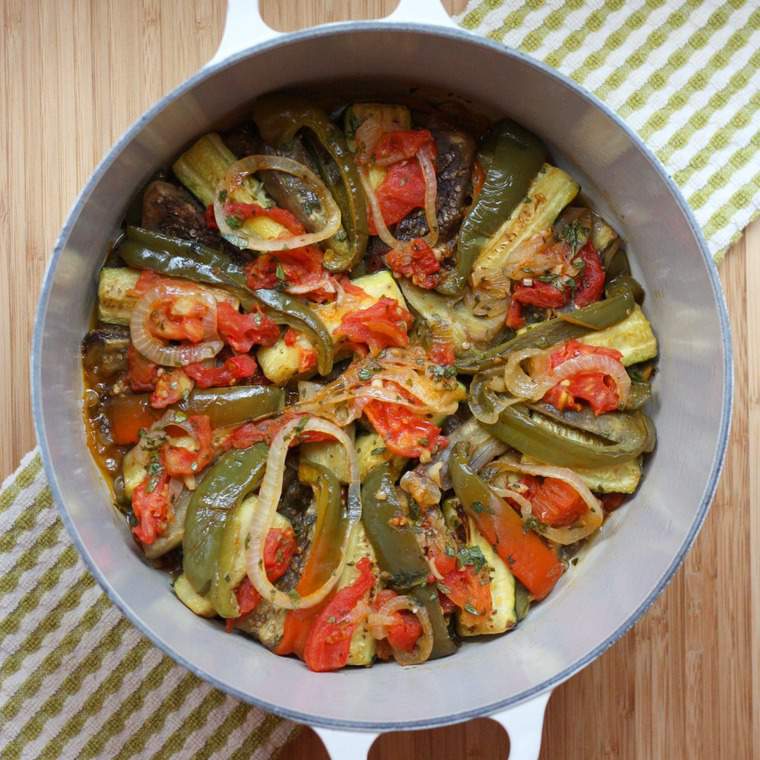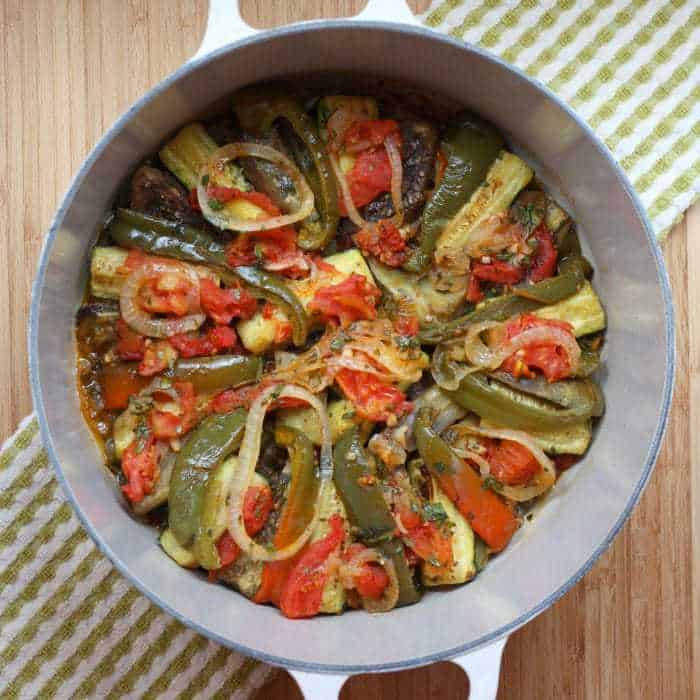 I knew that I would be getting pretty much every ingredient from my CSA share, so it was the perfect recipe to be able to use the freshest ingredients for this time of year. It felt good to know that I was preparing this recipe truly in her spirit, by using what was local and in season.
I am not going to say that this was a quick recipe, but it is not difficult. And is is easily made in advance, so if you have some time and find peeling and cutting and sautéing as therapeutic as I do, then give this recipe a try. I made it the night before, and since my tomatoes didn't seem super-juicy, and we tend to like our veggies fairly soft, I added about a quarter cup of water. Totally not necessary. By the time I pulled to pot out of the fridge the next day to reheat it, a ton of juices had been given off. So I had to boil it down a little. But this was OK to me, since, as I said, we do like softer veggies.
For so few ingredients, I could not believe how flavorful the ratatouille was. I guess that is what she was trying to say – fresh, local, in-season ingredients are all you need to make good food.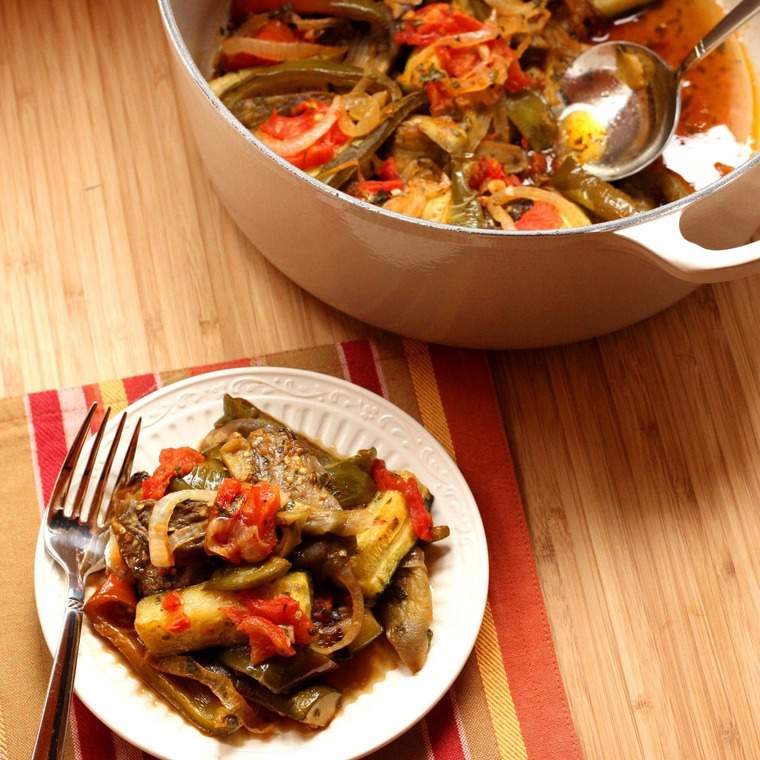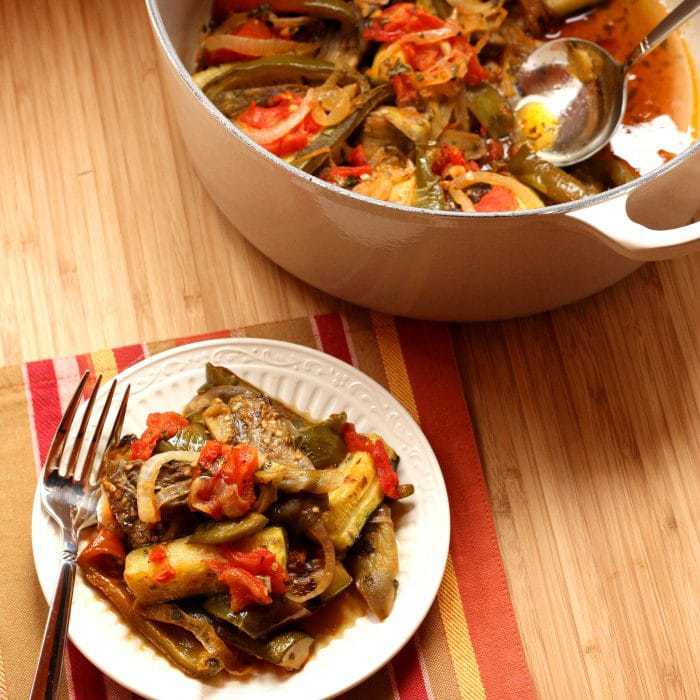 While channeling my own inner-Julia, I also made her roast chicken and a mini version of Pommes Anna, which I hope to share with you as we continue to celebrate in the days leading up to her birthday.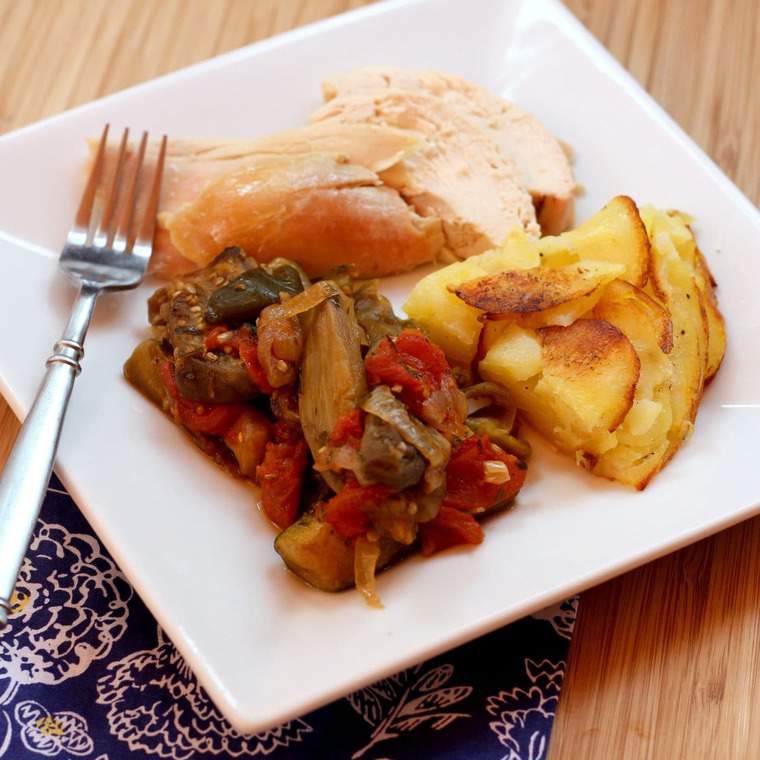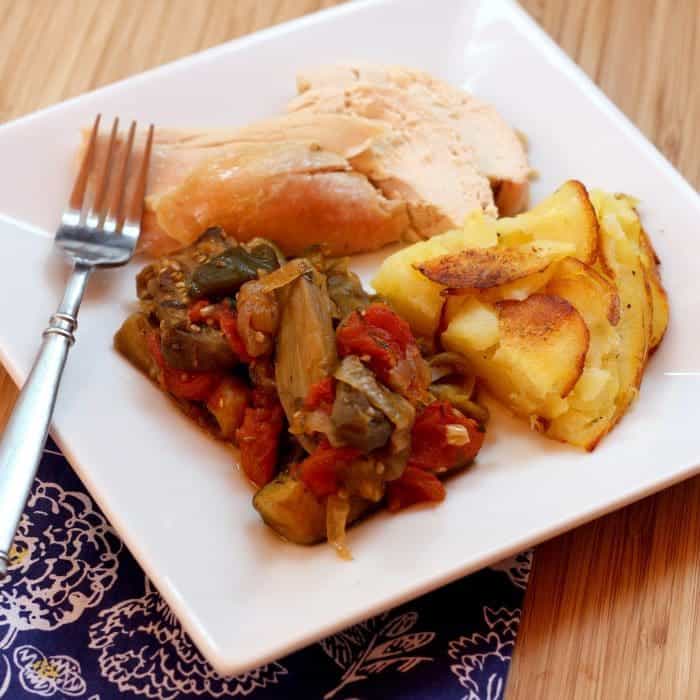 Samantha of The Little Ferraro Kitchen has done a fabulous job planning and hosting this week's event, and at the bottom of this post, you will see the links to all of the #SundaySupper #CookWithJulia participants and the amazing recipes they have selected and recreated. And remember, the fun starts every week at 3:00pm ET by showcasing fabulous recipes. At 7:00 pm ET, we will start our live chat. Join us on twitter by using hashtag #SundaySupper or using Tweetchat. We love to feature your recipes on our #sundaysupper pinterest board and share them with all of our followers. In addition, PBS Food and #JC100 will be tweeting with us and kicking off her 100th Birthday celebrations. See you there!
I hope that you are inspired to cook something wonderful for your family and friends, and, more importantly, to follow your passion!!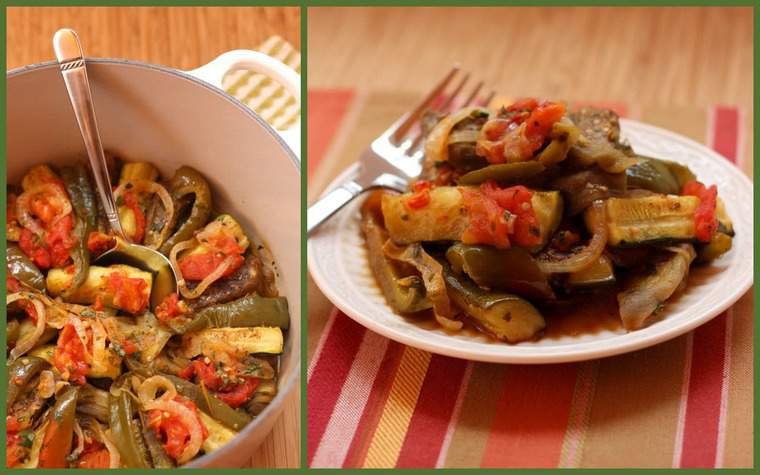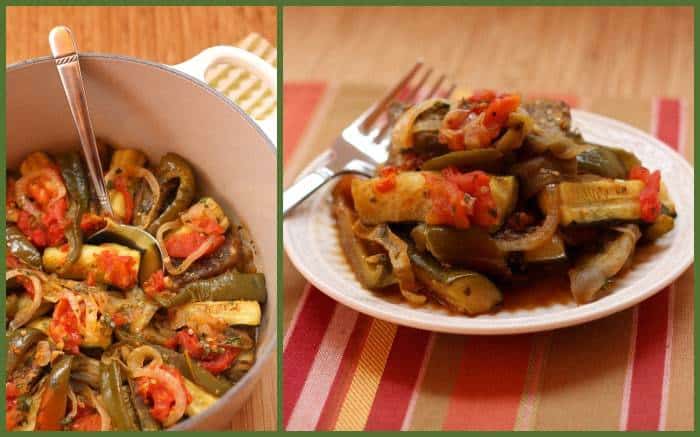 Do you have a favorite Julia Child recipe?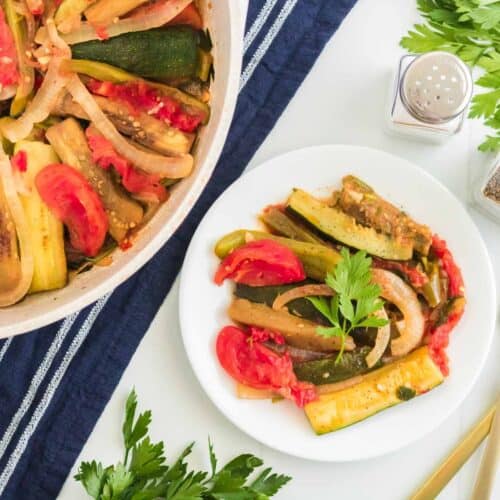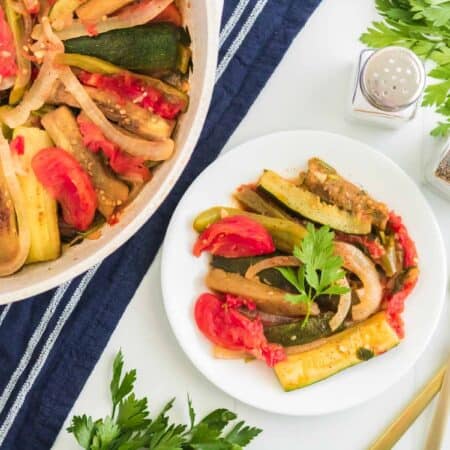 Ratatouille
Stuffed with a colorful variety of heart-healthy veggies, Ratatouille is a juicy and tender vegetable casserole. It stars meaty eggplant, tangy tomato and rich zucchini in a sumptuous broth. This dish is not only a great source of vitamins and minerals, but it's also packed with savory flavor!
Ingredients
For the Tomatoes
1

lb.

firm

ripe, red tomatoes
For the Eggplant and Zucchini
1

lb.

eggplant

1

lb.

zucchini

1

t

salt

3-4

T

olive oil

or more if needed
For the Onions and Peppers
1/2

lb.

thinly sliced yellow onions

2

sliced green bell peppers

2-3

T

olive oil

if necessary

2

cloves

garlic

minced

Salt and pepper
For Final Preparation
3

T

minced parsley

Salt and pepper
Instructions
Prepare the Tomatoes
Bring a pot of water to a boil.

Slice an "X" in the bottom of each tomato.

Place the tomatoes in the boiling water for 30 seconds to 1 minute, or until skin starts to separate from the tomato.

Allow to cool slightly, then remove the skin.

Slice the tomatoes in half, remove seeds and juice, and slice into 3/8-inch strips.

Set aside.
Cook the Eggplant and Zucchini
Peel eggplant, and cut into slices about 3/8 in. thick, 2-3 in. long, and 1 in. wide.

Slice off the ends of the zucchini, and cut into slices about the same size as the eggplant (I quartered the zucchini lengthwise, then cut 2-3 in. long).

Toss the vegetables in a bowl with the salt, and let stand for 30 minutes.

Drain and dry on a towel.

Heat about 1T olive oil at a time in a 10- to 12-inch enamel skillet or pot

In a single layer, saute the eggplant for about 1 minute per side, followed by the zucchini, until lightly browned, adding more olive oil, as needed.

Set aside in a bowl.
Grill the Onions and Peppers
In the same skillet as the eggplant and zucchini, cook the onions and peppers slowly in olive oil for about 10 minutes, or until tender but not browned.

Add garlic, and salt and pepper, to taste.

Lay the reserved tomato slices over the onions and pepper. Season with salt and pepper.

Cover and cook on low for about 5 minutes, or until tomatoes begin to release their juices.

Uncover, baste tomatoes with juices, increase heat, and boil until most of the juice has evaporated.
Make Final Preparations
Place one-third of tomato mixture into an enameled pot or other casserole that can go on the stovetop. Sprinkle with 1 T parsley.

Arrange half of the eggplant and zucchini on top, then half of the remaining tomato mixture, and another 1 T parsley.

Arrange the rest of the eggplant and zucchini, then the remaining tomatoes and parsley.

Cover and simmer over low heat for 10 minutes (See Notes).

Uncover, baste with juices, and adjust seasoning.

Increase heat slightly, and cook uncovered for about 15 minutes, basting occasionally, until juices have almost completely evaporated.
Notes
Very slightly adapted from Mastering the Art of French Cooking by Julia Child.
To Store: Keep in an airtight container in the fridge for up to a week.
To Freeze: Freeze for up to 3 months. Use double-lock freezer bags or a tightly sealed freezer-safe container. Let it thaw overnight before reheating.
To Reheat: Cook in the oven for 7 minutes at 375°F or add water (around 1/8 cup for each serving) and stir gently on the stove over medium-low heat.
Nutrition Facts
Ratatouille
Amount Per Serving
Calories 224
Calories from Fat 135
% Daily Value*
Fat 15g23%
Sodium 402mg17%
Potassium 510mg15%
Carbohydrates 14g5%
Protein 9g18%
Vitamin A 485IU10%
Vitamin C 53mg64%
Calcium 131mg13%
Iron 2mg11%
* Percent Daily Values are based on a 2000 calorie diet.
Enjoy!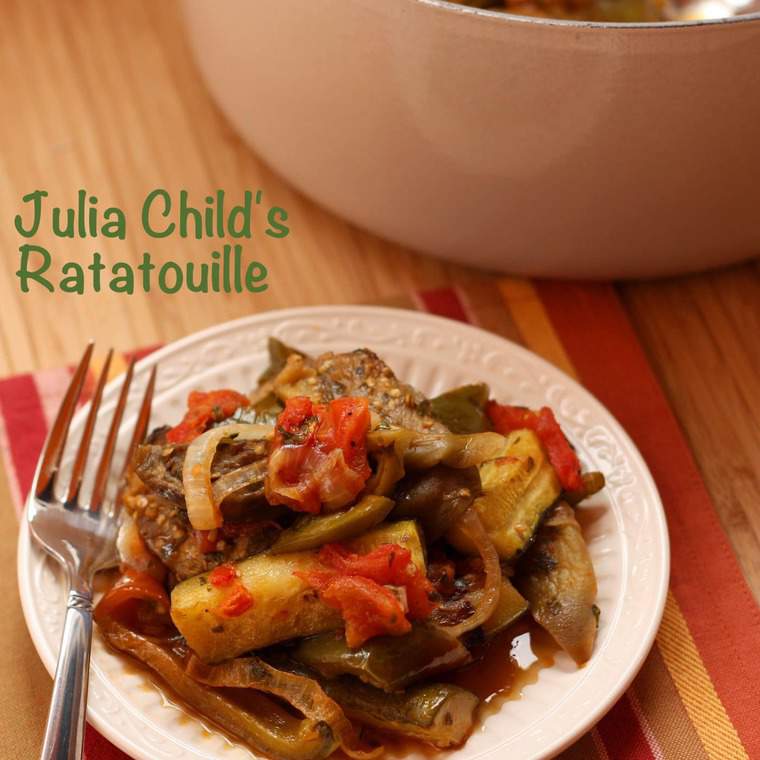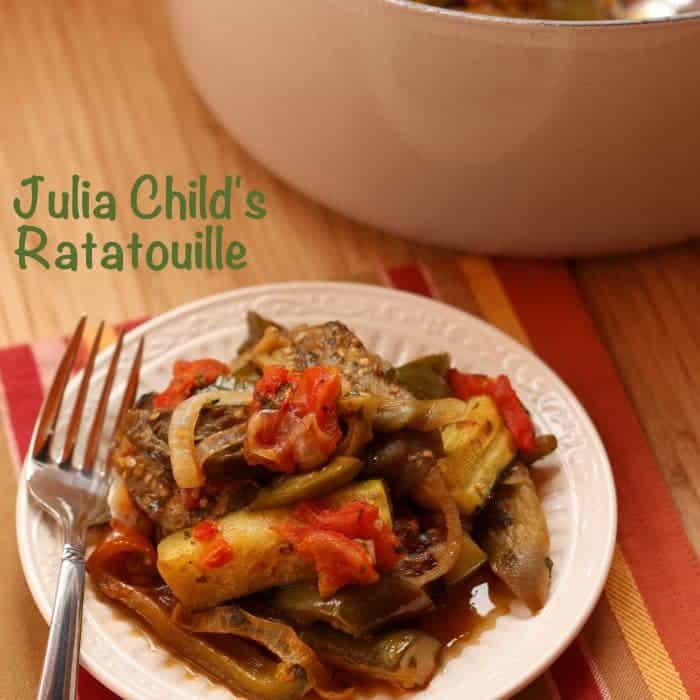 Join us this week Around the Family Table for #SundaySupper! That fun starts at 3pm EST with these fabulous recipes being showcased and ends with our #SundaySupper live chat at 7pm EST. This is a #SundaySupper you don't want to miss!
#CookForJulia Breakfast
Râpée Morvandelle by Cindy's Recipes and Writings
Croissants by Cookistry
Cheese and Bacon Quiche by Tora's Real Food
#CookForJulia Lunch
Tuna Salad Nicoise by Magnolia Days
Blood Orange, Walnut, and Rocket Salad by Granny's Down Home Southern Cooking
Croque Monsieur by Webicurean
Spinach and Cream Cheese Pancakes by Happy Baking Days
Julia's Chicken Salad by My Trials in the Kitchen
Pissaladière Niçoise (Onion Tart with Anchovies and Black Olives) by The Wimpy Vegetarian
Provencal Tomato Quiche by Are you hungry?
Quiche Lorraine Spoon and Saucer
Potato and Onion Soup (Potage Parmentier) by Shockingly Delicious
#CookForJulia Dinner
Bouillabaisse by The Girl in the Little Red Kitchen
Boeuf Bourguignon by Chelsea's Culinary Indulgence
Orecchiette Con Broccoli Di Rape and Sausages by Doggie at the Dinner Table
Boeuf Bourguignon by Hezzi D's Books and Cooks
Veal Stew with Onions and Mushrooms with Baked Cucumbers and Boiled Potatoes (Blanquette de veau a l'ancienne with concombres au buerre) by Kimchi Mom
Salmon en Papillote by Girlichef
Poached salmon with cucumber sauce by Katherine Martinelli

Lobster Souffle and Deviled Chicken- Crispy Bits & Burnt Ends
Roasted Chicken with Julia's Mustard Marinade by The Meltaways
Wild Mushroom and Herb Stuffed Chicken- Mama Mommy Mom
Puree of White Beans with Garlic and Herbs (Brandade á la Soissonaise) Avocado Pesto
Poulet au Porto by Family Foodie
#CookForJulia Sides
Hollondaise over Blanched Asparagus by The Little Ferraro Kitchen
Scalloped Potatoes with Milk, Cheese, and Garlic (Gratin Dauphinois) by Home Cooking Memories
Ratatouille by Basic N Delicious
French-style country pate by There and Back Again
White Bean Dip with Homemade Tortilla Chips Momma's Meals
Oeufs à la Diable by What Smells So Good?
Soubise by The Weekend Gourmet
Ratatouille by Cupcakes and Kale Chips
#CookForJulia Desserts
Cream Cheese and Lemon Flan by Juanita's Cocina
Strawberry Sherbert in Cooky Cups by Cravings of a Lunatic
Creme Brulee by Wine Everyday
Mousseline Au Chocolat by Small Wallet Big Appetite
Peach Tarte Tatin by That Skinny Chick Can Bake
Cinnamon Toast Flan by Vintage Kitchen Notes
Dark Chocolate Crepes by Family Spice
Crepes Fines Sucrees by Mangoes and Chutney
Pommes Rosemarie:Apples Rosie The Daily Dish Recipes
Espresso Soufflé by Chocolate Moosey
Best Ever Brownies by In the Kitchen with Audrey
Orange-Almond Jelly Roll Cake by Mrs. Mama Hen
Orange Spongecake Cupcakes by Mama's Blissful Bites
Orange Mousse with Greek Yogurt by Sue's Nutrition Buzz
Frozen Chocolate Mousse by Big Bear's Wife
Wine Pairings: Relishing Food and Wine; Thanks to Julia Child! by ENOFYLZ