This post may contain affiliate links. Read my disclosure policy.
With golden brown and crispy potatoes and plenty of cheese, this Cheesy Hash Brown Potato Casserole makes a perfect side dish for every meal of the day. Whether you serve these hashbrowns for breakfast, brunch, or dinner, it is so easy to make. With only a handful of simple ingredients (and no can of condensed cream soup), it is a naturally gluten free recipe.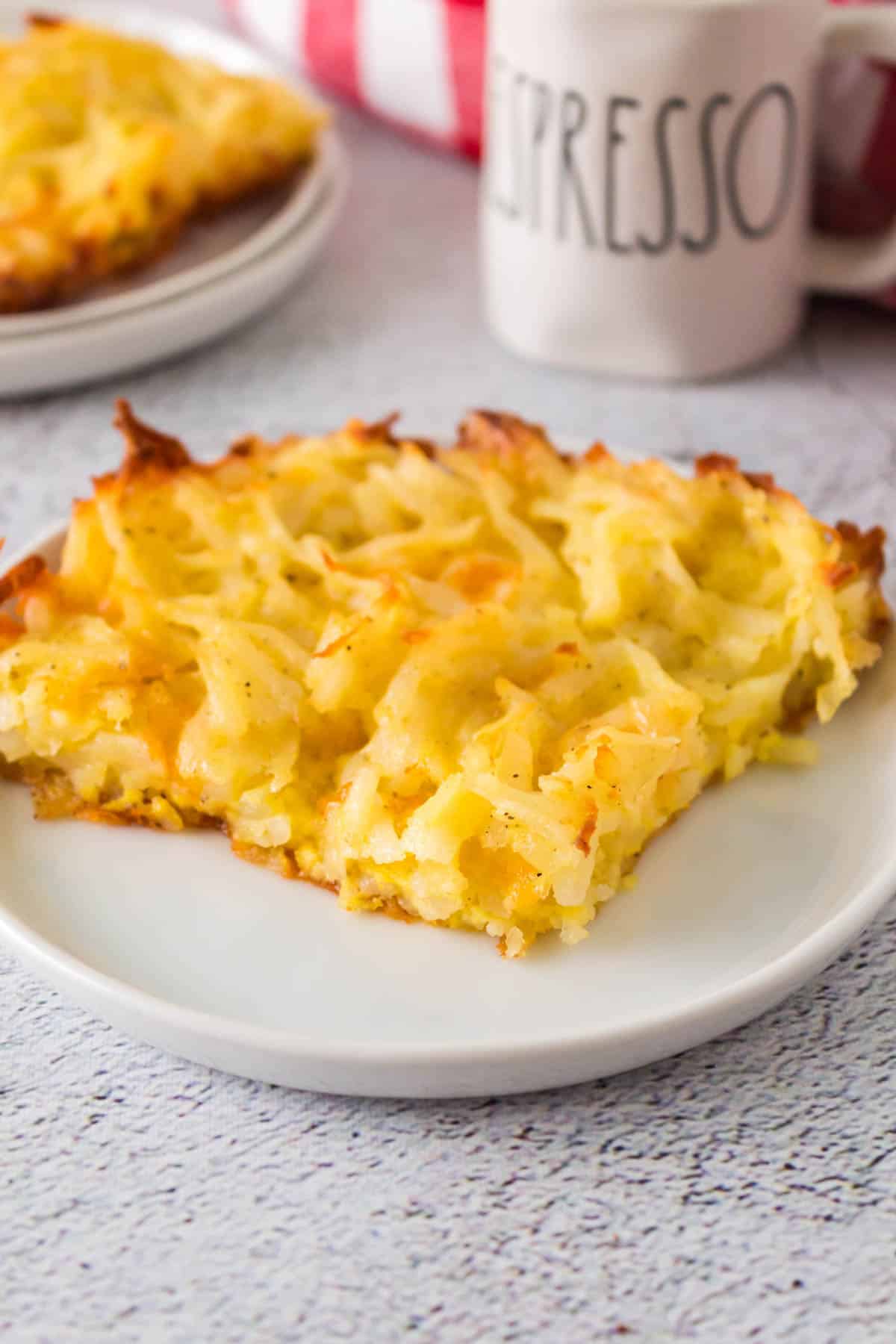 What is a Hashbrown Casserole?
When many people hear of a hashbrown casserole, they may be thinking of what is often referred to as cheesy potatoes or funeral potatoes. Or else they are remembering a similar style dish served at Cracker Barrel. These are usually creamy casseroles with shredded potatoes, condensed soup, sour cream, and shredded cheese.
Yes, it is delicious, rich, and super cheesy. But it can be a bit heavy and oftentimes not gluten free. Plus, it gets away from the best part of hash browns – the crispy potatoes! So it's time to change up the usual expectations.
Gluten Free Hash Brown Potato Casserole Recipe
We are keeping it simple and also making it without soup, so it's a naturally gluten free hashbrown casserole too! All you have to do is mix together shredded potatoes, cheese, eggs, oil, and some simple seasonings, and bake. You still get that delicious cheesiness, but you also get the golden brown potatoes on the top and bottom, and lots of crispy edges, with a nice, soft interior.
You can serve it for a weekend brunch or make it ahead and reheat it for breakfast in the morning. It's one of my favorite gluten free potato recipes for a holiday side dish with baked ham, or you can pop it in the oven while you make the rest of your quick and easy dinner on a busy weeknight. And it also makes a great potluck dish.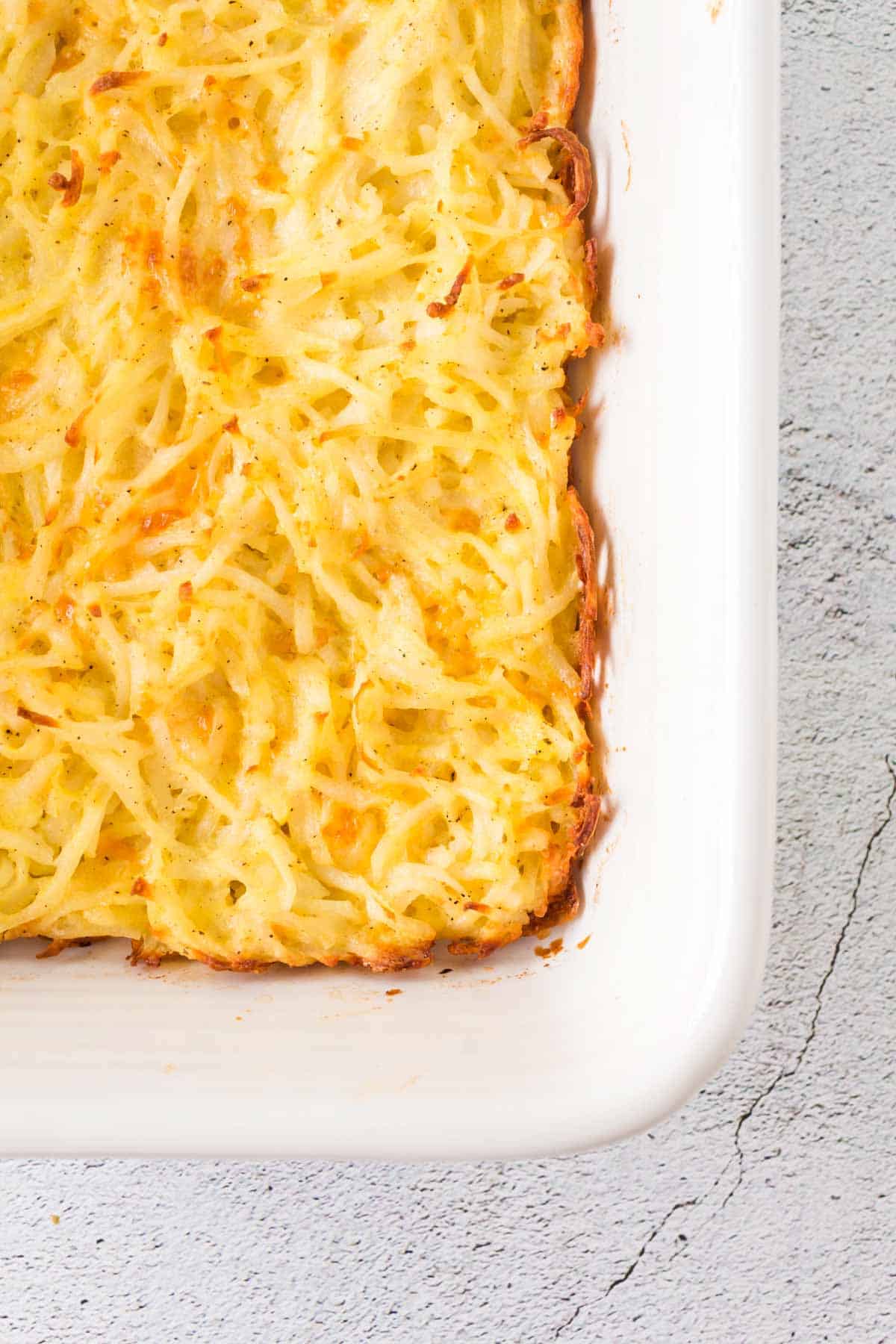 What You'll Need
You only need to mix together a few simple ingredients. Grab a bag of shredded potatoes from the store because you probably already have all of the other ingredients to make this gluten free hashbrown casserole.
Shredded hash brown potatoes: I recommend the brand Simply Potatoes, which you can find in the refrigerated section of the grocery store. Frozen potatoes tend to have too much moisture and do not get as golden and crispy.
Olive oil: Some will be used to oil the baking dish and the rest will go into the potato mixture.
Seasonings: Keep it simple with just salt, pepper, and garlic powder.
E

ggs:

three large ones help bin

d everything together.
Colby Jack cheese: It is best to use a block of cheese that you shred. You can swap this for cheddar, too.
Can I use fresh potatoes?
Yes, you can grate about 1 1/4 to  1 1/2 pounds of fresh potatoes on a box grater. Soak for about 30 minutes in a bowl of cool water, then dry thoroughly in a kitchen towel or paper towels.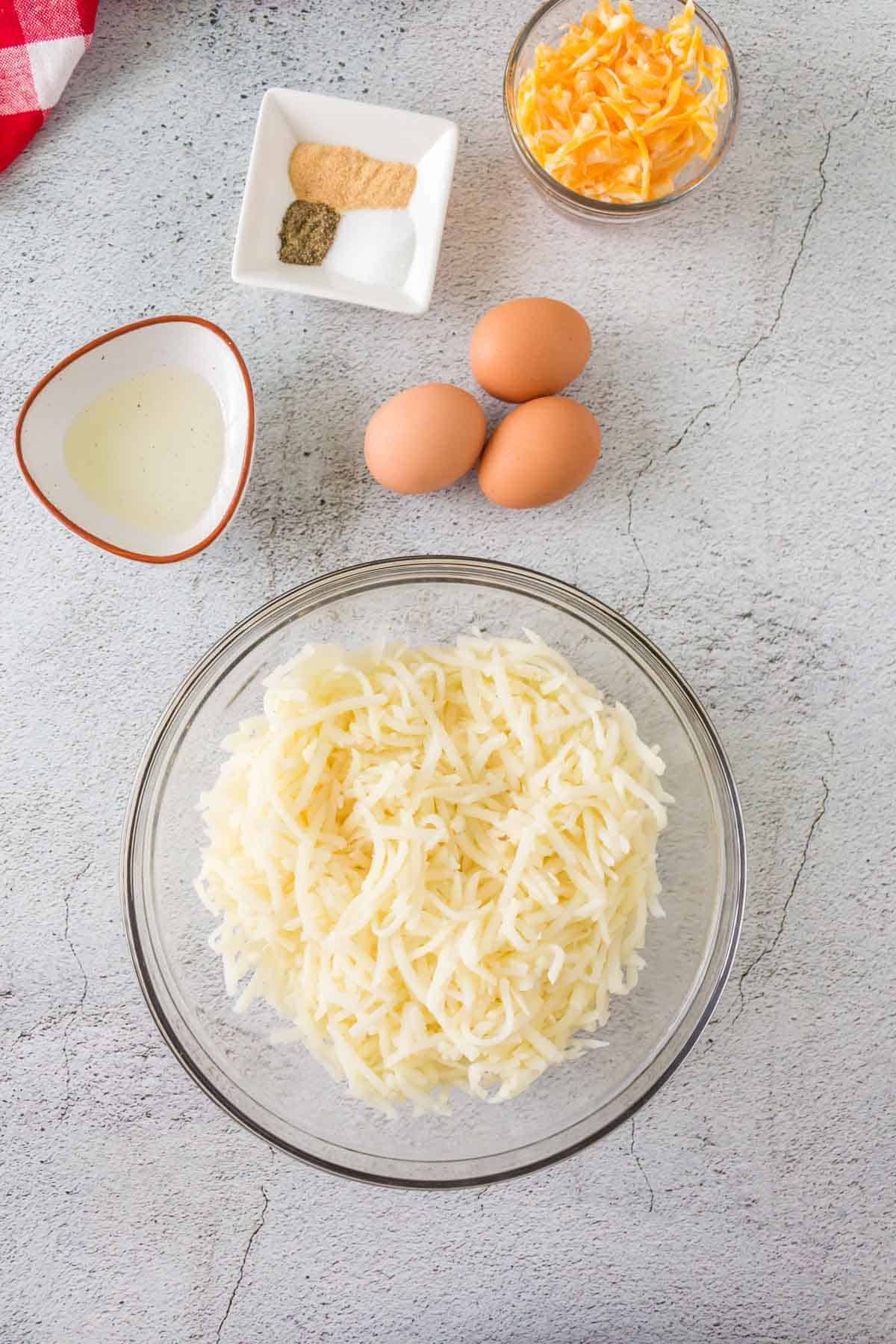 How to Make Cheesy Hashbrown Potatoes
Preparations: Preheat the oven to 375°F. Spread oil in the bottom of the pan, leaving the excess to help the potatoes get browned and crispy. Pat the potatoes dry as much as possible.
Mix the ingredients: Combine the potatoes with the remaining oil, garlic powder, salt, and pepper and mix well, then stir in the eggs and cheese.
Bake and serve: Spread the mixture into the prepared pan. Bake for 40-45 minutes or until nice and golden. Cut into squares and serve immediately.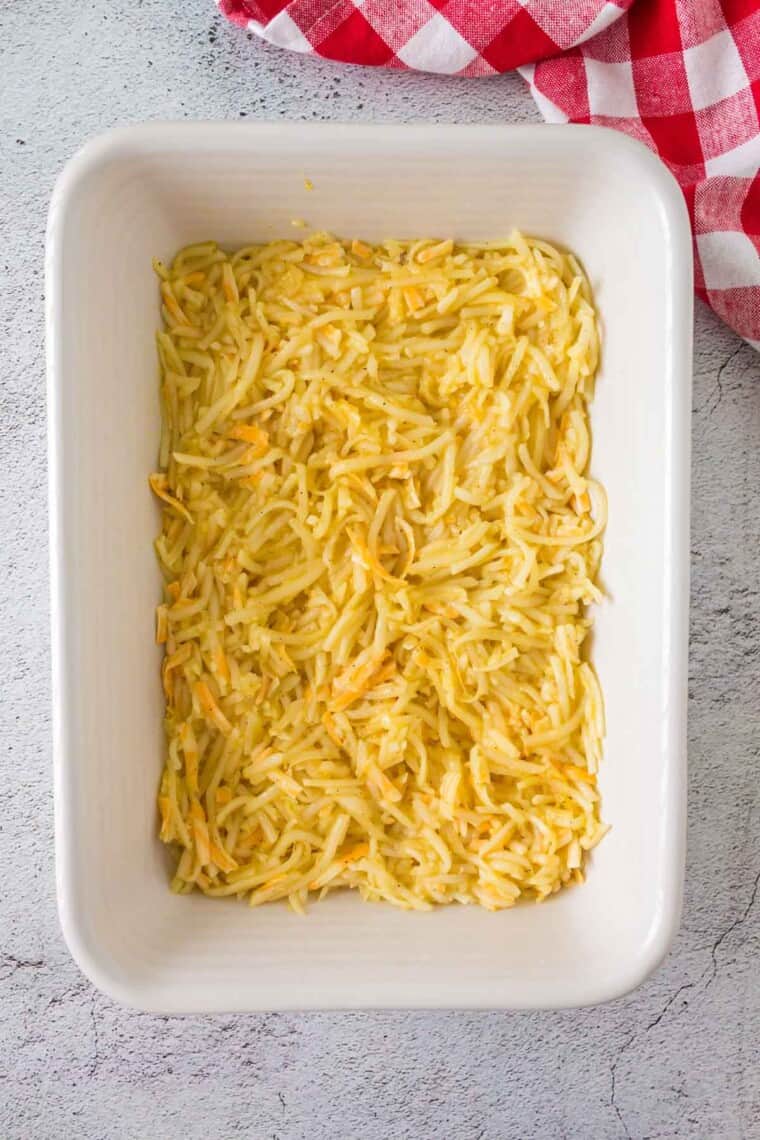 Tips for Success
Dry the Potatoes: Make sure to pat the potatoes as dry as you can. This will ensure they crisp up and get a nice golden-brown color.
Use a Block of Cheese: Shredding the cheese yourself ensures that it melts better than if you use a bag of pre-shredded cheese.
Variations: Feel free to mix in cooked broccoli, green chilis, crumbled bacon, leftover cubed ham, or chopped scallions. You can also try out different types of cheese.
Need a low carb version?
Try this keto-friendly Cauliflower Hash Browns Casserole!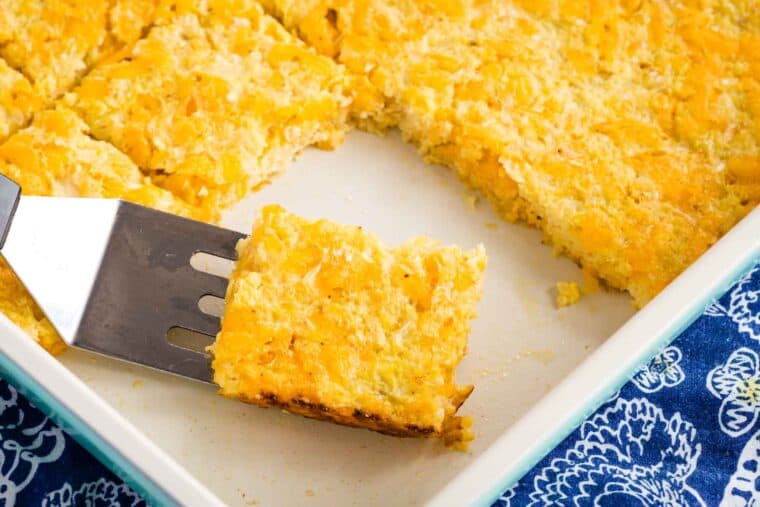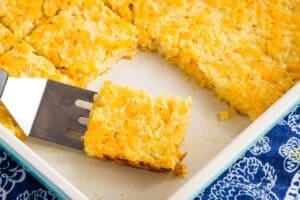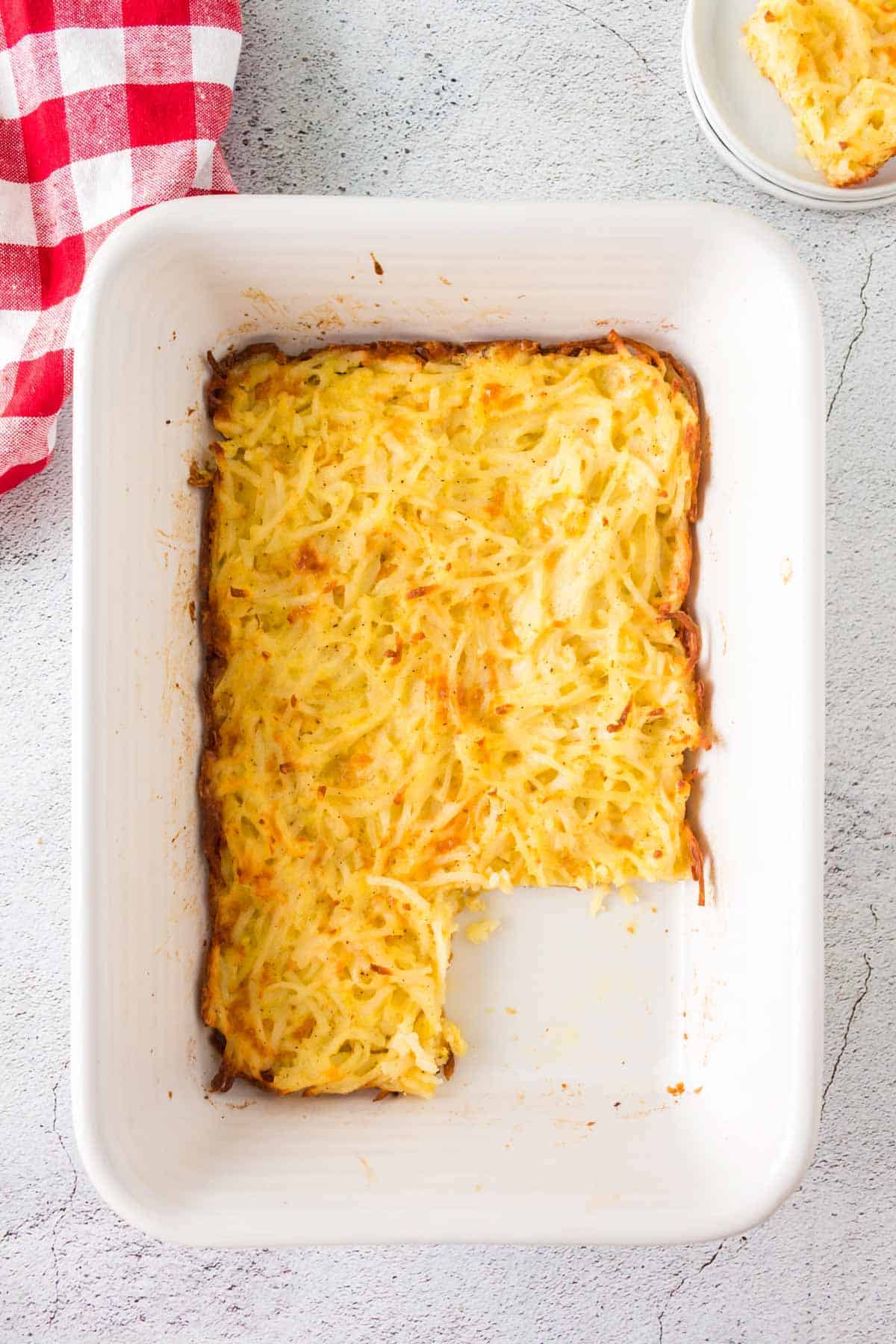 Can I Make Hash Brown Potato Casserole Ahead?
You can make this hash brown potato casserole in advance. Just be sure you really get those potatoes dry. Then mix up the ingredients and transfer them to the oiled baking dish. You can bake it right away and reheat it when you are ready to serve it.
Or you can wrap the unbaked dish tightly with plastic wrap and refrigerate for a day or two or freeze for up to 2 months. If frozen, let it thaw in the refrigerator overnight. Then pull it out of the refrigerator to warm up for about 30 minutes before baking as instructed. It may need an additional 5 minutes in the oven.
How to Store and Reheat Leftovers
If you've baked the hashbrown casserole ahead of time or just have some extras, you can wrap it tightly in plastic wrap or transfer extras to an airtight container. Keep it refrigerated for up to 3 or 4 days.
It can be reheated in the microwave, though it will lose some of its crispness. To reheat in the oven, preheat it to 350°F, then bake, covered, for about 20 minutes, or until heated through. You can remove the foil for the last 5 minutes or so to get it crispy.
Can I Freeze Extras?
Yes, leftover can be frozen for up to two months if wrapped well or transferred to an airtight container. Be sure to thaw overnight in the refrigerator before reheating.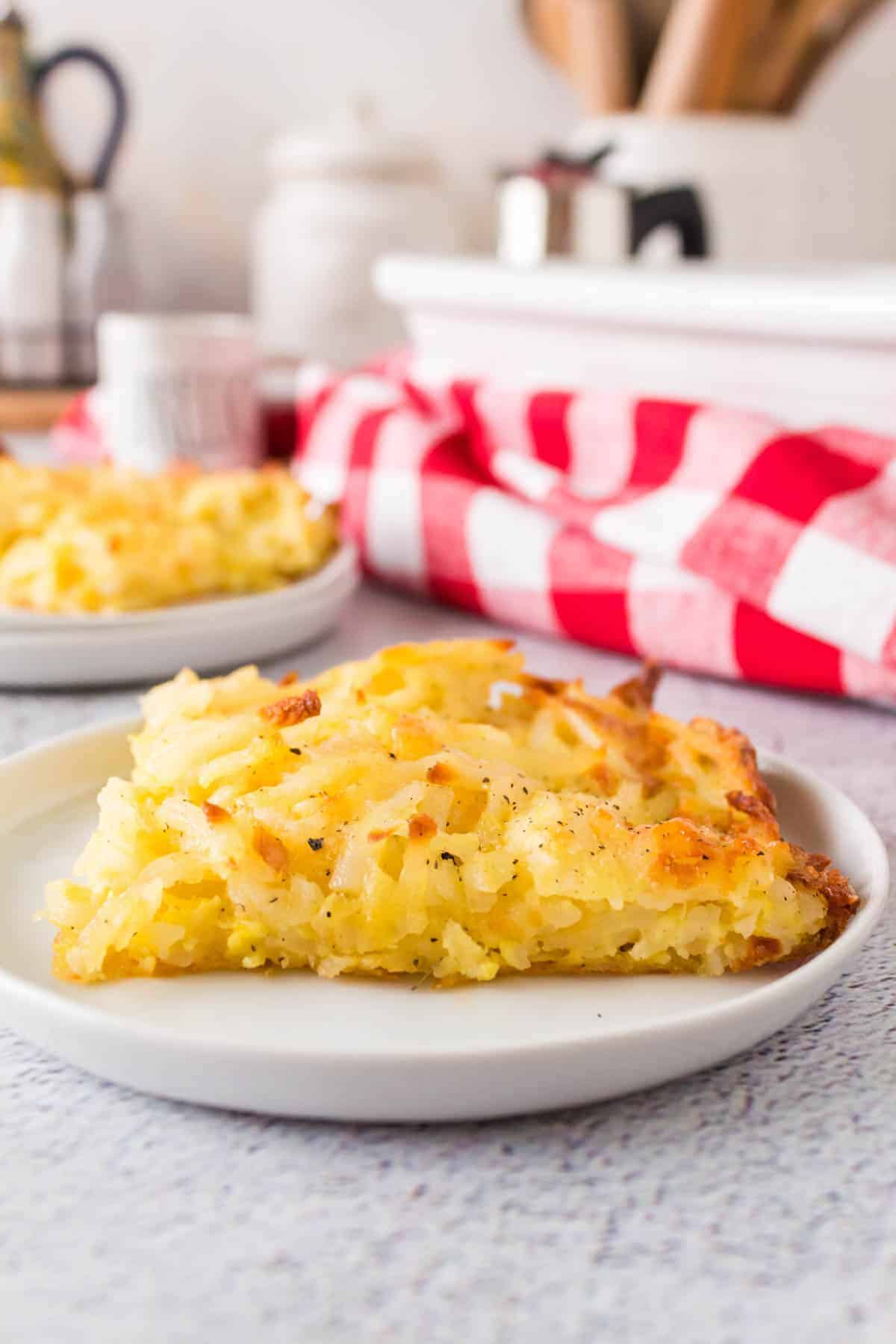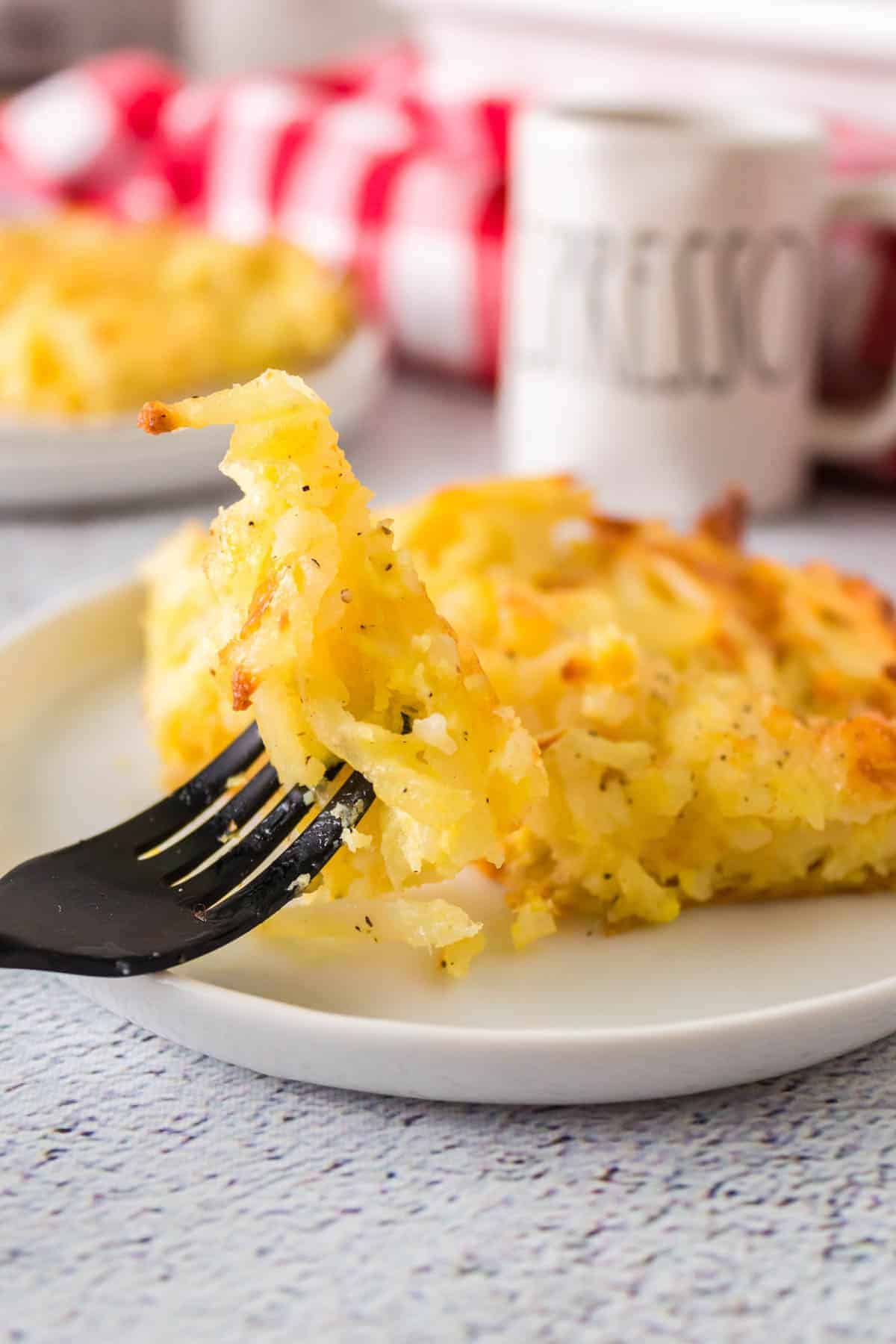 Things You'll Need
Brianne Recommends
You can bake this in a simple 9×13-inch glass baking dish.
Or a ceramic baking dish can be a bit more elegant.
Everything comes together in one basic mixing bowl, but I love to have a full set.
A good box grater is always a key kitchen tool.
Last updated on September 29, 2023 10:40 am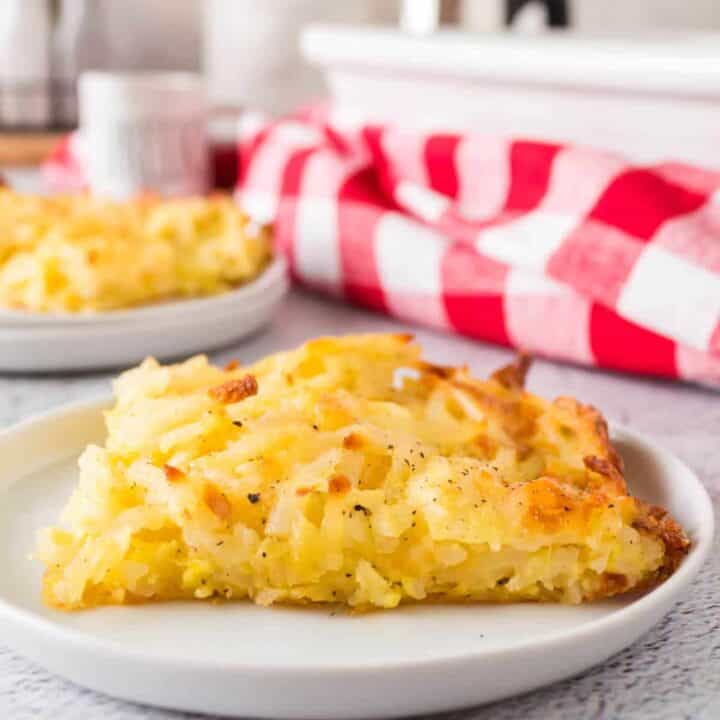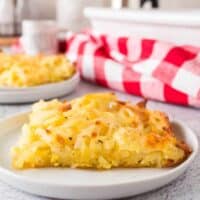 Cheesy Hashbrown Casserole
It doesn't get much better than golden brown and crispy potatoes with plenty of cheese. That's why this Cheesy Hashbrown Casserole makes a perfect side dish for every meal of the day, whether you serve it for breakfast, brunch, or dinner.
Ingredients
20

oz.

bag of shredded hash brown potatoes

(see Note)

3

Tablespoons

olive oil,

divided

1

teaspoon

garlic powder

½

teaspoon

salt

¼

teaspoon

freshly ground pepper

3

large eggs

¾

cup

shredded Colby Jack cheese

(about 6 oz.)
Instructions
Preheat oven to 375°F. Pour 2 tablespoons of olive oil into a 9×13-inch glass baking dish and spread around to coat the entire baking dish.

Empty the bag of shredded potatoes into a large mixing bowl. Pat dry with a paper towel.

Add 1 tablespoon olive oil, garlic powder, salt, pepper. Mix well.

Add eggs and cheese. Mix until the ingredients are all well distributed

Pour into your prepared baking dish.

Bake in preheated oven for 40-45 minutes or until golden brown.

Remove from the oven and serve immediately.
Notes
If you prefer, you can grate about 1 1/4 to  1 1/2 pounds of fresh potatoes on a box grater. Soak for about 30 minutes in a bowl of cool water, then dry thoroughly in a kitchen towel or paper towels.
Nutrition Facts
Cheesy Hashbrown Casserole
Amount Per Serving
Calories 175
Calories from Fat 99
% Daily Value*
Fat 11g17%
Cholesterol 73mg24%
Sodium 248mg10%
Potassium 342mg10%
Carbohydrates 13g4%
Protein 7g14%
Vitamin A 214IU4%
Vitamin C 14mg17%
Calcium 103mg10%
Iron 1mg6%
* Percent Daily Values are based on a 2000 calorie diet.
More potato side dishes